Loretta Lynn Ranch
Hurricane Mills

,

TN
Rocky Mountain ATV/MC AMA Amateur National Motocross Championship (Loretta Lynn's)
Amateur National Motocross Championship
1.) Daxton Bennick and Haiden Deegan Are Gen 2 Stars
If you look in the Loretta Lynn's Vault, you'll find the name Todd Bennick and see some decent results. Todd's son Daxton is very fast, and he's built him a world-class training compound at their North Carolina home to develop his skills. The place is so good that Cooper Webb and a bunch of the Yamalube/Star Racing Yamaha riders have stopped by there to log some sand motos. Daxton has already done great things, taking his Orange Brigade machine to titles in 2013 and 2016, and he started 2017 off with a strong moto win in 65 (10-11) Limited.
Of course everyone knows that Haiden Deegan is a second-generation rider as well, as his dad Brian is one of the most famous and versatile riders to ever swing a leg over a bike—and Haiden also has a heck of a compound to ride and train at as well. Haiden and Daxton battle often in the 65cc ranks but they're actually good friends and teammates on KTM's Orange Brigade unit. Bennick got the jump on Deegan in the first moto of 65 (7-11), but Haiden came back for a moto win yesterday. Look for both 65 titles to come down to the wire.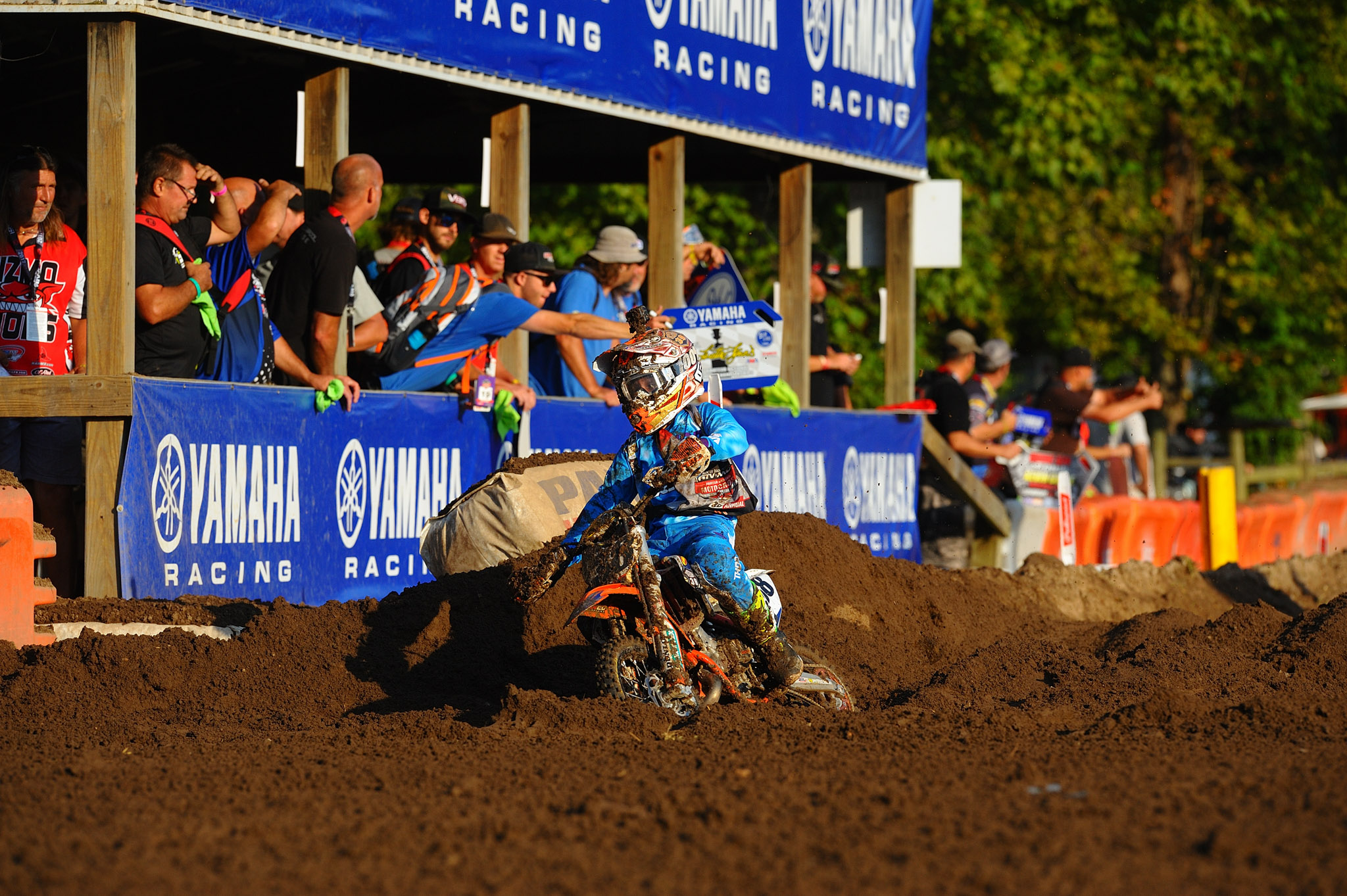 2.) The Utah Utes are Rolling Again
Two years ago Utah neighbors Pierce Brown and Garrett Marchbanks were very strong at Loretta's, and now they're fast-tracked toward pro deals, with Marchbanks locked in with Monster Energy/Pro Circuit Kawasaki, and Brown with Troy Lee Designs/Red Bull KTM. Last year they had some struggles with crashes and bad starts at the ranch, but they're back on track this year, carding a pair of 1-2 moto finishes. Marchbanks won both of his motos ; taking 250 B and Schoolboy 2, with Brown coming from behind to nab a pair of runner-up finishes.
3.) Don't Sleep on Nate Thrasher
Max Vohland came into the Mini Sr. 2 (12-14) class as the favorite, but he crashed on the first lap of his first moto and went to the back to 10th. Taking advantage was Nate Thrasher, who rose to prominence last year with some great rides and now has a spot on Kawasaki Team Green. He scored the moto win, while Vohland had to come from behind to salvage a third. Kaeden Amerine finished second.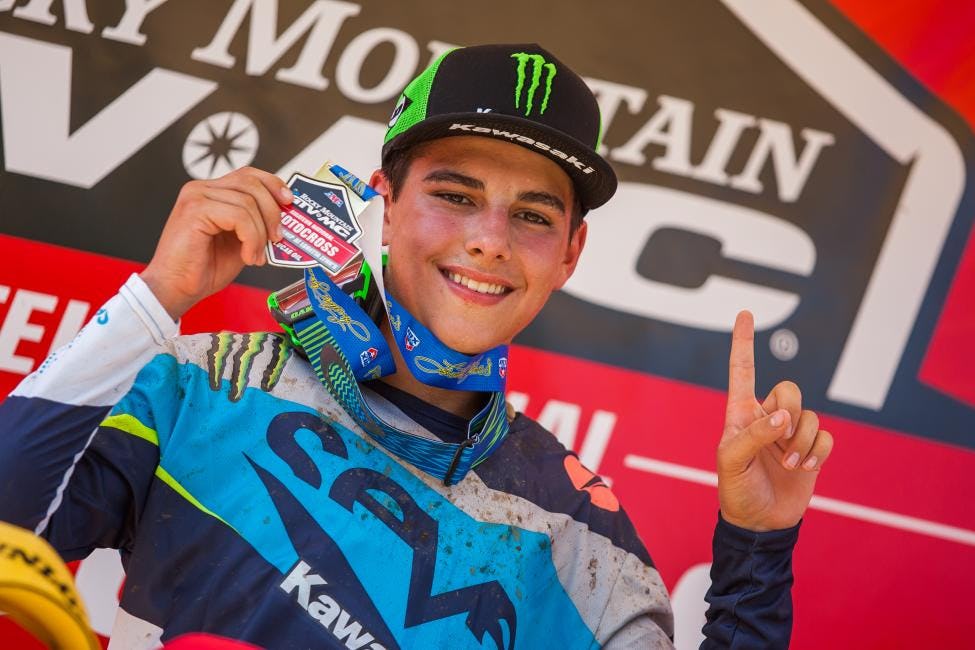 4.) Carsten and Antunez, the Same Despite Their Differences
Besides their choice in motorcycles (Suzuki), there's not much in common for Barry Carsten and Buddy Antunez. Carsten was an East Coast privateer working at his family's RV shop during the week; Antunez was a high-flying factory-supported minicycle star from California. One logged a legacy of privateer results and mountains of Suzuki contingency money; the other took five AMA Arenacross Championships. Here at Loretta's, though, it's all worked out the same, as Carsten and Antunez have found themselves dueling side-by-side for both of their motos, with multiple passes and even some bumping. Even better, the ageless John Grewe got in the fight in the 40+ moto, passing them both, then Antunez tried an arenacross pass on the inside to get him back and went down. Then Grewe crashed, and Carsten cruised on through for third. Nathan Ramsey and Mike Brown were up ahead, but the Carsten/Antunez battle was arguably the best so far this week.
5.) McGrath and Villopoto are People's Champs
Kawasaki has dispatched brand ambassadors Jeremy McGrath and Ryan Villopoto to the ranch. Yes, they're doing the standard autograph stuff in "Greenville" (Team Green's traditional spot behind the starting gate), but they're going even further this year. Lucas Oil has set up a dunk tank in their vendor's spot, and taking donations for throws with money collected for the Brett Downey Safety Foundation. McGrath volunteered to take a spot in the dunk tank yesterday, and then Villopoto quickly followed. Congrats to flame throwers like Adam Cianciarulo and MX Sports' event director Tim Cotter for making donations and nailing their throws—and putting MC and RV into the drink over and over.