New Berlin, NY
Unadilla
AMA Pro Motocross Championship
The 2017 season has been something of a school of hard knocks journey for 450 Class newcomer Cooper Webb. A few crashes, nagging injuries (shoulder injury at Minneapolis and knee injury at Millville), and somewhat inconsistent results blighted the 21 year-old's season.
The jump from the 250 Class is far more daunting and challenging than it has been in recent history, and Webb's trajectory between the two has, in some ways, illustrated that axiom. Nonetheless, Webb was starting to come around in recent rounds of the Lucas Oil Pro Motocross Championship before tweaking his knee in Minnesota. Out of commission this last Saturday at Washougal, and with a bit of time at his disposal, Racer X spoke with Webb over the weekend.
Racer X: Cooper, did you watch the racing from Washougal on TV?
Cooper Webb: No. No, I actually didn't. I checked the results here and there, but nah, I didn't really stick around and watch it on TV.
Is it hard for a guy like you to watch the racing on TV when you can't be there?
Yeah, it's just hard to watch. I guess it's the "what if?" and stuff like that, especially when you're injured. Hopefully, I'll just miss that race. It's kind of like a knife in the gut to have to watch it.
How's your knee doing?
It's good. They've been doing a lot of therapy on it, at least as much as they can, here in North Carolina. They're just trying to get it stronger and everything back to normal and stuff. Luckily, it wasn't anything too bad. It was just a partial tear in my meniscus. We kind of made a decision as a group, with Yamaha and my trainer and everybody and they were like, "Hey, maybe we should skip-out Washougal and try not to make it any worse. We have a break next weekend, so let's give it a couple weeks to heal up the best it can and try not to reinjure it." Hopefully, if everything is going smooth, we'll try to be back at Unadilla and race the last few Nationals and the GP in Florida.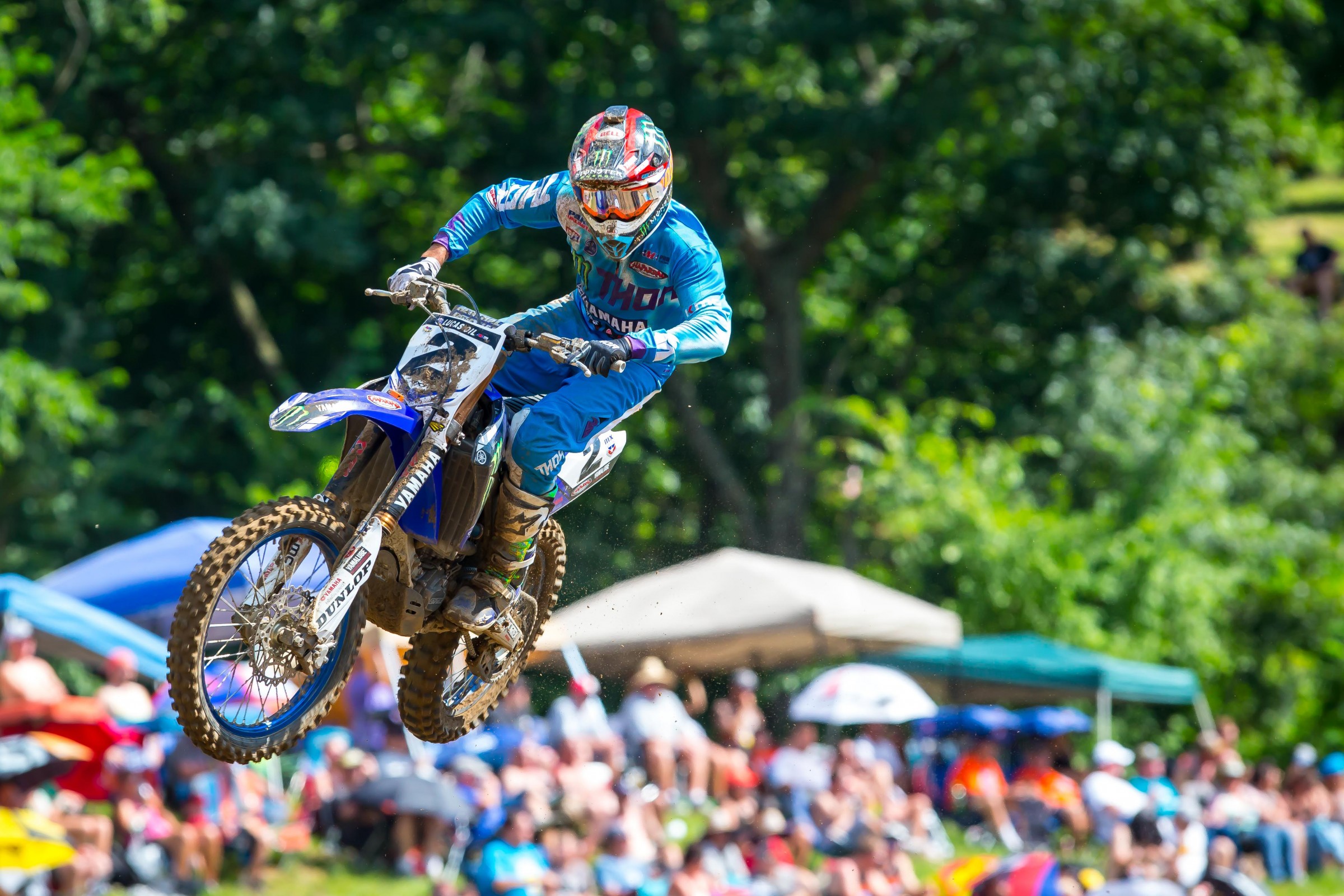 I may be getting ahead of myself with this question, but what about the Motocross of Nations? What if that opportunity presented itself to you?
It's hard to say. It's a much different situation, but you never know. You know, I'm not a fan of how they've kind of handled the whole situation. You know, taking it from the U.S. and moving it further back in the year. To be honest, I'm not too sure if I would do it or not. It all just depends. But I do plan on attending the GP in Florida and stuff. That should be fun. I wish it was in Charlotte.
I don't know if you heard, but Eli Tomac told the press gathered at Washougal that he was not going to participate in the 2017 Motocross of Nations set for England on October 1.
I did see that. I mean, it's one of those things that I think they [event organizers] need to understand and maybe respect our series a little bit more. I mean the race would be five weeks after our last National in our series. For me, I want to go represent my country and do all that, but I've missed some races this year. I'm sure if I was running up front all year, and being as competitive as these guys are every single weekend, you kind of need some time to just have to yourself and get ready for the new year. I think it's tough to stay motivated and wanting to train and to get ready for a race that's four to five weeks after the last National. You want to represent your country, but it's a lot of work to go over there and it's a lot of money spent by everybody to accommodate everything to go over there and stuff like that. In my opinion, they really haven't made it the easiest for the U.S. with their schedule and our schedule. So maybe until some stuff gets fixed there, it's tough. It's happened the past couple years. I mean the last five years I feel like we really haven't sent our best group of guys just because of scheduling or whatever the case might have been. Hopefully, it will get resolved. I'm glad the race is in the U.S. for next year, but it's definitely a bummer they took it away this past year.
Changing subjects a bit here, before you banged up you knee in Minnesota, you certainly looked to be gaining momentum in the Lucas Oil Pro Motocross Championship. In fact, you just missed out on the podium at Southwick. To your way of seeing things, how were the Nationals going?
Yeah, it was good; it was nice to get the ball rolling. We changed the bike quite a bit and went to Southwick and had a good race there. That second moto was a bit of a bummer with stalling it late, but I ended up fourth overall. At Millville, I had a good run in the first moto and was in a good position in the second moto to possibly be on the podium, but unfortunately, I tweaked my knee. I still got fifth overall, but it was definitely a bummer. I kind of feel like that has been the story of the year: once I get some momentum going, I have some sort of issue. But it's all making me better and definitely making me hungrier to continue to keep working and to be better.
What do you think of the 450 racing? Is it a lot different than the racing in the 250 Class?
Yeah, to me it is. It's funny. When I was in the 250 Class and watching the 450 guys, you don't really notice stuff. Yeah, both classes are competitive, but in the 250 Class last year, especially with having the red plate and stuff, they definitely don't put up as much of a fight. In the 450 Class, every position, whether you're in first or you're in 12th, they battle you as hard as they can for as long as they can. That's been some adjusting and getting used to. And as far as racing a 450, experience comes into play. Bike set-up is huge. The way those guys race is different. Like I said, they're more experienced and they're a lot smarter; they know the dos and the don'ts. It's been tougher, but I've learned a lot and I feel like I'm getting better every weekend. I'm just looking forward to getting back out there and learning as much as I can the rest of this year.
Was there also a pretty dramatic difference between the 250 and 450 Class in supercross?
Yeah, it was really the same way. I mean there are just so many good guys in the 450 Class. It was very similar. To me, and it sounds crazy, but the biggest adjustment was the heat races and the semi races and all that. In the Lites [250SX] class, you just had that one heat and then you go from there. Making it out of that heat race was so important for a gate pick and it was hard to do. They were such quick, intense, go for it races. The longer main event races were also different. There were so many more laps and so much more racing. That was definitely different. Everybody was fighting for every position, always.
There were certainly some shining moments from Cooper Webb. The third place ride you had at Oakland immediately comes to mind. I'll leave this to you to answer, but you have to know you can run the pace and do it on the 450.
No, exactly. I believe in myself and my abilities and all that. At that race in Oakland, I kind of got things rolling. I was on the podium at Oakland, but then, unfortunately, I hurt my shoulder. I know I've still got it. I know this year has been not what we're hoping for, but I know what I'm capable of and I think there is just a lot of learning to do. You know, learning a new team, learning a new bike, learning a new series. You have to be on top of your game every time you're on the track.
The Yamaha 450 factory team was, for all intents and purposes, built around you. All things considered, have you been good with how the development of the team has been for both you and Yamaha?
Yeah, for sure. It was just a different group of people. For me, coming from Star Yamaha, that was always a very small team. It was a lot different. You know going to Yamaha, where you have different personnel for everything and where you have the ability to change so much on a bike, it's different. All those guys on the team have all that experience and have been involved in winning at some point in time going all the way back to the 1970s. It's cool to have that much experience, but it was a lot for me to kind of take in at first. And for me, I think I put a lot of pressure on myself at the beginning of the year to really try to perform. We had to learn each other and learn what works for me and what doesn't work for me. I think, for me, I came in with a different mindset than maybe I should of. But, yeah, overall they've been great and we've been busting our butts on all ends trying to get me more comfortable and to get the bike how I kind of would like it. It's been good so far and I know I can't wait, and I know they can't wait, to get on that 2018 bike.
Yes, there has been a lot of talk about that new bike. Is that 2018 bike waiting in the wings for you?
[Laughter] Yeah, it's been a different bike, for sure. Coming from a 250 to a 450 is a big transition. But, yeah, the 2018 bike is incredible. It feels just like my Star Racing 250 did, if not better. I'm really, really anxious to get on that thing and show what I can do on it.
How about this approaching off-season? You going to do some international races? Are you going to stay close to home? What do you think?
You know, I'm not too sure. I'm still kind of planning everything out and figuring things out. I know with the new bike we talked about not doing any international races and just really focusing on testing and just having a very good off-season. As far as training and all that's concerned, I really feel I can be a contender for a championship and up there on the podium and winning races, so I really want to put in as much as effort with training and testing and everything I need to do during those three months of preparation before Anaheim. For me, that's the plan for right now. I'm not exactly sure of all the details right now, but I plan on doing all that and seeing how it goes.
Last question: all things considered, are you pleased with how your '17 450 race season has gone?
I'd like to say yes and no. I'm such a competitive person that I always want my results to be better, but at the same time, I have had some good rides, and like you said, I have had some good flashes. I would love to have more consistency and more everything, but it's hard to say I'm pleased or not pleased. Like I said, I didn't know what to expect coming into my rookie season. I think it was good, but I don't really know. I think that if I wouldn't have had this year as a real kick in the ass, it might not have set me up for years to come. The year really opened my eyes to how hard this sport this sport is and the amount of sacrifice that you have to put in all that. It's all really motivated me and I'm going to do everything in my power to be ready for next year and be back to where I know I can be. So, yeah, I'm not pleased with my results, but the year has taught me a lot as a person and what works for me and what doesn't work for me. I've learned a whole, whole lot.