Hurricane Mills, TN
Rocky Mountain ATV/MC AMA Amateur National Motocross Championship (Loretta Lynn's)
Amateur National Motocross Championship
1.) Justin Cooper is Next
New York's Justin Cooper was a bit of a late bloomer on the amateur scene, but for the last year he's been setting himself up as the odds-on favorite for the coveted Nicky Hayden AMA Horizon Award. Now, his future in the pro ranks is set as well. Cooper, on a Rock River Yamaha, won his opening Open Pro Sport moto going away, and would later come from behind to finish second behind Challen Tennant in 250 A, also setting the fastest lap time of the moto. After his Open Pro Sport win, Yamalube/Star Racing Yamaha's Bobby Reagan approached the podium to explain that he had just signed Cooper to a pro deal.
Cooper will make his pro debut at Unadilla with CycleTrader.com/Rock River graphics on his Yamaha, but he'll be riding for Star Racing in 2018.
2.) Seth Hammaker is on the Map
Seth Hammaker is attacking the heart of the amateur talent order and proving he's no fluke. A year ago the relatively unknown rider broke through with a championship in Super Mini 1 (12-15), then he won the Super Mini Class at Monster Energy Cup. On Tuesday at Loretta's, he grabbed the early lead and sped off with the 250 B win against big hitters like Pierce Brown, Joe Shimoda, and Derek Drake. Late in the race Garrett Marchbanks, who is Kawasaki Team Green's top prospect, made his way to second after a 15th place start, but didn't have time to challenge Hammaker.
Hammaker tells us he doesn't ride full-time at a training facility, but instead just rides on a small turn track in his back yard. Seems to be working.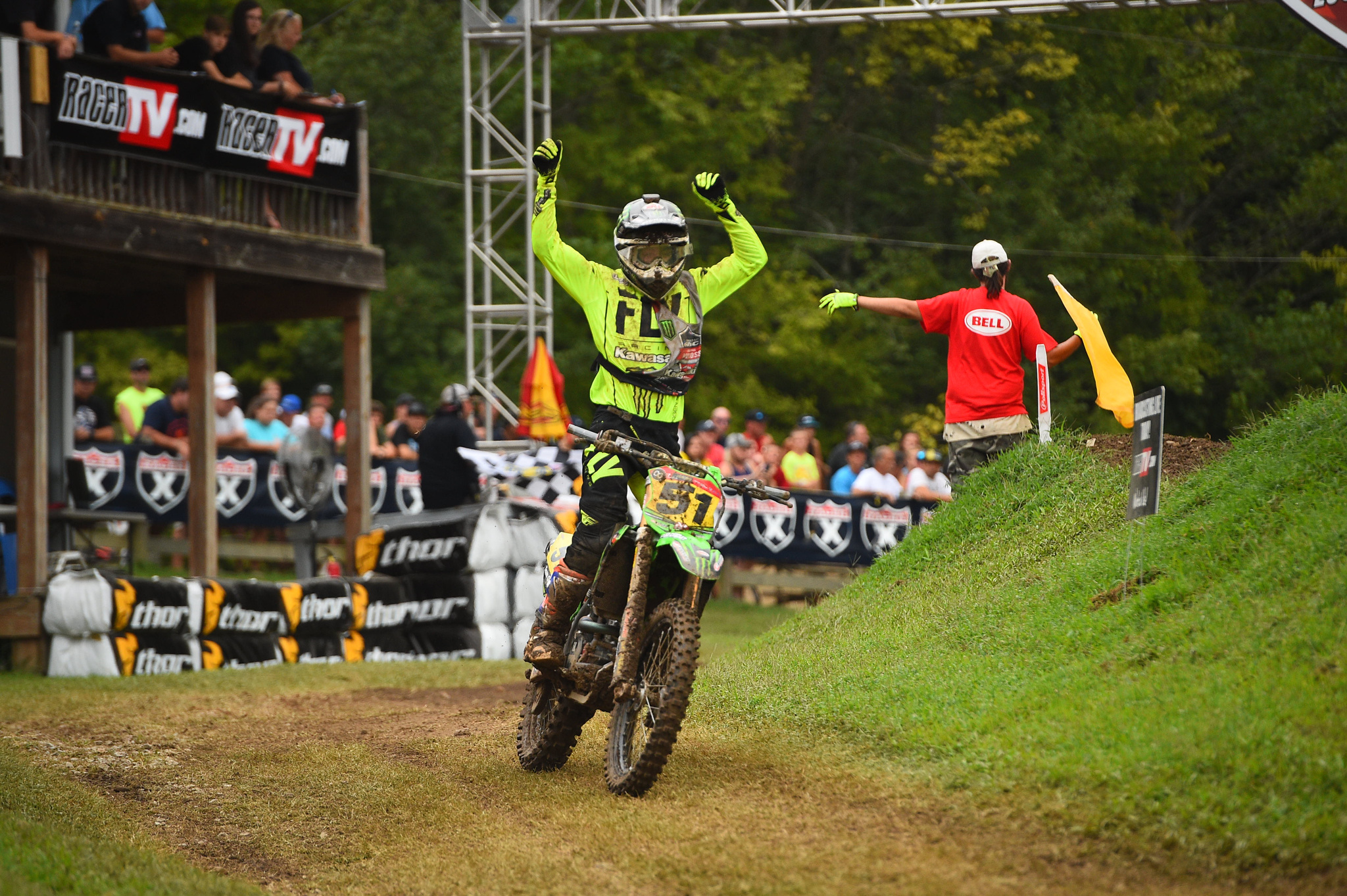 3.) Ty and the TM
Ty Masterpool opened eyes in two ways with his Super Mini rides on Tuesday. First, his riding was superb, as he took the win in Super Mini 2, and then overcame a crash to recover for second in Super Mini 1. His riding style definitely turned heads, but what drew even more attention was his equipment—Ty rides a TM, and it looks and sounds very fast.
4.) Girls Class is Competitive
The Women's class at Loretta's might just pack the greatest history of rivalries at this event. From Gonzalez vs. Akin-Wagner back in the early days, to Patterson vs. Geiger vs. Whitmore, the female racers are just as competitive—if not more so—than the males. The next great rivalry might be Jordan Jarvis and Jazzmyn Canfield, who duked it out here last year and appear to be set for it again. In their first Girls moto, Canfield got the early lead and ran away, while Jarvis came from way, way back to make it to second, only to be taken down by a lapper late and drop back to third. After the race, Jarvis was crying over losing that position, one she knows she might need to top her rival Canfield for the title. But it's a long week and expect more championship drama from these two.
A step ahead of them on the age scale is Hannah Hodges, who dominated the Women 12 + class later in the afternoon.
5.) Mike Brown Never Stops
Mike Brown never really retires from racing, he just moves into new things. After a motocross career, then an off-road career, the ageless Tennessee rider is now back at Loretta's for the first time since 1989. We all know Mike is gnarly, and he proved it by crushing the 40+ field.
The rest of that class featured other stars, such as former 125SX Champion Nathan Ramsey, who ran second to Brown until he crashed; Buddy Antunez and Barry Carsten battled; Kris Keefer logged a solid third, and second went to 51-year-old Loretta's master John Grewe. Not bad in the 40+ class!