Washougal, WA
Washougal
Lucas Oil AMA Pro Motocross Championship
Washougal is one of my favorite rounds of the Lucas Oil Pro Motocross Championship. I used to live up in Victoria, BC, in the off-season and then worked for Ty Birdwell back in the day, a privateer who lived in Astoria, Oregon. The Pacific Northwest has a soft spot in my heart.
It was a great crowd out at the track this weekend, and speaking of the track, I thought it wasn't as hard packed as it normally is and therefore not as slippery and tough to ride. It seemed that traction was more abundant than usual and it lasted longer than usual. The track crew must have put down the perfect amount of water and had the perfect weather for everything to stay together. Some riders told me it was too wet in practice, but that's usually okay for a good track in the motos.
Let's take a look at the results, shall we?
250MX Results
1 17 Joseph Savatgy Tallahassee, FL Kawasaki KX 250F 7 1- YOU SHOULD'VE DONE SUSPENSION TESTING SOONER, BRO! But in all seriousness, Savatgy was a bit fortunate to win with these scores. Hey, the check will still cash, right? He was under siege in the second moto for a bit, had one bad lap but quickly got back together and pulled off the win. Don't look now, but Osborne's won four overalls and Joe–Dawg has three.
2 16 Zachary Osborne Abingdon, VA Husqvarna FC250 4 3- Osborne crashed in the second turn of the first moto and was outside the top 20. But then he did what he's been doing all year to work up to fourth on a track that's not easy to pass on. Then he puked after the moto. Second moto he was solid again just working up, grinding away at the guys until they broke. Savatgy won but Osborne added even more points to his points lead. He now has a 74-point lead. He will most likely clinch his first Pro Motocross title at Budds Creek where he had his worst professional moto ever as a kid (earning the name Snack-Pack from Ping) and where he won his first overall at. Symmetry, bro.
3 108 Dylan Ferrandis France Yamaha YZ 250F 3 4- "Hi, I'm Steve Matthes and I would like to admit that I was wrong about Star Yamaha hiring Dylan Ferrandis. He's been very good and will probably be even better next year." Then the group says "Hi Steve," back and we slowly sit down in our wooden chairs and begin the session. Ferrandis passed AC with half a lap to go to get the last podium spot.
4 36 Adam Cianciarulo Clermont FL Kawasaki KX 250F 2 5- Speaking of AC, that pass by Ferrandis with half a lap remaining cost him the overall win and it knocked him back to fourth! I've never, ever seen that before. Poor Adam, he's probably still locked in his room with Blink 182 just blasting "Adam's Song" over and over. He's too good to not get a win soon, but this one will sting for a while.
5 31 RJ Hampshire Hudson, FL Honda CRF250R 6 2- RJ's got another year at GEICO Honda so I'll just put some of that speculation (that I helped start with my old age setting in) to bed now. Hampshire was great in the second moto and he's been pretty good since he got back from injury. Not sure what's changed in his program but this last time coming back from injury, he's been ready to go from the jump. He's also very stoked on the improvements GEICO Honda has made to his bike recently.
6 23 Aaron Plessinger Hamilton, OH Yamaha YZ 250F 1 9- Plessinger was GONE in that first moto. Grabbed the start and it was see ya. And you know what? If he had gotten another holeshot, he would've been gone in moto two. But he didn't, he crashed and that's how you go 1-9 on the day.
7 6 Jeremy Martin Millville, MN Honda CRF250R 9 6- I don't know, man, J-Mart's just off. I'm not sure what's going on with him, maybe he's hurt, but he's not "MOTHER EFFING J-MART," you know? He deserves the benefit of the doubt for all he's done in this class so I'll wait this thing out.
8 39 Colt Nichols Muskogee, OK Yamaha YZ 250F 10 7- Colt puts together his best race since Muddy Creek and it was a slew of Yamalube/Star Racing Yamaha's in the top 10 all day long.
9 38 Shane McElrath Canton, NC KTM 250 SX-F FE 11 8- McElrath's day was whatever, but it was cool to see Jessy Nelson at the track hanging out. I don't know Jessy that well but I do find myself thinking about him every now and then and how he had it all right there and is now paralyzed. But in checking his social media out, it seems like he's trying to live life to the fullest and that's pretty cool.
10 45 Mitchell Harrison Brighton, MI Yamaha YZ 250F 5 15- Bummer for Harrison as he crashed in the second moto while running near the front. He would've had another solid day. He's ninth in points and looking good this year, but I keep thinking he's going to get "Kyle Peters'd" over at Star Yamaha. I'd seriously pick this kid up if I were a team looking for an up and coming kid.
11 50 Luke Renzland Hewitt, NJ Yamaha YZ 250F 12 10- It sounds like Luke's got himself quite a compound out there in Florida and perhaps I need to go visit it at some point, play some volleyball, and crush some beers.
12 129 Sean Cantrell Murrieta, CA KTM 250 SX-F FE 8 16- Right about now Cantrell is probably thinking "Man, this stuff is really hard!" as the races go week in and week out. Welcome to the pros, Sean!
13 486 Chase Sexton La Moille, IL Honda CRF250R 13 12- We haven't seen Chase do that "rookie thing" where he grabs the holeshot, rides WAY over his head to lead a bit, and then drop back to a fifth or sixth. Instead he's been fast, in shape, nothing too crazy and very solid. Doesn't he know that he needs to go full Nick Gaines last year for us to really notice him???
14 78 Nick Gaines Ringgold, GA Yamaha YZ 250F 15 13- Speaking of the rider formally known as "Crazy Nick Gaines", Nick Gaines just put another solid couple of motos together at The 'Shoug.
15 74 Bradley Taft Nixa, MO Yamaha YZ 250F 14 14- Finally Taft puts together two good motos where nothing happens to him. I'm stoked for him and mostly for JT because I think he was starting to get mad at Bad Brad.
16 42 Kyle Cunningham Willow Park, TX Suzuki RMZ 250 40 11- KC's always good at The 'Shoug, but his bike wouldn't fire up on the line in the first moto, which definitely is such a "Kyle Cunningham" thing to happen to Kyle Cunningham. But from the 40th gate pick, KC pulled a top 20 start and then got a good finish in the second moto.
17 130 Austin Root Chester, SC Husqvarna FC250 17 17- I don't know anything about Root, like seriously, nothing at all. But if he wants to get my undying respect he needs to get "(G)Root" on the back of his pants.
18 183 Lorenzo Locurcio Venezuela Yamaha YZ 250F 16 19- Three rounds left and the rookie is top 20 in the points. That's pretty good, right?
19 430 Dylan Summerlin Kent, WA Husqvarna FC250 20 18- I got nothing. I'm sorry.
20 677 Cody Williams Barneveld, WI Yamaha YZ 250F 18 35- Ah man, Cody had scored points in five straight motos until that second moto DNF. Bummer, bro.
450MX Results
1 25 Marvin Musquin France KTM 450 SX-F FE 1 1- Since 2013, Marv's finishes here were third, first, second, third, and now first. He's a machine at The 'Shoug and it showed again as he dominated both motos. Marv was so good, Tomac caught him in the first, they bumped and he turned it up after that. Second moto he was just dropping 2:11s on Eli ALL DAY LONG while the #3 could only do it once. Marv is somehow better now with a gimpy knee than he was when he had the red plate, and with Blaek Baggett hurting and Jason Anderson a no-show due to injuries, we're all thankful for it.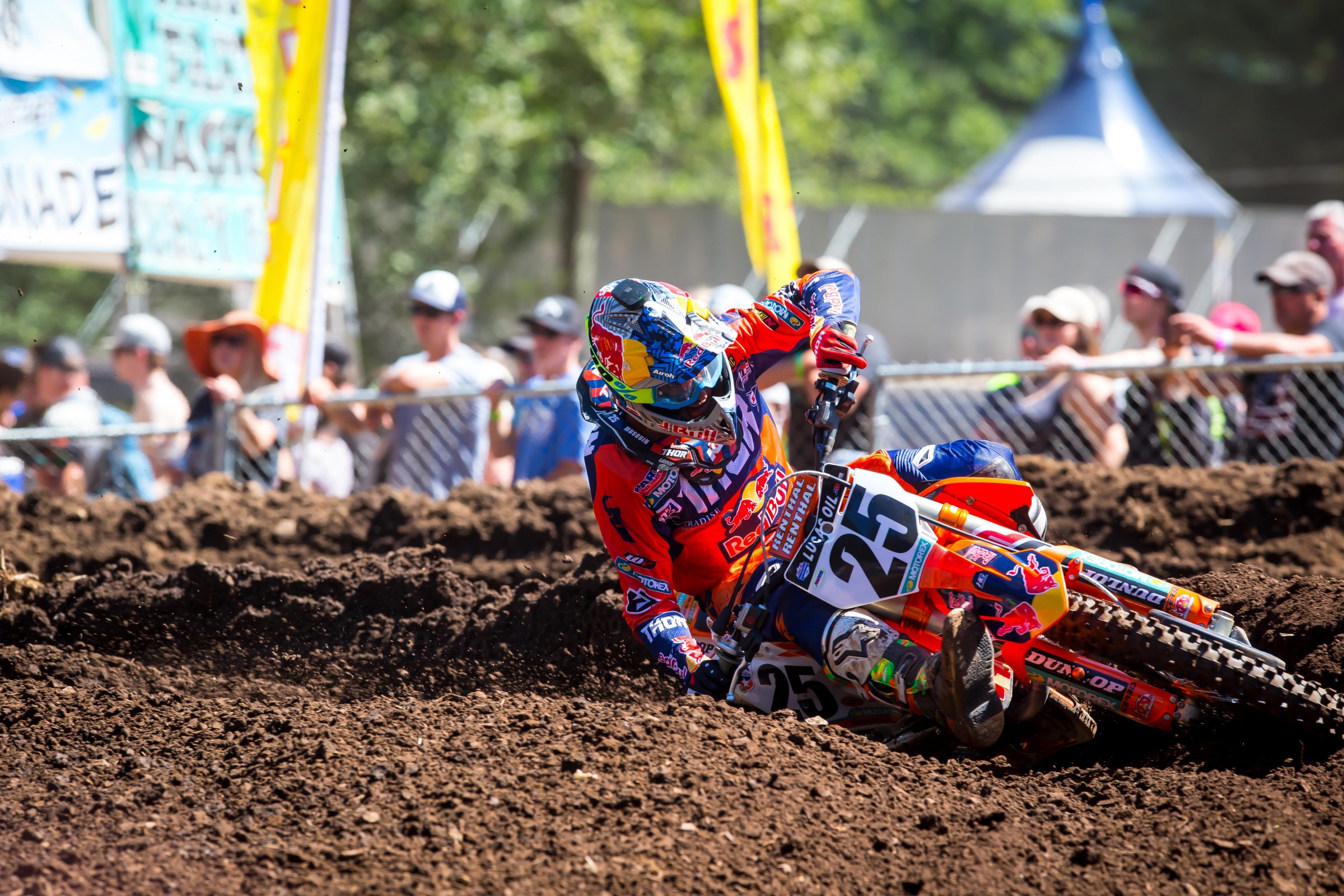 2 3 Eli Tomac Cortez, CO Kawasaki KX 450F 2 2- The good news: Tomac stretched out his lead on Baggett in the title hunt. The bad news: he was probably pissed to get beat by Marv so badly, but he had everyone not named Marvin covered handily. In the second moto Marv was doing some 2:11s and pulling away before Eli put in a faster 2:11 time (it ended up being the fastest lap of the race) and I thought "Oh boy, here we go, the race is on," but then Tomac not only couldn't do another 2:11, he couldn't do a 2:12! His next fastest was 2:13.0. Weird, right? Did he cut the track? Was he pushing it that hard and it took him out of his comfort zone? Ah whatever, Tomac rode well and I look for another Musquin battle at Unadilla in a couple of weeks.
3 30 Martin Davalos Ecuador Husqvarna FC450 4 3- Well, well, well, look at this. Marty's been strong this year late in the motos and scored a couple of fourths in his first year in the 450 Class. And now he's got a podium in a moto, and overall! He holeshot the second moto and led for a bit before getting eaten up by the top two. He stayed strong from there and afterwards he told me that him and his amazing coach, Tim Ferry, have been working on his physical strength since the start of the 450MX series and it's paying off. It's weird, I've been a critic of Marty staying down in 250 Class (and the teams for signing him), but I always said he was super talented and that maybe his style would fit a 450 better. So of course now I'm ALL IN on Marty.
4 14 Cole Seely Newbury Park, CA Honda CRF450R 3 5- Great day for Seely at The 'Shoug and I don't know if you've noticed, but he's fifth overall in the points. This was tied for the best ever 450MX overall finish for Seely. Coming into this year, Seely had only done 10 450MX races in his life. He's now on race nine this season.
5 4 Blake Baggett Grand Terrace, CA KTM 450 SX-F FE 7 4- Baggett's thumb is still an issue and he'll be getting surgery on it after the season. So why hang around and still race? Well, I don't know if you're aware of this, but he's only 32 points back of Tomac and this is racing, anything can happen. Remember James Stewart's inevitable march to the 2007 450MX title? Yeah, exactly. You never know. For now, though, Baggett's just a mortal.
6 15 Dean Wilson United Kingdom Husqvarna FC450 5 6- Wilson wasn't happy with his day coming off two podiums in a row, but as I reminded him, at the beginning of the Nationals, he would have been perfectly fine with a 5-6 day. So when he does have days like this, just shrug it off and go back to Florida with your hot girlfriend. You'll be okay.
7 32 Weston Peick Menifee, CA Suzuki RMZ 450 6 8- Peick was visibly pissed when he was behind Fredrik Noren in the second moto as he just couldn't find a way around the Swede. His riding was all aggro, body language was a bit hyper as he caught Fast Freddie and as he told me, moved around on the track to try and get by but every time he did, he just lost time. A good day for Peick though all things considered and lucky for Noren that Weston didn't try to punt him all the way back to Sweden somewhere in the back section.
8 48 Christian Craig Corona, CA Honda CRF450R 9 9- Craig had a quiet day and I never want to wish ill harm on anyone, but when he tangled with Wilson in the second moto and tipped over, I wasn't that sad because that allowed Fast Freddie to go by. You see, I'd been telling CC the previous week on the Pulpmx Show that he'd better watch out for Noren this weekend. Soooo, I was half right I guess.
9 19 Justin Bogle Cushing, OK Suzuki RMZ 450 8 10- With RCH folding up, Bogle needs a ride for next year and by my count, he's got MCR (on a Honda with Brayton as Mike Alessi and Vince Friese are not coming back) and a spot at JGR Suzuki to angle for. Unless there's some mystery team popping up somewhere. Jake Weimer and Malcolm Stewart would also, theoretically, be going for those spots.
10 70 Dakota Alix Jay, VT KTM 450 SX-F FE 12 12- Alix told me a few races ago that he wanted to get into the top 10. So, he kind of did this week with 12-12 finishes. Does that count? Would he still be pissed? I'm confused.
11 244 Justin Hoeft Castaic, CA Yamaha YZ 450F 11 14- Remember Hoeft from Glen Helen? He came out and rode a great race as a privateer and showed up again at Washougal with help from the 51Fifty Energy Drink Yamaha squad. And he again rode well to just about get a top 10 finish. I've heard some rumors of this kid being snatched up for 250SX next year and if he does want to race, I bet he becomes sneaky good in '18.
12 81 Henry Miller Rochester, MN Yamaha YZ 450F 13 13- Miller just continues to shine each week as a privateer in the 450 Class. He's probably regretting not moving up sooner and I hate to keep patting myself on the back, but how many times have I wrote here that if you're window for getting a factory 250 ride is done, get your butt to the 450 Class and try to make a living in the sport.
13 40 Fredrik Noren Sweden Honda CRF450R 20 7- Ah man, Fast Freddie was inside the top 10 in the first moto before crashing and then blowing out a wheel. Or maybe he blew out a wheel and then crashed, I'm not sure. He's always so good at The 'Shoug and had a chance to put in another great finish. Second moto he was strong and fought off an angry Peick.
14 34 Benny Bloss Oak Grove, MO KTM 450 SX-F FE 17 11- Benji is back and he came from dead, dead, last to this 17th in moto one which I thought was pretty good. Second moto 11th is respectable. He'll be back on this team next year, but as a full-time 450 rider.
15 757 Tommy Weeck Washougal, WA Honda CRF450R 15 15- Weeck showed up at The 'Shoug and once again showed some great speed. He's the caretaker of the track or something, so he's got eight million laps on the place but ask the Martins about practicing on a National track, it's not exactly pristine during the week. So yeah, having eight million laps was a huge help to Tommy but he still had to have the fitness to do two 30 plus two motos, you know?
16 559 Dylan Merriam Corona, CA Yamaha YZ 450F 14 16- Great ride for Dylan and between him, Weeck ,and Hoeft I'm sure a lot of fans were wondering who in the heck these fast as crap three digit guys were.
17 43 Matthew Bisceglia Tualatin, OR Suzuki RMZ 450 10 35- Matt once again put in one good moto and one bad moto in just his second race of the year, but I think the 10ths are good and with his skills and his starts, I bet he starts logging some motos in the top 10 starting at 'Dilla.
18 52 Tyler Bowers Danville, KY Kawasaki KX 450F 16 19- The Bear was back! With some suspension and help from factory Kawasaki, Bowers came up to Pacific Northwest,, won some money racing at Mountain View (I rode there back in the day and yes, I did the 3-3 rhythm, bro) then won the PIR Speedway race making more money. His day at Washougal was good, he came from last to that 19th in the second moto by the way. He also pocketed about $5000 for the week from all his racing so that part was probably sweet. With Josh Grant out for the rest of the Nationals I'm working the Monster Kawasaki guys hard to put The Bear on the #33 bike. It wasn't really working, but Bruce Stjernstrom said that he "would think about it" IF Bowers went 10-10 on the day. Well, crap.
19 718 Toshiki Tomita Japan Honda CRF450R 21 17- I have ZERO idea why, but Japanese riders always seem to do well at Washougal. We've seen a ton of them show up at this track over the years and place well. I have ZERO idea why and come to mention it, ZERO proof on this. Just a feeling.
20 125 Josh Mosiman Sebastopol, CA Husqvarna FC450 29 18- We had Mosiman on the Pulpmx Show last week and yeah, yeah he continues to do well this summer but I still shake my head how he's got to go race Amsoil Arenacross to prove he's good enough to race supercross. That's not the worst part; the worst part is that because AX kicks off when Anaheim kicks off, he's got to miss races to do this. But if you come from Europe where there's, you know, virtually NO supercross, you can line right at Anaheim 1 no problemo. Uhhh, yeah Josh, you're in the top 20 in 450MX class, you're good for your SX license. Am I the only one who thinks this Road to SX is SO dumb?
Thanks for reading, appreciate the time and email me at matthes@racerxonline.com if you would like to chat about this or anything else.