Millville, MN
Spring Creek (Millville)
Lucas Oil AMA Pro Motocross Championship
What's old is new again in Lucas Oil Pro Motocross, as Marvin Musquin and Joey Savatgy are now back to the front of the pack, which, you might remember, is where they were about two months ago. Savatgy last won at round three at Thunder Valley in Colorado, Musquin at round two at Glen Helen. For both, it would have been easy to give up on the season, but they kept at it, and, as they always say, the hard work paid off. For Musquin, it took a road to recovery from a knee injury, while Savatgy needed bike changes to get find his form again. They found the combo that worked at Millville, Minnesota's Spring Creek National, with Musquin scoring his first career 1-1 in the 450MX class and second career overall win, and Savatgy going 1-2 for 250MX honors.
The Millville track was drenched with rain on Wednesday and Friday, leading to deep, muddy conditions in practice, which turned around by the time the motos started, which has been the standard script this season. But the soft dirt led to huge ruts and holes. Such difficult conditions played into Musquin's technical strengths, as he hopped and bounced his way over the bumps and ruts with precision. The knee injury is now clearly behind him.
"It was definitely a great day," said Musquin. "I knew my speed was good. I was the fastest after the second practice, and the track was so soft. It was sandy and, with all the rain, it made the track super rutted and technical. But that's good for me – I like that kind of track. I had a perfect first moto and got the holeshot then tried to pull a gap on everyone. I think I had over a 20-second gap, which is the best feeling ever. I controlled the race and was able to be smooth and consistent."
With Musquin now back taking his turn on the upswing, that means other contenders dealt with some downs. Jason Anderson tried a few laps of the first moto but was unable to finish, his second-straight race with zero points scored. Blake Baggett rode decent to 6-2 scores, but his team says his thumb injury made it impossible to match Musquin's second-moto pace. For a few laps, he was closing, but it was not to be.
Meanwhile, points leader Eli Tomac didn't have a bad day, but his three-race win streak ended. The Monster Energy Kawasaki rider rode well, he started the first moto in about tenth, and Musquin was long gone by the time he reached second. In moto two Tomac gated well—ahead of Musquin—but crashed big on a downhill during the first lap, a reminder of how quickly things can get away even for a rider with momentum on his side.
"Second moto Eli was in front of me and I knew that was going to be a battle, but then he went down, which shows you how tough that track is," said Musquin. "To go 1-1, that's a dream come true."
"You know, when I went down I was trying to get back on my feet as fast as I could and get back to the bike," said Tomac. "Luckily the field was strung out already so I didn't go to the back of the pack. The worse part was I crashed again, clipped someone's back tire. That's the one that did me in there. It was just a scramble, pretty good to get to fifth."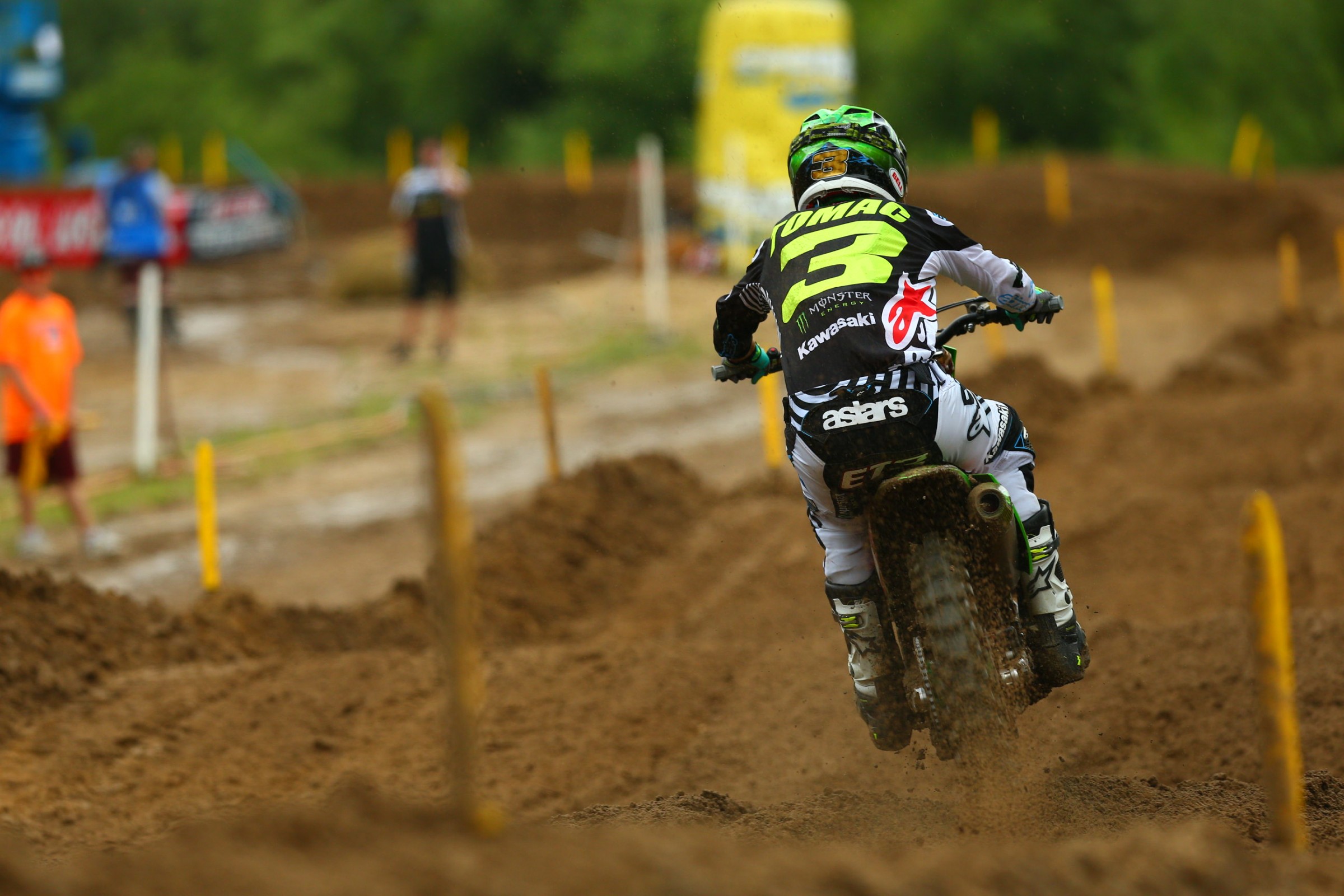 For awhile it looked like Tomac would actually lose points to Baggett for the day, as he was as far back as 14th early in the second moto. Once Tomac settled down and found his usual pace, he made it up to fifth, ending the day one point better than Baggett, and pulling his points lead to 20 heading into next weekend's Washougal National. The crashes are a reminder, though, that this championship is not over.
"We walked away and said that—we made a point on Baggett," said Tomac. "All things considered, we're fortunate to make it back to fifth. The first crash was just a cross rut going down that hill, the dirt was just as spongy as it could ever be really, it ripped the bars out of my hands."
No one knows the highs and lows better than Dean Wilson, who is now definitely on the upswing after scoring his second-straight podium, and this one a runner-up, one better than Southwick. He's still not as quick as Musquin or Tomac, yet, but his 3-3 was solid, and even better, boosted by two great starts. It's been a long time since Dean has started near the front.
"Really good day today, I'm really happy," said Wilson. "I actually struggled this morning in that deep stuff, eleventh fastest, I was off the pace. I ripped a good start in the first moto, I was behind Marv, but I had no flow, I was searching for my flow. I just tried to hold strong and find some lines, by the end I felt half decent. Second moto good start which I was so happy with because it's been a long time since I had a good start. At the finish I didn't know I got second overall, which is even more sweet."
Baggett was okay but again not the same rider he was before his RedBud crash and thumb injury. His 6-2 gave him fourth. Monster Yamaha's Cooper Webb was fifth overall and looked racy at times, but ultimately was again a click off of the front runners. Justin Barcia had a crash in the second moto while running up front, he was sixth with a 5-8, and Wilson's teammate Martin Davalos was damned solid again with 11-4 finishes and seventh overall. Cole Seely, Christian Craig and Fred Noren rounded out the top ten.
In the 250s, Savatgy and his whole Monster Energy/Pro Circuit Kawasaki team have been looking for answers, and some off-week testing with the team down at Ricky Carmichael's GOAT Farm worked wonders.
"Feels good to get another one, I know Mitch [Payton, team owner] has been pulling his hair out and probably hates us, so it's good to get back up there," said Savatgy. "Good starts help, but I guess when you feel like you're one with the bike it's a lot easier."
Savatgy did gate well in both races. In moto one he started just behind the once-again fast RJ Hampshire and took the lead, from there he pretty much cruised, dealing with a small bit of pressure from Alex Martin. In moto two he led again, but Zach Osborne was just too much to stop, and Savatgy lost the lead and settled for second, more than enough for the overall.
The field has been hoping for some bad luck or a big mistake out of Zach Osborne, and it looked like that was going to happen when his bike suddenly started steaming in moto one. Osborne backed way off the pace and nursed it home, and even managed to finish eighth. At first it was thought that a radiator hose popped off of his bike, but it turns out it was a gasket on the valve cover, and the bike was losing oil, not water.
"I was pretty nervous," said Osborne. "I thought at first it was a radiator hose, but we found out after the moto it was a gasket on the valve cover, and it was oil. I was just praying we could make it to the end and salvage some points. I tried not to rev the bike and try to let it stay as cool as possible. When we looked at it after the moto, it actually had more oil left in it so we were actually good."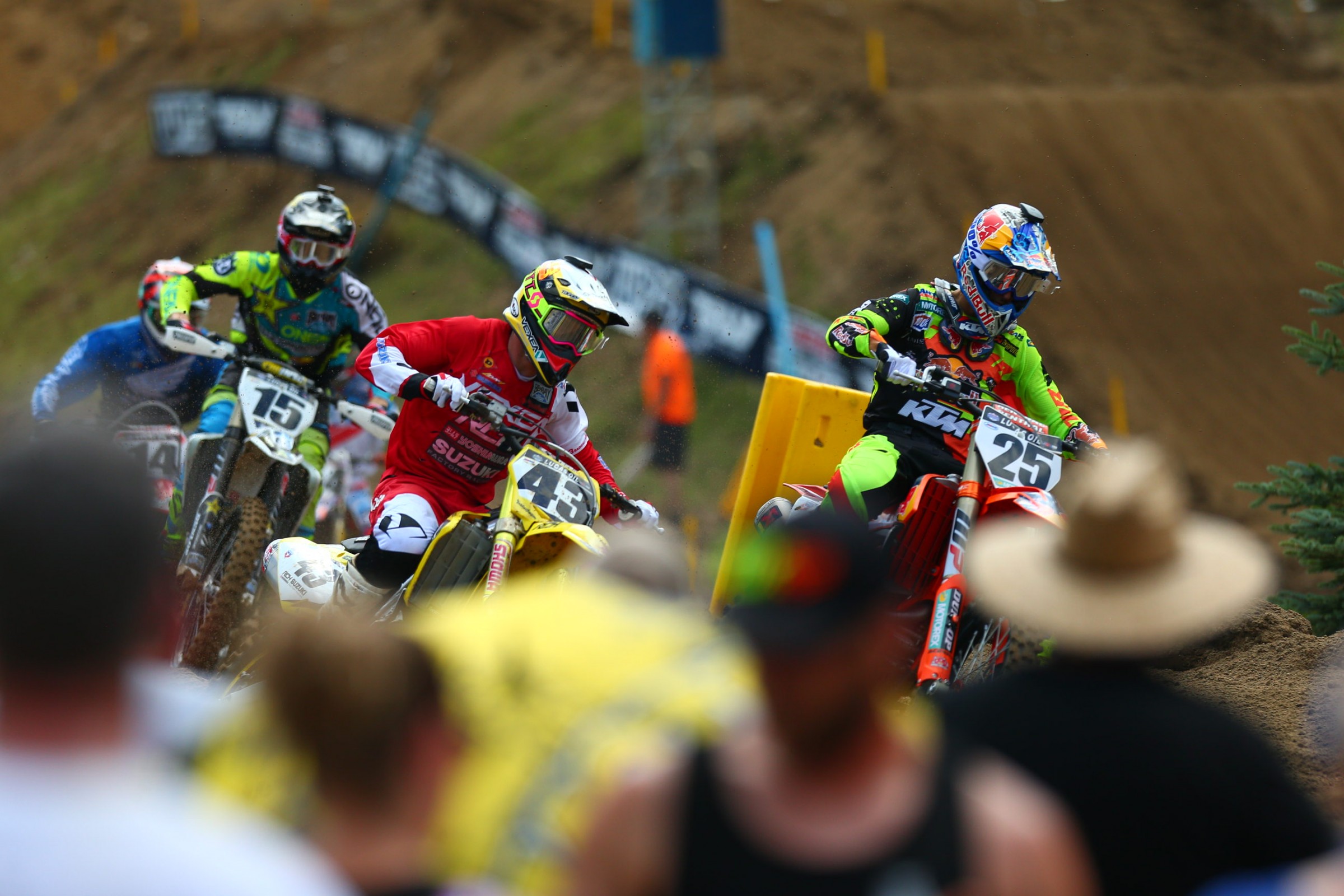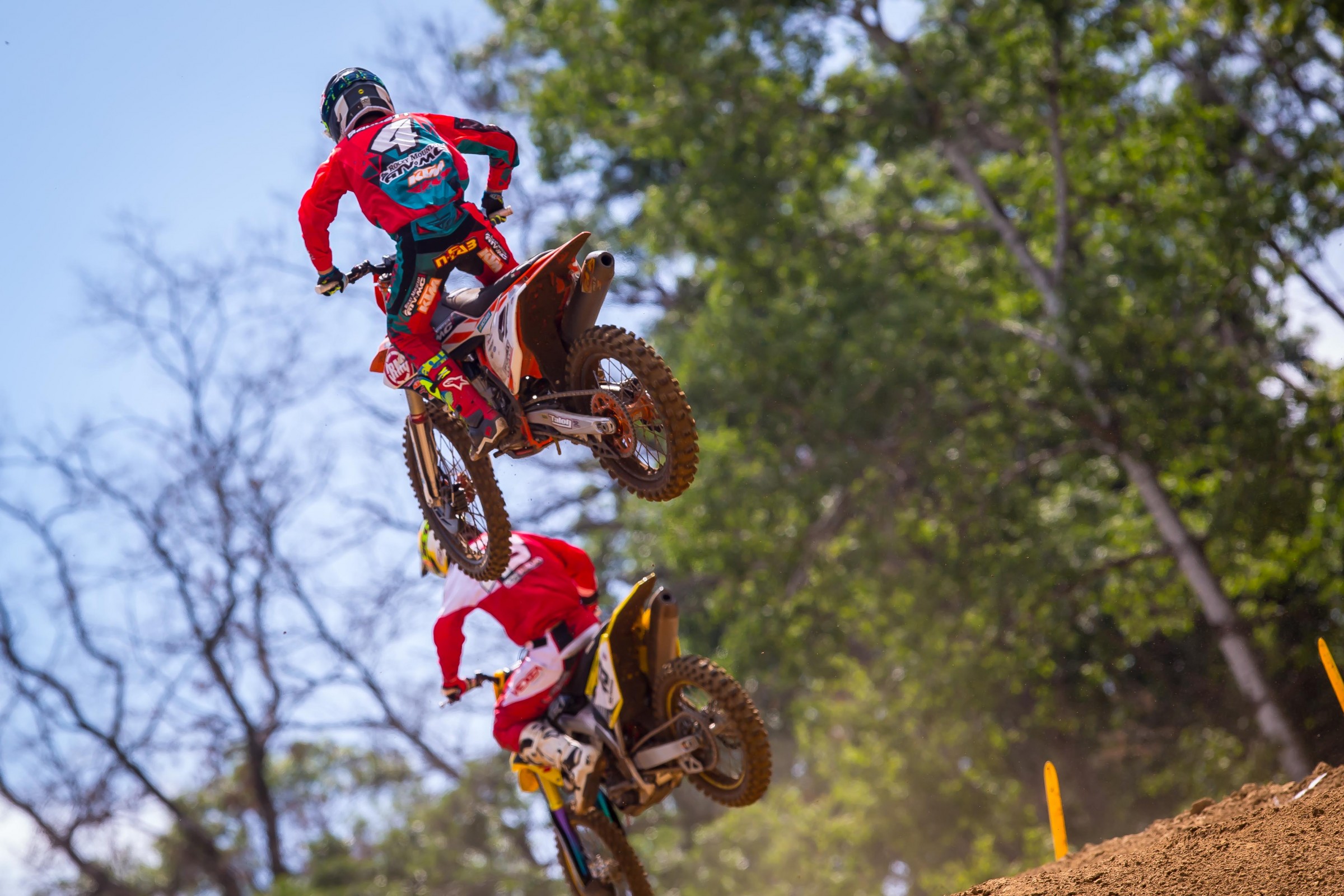 Osborne then did what he's done all year—put the hammer down in the second moto to minimize any damage in the standings. He simply ate up the field, going from fourth to first for the win. "A little bit [surprised] yeah," said Osborne of that performance. "I had some good lines, I dropped the hammer and felt good. I found some lines where I could find a little bit of extra speed."
Of course the Millville faithful wanted to see a Martin brother win, but it wasn't in the cards. Jeremy Martin simply had an off day on his GEICO Honda, he went backwards early in moto one before rallying back for fourth. Alex rode well, and took second behind Savatgy in moto one, giving him a shot at the overall if he could take moto two. He didn't get the start though, and that was it, he ended up fourth in the moto and second overall with a 2-4. Even Alex, with all of his experience at the track, was surprised at the conditions.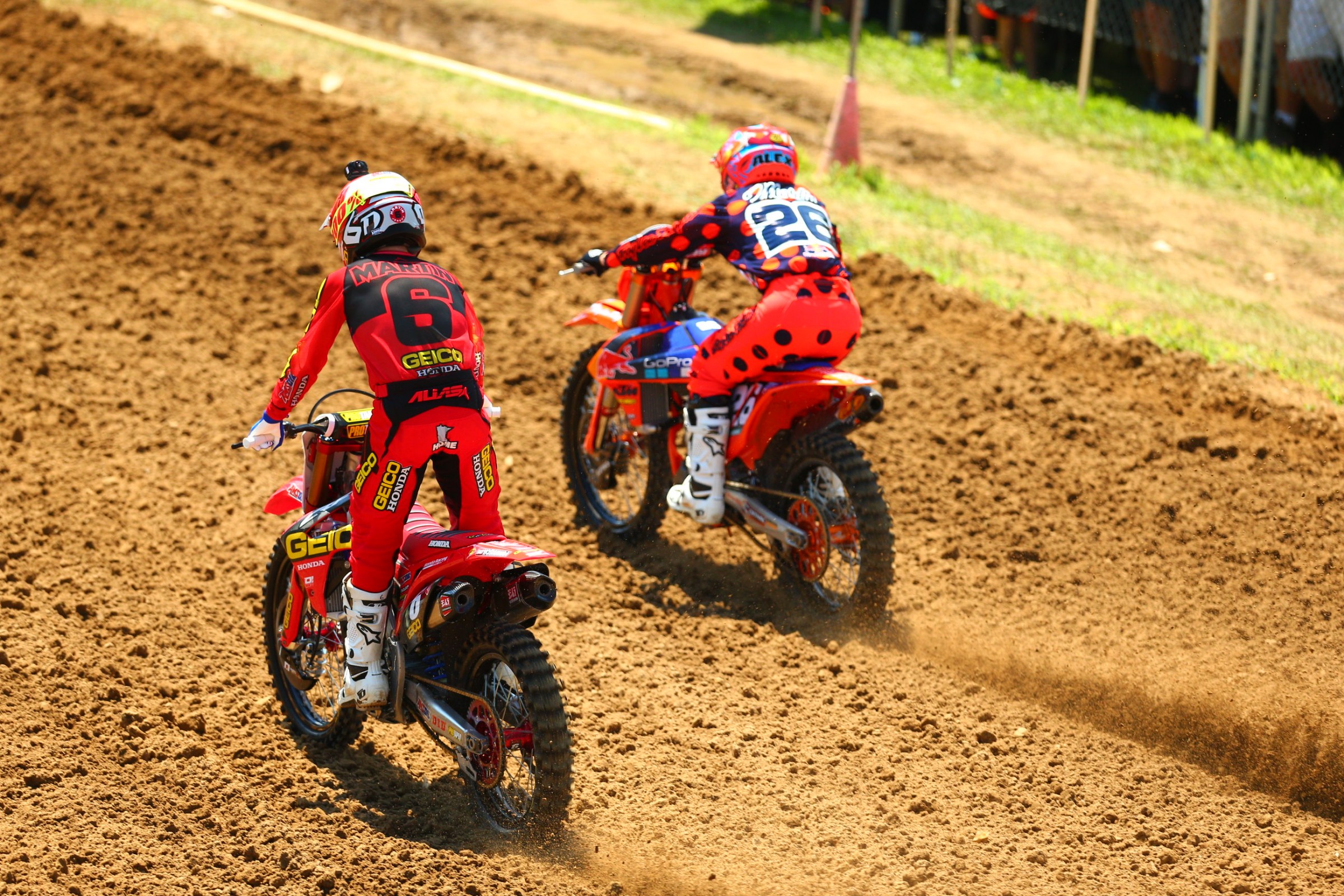 "The track could have been a lot worse, [track builder, Shane] Schaffer and his gang did a lot to make the track raceable and ridable especially in the second moto," he said. "But I have never seen ruts here like that, even the jump faces. It was definitely technical."
"Rough day at the home town race," said Jeremy Martin. "Good starts but I didn't have the speed nor the flow around the track today. I will study footage from the race and work on getting better."
Alex's Troy Lee Designs/Red Bull KTM teammate Shane McElrath had one of the most inconsistent days ever, with 16-3 scores. He crashed and got stuck under his bike in moto one, but started right with Savatgy and paced him for awhile in moto two. McElrath said he's been struggling with starts and trying to get the right feeling with his bike, so he was pumped to finally gate well. From there he just tried to hang in there and not throw it away, grabbing his first moto podium of the season.
Adam Cianciarulo sported the same revised setup and Savatgy, but had a so-so day with (6-6) scores and fifth overall. RJ Hampshire turned his good start in moto one into a fifth, and a bad start in moto two into a seventh, for sixth, saying it was one of those classic deals where he rode worse with the good start and wasted energy, and better with the bad start in moto two, where he felt smoother coming through the pack.
The Yamalube/Start Racing Yamaha contingent didn't get starts—Aaron Plessinger and Dylan Ferrandis showed speed but couldn't put it altogether, resulting in seventh and eighth overall.
Heat and humidity was a factor for the day, too, as the track was not only super rough, but the weather combined to make it one tough day on the riders. No one is winning easy this summer—just ask Millville's two race winners, who know all too well just how hard it can be to stay on top each week.