Spring Creek Motocross
Millville

,

MN
Spring Creek (Millville)
Lucas Oil AMA Pro Motocross Championship
It's time to fire up Lucas Oil Pro Motocross again after a weekend off. Racers and teams and fans have all gathered in Alex and Jeremy Martin's backyard for their annual homecoming race, the Spring Creek National in Millville, Minnesota. Of course this used to be Ryan Dungey's home track too, but he retired in May and will be enjoying the races this time from alongside the fence with everyone else. I'm sure it will be bittersweet for RD5, though I have to say that I can't remember a single rider that ever seemed so comfortable and happy in his decision to retire. I know he misses the races, but he doesn't look to be missing the job of racing.
I would have loved to be up there in Minnesota hanging with Ryan and watching the races all day tomorrow, and then doing his Major River-to-River Ride again, which will take place Sunday morning and benefit St. Jude Children's Hospital, but instead I'm down in Florida on the outskirts of Jacksonville—about a dozen miles away from downtown, to be exact—sitting inside the air-conditioned registration office of WW Motocross Park. This, of course, is the new site of the Monster Energy MXGP of the USA. The old venue, Gatorback Cycle Park, was no longer an option after a seemingly easy lease update got sideways when a zero was apparently added to the total by some new members of the landowner group. For a couple of weeks a lot of negotiating went back and forth, but in the end it was obvious that the two sides—Wyn Kern's Unlimited Sports and the landowner group—were still an ocean apart. It expired on June 30, and with it went any chance of still holding the race at the track that used to be famous as the opening round of the AMA Pro Motocross, and now the Thor Mini Os. I have no idea what is in the facility's future, but it won't be the 2017 MXGP of the USA.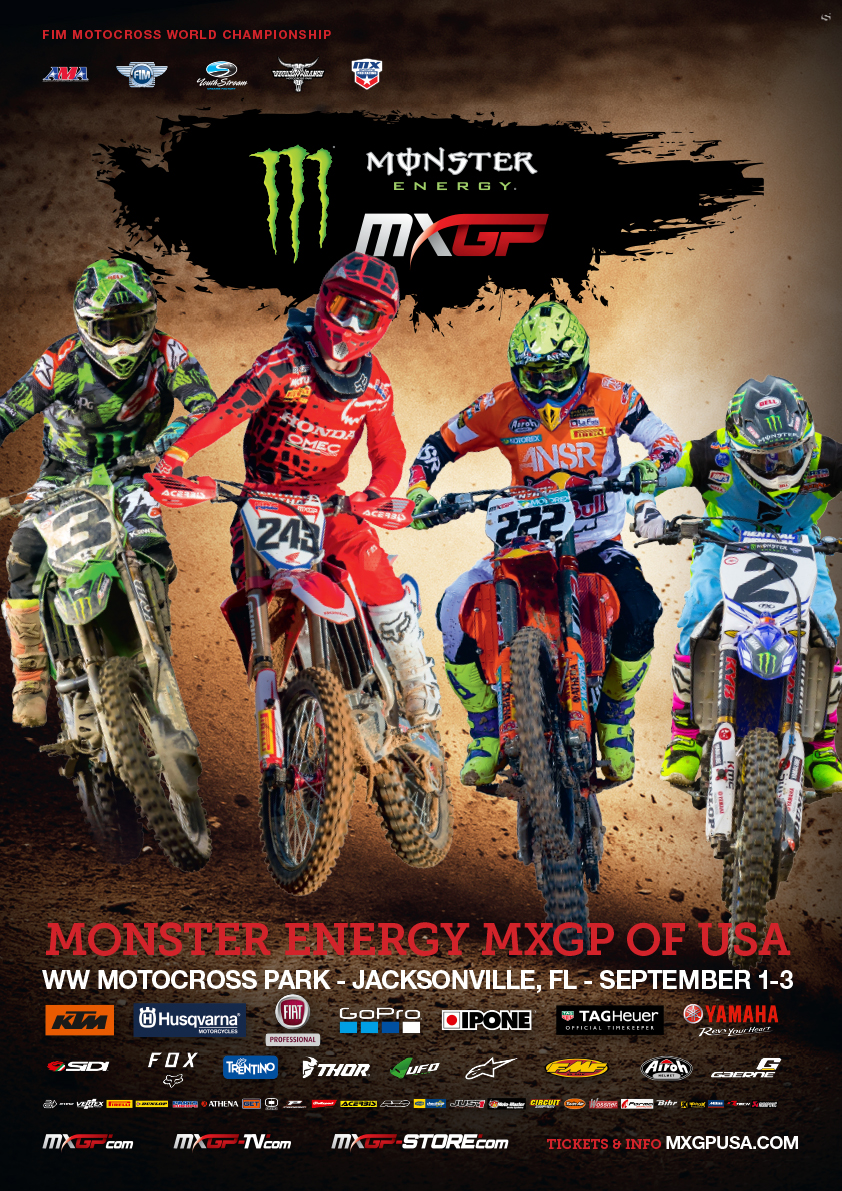 Fortunately, Wyn was undeterred, and we at MX Sports are fully committed to helping Youthstream realize their goal of a successful round of the FIM World Championship here in the U.S. With much of the equipment and infrastructure already floating across the Atlantic Ocean toward Jacksonville's shipping harbor, we asked Youthstream if they were okay with us finding an alternative track. They were, so long as it was a good track and close to where everyone already had plans to go, which was the upper half of Florida. We immediately thought of WW Motocross Park.
Wayne Scarborough Jr.'s family has been on a massive ranch just west of Jacksonville since at least 1981, according to the painted letters on the side of one of his dad's cool old pickup trucks. In the past few years he's been working on his dream of building a state-of-the-art motocross facility, and he certainly has the land and equipment—and lack of neighbors—to get the job done. I had heard great things about the fun and flowing track—built by Jason Baker and his Dream Traxx team—from folks like Austin Forkner, Earl May, Ricky Renner, Kailub Russell, Brett Cue, but I had never been there myself.
So, last night I flew to Jacksonville, and this morning Wyn and I went out and met with Junior Scarborough and checked WW Motocross Park out. I was very impressed. The track is long, lots of Florida-style elevation changes (in other words, giant clay and sand mounds) and some rough chop. It reminded me of the old Diamondback track at Cocoa Beach, or maybe the St. Petersburg National track of the '70s and early '80s, and even the old Trans-AMA track at Orlando International Speedway. But it's not as sandy as any of those tracks—this is north Florida soil, and it will be choppy and rough, but not like Valkenswaard, let alone Lommel.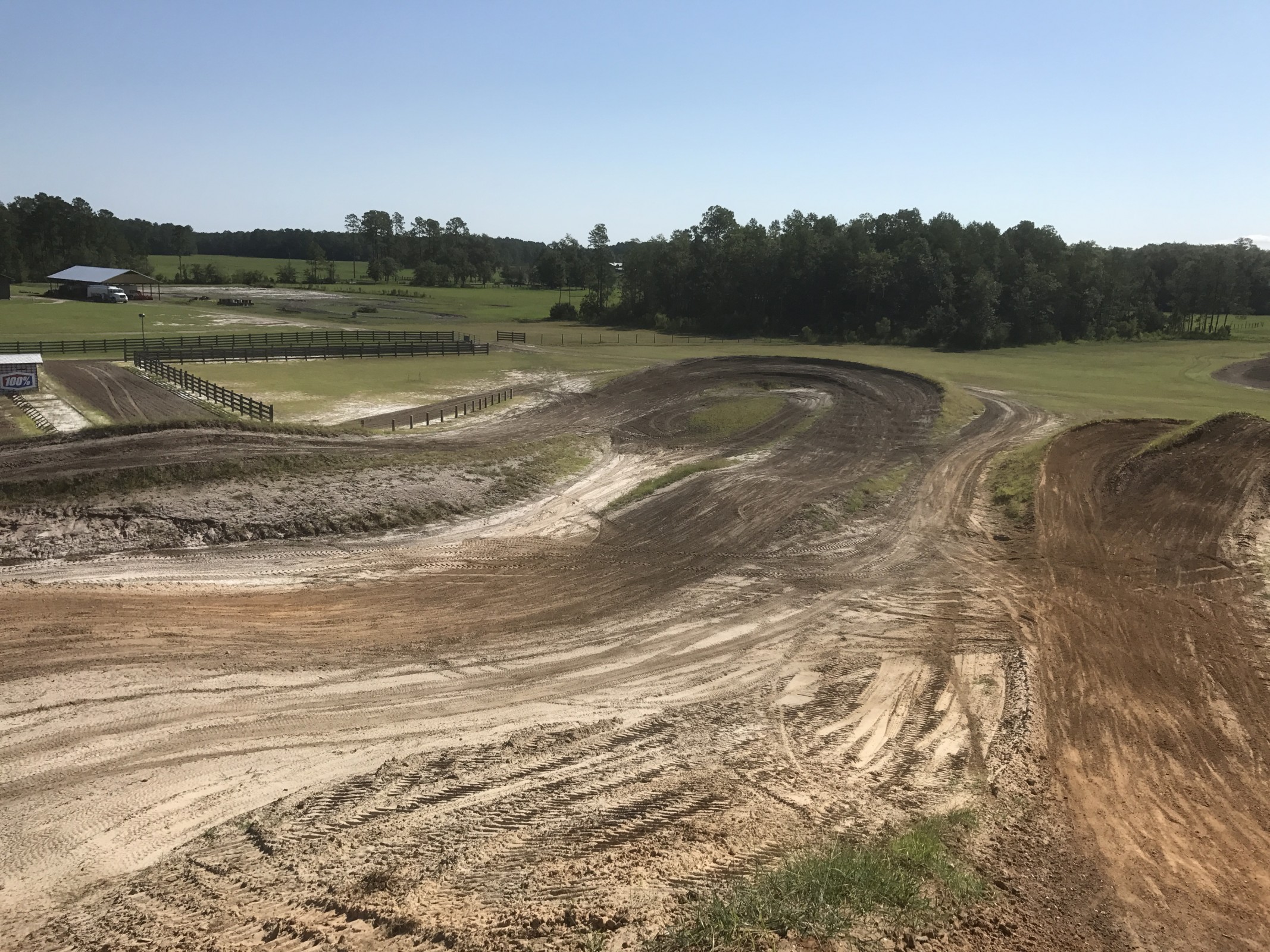 Now I know there are purists out there that hate seeing a motocross track without big hills, but this will be enough motocross track for anyone, especially after Youthstream's architects and our folks get together in the fortnight before the actual race, which takes place September 1-3. It's going to be a really good event.
Tomorrow I get to fly home, watch the Spring Creek National on the NBC Sports Gold app, and then on Sunday the Czech MXGP from Loket. I will be imagining what it's going to be like to see our best go up against their best, on a completely neutral motocross track that probably only Austin Forkner has ever been on out of the people who will be racing the Monster Energy MXGP of the USA—and that was on a track that will no doubt undergo some changes between now and then. Thanks to Junior Scarborough and everyone at WW Motocross Park for stepping up, Wyn Kern and Unlimited Sports for not giving up, and Tim Cotter of MX Sports for working through all the kinks and negotiations on one of his cell phones while trying to get Loretta Lynn's up and running with his other. And thanks to Youthstream for not pulling the plug after the unfortunate and unexpected news on the Gatorback talks—we are all going to work together to make the new MXGP of the USA work out even better.
Want to know a little more about Junior Scarborough and WW Motocross Park?Dave Freeman wrote this blog about the WW Motocross Park and its owner.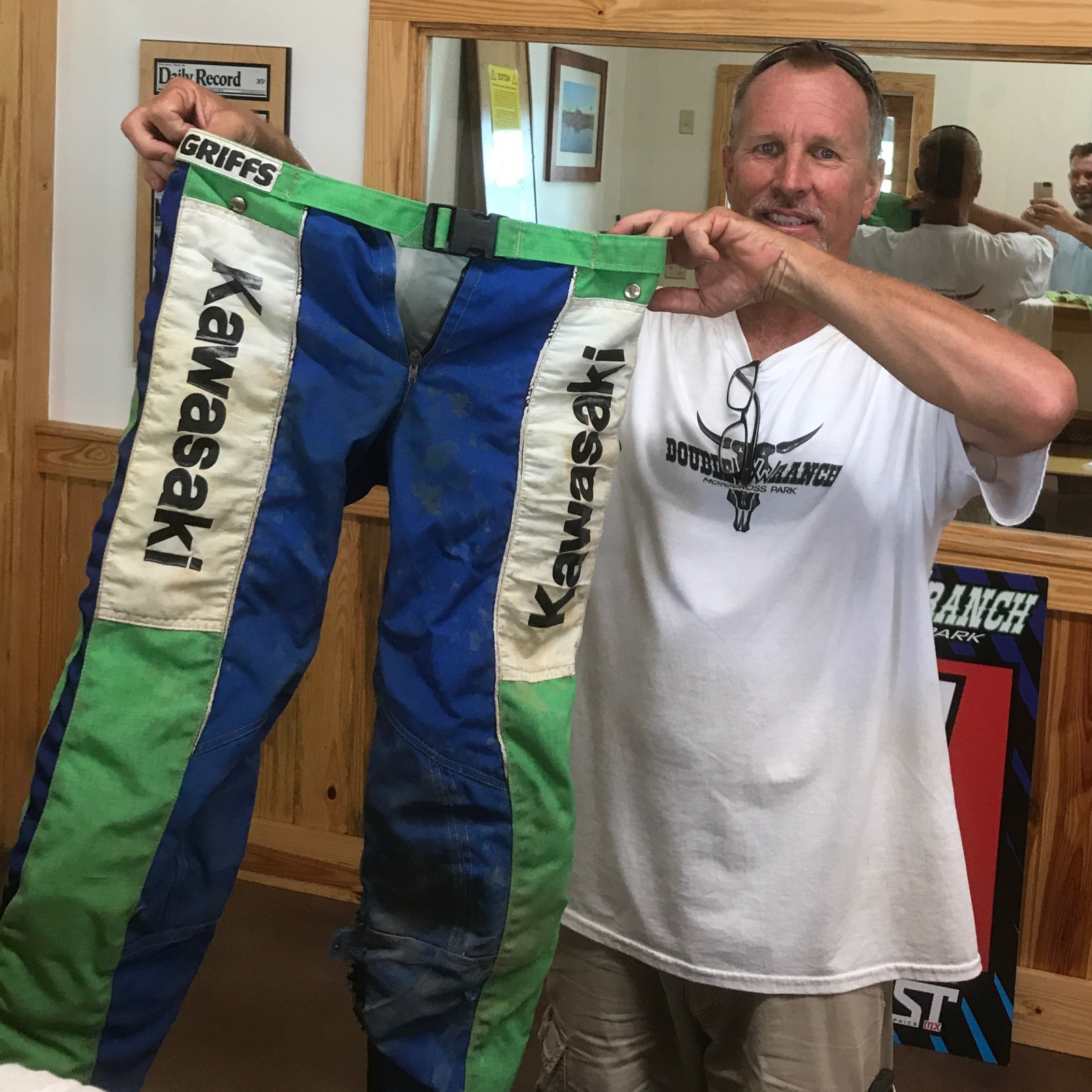 And here's an interview from MX Large with Junior about how it all came together.
HEDGIE (DC)
Last weekend we almost lost one of the friendliest faces in the entire motocross paddock. Oakley's team manager Ryan Miller, better known as Hedgie, used his off-weekend to go boating back home in Arkansas. He was spending the night there at the docks on his boat when he was overcome by carbon monoxide fumes that were coming from a faulty generator exhaust. The fumes killed his dog and he was lucky to be found by his neighbors at the docks, one of who was a nurse. Hedgie went straight into intensive care, but after a couple of touch and go days, he made a turn for the better. Doctors now say he should make a complete recovery, but had he spent 20 more minutes near the CO2 fumes, according to the doctors, this might have might have had a much different outcome.
If you are headed for Loretta Lynn's to camp in the next two weeks, please make sure you get yourself a carbon monoxide detector for your camper or even the tent you're staying in. We had a close call there two years ago with a young rider that was staying in an older camper. You can pick one up at places like Lowe's and Home Depot.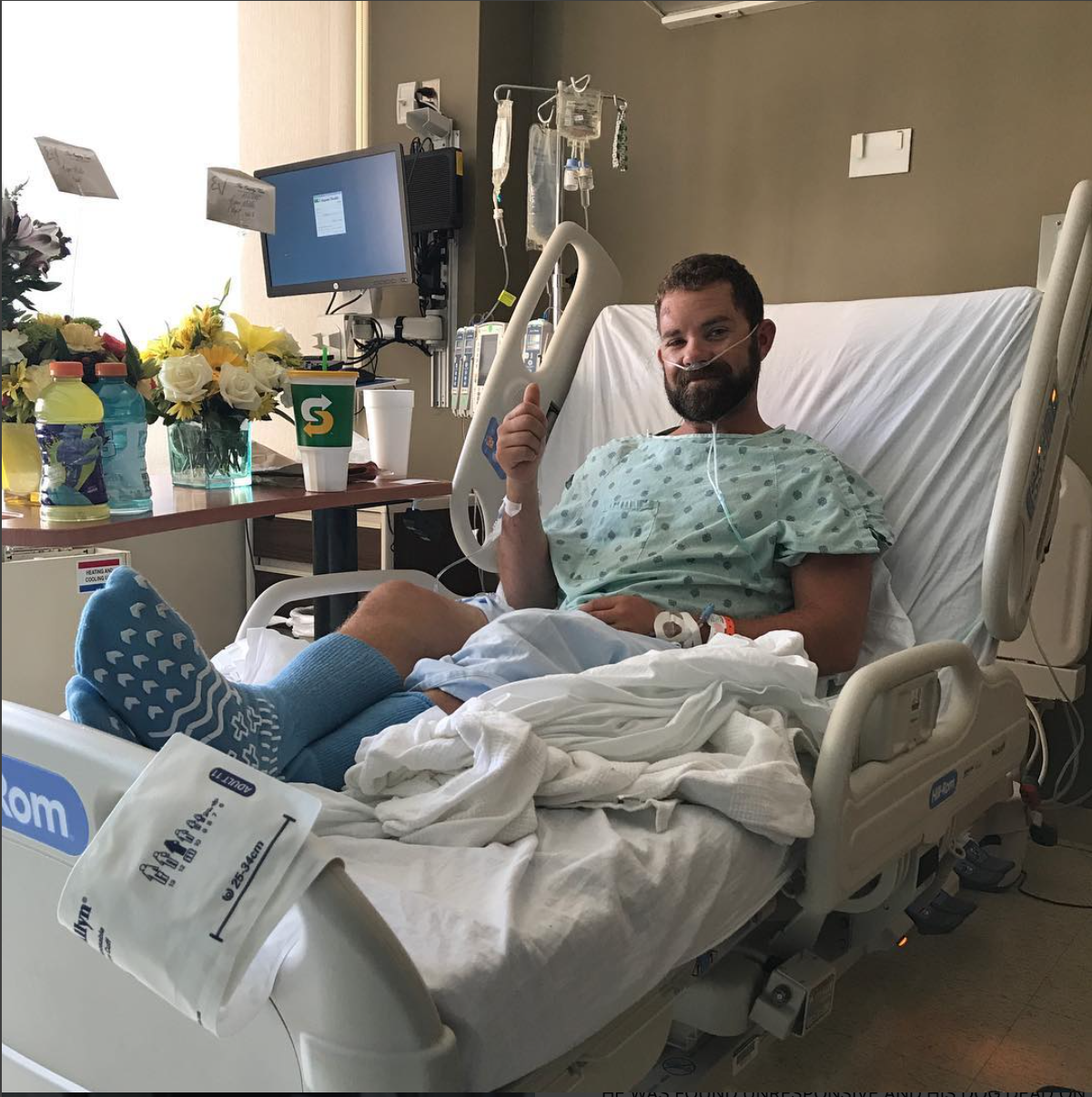 Pro Perspective (Jason Thomas)
JT: Home races are the best, especially outdoors. Competitively, getting to race a National on a track that you have thousands of laps on is a huge advantage. Jeremy and Alex Martin will know where the bumps will form long before they show up. They know how much grip the dirt will allow. They know when to brake down the hills. Case in point, they were 1-2 coming around the start of the first moto last year. There is just something about a track you have ridden that much. It inspires confidence and puts everything at ease. Late in the moto when everything hurts and your body is screaming for relief, it feels just like another training day at home. They can slide into the smoother lines that outsiders won't ever see or realize have formed. They will be quicker to see certain lines deteriorating or about to blow out. All of these insights are the advantage of your home track. Even if they don't win, it's always advantageous to race against someone in your own backyard.
The friends and family aspect can work differently for different people. For me, I always drew motivation and focus from it. Failure sucks and even more so when everyone you know is there to see it. That pushed me to razor focus on those days, ensuring that I would perform to my best level. As Grant Langston likes to say, "Pressure is handled differently by everyone; some will fold and some will focus." I always used it as my biggest motivator.
THE WEEK THAT WAS IN PULP (Steve Matthes)
Off-weekend in the Lucas Oil Pro Motocross Championships, but that didn't stop us from having a Pulpmx Show this past Monday night. Jake Weimer flew in to co-host with us and although he was 30 minutes late due to a cab driver that might've been unfamiliar with how to, uhh, drive a car, he did make it and was great. One word for you, Jake: Uber.
Weimer talked about testing the 2018 Suzuki RM-Z450 and how much he liked the chassis changes they made. He rode a modified motor version so couldn't comment much on the production bike, but he said all the changes made were positive in getting the bike to handle better. And they didn't mess up the traditional great Suzuki turning skills.
Weimer's got the summer off unless he wants to jump at an offer he's got from an MXGP team with an injured rider for the last three GPs (including the USGP). He's undecided yet whether to take it, but he's kind of ramping up training and riding so I'm guessing we'll know soon.
Ryan Villopoto joined us to talk about his new love of dirt tracking. He's getting a hot shoe made, he says he may race some, and, not surprisingly, he says he's awesome at it. We read an email from a women who said RV was fantastic to her and her family at the High Point Happy Hour Friday night party to which RV replied that he's "the people's champ." Anyway, it sounds like RV is doing well in retirement and was his usual self. He will be at Loretta Lynn's next week for Kawasaki, as will Jeremy McGrath.
We had Phil Nicoletti on and he was super pissed about not being included in the 2017 Lucas Oil Pro Motocross program, so we called Weege to have him explain this. Phil's going to be back for the last three races from his crash in SX and said whether he raced or not, he deserved to be in it (which I disagree with). Then a guy called in and said that Phil was indeed in the program, but buried in the back. This didn't make Phil satisfied and we all agreed to disagree. Weege then talked about trying to get Phil and/or JGR to rent his house and we shuddered at the thought of those two cheapskates trying to negotiate with each other.
Donnie Emler Jr. from FMF called in to talk about the 125 Dream Race and how he's heading to Loretta Lynn's and then Lommel MXGP in a couple of weeks. We talked with Weimer about that year FMF was on the factory Kawasaki team, how FMF launching an energy drink was a disaster, and some new exciting products from the folks over there. (And congrats to Donnie Emler Sr. on being honored in September with induction into the AMA Motorcycle Hall of Fame.)
Later on in the week I called up Zach Osborne for the Fly Racing Racer X Podcast to not talk on his great results this year, but I wanted to talk to Zach about his path here. From busting out as a hot KTM amateur to a pretty crappy situation at Yamaha of Troy to being forced to Europe. He had some success there and at some point, Osborne said he accepted that he might just stay there for his whole career until he made a deal with his English-based team to ride the first four 250SX West Region races a few years back. Osborne mentioned that after his great results, he had offers from Rockstar Husky, Pro Circuit, TLD, and GEICO for the following year. Interesting career path for Wacko for sure.
Privateer hero Cody Gilmore was on the Race Tech Privateer Island Life Podcast to talk about his recent run of injuries that have held him back. He crashed in St. Louis SX and it was a pretty good one. Last year he broke his jaw, so Cody's unsure if he's going to go race SX in 2018 or not. Gilmore recently go into the race promotion business in Nebraska and we talked about that, what he would do to help out privateers in SX, and how he worked at Race Tech during SX here and there. Always an interesting guy.
The Fly Racing Moto:60 Show was yesterday and Jason Thomas and I discussed the MXoN team and what we think is going to happen with that. I strongly think that Youthstream needs to help out the USA in getting to this race, whether it's a travel subsidy and/or moving it up in the calendar. I've been a member of Team USA and been to 12 of these and Team USA is the number one star of the event. Why is this even becoming a hassle for USA and the teams? We've got to look into this, in my opinion. Justin Brayton joined to talk about going to Australia for the SX series this fall, how he thinks he's going back to MCR Honda for 2018, and I think we hammered out a Fly/Brayton gear deal for 2018!
On another note, Weege and I hammered out a new Oral History story for right here and I'm excited about it. I think this one might be the best yet so stay tuned real soon and see if you agree. (DC note: You're welcome for the idea, Matthes.) So yeah, go check out Pulpmx.com after you've read everything there is to read here on Racer X and thank you.
THE NUMBER: 3 (Andras Hegyi)
From 2014 through 2016, his first two years in the class, Eli Tomac won just five times. This year, he's already won four overall wins, including a current streak of three consecutive wins. Tomac's triple marks the 33rd year in the 250/450 Class that a rider has won three consecutive times. Tomac is the 18th rider to take at least three wins in a row. There have only been four seasons (1983, 1996, 1998, and 2007) that a rider was not able to capture a championship in a season in which he won three consecutive races.
1973 – Gary Jones (Honda) 3 consecutive wins
1977 - Tony DiStefano (Suzuki) 3
1978 - Bob Hannah (Yamaha) 8
1979 – Bob Hannah (Yamaha) 4
1980 – Kent Howerton (Suzuki) 4
1981 – Kent Howerton (Suzuki) 4
1983 – Bob Hannah (Honda) 3 (not champion)
1984 – Ricky Johnson (Yamaha) 3
1985 – Jeff Ward (Kawasaki) 3
1986 – Ricky Johnson (Honda) 4
1987 – Ricky Johnson (Honda) 3
1989 – Jeff Stanton (Honda) 5
1993 – Mike Kiedrowski (Kawasaki) 4
1995 – Jeremy McGrath (Honda) 3
1996 – Jeremy McGrath (Honda) 3 (not champion)
1997 – Jeff Emig (Kawasaki) 4
1998 – Jeff Emig (Kawasaki) 3 (not champion)
2000 – Ricky Carmichael (Kawasaki) 6
2001 – Ricky Carmichael (Kawasaki) 5
2002 – Ricky Carmichael (Honda) 12
2003 – Ricky Carmichael (Honda) 6, then 3 more
2004 – Ricky Carmichael (Honda) 12
2005 – Ricky Carmichael (Suzuki) 12
2006 – Ricky Carmichael (Suzuki) 6, then 3 more
2007 – Ricky Carmichael (Suzuki) 5 (not champion)
2007 – Grant Langston (Yamaha) 3
2008 – James Stewart (Kawasaki) 12
2009 – Chad Reed (Suzuki) 4
2010 – Ryan Dungey (Suzuki) 9
2012 – Ryan Dungey (KTM) 10
2013 – Ryan Villopoto (Kawasaki) 3
2015 - Ryan Dungey (KTM) 5
2016 – Ken Roczen (Suzuki) 4 plus 3
2017 – Eli Tomac (Kawasaki) 3 (and counting)
This Week in News (Chase Stallo)
Five months and 29 days after his crash at Anaheim 2, Ken Roczen returned to riding earlier this week. The news, originally spotted on Christian Craig's Instagram, spread quickly, and later that morning the Honda Powersports Twitter account verified that Roczen had been cleared by doctors to resume riding activities.
While its too early to tell what this means long-term, Roczen has remained steadfast in his expectations to return to racing at Anaheim 1 in 2018.
The Motocross of Nations is quickly approaching, and while we probably won't hear an announcement in regards to Team USA until Unadilla, Team Canada announced its three-rider team earlier this week. Colton Facciotti (MXGP) joins holdovers Tyler Medaglia (Open) and Shawn Maffenbeier (MX2) from a Canadian team that placed an impressive 10th overall in 2016. Kaven Benoit, who was the surprise last year posting 8-12 moto results in MXGP, was not selected as he's been dealing with an ankle injury throughout this season.
Monster Energy/Pro Circuit Kawasaki's already trying 2017 Lucas Oil Pro Motocross campaign went from bad to worse this week when Austin Forkner sustained a concussion while practicing and was ruled out for round eight of Lucas Oil Pro Motocross at Millville on Saturday. In other injury news, Matt Bisceglia will make his 2017 debut, but with a different team. Signed to a 250 deal with AutoTrader.com/JGR Suzuki, Bisceglia will switch over to RCH/Yoshimura Suzuki to fill-in for the injured Broc Tickle for the remainder of the Nationals.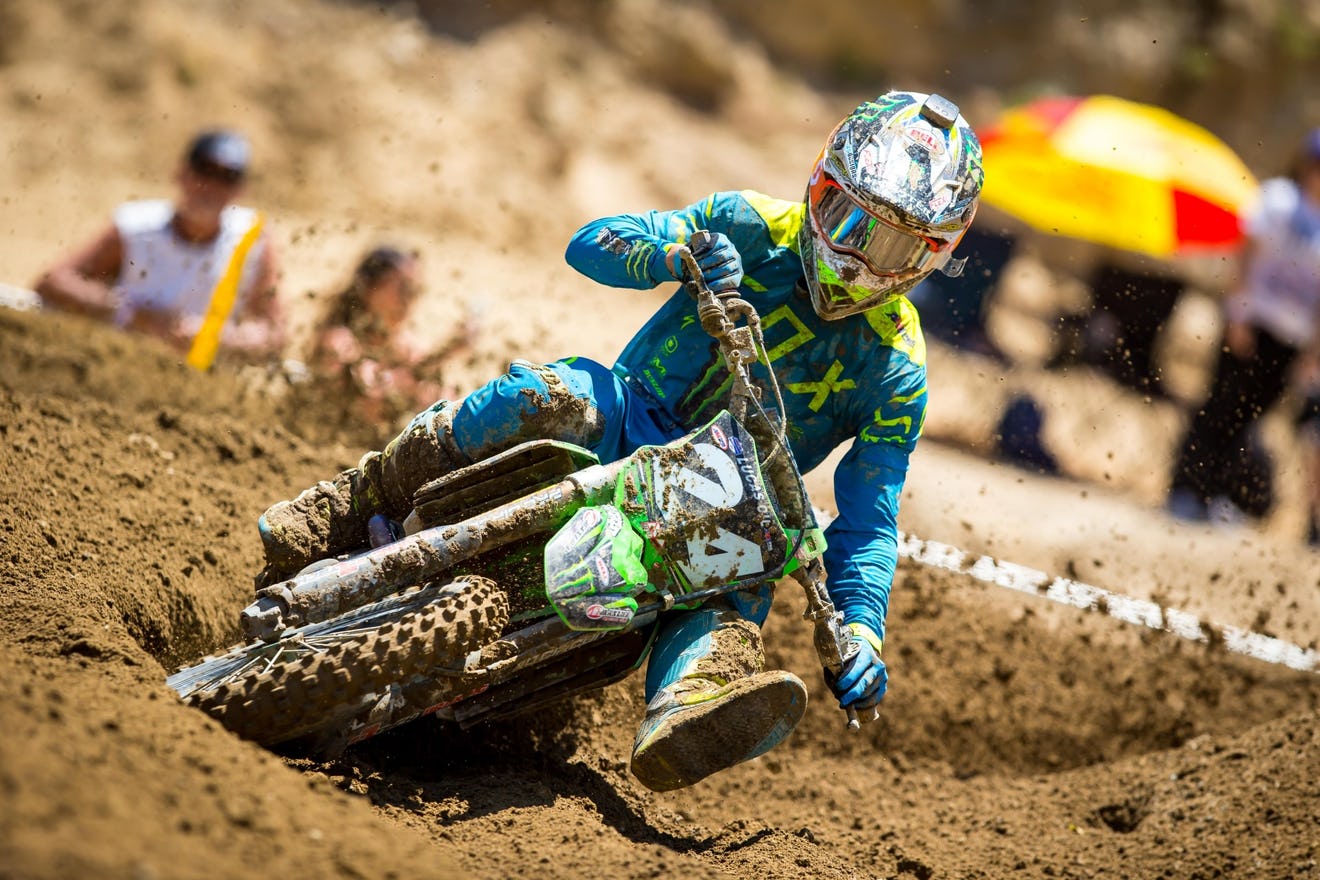 While we continue to wait on a definitive timeline for Cooper Webb to ride the all-new Yamaha YZ450F stateside, we'll get to see the new bike in action this weekend at the MXGP of Czech Republic, when Wilvo Yamaha's Arnaud Tonus debuts the bike. Yamaha announced this week that Tonus would ride the 2018 YZ450F for the remainder of the FIM Motocross World Championship. A works version of the 2018 is still in development. Monster Energy Yamaha Factory Racing riders Romain Febvre and Jeremy Van Horebeek are expected to debut the 2018 YZ450FM later this year.
First Sunshine State GP (Andras Hegyi)
The legendary Florida track Gatorback Cycle Park in Gainesville will not return to the motocross' world stage with the MXGP of the USA. In fact, it may be gone forever. Gatorback was hoping to host it's first big race since 1997, which was the last time they hosted a round of Lucas Oil Pro Motocross. Despite the cancellation of the race, the Sunshine State remains on the calendar at WW Motocross Park on WW Ranch outside Jacksonville.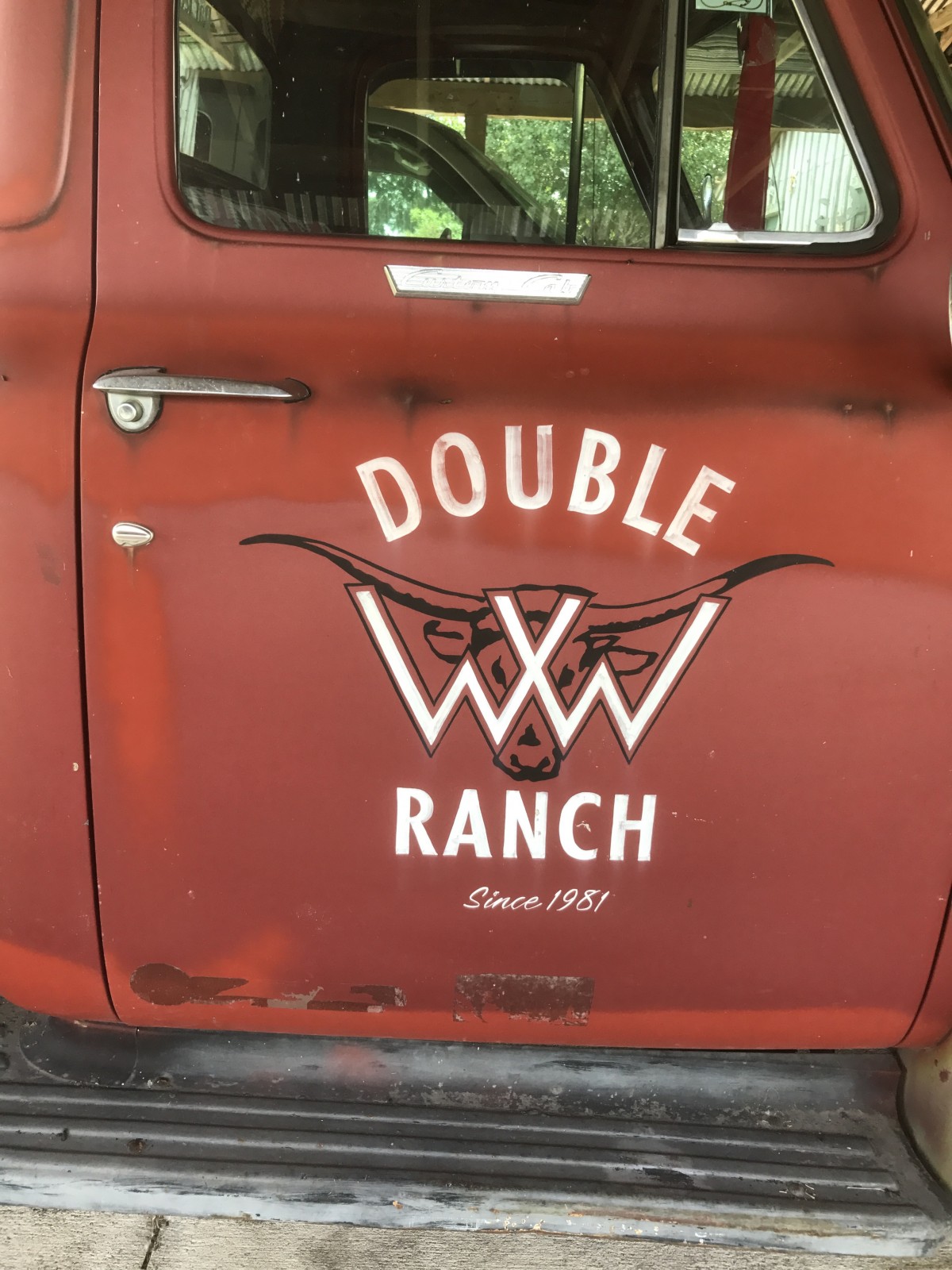 Since the FIM Motocross World Championship started in 1957, the U.S. Grand Prix has been held in six different states, with Florida making it seven. And WW Motocross Park will be the ninth American track to organize a World Championship GP.
Venues for the GP of the USA
Carlsbad, CA: The circuit welcomed the world championship 14 years in a row between 1973 and 1986. They were organized by AMA Motorcycle Hall of Fame promoter Gavin Trippe.
Lexington, Ohio: From 1975 to '81 the Valvoline 125 Grand Prix took place at the old Mid-Ohio motocross track, which is about five miles from the well-known Mid-Ohio road racing course. Marty Smith won the first two years to become the first American with 125 GP wins.
Unadilla, NY: The track held the World Championship 15 consecutive seasons between 1978 and '92.
Delmont, PA: Steel City Raceway entertained the World Championship once, in 1987.
Hollister, CA: The World Championship visited the track twice, in 1998 and 1989.
Glen Helen, CA: The San Bernardino track would host USGP rounds seven times in all. Between 1990 and 1992 there were three 500cc GPs. In 2010 and '11 the World Championship returned, then again in 2015 and '16.
Budds Creek, MD: They held the World Championship in 1993, '94, and '99. It also hosted the Motocross of Nations in 2007.
Charlotte, NC: The circuit hosted the GPs in 2016, won by Monster Energy Kawasaki's Eli Tomac (MXGP) and Yamalube/Star Racing Yamaha's Cooper Webb.
Jacksonville, FL: WW Motocross Park will be the first season in the 61-year history of the FIM Motocross World Championship to visit Florida, and it's happening the first weekend in December. For more info check out UnlimitedSportsMX.com
Head-Scratching Headlines
"Yamaha Factory Motocrosser Cooper Webb Is Ready To Go For The Win This Saturday In The Gopher State" – Yamaha Press Release
"Justin Bieber Banned From China For Being a Baaaaad Boy ..." – TMZ.com
Hey, Watch It!
Want to get an idea of what a lap around WW Ranch looked like last November? Check out this MXPTV video of Justin Cooper and Jordan Bailey dicing there last fall:
GEICO Honda's Jeremy Martin put on Guy B's Vital MX Garmin for One Lap Around Spring Creek yesterday, here's a great preview for the track for tomorrow's race:
Random Notes
MX Sports is looking for any Loretta Lynn's alumni that are on active duty and currently deployed. If you know anyone, please let Tim Cotter know! TCotter@mxsports.com
---
Remember Ian Trettel? He was once one of the most promising young riders in the sport, only to suffer a career-ending injury in practice of his first-ever AMA Supercross at Daytona. He's now moving to Florida to pursue a full-time career with his MX school business (ITMX) and his first class will be at a track called Sky-Top.
---
Check out this comment we got from Rob Naughton on the 1984 edition of our 36 Years of Loretta's feature:
Thanks for this article guys, I had no idea my name was on the trophy and of course it was a long time ago and I did not remember us (Arizona) winning the State Cup, kind of an honor to look back now and see my name there with the other Arizonans. 1984 was the one and only time I raced LL and it's ironic I recently found an 8x10 photo that I had bought there, A corner shot with the big Loretta Lynns sign in the background. I was a local 80 Novice in the beginning of 1983 and with the death of my best friend Kyle Fleming (along with Bruce Bunch and Rick Hemme) at Ponca in 1982, out of pure loss and not knowing what to do with their time the Flemings started taking me racing. By the end of 83 I was a fast 80 expert and based on my results I picked up Factory Honda amateur support for 1984. But the 84 Honda was not on par with the KX 80 and I had grew to much to be competitive. Honda gave me a 125 mid season and off to Ponca and Lorettas in 84. Two years later I would finish 4th in the AMA 125 West SX Championship and 2nd in 87 in the 125 West. My professional Moto and Supercross career would be over by January of 89 due to injury preparing to race the full 250 SX series. So in 5 short years I went from 80 novice to narrowly losing the 125 West by 7 points.
Anyway sorry for the long post but reading this article on 1984 LL reminded me of how and where my racing career started (basically because of the tragedy in Ponca the year before), how quick it took off and how quick it was over.
Davey if there is any way you can email me a quality picture of that trophy, I'd like to ad it to a collection of memorabilia I have from my racing days.
Thanks
Rob Naughton.
Subscribe now for as low as $9.98 and receive a free Fly Racing Draw String Bag plus access to our digital edition.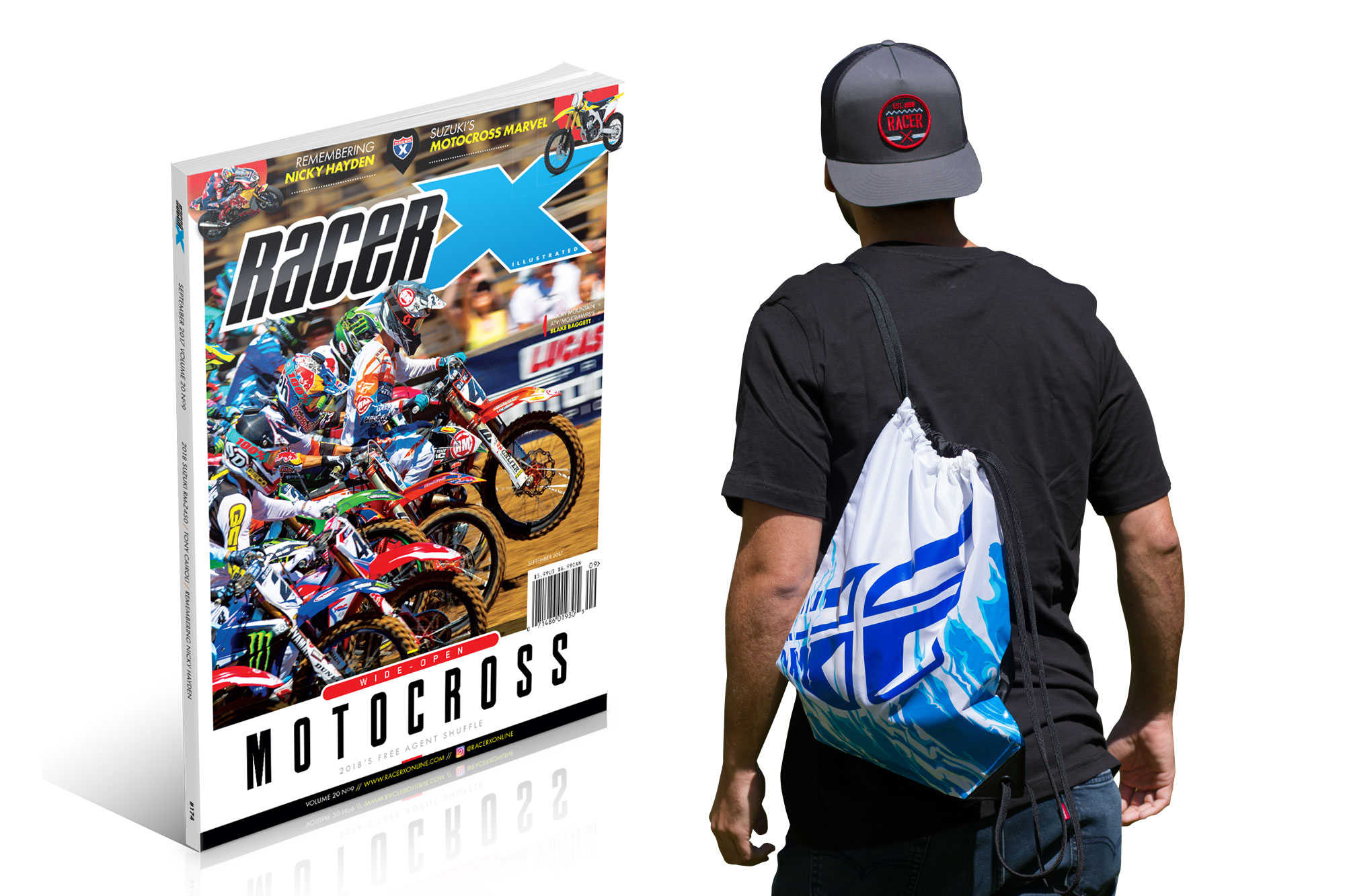 The only way to cruise the pits whenever you'd like is with the Racer X All-Day Pit Pass, but quantities are limited! Get yours today while they're still available and get all-day pit access plus a one-year subscription to Racer X Illustrated for just $50. Preorder ticket sales end Thursday, July 20th at 11:59 PM.
If you preorder online for this event, you'll need to pick your Racer X Pit Pass up at the Racer X Pit Pass Booth, which will be located in Sponsor Village, where you'll also receive an extra copy of Racer X, the official event sticker, and Racer X stickers.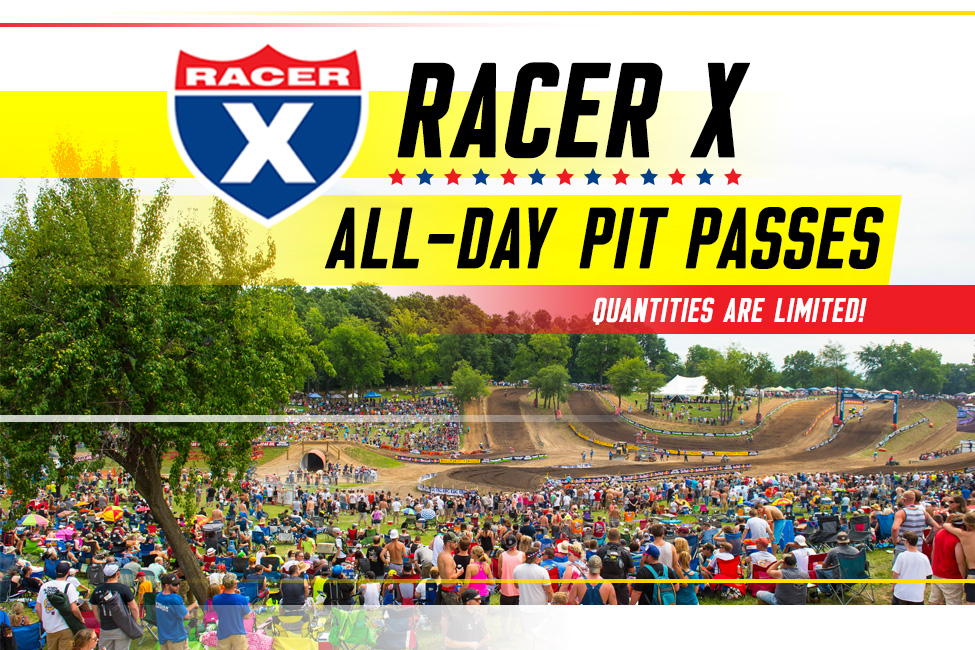 Subscribe at Spring Creek and Get a Free $20 MotoSport Gift Card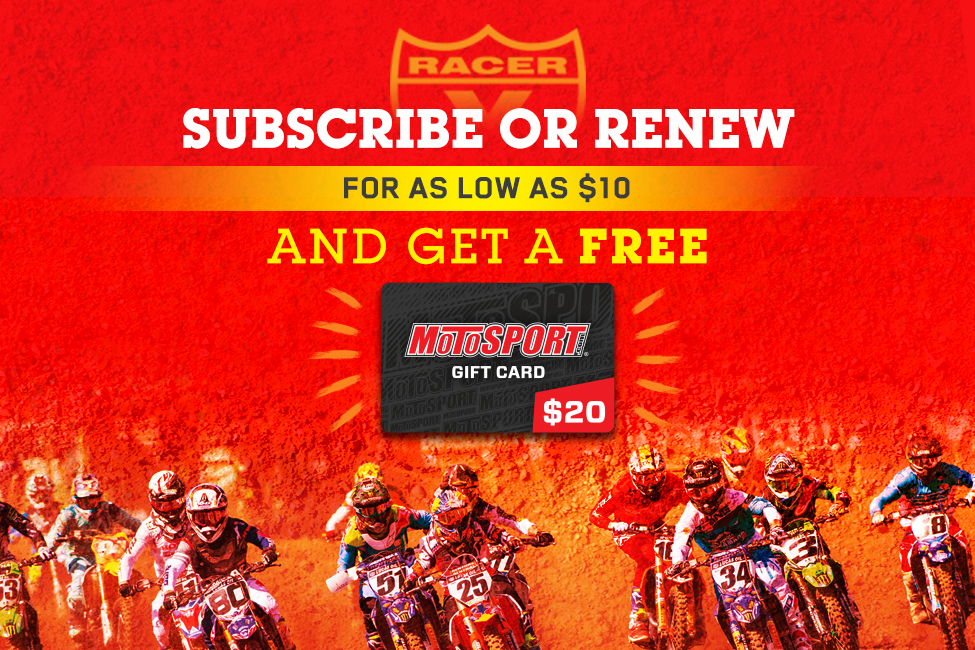 Headed to the Spring Creek National this weekend? Be sure to stop by the Racer X Booth in Sponsor Village, and subscribe to Racer X Illustrated for as low as $10 to receive a FREE $20 Motosport Gift Card, a one-year subscription to Racer X Illustrated, an extra copy of Racer X, the official event sticker, and Racer X stickers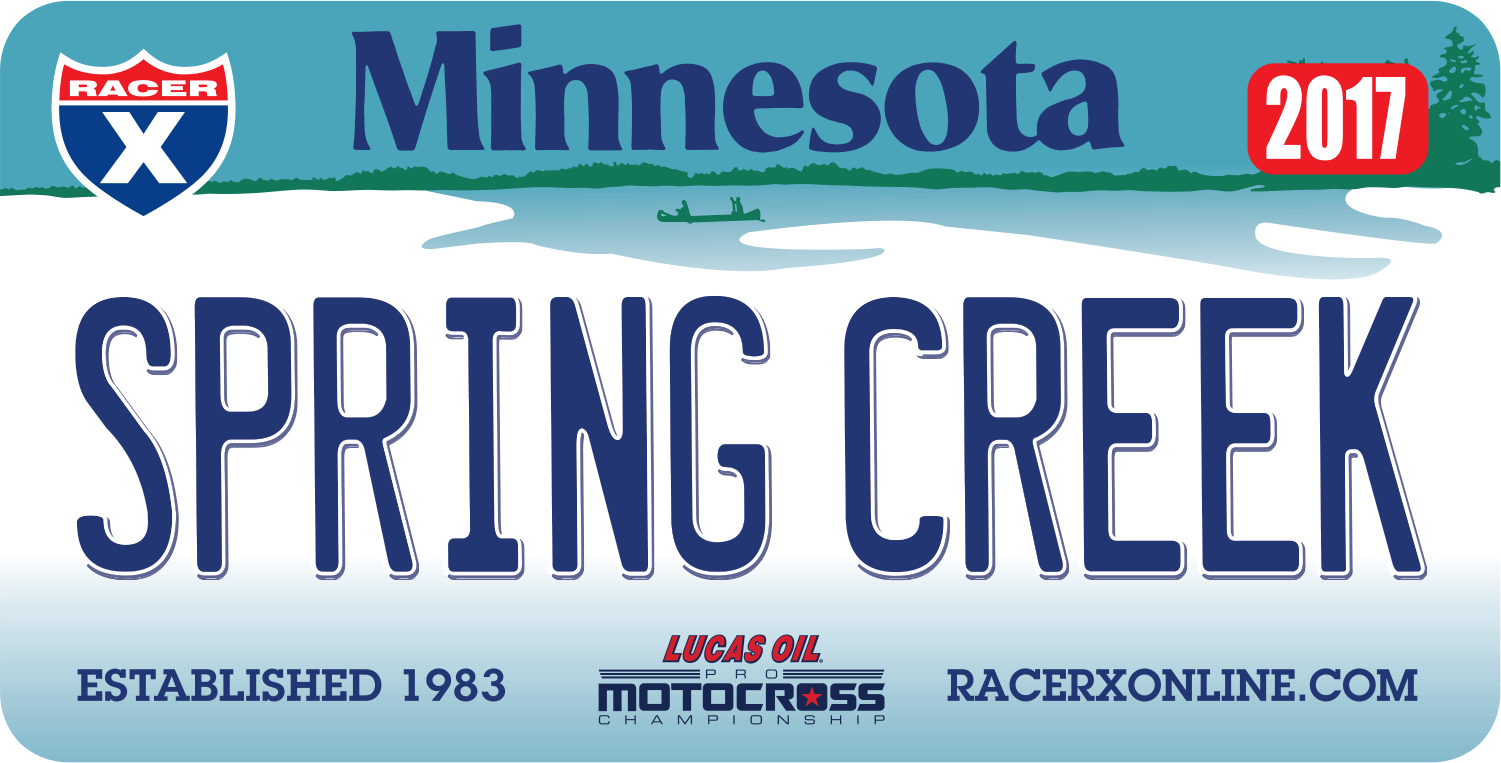 That's all for now—thanks for reading Racerhead. See you at the races.