Southwick, MA
Southwick
AMA Pro Motocross Championship
Round seven of the Lucas Oil Pro Motocross Championships took place at Southwick, the sandbox of the series. Love to see The Wick back on the schedule and the crowd this weekend seemed very strong. Southwick is the Fenway Park of the series. It's smaller than you think, it's located right in the heart of a town, and it's very historic (re: old).
Turning the track around was a great move by Keith Johnson (the old NESC rider) and John Dowd (the old John Dowd) who run the place and they also dumped a bunch of sand back into the facility. The riders I spoke to were 50/50 on whether they noticed the added sand or not. Either way, awesome to have this race rejoin the schedule after going away for a few years (like, the track was just about completely closed for good) and the locals claim even the regular NESC races still draw huge numbers for rider entries. That's great news for the sport.
Let's get right into the results, yeah?
250MX RESULTS
1 16 Zachary Osborne Abingdon, VA Husqvarna FC250 2 1- He's just so solid you know? Bad start? No problem. Need to be in shape? No problem. Pull away with a start? No problem. Sand? Yup. Mud? Yup. Wacko did it again with a couple of great rides, especially in moto one. Is there a motocross rider in history who got this much better in one year? Maybe Mike Keidrowski in '89, but he was only a second year pro. Osborne's far past that and you just don't see dudes get so much better after being a pro for a number of years. We had an interesting debate on the Pulpmx Show this past Monday about whose rise was more unlikely, Alex Martin or Osborne? Osborne's level was always higher than A-Mart's in my opinion, but they've both exceeded expectations.
2 108 Dylan Ferrandis France Yamaha YZ 250F 1 2- We had Ferrandis on the Pulpmx Show and he said he is surprising himself with his results, it has been tough to get to learn the tracks this year and he has no idea why people can't figure out his last name is "Ferrandis" and not "Fernandez". Solid race at The Wick, but you already knew he'd do very well if you read THIS.
3 26 Alex Martin Millville, MN KTM 250 SX-F FE 3 3- I personally witnessed a fan yelling "Hey Jeremy, hey Jeremy" to Alex in the morning and Alex was just smiling and muttering "It's Alex" under his breath. It was great comedy. He told me it happens quite a bit, but I never saw it live until last weekend. By the way, Martin rode well on the day and was clearly the third best guy, so there's that.
4 31 RJ Hampshire Hudson, FL Honda CRF250R 5 4- Hampshire was fast again at Southwick and this time his bike didn't break! (Well, he lost his back brakes in both motos, but he'll take that compared to a DNF.) He actually passed into the lead in moto one and was blazing fast until he fell. And second moto he was again charging hard late in the moto. I liked it. Good to see him get a solid result.
5 6 Jeremy Martin Millville, MN Honda CRF250R 4 6- J-Mart was all over Alex at the end of moto one and it was fun to watch. I'd love to have some sort of stat to tell us how these one on one battles on the track stack up. I feel like Jeremy has the better finishes overall of the two, but when they meet up on the track at some point in a moto, I feel like those races might be more 50/50? Anyways, J-Mart left Florida and is back up in Minnesota pounding laps at Millville while Alex is staying away from the track. Which Martin wins Millville??
Which Martin brother do you think will win Millville?
Jeremy 1287 votes - 59.9%
Alex 862 votes - 40.1%
6 17 Joseph Savatgy Tallahassee, FL Kawasaki KX 250F 7 5- Last year Savatgy would've slit his wrists over a 7-5 day, but this year he called Southwick "a step in the right direction" which it was. He was in the mix all day and I bet if he had started out front with those guys, he would've finished there. But again, going off last year….
7 45 Mitchell Harrison Brighton, MI Yamaha YZ 250F 6 7- Steady Eddie, that's Mitchell Harrison. Don't know if I've ever seen a rider do a 180-degree switch like this in one year, but good for Mitchell.
8 486 Chase Sexton La Moille, IL Honda CRF250R 9 8- Sexton was good at The Wick and he's been good overall since he came back to racing. Nothing flashy like a Zach Bell leading here or Justin Bogle killing it when he came out of amateurs, but he's been more like Jeremy Martin making his pro debut. You might remember, I said "ehhhhh" about J-Mart's first few races and it turned out okay for him, I'd say. The hardest thing for these 250 kids to do is be consistent every moto.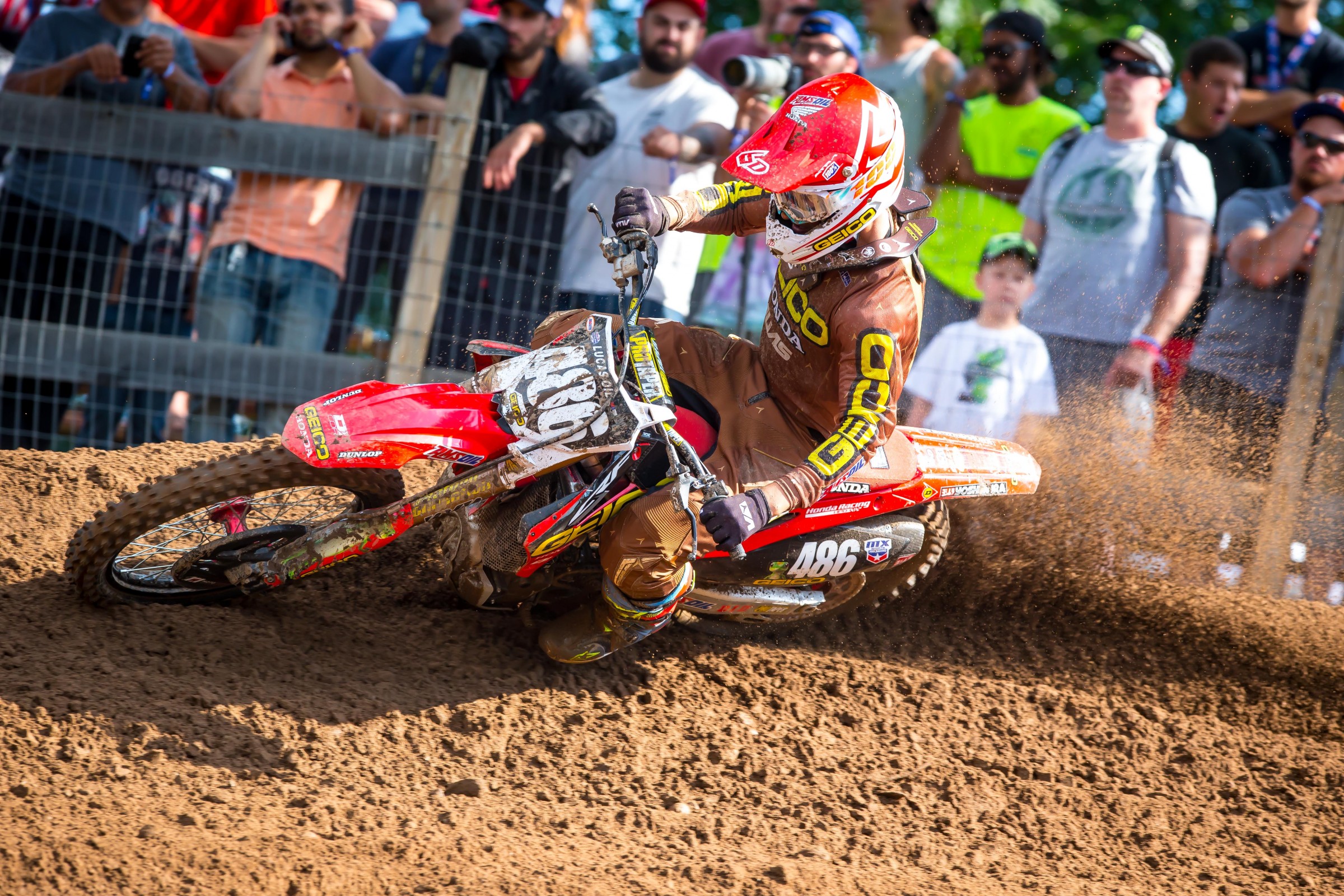 9 39 Colt Nichols Muskogee, OK Yamaha YZ 250F 8 10- I don't know how Nichols did it, but he came from 39th in the first turn crash in the second moto to 10th. Only Luke Renzland was behind him. Wow. What a ride that probably no one else will talk about.
10 36 Adam Cianciarulo Clermont FL Kawasaki KX 250F 15 9- Whenever a rider starts his post race interview off with "I'm going to keep my tone upbeat in this interview, because I don't want to be that depressing guy, but just know that I feel like drowning myself in a puddle right now," you know he didn't have a good day. The best part was Alan, Adam's dad, telling me how frustrated he was watching Adam take some bad lines and saying he doesn't know why Adam doesn't listen to him and Mitch Payton chiming in that he's stubborn just like his dad.
11 183 Lorenzo Locurcio Venezuela Yamaha YZ 250F 12 12- Must be a lot of sand down in Venezuela because Lorenzo had his best National of his young career.
12 38 Shane McElrath Canton, NC KTM 250 SX-F FE 11 13- I talked to Shane in the morning a bit about healing up and riding better recently and he said it's nice to be more like himself. Now Southwick didn't go great for him, but I'm sure he'll get better.
13 50 Luke Renzland Hewitt, NJ Yamaha YZ 250F 10 14- Renzland told me that him running up front last week really helped him and he and the team made changes to the bike for starts that helped get him out front. He also said he's got a lot of time at The Wick being from New Jersey and all. Second moto he was dead, dead last and worked his way up to an impressive 14th. Watch out for Luke the second half as I think he's maybe figuring this out.
14 42 Kyle Cunningham Willow Park, TX Suzuki RMZ 250 18 11- Kyle was 11th in the first moto until two laps to go and something happened to him to lose a ton of spots (I'm assuming a crash but don't know for sure). Give him that 11th and he's 10th OA.
15 78 Nick Gaines Ringgold, GA Yamaha YZ 250F 16 15- Gaines is back on track after some up and down races. I'm interested to see him in 2018 supercross because he seems to be more of a complete package now compared to the old Nick "Cartwheel" Gaines.
16 129 Sean Cantrell Murrieta, CA KTM 250 SX-F FE 14 17- I bet a kid like Sean will benefit from the week off this weekend. The grind is starting to wear him down I would imagine.
17 105 Steven Clarke United Kingdom KTM 250 SX-F 13 37- Clarke was much higher in the second moto until he crashed or broke. Too bad, he had a great day cooking up. By the way, Clarke was here for a few years, put in some good rides then disappeared for a while. Now he's back? What happened?
18 677 Cody Williams Barneveld, WI Yamaha YZ 250F 17 19- Must've been all the Grantsburg MX practice in Wisconsin that prepped Cody for these good finishes. I raced that track a few times, it was fun racing through the pine trees.
19 209 William Lofstrom Vernon, CT Yamaha YZ 250F 21 16- I don't know anything about ol'Billy Lof, but his ride allowed me to absolutely kill it in fantasy mx with an astounding 699 points. Thanks Willy!
20 570 Cody VanBuskirk Harvard, IL KTM 250 SX-F 22 18- I don't know anything about Cody, but his ride allowed me to absolutely kill it in fantasy mx with an astounding 699 points. Thanks Cody!
450MX RESULTS
1 3 Eli Tomac Cortez, CO Kawasaki KX 450F 1 1- Tomac was unstoppable at The Wick and took his sixth moto win out of the last eight and third straight overall to extend his points lead. He was so much better than everyone else there, it wasn't funny. Remember when "we" were all worried about Eli and his ability to string together moto wins? HAHAHAHAHAHAHAHAHAHAHAHA.
2 4 Blake Baggett Grand Terrace, CA KTM 450 SX-F FE 2 2- Blake told me that every drop off or flat landing was painful on the thumb. With no Jason Anderson (tried to ride, but hurt himself on Thursday) there that meant that Baggett's path to his 2-2 was pretty clear and probably not that hard for him. Baggett's coined Jason Weigandt "Fox News" and I am "CNN" which in Blake's eyes is a bad thing for me, but I'm very okay with that decision.
3 15 Dean Wilson United Kingdom Husqvarna FC450 6 3- Dean said he was dreading this track and so he had some, in his words, "fun" on the Fourth of July to prepare him for the challenge of The Wick. Well, maybe he should have more "fun" during the upcoming weeks because he ended up with his first career 450MX podium. Wilson was great after a couple of so-so weeks and it was nice to see. What a great gamble for Husqvarna to pick up the #15 earlier in supercross. By the way, we forget, but Wilson is venturing to many these tracks for the first time in years due to injury. Like, last time he was at Southwick was 2011! Let that sink in a bit bro.
4 2 Cooper Webb Newport, NC Yamaha YZ 450F 3 6- Aw man! Nothing against Dean and his first 450MX podium, but I was happy that Webb was going to get his first podium until he crashed mid-way through the second 450 moto and then he couldn't start his bike right away. Webb rode VERY well all day long. I want to point out that a sand track sort of masks whatever it is you don't like about the way a bike handles, though. I don't think this result "fixes" Webb's issues with the Yamaha.
5 30 Martin Davalos Ecuador Husqvarna FC450 7 4- Well, look at this finish! It's almost like the "pit pundits" that have been talking about Marty maybe being better on a 450 and just needing to get a shot at it had a point? I think I just dislocated my shoulder from patting myself on the back so hard. But seriously, great ride by Marty.
6 14 Cole Seely Newbury Park, CA Honda CRF450R 5 5- Great couple of rides for Seely who hadn't been doing as well as he would like lately. He rode strong at Southwick. I spoke with Dan Betley at Honda about the bike set-up there and he said first practice was the normal set-up, the second was something they came up specifically for the sand. Both Cole and Christian Craig were very happy with that, which Dan joked was just a "throwing some darts at a board" sand set-up.
7 48 Christian Craig Corona, CA Honda CRF450R 10 7- Craig ate a lot of sand all day long. He was probably back there with dudes he had never heard of.
8 40 Fredrik Noren Sweden Honda CRF450R 8 10- You gotta listen to Fast Freddie's interview with me after the race HERE as he talks about his day. He did four laps in one of the practices, borrowed a clapped out motor from another privateer, and then he put together a great day, coming from 32nd to 10th in moto two! [Editor's note: Our own Aaron Hansel also did a great interview with Noren's mechanic. You can read that here.] I remember there was one race where Noren didn't qualify at The Wick because he hasn't been that great in the sand. This was a very unexpected and great day for the Swede.
9 81 Henry Miller Rochester, MN Yamaha YZ 450F 13 9- After talking to him at Redbud, I detailed Miller's jump up to the 450s on a few shows. He basically he got tired of blowing up a 250F trying to make it run (although some of his issues sounded like simple mistakes by someone and not a 'push your motor to the limit' thing) and keep up to the factory boys, so he did what I've been telling dudes for years to do: jump into the big boy pond! More money in SX and less costs in MX. Miller was great at The Wick and with his hometown Millville coming up in two weeks, he's got to be stoked.
10 19 Justin Bogle Cushing, OK Suzuki RMZ 450 9 13- Bogle's had some good rides at Southwick in the past, but this year was kind of quiet. By the way, sounds like RCH is going to get Matt Bisceglia to fill-in for the injured Broc Tickle for the rest of the year. Yes, Matt rides for JGR and yes it's a bit weird but hey, whatever man. It's all Team Suzuki I guess.
11 51 Justin Barcia Greenville, FL Suzuki RMZ 450 12 12- If you had told Barcia that he would run out of gas in one moto, crash in the other, and have access to every gear but third (the most important one) afterwards and he would still get 12-12 scores, I don't think he would've believed you. So all things considered, maybe this is a good score?
12 25 Marvin Musquin France KTM 450 SX-F FE 4 38- Marv crashed on the first lap of the first moto and shredded through the pack to get a fourth. It was a great ride. Second moto he was PINNING it trying to hold off the unstoppable force that was Eli Tomac, I'm not sure I've ever seen him so out of control to be honest. He wasn't able to stop the #3 and then crashed hard with Baggett right on him. He pulled into the mechanics area with a bent up bike, but seemed to be okay.
13 70 Dakota Alix Jay, VT KTM 450 SX-F FE 17 11- Oh man, Dakota had the holeshot in the first moto and dove it in too hard and lost the front end. He's lucky that he didn't take his Rocky Mountain ATV/MC-WPS KTM teammate Baggett down as well. He got up and rode his way into the 17th which is strong. Second moto was much easier for him as he got a much better start. There were so many great rides from the back this weekend, it was weird.
14 32 Weston Peick Menifee, CA Suzuki RMZ 450 36 8- Peick's bike gave up the ghost in moto one pretty early as he was up there. So he had a horrendous gate pick for moto two and pulled off a good finish. I'm sure the sand felt terrific on the wrist all day long.
15 88 John Short Pilot Point, TX Yamaha YZ 450F 15 14- Good rides for Short here in what I believe is his first Southwick ever. Who knew the Texan was a sand master?
16 154 Brandon Scharer Los Angeles, CA Yamaha YZ 450F 14 17- Solid result from a guy that grew up living by LAX right? Not many sand tracks around there.
17 33 Joshua Grant Riverside, CA Kawasaki KX 450F 11 40- JG tweaked his knee in the first moto and dropped a bunch of spots. Second moto it was hurt bad enough to hold him back from starting.
18 776 Ryan Dowd Ludlow, MA KTM 450 SX-F 18 16- Junkyard Dog Jr gets the most improved rider award. Ryan scored points in both motos and looked pretty good doing it. He also qualified fastest in his unseeded group which meant he had a great gate pick for first moto.
19 606 Ronnie Stewart Easton, PA Suzuki RMZ 450 33 15- I like Ronnie's chances to get his national number back for 2018. He's ridden much better indoors and out this season.
20 125 Josh Mosiman Sebastopol, CA Husqvarna FC450 19 18- I got an email from a fan at Southwick that I read on the air this past Monday. The letter explained how he and his kids had a real cool interaction with Josh at the race. I don't know Josh, never met the kid, but it sounded like he was real cool to a couple of kids and made their day.
Thanks for reading, appreciate it and email me at matthes@racerxonline.com if you want to chat about Southwick, motocross, supercross, the new Spiderman movie or anything else.