Thunder Valley Motocross
Lakewood

,

CO
Thunder Valley
Lucas Oil AMA Pro Motocross Championship
Welcome to Racerhead, coming to you from somewhere other than California for the first time in three weeks. The two Golden State rounds have been checked off, and I thought both were strong races. It was (mostly) a pleasure to work around the Glen Helen track last weekend, but there was a feeling of sadness, not only for the news that Nicky Hayden had passed but also because of the news of Tom White's health challenges. There would not be a Glen Helen National if not for the work, patience, and efforts of Tom to get everyone back together again following the major disagreements that saw the National dropped in the first place. It's good to be back on the steep and challenging hills of Glen Helen.
When I said it was "mostly" a pleasure, there were a couple of things that did not go according to anyone's plan. As usual, Jody Weisel and Karl Scanlon had a solid, challenging, and somewhat spectacular track, but there were also a few problems with consistent prep that did not sit well with some of the riders. After practice, Rockstar Energy Husqvarna's Jason Anderson told us that the downhills needed work, that there were some serious kickers out there because a lot of the braking bumps from amateur day were still there, and that the pros and amateurs race much different (and differently placed) braking bumps. Well, the work that was done wasn't as much as Jason expected, and he wasn't real happy when he came off the track following the first 450 moto. John Ayers and myself quickly polled some of the other riders—Eli Tomac, Christian Craig, Josh Grant, and then Jason again—and they all agreed that some more tractor work would be helpful. We were able to get some fast work done before the last moto; Anderson looked happy and fast and won going away.
The other problem was summed up entirely by GEICO Honda's Jeremy Martin, in this week's Cycle News coverage: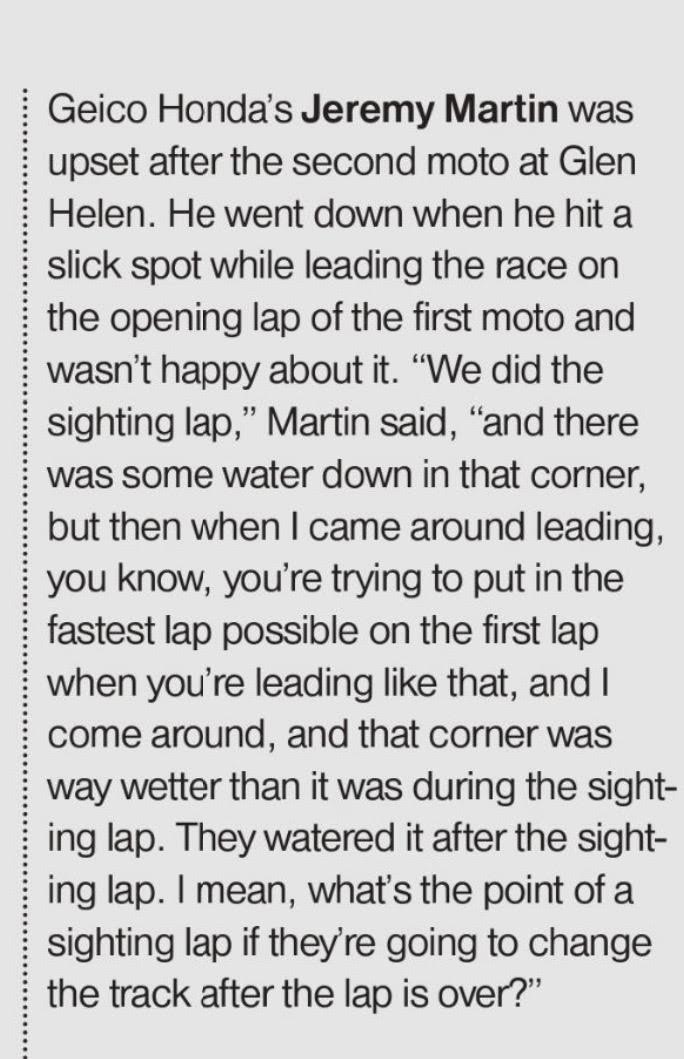 Martin, the two-time series champion, has a good point. No part of the track is supposed to be touched after the sighting lap, and the crew is told that year after year. But when you have 40 guys and 40 hoses out there, sometimes you don't get 100 percent cooperation. No one watering at Glen Helen (or Hangtown, which also had challenges) means to make things any more difficult for the riders, which unexpected under-or over-watering can cause. Martin dominated the first moto and was leading the second when he hit a slick patch that wasn't there on the sighting lap, and it cost him the win. MX Sports Pro Racing as a series, and the respective tracks' crews, need to do a better job communicating the importance of keeping the tracks dust-free but not slick and muddy, and also keeping equipment and water off the track after the sighting lap. I'm sure John Ayers is talking to David Clabaugh's crew in Colorado today and tomorrow, and we will be going over this again with everyone moving forward. I'm sorry that someone's exuberance with a hose affected the outcome of the race like it did last Saturday.
All that said, again, Glen Helen was a really good event, and so was Hangtown. I hope we make it three-for-three at Thunder Valley and then four-for-four at High Point in two weeks and so on and so forth. But remember, twice in the last five years the rider who went to Colorado with the points lead (James Stewart in 2012, Eli Tomac in '15) didn't leave with the red plates, and defending champion Ryan Dungey fractured a bone in his neck last year and was forced out of the series. With Red Bull KTM's Marvin Musquin now the points leader and hometown hero Eli Tomac loaded for bear, it could be a good one tomorrow in the 450 Class, and the 250 Class is just stacked right now, despite Zach Osborne's two wins to start the championship.
Let's start with more Jason Anderson news….
Mile High Struggle (Aaron Hansel)
In case you didn't know, Rockstar Energy Husqvarna Factory Racing's Jason Anderson suffers from altitude sickness. It's usually not an issue for him, but it has hindered his results at Thunder Valley, which sits at roughly 6,100 feet. Just last year, he was leading his moto when he had to pull off and call it a day. It's not something I've ever experienced firsthand, and other than briefly writing about in race reports, I've never given it any serious thought. That changed this week when I spoke with team owner Bobby Hewitt, who provided me with a little insight into what Anderson experiences when his altitude sickness strikes.
"What happens, like most riders, [Anderson's] heart rate elevates in the first couple laps," Hewitt said. "It happens all the time, and under normal circumstances, he's able to control his breathing and bring his heart rate back down and finish the moto. When he's at altitude, he can't get his heart rate back down, and it continues to climb. If your heart rate is beating 200 times a minute, you feel that, and because he can't control it and bring it back down like he does at the other races, he starts to get panic attacks. It's something that's very serious, and it's not a joking matter. There have been people who have died from this stuff. Last year, he was leading, but it got to a point where he felt his heart was going to explode in his chest. He was scared he was going to die if he didn't pull off."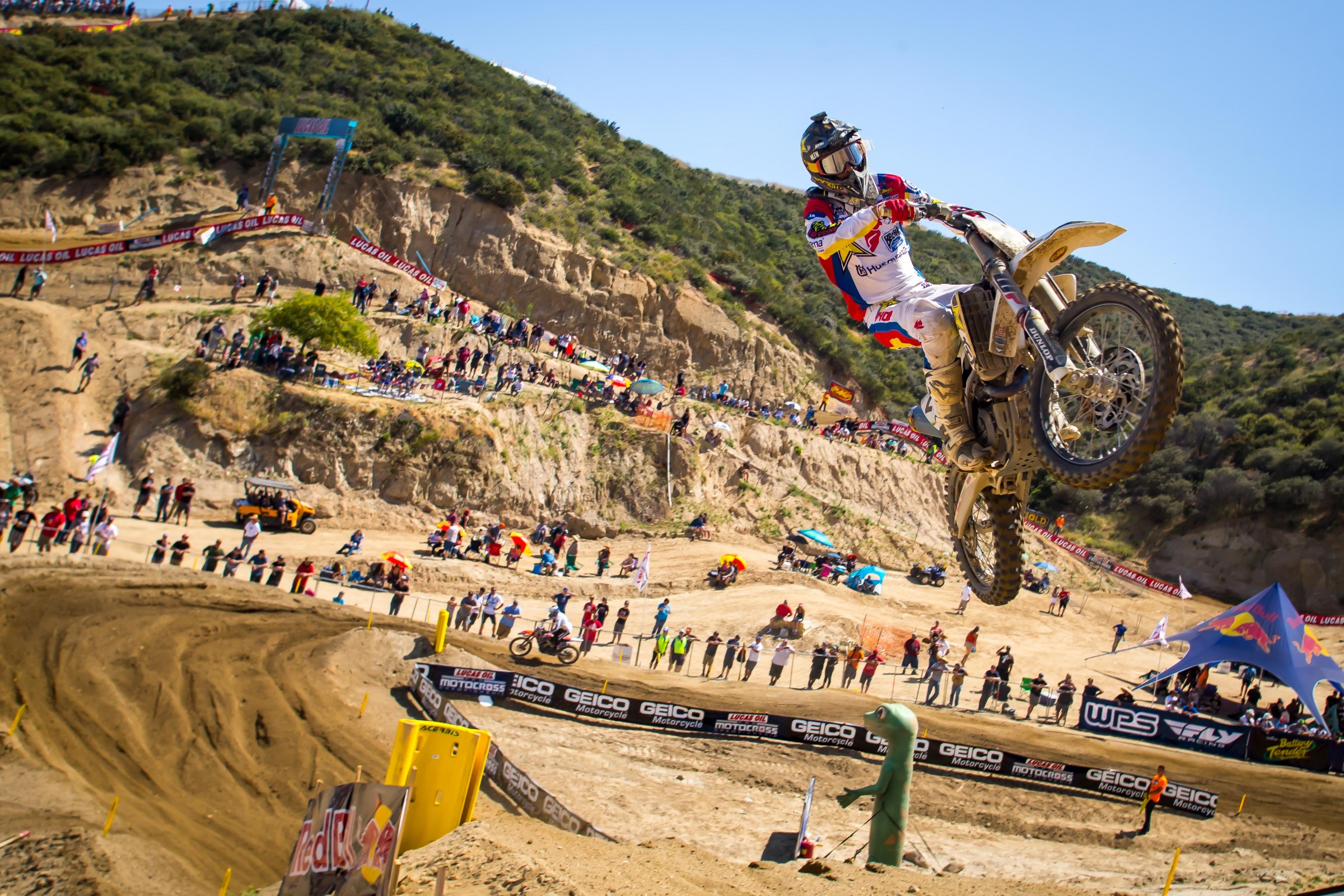 That's scary stuff, and for the Rockstar Energy Husqvarna Racing team, it's also a somewhat of a source of frustration. Not with Anderson, but with WADA.
"He has medicine for it, but WADA won't approve it," Hewitt added. "He's got doctor's statements, we have documentation from hospital visits, but they keep denying him the ability to use the one medicine that would help him, and we only want to use it for one week. I don't even remember what the medicine is named, but it's got a banned substance. He's been turned down three times, and we've appealed it twice. It's ridiculous. But it is what it is, and we stay positive about it. We're going to try to get in there this weekend, and hopefully he leaves with top-fives in both motos. That'd be like winning, and it'd be a lot better than last year."
The plan for this weekend is the same as it was at Salt Lake City during supercross: get in as late as possible and leave early.
"All the doctors I've spoken to, he's spoken to, and Aldon [Baker] has spoken to, they say it takes at least 24 hours for the body to really start feeling the effects of altitude," Hewitt said. "So if he can keep it to a 12-hour period, he hopefully won't feel the effects as much. That's what we're going to do this week. We've tried all kinds of things to help him with it, but this is the one thing that seemed to work at Salt Lake, and we'll try it again this Saturday."
The Kawi Catastrophe (Kyle Scott)
Last weekend at Glen Helen was tough for Kawasaki in both the 250 and 450 Classes. In the 250 Class, Monster Energy/Pro Circuit Kawasaki had bike problems with three of its four riders. In the 450 Class, the first moto was great, with Eli Tomac and Josh Grant finishing second and third respectively.
Austin Forkner and Justin Hill's bikes blew up in the first moto, and Joey Savatgy's in the second. Hill's bike was having the same problems it did in the first moto before the bike quit, but the seize never actually came in the second moto, and he was able to salvage 12th. Let's not forget that Forkner had a problem on the first lap in the first moto at Hangtown, where he cut the track to rush back to the mechanics' area.
Rumors started flying that a new part in the bike was causing the issue, but after talking to the team yesterday at Thunder Valley press day, there's more to it. Pro Circuit Kawasaki mechanic Zach White explained that there is an issue with a few different parts not working well together in combination with the new motor. Forkner's first-moto problems at Hangtown point were because of an issue with the ECU, and the troubles last week were motor-related. When I asked why the issue surfaced at round two versus round one, Zach explained that Glen Helen's long uphills and high-speed sections are much harder on the bike and that they hadn't seen loads like that on the bike before. I know the team tests at Glen Helen all the time but the track is prepped differently for the National and riders push harder during the races, so maybe that made all the difference.
In the 450 Class, Josh Grant had a first-lap tip-over followed by another crash later in the moto, which also knocked his gas cap off. He had to pit for more gas and then had bike problems at the end of the moto and finished 28th. Tough break after a great first-moto ride that ended in a third-place finish. Tomac had his own problems as well. What first appeared to be a collision with Grant, who was down on the first lap, ended up being Tomac's front brake locking up precisely as he passed Grant in the final corner of the first lap. Tomac fought his bike for about a third of a lap back to the mechanics' area before the team cut the brake line and sent him on his way—a lap and a half down from the leaders. What's amazing is that Tomac was still able to manage 19th, salvaging two points. The Glen Helen hills are scary enough—try riding them without a front brake. Much respect to Tomac for that one.
You can hear it all for yourself with candid interviews from Tomac, White, Hill, Savatgy, Cianciarulo, and Forkner in the press day video below. You can also hear what the Racer X crew had to say about all this last week from Glen Helen in our new post-race show that we're calling The Best-Post Race Show Ever. Jason Weigandt, Jimmy Albertson, Phil Nicoletti, Steve Matthes, and DC all weigh-in on the madness from Glen Helen. Matthes has an interesting theory on why Cianciarulo didn't receive the wrath of the moto gods, but again, you'll have to see for yourself. Do you agree with him, or should he continue to be kicked off these shows like he gets kicked out of after-parties?
#ThereIsNoCrown (Jason Weigandt)
#ThereIsNoCrown became the theme of the 2017 Monster Energy Supercross season. The normally mild-mannered Ryan Dungey got hot when it was suggested that he was already crowned champion once Ken Roczen went out of the series. Dungey won round three after Roczen crashed out and already had a giant early-season points lead. At the Glendale SX, a reporter named Chris Cooksey asked Eli Tomac and Chad Reed if they found extra motivation from everyone saying the title was already Dungey's, but Dungey actually took the mic and went off, saying it's a long series, there is no crown, and how everyone is sad about Kenny's situation. Cooksey didn't mean the question to be disrespectful—there were many, many people in the industry, and surely lots of fans, who thought supercross was done after round three. Cooksey was merely reflecting the thoughts of the people.
We now know two things: Dungey indeed wasn't going to win the title with ease, and he was so sympathetic to Roczen's situation that the two have become close friends. Dungey later admitted the Roczen injury was a factor in his decision to retire.
That was serious stuff, but it was still funny to roll out #ThereIsNoCrown every time Tomac won a race and cut Dungey's points lead. For what it's worth, after Dungey actually won the crown in Vegas, Cooksey circled back around in Las Vegas and said to Dungey, "So it's safe to say there is a crown now?" Dungey smiled and apologized for the Glendale outburst. #ThereIsNoCrown was done.
Well, when Tomac had troubles last week at Glen Helen and the red plate unexpectedly went to Marvin Musquin, we were ripe for an upset again. Tomac appeared the easy favorite for this year's 450 Class title, but #ThereIsNoCrown. As luck would have it, Cooksey was at Glen Helen, so I razzed him and said he had to—had to—ask Musquin the same thing all over again. Cooksey, reluctantly, said, "Marvin, last week everybody basically crowned Tomac. Does that add any motivation?"
The good thing is that Musquin is such a lighthearted soul that he took no offense, laughed, and even said, "Maybe I should answer it and get mad just like Ryan!" Cooksey choked a bit and said I'd put him up to it. Marvin was happy to answer, though:
"Then I'm going to answer just like Ryan [Dungey] did. Nobody crowned anybody. I feel like Tomac is a great guy, but like you see this weekend, he made some mistakes. It happens to anybody. It's tough out there. He's a great rider, but that's racing. Mistakes can happen, and you've got to be consistent. It's only the second round."
For Tomac, the early-season trouble is the worst-case scenario, because now we get to run this "he's fast but something always goes wrong" narrative, which is probably unfair, but it's out there. In fact, Tomac settling for second in moto one is probably proof that he's trying to do it the right way—the classic strategy of taking the win when it's there and taking second when it's not. The brake issue isn't even his fault. What would suck is if Tomac were just slow all of a sudden. There's nothing to indicate he can't get back to a 1-1 as soon as this weekend.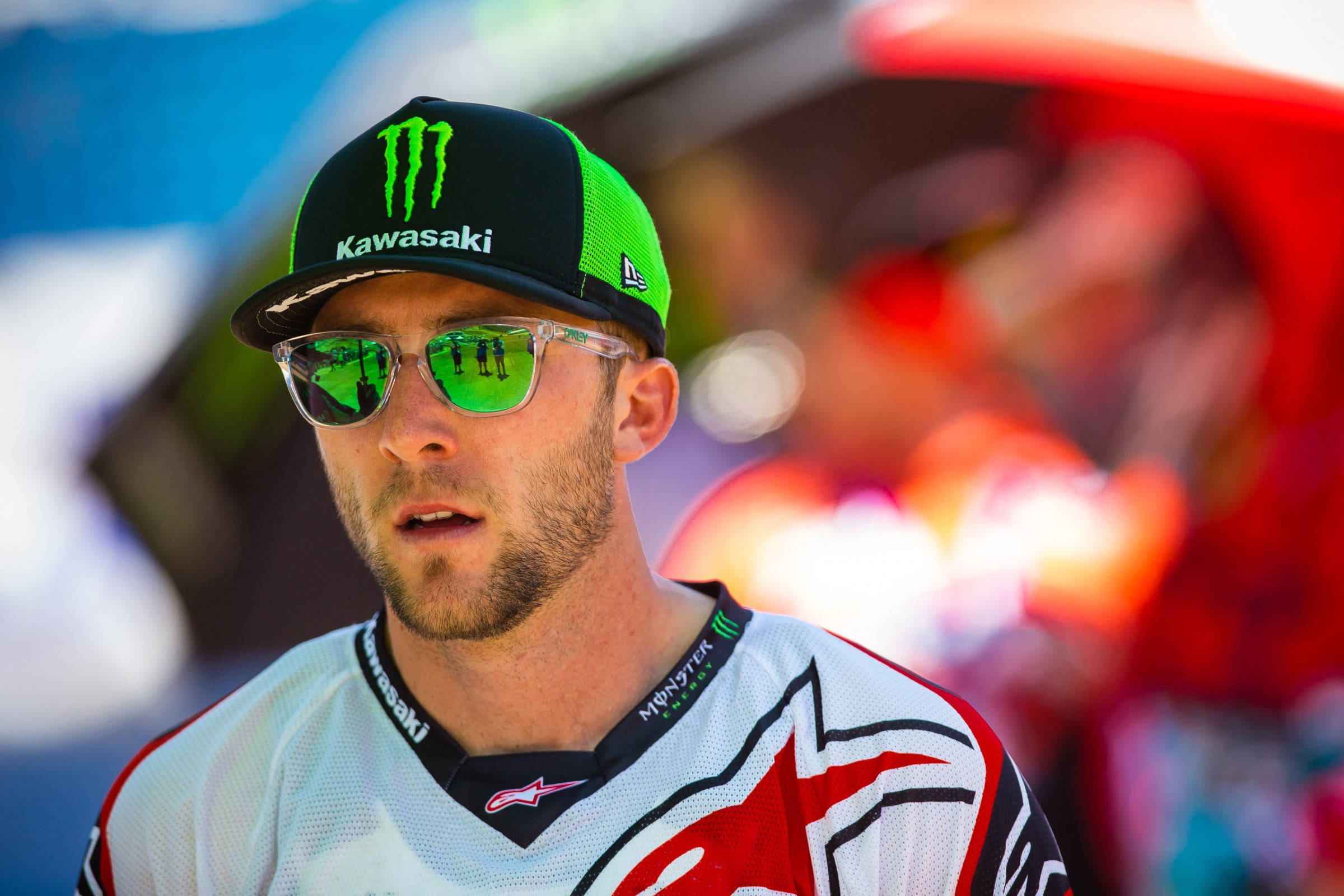 Bottom line is, Tomac has 20 motos to make up 15 points, and the second Glen Helen moto just proved Musquin won't automatically beat everyone else on the gate (Anderson and Baggett topped him in that one). Tomac has plenty of time to make up the points, and Glen Helen might soon be a blip—but it looks huge when pinned against the small sample size of four motos. Bad for him, but good for us—just like supercross, this season at least appears to be much more unpredictable than first predicted.
4-on-3 (David Pingree)
Earlier this week, Jason Weigandt, Jason Thomas, and Steve Matthes all got to give their thoughts in the 3-on-3 column. I liked the questions so much I decided to answer them here.
1.) IS THERE ANYTHING TO WORRY ABOUT FOR TOMAC?
Tomac's fine, as long as Monster Energy Kawasaki can find a different front brake system. I don't know how you have a faulty brake system at this level TWICE in one season. [Ed. Note: The front brake issue at Glen Helen was not the same as what happened at the Arlington Supercross. – Dan C.] I was sure he had slammed into somebody in Arlington when it happened, but twice isn't a coincidence. Eli is still the quickest guy on the track, and it seems like he's being more patient and letting the race come to him rather than push the envelope and risk a big crash. Lesson learned the hard way, it seems. He has been able to come from the back of the pack and catch the leaders—something I don't think anybody else in the class can do right now. There will be a bad moto or two for Musquin between here and Indiana, I'm sure of it. As is always the case, the best rider in the series will finish with the points lead and the title.
2.) WILL THE ALTITUDE ACTUALLY MATTER FOR ANYONE?
For the riders competing in the 125 Dream Race, it will matter very much. Modern four-strokes don't feel the pinch as much, but you can probably run up the hills there faster than a 125. There are a few KTM guys running 150s, and that will help a bit, but the struggle is real for most of these guys. Feel free to give them a push as they inch by.
3.) DYLAN FERRANDIS SMOKED EVERYONE IN THE SECOND 250 MOTO. IS HE ABOUT TO BECOME A PROBLEM FOR EVERYONE ELSE?
I was really impressed with his riding in the supercross series. However, one thing he lacked was consistency, and that seems to be a continuing trend outdoors after two DNFs and a moto win between the first two rounds. He will certainly have a steeper learning curve at the tracks he hasn't ridden before, but I think he'll shine in the mud and on rutted tracks like Tennessee when the conditions resemble some of the GP circuits. It wouldn't surprise me to see him on the box several more times, but I'm also expecting a few finishes farther back as well. Title contender? Not yet. But that will be a good discussion in 2018.
DOUBLING DOWN (Andras Hegyi)
Rockstar Energy Husqvarna's Zach Osborne is finally getting the success he always felt he had the speed and talent to achieve. By winning Hangtown and now Glen Helen, he has been already built a modest lead in the 250 Class of Lucas Oil Pro Motocross. The fast man from Abingdon, Virginia, is the 12th rider since the 125/250 class started in 1974 to win the first two rounds. Osborne is also only the second rider to win the first two rounds in the saddle of a non-Japanese bike.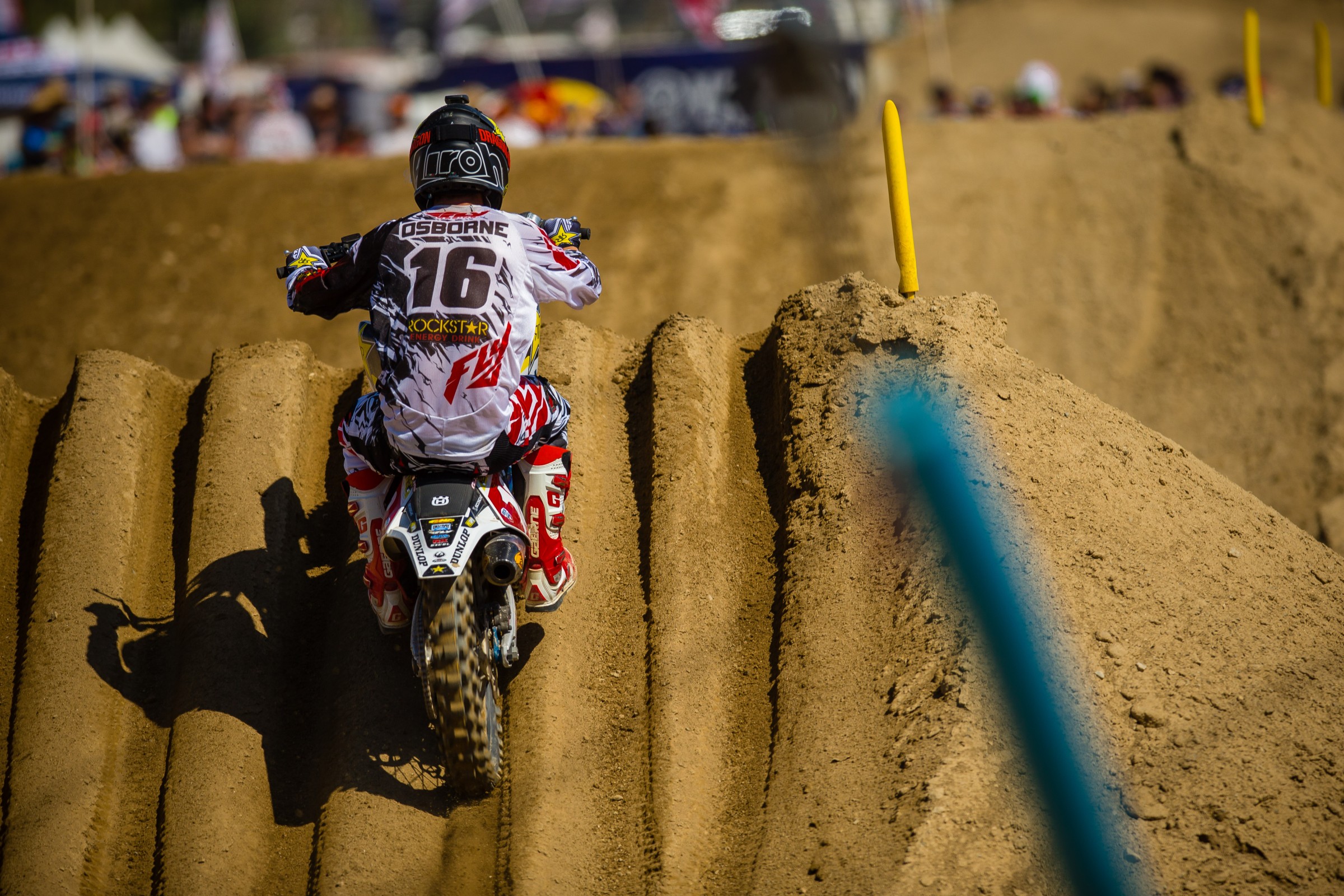 Here are the previous riders with two wins in the first two rounds of a 125/250 National season
1974 – Marty Smith (Honda), champion
1976 – Bob Hannah (Yamaha), champion
1978 – Broc Glover (Yamaha), champion
1981 – Mark Barnett (Suzuki), champion
1982 – Mark Barnett (Suzuki), champion
1987 – George Holland (Suzuki), not champion
1988 – Erik Kehoe (Suzuki), not champion
1996 – Steve Lamson (Honda), champion
1997 – Ricky Carmichael (Kawasaki), champion
1999 – Ricky Carmichael (Kawasaki), champion
2001 – Grant Langston (KTM), not champion
2002 – James Stewart (Kawasaki), champion
2004 – James Stewart (Kawasaki), champion
2014 –Jeremy Martin (Yamaha), champion
2017 – Zach Osborne (Husqvarna), TBD
TWO (MORE) STROKES (DC)
The two-stroke races you've been seeing popping up at the first few rounds of Lucas Oil Pro Motocross have been fun and entertaining. The FMF Two-Stroke Dream Race at Hangtown was the closest race of the weekend, and last weekend's two-stroke race at Glen Helen gave fans a chance to see Mike Alessi killing it on a two-smoke before he departed for Canada. This weekend at Thunder Valley will mark the second of three FMF Dream Races, and then at Muddy Creek at the end of June we will see the Cody Cragg Memorial 2-Stroke Race, honoring local son Cody Cragg and his father Chris, who lost their lives in March in a RV accident on the way to a GNCC in Georgia.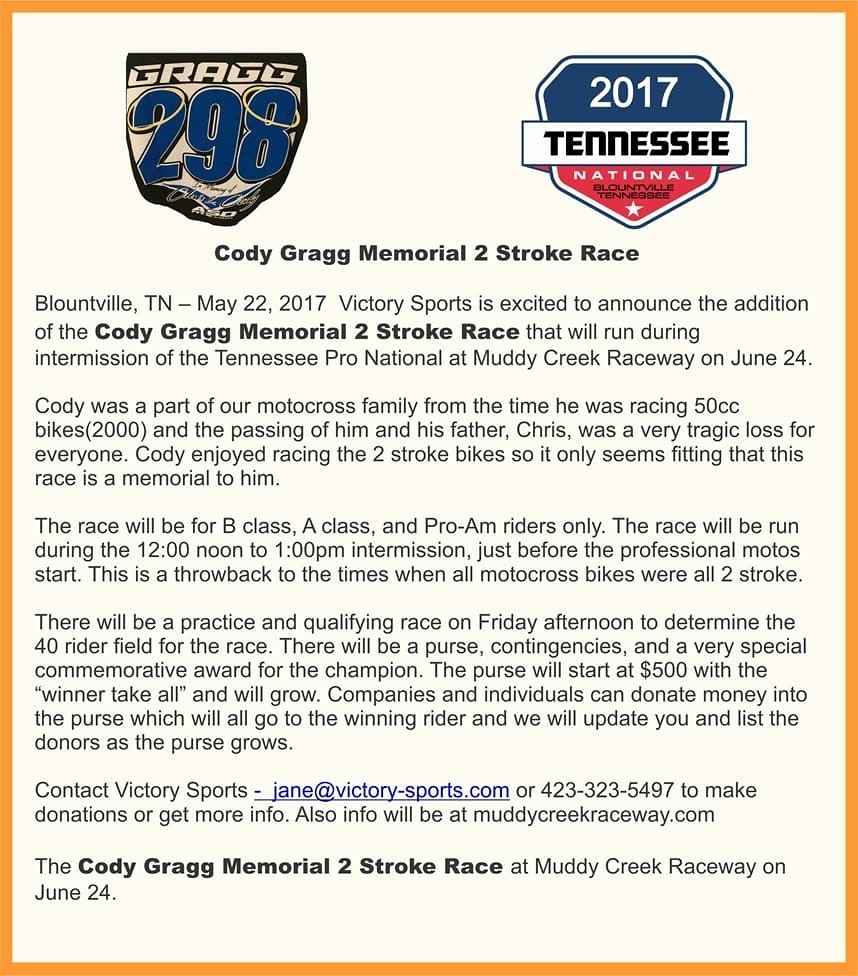 So where is all of this going? Not sure. But there's a lot of folks who would like to see a continued expansion of this kind of racing, maybe even a regional development series, with one big finale at either the last National or the MXGP of the USA at Gatorback. Everyone likes the sound and smell (and affordability) of two-strokes, but there's also some limitations, like the fact that not everyone makes or markets them, and there's not a whole bunch of time in the race-day schedule at National events for much more than what we're seeing now. Still, these races are popular and fun, and they have definitely added some entertainment value to Lucas Oil Pro Motocross.
THE WEEK THAT WAS (Matthes)
Heading to Thunder Valley today, one of the sneaky-good Nationals in the series. Close to Denver, great viewing of the track, good crowd, and, generally speaking, great weather. Remember the two night races we had there? Looking back, it seems funny that the series did that, and if memory serves me correctly, I think the response to it was mixed. Some people loved it, some people didn't, and it was two and done for Thunder Valley. And I never, ever, ever heard it ever discussed again. Weird. [Ed. note: The expense of lighting the whole hillside was cost-prohibitive, and also riders complained that racing while the sun was going down was not ideal; either do it during the day or do it as dusk, not while the sun was actually going down…. –DC]
Anyway, it was a busy week for talking to different riders and team people across the various shows. We had Jeremy Martin on the PulpMX Show this past Monday, and he talked about his moto win at Glen Helen. J-Mart spoke about his training now and how he's riding his dirt bike more than he's ever done and doing less bicycle work nowadays. He also said that he thought his buddy that he's feuding with right now, Phil Nicoletti, threw down that water on the track that he hit and went off the track while leading the second moto.
We then called Phil and tried to mend the fences between them, and that didn't work. Jeremy refused to apologize for the issue they have between them, and Phil called Jeremy a loser. So, uh, that didn't really work out. But J-Mart sounded happy about his ride at Glen Helen, and watch out everyone if he gets back on track.
Nick Wey was on talking about his role with Answer Racing, and he's got a Ride Day this Sunday after Thunder Valley at a local track. He told us about working with Adam Cianciarulo, Jon Ames, and Dakota Tedder and how he was yelling at Tedder out on the track in the second moto. He said he's still riding a fair bit and thinking of racing RedBud this summer.
Eric Peronnard was on to talk about how the famed Bercy SX is moving back to downtown Paris, and he strongly hinted that Marvin Musquin will be there and talked about EnduroCross Series kicking off. He then talked about Charlotte MXGP a bit and why they backed out of having another one.
With the Canadian MX series kicking off this weekend in British Columbia, I had Atlas Brace's Ryan Lockhart and GuaranteedMX.com's Ryan Gauld on to preview what we think is going to happen this summer. We all think that if Christophe Pourcel races all the races, he will win the title, but none of us think this is going to happen. But then again, we weren't sure about Davi Millsaps last year either. I picked KTM's Kaven Benoit for the MX1 title, Newf picked Colton Facciotti, and Gauld picked Matt Goerke, so there's that. Then Gauld told us some Canadian B riders were working Kyle Chisholm the other week and we laughed at him.
I redeemed myself on the N-Fab Racer X Fantasy MX Show with a decent week, but once again, Jason Thomas was very upset at some riders not pulling through for him. And GET's Dan Truman was upset that Dylan Merriam didn't race a moto because he broke some toes. Dan said that he had "seven others" and he should've raced. Riders, DO NOT listen to this show if you didn't have a good week at the races.
We had Justin Brayton on the Fly Racing Moto:60 Show and he talked about how he went back to some childhood sand pit in Iowa and rode a little bit. He's going to Australia again to race that series and he mentioned that it looks good for him to return to MCR and on the Honda for 2018.
And as mentioned about, the Rockstar CMRC Canadian Nationals kick off this weekend in Kamloops, British Columbia and it's a 10-round series that goes west to east. We've got some top notch American-based riders like OTSFF Rockstar Yamaha's Matt Georke, Husqvarna's Christophe Pourcel, Kyle Chisholm, and Monster Kawasaki's Mike Alessi all chasing MX1 glory. Canadian riders GDR Honda's Colton Facciotti, KTM's Kaven Benoit, and Royal Distributing's Tyler Medaglia will try to hold them back and it should be a competitive summer for racing up there.
In the MX2 class it'll be KTM's Cole Thompson trying to defend his 2016 #1 plate against GDR Honda's Dylan Wright and MX 101's Jess Pettis. Americans Jacob Hayes (Kawasaki), Ryan Surratt (I don't know), and probably some riders that we haven't thought about who will show up.
Follow Directmotocross.com, Guaranteedmx.com, and CMRCRacing.com for live timing. There's a way to watch the race on your phone using Conx2Share so try that if you want to follow the action.
Europe Emerges (Andras Hegyi)
The European brands are having quite a great season. Austria's KTM was able to get its third consecutive AMA Supercross Championship, and the KTM-owned Husqvarna brand was able to get its very first championship in 250SX and their first American title of any kind since 1976. These brands are excelling now in both the 250 and 450 Nationals. Husqvarna has won the first two rounds of the 250 Class under Zach Osborne, while in the second round of the 450 Nationals at Glen Helen, European brands were able to collect all the three podium spots.
This is the first year since 1974 in the 250/450 Nationals that no Japanese brands were on a podium. In the early years of AMA history, this non-Japanese presence was not a rarity. Between 1972 and '74, Czechoslovakia's CZ, Sweden's Husqvarna, Spain's Bultaco, Germany's Maico, and Canada's Can-Am were able to conquer all the steps of the podium at nine rounds, but that all started changing in 1975 with the ascendancy of Honda, Kawasaki, Suzuki, and Yamaha.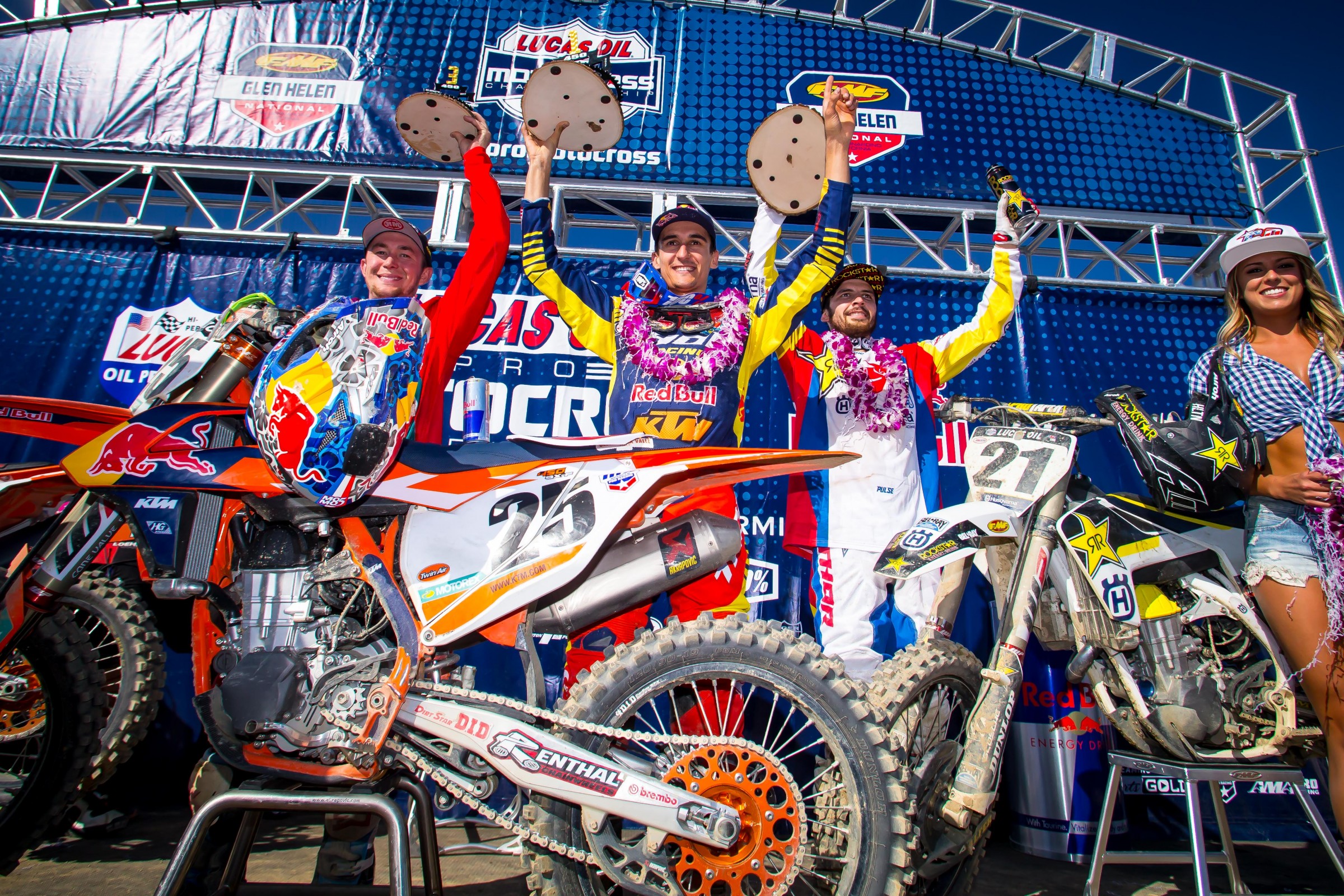 Here are the 10 races in AMA Motocross history where there were no Japanese bikes on the podium:
1972
Road Atlanta: 1.) CZ; 2.) Husqvarna; 3.) CZ
Desoto Cycle Park: 1.) CZ; 2.) Bultaco; 3.) CZ
Saddleback Park: 1.) Bultaco; 2.) Husqvarna; 3.) Maico
Snyder Park: 1.) Bultaco; 2.) CZ; 3.) Bultaco
Straddle Line Park: 1.) Husqvarna; 2.) Husqvarna; 3.) Bultaco
Alabama International Speedway: 1.) Bultaco; 2.) CZ; 3.) Husqvarna
1974
RedBud: 1.) Bultaco; 2.) Can-Am; 3.) Bultaco
Highland Hills: 1.) Can-Am; 2.) Husqvarna; 3.) Husqvarna
Motocross West: 1.) Husqvarna; 2.) Can-Am; 3.) Maico
2017
Glen Helen: 1.) KTM; 2.) Husqvarna; 3.) KTM
New French Star? (Andras Hegyi)
Dylan Ferrandis is having a decent rookie year in the USA. The former MX2 World Championship contender grabbed two podiums in the 250SX East Region and finished fifth in the overall points (and top Yamaha rider). Then his first National season opener went badly at Hangtown when he crashed out and got no points. But the two-time GP winner improved immediately in the second round at Glen Helen. He got his maiden moto win and his first National podium, finishing third. It is the first time since 2015 that a French rider could step up on the 250 National podium. Ferrandis is now the eighth Frenchman to make a podium in the history of the 125/250 National class.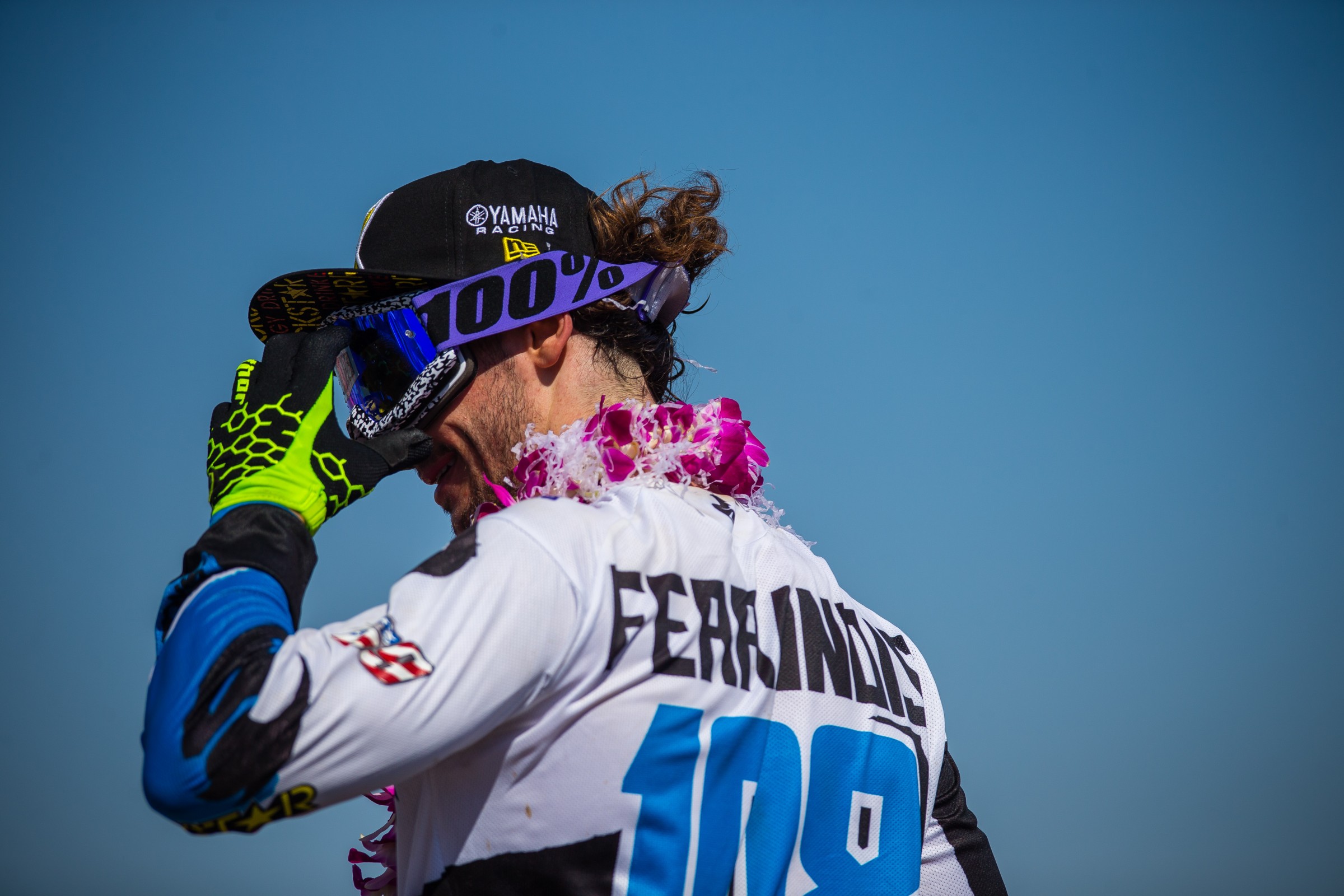 Christophe Pourcel (20 podiums)
Marvin Musquin (17)
Stephane Roncada (15)
Mickael Pichon (7)
Jean-Michel Bayle (6)
Rodrig Thain (4)
Eric Sorby (3)
Dylan Ferrandis (1)
Chasing the Storm 2 (Kyle Scott)
On Tuesday, Jeremy "Twitch" Stenberg held an event at Fox Racing and Shift's headquarters in Irvine, California, for the premiere of his latest motocross film, Chasing the Storm 2, with shooting and editing led by John Sanders. John, who is also Twitch's brother-in-law, put a lot of time into this one, and it shows. This film brings back the punk-rock, skate-style motocross videos that everyone loved in the 1990s. The soundtrack is great, and the action is even better.
The motocross hooligans featured in this one include Twitch himself, Tyler Bereman, Darryn Durham, Tom Parsons, Arik Swan, Jimmy Hill, Axell Hodges, Josh Hill, Josh Hansen, Andy Bakken, Vinnie Carbone, and more. The film also includes Ken Roczen, Cooper Webb, Aaron Plessinger, and Ryan Villopoto sneaking away from the practice track and having some fun in the hills with the boys. The locations included Beaumont, Temecula, Santa Cruz, Glamis, Ocotillo Wells, Northern California, and Reche Canyon.
I had the pleasure of being present during part of the filming in Beaumont, Reche Canyon, and Ocotillo Wells back in December, so it was especially cool to see what John did with the footage. In the film, you get a glimpse of all the work that goes into building these massive hits and the dedication to freeriding that these guys have.
They were expecting around 250 people to show up, but over 500 RSVP'd. Weedmaps was there following Twitch around in a day in the life as well as Wienerschnitzel and an ice cream truck providing the treats for the attendees. After the film, Strung Out played a live set and Pro Circuit's Justin Hill even got up there and joined the shredfest.
Below is a gallery from the shooting of the movie and a preview of what you'll see in the film. In there, you'll see Twitch on crutches, as he broke his leg in about the first 30 minutes of riding in Ocotillo, but that didn't send him home. You know you're hanging out with motocross riders when someone's got spare crutches in their rig. The film comes out on June 6, but you can pre-order here.
SO LONG, SNOBERTS
Andrew Fredrikson: Today marks the last day at Racer X for marketing manager Jordan Roberts. You've probably seen Jordan at the races, especially RedBud, on the track crew for John Ayers, then in the Racer X booth selling subscriptions, running The Racing Paper singlehandedly for a few years, and then finally diving into the role as marketing manager for the last couple years. I'm definitely going to miss having some great times, whether in Morgantown with some brews or at the track, but it's nice to know that he's picked up a job following one of his other passions—alcoholic beverages—while doing a bit of marketing, design, photography, and everything else (as he was accustomed to doing here at Racer X) for Round Barn Winery in Baroda, Michigan.
Jason Weigandt: Yes, so a fine farewell today to Jordan Roberts, who is like our marketing guy or something but I really knew only by the title of "Jordan." See, Jordan has the widest range of skills of anyone I've ever met, so he could get plugged into any job we had and handle it. Jordan came to us via Niles, Michigan and the RedBud area, those connections led him to bang on our door for a job when he graduated college, and man did he start at the bottom. Each weekend Jordan and I would go to the races, me to cover stuff from the press box and him to set up our Racer X subscription booth. At supercross Jordan would go about 14 hours between meals. At the Nationals he would never actually see any racing, because the booth stays open during the motos.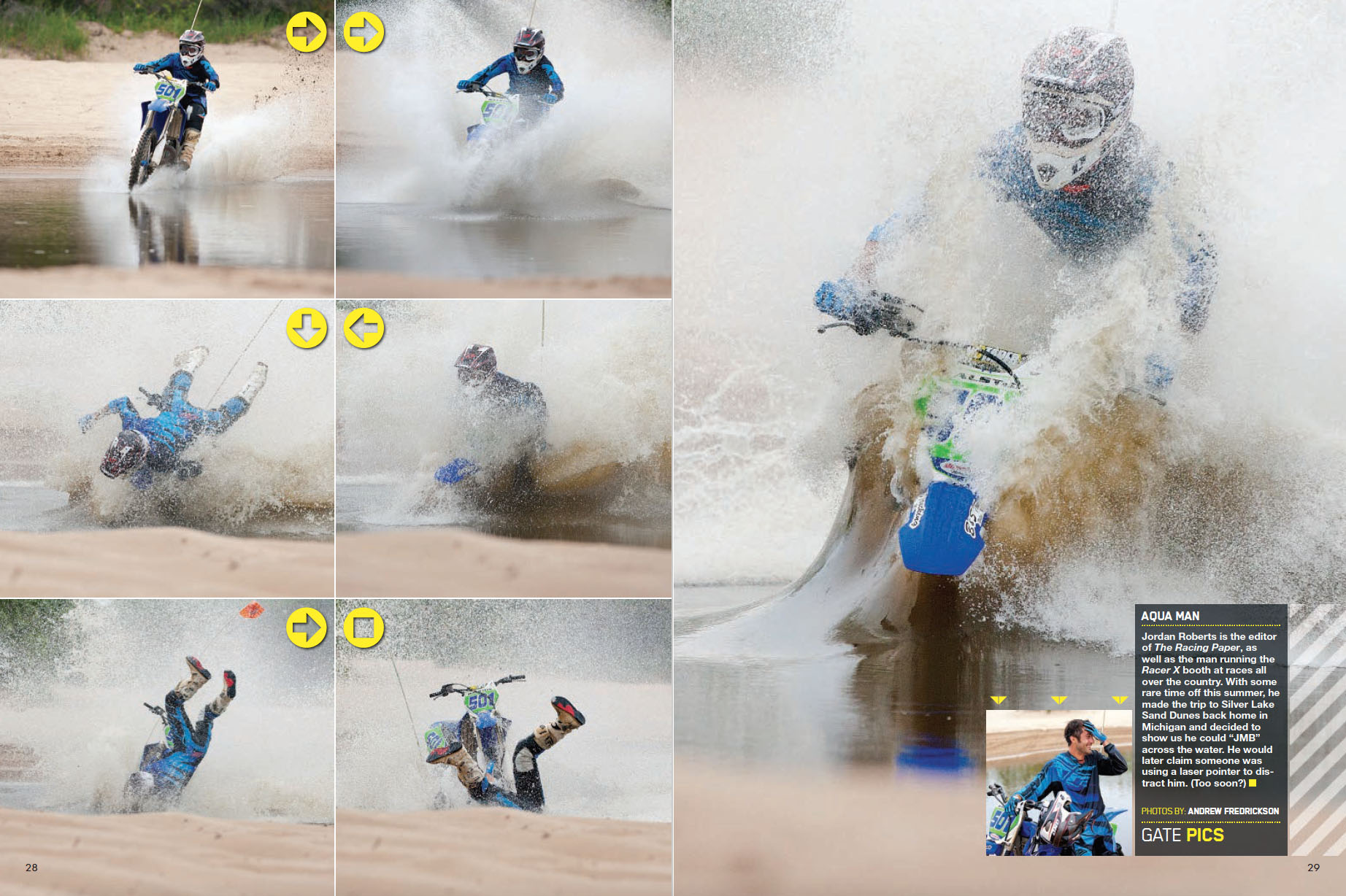 We eventually realized Jordan could do many other things. He could write, he could shoot photos and video, he could draw and design, he could test and maintain motorcycles, he could nearly match anyone at anything. Our boss Julie Kramer knew we were itching to get our dirty mitts on him to do more writing and less work on t-shirt and subscription sales, so she wisely stole him away from editorial to use him in marketing. Remember, we're a small independent publisher battling giant companies with entire departments for this stuff. Good thing we had Jordan, who could do the work of 10 people.
But anyway now he's back to Niles for the best reason anyone could move anywhere: for a girl. Good for him. What I'm going to remember most wasn't even the ridiculous skill list, though. What stands out was nearly three whole years on the road and countless laughs and good times—often at the expense of our man Chase Stallo—and not a single day of "I gotta get away from this weirdo."
Just someone who you can get along with 72-straight hours each weekend. And who doesn't need to eat. Those are the most amazing skills of all.
Gonna miss you, Jordan. See you at RedBud.
Chase Stallo: Have fun drinking on the job.
Hey, Watch It!
Racer X Films: Michael Sleeter Helmet Cam at 125 Dream Race
Random Notes
Random Stank Dog Sighting (Jordan Roberts)
On a very non-moto Memorial Day outing with the girlfriend and family to the very small town of Wilmington, Illinois, we happened upon the Gemini Giant: a towering statue located right outside the abandoned Launch Pad Drive-In on Route 66. We started checking out the stickers plastered all over his legs and what do you know—a 726 Gared Steinke sticker themed after his presumably favorite post-ride beverage. After explaining the sticker to my girlfriend and family, I basically got a "That's nice, dear," so I figured I'd share it here with people that'd actually get it. #2STANKIN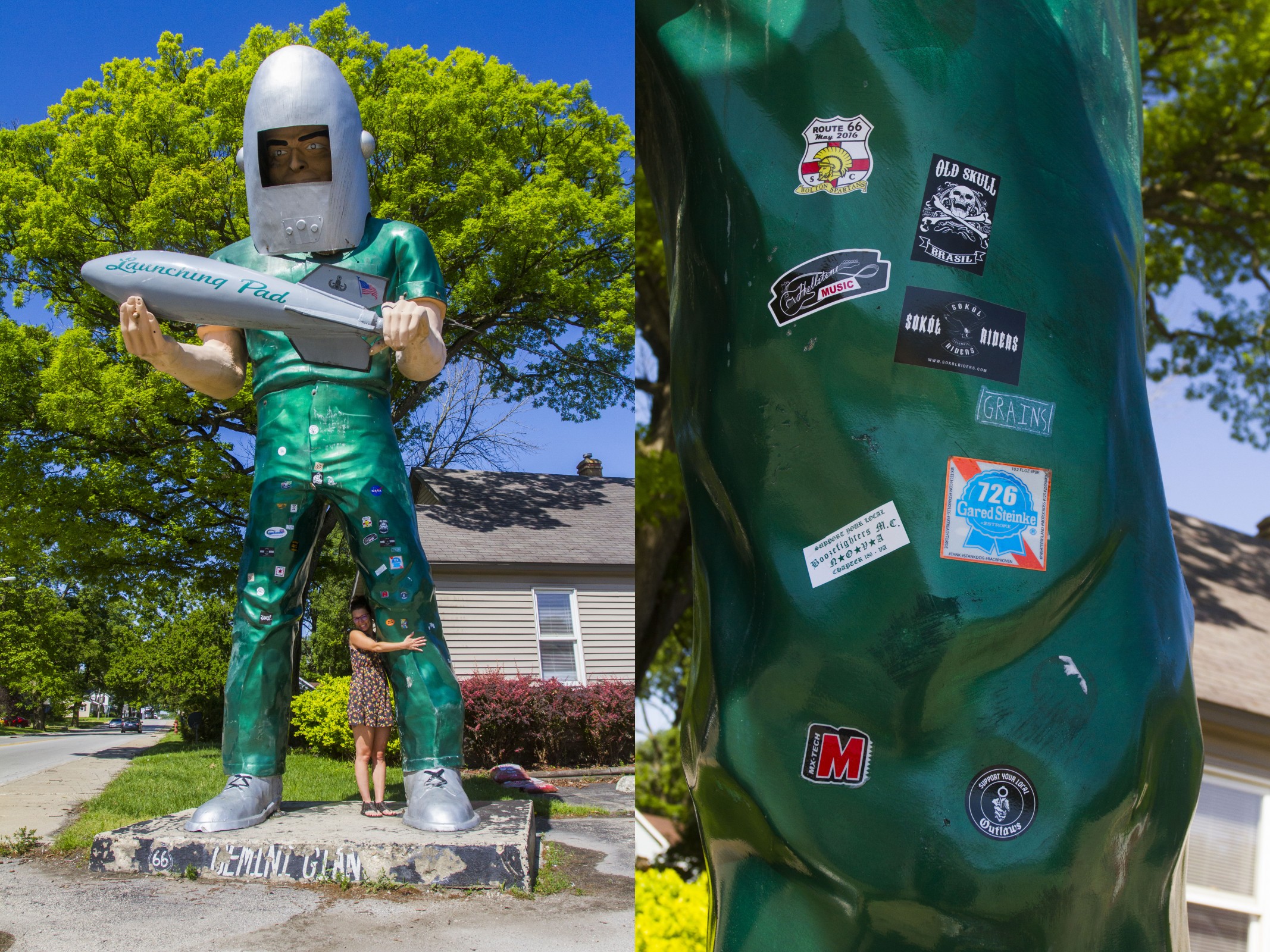 Reader John Clare randomly sent this vintage-style number plate to the Racer X HQ, and it was addressed to Zach Osborne.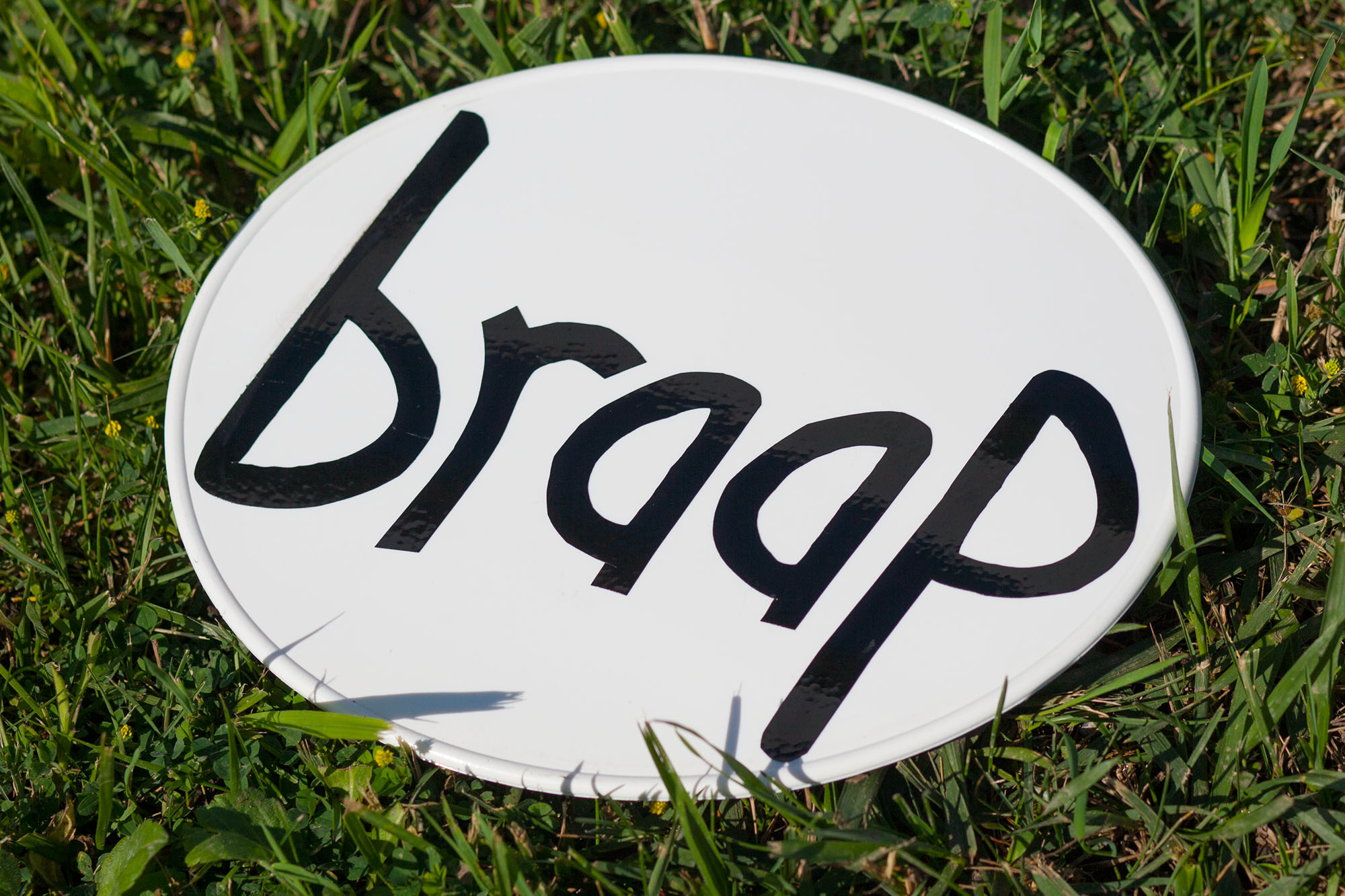 Going to Thunder Valley this weekend? Want to be able to get into the pits all day?
The only way to cruise the pits whenever you'd like is with the Racer X All-Day Pit Pass, but quantities are limited! Get yours today while they're still available and get all-day pit access plus a one-year subscription to Racer X Illustrated for just $50. Preorder ticket sales end Thursday, June 1st at 11:59 PM.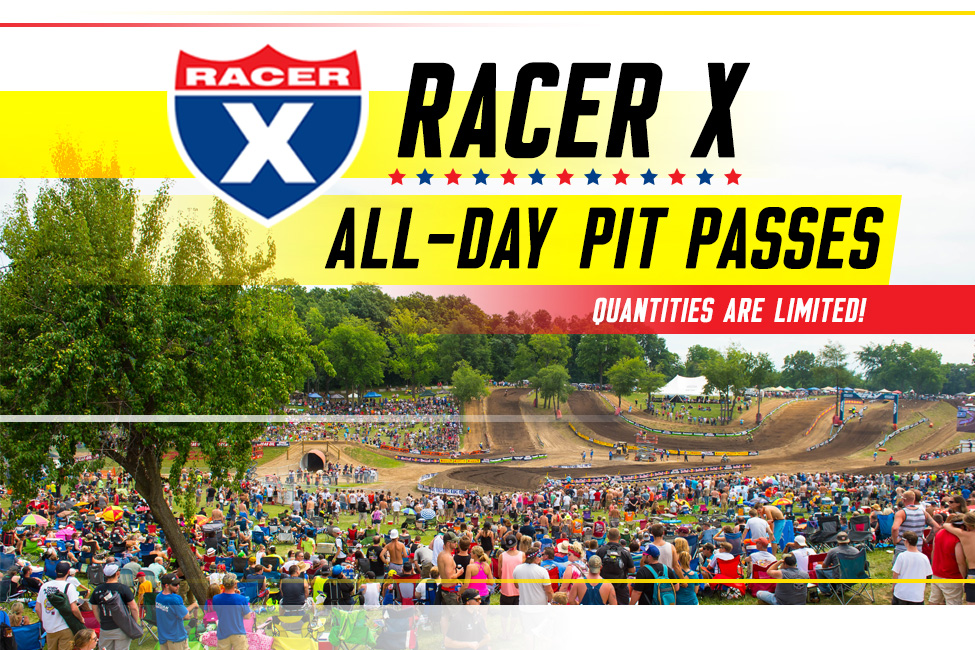 If you preorder online for this event, you'll need to pick your Racer X Pit Pass up at the Racer X Pit Pass booth, where you'll also receive an extra copy of Racer X Illustrated, the official event sticker, and Racer X stickers.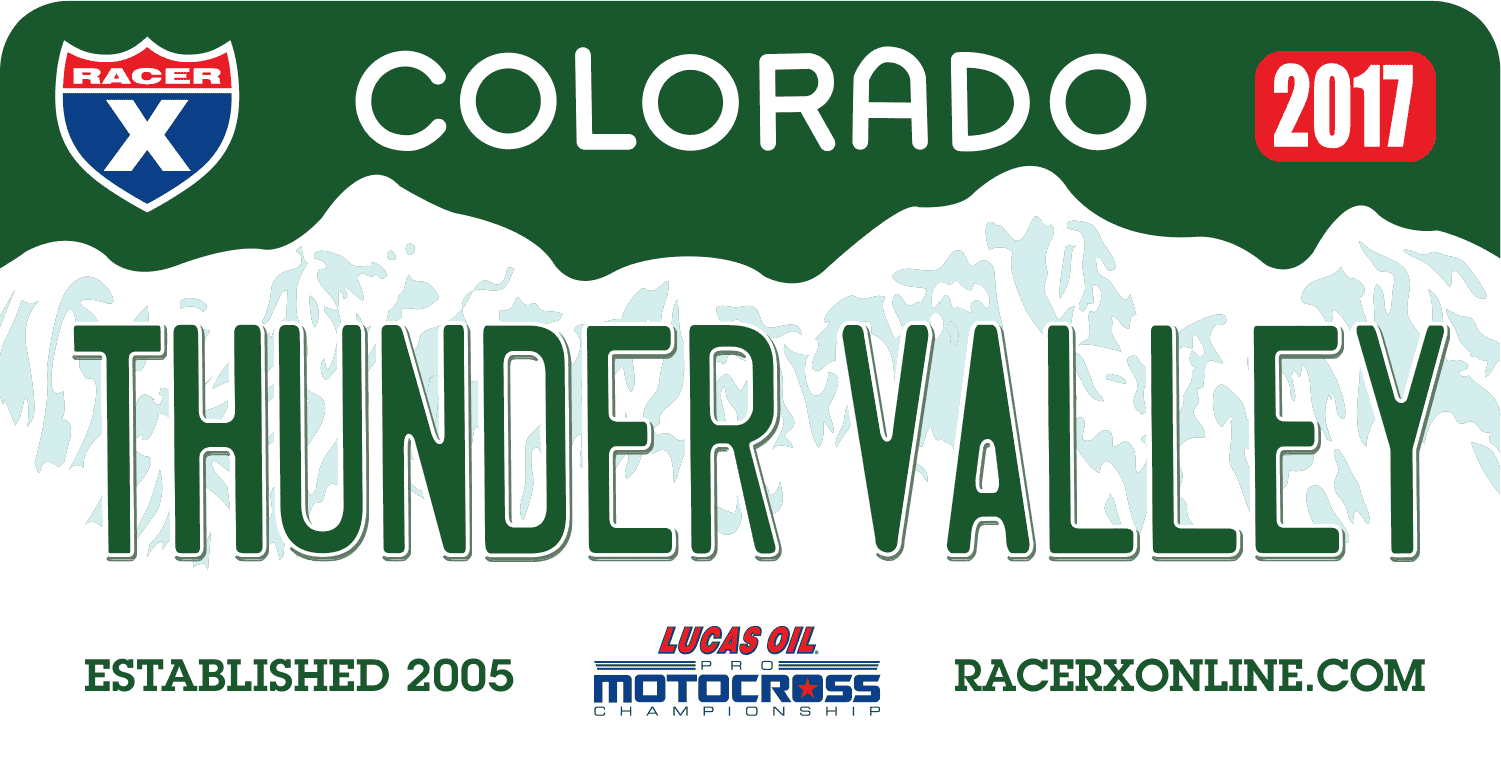 Also, be sure to stop by the Racer X Booth in Sponsor Village, and subscribe to Racer X Illustrated for as low as $10 to receive a free $20 Motosport Gift Card, a one-year subscription to Racer X Illustrated, an extra copy, the official event sticker, and Racer X stickers.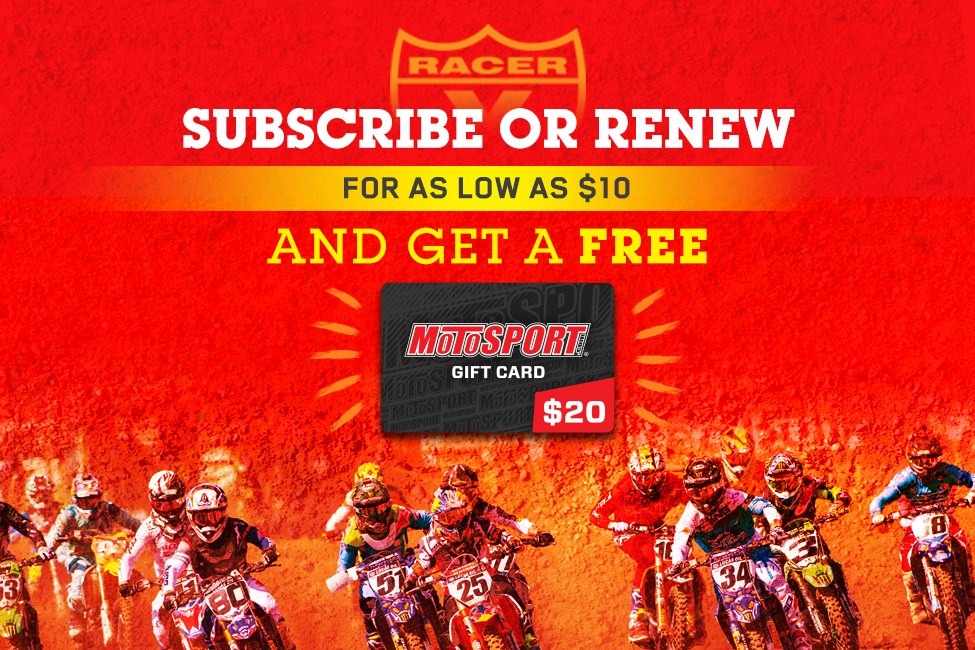 That's all for this week. Thanks for reading Racerhead. See you at the races.