San Bernardino, CA
Glen Helen
Lucas Oil AMA Pro Motocross Championship
After the race, we spotted Eli Tomac outside of his motorhome happily signing autographs for some fans, but he wasn't happy once we asked him about the race. Once again an issue with his front brake cost him huge championship points (a locked front brake caused a trip to the mechanic's area at the Dallas supercross, where he finished 15th). We then put together perhaps the shortest interview in the history of interviews.
Racer X: We know you had front brake problems. But how was the rest of the weekend? Happy with the riding and everything else?
Eli Tomac: Everything else was fine.
Did you hit anything in the second moto.
Nope.
Was that the furthest you've ever ridden with the front brake locked up?
That was the furthest I've ever ridden with the front brake locked up.
Are you bummed or is it just a long season and stuff happens?
Now that it's happened twice, I'm really bummed.
At first, it appeared to be the same problem Tomac suffered in Dallas, but we've since heard the problem might have been caused by a rock, which would make it a different scenario than Dallas, where the brake locked up by itself. We should know more this weekend.
On the Fly Racing Racer X Podcast on Monday, Steve Matthes reported that Dean Wilson has re-signed with Rockstar Energy Husqvarna Factory Racing for 2018. Wilson, who started the season as a privateer on a Yamaha, picked up a fill-in ride with the team when Christophe Pourcel decided to retire from supercross and race the Canadian Nationals this summer for Husqvarna. After completing the first full season in his three-year 450 class career in Monster Energy Supercross, Wilson has started Lucas Oil Pro Motocross strong, finishing fourth overall at Hangtown and Glen Helen. He spoke with Matthes after Glen Helen.
"It was a good day, but I'm actually a little bit disappointed, to be honest, just because I think that I should have been on the podium. My speed's there and it's just I got a terrible start. I had to come through the pack. The opportunity was there for me and it didn't happen."
Early in the second 450 moto at Glen Helen, Monster Energy Kawasaki's Josh Grant made a huge mistake in the twisty chicane before the finish line and went down. Initially, it appeared Tomac ran into Grant, which caused his front brake problems, but the replay later revealed that Tomac was able to avoid his teammate. Grant, who finished third in the first moto, experienced bike problems late in the moto and pulled out of the race early. He finished 10th overall on the day.
"Today could have gone better," Grant said in a team statement. "I started the day off with great qualifying times right behind Eli and followed it up with another podium finish in the first moto. I ran into some issues in moto two and had to call it quits. We're still in this as a team and I'm looking forward to bouncing back."
As we reported yesterday, Honda HRC's Christian Craig underwent surgery to have a plate inserted in his hand to repair a boxer's fracture sustained in the second moto. No timetable has been announced on his return, but he is out for Thunder Valley this weekend. That will leave Cole Seely, who is still dealing with an injury to his hip, as the teams sole rider. Seely sustained a hip injury in practice at the opener, and had to fight through it at Glen Helen as well. He managed sixth overall with 7-8 moto finishes.
"There were positives from today, but also a lot of things I need to work on," he said in a team statement. "I'm still having some trouble with my hip from last week's crash, so I was in some pain from that throughout the day, but worked through it. I got a good start in the first moto and was feeling good for the first half or more but then faded back. I got a terrible start in the second moto and just spent the rest of the race trying to make my way by as many people as I could. We did some fine-tuning on my bike this week and on Thursday press day, so I was really happy with that. I just need to work on myself and try to keep improving."
AutoTrader.com/JGR Suzuki's Weston Peick told Steve Matthes after Glen Helen that his wrist, which he injured in Monster Energy Supercross, would only be 80 percent this summer. Peick said that until he takes time off, his wrist wouldn't be 100 percent. Even at 80 percent, Peick was able to finish fifth overall at his home track at Glen Helen on Saturday.
"Probably the entire year I'll be at 80 percent with my wrist, with strength and everything like that. I have range of motion back, but the pure strength of it is the hardest part to come back from," Peick said.
RCH/Yoshimura Suzuki's Broc Tickle bounced back from a 14th in moto one (where he stalled and lost a number of positions) to grab his first moto top five of the year with a fourth in moto two. Quietly, Tickle has opened the season with 7-7-14-4 finishes. As Tickle moves away from California, expect his results to continue to improve, as he typically struggles at Hangtown and Glen Helen.
"Hangtown and Glen Helen for me, you can go back and look, it's not very good normally," he told Steve Matthes. "This is the best Hangtown and Glen Helen I've had since I've been pro. So for me it's upswing from here heading into Colorado. I enjoy that place. I really start having some fun once we hit High Point and those kind of places."
It was a solid day all around for the RCH team, as Justin Bogle finished fifth in the second moto to capture eighth overall on the day. Bogle told us he's completely changed his racing program recently, moving from Oklahoma to Florida to train at Ricky Carmichael's GOAT Farm. Bogle is working on more strength training than just cycling, and is also learning a lot more about testing and setting up a motorcycle. Bogle says what he was doing before worked in the 250 class, but definitely isn't cutting it on the 450s. The changes won't take root overnight, but they seem to be helping.
"It was nice to put a solid top 10 together and come out of Glen Helen with a good points day," said Bogle in a team press release. "The bike was fast and we made the right adjustments. We're making progress and seeing results. That's all you can ask for. Everything is moving in the right direction so hopefully we can keep it going and come out firing next weekend at Thunder Valley."
Racer X's Aaron Hansel spoke with Justin Barcia following his 11th overall finish at Glen Helen. Here is what the AutoTrader.com/JGR Suzuki rider had to say:
"I was trying to get those motos out of my mind, but we'll talk about it. It wasn't a great day for me. I really struggled with setup a little bit. It's Glen Helen and sometimes it's good and sometimes it's bad. Today, for me, it was bad. First moto I got an okay start and just kind of made a few passes, got passed, and did that whole thing. Ended up where I ended up. Second moto I got a great start, top five, and just was struggling with my setup and got tight in the arms. That's pretty much all she wrote. I went backwards a bit, which is frustrating because I know I have the speed to run up front. Talking with the team, we're working and we're trying to figure it out. It's a little tricky when you get on a new bike and you're trying to figure it out. I've been on the Yamaha for a couple years, now we're on this bike [Suzuki], and I like it a lot, but it's just fine tuning it and getting it right. Hopefully we'll get it really good for Colorado and run up front."
With the first two tracks being largely different than the others, how much do you actually change for Thunder Valley?
You don't want to get crazy and chase your tail. I've done that in the past and I'm not going to do it again. I'm not going to test on the weekends when I'm trying to race, that's not what I'm going to do. For Hangtown, I felt like it was too stiff so we softened it up a bit. I was fairly happy, but then here, we were really soft all day. You're blowing through, it flings up, then you're loose and you're getting head shake, all this stuff. You take the good with the bad, and today for me it was bad. I'm not stoked with how I rode and I struggled really bad. But Colorado, I like that place. I'm going to fly back to Florida, get a fresh mindset, ride my bike and do my stuff, and come to Colorado with a clean mind and do the best I can.
The vibe under the Monster Energy/Pro Circuit Kawasaki tent has to be a somber one after the team experienced three separate mechanicals at Glen Helen (Austin Forkner also had bike problems early in the first moto at Hangtown). Team owner Mitch Payton told NBC Sports Network's Georgia Albertson that a recent part change might be to blame for the recent rash of DNFs for the team. Forkner (first moto), Joey Savatgy (second moto), and Justin Hill (first moto) all had problems on Saturday and failed to finish a moto.
One Kawasaki rider was spared from the mechanical demons on Saturday—Adam Cianciarulo, who quietly sits second in points with two moto podiums through four motos. Cianciarulo did experience his own hardships on Saturday, though, as he was down in the second turn in the first moto and had to come back from 27th (after lap one) to seventh.
"It was a good day for us," he said in a statement. "My starts weren't quite on point today, but in moto one I managed to come back pretty well through the pack and finish strong. I carried that momentum into moto two and made my way into third on the first lap and just rode consistent to finish on the box. I'm glad to leave California and head into Colorado second in points."
Following a third in the first moto, Yamalube/Star Racing Yamaha's Aaron Plessinger took a hard spill in the second moto. He was able to get back up and finished the moto in 13th. "Pumped on how I'm riding, just a little mistake cost me the overall but it's racing and we always got next weekend," he wrote on social media.
If you missed it last week, we ran a feature on the improbable comeback for Colt Nichols this season. He wasn't expected to race Monster Energy Supercross due to a broken femur. He did, and grabbed 10-3-4 finishes in three rounds raced. He wasn't expected back for Lucas Oil Pro Motocross due to a knee injury. He made it back, and has finished sixth and fifth overall (both career-highs at the time) at the first two rounds. Expect his hot start to the season to continue as we move east.
After scoring an overall podium at Hangtown, Troy Lee Designs/Red Bull KTM's Alex Martin returned to the site of his first career overall win (in 2016) hoping for repeat success. But starts would hold the veteran back, as he rounded the first lap in 10th and 11th respectively, and couldn't challenge the lead pack. He finished sixth overall on the day.
"I thought I could be up front with those guys, but my starts didn't go to plan," he said in a team statement. "They are really important on a track like this where everyone can get separated pretty quick. I think we'll have something for next weekend."
GEICO Honda has also experienced mechanical failures early in the season. At Hangtown, it was Jeremy Martin facing a long walk back to the pits. At Glen Helen, it was rookie Cameron McAdoo in the first moto. In the second moto, he had a brutal crash that he was lucky to get up from. He said after the race that he is healthy and will race this weekend.
"Glen Helen was a rough one for us," said McAdoo. "My bike broke in moto one, but in moto two I was finally up in the fight and feeling pretty good. About 25 minutes into the moto I hit neutral off the face of a jump that had some ruts and kickers, which resulted in a pretty big crash ending my day. It was not fun! Glad I'm healthy and we will be out there fighting next weekend!"
A mechanical problem also hurt GEICO Honda's Jimmy Decotis in moto two. Decotis said in a post-race press release that he's been dealing with a sickness for the first two rounds.
"These first two rounds have been tough for me," he said. "I've been struggling with a sickness since the week before Hangtown and feel my body is now just slowly starting to come around again. I qualified 11th and then I finished 11th in the first moto and we had a mechanical DNF in the second Moto. Everyone at GEICO Honda works so hard for me and we will bounce back at Colorado. Although 11th isn't what I want, it was a good building block for me in the outdoors. Can't wait to get my body back to 100 percent."
A pair of rookies, Rockstar Energy Husqvarna's Michael Mosiman and TLD/Red Bull KTM's Sean Cantrell, have opened eyes early in the season—and even came together at one point in the first moto. At Glen Helen, Mosiman went 8-10 for eighth overall.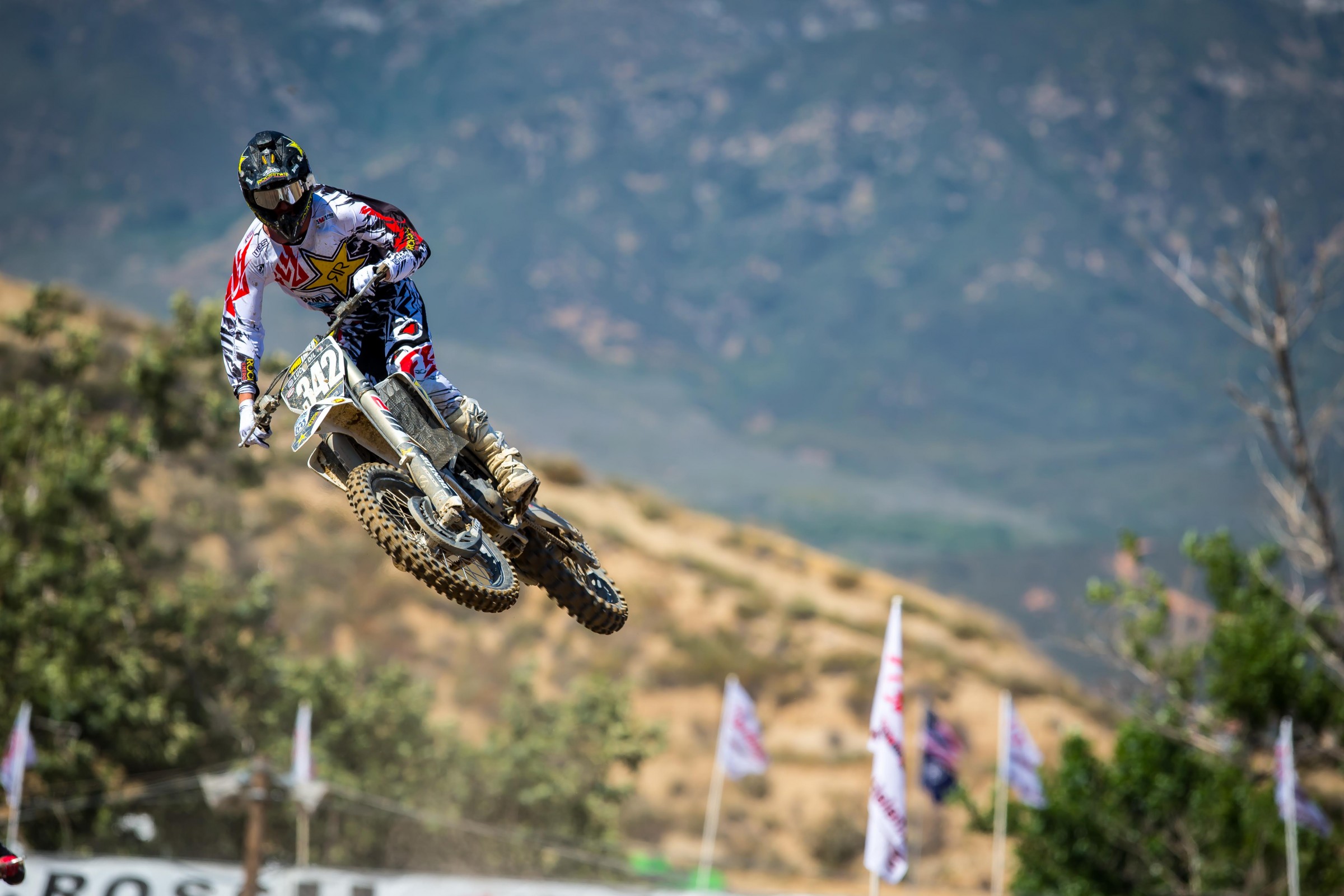 "The track was so rough here at Glen Helen," he said in a team PR. "I managed to get two good starts. The key was to try and get on the line from your practice start because it was deep. I got caught up with Cantrell a little bit in the first moto, and we were stuck for a little bit. I got back up, kept moving forward, and made it up to eighth. I was stoked, and it was super cool to see all the fans and some of my friends cheering me on. It was an unreal experience. The track was so rough, and I had so many close calls so I'm glad I made it out in one piece. I'm pretty happy. It was my first top-10 and only my second race."
As for Cantrell, he finished just outside the top 10 in 11th. "Each week has been a learning experience and I have a great team that supports me no matter what. It makes you want to go out and have the best moto of the year when they encourage you. I'm looking forward to getting out to another round next weekend."
Troy Lee Designs/Red Bull KTM's Mitchell Oldenburg sustained a broken collarbone in a first moto crash after hitting a downed rider, according to the team. It's unknown at this time if it's the same collarbone that caused him to miss five rounds of Monster Energy Supercross. The team will monitor his progress before announcing a return timeline. We'll have more on his status going forward later this week.