Las Vegas, NV
Las Vegas
Monster Energy AMA Supercross Championship
With his third straight premiere class championship, and fourth total, in Monster Energy Supercross, Red Bull KTM's Ryan Dungey joined an exclusive club. Dungey is just the fifth rider in history to win three consecutive titles, joining Bob Hannah (1977-79), Jeremy McGrath (199-96 and 1998-2000), Ricky Carmichael (2001-03), and Ryan Villopoto (2011-14). His fourth championship moves him into a tie for third with Villopoto, behind only McGrath (seven) and Carmichael (five) for the most supercross championships in history.
"So as far as all the championships, this is the most rewarding, but they're all team efforts and it takes a lot of things to go right—not just on your team, but in your personal life," Dungey said after the race. "I've got a supportive wife and family. There's not a lot of stress and drama or anything like that. So it takes a lot of things to go right to get a championship."
Dungey was obviously good this season, but not as dominant as he was in 2015 and 2016, leading to a lot of questions. Was something wrong with him this season? He was asked about it post-race, and explained that he didn't have any physical issues, but did struggle a bit to keep the fire burning, mentally.
"No, nothing's wrong. It's just, racing's a lot. It's very taxing, especially if I want to do something I want to do it 100 percent. Even growing up in my career I want to keep racing. There's a lot of races. There's a lot of races between supercross and motocross. That's a given. And we've got a lot of races outside of that during the off-season and stuff like that. Nothing was wrong. It was more just trying to find that motivation. Doing it last year was good. The back-to-back and then having to find that fuel for the fire to keep going and keep driving. I say that respectfully—not that I don't like racing or anything like that. It just gets to a point where you try to keep things in perspective and look at what's important. I swear the devil's at work in our lives. I was being tested so much this year."
All year, people within Dungey's circle have suggested that he has a future contract from KTM on the table and that it's up to Ryan to decide what he wants to do for 2018. Dungey was asked about it in the pre-race press conference. "I'd rather not comment. I still have a lot of stuff to figure out. I haven't really made a decision."
Monster Energy Kawasaki's Eli Tomac erased a 29-point deficit to Dungey to take the points lead prior to East Rutherford, but lost it after a crash and eighth place finish there. He ended the year with nine wins, which is tied with Damon Bradshaw (1992) for most race wins in a season without winning a title. This is just the fourth time since 2003 that the eventual champion didn't have the most wins on the season. It also happened in 2003, 2006, and 2010.
Down nine points coming in, Tomac tried to slow the pace in hopes of letting riders catch up to Dungey and steal points from him. "I definitely wasn't going to just lay over for this thing and give it away. I fought as hard as I could," said Tomac after the race. "At the end of the day, people aren't going to remember the race wins from myself—they're going to remember the championship from Ryan. So he was the better guy this year."
It won't get a ton of publicity due to the insane finish to the season up front between Dungey and Tomac, but Monster Energy Kawasaki's Josh Grant had a strong finish to the season, going 5-5-7-3 over the last five rounds (he missed Seattle due to a concussion) and claiming his first first podium since New Orleans in 2012 on Saturday night.
"I knew that if I got the other opportunity to get back in it, I wasn't afraid to put it up there," Grant, who didn't have a ride to begin the 2016 season, said after the race. "It's all about believing in yourself and believing in what you can do. I honestly still think I can do it. It's just a matter of rebuilding myself. Unfortunately for me these guys have built such a gnarly base over the last few years of not having any injuries and I have, so it's hard to play catch up and be in this position. I just put my head down after I got my ankles fixed and just said, all right, this is it. I'm going to give her hell."
Dean Wilson tied a career-high finish with a fifth in Las Vegas on Saturday. It was Wilson's highest finish since Arlington, where he also finished fifth. Wilson, who missed a majority of the last two seasons due to knee injuries, completed an entire season for the first time in his 450 career, racing all 17 rounds and finishing eighth in points. "I had a pretty good night," said Wilson in a team statement. "I was feeling good and ended up second in my heat race. I almost had the holeshot in the main but I fell into a good rhythm and ended up fifth. I ended out the season in the top-five so I'm happy about that. It was a good season overall and I'm happy with it."
Following the race, Chad Reed, who turned 35 earlier this year, posted a photo on Instagram of a butt patch with the caption "That's all folks," leading everyone to think that the two-time supercross champion was announcing his retirement. According to our own Steve Matthes, Reed is not retiring, but he doesn't have a deal in place for next year. Reed has been quoted in the past saying he wants to race two more seasons.
Just saw CR22. Not retiring but no deal for next year.

— Steve Matthes (@pulpmx) May 7, 2017
In Las Vegas, Reed had a great shot at his second podium of the season after moving past Jason Anderson to take third. But a few moments after taking over the position, Anderson bounced back and knocked Reed off the track. Reed would rebound to finish sixth.
The battle for fifth in points between Rocky Mountain ATV/MC-WPS-KTM teammates Davi Millsaps and Blake Bagett came down to the wire on Saturday. Millsaps and Baggett entered the weekend four and six points behind the sidelined Cole Seely. Baggett ran fourth for a majority of the race before going down late and finishing seventh. This allowed Millsaps to grab fifth by one point after finishing eighth on the night and losing just one point to Baggett.
It was a tough ending to a successful season for Red Bull KTM's Marvin Musquin. In the main event, Musquin crashed so hard in the whoops that his bike ended up bouncing into the oncoming lane in the sand. He was unable to continue due to his bike being "twisted." Despite finishing 22nd on Saturday, Musquin still locked up third in points behind Dungey and Tomac.
"Coming into Vegas I knew it was going to be tough and dry conditions so we tried to work on it and be better," he said in a KTM statement. "I had a rough day, we tried a couple of things on the bike and ended up in the very last practice doing some good laps and my speed was pretty good, I just made a lot of mistakes all day. During the main event I was right there, maybe like fifth or sixth place, and I knew things were going to happen in front—everyone was going to try something. Unfortunately, I made some mistakes and lost some ground and after that I made another big mistake and it cost me—I went down and landed on my lower back and the bike was all twisted so I went to the mechanics' area and that was it for today. It's a really big bummer to end the season like that, but to finish third place in the overall championship is good for my second year in the 450 class. We always want to do better but in the end it's like a podium finish at the end of the season so it's a good step forward for me and for the team. We just have to keep moving forward."
Cooper Webb ended his rookie supercross season with a 10th in Las Vegas on Saturday. The two-time 250SX champion had an up and down season, finishing on the podium just once and missing five rounds due to a shoulder injury. Webb finished 13th in points on the season. "Had a tough go this SX season to say the least but I will live and learn," he wrote on Instagram. "Luckily we have a fresh start in 2 weeks at Hangtown."
With both Ken Roczen and Cole Seely sidelined due to injury, Honda HRC called up Christian Craig for the second time in the last three rounds. Craig is also filling-in full-time for Roczen in Lucas Oil Pro Motocross. He finished 11th in the main event on Saturday.
"I got the call on Wednesday to jump up to the 450 for this weekend. I was excited to get some more time on the bike and with the team prior to outdoors," said Craig in a statement. "The day started off a little rough. I was struggling with myself and the bike during qualifying, but luckily it's just practice and doesn't mean a whole lot. I just tried to go into the night open-minded. I got into the main event through the semi and felt like I was riding good. Unfortunately, I got another terrible start in the main. You can't start that far back and expect to do very well. I just put my head down, charged as hard as I could, made some great passes, and put myself in a decent position. I wanted top 10 again and just missed it with 11th, but I'd say this ride compared to Salt Lake City was better because I was moving forward and had some intensity. Overall an okay night but I want to do better and know I am capable of better."
According to a team press release, Justin Bogle has decided to move his training to RCH/Yoshimura Suzuki team co-owner Ricky Carmichael's GOAT Farm in Tallahassee, Florida. Bogle finished his first season with the team 18th in points following a 13th place finish in Las Vegas.
"I made a big move during the break a couple weeks ago. I made a lot of changes with my program," said Bogle in a RCH press release. "I made the decision to go to the GOAT Farm and work directly with the boss (RCH team co-owner Ricky Carmichael). I feel like I was lacking in a lot of areas. I've been frustrated all season and decided it was time to make some changes. I feel confident and comfortable with the decisions I made. If I can have a solid night in Las Vegas, that'll be a good way to cap off a tough season."
The 250SX West Region Champion Justin Hill said post-race that he doesn't expect to defend his title. Instead, he's hoping to move up to the 450 class beginning next year.
"It would be a lot of fun to run the [number] one, being they didn't let me run it tonight," he said. "But I do think I definitely am a 450 guy naturally. When I get on them they feel like home. That's what I've always wanted to be. If I could have went straight to them from an amateur I probably would have done it. I think you'll see me on a big bike for sure."
Hill jumped up to the 450 at the Monster Energy Cup while with KTM in 2014 and rode to impressive second place finishes in the first two races before crashing in the third race. We'll see what the market for Hill will be next year. Either way, thanks to the new 250 rule, Hill will have a chance to defend his title if he so wishes.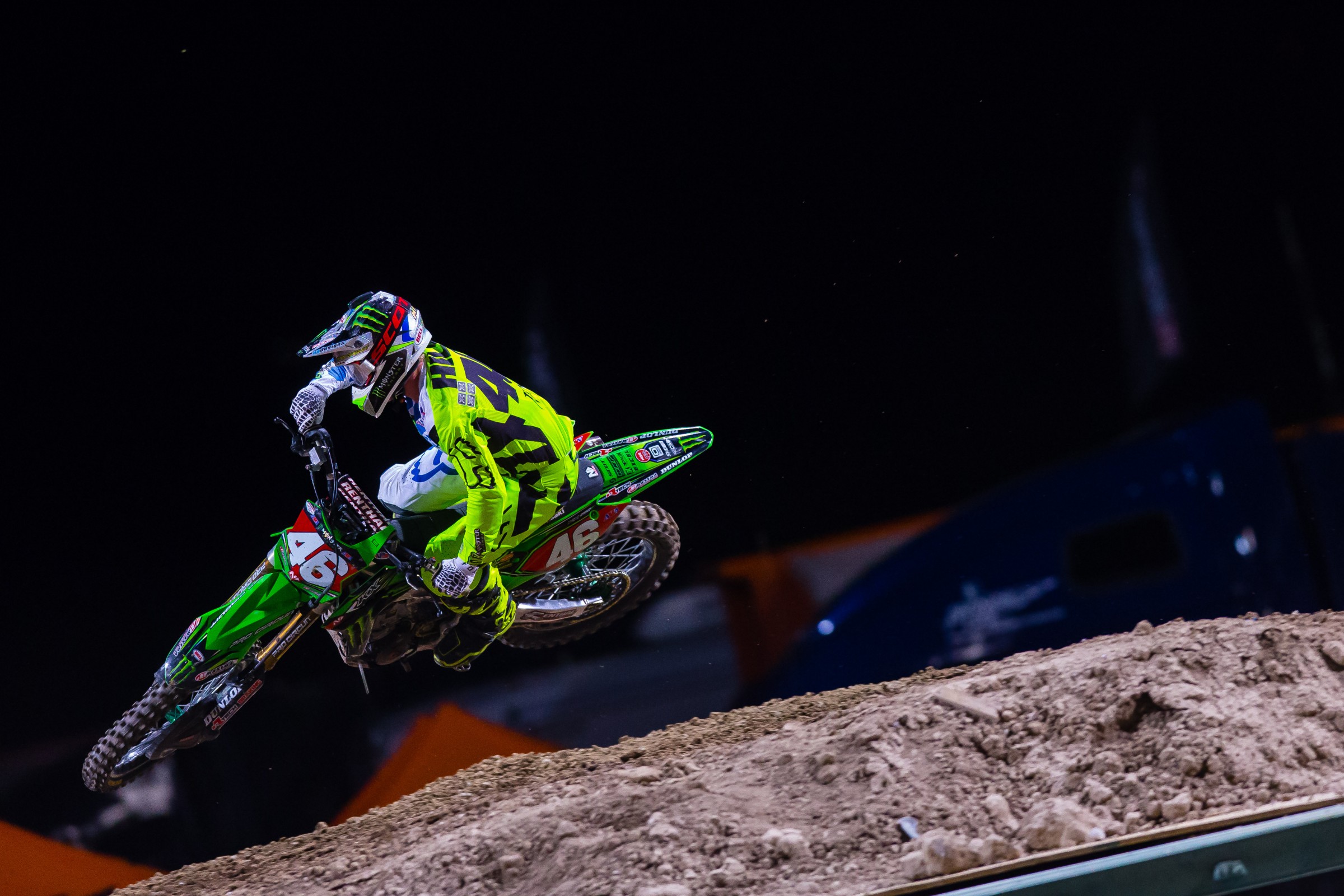 Zach Osborne's incredible comeback was not only a milestone for the veteran racer, but the Husqvarna brand. Osborne's 250SX East Region Championship is the first ever AMA Supercross title for the Swedish brand, which is now owned by KTM.
"I needed another miracle like I did last weekend. When we went down, Dakota Alix's foot peg was stuck in my spokes," said Osborne. "It took me a minute to get it freed up, so I was like dead last by a couple seconds, like 10 or 15 seconds. So I thought just do what I can and get back to wherever. Then I saw Smith down. I knew on the first couple laps that Joey [Savatgy] was right up front, so I had no idea until like four laps to go. I kept getting closer and closer. Then on the two to go I had to pass Mitchell Harrison and he passed me back. I was like, man, it's just not going to happen. I'm going to come up a tiny bit short. But it happened."
The final two races of the season will probably linger with Joey Savatgy for quite some time. He lost the points lead entering Vegas following a five position penalty in East Rutherford for cutting part of the track after a crash while alone in second. He went down early in the main in Vegas and then couldn't hold off a charging Osborne at the end. Savatgy released a statement via a Kawasaki press release about the race.
"It was a rollercoaster season to say the least," he said. "What happened on the last lap I didn't see coming and should have. I would have probably done the same thing in that situation, but it hurts being on the losing end of a take out."
Troy Lee Designs/Red Bull KTM's Jordon Smith, the unlikely points leader entering the night, also had a chance at the title after Savatgy washed out early. But Smith made consecutive mistakes of his own. He was unable to regroup from a crash and had to be helped off the track by the Alpinestars Medical Crew. He said on Twitter after the race that's he's okay, just banged up. He released a longer statement on his Instagram page yesterday.
"Just want to send out a little update to everyone on how I'm feeling from my crash on Saturday night. Definitely wasn't the way I wanted to end the @supercrosslive season for sure. My day was going really good and I was feeling very comfortable. I put myself into a great position for the championship and it was really mine to lose. Unfortunately I made a mistake that caught me off guard a little bit and my night ended a little soon. Luckily there are no bones broken from my crash and my head is fine! My back is really sore but with the great group of people that I have around me we are going to try our best to be 100% healthy heading into hangtown! I want the thank the entire team that I have behind me for giving me the opportunity to have such a good supercross season. From everyone @tld_moto to everyone @mtfmx and everyone in between! We made a good run at it and almost had it. But we won't give up and we will come back stronger than before. WE WIN OR WE LEARN!!"
Osborne's comeback for the ages got all the attention, but it's worth noting that Yamalube/Star Racing Yamaha's Dylan Ferrandis and Aaron Plessinger were also down in turn one, and they came all the way back to finish third (Plessinger) and fourth (Ferrandis). They weren't on the ground for as long as Osborne, but they still had to pass a ton of riders to move forward. Plessinger ends the year third in 250SX West points, and Ferrandis finished the East Region fifth in points, with two podium appearances. Keep an eye out on these riders as we head outdoors.
Jimmy Decotis ended a career year with GEICO Honda with another top-10 finish, his ninth on the year. Although he failed to reach the podium, Decotis had three top five finishes and won the 250SX West Region heat race—basically a main event—on Saturday night. In a statement, he said he didn't execute the start well enough in the main to contend for a podium.
"It was a bittersweet ending to the 2017 supercross season. I qualified P1 won the West heat race, but didn't execute the start in the shootout. I was happy with my riding in the main event, but I wasn't happy with the result. I really felt I could've challenged for a win and podium with a start in the main so starting back in 14th was extremely frustrating. I'm happy with my progress and the big steps forward I made tonight. Now it's time to just focus on the outdoors and keep the momentum rolling."
51Fifty Energy Drink Yamaha's Hayden Mellross continues to impress in just his second season of supercross. The Australian rider ran third for six laps in the East/West Showdown main event before finishing eighth. Mellross finished 11th in 250SX West Region points despite missing two main events.
"What a race," said Mellross after the race in a team press release. "I had no idea what was going on behind me, but I was able to click off lap after lap. I saw my number on the leader's pole and thought 'Third?! Okay I can do this.' I tried to ride just like I do on my practice track at home. I made a few mistakes late and it cost me but I'm happy with eighth. Thanks to 51Fifty Energy Drink, Allied Packaging, all our sponsors, and the entire team for making this season one to remember."
Troy Lee Designs/Red Bull KTM's Mitchell Oldenburg locked up 10th in West Region points with a fifth place finish on Saturday. In four races this year, Oldenburg went 4-3-2-5. His impressive season has definitely seen his stock rise, as we've heard a few teams are interested in him for next season.
Austin Forkner, Shane McElrath, Daxota Alix were just a few riders that were also caught up in the first turn pileup that claimed Osborne. Alix wasn't able to finish the race. McElrath got up to finish 11th, with Forkner one position behind in 12th.
"Not the night we were hoping for," said Forkner in a team statement. "After getting caught up in the first corner crash, all I needed to do was salvage as many points as possible. Overall it was an alright night, but I'm happy to finish my rookie supercross year strong and inside the top 10."