Las Vegas, NV
Las Vegas
Monster Energy AMA Supercross Championship
Oh, wow. Wow. I just don't know where to begin when it comes to the 2017 Las Vegas Supercross. Like, where do you start? I was texting with someone at Feld Motor Sports about the night and remarked that too bad the stadium being built here in Vegas for the Oakland Raiders wasn't ready yet, because anyone that was in the crowd on Saturday would buy tickets to come back in 2018. It was drama of the highest order in both classes. You want to sell supercross? Show someone Las Vegas Supercross 2017 and watch the cash flow in.
The track was very good and the folks at Dirt Wurx have sort of figured out the tricky Vegas dirt and it's not the complete dusty, cement surface that it's been in the past. It's not RedBud, but it's better than it used to be. There was one section that led out of the stadium that provided some superb viewing. The guys could go inside then 2-2-3-4 out of the stadium (the quad was some 80 feet) or outside and 3-3-3-2 through it. It was great with the quad out being slightly faster from the people I spoke with. But the visual for the fans of a guy on the ground and a guy in the air was awesome. Build that section some more please.
By the way, a 450 team told me 71 mph for their bikes heading into the stadium toward the ski jump. That's fast!
Jeremy McGrath, Ricky Carmichael, Ryan Villopoto, and now Ryan Dungey. Those are the only four riders in the sport's history that have won four 450SX championships. The Red Bull KTM rider joined that group with his fourth place in Las Vegas. It's by far the toughest title that Dungey has won as a professional. He only won three* races (* including the one where his teammate Marvin Musquin moved over for him), which is the least amount of races he's ever won in a season where he won the title. Dungey's win percentage was looking very good going into Vegas based on what happened in East Rutherford, so Monster Energy Kawasaki's Eli Tomac was going to somehow pull a rabbit out of his hat to make something happen. It didn't look good for the #3 and his fans.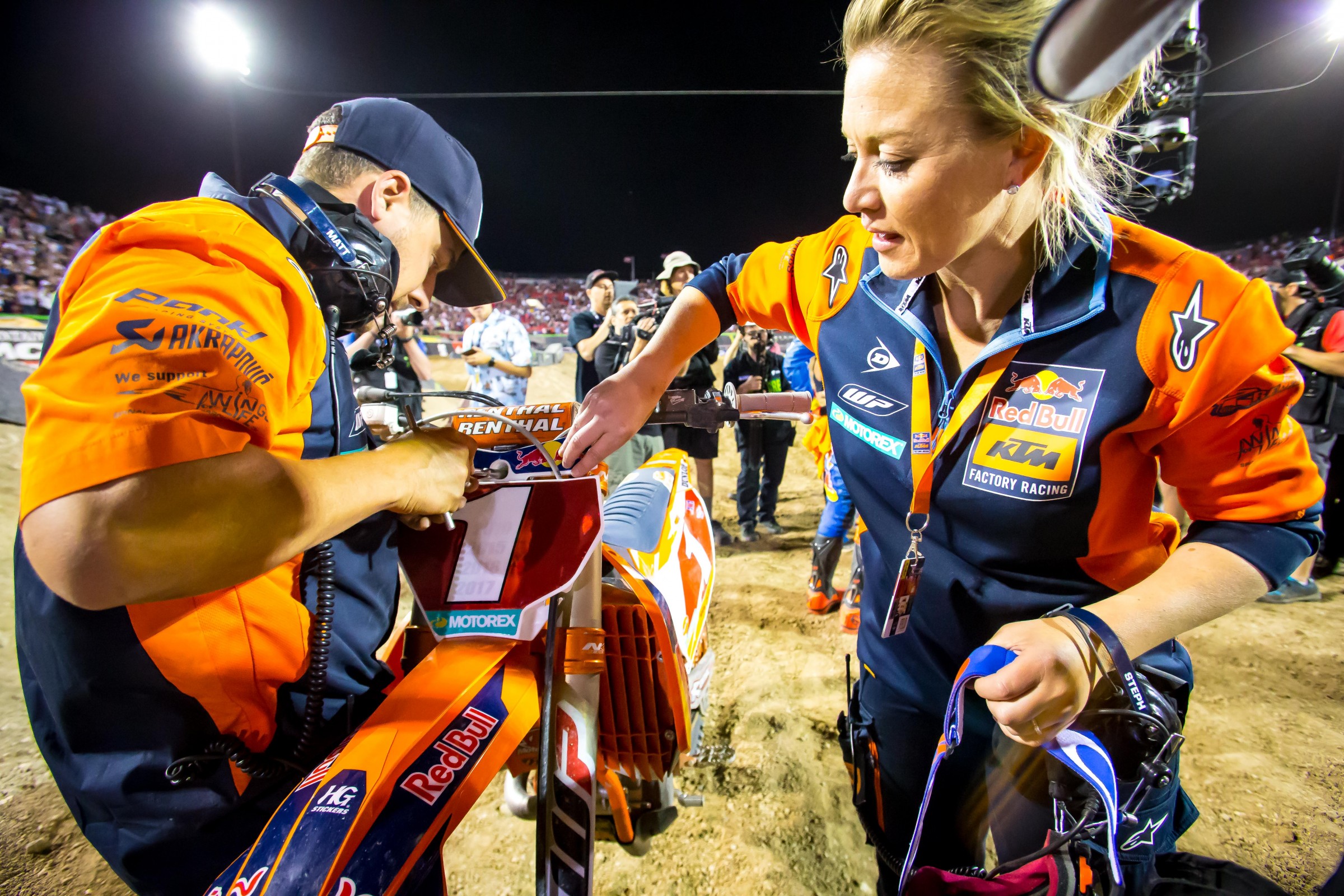 The main started innocently enough with Dungey getting into the lead and Tomac charging and catching him. Tomac made an aggressive pass into the lead and I suppose that was it. He didn't knock Ryan down, got into the lead and this thing was over. Or was it?
But then as we all saw, Tomac slowed down to allow the chasing pack of Jason Anderson, Chad Reed, Blake Baggett and his Kawasaki teammate Josh Grant to catch up. Tomac was going to bunch the pack up and hope for a Dungey mistake. If he won, he needed Dungey to get fifth to win the title.
The crazy thing is this strategy almost worked! Reed and Grant were riding the best they had in weeks and definitely didn't give one poop about Dungey's title chase. Tomac slowed two more times and let Dungey by only to aggressively pass Dungey back each time! This is Ryan Dungey, an icon of the sport, one of the best ever and Tomac was treating him like a cat with a wounded mouse! Seemingly whenever Tomac needed to catch back up and pass, he was able to do that. The drama out there was at an all-time high!
In the end it didn't work, Tomac needed allies out there and after Anderson punted Reed off the track there wasn't anything he could do outside of T-boning Dungey off the bike. Anderson, Baggett, and Dean Wilson would rather light themselves on fire than get into the mix and hurt Dungey's title chances. Eventually though, Tomac slowed so much on the last lap that Anderson snuck by for the win with Tomac second and Grant third. It was an eventful race and one that many will not soon forget.
As anyone that listened to our post-race podcast knows, I wasn't a fan of Tomac's strategy. Sure it worked out better than I thought, but he needed nine points and the biggest gap in the points system is from first to second. So win the race, get that locked down and hope for the improbable to happen. As it was he didn't win the race and gained four points on Dungey, so one more than winning the race and Dungey getting second. The way Grant and Reed were riding though, who knows, maybe they get up into the mix. If it's me, catch up to Dungey, make a hell of an aggressive pass on him, grab your 10th win (100K bonus and place in record books as most wins in a season without winning the title) and hope for the best behind you.
What Tomac did was legal and all his passes on Dungey were aggressive but IN NO WAY do I think they were dirty or "cheap shots" like Dungey referred to them after the race on the FS1 broadcast. He towed that line perfectly but as I said on the pod, if the third, fourth or maybe fifth run at Dungey actually succeeded and he went down, was Kawasaki and Tomac thinking that everyone at the FIM and KTM would just shrug their shoulders and award the trophy to Tomac?
You want to see a shit-storm of epic proportions, watch what would've happened if Dungey had gone down! So I'm ok with the "bunching" strategy but the aggressive passing, eh…. I don't think in this 2017 supercross world where we've seen many fines and DQs, those pass attempts would've stood legally. Maybe I'm wrong but the predatory action by the #3 wasn't something that I would think would work with the officials.
Again, though, the pass attempts were not dirty or malicious, they were not Josh Grant on Malcolm Stewart in East Rutherford or AJ "The Cat" Catanzaro on Dakota Tedder at the same race. But still, how does KTM just accept those pass attempts as part of the race and not file a protest?
Tomac and I spoke at the press conference and I liked what he had to say. "I never want to injure the person. At the same time, there's a whole lot on the line. It's the championship. It's what we dream of as a kid. We were that close this year. That race, it was something else. It was a dream scenario for me to be in front and to be able to stack up the pack and control it and hopefully bunch up guys."
"I gave him good bumps," Tomac said. "I literally blew him off the track. At the same time, you never want to actually hurt someone like that. I did all I could do, and Ryan held it together."
That quote is amazing on so many levels. I really think that Marvin Musquin pulling over for Dungey last week prompted this strategy by Tomac and Kawasaki. Even though I had a Kawasaki guy tell me that they would do the exact same thing if Grant was leading and Tomac was in second, I think Tomac was legitimately pissed about the move last week. Myself, free of bias and having been around the sport for a long time, saw nothing wrong with this move. Guy Cooper won a 125 AMA Motocross title in 1991 due to teammates pulling over; Larry Ward pulled over for Greg Albertyn in 1999 at the last round and heck, Cooper Webb "stalled" his bike for teammate Jeremy Martin two years ago. This stuff happens all the time.
As far as Dungey is concerned, I'm wondering, as Tomac is playing cat and mouse with him, why he chose to go by the #3. Just stop on the track! Do NOT pass Tomac under any circumstances and you win the title by riding behind him. The visual of Tomac and Dungey having a "slow" race would've been amazingly funny. But the alternative to not passing Tomac is getting hit over and over and having a chance at falling or something on the bike breaking. I say just sit right there! Dungey made mention afterwards of "taking the bait" and I agree, bad move there.
Dungey walked back his "cheap shots" comments after the race (maybe because he was getting booed by the fans at the race and realized he didn't want to go there) and I was a bit disappointed by that move. You say it, you mean it and you stand behind it, you know? I don't think anyone would think that Ryan would be out of line to be upset at being Eli Tomac's personal ball of yarn out on the track.
Okay, enough about that. The 250SX East/West Showdown was even more amazing than the 450SX main event. It was absolutely epic and can I put my vote in that the central supercross locations should also have an East/West format in 2018 like they used to?

Rockstar Energy Husqvarna's Zach Osborne came from dead, dead, last to win his first 250SX championship and what a ride it was. With one turn to go he ran it in hot on Monster Energy/Pro Circuit's Joey Savatgy, knocked the green bike down and took the win. Osborne was so far back that I never thought he had a chance at the championship.
First up, Savatgy did what he needed to do and got a start. Then he fell and Troy Lee Designs/Red Bull KTM's Jordon Smith looked to be in a good spot for the title. Then Smith jumped off the track and then absolutely endoed coming into the stadium and broke his handlebars and who knows what else. Smith came into the race with the red plate, but he was out of it. So the title went back to Savatgy except a strange thing happened—he started going backward. We were watching real live pressure affecting a human being right out on the track.
Amazingly, Adam Cianciarulo, who was out front, was going to come from fourth in the points to the title while Savatgy just couldn't get it together. If GEICO Honda's Cameron McAdoo passed Savatgy (and he had caught him) then AC was going to be the champion! Then McAdoo went off the track and Savatgy had some breathing room. The complexities of the title chase were all coming together and crashing into each other like out of control bumper cars.
We know what happened by now. Osborne's pass on Savatgy was protested by Kawasaki and he had to pay an undisclosed fine, but that's no problem for him or the team—he is the 2017 250SX East Region Champion! It was an amazing ride, one that I'll never, ever forget, and neither will anyone who was there. The heart and determination showed by Osborne was amazing.
Osborne, forced to Europe after riding for Yamaha of Troy and struggling here in the U.S., has completed the rebuild of his career with a championship. For a few years over here, when GEICO Honda picked him up after he impressed at some part-time supercross rides, he was the guy that was fast that couldn't close the deal.
I've known Zach since he was in Europe and would come over for the USGPs. I helped him with a goggle deal with EKS Brand and he's always been the same guy. He loves the sport like a fan would, he loves to ride off-road and he's a worldly guy. He's the type of guy to ask how you are before he tells you about his program and how he's been working hard. There isn't anyone in the pits that has a "EFF Zach Osborne" story, (well, maybe Savatgy now?) and I think a lot of people are happy for Wacko, myself included.
Back to Savatgy. I've been on a couple of teams with Grant Langston in 2001 and Chad Reed in 2003, 2004 where you have a headset on and the title status is being communicated to everyone on the team. Nothing is left to chance and it's not just another usual night. It seems that Savatgy's mechanic might have put "champ" on the board on the last lap, which might explain Joey sort of cruising out there and Osborne being able to reel him in. I saw Savatgy's Instagram where he said there was a "simple miscommunication" out there in the race, which lends speculation to the pit board theory.
If this is true it's a big mistake by the seasoned Pro Circuit guys. I'm sure they saw the charge by Osborne and we all knew that it was possible #16 could make up the gap, so they knew this as well. I bet Savatgy never, ever lets up on the last lap ever again.
But seriously, Savatgy lost the points lead last year when Christian Craig moved over on him in the whoops and he went down and then he led the Lucas Oil Pro Motocross Championship for a long time until fading late in the season. This year he throws away the championship at the last round, never mind the weirdo crashes while he's out by himself (St. Louis, Toronto, Detroit) and the inexplicable decision to not get back on the track in the right place last week in East Rutherford, which cost him spots and the points lead. He's got to live with this meltdown in Vegas combined with all the other heartbreaks to somehow regroup and take another run at the Nationals. Man, I don't know how that's going to go, it's got to be really tough. Joey Savatgy is at a career crossroads here and we'll see how he handles it.
Poor Justin Hill and Aaron Plessinger. They finished second and third and no one noticed! Did you know that AP23 came from 15th after lap one to finish third? Hill rode great to get second and afterward the only question Plessinger got was about his cheezy '80s mustache he's trying to grow. It was that kind of night. I'm here to say—nice work, boys!
Some more news and notes:
- Chad Reed has come back to social media after a hiatus asking for 2004 Yamaha parts and after his eventful 450SX main event he posted a photo of his butt patch saying "That's all folks" and nothing else leading some to speculate that was it for his career. I have to admit, I was confused as well, but I ran into Reed at the hotel after the race and he said that was not a retirement message but that he doesn't have a ride for 2018. I know he's in talks with some teams for next year and I know he wasn't thrilled with his Yamaha this year. Guess we'll know soon enough, but look for CR22 to be out there in 2018. If he doesn't get parked by Anderson, I think he wins Vegas. He was riding that well.
- Josh Grant got his first podium since 2012 and capped off a pretty successful season under the Monster Energy Kawasaki tent. Grant's on a one year deal but I'd look for him to be back with the team next year despite Justin Hill saying he wants to go to a 450 for 2018. I would think Kawasaki would keep Grant one more year, give Hill a raise and let him run the number 1 plate.
- Anderson got the win and ended his season with four straight podiums including the top spot in Vegas. The #21 hasn't been quite the same as he was last year but he salvaged the season with some great rides at the end. His battle with Reed in the Vegas main was pretty epic. Look for his new deal with Husqvarna to be announced real soon.
- Years ago in Las Vegas Davi Millsaps launched off the ski jump that was in basically the same spot as it was in 2017. He landed and at the end of the straight plowed right into Yamaha's Broc Hepler and it was a disaster as both riders lay there and needed medical attention. It was pretty much the last waltz for Hepler's career. Smash cut to 2017 and Davi flew into the stadium on factory KTM 450 and promptly lost the front end at the left hand turn. He washed out and went down pretty hard. Wonder if he saw any old factory Yamaha or Honda shards of plastic while he was lying there?
- Marvin Musquin didn't finish the main event in Las Vegas after crashing in the whoops and jacking up his bike, but he had a very successful season indoors. Marv's goal for 2018 is to get better in the whoops that claimed him in Vegas. Musquin's penchant for jumping through the whoops whenever they're hard packed does cost him at times. Still, he's "a guy" for the title in 2018 and despite the poor ending, Musquin was a revelation this year.
- Cooper Webb's rookie 450SX season was okay. He scored a podium but outside of half a race in Seattle he hasn't been as good since coming back from injury as many of us thought. Well, in talking to someone close to the Yamaha team it seems that Webb has been riding outdoors for close to six weeks now and not really all that concerned with supercross. So I guess we'll find out in a couple of weeks if he's going to be "a guy" outdoors.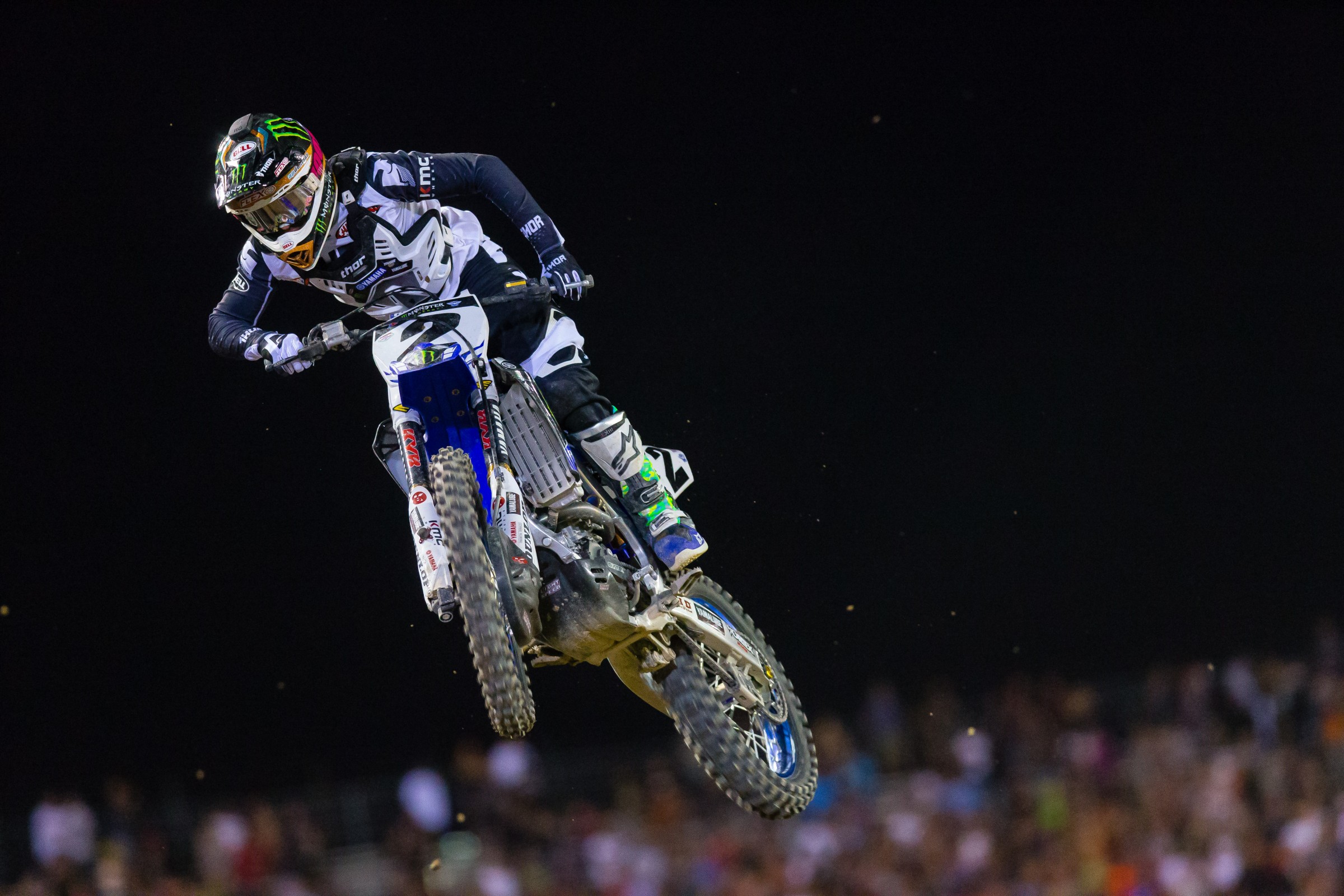 - Oh, before I go, I heard a little while ago that Ryan Dungey might not suit up for the Lucas Oil Pro Motocross Championship but when I found out he was at some KTM motocross tests, I kind of put that rumor aside. Well, turns out there might be some truth to this as I hear we'll know at the end of this week if Dungey is in for outdoors. I suppose if he's out there will be an "injury" of some sort (and who knows, maybe it's the truth?) and Dungey skips outdoors and then we all expect a retirement PR soon after the season. I mean, could it get any more obvious that Dungey was setting us up for this the 38 times he mentioned how grueling and long the season is? He's right by the way. Stay tuned for more on this later in the week.
Thanks for reading, everyone. What a season it was in supercross. Man, this year had some serious stuff happen that we won't soon forget. I'll be back in a couple of weeks to talk about the opening round of Lucas Oil Pro Motocross from Hangtown! Email me at matthes@racerxonline.com if you want to chat about this or anything else.