Metlife Stadium
East Rutherford

,

NJ
East Rutherford (New Jersey)
Monster Energy AMA Supercross Championship
Welcome to the Racer X Race Day Feed, your one-stop shop for Round 16 of Monster Energy Supercross from East Rutherford, New Jersey. We'll be updating this post throughout the day with news, notes, and results from practice, heat races, semi races, LCQs, and the main events, so be sure to check back. You can also follow Racer X on Twitter, Instagram, and Facebook to stay up on all the action from today.
(Note: All updates will run top to bottom, starting with the morning report and going through the main event. So, make sure to scroll down for the latest.)
Morning Report
Due to heavy rain in the area last night, we are under a revised schedule for Round 16 of Monster Energy Supercross from MetLife Stadium in East Rutherford, New Jersey. Riders will no longer have a free practice this morning (remember, we're on a day race schedule), and will go straight into timed qualifying beginning with 250SX B at noon EST. There will still be two timed sessions, and the track actually looks like it held up pretty well considering the circumstances—they were watering parts of the track this morning.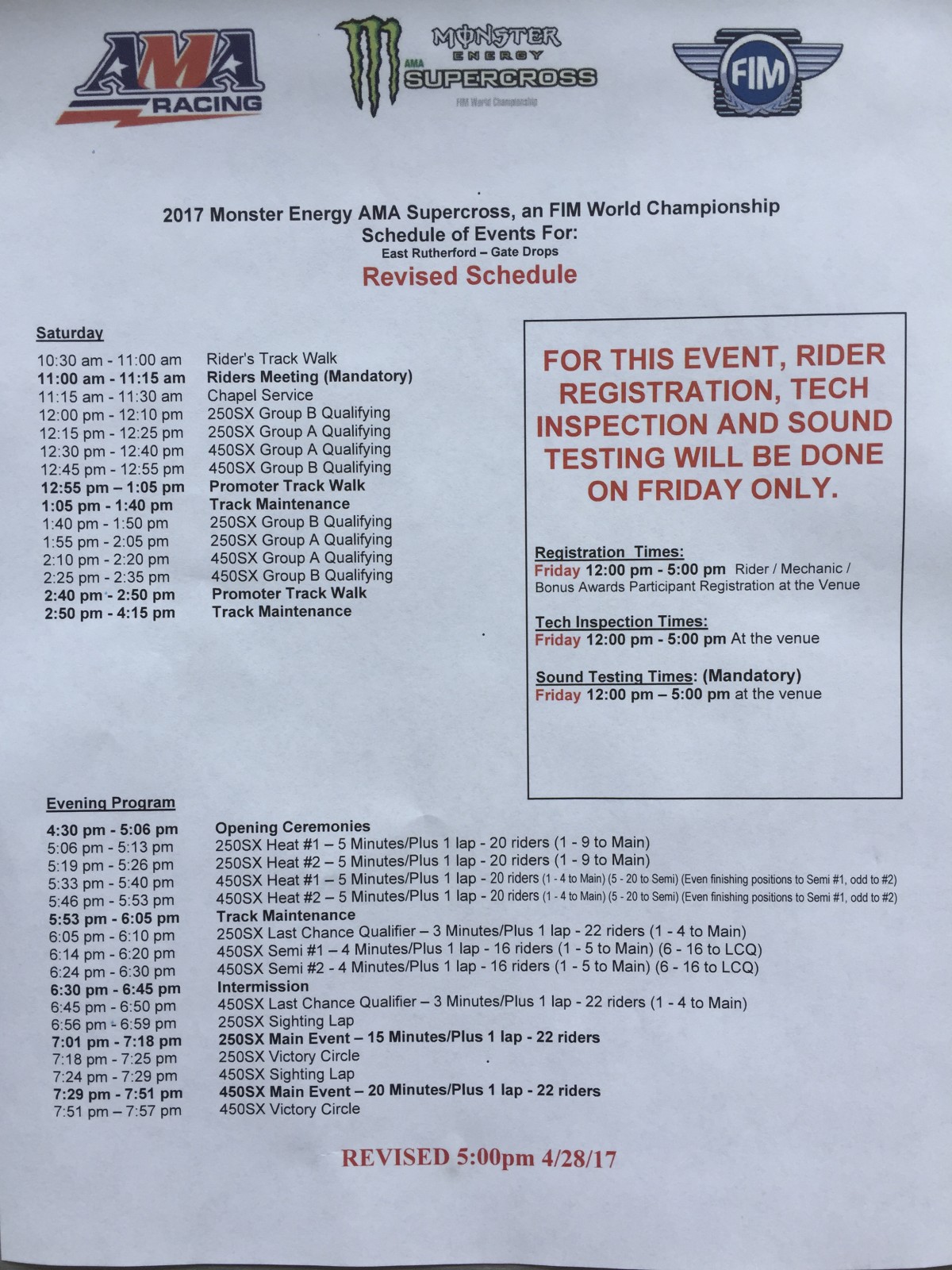 As we noted yesterday, this is very uncommon times in the 450SX series. Since 1997, the average margin of victory at seasons end has been 39.6 points. Nine times the series champion won by a margin of more than 50 points. Only four times—2003, 2006, 2009, and 2011—has the championship been decided by 10 points or less. And while the outcome of the 2017 championship is still to be determined, it's likely it will be decided next week in Las Vegas, as just three points separate the red-hot Eli Tomac and two-time defending champion Ryan Dungey.
What's been the difference for Tomac? He opened up a bit to our Jason Weigandt yesterday. It's worth reading. His ride in Salt Lake City last weekend will forever live in supercross lore, but he still has two rounds of the championship to contest if he's to wrap up his first career 450SX title. Tomac has won nine of the last 12 rounds, and finished runner-up at two others. If Dungey is to win this, he'll need to beat Tomac straight up, something that hasn't come easy in the last 12 rounds.
---
Dungey, who joined Jeremy McGrath and Chad Reed last weekend as the only riders with 100 podiums in the premier class, still controls his own destiny, as two wins (or a combination of other results) will seal a third straight championship. The track tonight does seem to favor Tomac; if you want a full track preview, check out Jason Thomas' Staging Area column.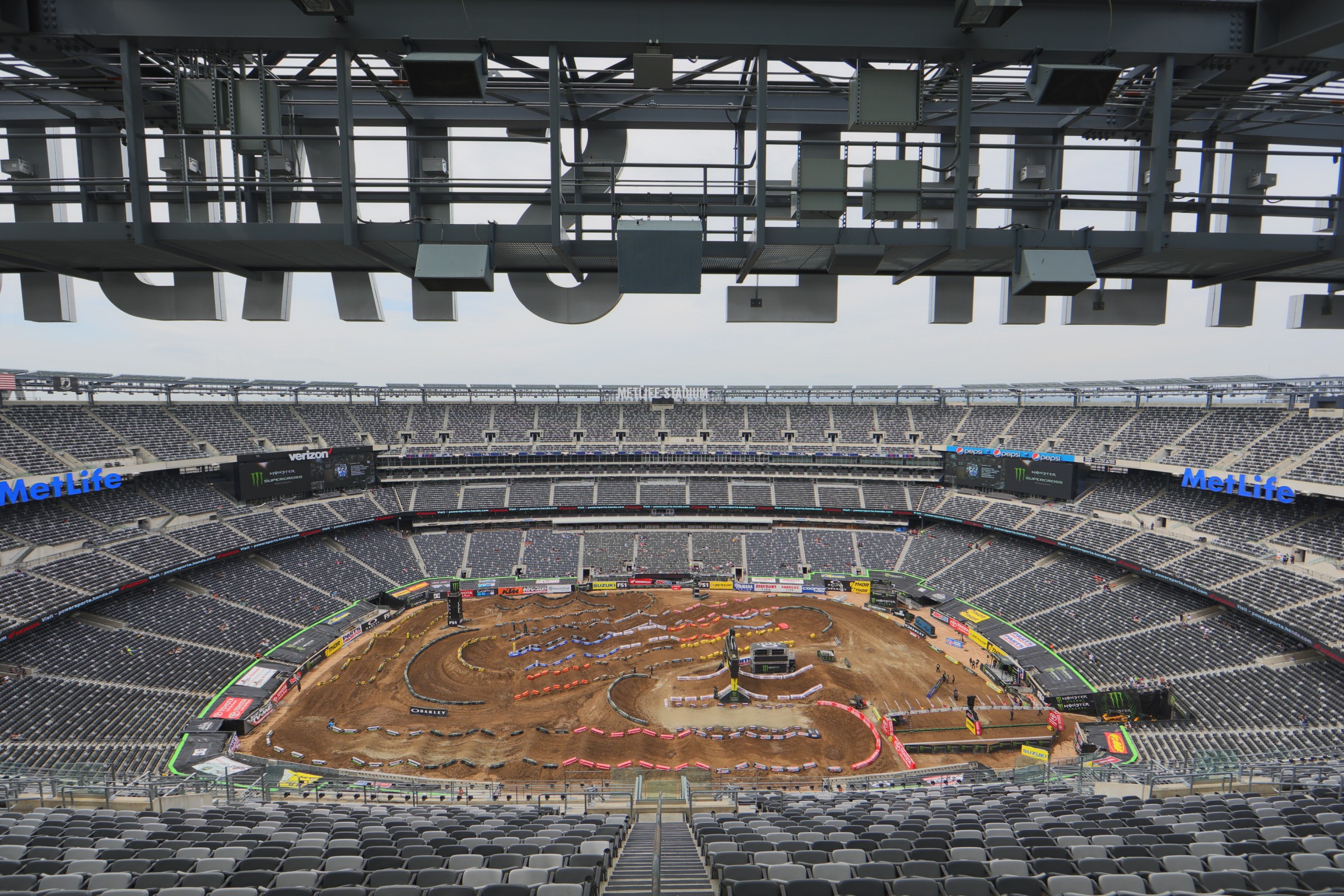 The 250SX East Region returns this weekend, and Monster Energy/Pro Circuit Kawasaki has a chance to capture both the East and West Region titles this year as Joey Savatgy hopes to match his teammate on the West, Justin Hill, and clinch his first career 250 championship. Savatgy holds a six-point lead over the surging Jordon Smith, and 12 points over former red plate holder Zach Osborne.
Qualifying begins at 12:00 p.m., which you can watch live here. Fox Broadcast Network will carry coverage of Round 16 beginning at 5:00 p.m. EST / 2:00 p.m. PST.
---
250 First Practice
The first 250 qualifying session has wrapped up in East Rutherford, and the track is deceptively hard. The first two rhythm sections were definitely challenging a number of riders. We saw Jordon Smith double-triple-double-single the first section, which could develop into the main line tonight. The first triple is also causing some problems, as it's very steep and lots of riders were coming up short.
Zach Osborne, who trails points leader Joey Savatgy by 12 entering tonight, set the fastest qualifying time in the first session, posting a 53.039. After the session, he said the track was "super mushy." GECIO Honda's Christian Craig was the only other rider to dip into the 53s, as he set a 53.302 to take second.
Savatgy was third with a 54.160, with his teammate, Adam Cianciarulo finishing fourth ahead of Dylan Ferrandis, Kyle Cunningham, Jordon Smith, local product Luke Renzland, Fredrik Noren, and Dakota Alix.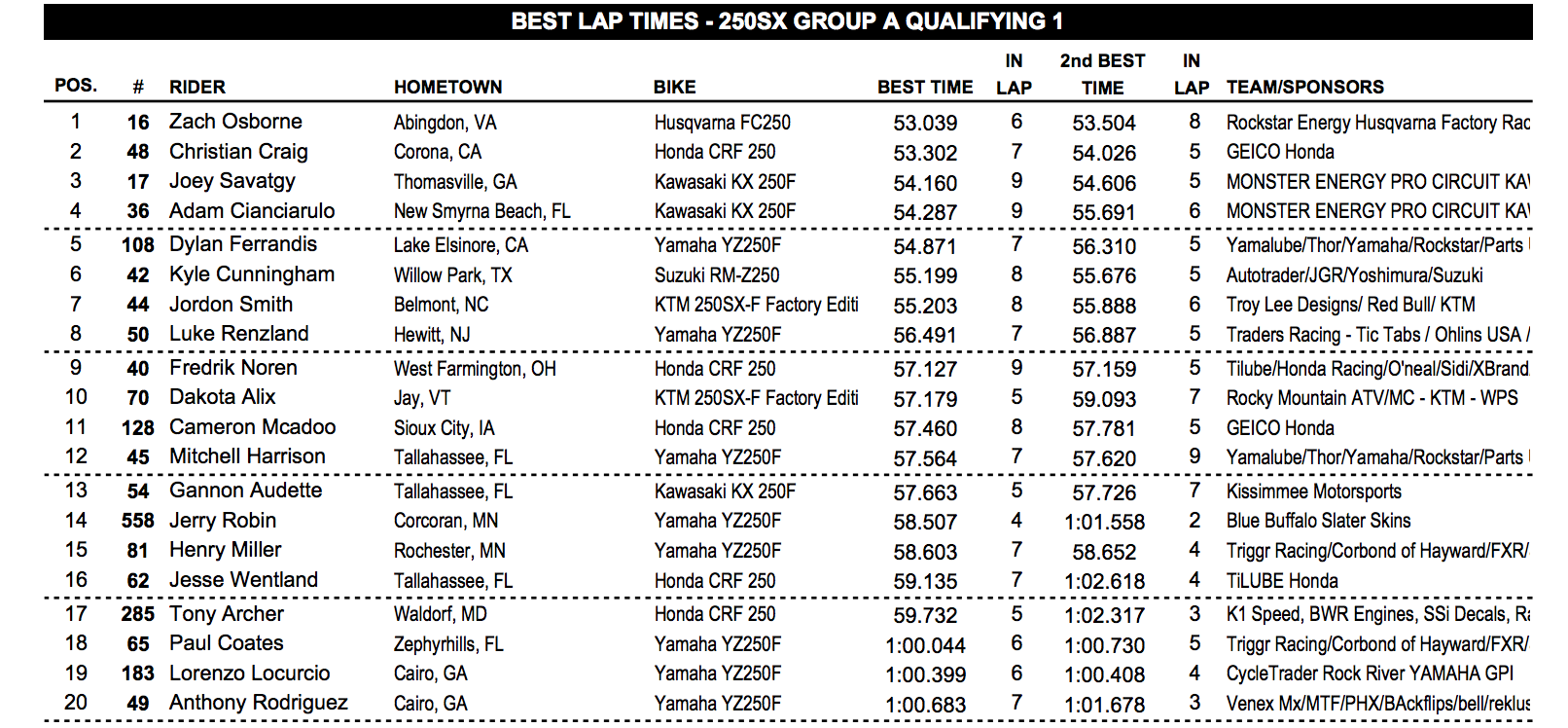 450 First Practice
Marvin Musquin set a 52.024 in the first timed 450 session to take the top spot away from points leader Eli Tomac. Musquin was carving up the rutted track, tripling out of the first rhythm section—one of only a few riders we saw do it—and using a quick jump technique through the whoops. In the second set, he's jumping in, bouncing off a bump and jumping out.
Tomac was the only other rider in the 52s with a 52.518. While Musquin was jumping through the whoops, Tomac was skipping them at an extraordinary pace, and even appeared to be slowing down a bit in the first set.
Musquin said the track is a bit rough and challenging and that after just a few sessions is already pretty rutted. Look for it to get even worse as the day moves along.
Jason Anderson put down a quick time late to take third ahead of Blake Baggett and Ryan Dungey. Dungey was struggling in some spots and was in the mechanics' area a few times trying to get everything adjusted. His 43.581 is more than a second off Musquin.
Dean Wilson, Cole Seely, Cooper Webb, Davi Millsaps, and Josh Grant rounded out the top 10.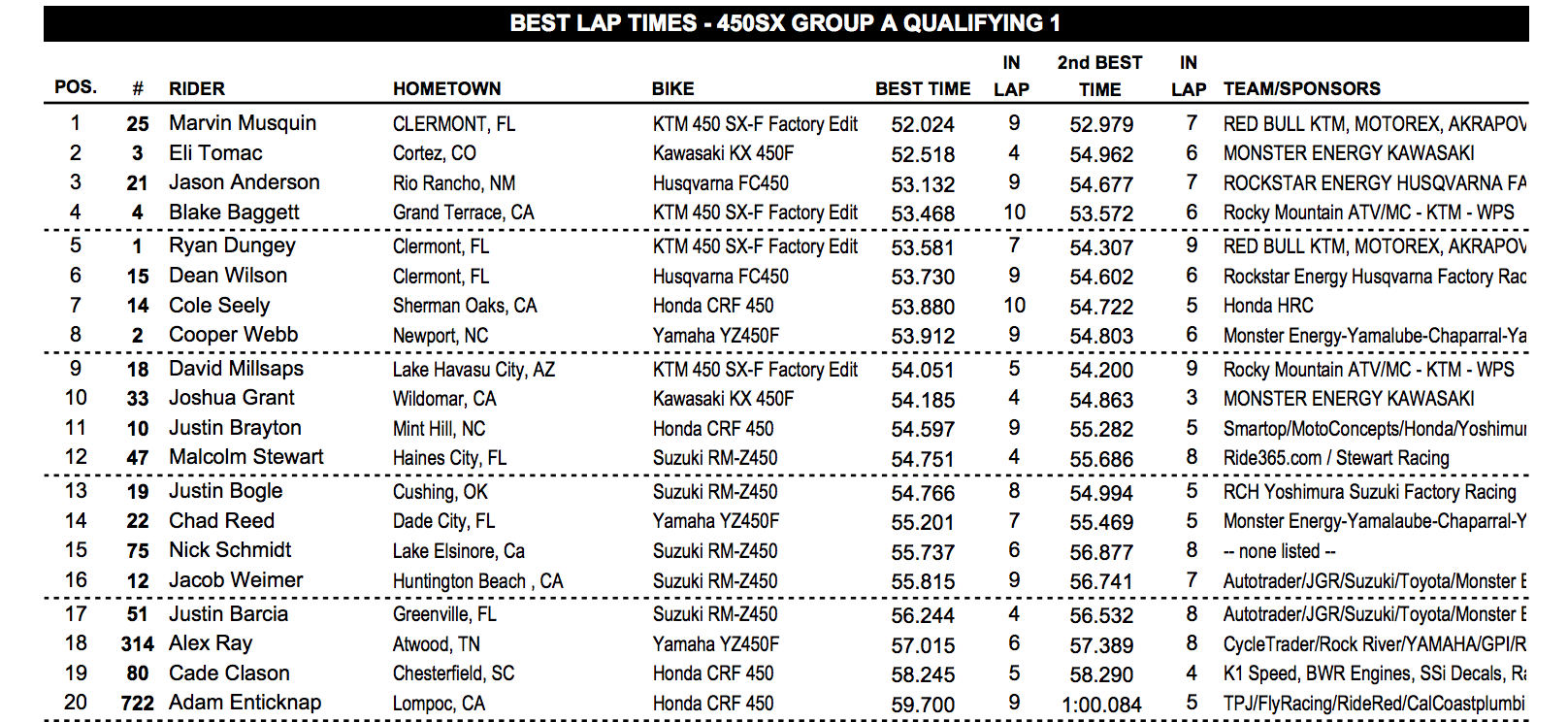 250 Second Practice
Zach Osborne was the only 250 rider to hit the 51s today, as he set the fastest time in 250 qualifying at MetLife. Osborne set a 51.737 on lap eight, which was enough to hold off Dylan Ferrandis. Ferrandis was a few tenths quicker than Joey Savatgy, as his 52.056 beat out Savatgy's 52.128. Savatgy picked up on Marvin Musquin's line in the second set of whoops and was jumping through them (more on that later).
Adam Cianciarulo used a nice line in the first rhythm section where he popped over the first jump and then went triple-triple out, to capture the fourth fastest time. We also saw Jesse Wentland try the line as well.
Christian Craig, who is back on a 250 this weekend following a one-off race on the 450, finished fifth. Kyle Cunningham took sixth. Jordon Smith, who trails Savatgy by six points, couldn't figure out the whoops and took sixth ahead of Luke Renzland, Fredrik Noren and rookie Cameron McAdoo, who is making his debut for GEICO Honda.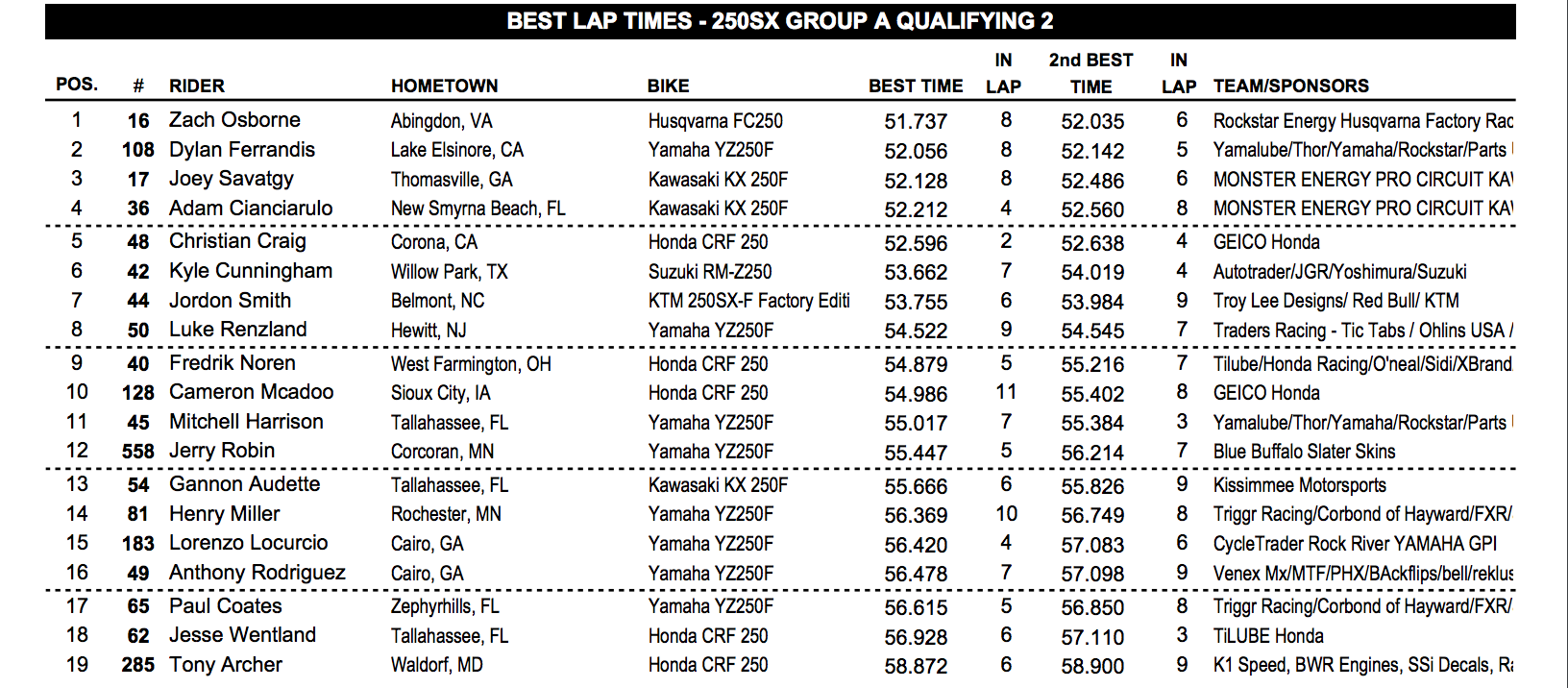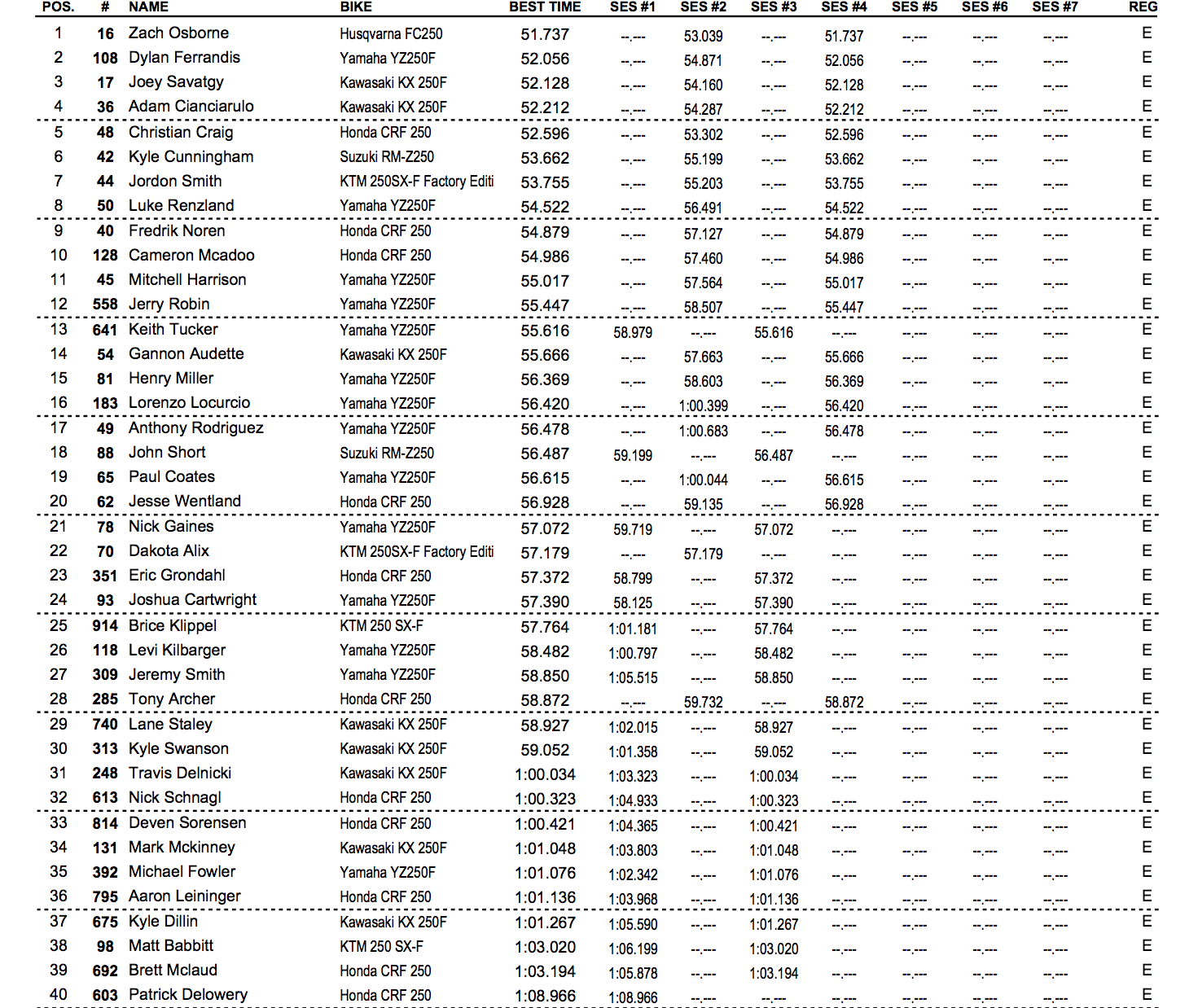 450 Second Practice
At times during this session, Ryan Dungey just didn't look all that great. He was struggling to find consistent lines, and the second set of whoops appeared to be causing him trouble. Then, something clicked. On lap eight, Dungey finally looked to find a rhythm and jumped to first with a 51.687, which was the fastest time of the day.
In the following laps, Dungey looked smooth, and was finally able to piece the track together. He said after the session that he found some lines that were consistent and not all over the place. This has to be a big boost for Dungey heading into tonight, as he trails Eli Tomac for the first time all year.
Marvin Musquin is going to be a threat for a win on this track. He's the most consistent through the second set of whoops, where he's jumping in and out of the section. While most of the riders picked up on the line and were using it, Musquin appeared to be the fastest through the section.
Eli Tomac was still skimming the whoops—at a very fast rate mind you—but he was only fourth quickest overall. The biggest surprise had to be Dean Wilson, who took the third fastest time with a 51.875.
Cooper Webb has shined on the tougher, more rutted tracks (think Seattle) and looked good in this practice. He was fastest at one point, but dropped back to fifth with a 52.292, just off the pace of Tomac.
Cole Seely, who was also inside the top two for parts of the session, finished sixth ahead of Josh Grant, Jason Anderson, Malcolm Stewart and Davi Millsaps.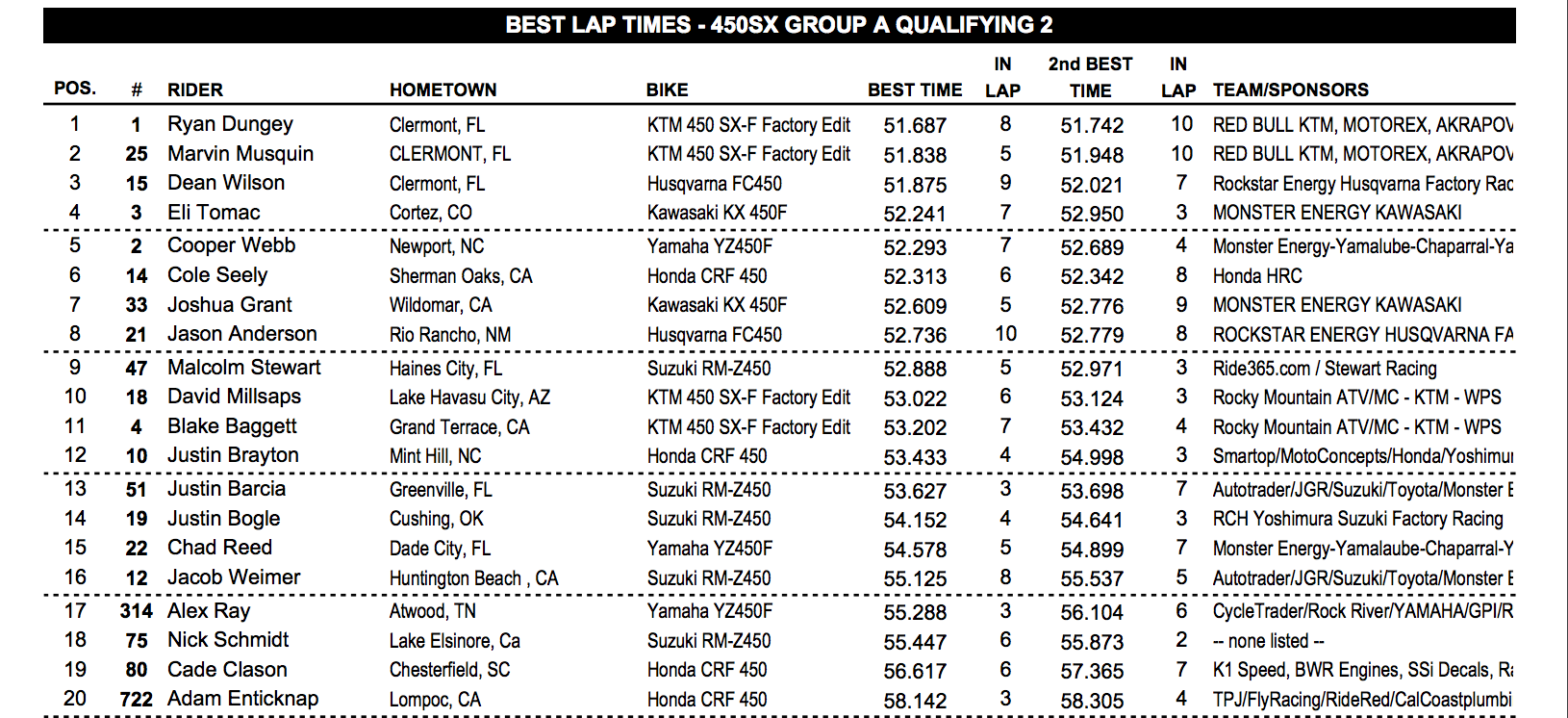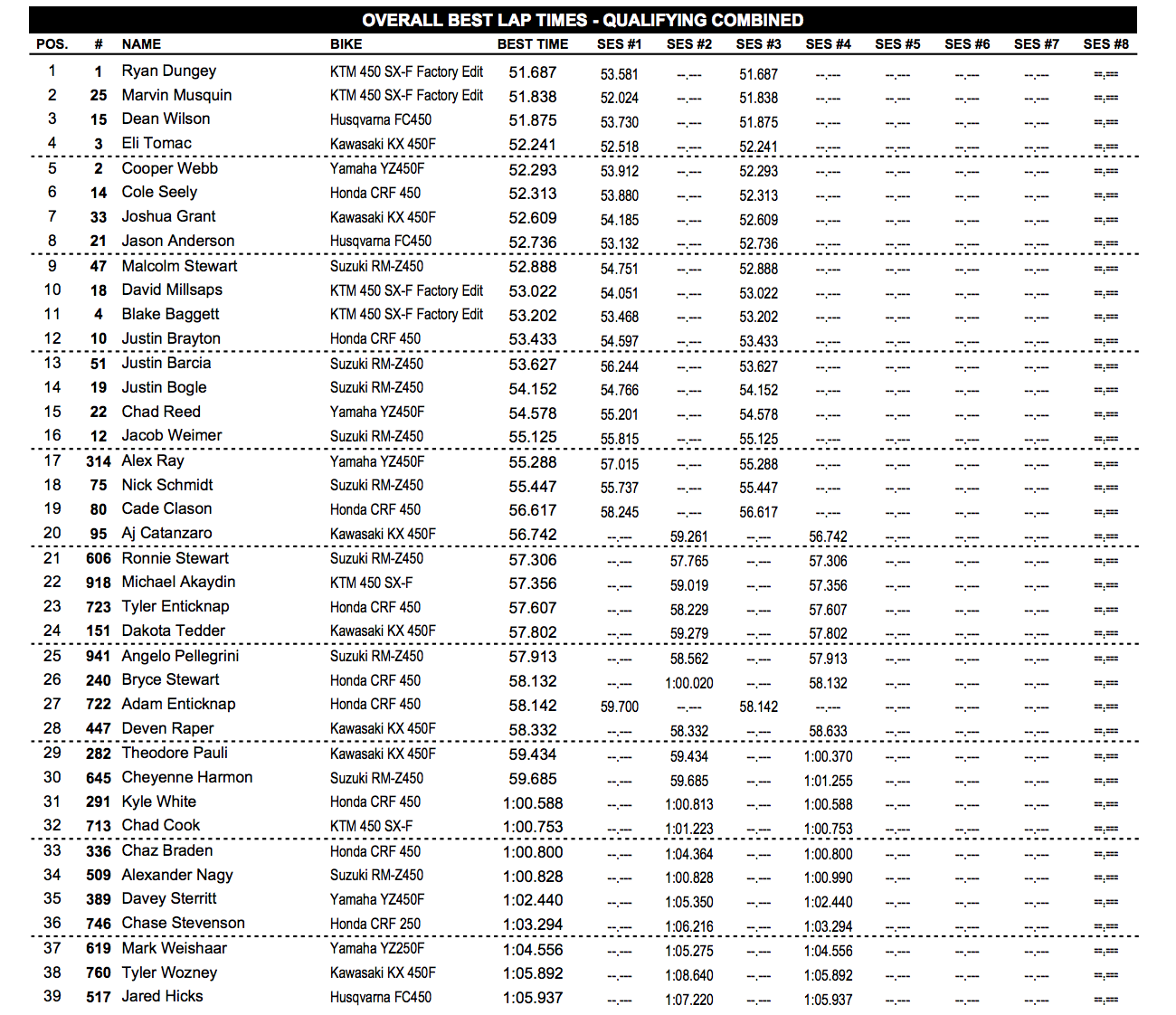 Injury Updates
Rocky Mountain ATV/MC-WPS-KTM's Dakota Alix is out for tonight due to a practice crash earlier this week. He made the announcement on Instagram.
"Really bummed I won't be racing tonight in MetLife," he wrote. "First practice actually went pretty descent qualifying 10th but I had a freak accident happen earlier in the week when my chain came off in a rythem section and I still don't feel all there so we decided it would be best to sit tonight out. It's really disappointing not to be racing my favorite race of the season but I'll be back!"
RCH/Yoshimura Suzuki's Justin Bogle is also out tonight due to a practice crash. The team did not specify what is causing him to miss the race.
250 Heat 1
The winner of the first 250 Heat of the night was never in question. Adam Cianciarulo took the holeshot and went unchallenged for a wire-to-wire victory. He won the race by nearly seven seconds.
A pair of rookies battled for second early, as Dylan Ferrandis passed Cameron McAdoo on the first lap. McAdoo fought back, and a few corners later took back over second. He held the spot for a few laps before Ferrandis made it stick. He went on to finish second ahead of McAdoo
Luke Renzland finished fourth ahead of Kyle Cunningham, Jerry Robin, Gannon Audette and John Short. Jesse Wentland took the final transfer spot.
Josh Cartwright, Lorenzo Locurcio, and more are headed to the LCQ.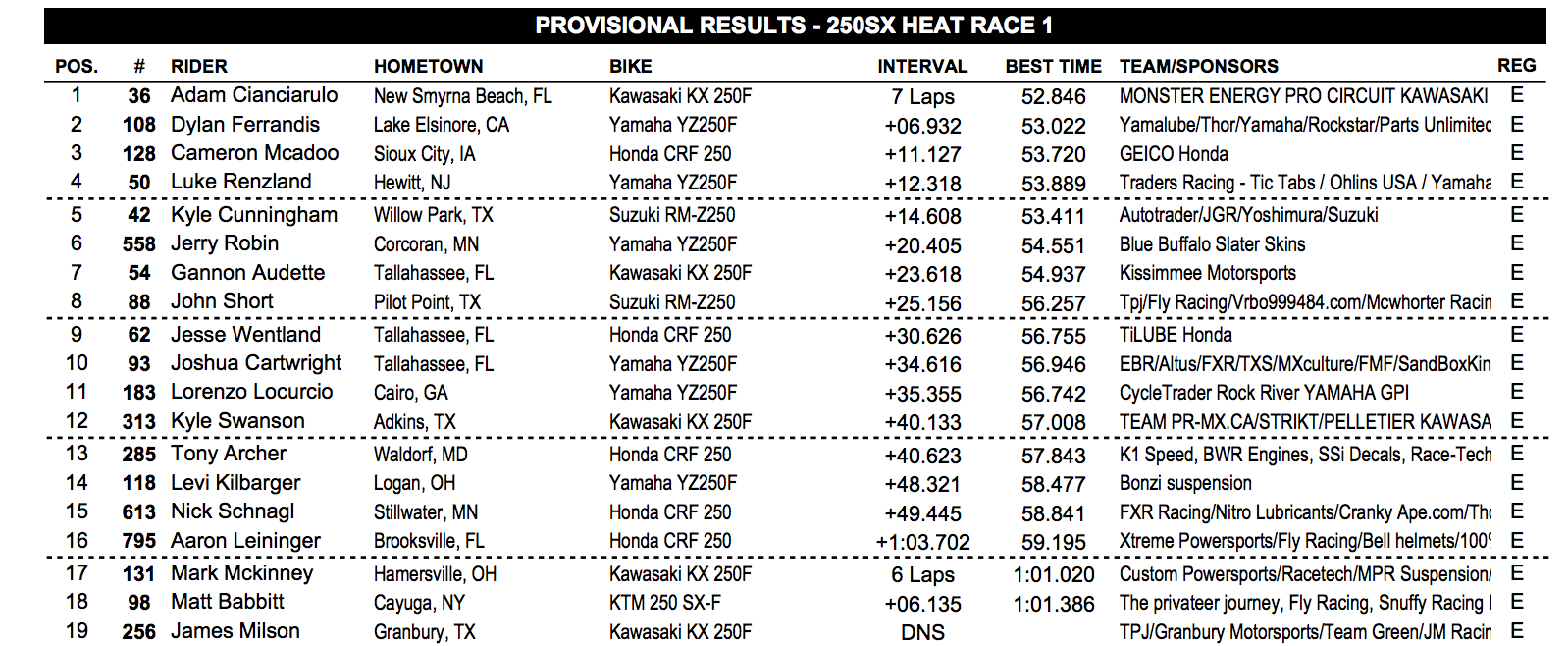 250 Heat 2
The second 250 Heat was stacked. The top three in points were all featured in this one. Zach Osborne grabbed the early lead and was followed by Christian Craig, Mitchell Harrison, Joey Savatgy and Jordon Smith.
Although he was never able to mount a good charge for the lead, Craig did stay close the entire way, ready to pounce if Osborne made a mistake—it never came. Osborne took the second heat race win by 1.9 second over Craig.
Separated by just six points, Smith and Savatgy had a great battle in the heat. Savatgy held the advantage early, but Smith applied the pressure and got around on the first official lap. Savatgy made a couple of attempts to retake the position, but couldn't make anything work. On lap three, right before the finish, Smith overtook Harrison for third. Immediately after, Savatgy moved past as well. Harrison would come home in fifth.
Fredrik Noren finished sixth ahead of Anthony Rodriguez, Nick Gaines and Keith Tucker. Henry Miller, Paul Coates, and more are headed to the LCQ.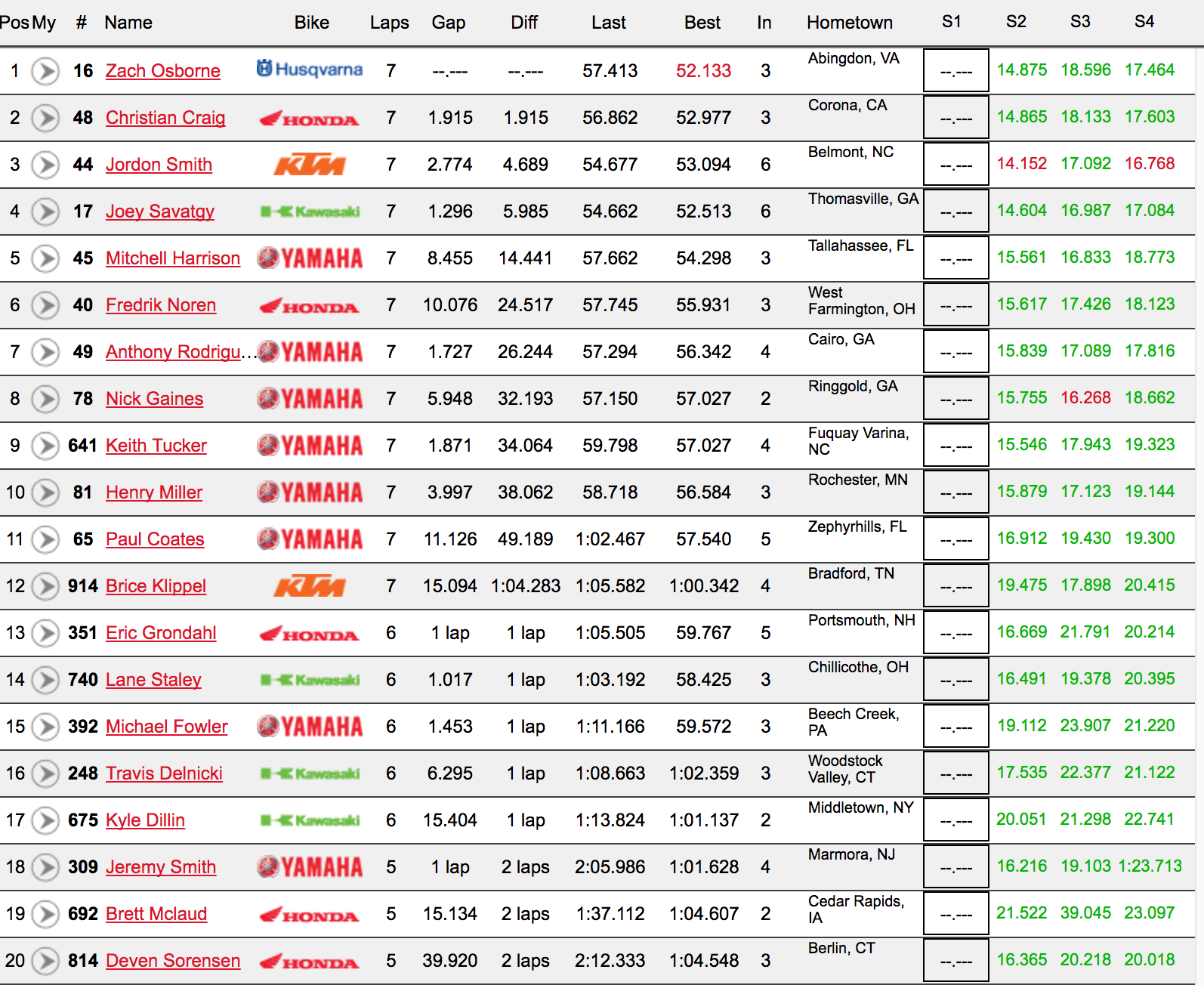 450 Heat 1
Apparently Eli Tomac is human. The points leader had a rough first heat race in East Rutherford, just hanging on to get the final qualifying position.
Jason Anderson to the holeshot over Tomac. In the next corner, Tomac took over the lead, but made his first mistake, which allowed Anderson by, and nearly took Cole Seely out. Seely briefly got around, but Tomac took in high in the following corner to take the spot back.
Later, Tomac would make a mistake in the long rhythm prior to the finish that allowed Musquin by, and again messed up Seely, but this time Seely got around. Tomac stalked Seely for a few laps before finally passing him prior to the first triple. But Seely didn't go away, and they pressure third place Davi Millsaps to the final corner. Millsaps held on for third with Tomac taking the final spot.
Marvin Musquin was on the move after getting around Tomac. He caught Millsaps to get second and then nearly got leader Jason Anderson. He finished less than a second behind Anderson.
Seely, Justin Brayton, Jake Weimer, and more are headed to the Semi.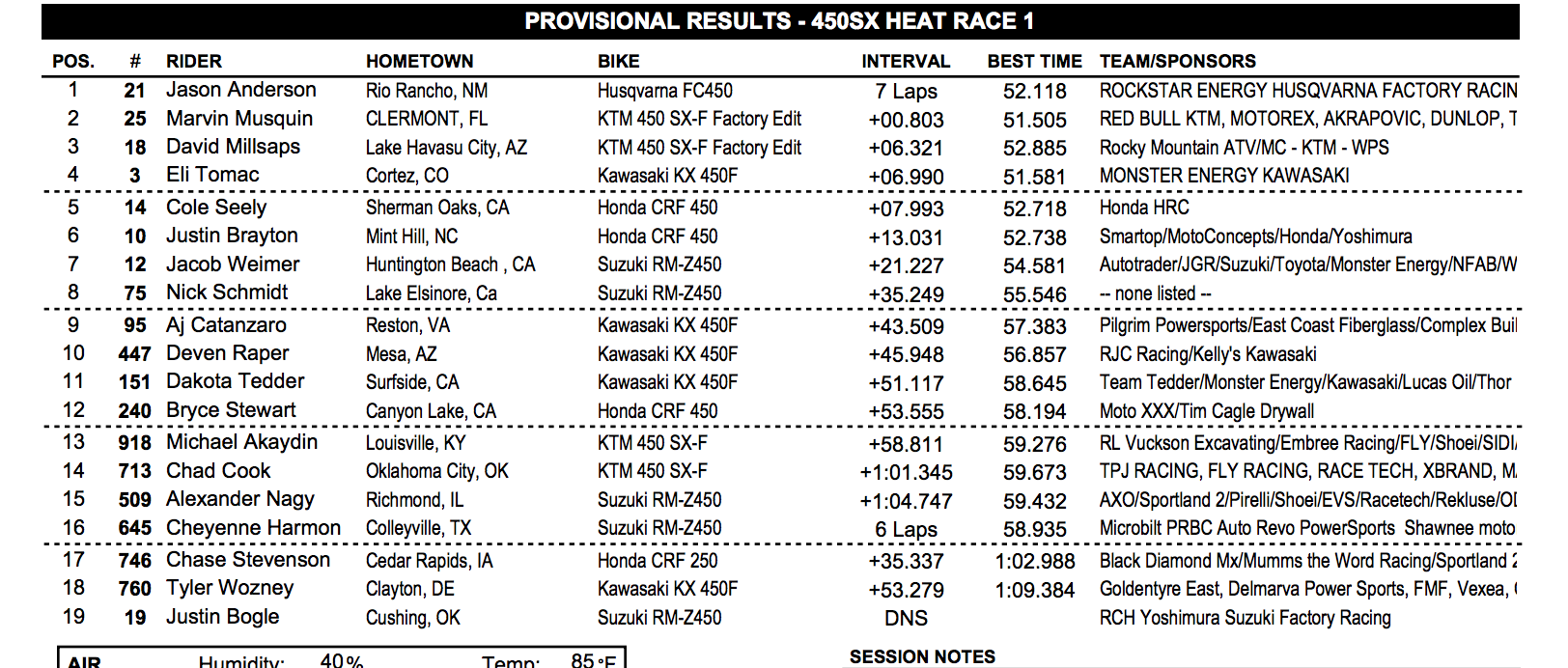 450 Heat 2
Lots of action in the second 450 heat. Ryan Dungey and Blake Baggett battled for the holeshot, with Dungey taking the early lead. The action up front was rather tame, as Dungey rode to a strong 7.2 second win. But the action behind was intense.
Josh Grant and Malcolm Stewart traded third a few times, before Malcolm found himself ahead exiting the long rhythm prior to the finish. Grant went it for the kill shot and connected. Malcolm went down in a heap and Grant appeared to be in pain following the incident, although he did finish the race.
Cooper Webb and Chad Reed took over transfer positions and it appeared the top four was set. But Justin Barcia battled back to pass Reed with a lap to go to take over the final spot.
Dean Wilson, Reed, Stewart, Clason, Grant and more are headed to the semi.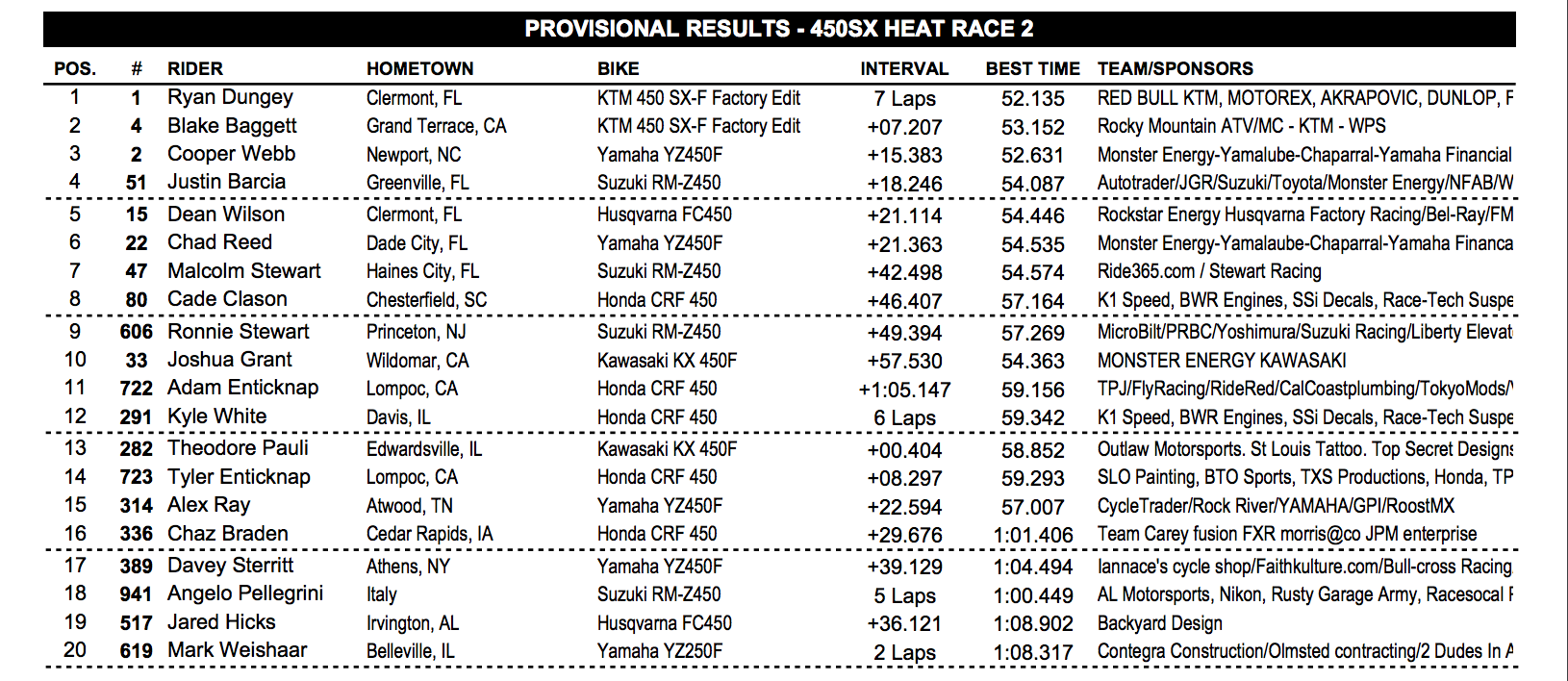 250 LCQ
A huge pileup in the first corner nearly caused a red flag as Lorenzo Locurcio was down for some time after appearing to get clipped and going head first over the bars. He was eventually able to get up and walked off the track with the help of the Alpinestars Medical Crew.
Up front Henry Miller was making easy work of the field. He cruised to a 5.4 second win. Lane Staley finished second ahead of Paul Coates and Josh Cartwright.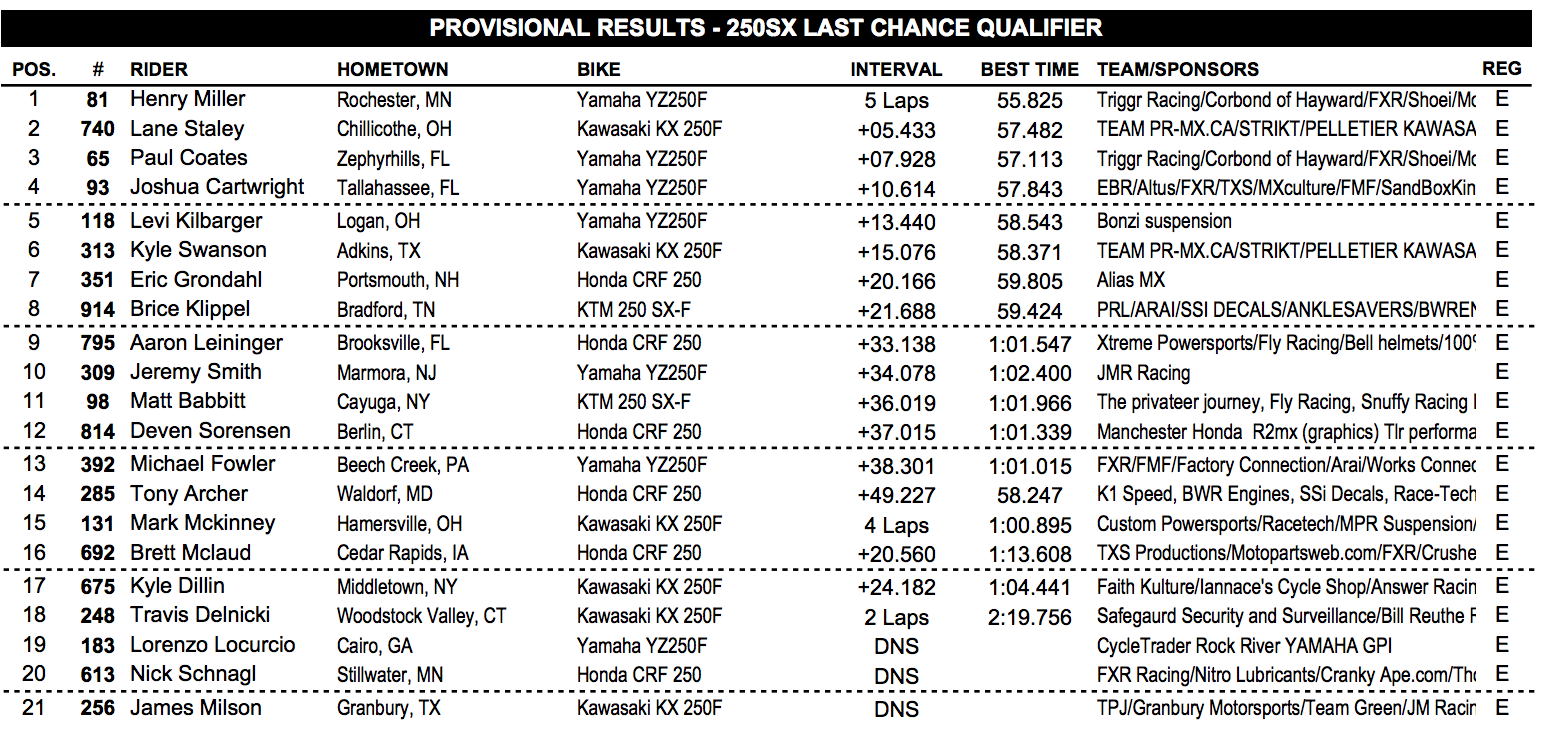 450 Semi 1
In the first 450 semi, Josh Grant got out front early with Justin Brayton right behind, then Chad Reed and Cade Clason. The final transfer was up in the air, though, Devin Raper had the fifth spot, but Angelo Pelligrini…..okay wait, this one turned insane.
First, as the white flag came out, Raper dove inside Pelligrini and took him out for the final transfer spot. A lap later, Tyler Enticknap was right behind Raper and tried the exact same pass in the same spot, cutting inside and taking Raper down. But Raper's bike got stuck in Enticknap's rear wheel! They were stuck together on the track, a few feet from the finish, with the checkered flag in sight, but they were frozen together, and Bryce Stewart came from way back to take fifth and a pass to the main event.

450 Semi 2
The second semi somehow may have been crazier than the first. Cole Seely got out front early ahead of Malcolm Stewart, Dakota Tedder and Dean Wilson. The race started a bit slow, then it got crazy.
On the third lap, Alex Ray passed Tedder for the final transfer spot. In the corner after the second rhythm, Tedder took Ray high and he went down. Soon after, Wilson passed Seely in the same corner and they drag raced down the whoops for the lead, with Wilson coming out on top.
On the final lap, Wilson made a mistake in the second rhythm and nearly took both riders down. Seely passed for the lead, but Wilson wasn't done. In the final section, Wilson nearly had the pass pulled off, but Seely cut him off and held on for the win.
But, we're not done.
In the final corner AJ Catanzaro tried to pass Tedder for the final transfer spot and took both riders down. Out of nowhere came Ronnie Stewart to take the final transfer spot, sending his 300-plus friends and family into a frenzy. To recap: Seely, Wilson, Stewart, Weimer and Stewart are going to the main. Catanzaro, Tedder, Adam Enticknap, Ray, and more to the LCQ.

450 LCQ
Dakota Tedder, Angelo Pellegrini, and Nick Schmidt battled for the holeshot in the 450 LCQ with Pellegrini coming out on top. He didn't hold the lead for long as Schmidt quickly made his way to the top spot.
The battle for the final transfer spot was intense. Alex Ray had a chance at it, but made a mistake in the second rhythm section. Theodore Pauli held the final spot, but was passed by AJ Cantanzaro. Tyler Enticknap made a last ditch effort on the final lap, but came up short.
Schmidt, Pellegrini, Catanzaro, and Tedder transfer to the main.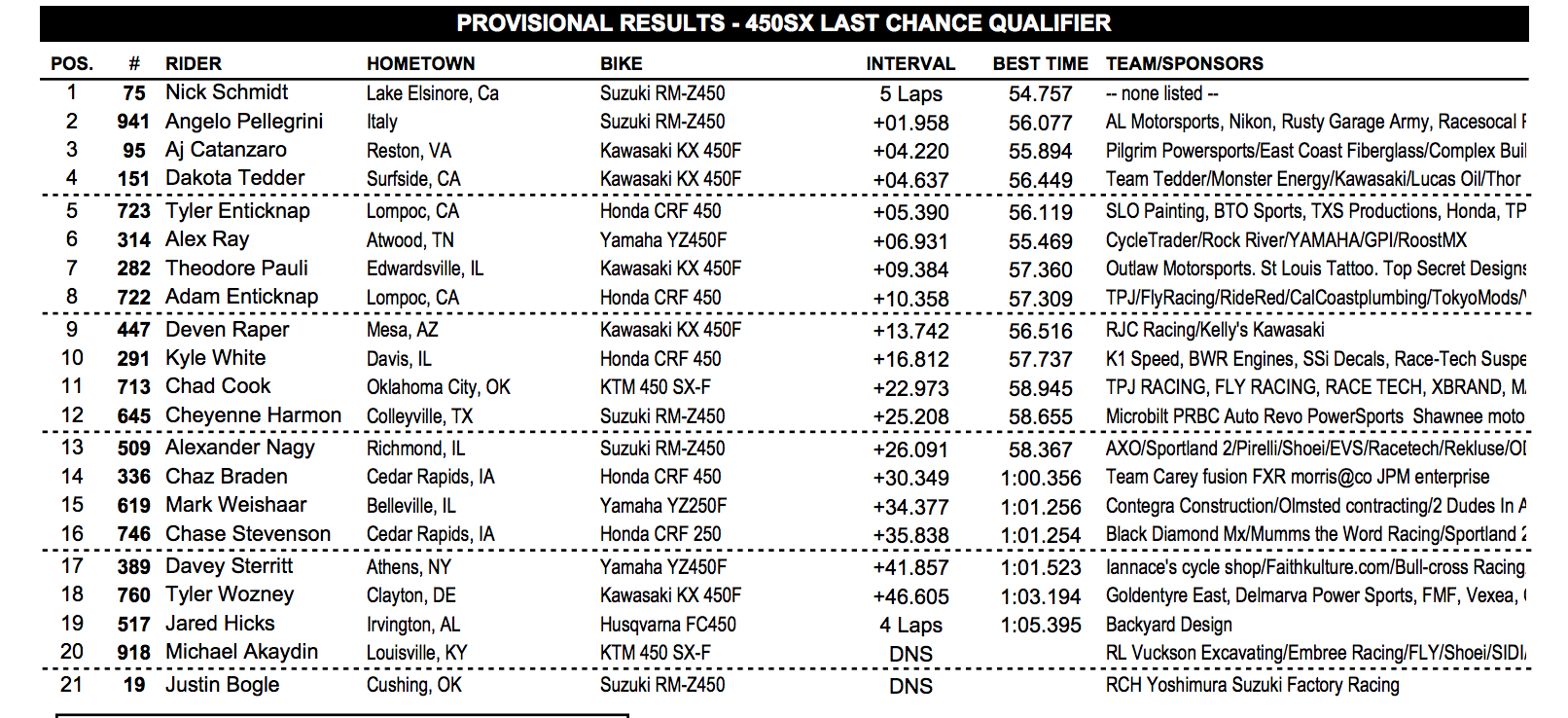 250 Main Event
Zach Osborne had nothing to lose entering the 250 main event. He was 12 back, and was in a must-win situation, and in need of some help, if he were to win his first career championship. He rode like a man with nothing to lose.
Adam Cianciarulo pushed Jordon Smith wide to grab the holeshot, but it was his teammate and points leader Joey Savatgy that grabbed the early lead. Meanwhile, Osborne was buried around seventh early. Then he began his charge.
He got around Cameron McAdoo for fifth, then went after Dylan Ferrandis. Neither of the rookies were able to put up much of a fight. Then Osborne started to catch Cianciarulo and Savatgy for the lead. Osborne made the pass stick on Cianciarulo for second entering the first rhythm section. Once around Cianciarulo, Osborne had a clear track and had no problem chasing down the leader. On lap 7, Savatgy was up two seconds. By lap 8, Osborne had taken over the lead in the same section he passed AC.
AC ran into more trouble, losing spots to Ferrandis and Christian Craig. AC would get back around Craig, and the top four began to spread out. It looked like we'd see a Osborne, Savatgy, Ferrandis, AC top four finish, but then it got crazy.
Savatgy went down in the second rhythm section on lap 13 (18) all by himself. Instead of remounting and finishing the section, he went into the other lane and went through the whoops. Although he finished third, he could be penalized by the AMA. We'll update once we find out.
This helped Jordon Smith, who was really struggling on this track. He passed AC and moved into fourth, which is where he stayed—for now.
Osborne cruised to a nearly five second win over Ferrandis, Savatgy, Smith, Cianciarulo and Craig.
Kyle Cunningham, Luke Renzland, McAdoo, and Anthony Rodriguez rounded out the top 10. Again, these results may be overturned.
For now, Savatgy holds a seven point lead over Osborne and is eight clear of Smith.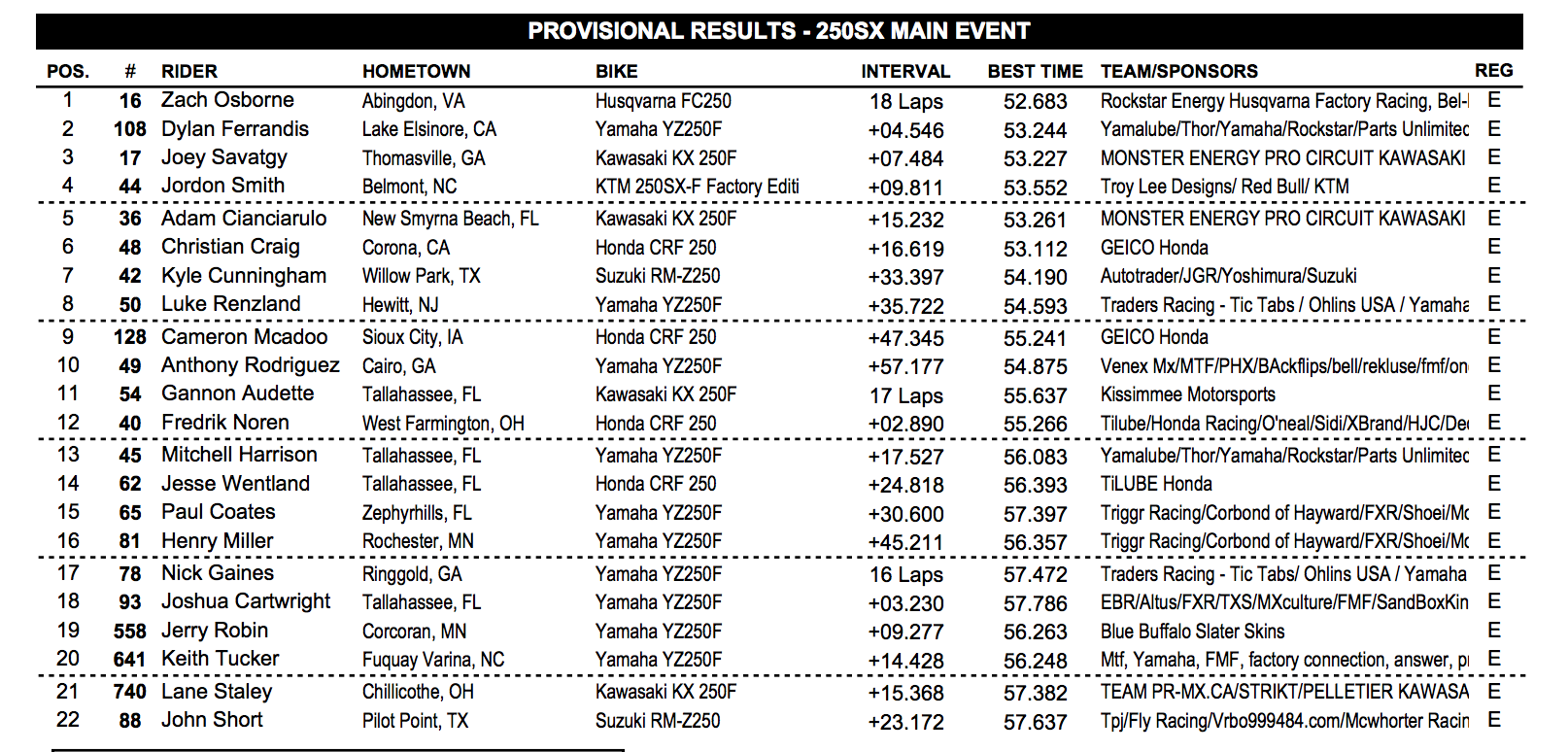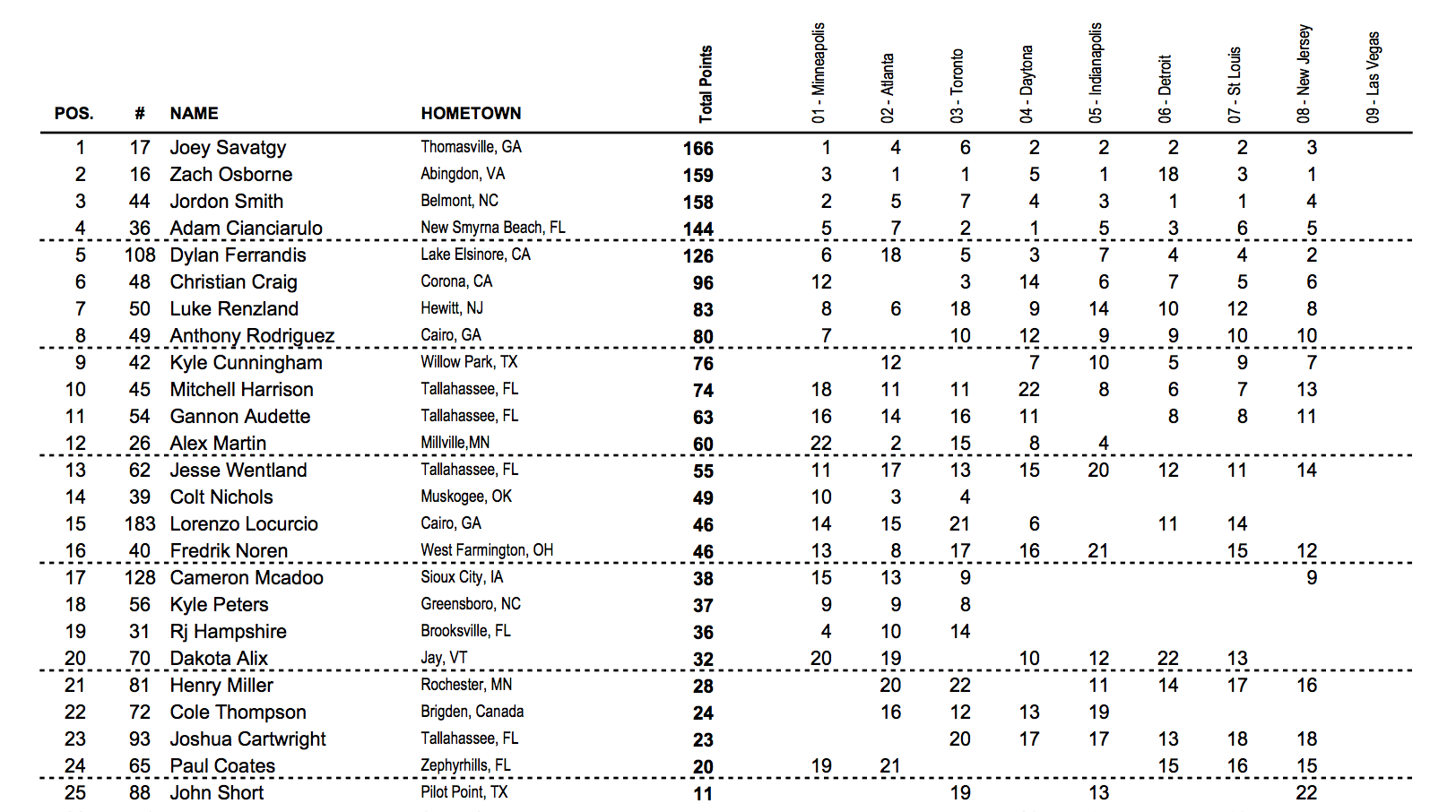 450 Main Event
Well, this is why they run the races. Entering Round 16 of 17, it appeared nothing would stand in the way of points leader Eli Tomac. He'd been clicking off wins at an alarming rate, and was coming off one of the best rides in supercross history last weekend in Salt Lake City
And then, disaster struck. Jason Anderson took the early lead, but he washed the front end just prior to the second triple. This allowed Tomac into the lead, with Ryan Dungey right behind him. The showdown was set. One vs. two, the title on the line. But Tomac lost the front end before the first triple and got up in 16th. And unlike last week, he wasn't able to mount the incredible comeback. He worked his way to inside the top 10, but then made another mistake and dropped further back. He did eventually made his way up to eighth, but after what happened up front, he'll need luck on his side in Vegas.
Dungey was leading Musquin, his training partner and KTM teammate. Musquin was faster, but he wasn't going to force the issue. After sitting behind Dungey for a number of laps, Musquin finally made the pass for the lead on the tenth lap. Musquin wasn't able to slip away, but as the laps started to tick away, Musquin appeared to be slowing down a little, and looking at the scoreboard. On the final lap, Musquin made a "mistake" in the corner prior to the second set of whoops, which allowed Dungey to take the lead. Calling a spade a spade, Musquin let Dungey by. With the win, Dungey now holds a nine point lead with one round remaining.
Jason Anderson finished third ahead of Davi Millsaps and Blake Baggett. We'll have more later.
East Rutherford - 450SX
| | Rider | Hometown | Machine |
| --- | --- | --- | --- |
| 1 | Ryan Dungey | Belle Plaine, MN | KTM 450 SX-F FE |
| 2 | Marvin Musquin | La Reole, France | KTM 450 SX-F FE |
| 3 | Jason Anderson | Edgewood, NM | Husqvarna FC 450 |
| 4 | Davi Millsaps | Cairo, GA | KTM 450 SX-F FE |
| 5 | Blake Baggett | Grand Terrace, CA | KTM 450 SX-F FE |
| 6 | Justin Brayton | Fort Dodge, IA | Honda CRF450 |
| 7 | Josh Grant | Riverside, CA | Kawasaki KX450F |
| 8 | Eli Tomac | Cortez, CO | Kawasaki KX450F |
| 9 | Justin Barcia | Monroe, NY | Suzuki RM-Z450 |
| 10 | Dean Wilson | Scotland, United Kingdom | Husqvarna FC 450 |
| 11 | Jake Weimer | Rupert, ID | Suzuki RM-Z450 |
| 12 | Chad Reed | Kurri Kurri, Australia | Yamaha YZ450F |
| 13 | Malcolm Stewart | Haines City, FL | Suzuki RM-Z450 |
| 14 | Cooper Webb | Newport, NC | Yamaha YZ450F |
| 15 | Nick Schmidt | Maryville, WA | Suzuki RM-Z450 |
| 16 | Cade Clason | Arcadia, OH | Honda CRF450 |
| 17 | AJ Catanzaro | Portland, CT | Kawasaki KX450F |
| 18 | Dakota Tedder | Surfside, CA | Kawasaki KX450F |
| 19 | Angelo Pellegrini | Brescia, Italy | Suzuki RM-Z450 |
| 20 | Ronnie Stewart | Easton, PA | Suzuki RM-Z450 |
| 21 | Cole Seely | Newbury Park, CA | Honda CRF450 |
| 22 | Bryce Stewart | Huntington Beach, CA | Honda CRF450 |
Full Results
Supercross 450SX Standings - 2017
| | Rider | Hometown | Points |
| --- | --- | --- | --- |
| 1 | Ryan Dungey | Belle Plaine, MN | 359 |
| 2 | Eli Tomac | Cortez, CO | 354 |
| 3 | Marvin Musquin | La Reole, France | 293 |
| 4 | Jason Anderson | Edgewood, NM | 273 |
| 5 | Davi Millsaps | Cairo, GA | 221 |
| 6 | Blake Baggett | Grand Terrace, CA | 220 |
| 7 | Cole Seely | Newbury Park, CA | 212 |
| 8 | Dean Wilson | Scotland, United Kingdom | 185 |
| 9 | Chad Reed | Kurri Kurri, Australia | 182 |
| 10 | Josh Grant | Riverside, CA | 175 |
| 11 | Broc Tickle | Holly, MI | 167 |
| 12 | Justin Brayton | Fort Dodge, IA | 147 |
| 13 | Cooper Webb | Newport, NC | 129 |
| 14 | Jake Weimer | Rupert, ID | 113 |
| 15 | Malcolm Stewart | Haines City, FL | 103 |
| 16 | Vince Friese | Cape Girardeau, MO | 84 |
| 17 | Justin Bogle | Cushing, OK | 83 |
| 18 | Justin Barcia | Monroe, NY | 83 |
| 19 | Mike Alessi | Apple Valley, CA | 59 |
| 20 | Ken Roczen | Mattstedt, Germany | 51 |
Full Standings