Metlife Stadium
East Rutherford

,

NJ
East Rutherford (New Jersey)
Monster Energy AMA Supercross Championship
When the time comes to write the postmortem on the 2017 Monster Energy AMA Supercross Championship, there will be a lot of second-guessing and armchair quarterbacking about what exactly happened at the top. In a nutshell, did the veteran Ryan Dungey, the two-time defending champion, finally start slowing down a little, or did the streaking Eli Tomac find a higher gear that allowed him to take control of things from pretty much February on? Because this has been the tale of two series—the ones before and after Dungey slower/Tomac got hot. And now, with just two rounds to go and 40 laps of racing, it seems almost like a foregone conclusion that #3 will soon be the new #1.
But you can never count out an athlete like Ryan Dungey, nor can you erase the risks involved for any rider out there. (See Ken Roczen.) Tomorrow afternoon's race in MetLife Stadium won't be the end of it, but if Dungey can't get it turned around now, it's going to make the Vegas race exponentially harder. And he can't get help from his Red Bull KTM teammate Marvin Musquin or really anyone else if Tomac's going to keep riding like he did last Saturday night in Utah, where he handed Dungey and everyone else a chance with a terrible start and then cut through the pack with frightening precision. Sure, he was helped by the growing cloud of injuries that plagues a series this long (and it will be even easier this weekend now that Broc Tickle's been added to the injured list—and Trey Canard has, too, though he was actually already there from a virus), but what Tomac showed was that he's getting faster as the series grinds on, and as general fatigue seems to have set in with everyone else.
Still, it ain't over 'til it's over, or it's not over until the fat lady sings, or some other sports cliché like that…. And that's why they hold the races. Anything can and might go wrong, and Tomac has been down that road himself a couple of times—Thunder Valley '15, anyone?
Here's more as we get into this week's Racerhead.
The Task at Hand (jason Weigandt)
A few years ago, a race like Salt Lake City might have done serious damage to Ryan Dungey. He lost the lead in the race and the points lead in the series while being run down by his main championship rival, Eli Tomac. But Dungey is much better armed, mentally, for the highs and lows of racing than he used to be. From a mental standpoint, this has been a tough scenario to deal with—his points lead shrinking weekly as Tomac keeps on winning. Dungey has maybe shown a few cracks at times, but overall, he still appears happier than he was just a few years ago. You can see some of it at play in his post-race interviews. He's found ways to deflect and make sure a weekend without a race win doesn't go straight to his heart. One week, he said "It's just dirt bike racing." Other weeks, he'll just point to certain sections of the track or certain things that didn't go right, instead of getting depressed about the entire situation at large.
"I struggled at that early in my career, and I let it probably steal my joy a lot more back then than I do today," Dungey told me today at press day. "For sure, our lows this year are only fourth place, so not that bad—but hey, things are close, so I guess you need to be more consistent than just fourth and first! It's a tough task, but it's good."
Dungey told me he was able to get through this week without freaking out.
"The red plate is a color—I'm not stressed on it," he said. "We just want to get it back and have the points lead at the end of the series."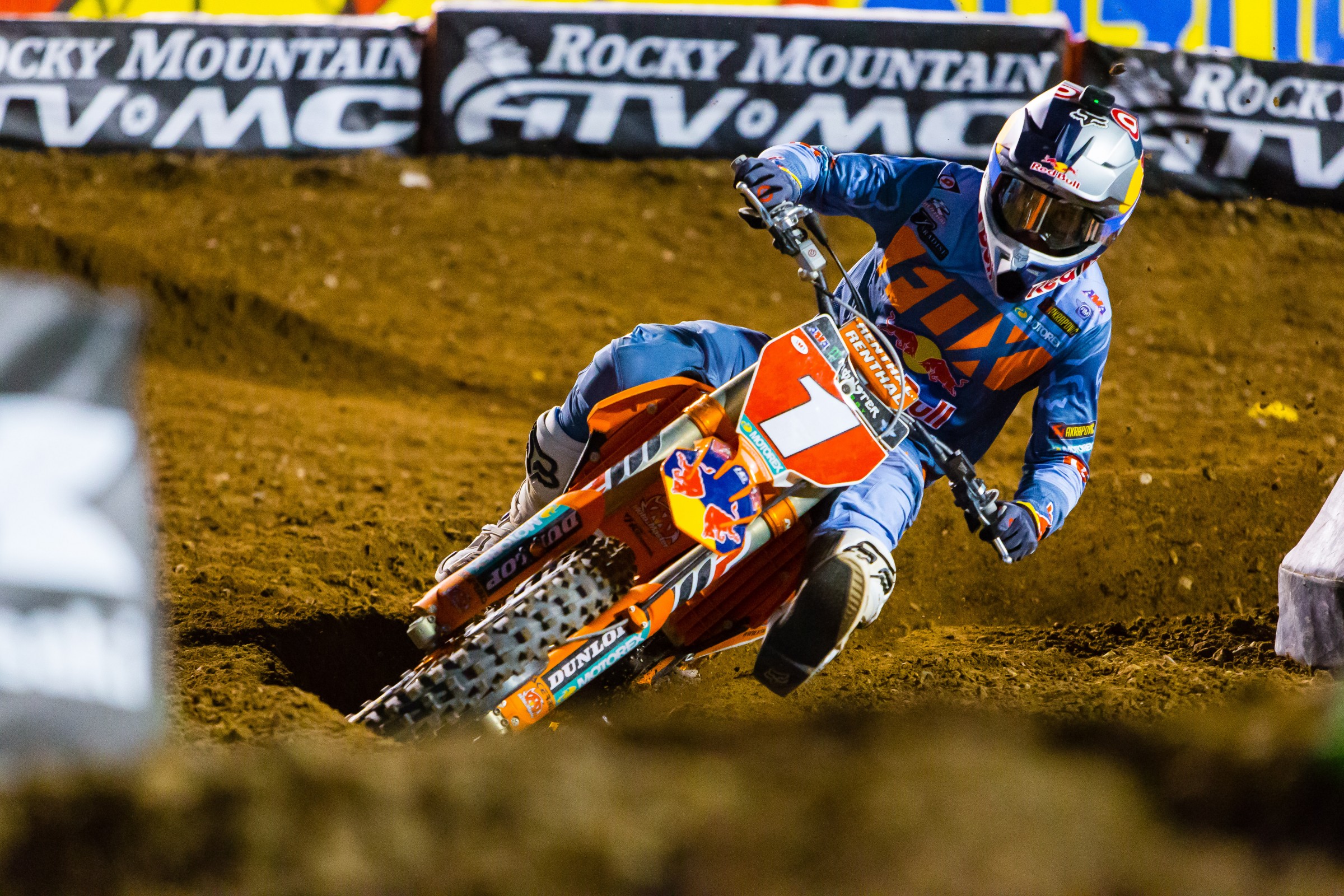 In the preseason, Dungey mentioned how he's accomplished much more in this sport than he ever dreamed. I thought he might use that as an outlet if the season didn't go his way. He has three supercross titles and is secure as an all-time great. His life, legacy, and career no longer hinge on one more race win or championship. Maybe that changes his perspective now after a tough loss?
Yes, in a way, but Dungey reminded me today that it won't make him complacent either. "What we've accomplished in this sport has been great, and we've done a lot of great things, and I have to remember that," he said. "But that doesn't stop us from trying to get more. It's good to know we've won this title before, but we want to get another one. Not to prove anything to my team, not to prove anything to anyone but just for myself."
Rumors about Ryan Dungey's future abound, with many theorizing this could be his last season as a professional racer. He's made it clear, though, that right now he's still a racer, and his full focus is on winning this title. I asked him if he still wants this title badly, and he replied without hesitation, "Yes." Then he pulled back out for another riding session, more looks at the track, and more adjustments to the bike. Whatever the future holds, in the present, Dungey's still just a racer trying to figure out a way to win a race.
Tight Points Battles are Few and Far Between (Chase Stallo)
These are not normal times. In fact, this is quite uncommon. While we don't yet know what the margin of victory for either Eli Tomac or Ryan Dungey—the two separated by three points with two rounds to go—will be at the end of the year, there is a good chance it will be less than 10 points.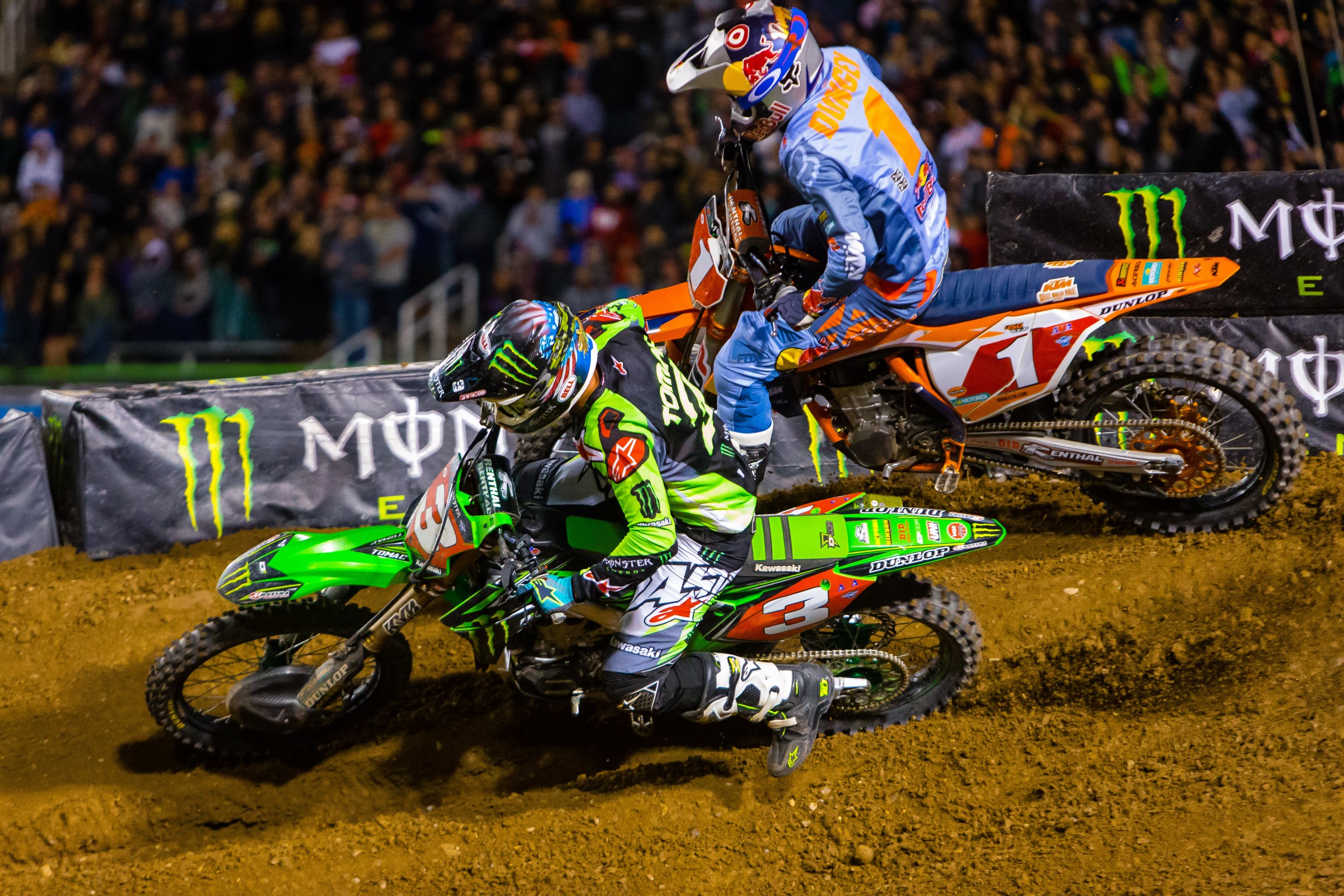 That doesn't happen often. Since 1997, it's only happened four times—2003, 2006, 2009, and 2011. The average margin of victory at season's end during that span is nearly 40 points—39.6, to be exact. You're more likely to have a margin of victory of 50 points or more, which has happened nine times since 1997.
Earlier this week, we put together the impossible quiz to see how many of you could guess the margin of victory since 1997. It wasn't so much to test your knowledge but a different way to present the great times we're living in. Check out the chart below and revel in how lucky we are to witness this championship battle—it doesn't happen often.
| | | |
| --- | --- | --- |
| Year | Champion | Margin of Victory |
| 1997 | Jeff Emig | 15 |
| 1998 | Jeremy McGrath | 51 |
| 1999 | Jeremy McGrath | 83 |
| 2000 | Jeremy McGrath | 35 |
| 2001 | Ricky Carmichael | 64 |
| 2002 | Ricky Carmichael | 35 |
| 2003 | Ricky Carmichael | 7 |
| 2004 | Chad Reed | 34 |
| 2005 | Ricky Carmichael | 25 |
| 2006 | Ricky Carmichael | 2 |
| 2007 | James Stewart | 51 |
| 2008 | Chad Reed | 13 |
| 2009 | James Stewart | 4 |
| 2010 | Ryan Dungey | 70 |
| 2011 | Ryan Villopoto | 4 |
| 2012 | Ryan Villopoto | 57 |
| 2013 | Ryan Villopoto | 33 |
| 2014 | Ryan Villopoto | 64 |
| 2015 | Ryan Dungy | 85 |
| 2016 | Ryan Dungey | 60 |
DIFFERENT POINTS STRUCTURES (DC)
Spotted this very interesting post by "rehaustykus" on the VitalMX Forum:
I was very bored at work so I thought I'd have a look at what the points difference between Dungey and Tomac would be using different Points Systems from around the world.
Supercross System (25pts for win):
1) Tomac - 319
2) Dungey - 316
Monster Cup System (1pt for win):
1) Dungey - 38
2) Tomac - 47
F1's System (25pts for win):
1) Tomac - 283
2) Dungey - 254
Indy Car System (50pts for win):
1) Tomac - 627
2) Dungey - 576
Nascar System (40pts for win):
1) Tomac - 544
2) Dungey - 525
MotoGP System (25pts for win):
1) Tomac - 295
2) Dungey - 273
V8 Supercars Single Race System (300pts for win):
1) Dungey - 4008
2) Tomac - 3978
It's interesting to see how different systems reward wins over consistency and other are the opposite. Supercross seems to have a pretty good system.
LOST TRACKS (DC)
I've become a fan of abandoned things, as you might have guessed if you follow my Instagram stuff at @dcracerx. Old football stadiums, that NASCAR track in Wilkesboro, the Salton Sea in the California desert, and of course all-but-forgotten motocross tracks. In the last 18 months or so, I've been by Honda Hills in Ohio (which was an old Trans-AMA and Inter-Am track), Badlands MX in Texas, and last weekend to Appalachia Lake MX Pak in Bruceton Mills, West Virginia. I think the whole habit started after Jeff Cernic and Larry "Moe" Sidor and I walked around the old Citadel circuit at Namur, Belgium. It was right after it closed (the first time), and we found our way around by an old track map and the obvious wear in the woodlands—and ended up at the Monument Cafe, which was near where Hakan Carlqvist and then later Stefan Everts stopped on the last lap to chug a beer. (I'm guessing Jupiler, or De Vals' "devil beer.")
Appalachia Lake was my mom and dad's first motocross track. They founded it in 1973 at a campground of the same name, about 40 minutes from Morgantown in those days when Interstate 68 was still Route 48 and not always well-paved. The campground was being built up as some kind of country music destination, and they had some pretty big acts there if I remember correctly (though I don't remember Loretta Lynn ever being there, which is kind of ironic given the way she became involved in motocross). Dad held his first national there in 1974 and his second in '75, plus the last Inter-AMA race, which was won by Team Suzuki's Tony DiStefano). There was also a Team USA-versus-Canada race that ended up being an incredible mudder, and I rode my first race there and won my first trophy there, though definitely not in that first race!
In late summer of '75, the owners of the whole campground got into some tax trouble, and it ended up putting the whole place in jeopardy. My parents were just getting their motocross business going and even expanding—Dad had organized his first Blackwater 100 that same year, and that became the blueprint (though he could not have known it at the time) for the Grand National Cross Country Series—and they had to find another place, and fast. He picked a nearby place called Keyser's Ridge in Maryland, and that turned out to be a rather poor choice. It lasted less than a year due to the terrible rocks and an even more difficult land owner. Next came High Point Raceway in the fall of '76, and the rest is history.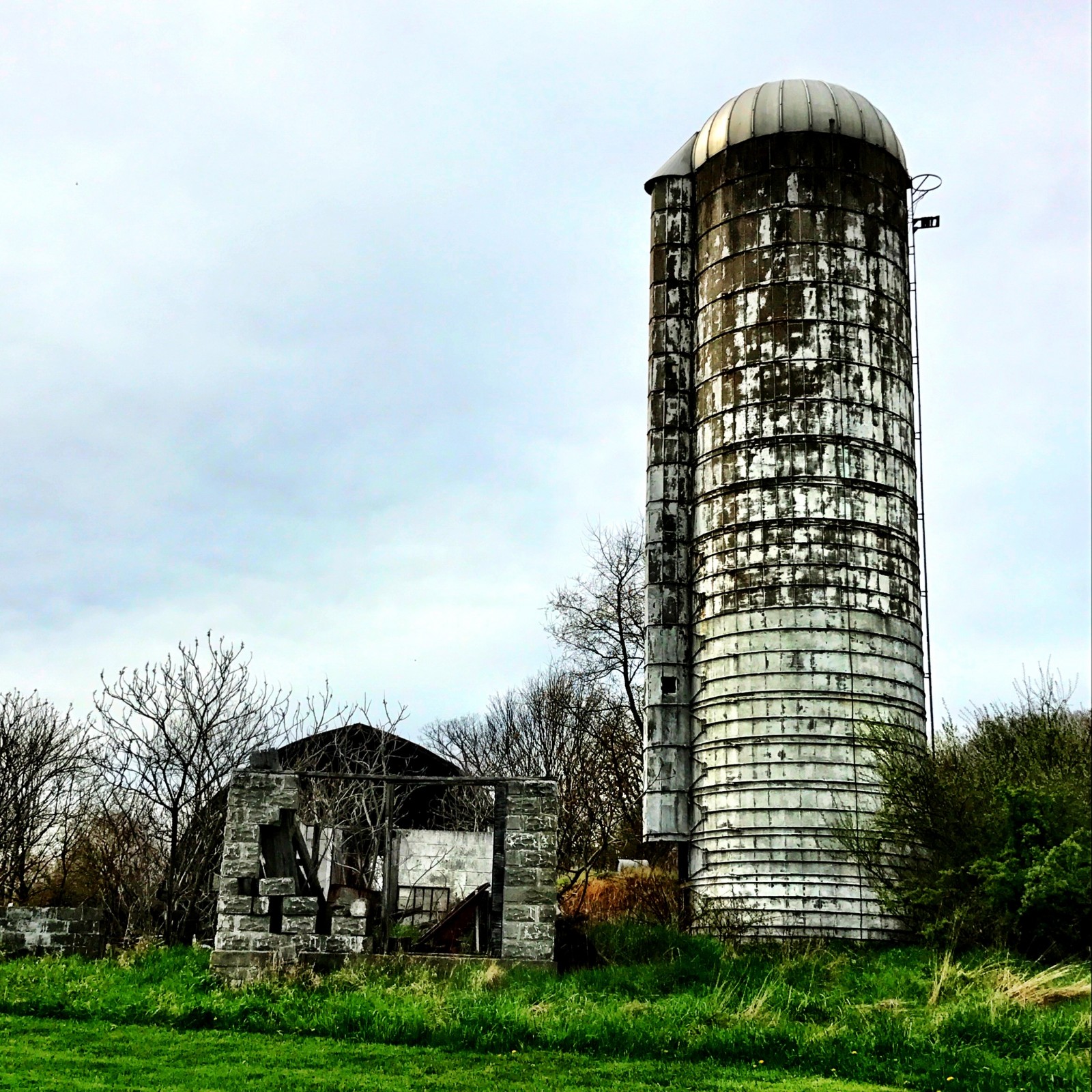 Unfortunately, Appalachia Lake MX Park is history, too, but not in the good way. The lake itself was the site of my parents' one and only "jumping" event, when a man named Bob Gill tried to clear it on a Kawasaki 900 street bike. That ended badly (though not deadly), and my parents vowed never to do a daredevil-type event ever again—which is why we've never done a freestyle motocross event other than maybe "Mad" Mike Jones doing expos at the old Steel City track. It's sad that the track is gone, not to mention the campground and every other structure that was there, except for Gill's flat-landing jetty on one side of the lake, and the old basketball hoop where we used to play, even if we were too small to actually make a basket on a 10-foot rim. Still.... damn.
So, where are some of your favorite old tracks from your youth? Is anything still there? Let me know—we've got lots of summer traveling coming up.
The Number: 100 (Andras Hegyi)
In 2010, Ryan Dungey became only the second supercross rider to capture a championship in the premier class in his rookie season, repeating Jeremy McGrath's 1993 performance. In 2012, he got KTM's first podium and then first victory in supercross' premier-class history. In 2015, Dungey became KTM's first 450SX Champion and then repeated last year. And then, last Saturday in Salt Lake City, where he finished second to title rival Eli Tomac, Dungey became only the third rider to get 100 podiums in supercross' premier class, going back to 1974. Dungey joins Jeremy McGrath and Chad Reed in this very elite club.
McGrath, the most successful supercross rider ever, was the first to get 100 podiums. The seven-time SX champion debuted as a full-time 250 rider in 1993 and got his 100th podium in 2001 in his 132nd race, which he won. He was able to collect 111 podiums in all, his last one coming in 2002. Between 1993 and '02, McGrath would get podiums in 10 consecutive seasons.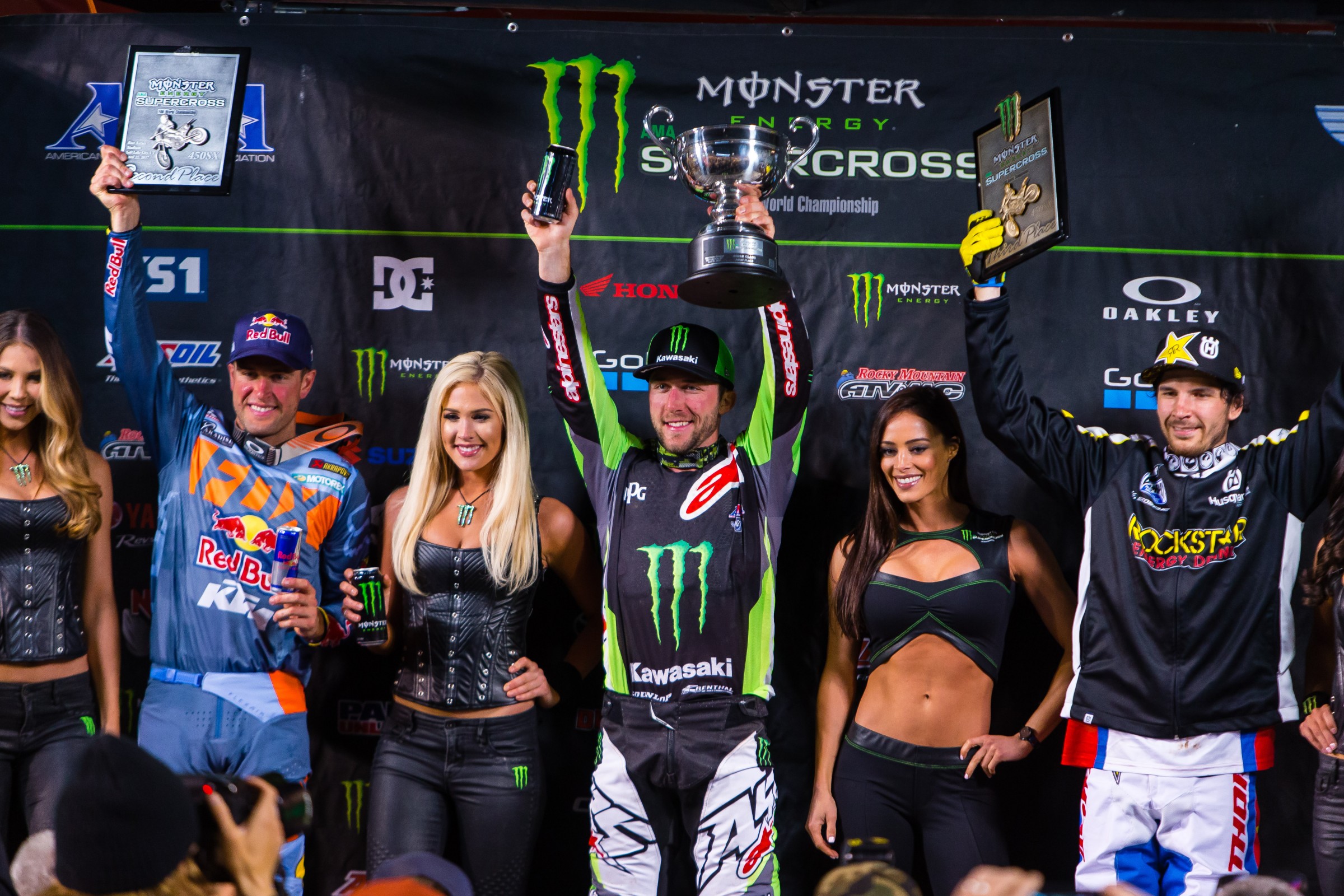 Reed, the most successful Australian SX/MX rider ever, was the fastest to get his 100th podium in supercross. Reed debuted in the premier class at the beginning of '02, then only needed 115 races before he could celebrate his 100th podium result in 2009. Reed got his first podium in '03 and since then has podiumed in every single season. This year marks the 15th consecutive season in which Reed has gotten a podium. So far, the 35-year-old has collected 131 podiums in all. This is the absolute record.
Dungey's premier-class debut happened in 2008, and he got his first podium in only his third race. The most successful Minnesota rider has been a permanent fixture in the premier class since 2010 and has been able to get podiums in every season since. Similar to McGrath, Dungey got his 100th podium in his 132nd race last Saturday night.
Dungey's podium breakdown
33 wins
39 places (2nd)
28 shows (3rd)
WHAT I LEARNED (MATTHES)
I do a lot of shows and talk to a lot of people about a lot of different things. Every single week, between the Racer X stuff and the PulpMX stuff, I try to learn about what happened at the race. Here's what I got from the various shows this week.
We talked to Davi Millsaps on the PulpMX Show and he said that he's going to take Alex Ray and Heath Harrison under his wing after SX to help them out. Davi Millsaps: a mentor! Who would've thought that? Anyways, in the bad news department, Millsaps will have surgery on a troublesome wrist after SX and miss some time in Lucas Oil Pro Motocross. Also, Millsaps confirmed that he doesn't hate me anymore and that, despite me asking him, he will not write a tell-all book about his career.
Weston Peick is back riding now from his wrist injury suffered at Glendale and won't be 100 percent at Hangtown, but hopefully it won't be too long before he's up to speed. He also sponsors our co-host Adam Enticknap, but for 2017, hasn't contributed much to the 722's program. He did say that he'll get something going at some point.
I asked Enticknap, someone who was out on the track with Eli Tomac in the Salt Lake City Supercross main event, to explain what Tomac was doing out there and how he was able to go so fast. Adam explained that he didn't know, that Tomac must've had "magic" tires and suspension and that his bike sounds like an actual monster when he's coming up to lap you.
Malcolm Stewart was on and said that he would like to fill-in for someone in the upcoming outdoors and that he feels like he's been riding better lately than the start of the year, but he's not got the results to show it. He then told us that he will continue to shoot down drones over his property if you people keep trying to find James Stewart riding.
In our N-Fab Racer X Fantasy SX Show, Jason Thomas finished dead last in the 250SX class standings after his riders let him down. This comes on the heels of me finishing last a week ago. Clearly, we need someone else to host the show. Dan Truman explained why he stuck with Heath Harrison despite Harrison not jumping the finish line triple. Dan and JT both think that Justin Brayton is a good pick for this weekend in the MX Fantasy league.
The Privateer Island Life Pod this week was with Alex Ray and Harrison, and Ray explained that he is jobless in a couple of weeks and looking for a bike to ride this summer. Part of the deal is he will ride the Muddy Creek National if he can get a bike. Harrison talked about how he felt good on the bike but wasn't getting the results he thought he should be (and I agree). The guys talked about how happy they are on the CycleTrader.com/Rock River Yamaha team and they have a schedule that tells them when they need to get dressed for practice and the race!
I spoke with 18-year NHL player Ray Ferraro about the first round of the playoffs and his predictions for the second round on my hockey podcast. I don't even care that you guys don't care. It was awesome.
I also put up a podcast with Kent Howerton where he talks about that infamous race at Saddleback and what went on with him and Bob Hannah. Kent doesn't sound thrilled by Bob talking about it over and over and, just my guess, his dirty riding. Kent seemed like a very smart guy when talking about bikes, and he had a big hand in developing those early Kawasaki works bikes that Wardy won on. Lots of Superbiker talk in here as well.
Here's a cool look back at the Howerton-Hannah duel known as the Saddleback Massacre, part of our 24 Memorable Motos countdown to Hangtown!
Yesterday we had the Fly Racing Moto:60 Show, and JT and Weege took some phone calls from fans about Aldon Baker's title streak possibly coming to an end, the new 250SX rules, these "Dungey retiring" rumors, Red Bull KTM next year and much more. Weege says that although he's from New Jersey, this weekend's race is called the New York SX.
Head on over to www.pulpmx.com for more info on all these shows, and read Vuillemin's column on SLC and the MXGP's as well as Swizcore's talk of Dungey riding defensive and Moser "interviewed" Cade Clason and Martin Castelo for Just Short this week.
THE NUMBER: 4 (Andras Hegyi)
There are some very versatile, flexible, all-around riders who can win in saddle of any bike and any brand. In America, think Chad Reed or Ezra Lusk. Over in Europe right now, it's the French rider Gautier Paulin. He seems able to adapt himself to anything he rides. Last weekend in Valkenswaard, the Netherlands, at the MXGP of Europe, he beat Jeffrey Herlings and earned himself some big personal milestones. For instance, it was his first win since 2015, and his first for the factory Husqvarna team's owner, the former Formula One World Champion Kimi Raikkönen of Finland. And this success means he has been able to win on his fourth brand during his career: Honda, Yamaha, Kawasaki, and now Husqvarna.
The 27-year-old Paulin has become only the fifth rider to win with at least four different brands in the FIM Motocross World Championship. But he is the first in the modern era of MX1-MXGP—the premier class was introduced in 2004—who has been able to win in the saddle of four different brands.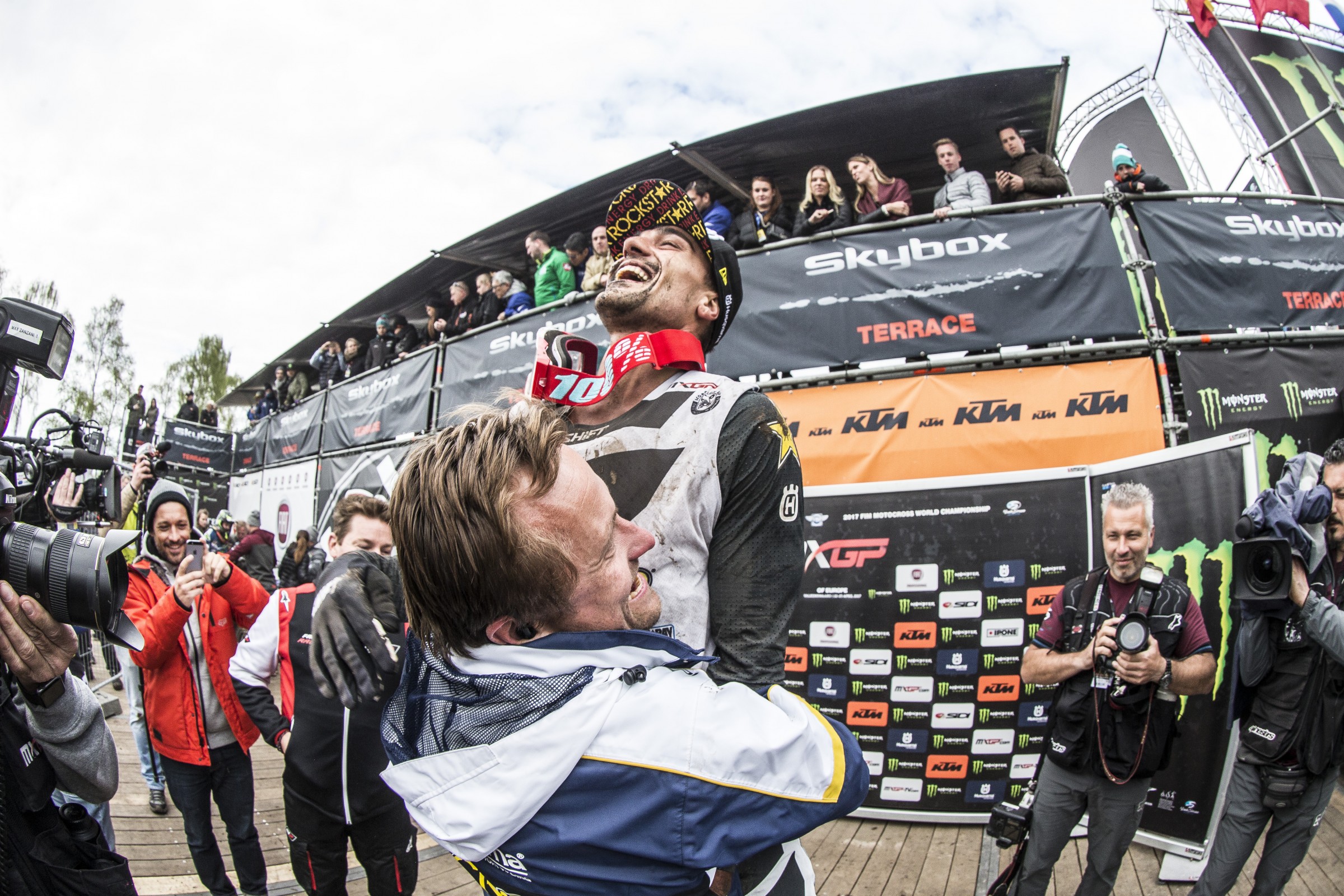 In addition, Paulin gave Husqvarna its first win at the historic Valkenswaard, a sandy track situated in southern part of Holland that first organized a GP in the FIM World Championship way back in 1974. This 2017 edition was the 32nd GP at Valkenswaard.
And of course there's Herlings' personal dominance at his home track. The Dutchman is admittedly struggling this year, his first on the 450, but he finally got on the podium at Valkenswaard. Still, it was bittersweet, as this was the first time in his entire professional career, which started back in 2010, that Herlings has lost a moto here, let alone the overall!
Riders with GP wins in saddle of at least four different brands:
Yves Demaria (France): 5 brands (Suzuki, Yamaha, Honda, Husqvarna, KTM)
Stefan Everts (Belgium): 4 (Honda, Yamaha, Kawasaki, Suzuki)
Dave Strijbos (Holland): 4 (Honda, Suzuki, Kawasaki, Cagiva)
Alessandro Puzar (Italy): 4 (Suzuki, Honda, Yamaha, Husqvarna)
Gautier Paulin (France): 4 (Yamaha, Kawasaki, Honda, Husqvarna)
Riders with GP wins in MX1-MXGP in saddle of at least 3 different brands
Gautier Paulin (France): 4 (Husqvarna, Honda, Kawasaki, Yamaha)
Max Nagl (Germany): 3 (Husqvarna, KTM, Honda)
Clement Desalle (Belgium): 3 (Kawasaki, Honda, Suzuki)
Ken De Dycker (Belgium): 3 (Suzuki, Honda, Yamaha)
Tanel Leok (Estonia): 3 (Yamaha, Honda, Kawasaki)
STYLE CHECK (Dick Miller Archives)
From the 1974 Trans-AMA Series:
Scott Logger Party (Kyle Scott)
Last week in Salt Lake City, Scott Goggles hosted a party to kick off their re-release of the Logger goggle. The Logger 2.0 celebrates the last decade of goggle innovation since the original release of The Logger when Ryan Villopoto was still on a KX250F. The original Logger was well ahead of it's time with articulating arms that have become the standard for goggles today. As technology has advanced, so have Scott's goggles. This rendition's articulating arms allow roll offs to be installed behind them as well as a massive field of view complemented with easy lens swaps and tear-off installs with their most advanced model yet, the Prospect.
Many of the Scott athletes such as Justin Brayton, Blake Baggett, and Nick Wey were in attendance along with their teams. It was a good time filled with full glasses and good company. I'm not sure about the lower alcohol percentage of the beer in Utah, but I am sure about how comfortable the Logger is on your face. You'll need to pick up a pair for yourself to see if the Logger with help you log faster lap times, but one thing is for sure, the undeniable style will help you stand out from the crowd. Head over to Scott's Website to check them out.
Head-Scratching Headlines of the Week
"Yamaha Factory Supercrossers Chad Reed & Cooper Webb Are Looking For Giant Results As They Jet Aboard Their YZ450F Machines In NJ" – (Play on the fact that MetLife hosts both the New York Giants and New York Jets NFL teams)
"Forget frappuccinos, a living 'unicorn' has been found in Iceland. bit.ly/2pD8wuf" - Newsweek
"Aaron Hernandez's Alleged Prison Lover Revealed as Convicted Robber Who Raced Motocross" – Maxim
"FUR YOUR EYES ONLY: CIA 'implanted microphones into CATS' in a bizarre attempt to spy on Russia" – The Sun
"Record Motorcycle Attempt Canceled Due to Injury" – Nascar.com
Hey, Watch It
Racer X Films: 2008 CRF450 Project
And remember Kyle Katsandris, the poor guy who messed up his redo of Scummy's jump of that train next to Highway 60? Here's some video of the crash: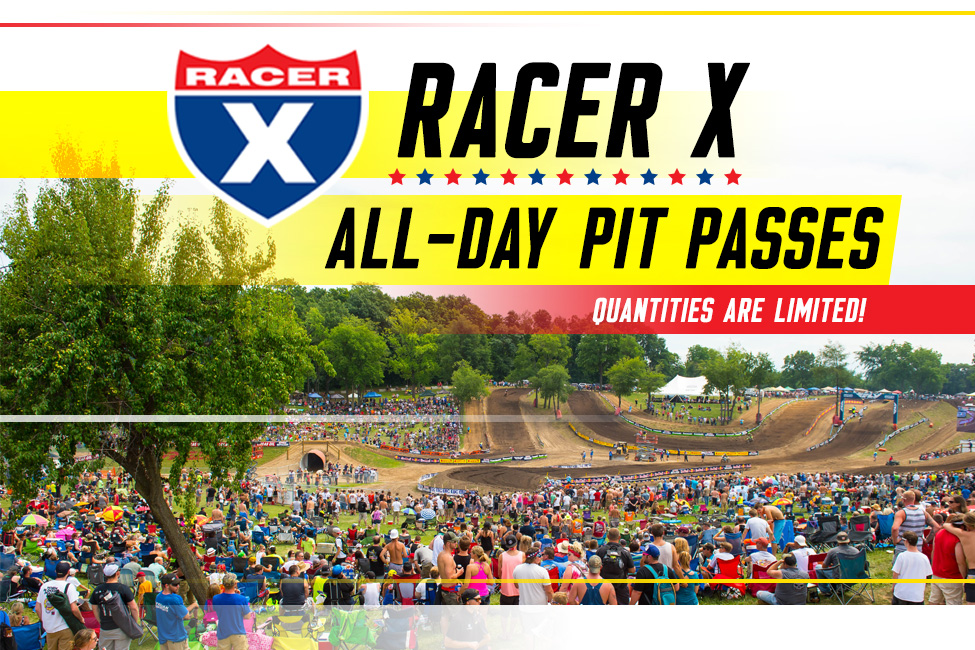 Headed to East Rutherford SX this weekend? If so, be sure to stop by the Racer X booth—located in the Party in the Pits—and pick up a free copy of Racer X Illustrated. Also, don't forget to subscribe or renew for as low as $10 to get a one-year subscription, a FREE $25 Rocky Mountain ATV/MC gift card, and an extra issue!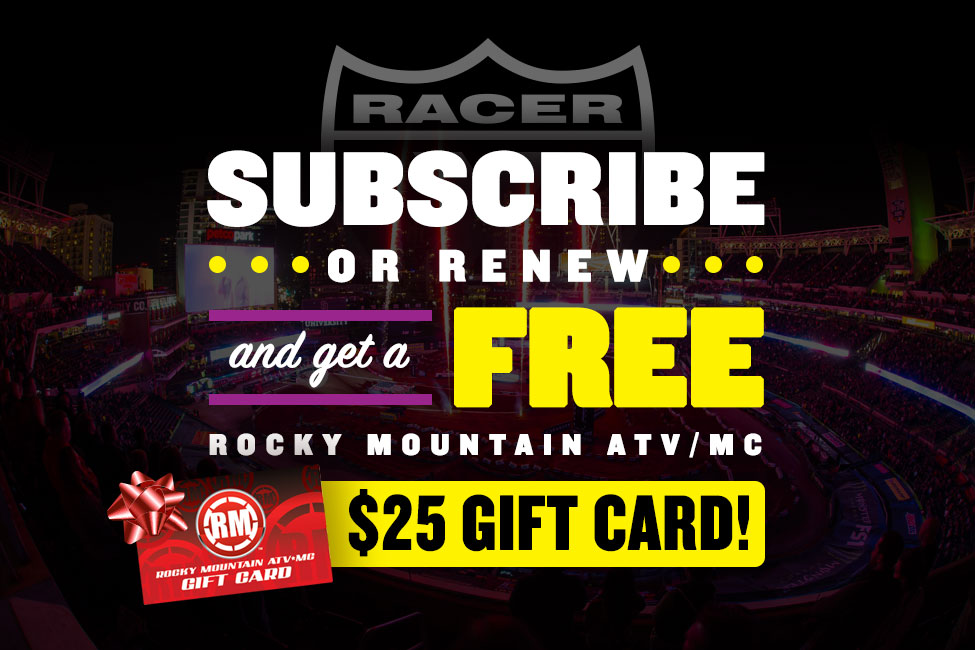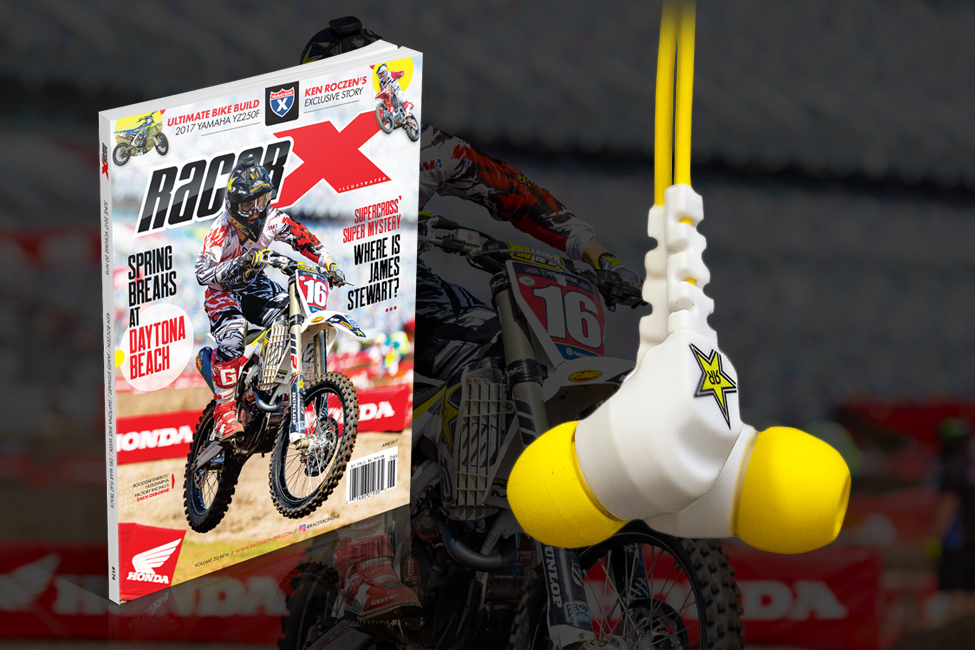 That's it for this week's Racerhead. Thanks for stopping by, and see you at the races.