Salt Lake City, UT
Salt Lake City
Monster Energy AMA Supercross Championship
Three to go in the 2017 Monster Energy Supercross Championship and we were back this weekend in Salt Lake City, Utah, for the first time in three years. Not sure why the series headed back there, but it's a cool city and gets good crowd support in a smaller stadium.
We all saw the ride from Eli Tomac in Salt Lake City. It was incredible as he started near the back and immediately got busy heading to the front. He also dealt with a rather aggressive pass by Ryan Dungey's teammate Marvin Musquin. That seemed to fire up the #3 a bit more which was the worst possible thing for his competition. Tomac seemed to be able to find traction where there wasn't any, he wheelied into the whoops skipping the first one and passed 42 riders there (approximately) and he won by six seconds.
It was an amazing tour de force ride. It's up there for me with Ken Roczen's ride last year at Glen Helen, James Stewart's in Toronto 2014, James Stewart's at Budds Creek 2003, Sebastien Tortelli's at Glen Helen 1999, Rick Johnson's at the L.A. Coliseum in 1987 and I'm sure a few more I can't think of right now. It's a "Where were you when …" moment for Tomac's career.
As far as Dungey, he's got to be wondering what exactly happened on Saturday night. He was doing everything perfectly and it was all going to plan. Tomac was buried and he was out front and pulling away. But here's the thing, Dungey was struggling bad in the whoops. Like, I don't know what was going on with him but he just couldn't get through the square edge, concrete-like section to save his life. He only had the 10th best time in the whoops segment. Tomac was fastest there, but not as fast as we first thought as explained by our own Dan Carlson. Dungey tried blitzing, he tried switching his lines, he tried jumping through them, and nothing was working. It was odd to see someone so fast look so bad in these things and it started in the first practice of the day. Remember when Dungey first got on KTM and there were some big whoops in San Diego and he just couldn't do anything in them? Yeah, it was like that. Maybe worse!
To his credit Dungey did get a bit better in them but it was too little, too late and Tomac won by an astounding six seconds. And he put that much time on Dungey in about two and a half laps. Tomac was pulling his front wheel up over the first big square edge whoop and getting on a plane. It's definitely something Dungey was capable of doing and I'm sure the KTM people showed Ryan what Tomac, and many others, were doing on film but Ryan just wasn't able to adapt.
So Eli's got the points lead by three with two rounds left and with all the wins he's been racking up lately it's hard to see him losing this title unless disaster strikes. And by that, I mean like something where he's unable to finish the race. We've already seen him rip up to the front off bad starts (Seattle and Salt Lake) and finish second after an endo (Seattle). He's on such a roll and so much better than Dungey that I don't know how he doesn't just ride off with this and complete an epic comeback. Dungey's an all-timer in the sport, a legend for sure, so this recent slide is a bit perplexing.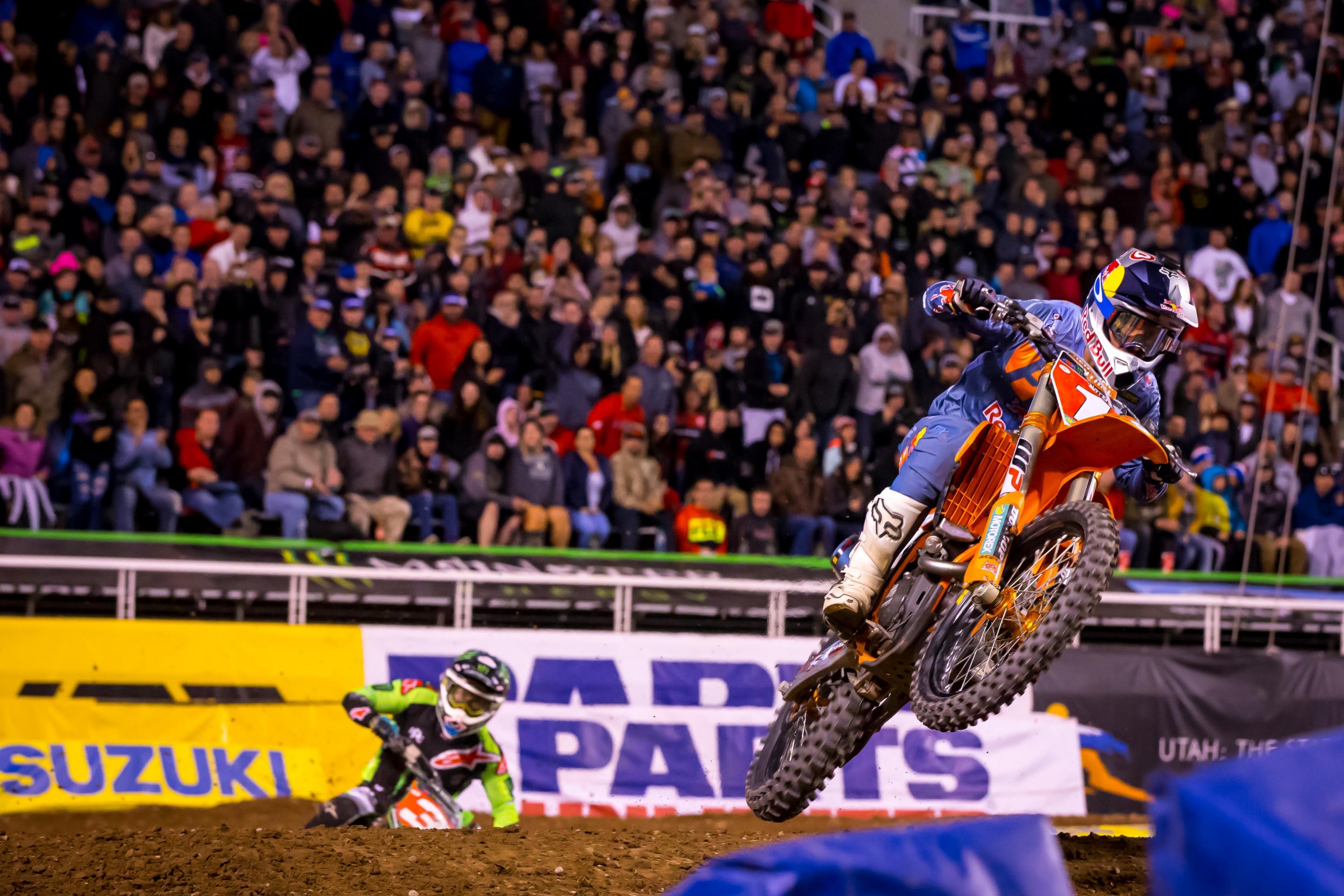 When you think about supercross history and losing a big points lead a couple of names come to mind and interesting that like Dungey, their biggest points lead was also reached with nine rounds left. Weird, huh?
Damon Bradshaw's lead over Jeff Stanton in 1992 was 26 points with nine rounds left and David Vuillemin had 23 on Ricky Carmichael in 2002 with nine rounds left. Now DV gets a bit of a mulligan because he got hurt and missed a race. Unless this thing somehow turns around, Dungey's going to join these riders that live in infamy.
Justin Hill clinched the 250SX West Region with a third that I'm sure was championship-induced. At the last two races, Hill hasn't looked as good as he had in past races, and I'm sure with a big points lead in hand he just wanted to get this race over and get the title down to Vegas. But when Aaron Plessinger cartwheeled in the whoops while leading, Hill's path to the title became easier. He fought off Martin Davalos (no doubt rejuvenated by some rule changes made earlier in the week that I'll detail below) up the face of the finish line jump to get third and clinch the title! It was high drama for sure and unbelievably, the first title for Monster Energy/Pro Circuit Kawasaki in four years. Yes, you read that right.
Hill's path has been a circuitous one that has left a lot of people frustrated that he couldn't hold it together. The talent has always been there but he, like many others, couldn't seem to figure things out. He returned to the Pro Circuit team in 2017 and not too many guys have re-signed with Mitch Payton's squad and succeeded. In fact, there's Mike Brown and … no one else.
I spoke with Payton about Hill the first time around and this time around.
"I think it was a lot the first year was difficult and the second year he was our most improved rider on the team. He rode really well and then at the end of that year we wanted to keep him. He sort of had big eyes for lots of promises and he took a chance on that," Payton said of Hill moving to KTM. "I think it wasn't everything that he thought it was going to be. Then towards the end of that when he was available I talked to him again and actually a lot of it was because I met Josh [Hill, Justin's older brother] and knew Josh a little bit. We were like, I want to get your brother back.
"It was great to get him back because he had won on our bike and he had won on the KTM and I knew he could win. Then I had even asked Josh if he came back if he would work with him, because I think he's got good eyes and he's good on the track and stuff like that. I think he was listening to him a little bit better and he could help him, where in the beginning he wouldn't listen. I think he's a lot better, more mature. It just worked out great."
Nice work by Hill, he was awesome all year long (outside of Anaheim 1) and deserves this title. It also sounds like big brother Josh, who never reached the heights that many thought he would, had a big hand in this and it's awesome the brothers can share in the success.
In front of Hill was a pair of Troy Lee Designs/Red Bull KTM riders in Shane McElrath and Mitchell Oldenburg. McElrath was the early season surprise in this class and if it wasn't for a mechanical while leading Arlington(a race he had in hand), the points race would be 179-177 heading into the last round for McElrath. Hard not to stay awake at night and think about that. But as it is, Shane has won three races this year and really broke out as someone that can do some damage in 2018.
Oldenburg, who not that long ago I was talking to about whether he needed a ride in Canada for the summer, has raced three 250SX races and gone 4-3-2. Might he complete that run with a "1" in Las Vegas? Mitchell's always been able to twist the throttle, but in 2017, he's figured out how to slow down to go fast. Tyler Keefe's [team manager] got himself a nice stable of riders over there when you add in Jordon Smith and Alex Martin.
The AMA/FIM met with the team managers this past weekend in Salt Lake City and announced some new rules in the 250SX Class to take effect immediately. The old rule was 135 points scored in a nine race series (or 125 in an eight race series) three times and you were out. Also if you won a title in the 250SX Class after you've been in the class for three years, you were out.
The new rules now allow riders FOUR years instead of three scoring the 135 points and, if you win a title, you get one year to defend it unless you've scored the 135 for four years, which means you're out.
I mean, why not just suddenly change the rules near the end of a series? One of the reasons was that riders like Justin Hill (win the title and he'd be out), Martin Davalos and Joey Savatgy (they were both going to meet the minimum point rule) had contracts coming up and their situations needed to be addressed. But why take a look around at some riders on very powerful teams that are looking like they're going to be out and then change the rule? It reeks of high level political maneuvering by the teams that have a self-interest in keeping riders down.
If you're going to make a rule change of this magnitude, make it in the off-season where the perception isn't that you're pandering to certain teams. It's as if the AMA/FIM took a look around three-quarters through the season and realized that the regional support class needed to keep some stars in it, so let's just change what we need to in order to keep people happy.
Maybe next year we'll see another change if someone important looks like they might point out. In my opinion the 250SX Class has ventured so far from what it's supposed to be and was intended to be that right now it's a bit like being half-pregnant. Rules are adjusted but they never cure the problem one way or another. Make it like the 250 Class in Lucas Oil Pro Motocross and you can never point out or make it so that the lifers, the riders that don't accomplish anything (because remember, if you succeed in there, it's often the worst thing you can do. Ask Malcolm Stewart) but get to make tons of money staying in the class, get out of there. Right now, the class is doing no one a service and with these new rules, the beat goes on.
On another note, I'd like to point out how insane it is that 250SX points count for national numbers. So the new JGR kid (that's his official name now) does very well in his second SX race ever and finishes 13th. That's eight points. So the new JGR kid now has more points than someone like Adam Enticknap, who has made six 450SX main events this year. So the sport is saying to everyone that the new JGR kid's 13th in a regional class is "worth" more than the 722 competing week in and week out against the best riders in the world. New JGR kid might earn a two-digit number next year with two decent 250 finishes, but privateer 450 guys will not. Do you see how stupid this rule is? Am I the one taking crazy pills here?
Some other news and notes:
- Without Cole Seely or Ken Roczen, factory Honda put Christian Craig on the 450 for his first ever 450SX race (points paying) and he did pretty well, finishing right outside the top 10. He was very fast in the whoops and rode the 27 laps at a consistent pace. With Seely week to week and Roczen out, does Honda say screw Craig's 250SX season and leave him on the 450?
- Davi Millsaps told us on the Pulpmx Show Monday that he will be going in for surgery on a bad wrist after Las Vegas and sounds like he'll miss substantial time. So that means the Rocky Mountain ATV/MC-WPS-KTM guys will go into the outdoors with Blake Baggett and Benny Bloss. Has there ever been a team with its two riders with the initials "BB"?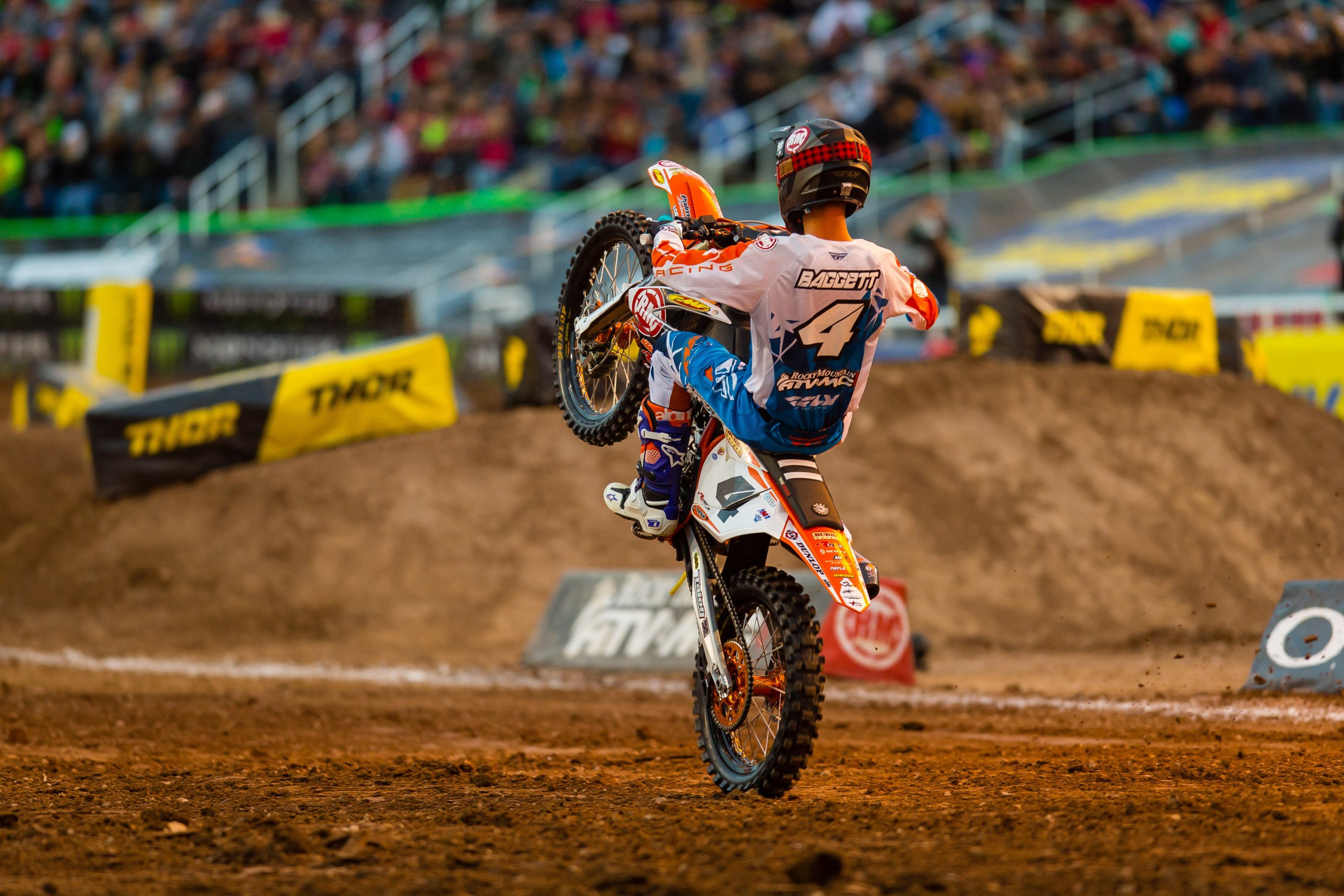 - Josh Grant qualified well, won his heat race and finished a season best fifth place on the night. It's rides like this weekend that remind you how good he can be or could have been in his career. Once in a while, the magic is still in there. Nice work!
- Chad Reed had his best race in, like, forever. He was fifth for most of the main event until Musquin got him late. Whoops being hard equals success for the #22.
- Austin Forkner was back and was fast, but man did he hit the ground a few times. That's kind of been the story of his rookie supercross season.
- Aussie Hayden Mellross is out of a ride come Vegas but he wants to be ready for a fill-in on a team for Lucas Oil Pro Motocross so he's been riding and training for a while on a 450. Might be someone to look at if you're a team out there.
- Speaking of the Nationals, rumors are that Malcolm Stewart is going to ride the first two rounds on a Honda 450. Stay tuned for more.
- Wil Hahn's the new assistant team manager for Yamalube/Star Yamaha and I guess he's trying to be more professional and that's why he ran a tight tuck of the shirt on track walk with his credential looped around a mountain climbing hook attached to his belt loop. I don't know, Reed and I were trying to figure out exactly what he had going on.
- Ok, we're 15 rounds down. Did the timed main events work? Well, for one thing Ryan Dungey would still have the points lead if we were using the old 20-lap format. Musquin passed Dungey for second place late in the race two times and Tomac moved up from the back the last two weeks to snag some points. So there's that. I'm all for change, anyone reading my stuff knows that, so I had an open mind towards the new format but after watching it all year, I don't think I'm that stoked on the change. For one, the tracks haven't been able to hold up to the longer races so there needs to be more maintenance done or more dirt purchased if they're going to continue with this format.
Two, it's unfortunate that this is the truth, but half the 450SX field can't handle the 20 minutes plus one format and it makes for tons of lappers and not much going on outside the very big-name guys. These dudes just aren't in good enough shape to race the mains and are happy to just be in it. That's also not good. So I wouldn't call the new format a disaster or a bad idea by any means, I just don't think it worked outside of getting the stars out there longer for the fans that buy the tickets. That's good, but it hasn't been a game changer from that perspective. I hope the powers that be do something else in 2018.
Thanks for reading this stuff. I appreciate it. I really do! If you want to email me, it's matthes@racerxonline.com and we'll see you next week.