Salt Lake City, UT
Salt Lake City
Monster Energy AMA Supercross Championship
Well, there goes all that math. Two weeks ago our Aaron Hansel penned his annual "pointing out" column for the 250SX Class of 2017, based on the existing AMA/FIM supercross rulebook. The basic pointing out rules? Riders who scored solid points (135 in a nine-round season, 120 in an eight-race season, 105 in a seven-race season,) for three seasons in the 250 class had to move up to the 450s. Also, winning a title and completing three seasons in the class forced a rider to the 450s.
So, riders like Joey Savatgy and Martin Davalos were about to be forced up because they've crossed the points threshold three times; new 250SX West Region Champion Justin Hill was getting forced up by winning the title; and Zach Osborne or Jordon Smith would also be forced up if either won the 250SX East Region Championship.
Then, new rules were announced just before the Salt Lake City Supercross, effective for the 2018 Monster Energy Supercross season. None of these riders will now be forced to the 450s next year.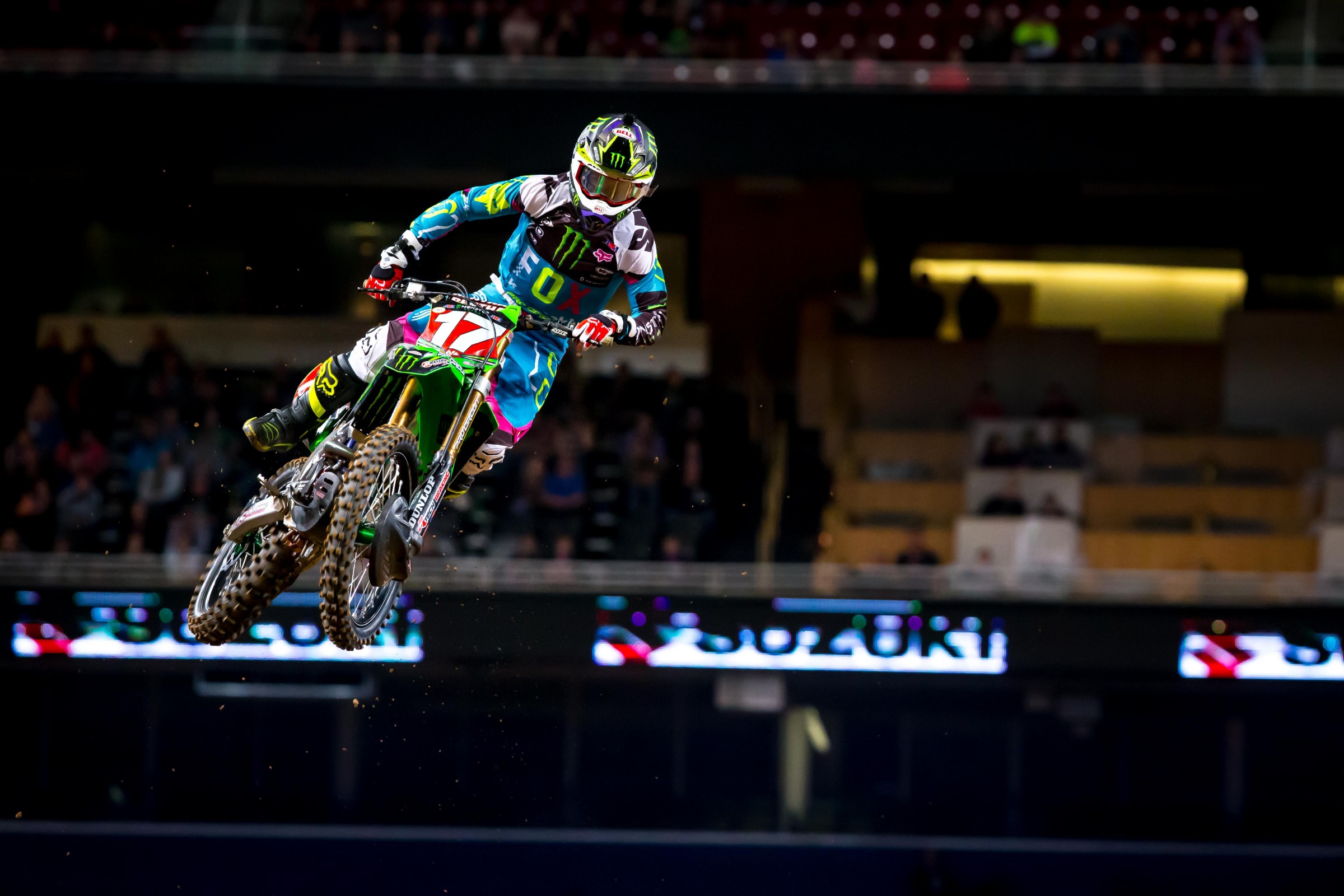 In an AMA bulletin released Friday, April 21, the three-seasons-over-points-threshold rule has been changed to four seasons, which gives Davalos and Savatgy an additional year of eligibility.
There are also two new rules involving champions:
a. If a rider wins the 250SX Championship in their fourth season but has not reached the max point threshold in four seasons, that rider will be eligible to defend the 250SX Championship title in the following season.
b. If a rider wins the 250SX Championship in their fourth season but has reached the max point threshold in four seasons, that rider will be ineligible for the 250SX class and therefore not eligible to defend their 250SX Championship title
This makes Hill eligible to come back and defend his 250SX West title next year. He has not reached the points threshold in four seasons. Same thing if Smith or Osborne wins the 250SX East title this year.
Also, one other classification:
c. A rider must earn at least five points for it to count as a season.
There was some controversy a few years back when Marvin Musquin and Wil Hahn were battling for the 250SX East Region title. It was Marvin's second full season in the class, but he previously qualified for a main event one other time as a young GP rider just giving supercross a try. Some were wondering if that counted as "a season." Under this new clarification, it would not, because he didn't score five points. We don't see how this really matters, though, because now a rider must win the title and make it over the points threshold four times to be moved up. The old rules simply counted total seasons, the new rules only count seasons where the rider went over the points threshold.
For certain, this makes life easier on these 250 riders, who were about to enter the silly season bloodbath that is getting a full-time 450 ride.
Looking at the current racing landscape, though, we believe the real winners are existing 450 racers who would be competing for 2018 rides against the 250 graduates. As an example, if both Hill and Savatgy had been forced to the 450s for 2018, Monster Energy Kawasaki (the 450 team) would have some big decisions to make. Would they have replaced Josh Grant with one of the new guys? Now they won't have to.
What if Osborne and Davalos had to move up? Would this endanger Dean Wilson's spot at Rockstar Energy Husqvarna. We know Savatgy is tight with Yoshimura/RCH Suzuki co-owner Ricky Carmichael—he's been training at Carmichael's farm for a number of years. Would RCH have grabbed Savatgy for a 450 slot, and bumped Broc Tickle or Justin Bogle out of a ride?
Not a problem anymore! Of course, all of these riders are welcome to move to the 450 class if they want to, and Hill has repeated over and over he would much prefer to race a 450. He's earned a chance to do it, if a 450 ride doesn't materialize, he'll be back running a number-one plate next year.
It does seem a little suspicious that the rules changed in a season where so many riders were about to get forced up (Savatgy, Davalos and Hill, for certain, and possibly Osborne or Smith). However, the old rules were drawn up for 2007, and the AMA said they wanted to stick with them for at least 10 years. So they've done so by waiting until 2018.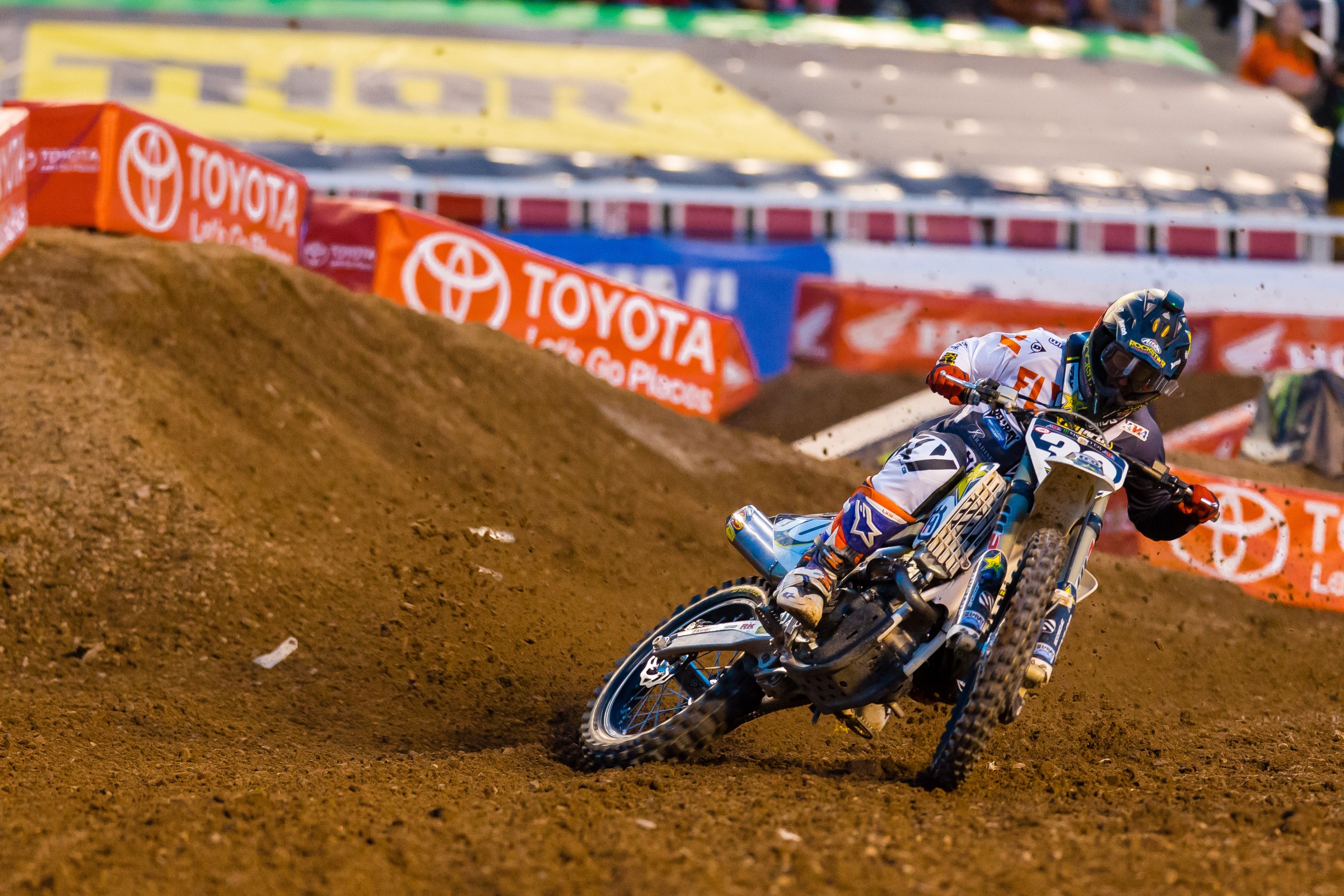 By the way, these new rules are only effective as of this season. Previous riders who were forced up, like Malcolm Stewart in 2016, are not allowed to move back down to the 250s.
Speaking of moving back down, both Kyle Chisholm and Phil Nicoletti were able to go back to the 250s this year, but they had to petition the AMA to do it. The old rules said that riders who finished inside the top 20 of 450 points in previous seasons could not go back to the 250s (the AMA decided to give Phil and Kyle permission). The AMA has now revised this rule from top 20 to top 15, meaning that 450 riders who finished outside of the top 15 in points the last two years could go back to the 250s.
You can read the entire AMA bulletin here.