Edward Jones Dome
St. Louis

,

MO
St. Louis
Monster Energy AMA Supercross Championship
Welcome to St. Louis and Monster Energy Supercross, and yes, a stretch run with real championship implications. When they #dropthegate tonight in both main events, the pressure and points will be real, with Eli Tomac breathing down Ryan Dungey's back in the 450 class (just seven points back) and four riders within 11 points in 250SX East. It's been awhile since we've made it to round 12 with things this close.
Plus, the Dome at America's Center here in St. Louis always hosts great races, thanks to the best dirt in the series and, for some reason, a general history of craziness. From the first race in 1996, when Jeff Emig stopped Jeremy McGrath's perfect season, to the 2006 race where both Ricky Camichael and James Stewart DNFed, to Reed and Stewart's 2007 block-pass fest (which became Carmichael's last career SX win) to the Ryan Villopoto "jumping and passing through the red cross flags" controversy a few years back, the STL SX brings the heat. So do we have the perfect setting for some title drama or what?
Morning Report
Some news from this morning. SmarTop MotoConcept's Mike Alessi crashed on press day yesterday and broke his collarbone, he will be out for the rest of supercross. Chad Reed showed us graphic photos of his back and, yes, buttocks, which got totally ground up by Justin Bogle's spinning chain and sprocket in a first-turn crash last week (Reed is still racing tonight). Dakota Alix hurt his ankle in last week's 250 first-turn pileup but will race tonight. Trey Canard is out for the rest of supercross. For all the info, check our Injury Report.
For track analysis, check out Jason Thomas' Staging Area from Thursday. From our spot in the press box, we can tell you the whoops here are legit, they're deep and the section is very long. The finish is actually a huge triple, about 75 feet.
One section is showing some options early in untimed practice. After the first turn, Blake Baggett and Justin Barcia went three, then tripled over one table and landed on the next one, then went on-off into the corner (three-triple-over-table-on-off) where most riders where going three, double over table, single over table. Baggett's line is definitely faster because he stays on top of the tables instead of going over and landing in the bottom, but it's a tough rhythm to do. We'll see who handles in in timed practice later.
And although the times don't count yet, Adam Cianciarulo and Ryan Dungey had the fastest times in 250 and 450 untimed sessions. Both rode press day here yesterday, for whatever that's worth.
First Timed Practices
Zach Osborne had a crash in the untimed session, but got back up and rode again. However, he did not return to ride this first timed session—we have a word in with his team to find out what's wrong. We have heard he will be back to ride the final session and is okay, so not sure exactly what happened there.
Adam Cianciarulo jumped out front, literally, in this 250 session, he and teammate Joey Savatgy went through turn one together but Adam jumped ahead by tripling out, which is the main race line, immediately. Adam's number appeared at the top of the board for most of this session. With five minutes to go, though, Savatgy put in a fast time to go ahead. Christian Craig pulled ahead of AC to go into second, then Cianciarulo came back with a late heater to go back to the top. As time was running out, Savatgy put in a push, but it didn't come together, and Cianciarulo's time held. We noticed both Savatgy and Cianciarulo going two-three-three before the tunnel, but it was very hard to get—a big seat bounce is needed for the first triple. Cianciarulo even commented that it will be hard to get in the main event. Cianciarulo and Mitchell Harrison both commented over the PA system that the dirt has good grip. That's the good stuff in St. Louis.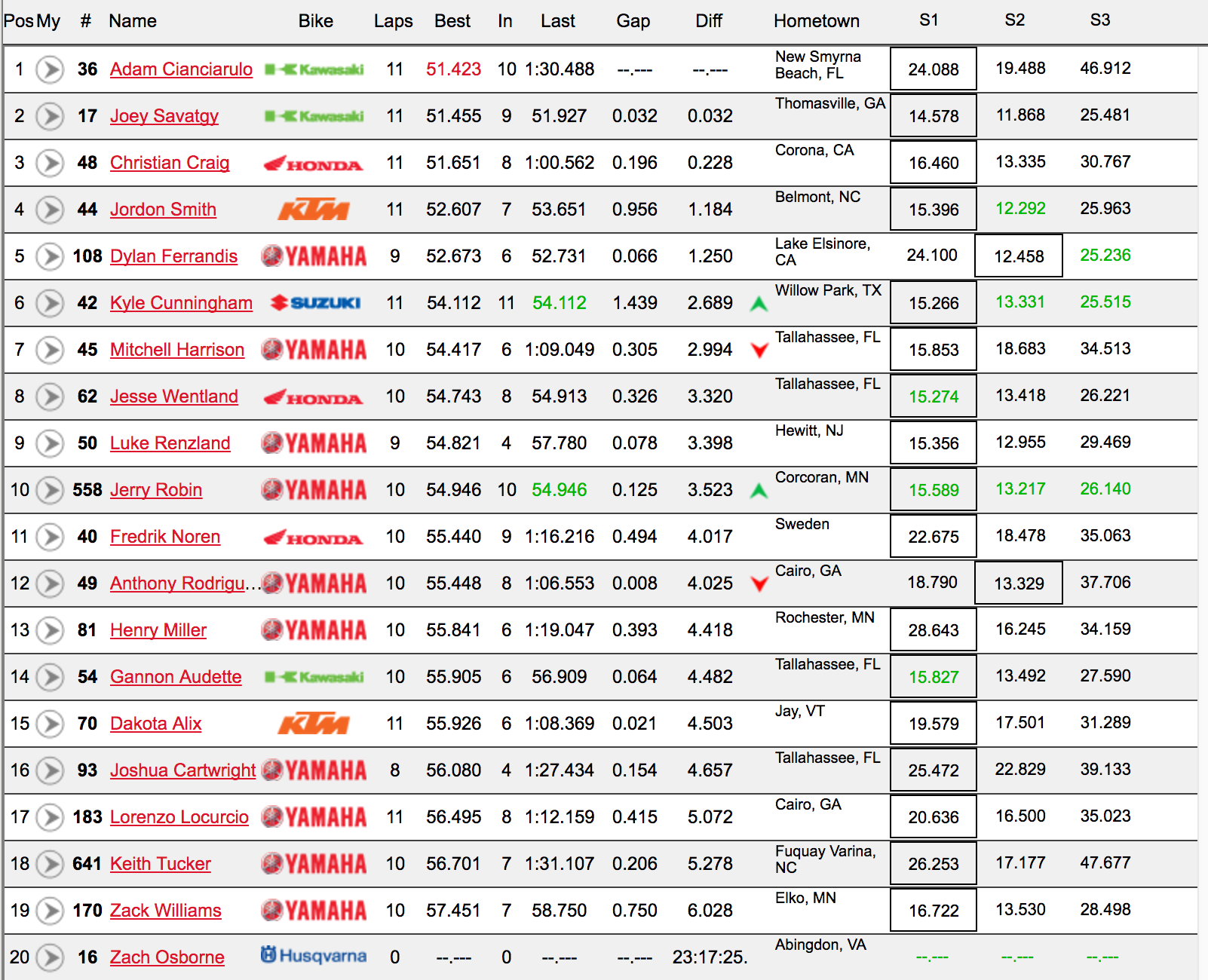 When the 450s rolled out, Jason Anderson charged to the top of the board early. Marvin Musquin was second for a bit but then we saw him off the track and riding back into the pits with his mechanic, Frank Latham. Not sure if it was bike or physical issues for Marv.
Blake Baggett looked consistently fast in the untimed session and kept it going here. Anderson's time help up, and Baggett's was good enough for second. Eli Tomac was crushing the whoops and took third, and his Monster Energy Kawasaki teammate Josh Grant looked smooth and was fourth. Broc Tickle continued his recent string of fast qualifying (fastest overall last week) with fifth, enough to keep Dungey, who was fastest in the first untimed session (which is actually timed) in sixth. As mentioned, Musquin left the session early but his time was still enough for seventh.
Cooper Webb looked a little racier today than he did in his comeback last week. His time was only 15th but he looked loose. We'll see if he can ratchet it up in the next session.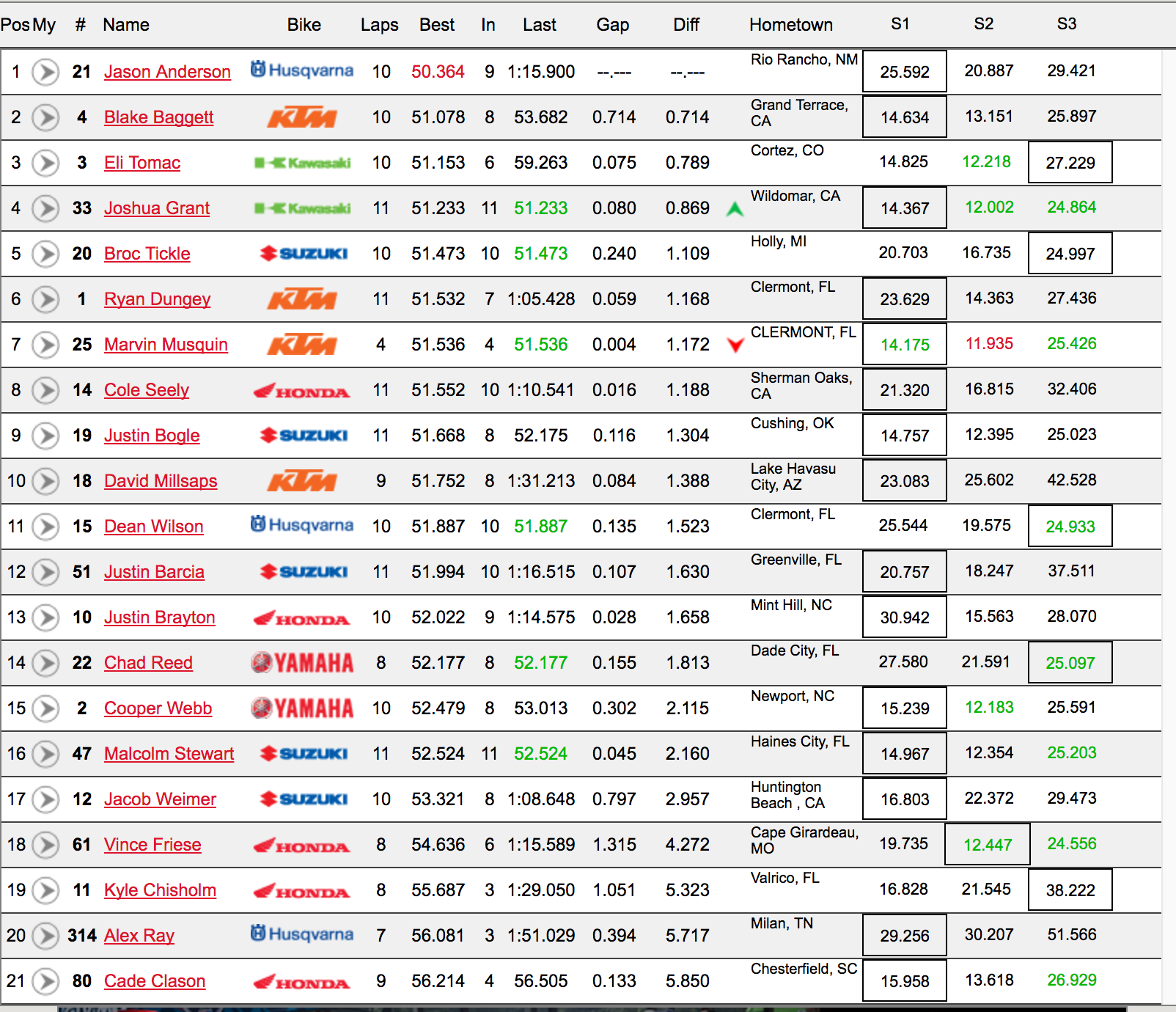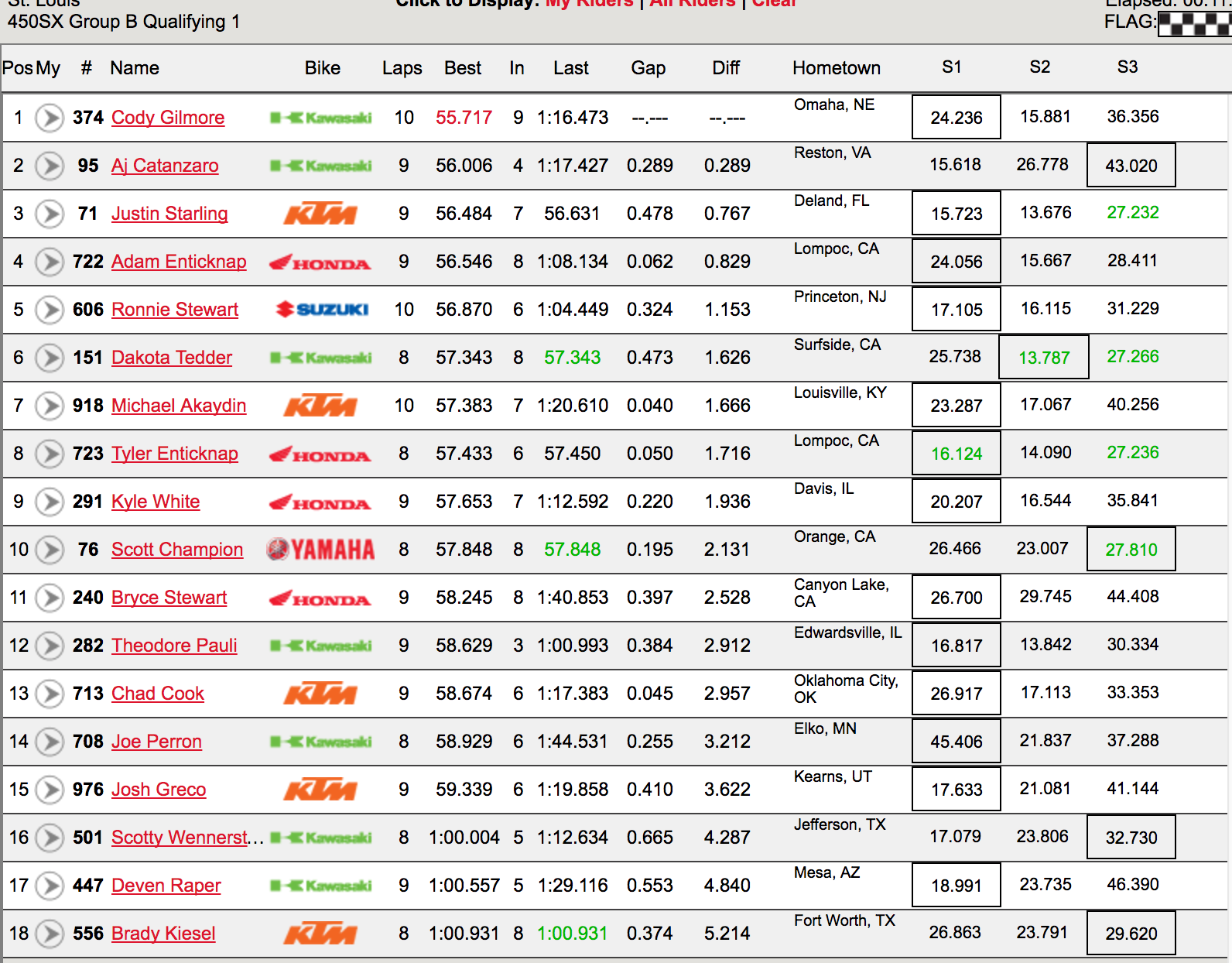 Second Timed Practices
The Rockstar Energy Husqvarna team tells us Zach Osborne has had the flu for a few days, so he took the first timed session off to save energy. It worked because he put his number at the top of the board for a lot of the session. He and title rival Joey Savatgy kept battling for top time, and Osborne held it late, but on the very last lap, Savatgy pushed hard and stole the top spot away for good. That will give Savatgy the top gate pick tonight. Osborne will pick second, but we'll see if the illness impacts him in the longer races tonight.
Adam Cianciarulo, fastest in the first session, went over the bars with a crash in this one. He got up but only logged fifth-fastest this time. The usual title spoilers, Dylan Ferrandis and Christian Craig, are also in the hunt on times.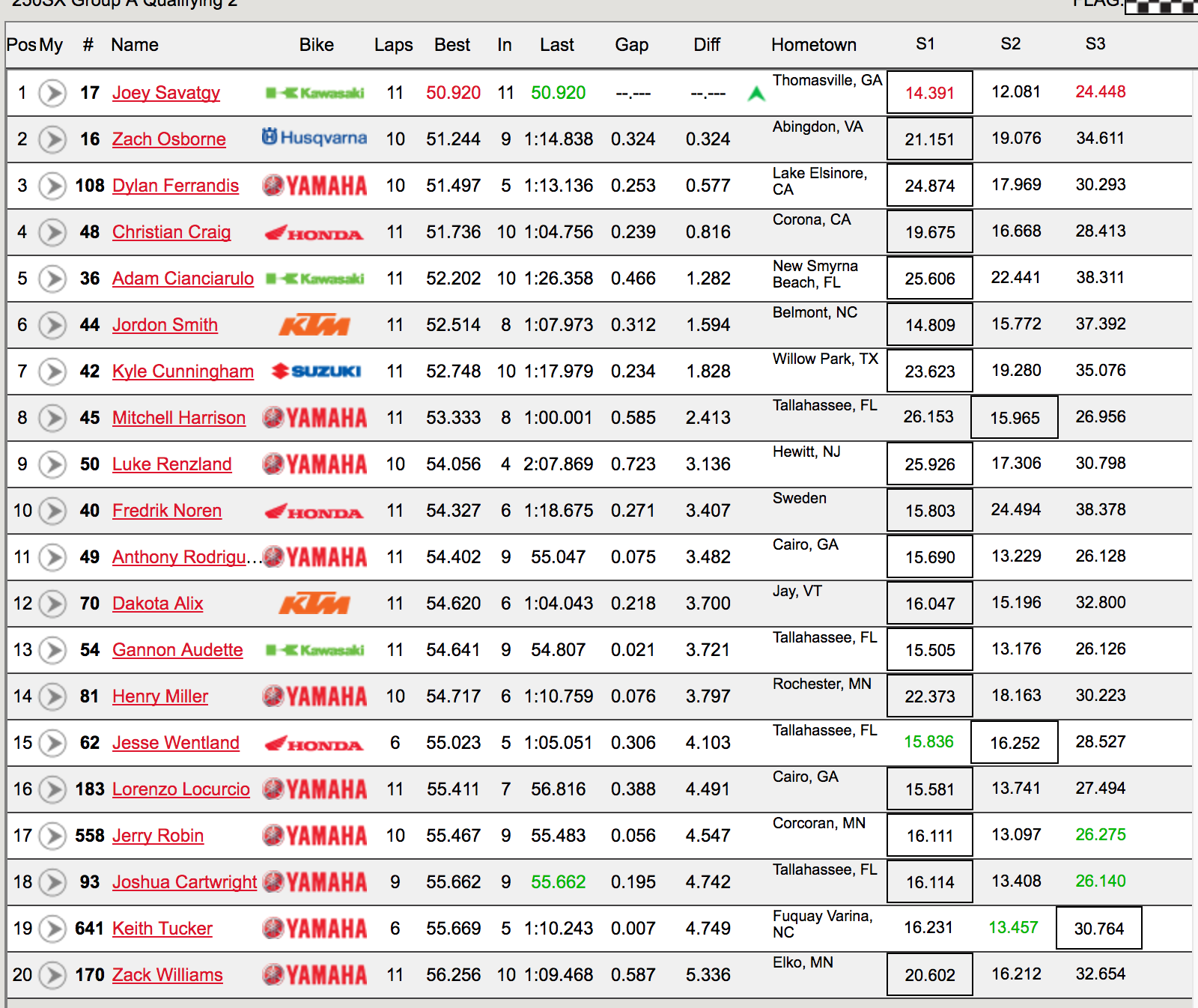 Ryan Dungey wasn't messing around in this one, he shot out on the track first and put his number one at the top of the board, with his teammate Musquin—back and looking okay after pulling out of the first timed session early—right behind him. Then Justin Barcia jumped to the top, which had to be a welcome relief for the Autotrader.com/JGR Suzuki team, which desperately needs something, anything, to build some momentum.
But practice times at the top charge furiously in the early moments, and Barcia was pushed back down quickly when Musquin put in another flyer, and then Eli Tomac followed. Then Barcia responded to go back on top again! In the first session, Barcia was one of the best at tripling onto the table in the first rhythm lane. He did it again here a few times and it helped, however, he only did it for a few laps. Hard to say if that line will be jumpable tonight.
As the session went on Musquin and Dungey went back to the top over Barcia, and then Tomac put down a heater to take the top spot, getting into the 49 second range. That was going to be hard to top—and indeed it was, as no one else could drop under the 50 second mark. Tomac is your top qualifier heading into the night show, Musquin and Dungey followed him in this session, and Barcia has something to be happy about with fourth-fastest. Anderson, fastest in the first session, was fifth in this one, but his fast time from the first (50.3) should make him third overall.
Dean Wilson commented after the session that the track was sticky and rutty and can get you off guard.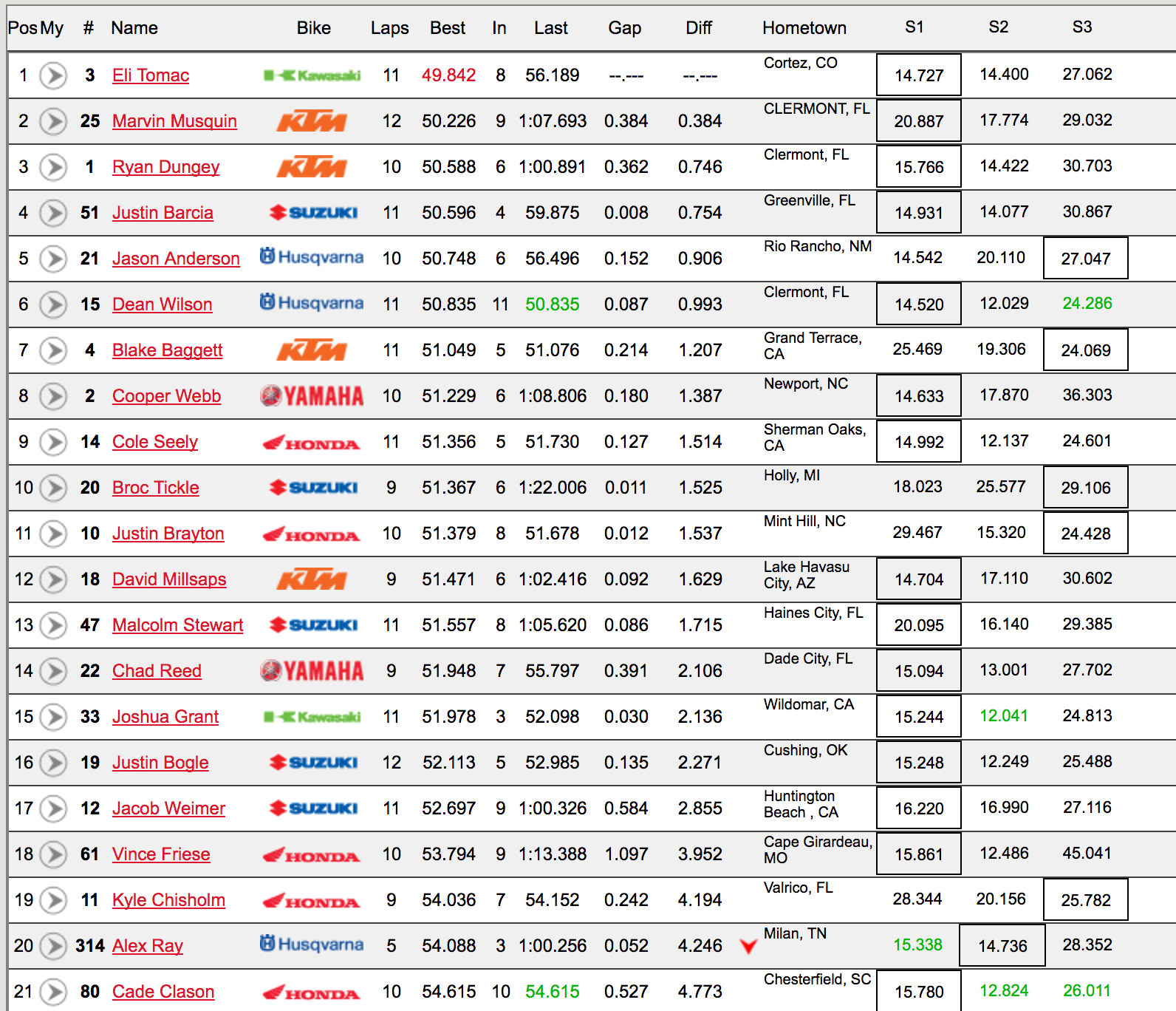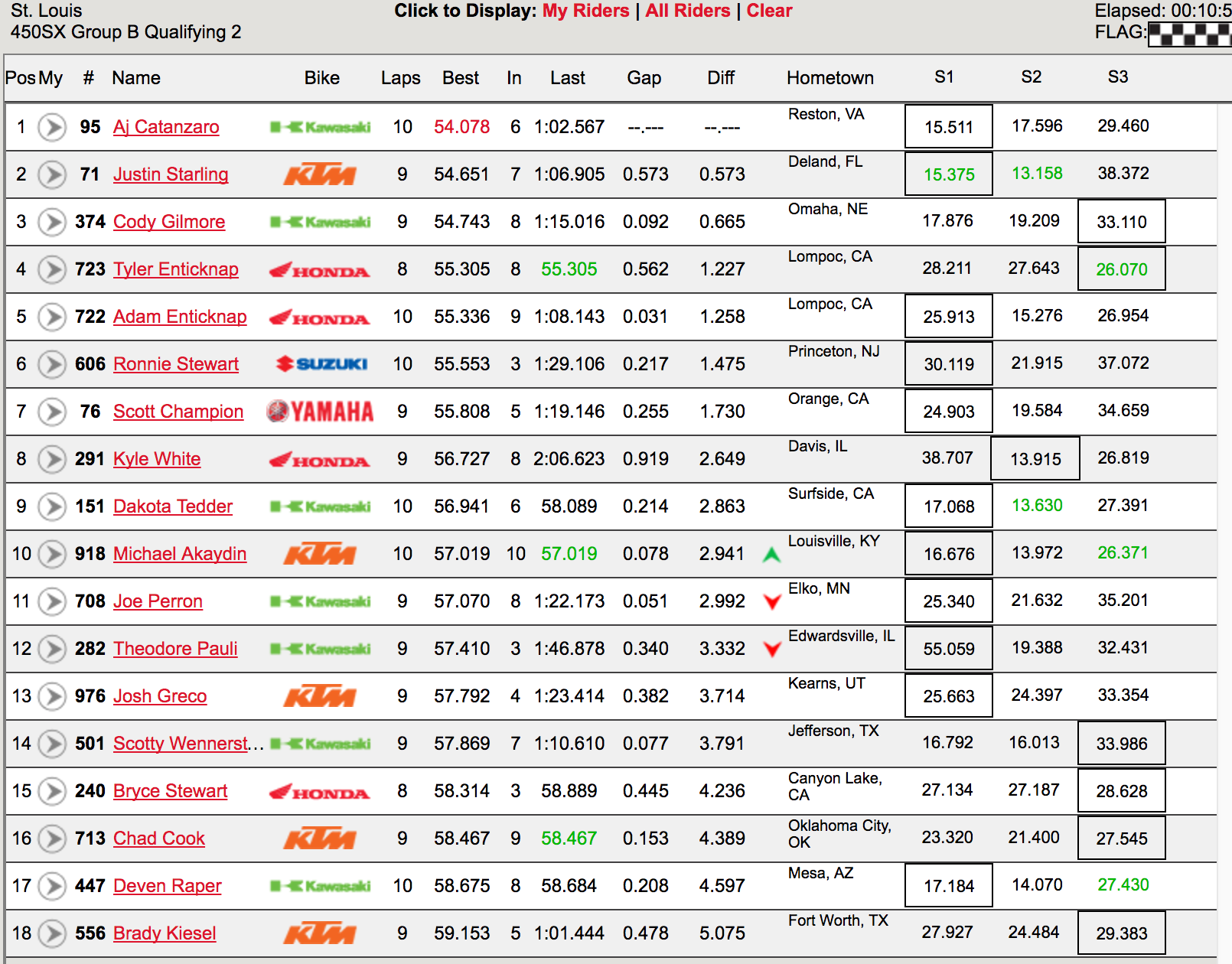 Heat Races
250 Heat 1: Zach Osborne is supposedly sick, but we talked to him this morning and again after practice and he seemed completely fine. He also took off with the win in this heat race with no issues. So far, so good for him. Jordon Smith started about fifth and worked his way through to second.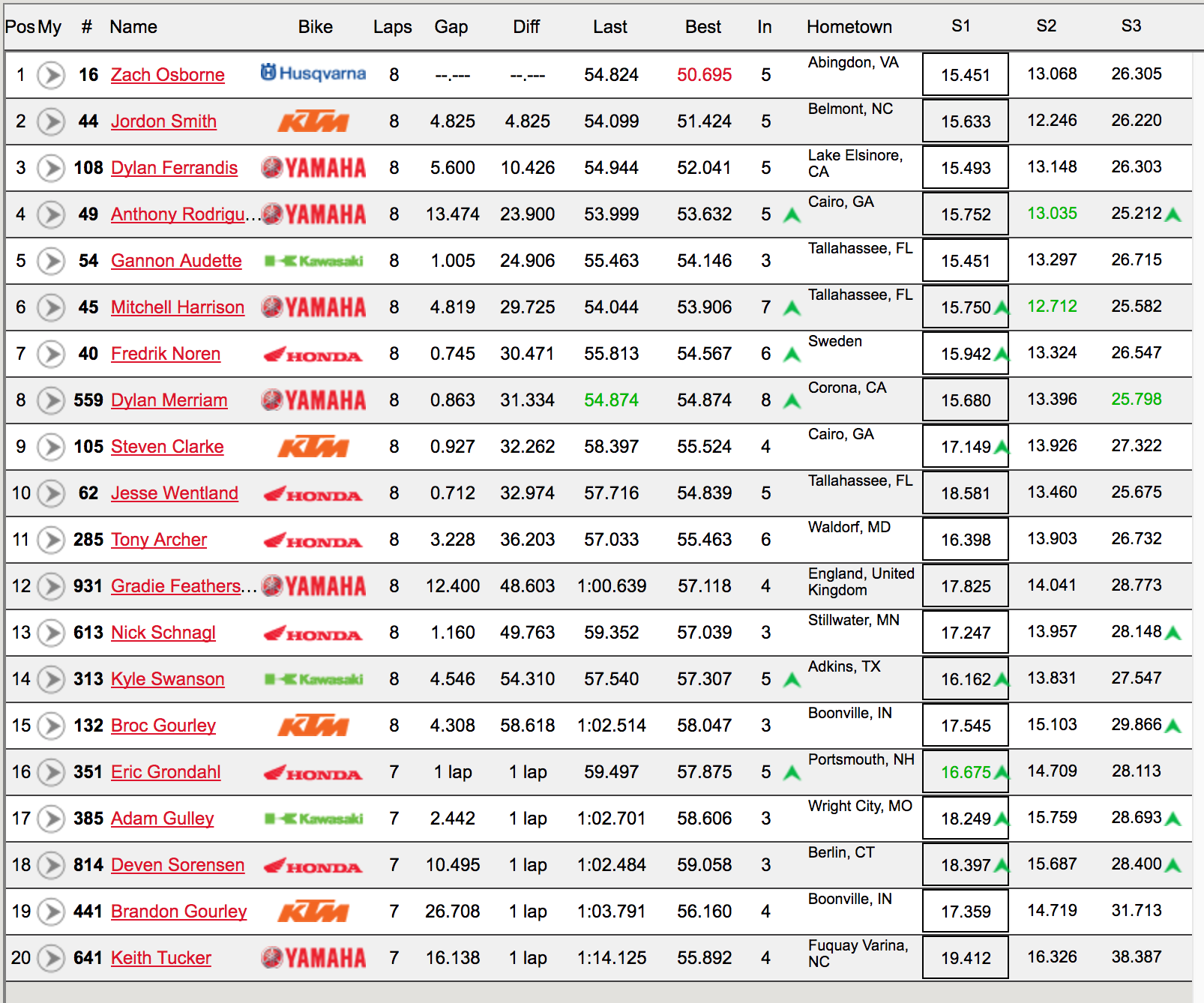 250 Heat 2: Dakota Alix led the field to turn one but went wide, Christian Craig dove underneath to grab the lead. Joey Savatgy had a better line than Craig through the rhythm lane and got past him in turn two. Craig kept the heat on while Adam Cianciarulo and Luke Renzland came through next. Kyle Cunningham then won a huge battle with Alix to take fifth.
Savatgy pulled a small gap on Craig at the finish, but they both pulled a big gap on Cianciarulo.
Jerry Robin was in a transfer spot but crashed out in the whoops with two laps to go. Then on the last lap Lorenzo Locurcio and Henry Miller came together, Cody Williams went around them to get to 10th, then got around John Short to take the final transfer spot. Short was…Just Short.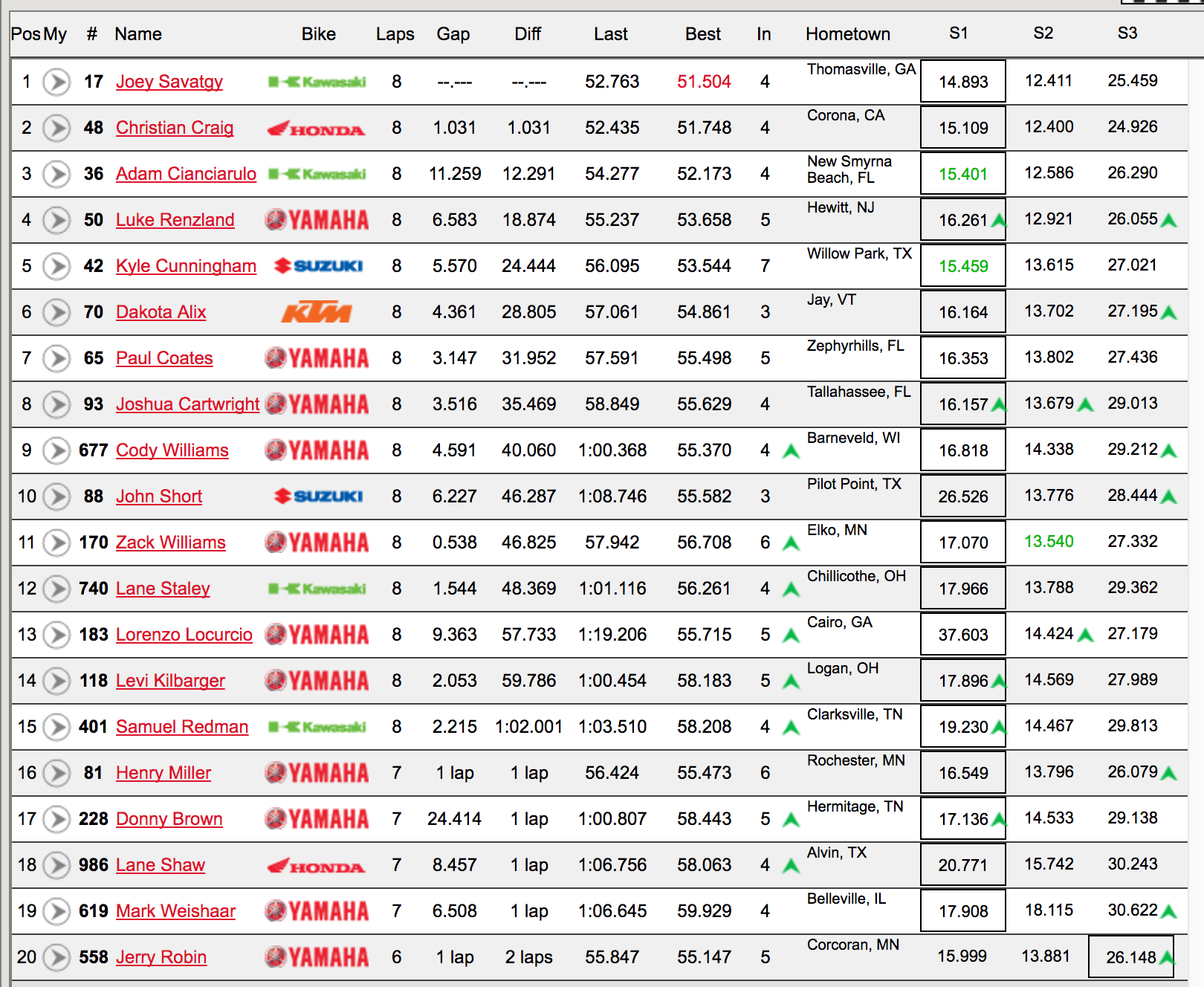 450 Heat 1: Ryan Dungey bulled his way through some first-turn contact to emerge with the lead, but Chad Reed had a better line through the rhythm lane—like Savatgy in the previous heat—and got side by side with the champion in the next turn, setting a drag race through the whoops. And Reed won that drag race to take the lead, sending the crowd into a frenzy. They were going crazy! For a few laps Reed even pulled a gap, while Dungey came under fire from his teammate Marvin Musquin. Twice, Musquin showed Dungey a wheel, but Dungey held him at bay, then found his groove and started going after Reed again for the lead. Dungey tried a pass and Reed got aggressive to hold him off, cueing more cheers. Dungey tried again, Reed held him again, then Dungey finally found a line after the finish and got around him. The fans were going nuts for this battle. Musquin then followed Dungey through to get Reed, and closed back up at the end. Dungey managed to hold on for the win.
Behind this, Cooper Webb held the final transfer spot early, but Heat Race Mookie (Malcolm Stewart) showed his speed again and made the pass. Dean Wilson put in a hard charge at the end to close in, but Heat Race Mookie would not be denied the final spot.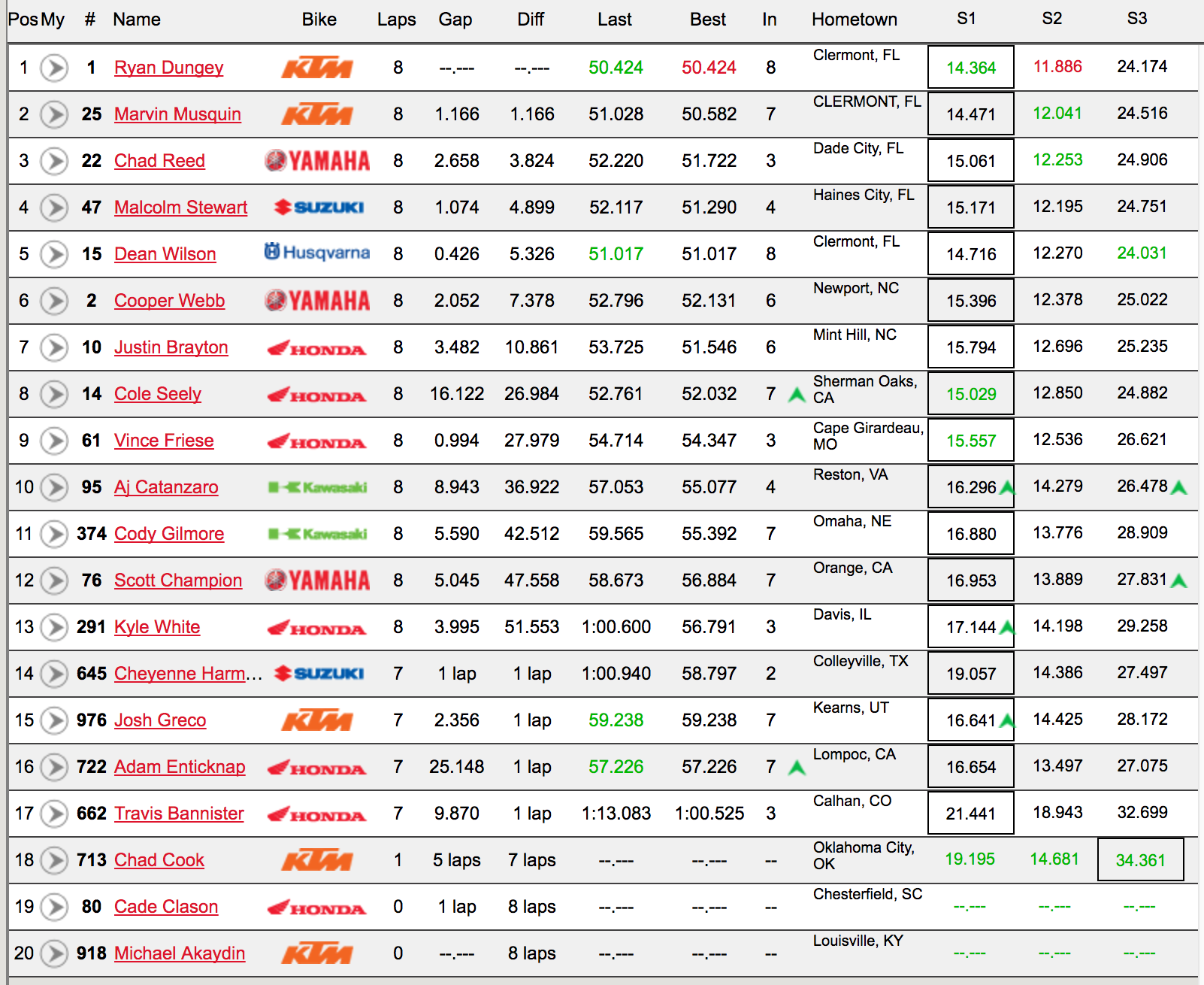 450 Heat 2: Jason Anderson emerged with the lead over Davi Millsaps, they stayed close early before Anderson opened a small gap. Then came a torrid battle, with Blake Baggett, Justin Barcia and Josh Grant getting into close formation behind Millsaps. Eli Tomac, who started about eighth, joined the party, putting second through sixth all in one close battle. Tomac had to go to the semi last week, and he wasn't about to do it again. He went into Beast Mode and quadded past his teammate Grant in the rhythm lane after the start, then did the same thing to Barcia the next lap. With that he was into the fourth and final transfer spot. Up front, Anderson sailed to the win with Millsaps Baggett and Tomac next. Late in the race, Grant slipped past Barcia for fifth.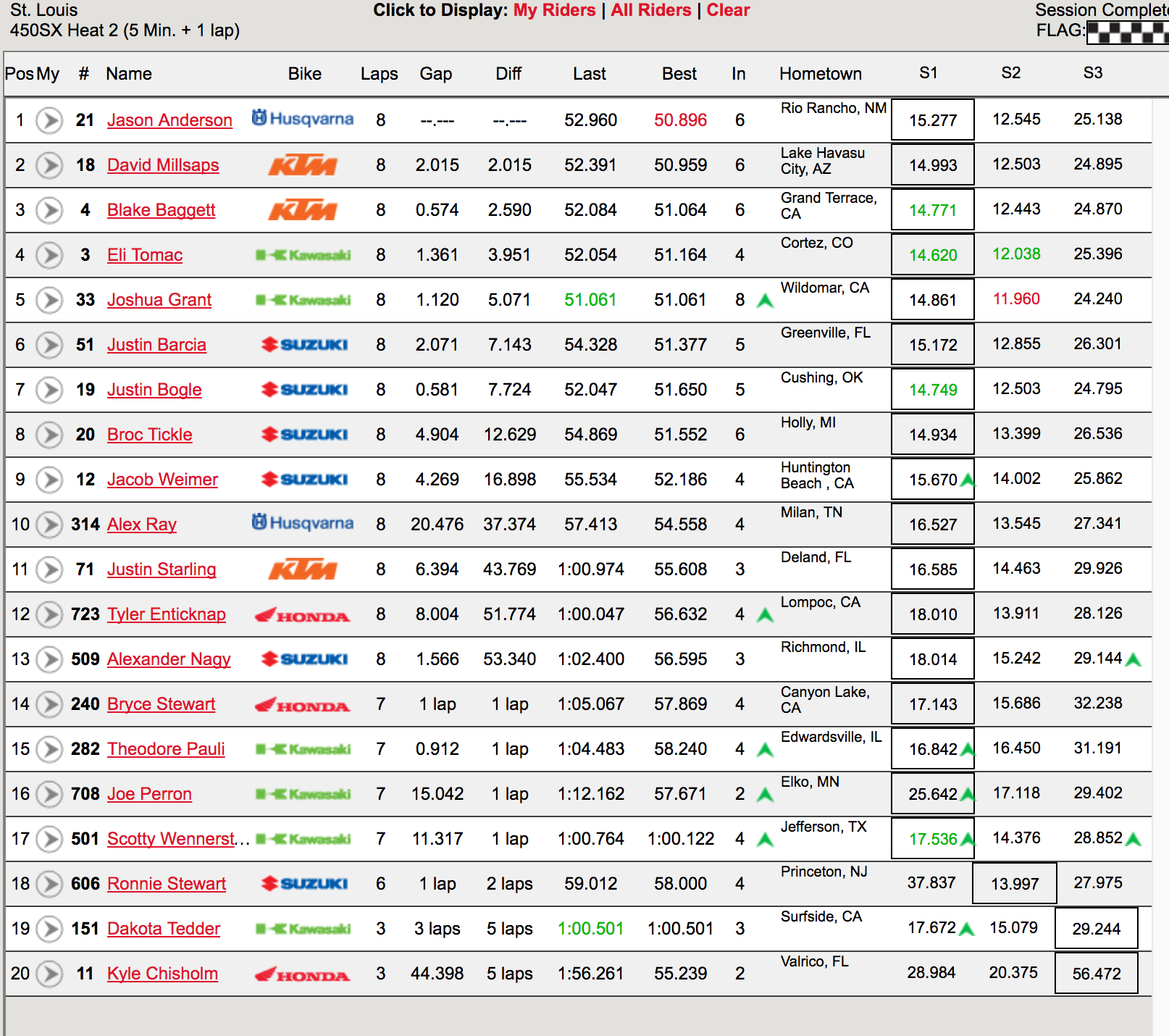 Semis and LCQs
250 LCQ: Jesse Wentland got out front early in this 250LCQ, while approximately 72 riders went down in a pileup after the whoops. Gradie Featherstone and Lorenzo Lucurcio were solid in second and third, but then John Short and Henry Miller, who both just missed making it through the heat race, battled for the final transfer. Short crashed, and Jerry Robin snuck through. Robin kept charging. Miller passed Featherstone for third, which left Featherstone clinging to the final spot. Robin struck, with a big move on the last lap to take the final transfer spot.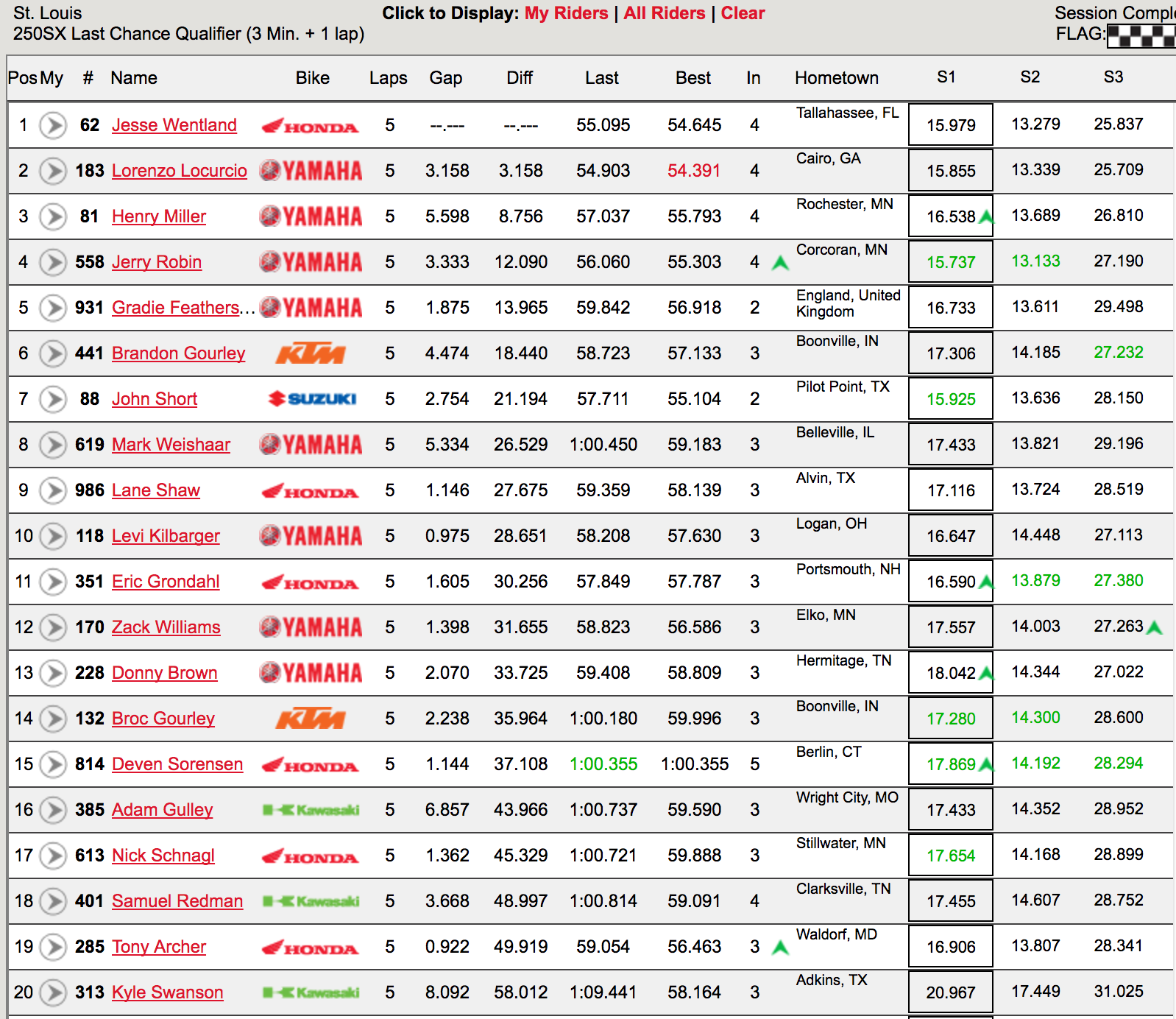 450 Semi 1: AJ Catanzaro grabbed the holeshot in this one but factory riders were everywhere, and soon Cooper Webb gobbled him up. Cole Seely went along with him, and Webb and Seely then hooked up for a tremendous battle that would go all the way to the finish.
Behind them, Justin Barcia tried the typical Bam Bam block pass on Alex Ray, it didn't work and they both went down. But Barcia was able to recover and remount for fifth, and then keep going to snag fourth. Broc Tickle rode a quiet ride ahead of that for third. Catanzaro took the final spot, while Scott Champion was in the top five at one point but got shuffled back.
Meanwhile Seely kept the heat on Webb, and then pulled a super slick pass in the 180 near the finish—one of the first passes we've seen in that section.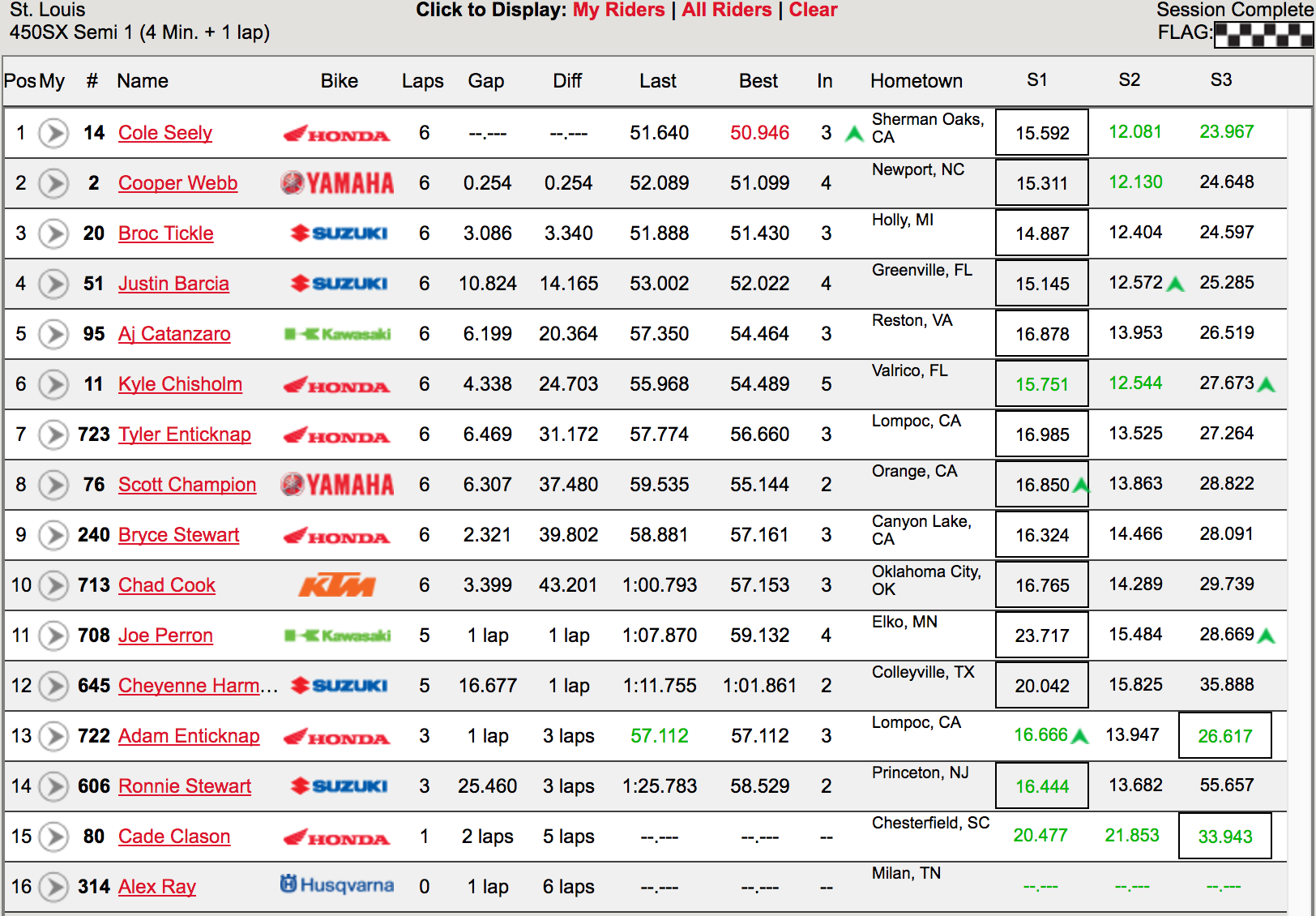 450 Semi 1: Justin Bogle and Jake Weimer battled off the start, Bogle pulled the lead. Josh Grant has looked strong tonight, though, and used the same big leap through the rhythm that his teammate Tomac used in the heat race to pass Weimer. Grant then closed on Bogle, but couldn't pull the trigger. Bogle took the win. Justin Brayton won a battle with his teammate Vince Friese for fourth. Dean Wilson went down on the first lap, but charged all the way back to sixth. He ran out of time though and will be LCQ bound.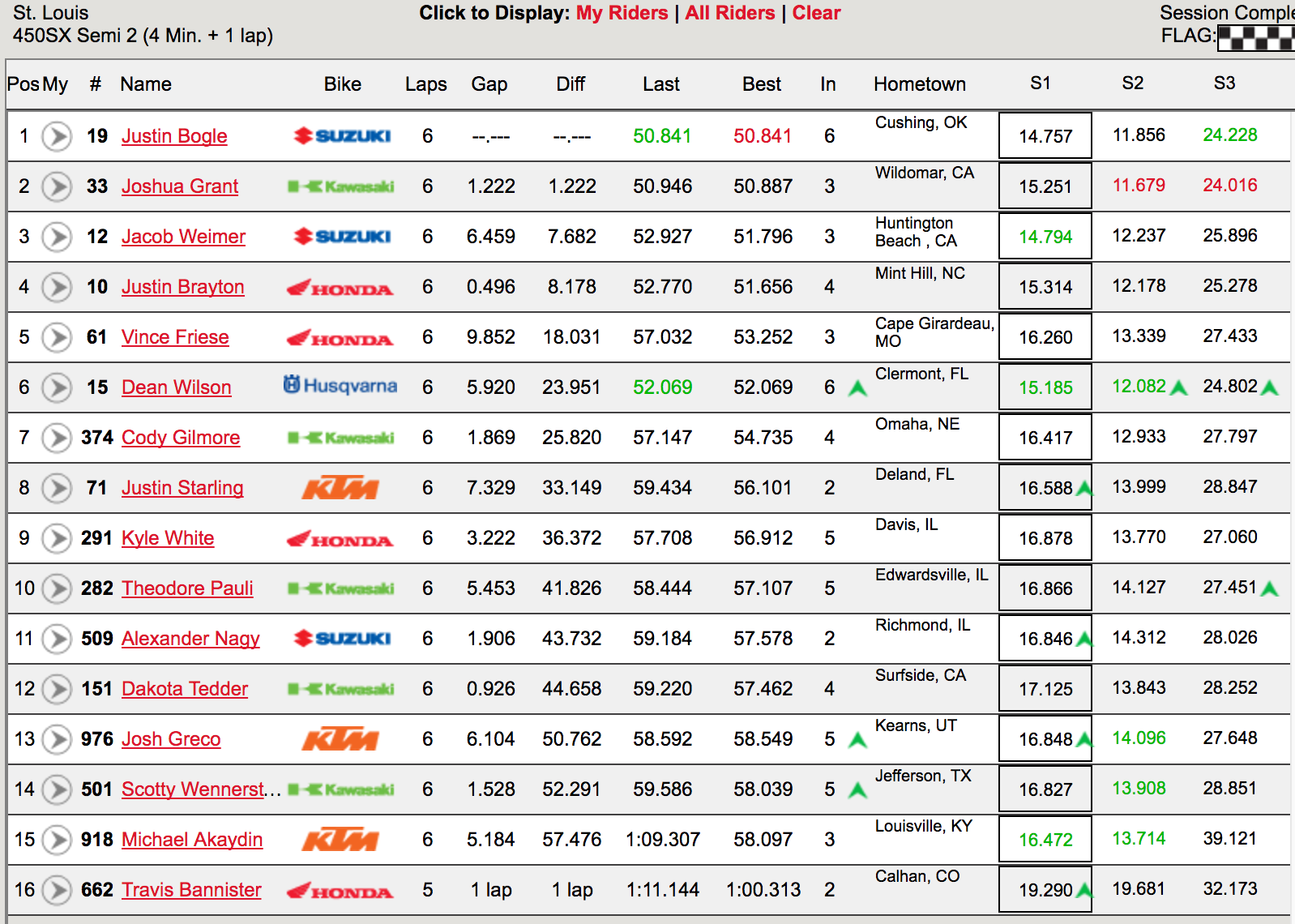 450 LCQ: Ouch. Cody Gilmore got caught up coming out of the gate and was ripped from his bike, and then his Kawasaki went flipping down the start straight. The race was red flagged.
Off the restart, Dean Wilson controlled the lead, but things got crazy—as always. Ronnie Stewart took Dakota Tedder out, then washed out by himself half a lap later. This left "Bubba" Pauli in second over Alex Ray and Kyle White, but Kyle Chisholm wanted to win the battle of the Kyles and get the final transfer. Then out of nowhere on the last lap Pauli went down! This left the order as Wilson, Ray, Chisholm and White, but on the last lap Scott Champion caught White and went for the block pass and the final transfer. He had the room, but lost the front end and went down. White hung on for the final spot with Tyler Enticknap Just Short.
250 Main Event
Dakota Alix and Joey Savatgy battled for the lead off the start, Alix grabbed the holeshot officially but Savatgy was quickly past him and pulling away. By the end of the first lap, last week's winner Jordon Smith took over second ahead of Gannon Audette, then AC and Zach. On lap three, Cianciarulo bobbled and lost spots to Osborne and Dylan Ferrandis. Two laps later, Osborne took the long away around with a series out outside lines to pass Audette for third, but by then he found himself seven seconds down on Savatgy and about five behind Smith.
Savatgy looked to have it under control, but then halfway through, he went off the track! This put Smith into the lead and the battle was on, with Osborne also getting close in third. The three got close for a lap, but then Osborne had a bad lap, and Savatgy closed back in on Smith with six minutes to go. Savatgy was doing his damage in the whoops, getting away from Osborne slightly and closing to Smith's rear fender.
With five minutes to go, just 2.3 seconds separated the leader, Smith, from third place Osborne with Savatgy trying to find a way into the lead. Then Savatgy got held up by lapped rider Paul Coates, which let Smith get back away. Behind this, Ferrandis and Craig made their way around Cianciarulo.
In the latter stages, Osborne started feeling it and was all over Savatgy. The trio kept closing and the action got more and more tense, and Smith ended up making it to the finish with 14 seconds left on the clock, meaning there were two laps to go when there could have easily been one. This left two more nail-biting, close laps with championship points on the line. On the last lap, Savatgy got right to Smith, and got a good drive in the whoops, showing the KTM rider a wheel—Savatgy got to the inside, but wasn't quite close enough to make a pass, and Smith escaped. In the final turn, Savatgy showed him a wheel again, but again was a few inches short of making a pass, and Smith held on to win his second race in a row. Savatgy was second and Osborne fell off the pace slightly on the last two laps to net third.
You know what they say: once you win the first one, the rest come easy. With back-to-back wins, Smith is down six to Savatgy in the standings, with Osborne back 12 and Cianciarulo 18.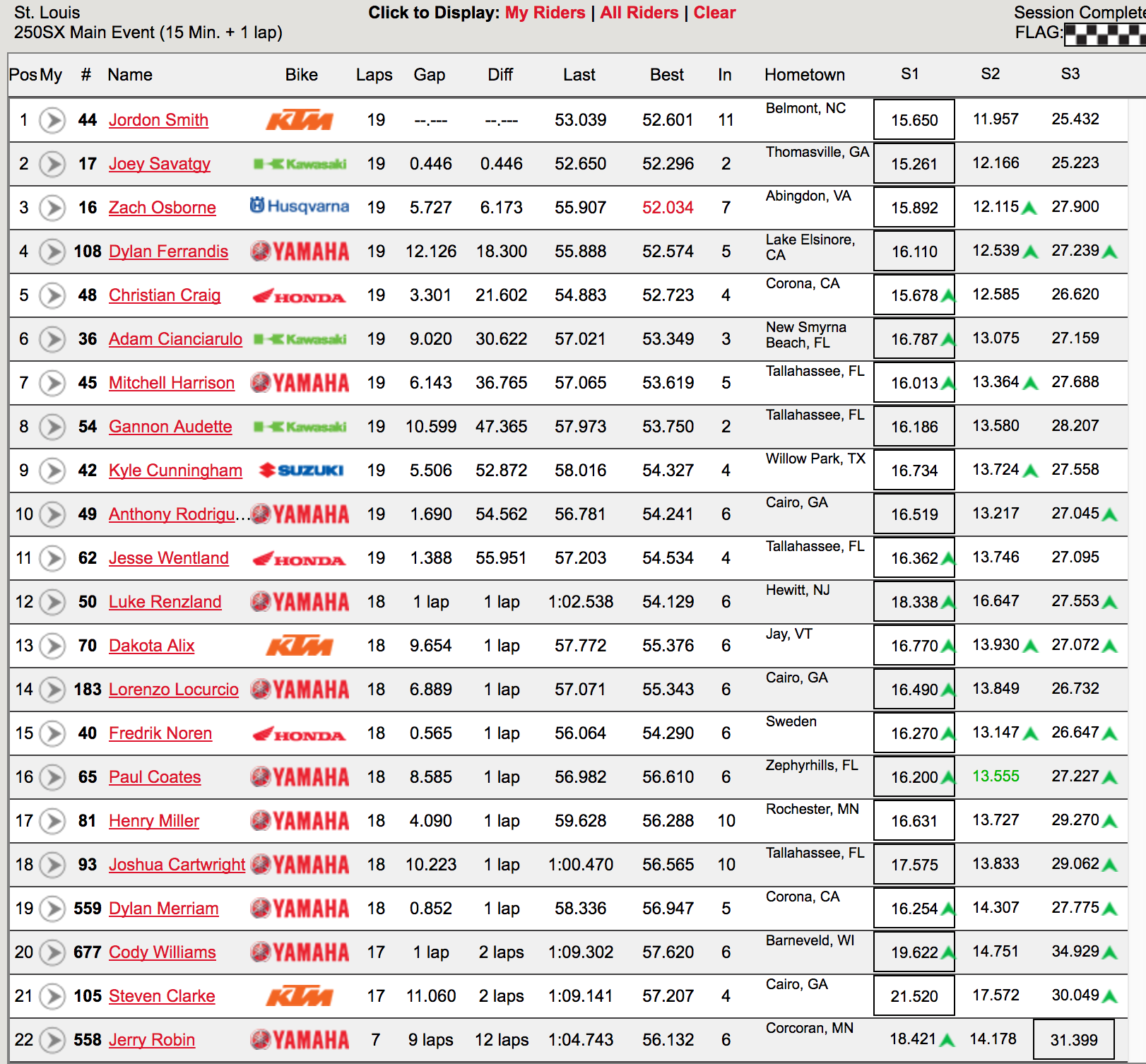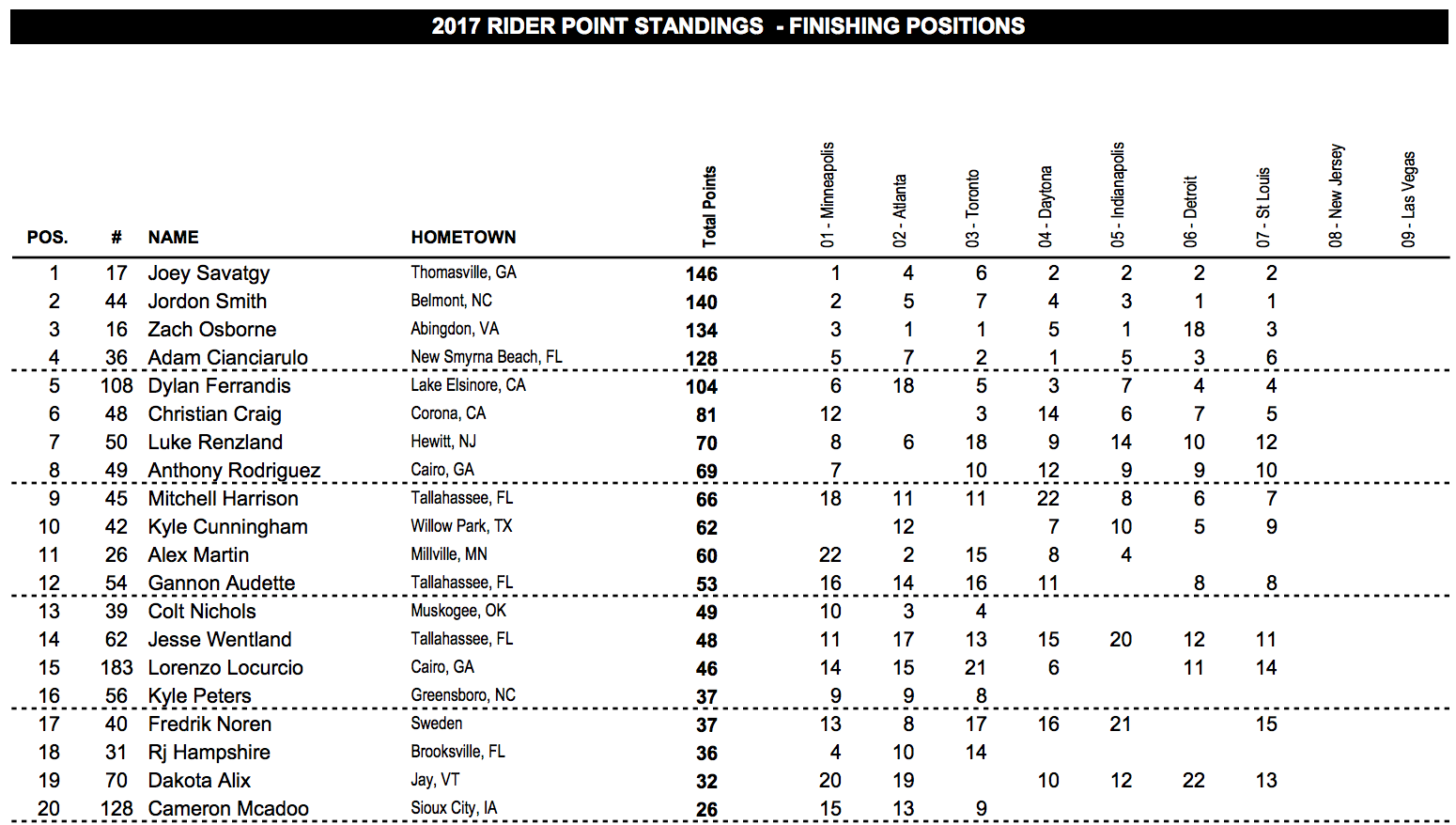 450 Main Event
The fans came to life immediately as Ryan Dungey and Eli Tomac charged toward turn one together. Dungey emerged with the holeshot, but Tomac got inside through the whoops and threw in a block pass to take the lead. Dungey and Marvin Musquin kept Tomac honest for a short bit, then Eli started moving out.
Behind them, Jason Anderson finally got a good start and ran fourth, not quite matching his training partners but pulling away from everyone else. Then came a gnarly battle with Davi Millsaps, Malcolm Stewart, Cole Seely, Josh Grant, Justin Bogle and more, eventually joined by Blake Baggett, who started way back. Seely busted through that group by the halfway mark to get to fifth.
Around the halfway mark, Tomac had a lead of 2.6 seconds, but Dungey started making a run. As the clock struck 10 minutes and a lap to go, Dungey shaved off four tenths, cutting the gap down to about two seconds. The next lap he did it again, taking it down to 1.6, plus, you could see Dungey looking ahead on the big triple, checking his progress. The next lap, Tomac responded to add three tenths back. Meanwhile, Millsaps fell while running sixth.
Then they hit lapped traffic, which could have worked to Dungey's advantage because Tomac hit them first. But Chad Reed maintained the race line, and Dungey struggled to get by him. Tomac started to pull away. It took Dungey nearly four laps to get around Reed and put him a lap down. By then, Tomac was gone.
Down the stretch everyone was struggling, well, except Tomac. Dungey made a bunch of mistakes, Marvin made a bunch of mistakes, Anderson was solid in fourth and Malcolm Stewart was putting in his best 450 race yet in fifth. Then Josh Grant got around him, and then Malcolm fell on the last lap, dropping to ninth. Cole Seely was sixth, Blake Baggett seventh, Broc Tickle eighth, then Stewart and Justin Brayton.