St. Louis, MO
St. Louis
Monster Energy AMA Supercross Championship
St. Louis. The Lou. STL. Whatever you want to call it, St. Louis is a mainstay on the Monster Energy Supercross schedule. Many people consider St. Louis' dirt the best of the season and as someone who has raced this event more than several times, I would agree. It boasts ample traction, but doesn't suffer the overabundance of ruts that other rounds do. It just might be the ultimate combination of traction and consistency.
St. Louis has been in the news for some less than optimal reasons in recent years, but the downtown area is actually pretty nice. There are several riverboat casinos to stimulate the local economy and if that doesn't float your boat, the St. Louis Blues and St. Louis Cardinals are only a few steps away for your viewing pleasure. The Rams may have left the building, but St. Louis Supercross fans come out in droves to support the sport and this year will be no different.
The track this year is a bit creative compared to what we usually see. The over/under bridge is back, much to the chagrin of Steve Matthes. As for the start, it has a single jump halfway down, which may seem trivial. It really does make an impact though, as the unsettling of the suspension and hard braking on landing can really shake up the first turn dynamic. Most riders try to accelerate hard over that single jump and then time their braking upon landing but as with any jump, riders move around and may move right into the line of another rider. Positioning for the long 180-degree first turn could come down to how fast riders can get over that single and either continue to accelerate or spot their braking point. The outside riders will push deep into the turn and hope to carry all of that speed around while the inside riders will brake as soon as they land, hugging the inside and hoping to avoid trouble.
The next rhythm section is fairly easy, but everything goes out the window on the first lap. Anticipating what option the riders in front of you will jump is a huge reason for first lap jitters. Those decisions are made in a split second and both success and safety hinge on getting it right. Most laps will end up being a combo of jumping over the tabletops to stay low and fast. The next turn leads into the first set of whoops. St. Louis whoops typically deteriorate as the night goes on and for a rider like Marvin Musquin, this is music to his ears. Blitzing is still possible but the unevenness makes it tougher to push the speed envelope. Look for blitzing to win the day early but by main event time, jumping might be the optimal choice.
There is a 180 following the whoops that might be a passing opportunity, just before a standard supercross triple. Upon landing, there is a fast 90-degree left that crosses the start straight and mechanics' area. Riders will jump into and out of an off-camber section, reminiscent of St. Louis circa 2007 (which led to a Reed/Stewart dust up). The inside and outside will be close to the same speed ideally, creating passing opportunities. The bridge is next with a slow, pop-up type jump setting riders onto the landing before the finish line jump which this week is a triple instead of the standard double. There's a 90-degree left after the finish and riders will be pressed to triple onto a tabletop out of said turn. It's possible that the inside will become the race line but if riders can find a way to triple-on/over, it will undoubtedly be the fast line.
The next 180 right leads into back-to-back dragon's back sections, similar to Oakland and Minneapolis. Blitzing up and off of these with speed will be the ideal approach although difficult to execute. Getting over the second to last jump and singling into the turn will be the optimal choice. There are several similarly sized single jumps following the next 90-degree right. Riders will try to piece these together three at a time. Practice will see several different options attempted in order to find the best route. Tripling in some fashion will rule the day. That puts riders back under the bridge and onto the start straight, finishing a lap in the STL.
Questions I Want Answered:
Can Eli Tomac be stopped?
Who wants this 250SX East Region title?
Can Alex Martin sit down yet?
Does KTM engage in team tactics down the stretch?
Who's Hot:
Eli Tomac. This is an easy one.
Marvin Musquin was second again last week, much to the displeasure of anyone wearing a Ryan Dungey t-shirt.
Jordon Smith won his first ever 250 supercross and climbed into this title fight to boot.
The FIM's John Gallagher handed out a stiff penalty to Christian Craig in Detroit, putting himself squarely into the limelight.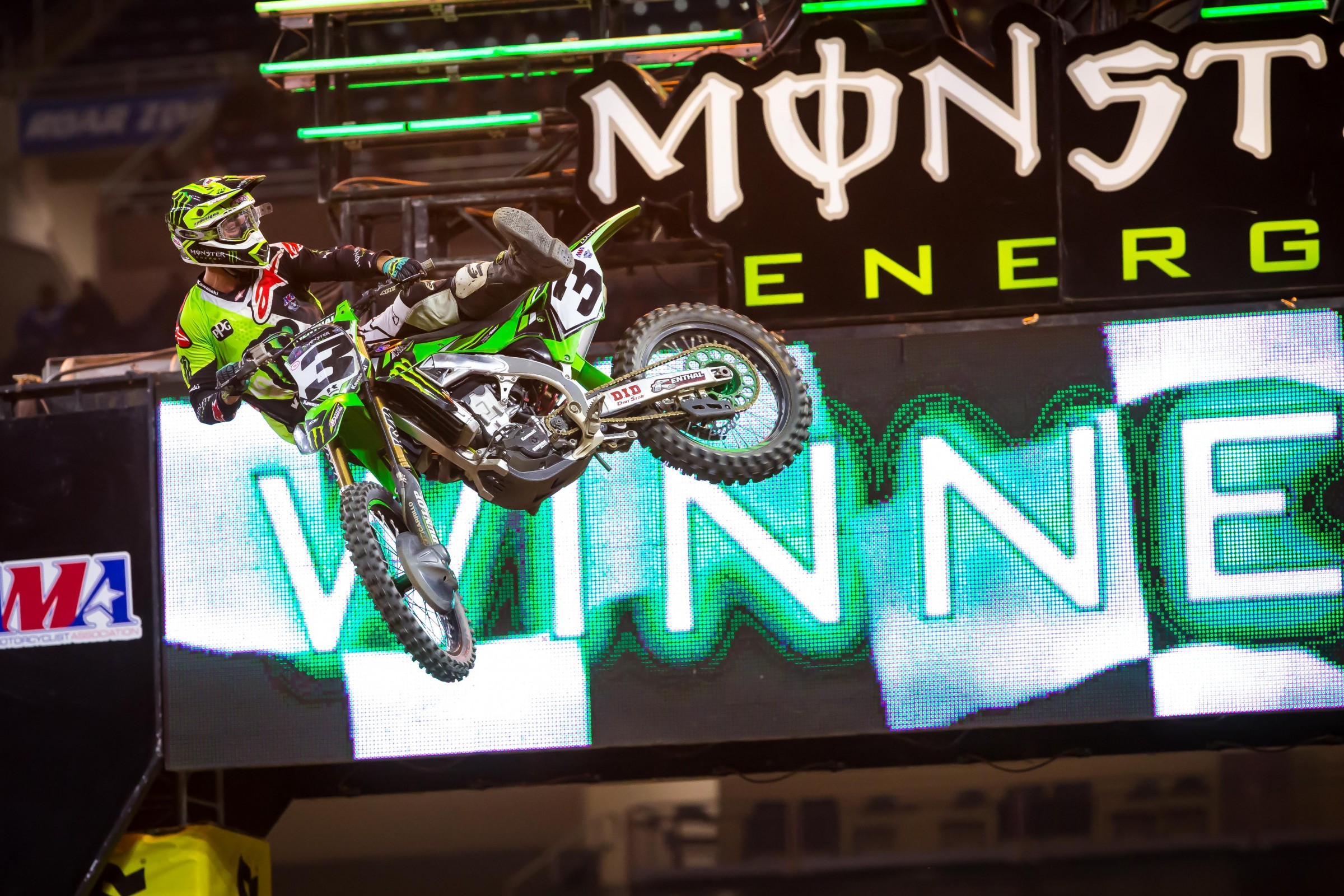 Who's Not:
Ryan Dungey is losing points far quicker than he would prefer, putting this 2017 SX title in jeopardy. He needs to win and win now.
Zach Osborne suffered a bike issue after being involved in a first turn pile-up, losing a boatload of points in the process. He went from the odds-on favorite to third in points with one ill-fated left hand turn.
Christian Craig and Alex Martin had a run-in, leaving Alex unable to race Detroit and Christian with the last gate pick and $3000 poorer. It was a bad deal for everyone involved.
Bold Predictions:
KTM and sister company Husqvarna circle the wagons, aligning Ryan Dungey, Marvin Musquin, Blake Baggett, Davi Millsaps, Jason Anderson, Dean Wilson, and Trey Canard in a united front against Eli Tomac. Eli still wins.
Fireworks reign in practice once again in St. Louis. Several take-outs occur amongst the point leaders spurring John Gallagher into action. In an escalation of penalties, the FIM forces the offenders to pay a million dollars in gold bullion and accept an "FIM" cattle brand.
Tomac wins yet again with Dunge finishing second and holding a four-point lead leaving Missouri.
Wacko Zacho wins St. Louis and cuts the lead to single digits.
With Christian Craig struggling, RJ Hampshire hurt, Chase Sexton hurt, and Jeremy Martin's 250 struggles, Mike LaRocco transforms into the Hulk and smashes a Honda CRF250R into bits.
My Picks:
250
Zach Osborne
Adam Cianciarulo
Dylan Ferrandis
450
Eli Tomac
Ryan Dungey
Marvin Musquin