St. Louis, MO
St. Louis
Monster Energy AMA Supercross Championship
450SX
Colton Aeck – Back, Ribs, Shoulder
Comment: Aeck suffered two fractured vertebrae, some broken ribs, and a broken shoulder in a horrific crash in Arlington. Road 2 Recovery has set up an account to help with Aeck's medical costs here.
Jimmy Albertson - Various
Comment: Albertson had a bad crash in Daytona and incurred a long list of injuries including: fracture of the manubrium and body of the sternum (posteriorly displaced by 1cm), fractured T5 through T7 vertebrae, compression of the T4 through T6, epidural hematoma at T5 (epidural space is the outermost part of the spinal canal), bilateral patchy lung contusions, and a left metacarpal fracture. Albertson had surgery in Daytona and is back home in Oklahoma, where he is expected to make a full recovery. If you wish to make a donation to Albertson via Road 2 Recovery, go here.
Mike Alessi -- Collarbone
The 800 crashed on press day (Friday) before the race in St. Louis and broke his collarbone. The break is clean and he will be healed up in a few weeks, but not in time to return to supercross this year.
Trey Canard - Virus
Comment: Canard will miss the last five rounds of Monster Energy Supercross due to a virus. He will return for the opening round of Lucas Oil Pro Motocross.
Weston Peick – Kidney and Wrist
Comment: Peick is working toward being ready for the beginning of Lucas Oil Pro Motocross.
Dustin Pipes – Collarbone
Comment: Pipes will return for Lucas Oil Pro Motocross after breaking his collarbone in Detroit.
Comment: Roczen is out indefinitely after a big crash at Anaheim 2 left him with injuries to his wrist, elbow, and radius (forearm). We recently talked with Ken at his home in Florida and got an update on his recovery.
250SX
Dakota Alix – Ankle
Comment: Alix suffered a high ankle sprain in the big pileup at the beginning of the 250SX main in Detroit. He's planning on racing in St. Louis, but a final decision won't be made until Friday.
Matt Bisceglia – Foot/Leg
Comment: Bisceglia suffered a broken his leg while practicing at Glen Helen. There is no timetable on his return.
Benny Bloss – Shoulder/Humerus
Comment: Bloss is expected to return for Lucas Oil Pro Motocross after dislocating his shoulder and fracturing his humerus bone in Minneapolis.
Tyler Bowers – Femur
Comment: Bowers is working toward being ready for next weekend in Seattle after fracturing his right femur in Glendale.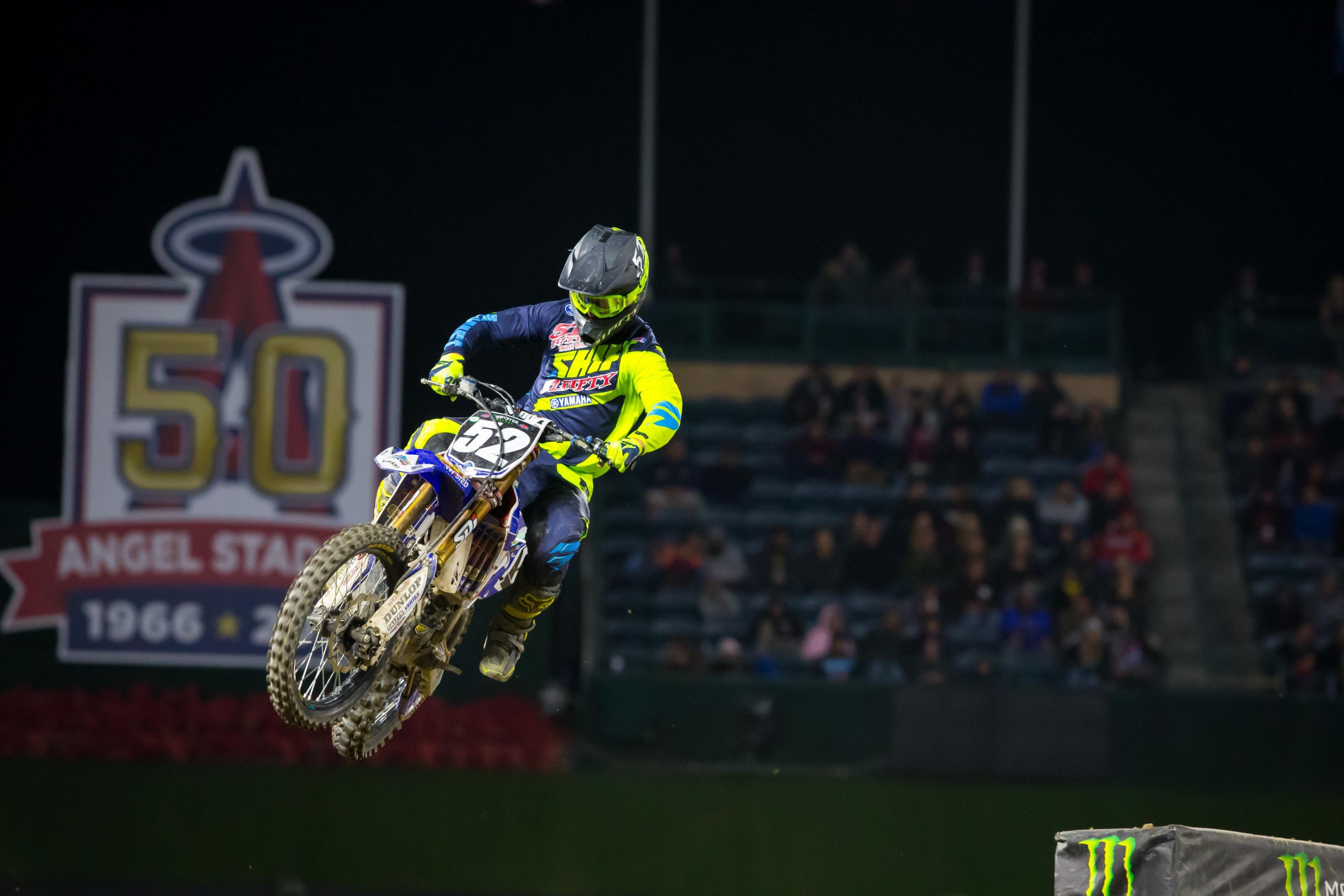 Nick Gaines – Collarbone
Comment: Gaines will return for the last two rounds of the 250SX East Region after breaking his collarbone in Minneapolis.
RJ Hampshire – Tib/Fib
Comment: After fracturing his tib/fib in Toronto, Hampshire is expected to be ready for Lucas Oil Pro Motocross.
Logan Karnow – Back
Comment: Karnow crashed during qualifying in Detroit and fractured his T1-T3. He had surgery and is out indefinitely.
Alex Martin – Back
Comment: Martin had a bad crash when Christian Craig hit him during practice in Detroit. He sat that night out and will miss St. Louis as well.
Cameron McAdoo - Hand
Comment: McAdoo suffered a cut on his hand prior to Daytona and will return to racing in East Rutherford.
Colt Nichols – Knee/Tibia
Comment: Nichols will miss the rest of Monster Energy Supercross after tearing the MCL off his tibia and suffered a small fracture to the tibia while practicing.
Phil Nicoletti – Ankle/Heel/Fibula
Comment: Nicoletti dislocated his ankle, shattered his heel, and fractured his lower fibula on press day in Arlington. He's in therapy but is unable to put any weight on his heel for another month. The team says he may be able to return to racing toward the end of Lucas Oil Pro Motocross.
Trevor Reis – Knee and Foot
Comment: Reis is out for the season with a torn ACL and MCL.
Chase Sexton – Femur
Comment: Sexton broke his femur during practice in Atlanta and will miss the rest of Monster Energy Supercross.
Bradley Taft – Concussion
Comment: Taft is expected back for Lucas Oil Pro Motocross after suffering a concussion before A2.