Indianapolis, IN
Indianapolis
Monster Energy AMA Supercross Championship
On a Monday morning at Daytona International Speedway last year, I noticed Smartop/MotoConcepts team manager Tony Alessi. This was the Ricky Carmichael Daytona Amateur Supercross, and when you see Tony Alessi at a big amateur race, the memories come flooding back. So I started talking to him, and then the memories reached tsunami status:
"Yeah, so we're supporting a kid named McAdoo this weekend," he said. "Yesterday in the qualifiers, he beat that Forkner kid."
Yeah, okay Tony. "Believe the Hype" was back! Some unknown you just picked up beat Austin Forkner? I calmly walked away to get check the results from Sunday's heat races. And there it was. In a 250 Amateur All-Star heat race, Cameron McAdoo finished first, and Austin Forkner was fourth.
McAdoo was discovered—so to speak—by Mike Alessi, who was training at Club MX in South Carolina with McAdoo, and noted his skills. Tony came to watch him ride, and was impressed enough to offer some help at Daytona last year. In the main events at RCSX last year, McAdoo grabbed more good starts and did his best to fight off Forkner, and he came down with three second-place finishes in his races—250 A, Open Pro Sport, and Amateur All-Star. It was enough for Tony and team owner Mike Genova to offer him support for upcoming amateur races at Mammoth Mountain, the Rocky Mountain ATV/MC AMA Amateur National at Loretta Lynn Ranch, and the Monster Energy Cup. At Loretta's, McAdoo came into the week sporting an assortment of shoulder and rib injuries, but gutted out solid podium finishes, convincing Genova to give him a pro deal. McAdoo backed that up by winning the Amateur All-Stars race at the Monster Energy Cup. Only problem is that MotoConcepts doesn't really want to run a 250 operation.
"I genuinely believe the kid will be a superstar," says Genova. "We don't want to be a 250 team. But we promised the kid after he did good at Loretta's we would give him a supercross ride."
McAdoo's 15-13-9 finishes in his first three pro supercross races this year don't really tell the story. He's ridden well, and the stories of his work and determination behind the scenes are quite epic.
"I was happy with my progression, and that was my main goal as a rookie," says McAdoo. "I didn't want to be a one-race wonder. I just wanted to go into every weekend and make a little bit of progress, and that's what I did. I had a couple of rookie mistakes at round one, I crashed a couple times in the main, washed out in the corner. Round two I got a little bit better. And Toronto I didn't get the greatest start, but I got up in there and felt like I could mix it up with those guys a little longer. So I was happy with how it was going."
He's been very happy with the MotoConcepts team. But a year after his breakout ride in Daytona as an amateur, the World Center of Racing was going to be the site of more big news.
On Saturday morning during track walk, I asked McAdoo if he had a deal lined up yet to race Lucas Oil Pro Motocross (the Smartop/MotoConcepts Honda team only races Monster Energy Supercross). He said he didn't, but he was open to any options out there. He was literally minutes away from getting a great one.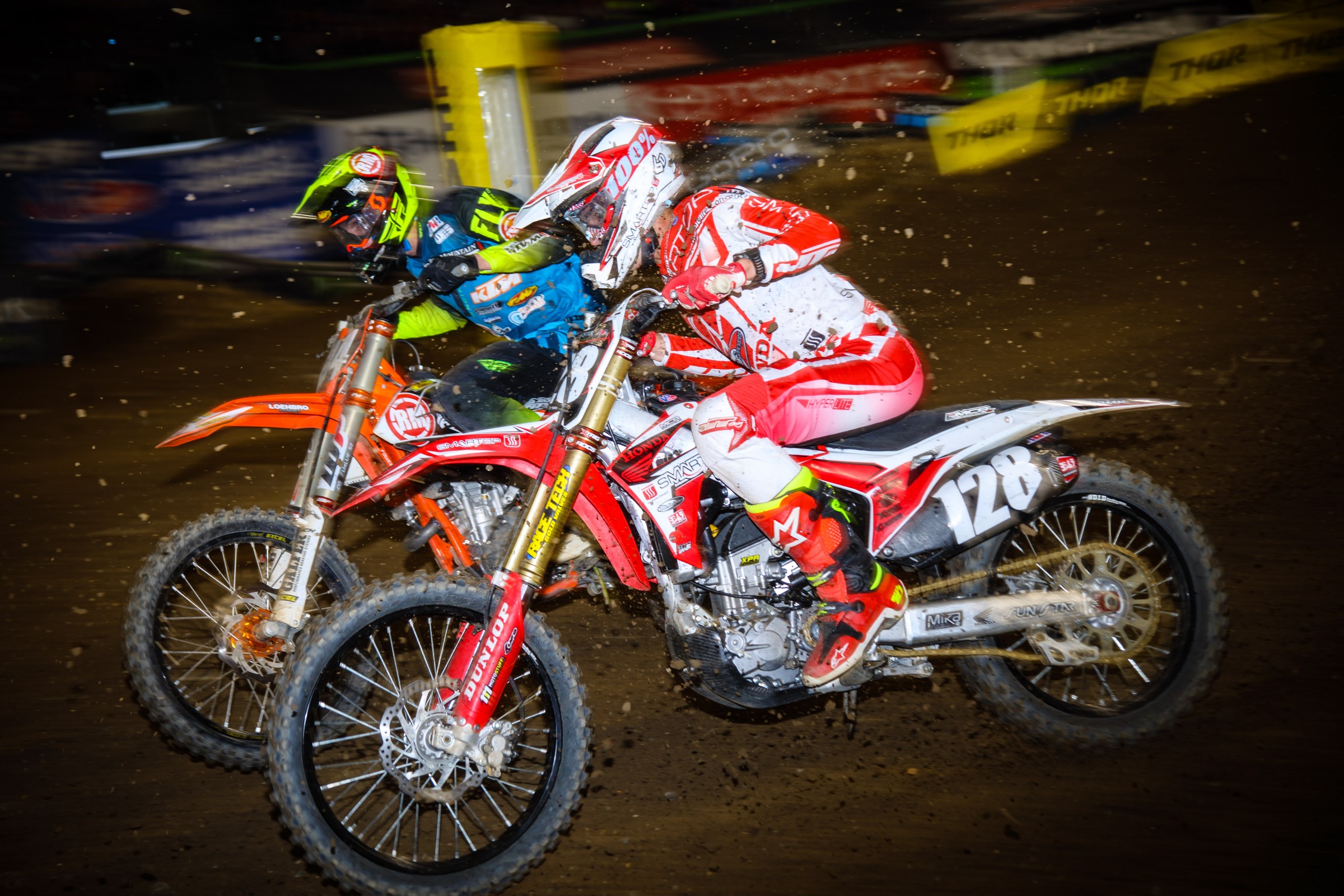 The GEICO Honda team has lost two 250SX East Region riders, RJ Hampshire and Chase Sexton, to broken legs. McAdoo caught the team's eye, and they approached Tony Alessi and Genova regarding him.
"They were interested in the kid for outdoors, which was great, but then they said they were also looking for someone for the rest of supercross, because they have sponsorship obligations to have riders out there," said Genova. "The problem is, if he wasn't able to ride for them in supercross, his motocross opportunity with them might have been out the door. So I said I'd think about it. I thought, Cameron is a really good kid and he's got a great opportunity here, he'll probably do good if he stays healthy. So I called those guys and I said, 'Here's the deal—I'm willing to give him up for this year's supercross on one condition—you hire him as a Factory Connection [GEICO Honda] factory pilot for all of 2018.' I brokered his salary for him. So that's the deal he got."
Genova still has Kyle Chisholm's 250SX West Region deal to honor for the rest of this season, but the goal all along has been to run a 450-only effort. "Me and Tony have talked about this a lot," says Genova. "We don't want to be seen as this potpourri effort. We want to focus on the 450 class, in the same way Factory Connection and GEICO wants to focus on 250s."
This move has actually gotten Genova and Alessi thinking about MotoConcepts' role in the pits.
"GEICO, let's say they build these 250 guys and then they point out or whatever, and they're just set free to find a 450 ride. So our presentation to Honda for 2018 will be, 'Listen instead of losing guys like [Justin] Bogle or Malcolm [Stewart] or someone like that, why can't we be the 450 feeder system for guys that want to get to the next level?' That's kind of the mindset we've been talking about," explains Genova.
MotoConcepts has been working hard to build its relationship with Honda, which includes some factory assistance for Justin Brayton's CRF450R. Perhaps this McAdoo trade, which helps Honda's factory 250 effort, strengthens that relationship further. Plus, hey, it's the right thing to do.
"Number one, feeling good is half the battle in this," says Genova. "We saw a kid that's really nice and very talented. We put him on good equipment. He blossomed, and with that blossom, he had the opportunity to go to the next level, which this obviously is the highest level. I wanted to continue to do right by the kid by helping him go to that level."
On Saturday morning at Daytona, McAdoo didn't know what the future held for him. In fact, he wasn't even sure he could race that day, because he had a small crash during the week and caught his hand on his footpeg, and suffered a cut. He tried to ride practice and realized it probably wasn't safe to try hanging on during a 15-lap main event. But between 10:30 a.m. and 10:30 p.m. everything would change.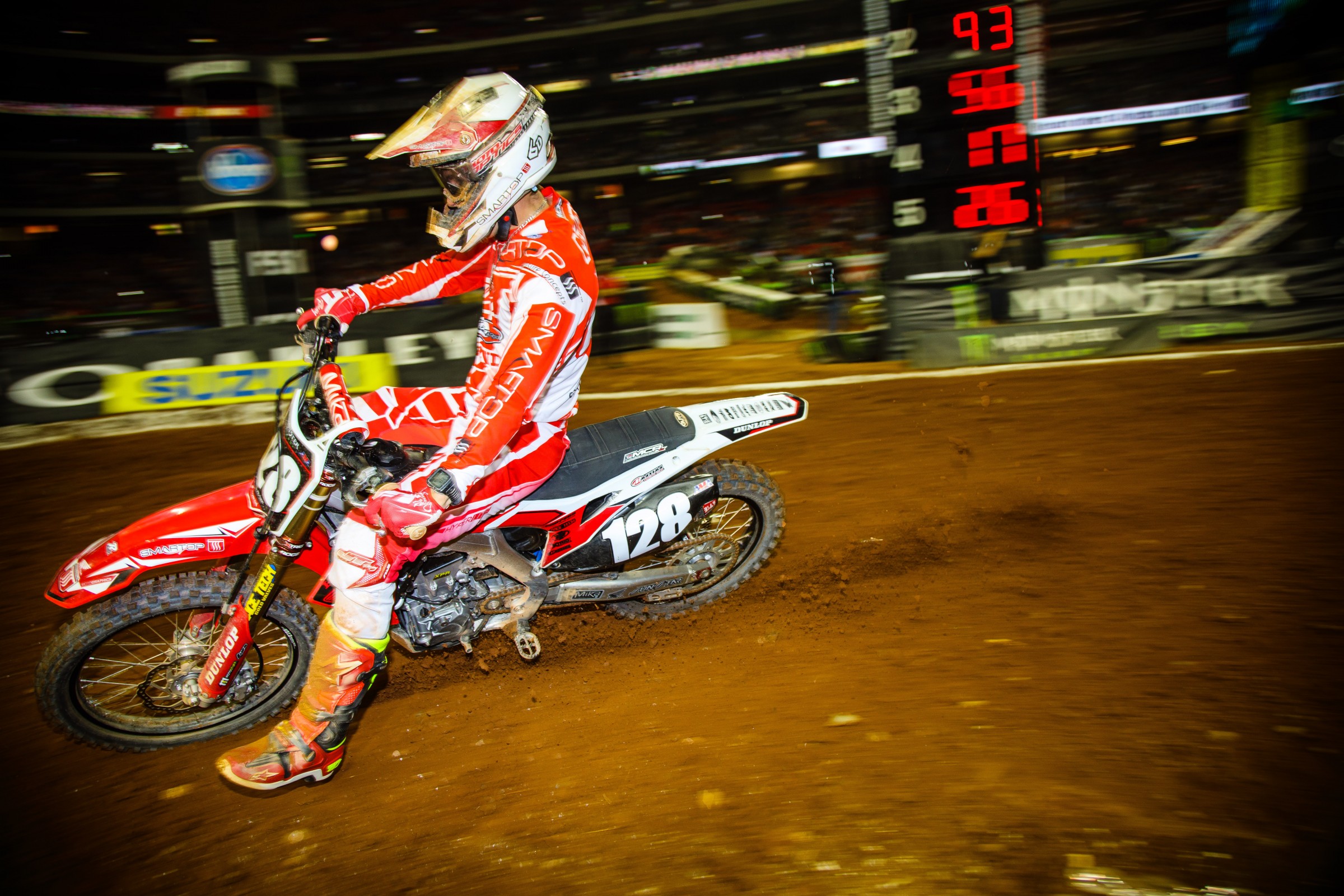 "I already did know they had contacted Tony, but I definitely didn't have a contract in my hand and I had actually never even met anyone on the team," says McAdoo. "Anything can change at that point; I wasn't sure about anything at all. It wasn't until after the 450 main event that I went over to the GEICO rig and I actually met [GEICO Honda team owner] Jeff Majkrzak for the first time."
McAdoo will skip this weekend's Indy Supercross to let his hand heal, then start testing and debut with the team in Detroit.
"It's pretty much always been my dream to get on a factory supported team, and it came so quickly," he says. "I can't thank Mike Genova and Tony Alessi enough for what they've done. My bikes were great, they were reliable, they had a good mechanic for me. If anyone asked me how it went over there, I would have nothing bad to say. They treat you like an actual person—no matter the result, they still love you. So it was really solid the whole time. Tony, any time I asked 'Can I improve this, can we change that?' he would do absolutely anything in his power to get it done—as much work as you put in, he will put in the same."
"We're good guys," says Genova. "Our riders aren't going without paychecks, our checks don't bounce, our mechanics are W2ed with health insurance, we eat at good restaurants and stay at the good hotels. We treat our people well. But just because Jeff Alessi does something stupid with a laser pointer, because Tony gets mad, or because Mike did something dumb and t-boned Broc Tickle, we're painted as these cartoon villains. But we're not. We've competed at a very high level for a long time. I'm glad we were able to help. Cameron is a good kid and he's earned the attention he's getting—I really think he has a chance to be 'a dude' and racing at the front."