Toronto, ON
Toronto
Monster Energy AMA Supercross Championship
By Jason Weigandt and Chase Stallo
The industry heard the RCH/Yoshimura Suzuki team was teetering on budget and sponsorship issues throughout the off-season, but riders Broc Tickle and Justin Bogle have repeatedly made it clear the team kept them insulated from that drama, and testing and riding went on as usual. "We had the best off-season we ever had," said Tickle, who has been with RCH Suzuki since the team began, to our Steve Matthes. "I came into Anaheim thinking I could be top five if I could just get a start. Nine races in, here we are."
Tickle ran second most of the race but began to tighten up, getting caught and passed by Ryan Dungey actually helped him. He explained that he had some sections where he was a little better than Dungey, but was struggling in others until Dungey passed him and he discovered some new lines. "From the second whoop section to the finish, I thought maybe I was a little better," said Tickle. "But from the finish to the whoop section he was better. I picked up on his line. If you could just do the single over table triple, you were good, and I caught onto his line there."
Last week in Atlanta Tickle and AutoTrader.com/JGR Suzuki's Justin Barcia were spotted battling it out, um, aggressively, for a few laps. They were back at in in the Toronto heat race. "Yeah it is what it is, we all know as a racer what he's [Barcia's] going to do on the track," said Tickle. "I passed him, squared down off of him, and I saw prior to that in the race how he was racing Baggett, just running him wide. We got into it after the race, he said something to me and I didn't like it. We had some words with the AMA and I ended up with last gate pick in the semi, it kind of fired me up. I mean, everyone sees it, it's not like anyone is blind to it."
To Barcia's credit, he returned to win his semi (and Tickle actually won the other, despite the bad gate pick) and grabbed ninth in the main, by far his best result of the year in his third race since returning from injury. Barcia took 17th and 16th at the previous two races.
As for Tickle's teammate, Justin Bogle, he finished 12th in the 450SX main event "Toronto was another week of mixed emotions for me," he said in an RCH Suzuki team statement. "There were certain points in the night where I felt like I was riding really well but there were certain times when I felt like I wasn't. Ultimately, it boiled down to getting a bad start and having another run-in mid-pack where some guys are a little out of control. I got shuffled back quite a ways, came back through and just missed a top 10. It's kind of a bummer because I'm improving during the week. I'm riding better and things are coming along. I just keep finishing in about the same spot so it's been pretty frustrating. My teammate was on the podium this weekend, which was great for RCH. I'll use that as motivation and proof that we can run up front. It'd be nice to get us both up there. At the end of the day, we're healthy and I didn't have any big get offs. I'll take that, keep building and moving forward."
Honda HRC's Cole Seely was sixth, a position he's probably getting a little too familiar with, as he now has three of those finishes in nine races this year, including last week in Atlanta. "I'm not happy with tonight but I'm also not completely unhappy," said Seely in a Honda HRC statement. "I had a bad gate pick after the semi so didn't get the start that I wanted in the main event and was about 10th into the first turn. I rode well in the beginning of the race, but made some mistakes. Coming out of the short set of whoops I got a little squirrely, lost control coming into the turn and totally drilled [Ryan] Dungey in the next turn. After that I just settled into a pace and tried to stay consistent. The track broke down a lot and got pretty gnarly. When Baggett went down at the end, I tried really hard to get to him to make up one more position, but ran out of time."
"Unfortunately, bad starts seem to be the downfall of the year," said Seely's mechanic Rich Simmons. "We're going to be practicing starts for an hour straight on Monday and if he thinks I'm mean now, he's going to really not like me after Monday. [Laughs] We're looking forward to the rest of the season and will try not to dwell on the past."
Speaking of Honda HRC, the team explained the complications with taking team rigs across international boundaries. "Bringing the rigs across the border to Toronto is definitely more complicated than any other race, which is why our team chooses to only bring one semi," explained Mike Spraker, tech truck driver for Honda HRC. "We have to do a complete inventory of our entire trailer including everything from rugs, paper towels, chairs, nuts, bolts, engines, and everything in between. We also have to document frame and serial numbers, as well as anything with an ID number. We have to submit this information about eight weeks in advance. Then normally about three to five days before we cross the border we get verification paperwork, which tells our entry point [to the country], crossing dates, and a crossing time, which we have to be within a few hours from. Only the people or persons within the vehicle that are registered on the manifest paperwork are able to drive into and out of Canada."
Dean Wilson is starting to show consistent flashes of his old speed in practice, as he was fourth overall in 450SX times. He finished eighth in the main event, which is actually his second-best result of the season. However, in a post-race statement from the Rockstar Energy Husqvarna team, you can tell he's beginning to want more. "I got another top-10. That's where I'm supposed to be. The day was okay. I'm just not really stoked on my riding. My qualifying time was good—I was fourth. I mean my speed is good, but doing it in the race is what counts. I just got really tight out there and was in survival mode. It's a little disappointing because I've beat guys that have already gotten podiums, and I want to be up there. It's just a building season for me, so I've just got to learn from it and have a good week."
Wilson's teammate Jason Anderson has been looking for a good start all year. He finally had one in Toronto, and it went to hell almost immediately, as he was tagged by Smartop/MotoConcepts' Vince Friese in the first turn, ripping spokes out of his front wheel. Don't go all drama on us, though—this was just the usual early-race stuff, and not another episode of Anderson v. Friese. Anderson pulled into the pits for a wheel change, came back out, and got hit by another rider, saying it "messed my bike up even more." He pulled in again and was credited with 19th.
Davi Millsaps was back in action after missing Atlanta due to a wrist injury suffered in a crash in practice, and he soldiered on to seventh in the main despite riding in pain. Blake Baggett, his Rocky Mountain ATV/MC-WPS-KTM teammate, was fast again but crashed twice, first while trying to pace Eli Tomac early in the main, and then late while running fourth. He ended up fifth, as Chad Reed snuck by on his Monster Energy Yamaha.
Reed has been better the last two weeks than the previous two—a crash in Atlanta is probably all that prevented him from back-to-back top fives, if not more. He also got a good start in his heat race—finally—and won it. As always, Reed has a puncher's chance of having a big night if everything breaks the right way. He needs to get off the gate like he did in the heat race more often, though.
Ryan Dungey's second was good, but it was a bad night for the other Red Bull KTM riders. Trey Canard crashed in practice and didn't race. No update on him as of yet. Marvin Musquin was reportedly sick all week leading up to the race, and finished a sub-par 13th, his first finish outside the top 10 all year. He also lost second place in the points standings to Tomac.
For the second-straight race, the 450 LCQ provided the best race of the entire night. For the second-straight race, that sucked for Cade Clason. A week ago in Atlanta Clason made a last-lap pass on Scott Champion to get the final transfer spot, but Champion dove underneath in the final corner to re-pass him. Final margin? A tenth of a second. In Toronto, Adam Enticknap and Clason went back and forth for the entire last lap for the last spot, with Enticknap putting the shoulder to Clason in the next-to-last turn to make it happen and grab the transfer spot. Final margin: five tenths of a second. That's what they call just short!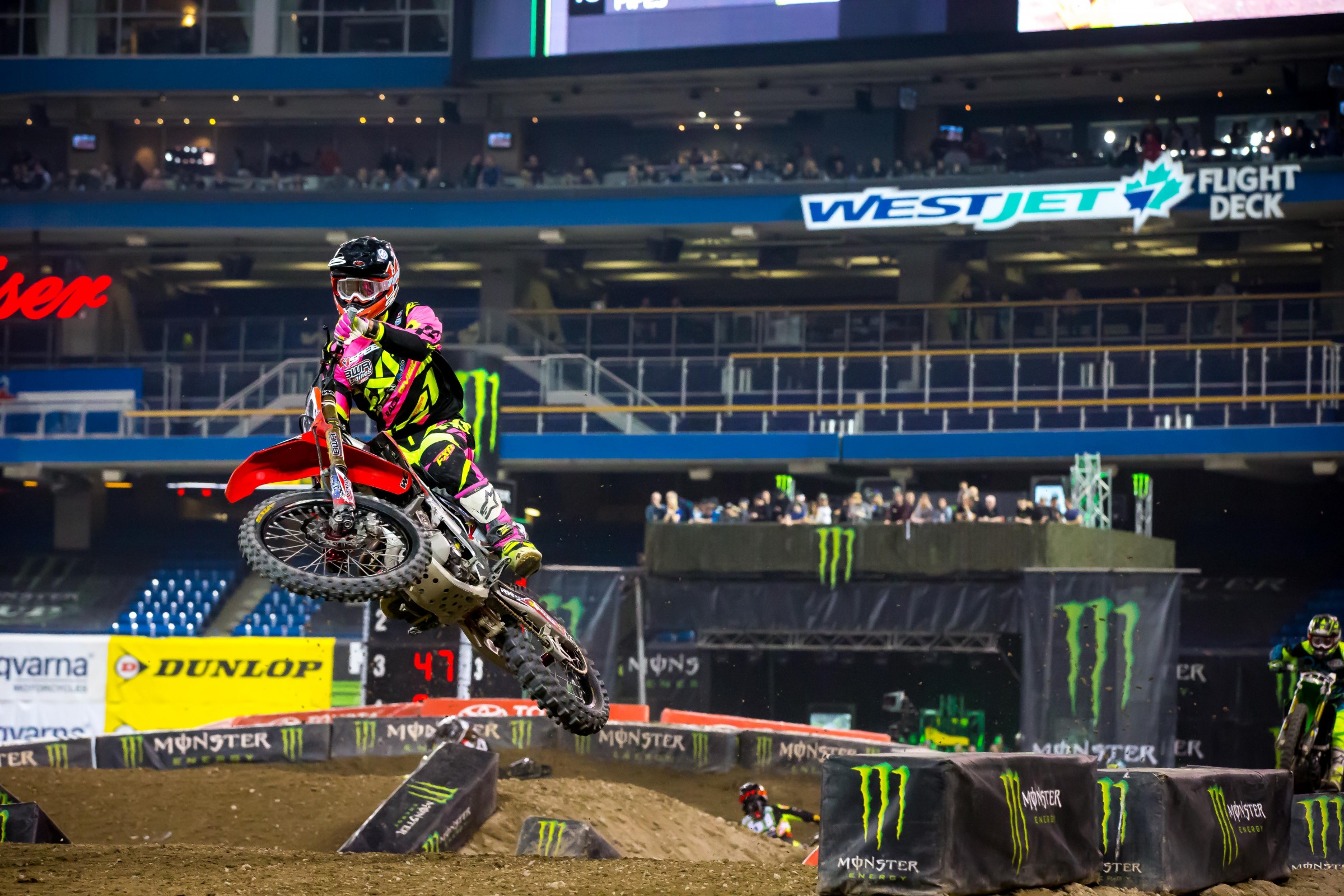 While he wasn't able to run the pace of Zach Osborne on Saturday night, Joey Savatgy was at least limiting the damage, running second late in the race. That finish would have left him down just five points entering Daytona. Instead, Savatgy made a big mistake in the long rhythm section and went down. He went down again on the final lap while trying to pass Dylan Ferrandis and following a sixth place finish, he now trails Osborne by 12 points. He spoke with Racer X following the main event.
Racer X: Take me through what happened there at the end on that rhythm section.
Joey Savatgy: Just came up a little bit short on the quad and was also a little bit too close to the Tuff Block, so a combination of casing the jump and also hitting the Tuff Block just sucked the momentum out of it and down we went. Wasn't riding very good up to that point. I was actually riding pretty bad to be honest. I was pretty angry. All in all, for the situation, for as bad as it could have been it is what it is. Really getting tired of making those dumb mistakes. We'll go back to work and try to fix it for next weekend.
Can you lean on Ricky [Carmichael] and his championship experience in times like these? He went through the highs and lows. Can you go back to him and kind of get some advice from him or anything?
Yeah, a little bit. It was a different time and different era. It's frustrating. I haven't really ridden like myself all year, for whatever reason. I rode pretty bad the first round but we were able to get a win there. Got a bad start last weekend and this weekend we were able to get a good start and was out there trying to ride my laps. Just wasn't riding very good. So we'll go back, watch some film, and try to fix it for next week.
What happened at the end with Ferrandis?
I just got together with him. I think our bikes hooked up. We ended up both going down, so it was unfortunate.
Troy Lee Designs/Red Bull KTM riders Alex Martin and Jordon Smith also had problems on Saturday. Martin crashed early in the main event and finished 15th. Smith, meanwhile, had his problems with Dylan Ferrandis, who took him high late in the race, which cause Smith to crash. He got up to finish seventh.
"It was definitely a crazy main event," said Smith in a team statement. "Having a bad start didn't help me and really put me in the middle of a lot of chaos. I eventually went down but knew I had to make up as many points as possible. We'll get it back next week."
TiLube/Storm Lake Honda's Fredrik Noren was under the weather entering the weekend and his main event got off to a rough start when he went down off the start. Noren came from dead last to finish 17th.
Traders Racing Yamaha's Luke Renzland also went down off the start. Later in the race he crashed again and wrote on Instagram that he couldn't get his bike started for an entire lap. He finished 18th.
As we reported yesterday, Kyle Peters' time with AutoTrader.com/JGR Suzuki has ended. In his three races as a fill-in for Matt Bisceglia, Peters finished inside the top 10 at all three rounds. Due to contractual obligations with his Suzuki team in Australia, Peters will not race another round for the team. JGR has tabbed veteran Kyle Cunningham to fill-in for Bisceglia for the remainder of the East Region.
As we reported over the weekend, GEICO Honda's RJ Hampshire is out for the remainder of the East Region due to a fractured lower tib/fib sustained late in the main event in Toronto. The injury won't require surgery and the team hopes to have Hampshire back for Lucas Oil Pro Motocross. The team is also currently without rookie Chase Sexton who broke his femur in Atlanta during qualifying.
"I think I was seventh on the last lap when I came up short on the rhythm section and went down," Hampshire said in a statement. "I knew something had happened to my leg but didn't know how bad so I got up and was able to finish in 14th. I went to the doctor today and found out I fractured my lower tib and fib [tibia and fibula]. Looks like I won't need surgery and should hopefully be back within eight weeks or so."