Rogers Centre
Toronto

,

Canada
Toronto
Monster Energy AMA Supercross Championship
Adam Cianciarulo has been called a lot of things. Overhyped. Overrated. Bust. But the perceived notion that he's failed to live up to some unfounded hype that was the creation of the media isn't fair. He won a ton of amateur races and titles and then the very first supercross race he ever competed in—and three of the first five. Doing that should end all arguments—you can only win your first supercross ever with rare talent, not hype or luck. Beyond that, to take measure of his pro career past that point, isn't really even possible. This isn't written to defend him. Fair or not, the last few years have been a complete wash. And he'll probably tell you the same. But basically, Cianciarulo hasn't raced enough to be considered overhyped, overrated or even fairly hyped or fairly rated. Or underrated. Due to all the injuries, there literally isn't enough data to judge him in either direction.
Prior to the start of the 2017 250SX East Region, Cianciarulo had made just six career starts in supercross. It ranks second behind rookie Dylan Ferrandis for the least amount of starts amongst the current top 10 in points, and is 42 fewer than current points leader Zach Osborne.
It wasn't long ago that Cianciarulo was the talk of the class. In 2014, he entered Toronto—round six of the championship that year—having won three of the first five races of his career and finishing runner-up in the other two. He held a commanding 17-point lead entering that night over his Pro Circuit Kawasaki teammate Martin Davalos and seemed like a virtual lock to capture the title. It all came unraveled in practice, when Cianciarulo crashed and hurt his shoulder. He managed to lineup for the main event that night, but crashed again. Writhing in pain on the side of the track, his championship, and season, was over.
"If I really look at it I've had a pretty solid life and three years ago when I lost the championship here that was probably the most tragic thing that's happened to me in my whole life," he told us Saturday night. "To the point to where I've never watched it on TV. You almost kind of block it out of your mind like it didn't happen. I didn't even really have bad memories here. I just kind of put it out of my mind. I've been through so much since then. It's like I'm a different person. I'm about a foot taller. Mentality has changed. Just as a kid, as an adult as you grow older, at this age you change, you adapt. I've done that three or four times since the last time I was here."
That night would foreshadow the next two years, each clouded with injuries. After missing two years of Monster Energy Supercross, Cianciarulo made what he calls "rookie mistakes" in the first two rounds of his return. But, as he told us Saturday night after his first podium since 2014, his previous injuries have made him stronger.
"It's changed me. When I was coming in as an amateur, I had stuff go wrong for me as an amateur like every racer does, but barely," he said. "I had a pretty solid amateur career and had a couple stumbles as a pro my rookie season outdoors, but then came into supercross and started doing well right away. Up until that point in my life everything was good. Everybody has their struggles as a kid and all that stuff, but my life was pretty solid. Everything was going good. Adversity, but nothing crazy. Then you go from that to having to learn as a 17-year-old kid to, 'Listen, man, you got to keep picking yourself up, keep picking yourself up.' I think I proved to myself how much I really love it. I think I would have been done a couple times, a couple injuries ago had I not loved it as much as I do. It just makes it sweeter knowing that I've been through all that to get back here. Nobody will really ever know what I've done to get back here, but it's substantial and it just makes it feel better for me."
During those times, Cianciarulo said he was able to lean on everyone from his mom and dad to Ken Roczen for advice.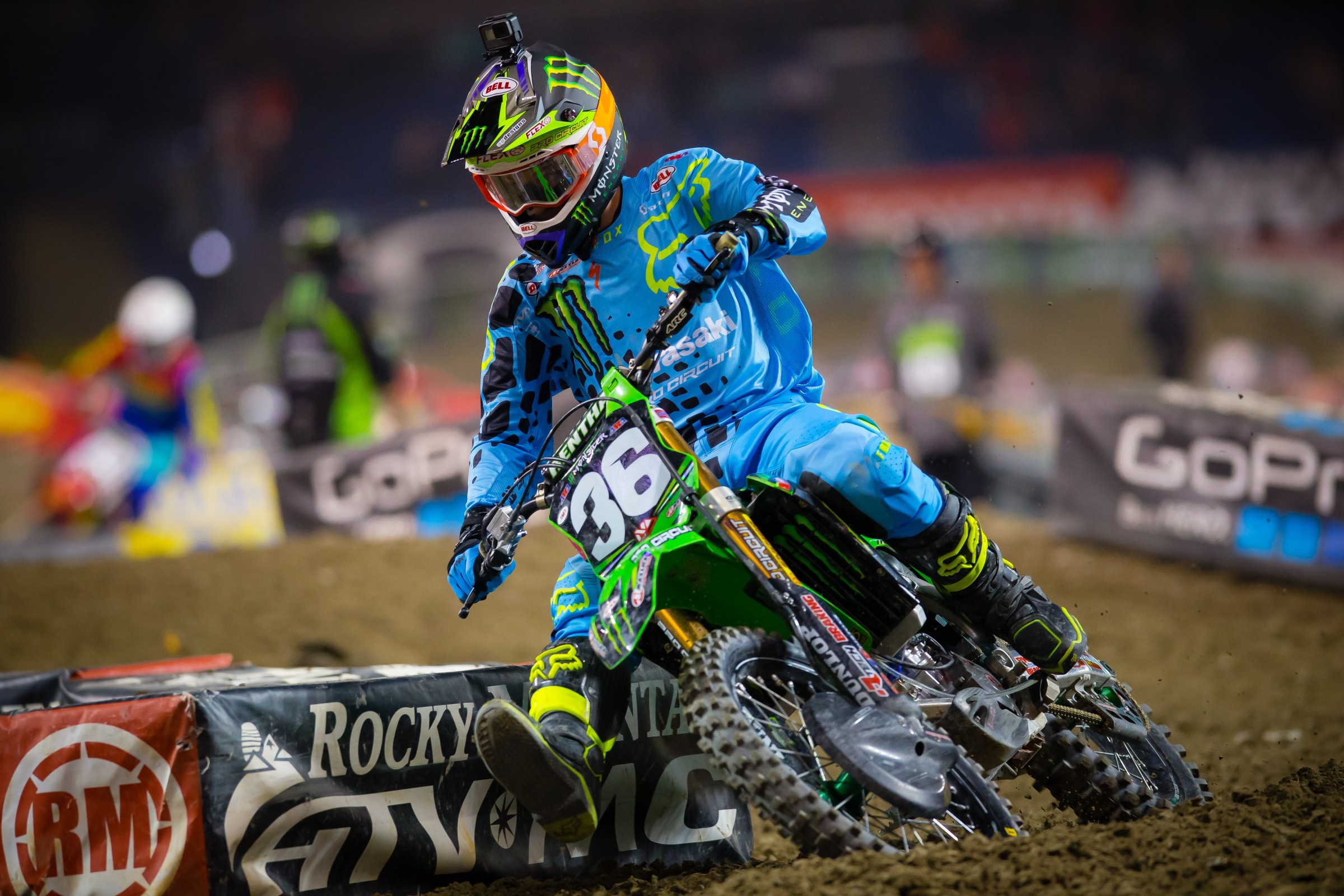 "Just everybody. All my close friends and family, my mom, my dad, my sister, Ken Roczen, Blake Savage, my trainer. Everybody, they're there for me. They know it's kind of tough. They're in a tough position with stuff like injuries and stuff happening to me. They know how I feel and it's hard for them to say, 'Listen, man, it's all going to be okay.' My whole crew, I would be done if it wasn't for them, and just the fans and all that stuff."
Usually, when a rider wins, everyone comes out of the weeds with pats on the back and support. The attention and positivity grows as an entire industry tries to strap on for the ride. But Cianciarulo, because he already came into the pro ranks with so much attention, didn't really need that. Now with all the injuries, and the comeback, he's become a good story, and one a lot of people want to root for. In fact, he says in many ways his support group has grown since all of the injuries.
"The support I've received since all the injuries and coming back, it's incredible," he says. "I think it's more than I had when I was winning all those races, to be honest."
Supercross can be a cruel mistress for even the most seasoned of veterans. The injuries, the losses, the pressure can pile up. When Cianciarulo went down three years ago, he was just a kid. Heck, he's still only 20 years old. But time and time again he's built himself back up. His struggles, which have played out in front of a huge audience, have molded him as he's grown into adulthood and made him appreciative for where he's at now.
"I just feel grateful to be back here and have an opportunity to be successful," he said. "I don't think I rode that great tonight, but at the same time after three years to get back on the podium, it feels like a victory."