Colton Aeck Expected to Make Full Recovery [Update]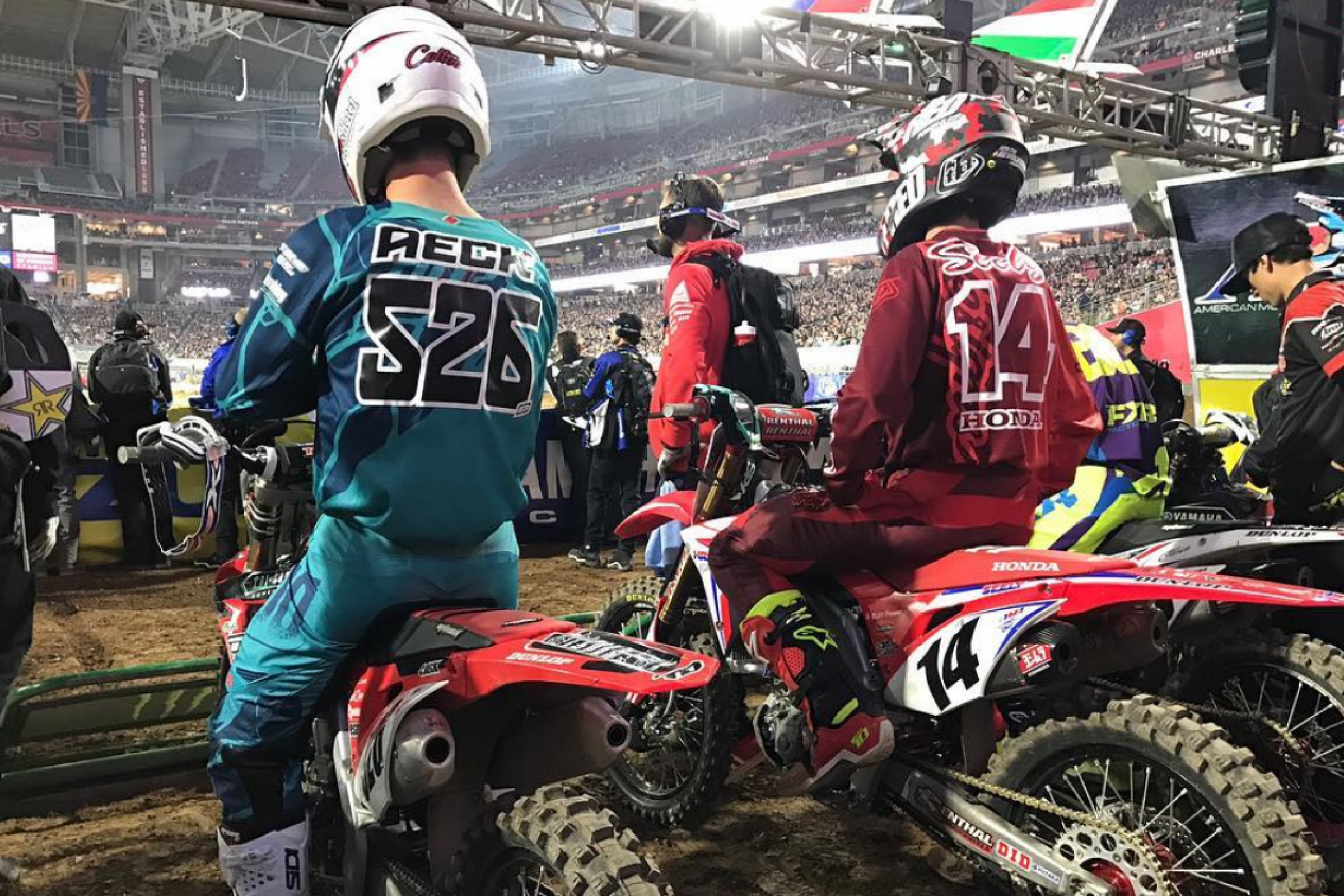 AT&T Stadium
Arlington

,

TX
Arlington (Dallas)
Monster Energy AMA Supercross Championship
[Update: Friday, Feb. 17]
According to the Road 2 Recovery, Aeck underwent surgery on Tuesday to stabilize his spine by placing a rod in his back and fusing his T11 to L2. Aeck suffered complications post-surgery and doctors performed multiple procedures on Wednesday. One of the producers included putting back in a modified chest tube, per R2R. After being in ICU in a local Dallas/Fort Worth hospital for five days, Colton is now being transferred to the Critical Care Unit today where his is expected to stay for the next week before he is released.
Here is more from R2R and how to help:
Colton has regained all of his feeling in his lower body however he has limited movement. With the slight spinal cord damage that was sustained Colton will start off in a wheelchair with a short-term goal of walking with assistance of a walker and one day walking unassisted again. This is going to be a long road ahead but with the support of his family, friends and fans, Colton is expected to make a full recovery.
Once Colton is admitted into a California based extensive SCI therapy center, he will began to work on all of the skills that are needed to get back to a full recovery. Currently it is unknown how long he will be expected to stay or how much insurance will cover. On average, the patient's cost for a facility like this is about $1700 a day. This will be an expensive recovery process for the Aeck family not just the rehabilitation process but Colton's father is expecting to have to take off work to help with his care and the expenses that were incurred during their stay in Dallas. You can help with Colton's recovery process by donating to his R2R Cause here or go to this link https://road2recovery.com/cause-view/colton-aeck/. All donations are tax deductible. If you are unable to donate please keep the Aeck family in your thoughts and prayers.
The Aeck family would like to thank everyone for all the love and support and most of all your prayers. You can keep updated on Colton's progress and leave positive messages on his R2R Fund page here https://road2recovery.com/cause-view/colton-aeck/. Show your support by using this hashtag when posting on social media #ColtonAeckR2R.
---
In a post on his Instagram page last night, Colton Aeck said he expects to make a full recovery following a horrifying crash at Round 6 of Monster Energy Supercross in Arlington, Texas, on Saturday night.
The privateer from California said he broke two vertebrae, a few ribs, and his shoulder in a heat race crash.
"For about the first hour after my crash I had zero feeling from the waist down, I'm slowly getting some feeling back and am expected to make a full recovery," he wrote.
The accident occurred in the first 450 heat race when Aeck was forced to roll a triple and the rider directly behind him had already committed to jumping the triple and landed directly on Aeck.
Aeck said he is undergoing surgery today to have rods put in his back.
We'll update this story as it develops. Below is his full post.
Just wanted to give everyone an update and let them know how I'm doing. Had a brutal crash where I got landed on last night in Arlington. I ended up breaking 2 vertebrae, a few ribs and my shoulder. For about the first hour after my crash I had zero feeling from the waste down, I'm slowly getting some feeling back and am expected to make a full recovery. Going in for surgery tomorrow to have rods put in my back. I want to send a huge thank you to everyone for all the love and prayers. You guys are awesome! I'll be trying to catch up on all my texts and missed call in the next few days.I'm in pretty rough shape, but extremely grateful it wasn't worse. The lord was definitely watching after me last night. #glorytogod