Arlington, TX
Arlington (Dallas)
Monster Energy AMA Supercross Championship
Round six of Monster Energy Supercross in Arlington, Texas, was Dean Wilson's second ride on the Rockstar Energy Husqvarna. He's matched or improved his main event result at each race this season and appears to be riding very level headed this year. Wilson had Ryan Dungey on his rear wheel for about half of the main event and didn't budge. Dungey was forced to make an aggressive pass on Wilson late in the race to take the spot as Dean didn't make it easy on the reigning champ. Wilson came into the season as an underdog privateer, but now has a ride and things are starting to turn around for him with a fifth place finish in Arlington—a career-high in 450SX. We talked to him in the post-race press conference.
Racer X: How was your night, Dean?
Dean Wilson: The night didn't start off amazing, but it ended up being really good. It took a little while to get going in the heats and semis, but then in the main I got a decent start and just tried to ride smooth and consistent every lap. I ended up with a fifth, which I'm over the moon about. It's almost like a win to me just because it's been a rough couple of years—so I'm stoked.
Now that you know you can get in the top five, what's the goal for the rest of the season? Do you think you can get on the podium?
Yeah, being on the podium would be great but I'm still taking baby steps. I still just want to be in the top 10. Meanwhile I got top five, that's awesome. But for me it's just about building and just every race being in the mix. Sure, I want to podium and win, that would be nice, but I just want to set goals that aren't going to be too wild. Still steps to climb.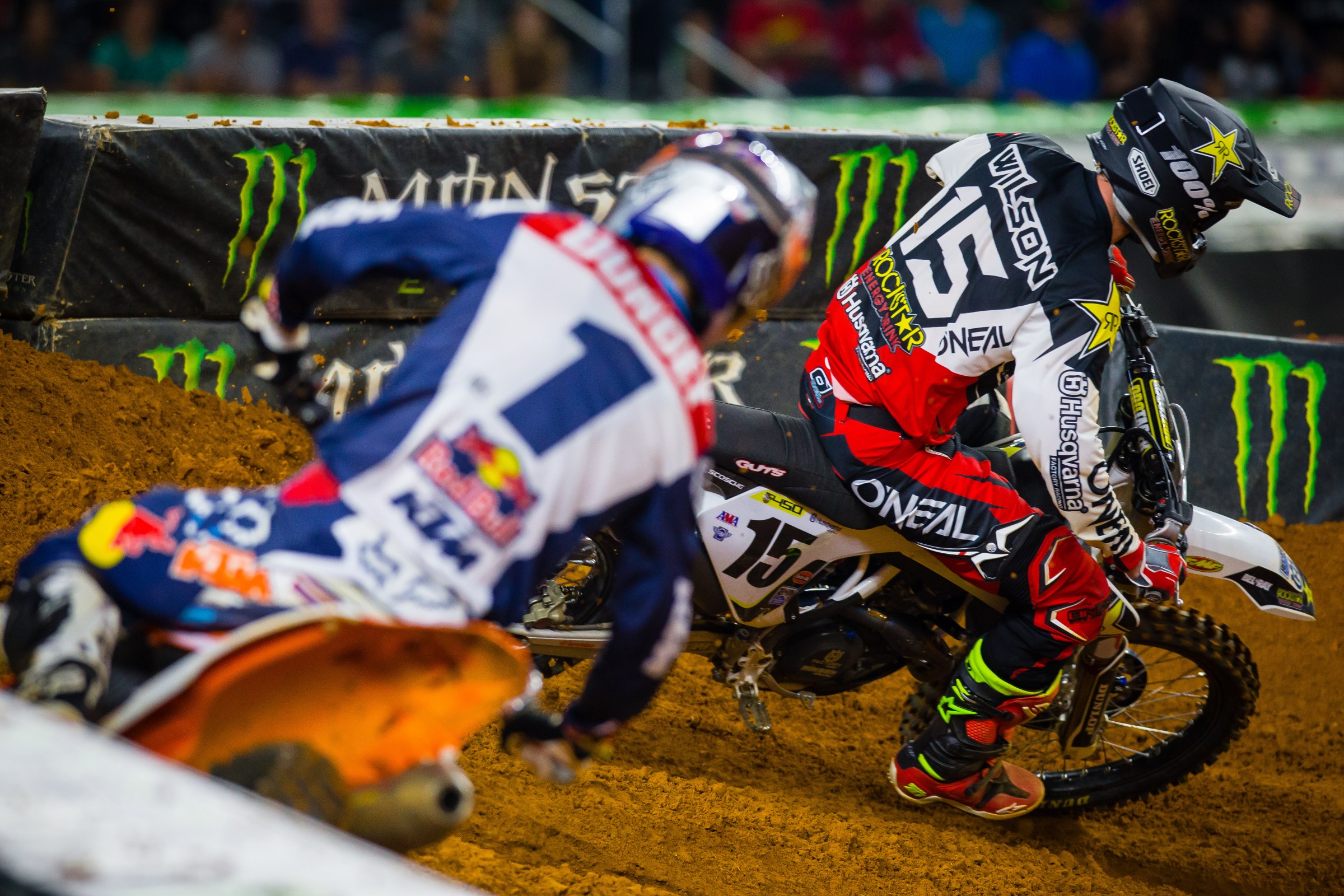 What'd the team have to say after you came off the track after that race?
They're so happy for me. Everyone's just happy.
What's it like working with those guys? It seems like a really laid-back crew with Bobby [Hewitt] and those guys.
Yeah, it's been really good, a really good transition. The team has been awesome. I used to ride with Bobby when I was an amateur. It's really good. I've just jelled.
Was the red flag a good or bad thing for you for the start?
I was kind of the same position both times, I feel. I was probably seventh or eighth. I think the red flag maybe helped me out a little bit. Unfortunately, [Justin] Brayton went down and it was a shame, but he was on the inside of me on the gate so that gave me a little bit of wiggle room. So I didn't have a great start but I was lucky to have that inside gate.
You were battling with Dungey for a while.
Yeah, that was pretty cool. I didn't even know it was Dungey behind me, to be honest. I was just trying to stay consistent, smooth, focused, and hit my marks. I was doing fine and then he just got me there like four laps to go. Then from there I had a little bit of a gap, so I just kind of cruised it to the finish.
How much more are you liking that Husky?
I like it a lot. The team's been really awesome and helping me a lot. Everything's been really good. It was pretty emotional after that one because it's just been a rough couple of years. That's what I was supposed to be doing a couple years ago, but with these injuries and stuff it's made it really tough and tricky. It means a lot to be up there again.
What did you think of the track tonight? It looked pretty slick in some spots and guys were going down left and right and pulling into the mechanic's area. Did you know any of that was happening?
Yeah, there was a lot of carnage happening for sure. I just tried to stay focused and hit my marks. I avoided the carnage and I feel like I done well. The track wasn't too bad. The whoops and all that really were small by the end of the night, but I think that was one of my strong points. It rutted up but it had a really slippery base, so after the finish line I could hear Dungey because he was going outside there every lap. I could hear him, but I just stuck to my guns and hit the inside on the slippery stuff. It was good.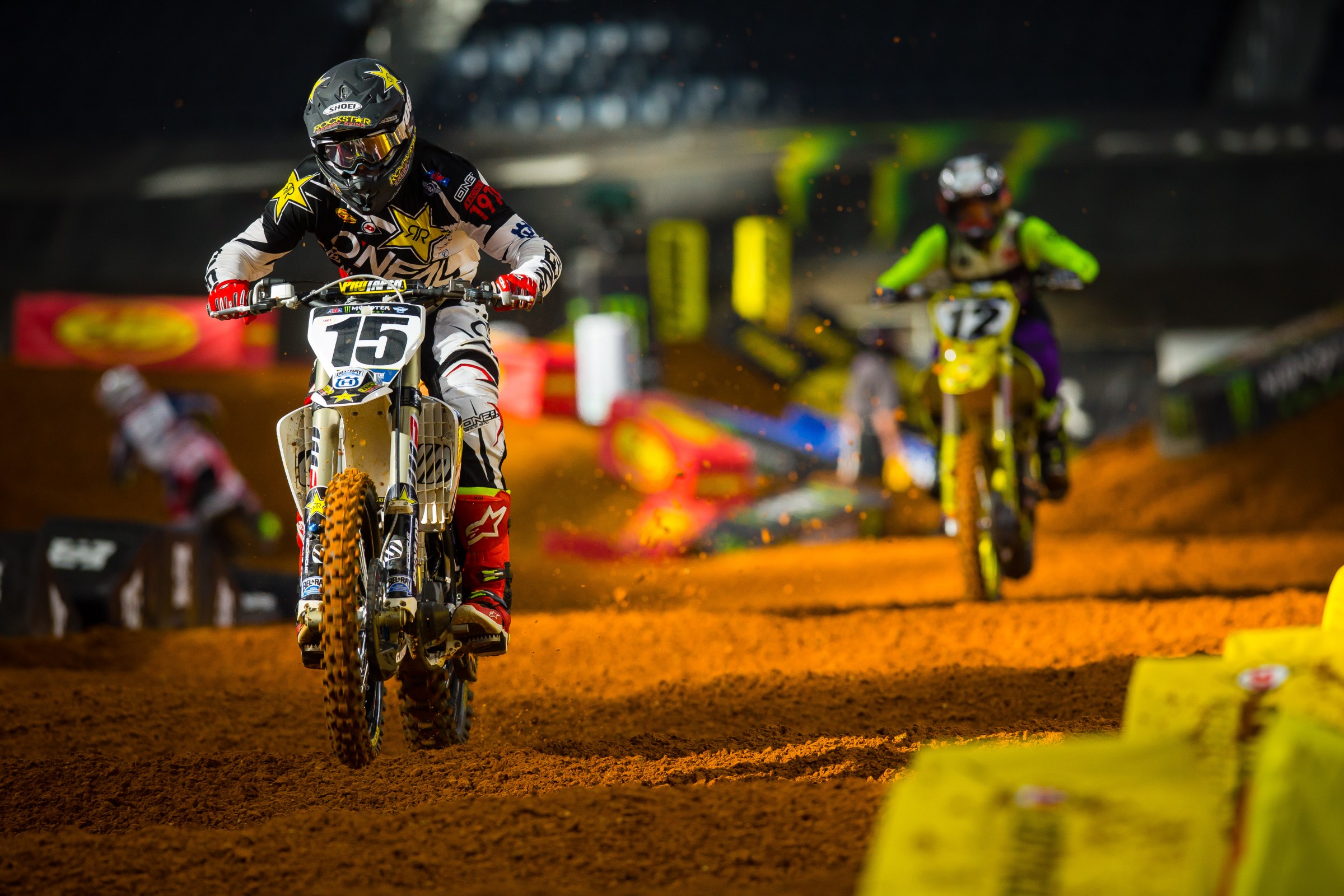 You looked really smooth. It seems like the bike is dialed in very well for you being on it for such a short time.
The bike's been really awesome. I think the more time I'm on it, the more testing and stuff I do the better I'll be. I just want to keep it level. I kind of sound like Dungey, something he would say, but for me I really just want to be in the top 10. That's what the team wants me to do and if I exceed those expectations that's awesome. Like tonight, that's great. But I just want to stay focused.
You seemed focused. You seemed actually very cool and collected despite the fact that he was on your tail for quite a ways. How do you manage to stay calm?
I don't know. Just got to stay focused and look ahead. We were just focusing on riding the bike. We try to go as fast as we can but with as much less energy as you can. You're really focusing on not doing too many movements and trying to be subtle on the bike.