Arlington, TX
Arlington (Dallas)
Monster Energy AMA Supercross Championship
By Chase Stallo and Jason Weigandt
This race has to hold the record for most riders in the mechanics' area during a race. What is this, 1970s level of mechanical troubles? Cooper Webb got a flat while running in second place. Eli Tomac visited the pits to get his front brake line cut (the Monster Energy Kawasaki crew says Tomac crashed because he was having front brake problems, instead of the crash causing the brake problem). Blake Baggett crashed, ahem, a lot and had to visit the mechanics' area for repairs. Chad Reed had problems late in the race and pulled into the mechanics' area. This doesn't even count Shane McElrath's heartbreaking bike problems while leading the 250SX main event. There was a full moon over Texas on Saturday night and it seemed to wreak havoc on the bikes and riders.
In addition, there were some huge crashes, most of them due to a difficult triple jump out of a slick corner. It caught countless riders, including this mega-crash from Colton Aeck but also a mega-face of the jump by Martin Davalos, Kyle Chisholm ran into the back of Bryce Stewart when he came up short and Tomac had to double-single it in his heat and jumped into the back of Webb going into the corner. That's also where Tomac went down in the main. Trey Canard also crashed in that section late in the main. Sheesh!
Oh, to add to it, the first 450SX main event start was actually red flagged when Smartop/MotoConcepts' Justin Brayton got knocked out in a big crash.
All the crashing and troubles meant riders could make up ground from way back. Webb salvaged a 14th despite a nearly one-minute lap while struggling with the flat (he was about 10 seconds faster before that), and then a two-minute lap while getting it fixed. Tomac, even despite stopping in the pits and not having a front brake, crawled his way back to 15th.
"We started off really well today," said Tomac in a Monster Energy Kawasaki team statement. "We had some trouble in our heat but recovered strong in our semi. In the main my start after the red flag was much better. I felt pretty strong until my front end issue. I knew that recovering as best as possible could be key at the end of the championship, so I dug deep and fought all the way to the end. It's a long season and we still have a lot of laps left."
Also, Rocky Mountain ATV/MC-WP-KTM's Davi Millsaps was bumped and banged around early and started the race in last. But while everyone else seemed to be crashing or struggling, the veteran plugged away to land in eighth. Millsaps has been in the top 10 in every race this season.
Meanwhile, despite the crash, Canard ended up 11th in his first race of the season (he missed the opening rounds with a shoulder injury). "It was really nice to be back on the bike," said Canard in a team statement. "I felt good on the bike all day, although I'm not quite where I want to be fitness/speed wise. But I feel like the next few races we can get things to where we want them and I'm looking forward to the rest of the season."
Misfortune for others but a good night for RCH Yoshimura Suzuki, where both Broc Tickle (sixth) and Justin Bogle (ninth) recorded season-best results. Bogle also won his heat race. He had a good start in the main (second) and was running in the top five when Jason Anderson put a block pass on him that knocked him down. Bogle's ninth is his second top 10 of the season.
"Broc's been struggling a little bit out of the starting gate and I know he's working really hard during the week to get that straightened out," said RCH co-owner Ricky Carmichael. "It was nice to see him put everything together and come away with a really solid finish. Justin did everything that we expected of him. That's why we hired him. He won his heat, won the holeshot, and if he hadn't gotten together with someone in the main, his race had top five written all over it. It was really nice to see the whole team put it all together. That's what we're here for."
"I got a good start," commented Tickle, who jumped from 14th to 10th in points. "There was a lot of chaos but I put myself in a good place to ride some clean, solid laps for the whole race and ended up finishing sixth. It was a big improvement from the last few weeks. I'm looking forward to making some more progress and seeing what we can do to get better. I felt like I was riding smoother and more like how I ride during the week. I was pumped to be riding more consistently and feeling like myself."
"This weekend in Dallas went quite a bit better than the last few weeks have gone," explained Bogle in the RCH press release. "The bike felt good and I'm feeling healthy again. I got great starts all night. I won my first heat race of the year, which was great for confidence. I got the holeshot in the main event and came around up front. I got passed a few times and ended up going down but still finished out the race in ninth. It was a bit of a rough main event but all in all the day was quite a bit better and we made a lot of progress. I'm feeling good about everything moving forward."
More season bests. Jake Weimer got a seventh for an Autotrader.com/Monster Energy/JGR Suzuki team that desperately needed it, since all four original team riders are now out injured (Weston Peick, Phil Nicoletti, Matt Bisceglia, and Justin Barcia, although Barcia could be back as soon as this weekend in Minneapolis). "It was a lot different than last week's track, but it was slick and it was a small track with lots of turns, with close racing," said Weimer, who had to use the LCQ to make the main, to our Steve Matthes. "It's been tough. I had three days on the bike before the first race, and with all the rain in California, we haven't done any testing. We've been testing on Saturdays." Weimer says he plans on heading to JGR's North Carolina base soon to finally get some testing in.
Malcolm Stewart got his first top 10 (with a 10th) on his Ride365.com/Stewart Racing Suzuki. He spoke to our Steve Matthes after the race. "Before the red flag, me and Baggett got into it before the whoops, and I tweaked the bike up, and I'm like 'Here I am! Back to 22nd again!' Then I saw the red flag out of the corner of my eye. Repeat! I got a terrible start, and I probably just sat back there around 18th place because nobody was going nowhere, and everyone was just cutting each other off. The track was just tearing people apart. I'm not gonna lie, I came out of a corner, and I saw a blue motorcycle coming out of nowhere [the mechanics' area]. I'm like 'Wait, Cooper?' I saw Tomac in there, I saw Chad in there. I didn't know who was where. It was the most crazy race I've ever seen in my life! I said I wanted to get a top 10, and I did, but it was the most ridiculous and crazy top 10 I've ever gotten."
Dean Wilson's fifth on his Rockstar Energy Husqvarna was not just a season best, but also a career best in 450SX. We'll have a full interview from Wilson's posted shortly.
In the span of a few seconds, Shane McElrath went from reclaiming the red plate in the 250SX West Region, to slipping to third in points, 25 points back of leader Justin Hill. After leading 15 laps (of 20), McElrath suffered a mechanical and finished 22nd. The Troy Lee Designs/Red Bull KTM team has yet to make an official statement on the cause of the mechanical. We'll provide an update if they do.
GEICO Honda's Jimmy Decotis continues to push toward his first career podium. Decotis ran fourth most of the way, chasing Austin Forkner, then was passed by the hard charging Aaron Plessinger. When McElrath went out, he moved back into fourth. "It's time to do it, tonight and even last weekend I had the speed," said Decotis of getting on the podium. "I need to work on being confident halfway through. It's not a fitness thing, I'm not breathing hard out there, I feel good, everything is good. Last week I made some mistakes in the middle, this one was good but I got a little tight in the middle. And I got arm pump surgery, but no matter what, it's not going to be perfect. It definitely helped, though. It's okay. My lap times are competitive, I just need to be closer to my best lap every lap. That's what's costing me from getting up on that podium."
In his first race back since suffering a concussion in qualifying in Glendale, Jeremy Martin struggled once again to find his form off the start and had to work from 15th (after lap one) to finish sixth. "Tough race in Dallas," he said in a GEICO Honda team statement. "Struggled on the gate again, had to come from behind in the main to sixth. I can't tell you how many starts I've practiced in the last three or four weeks! I'll have to just keep working on them. Looking forward to the break to build and get better."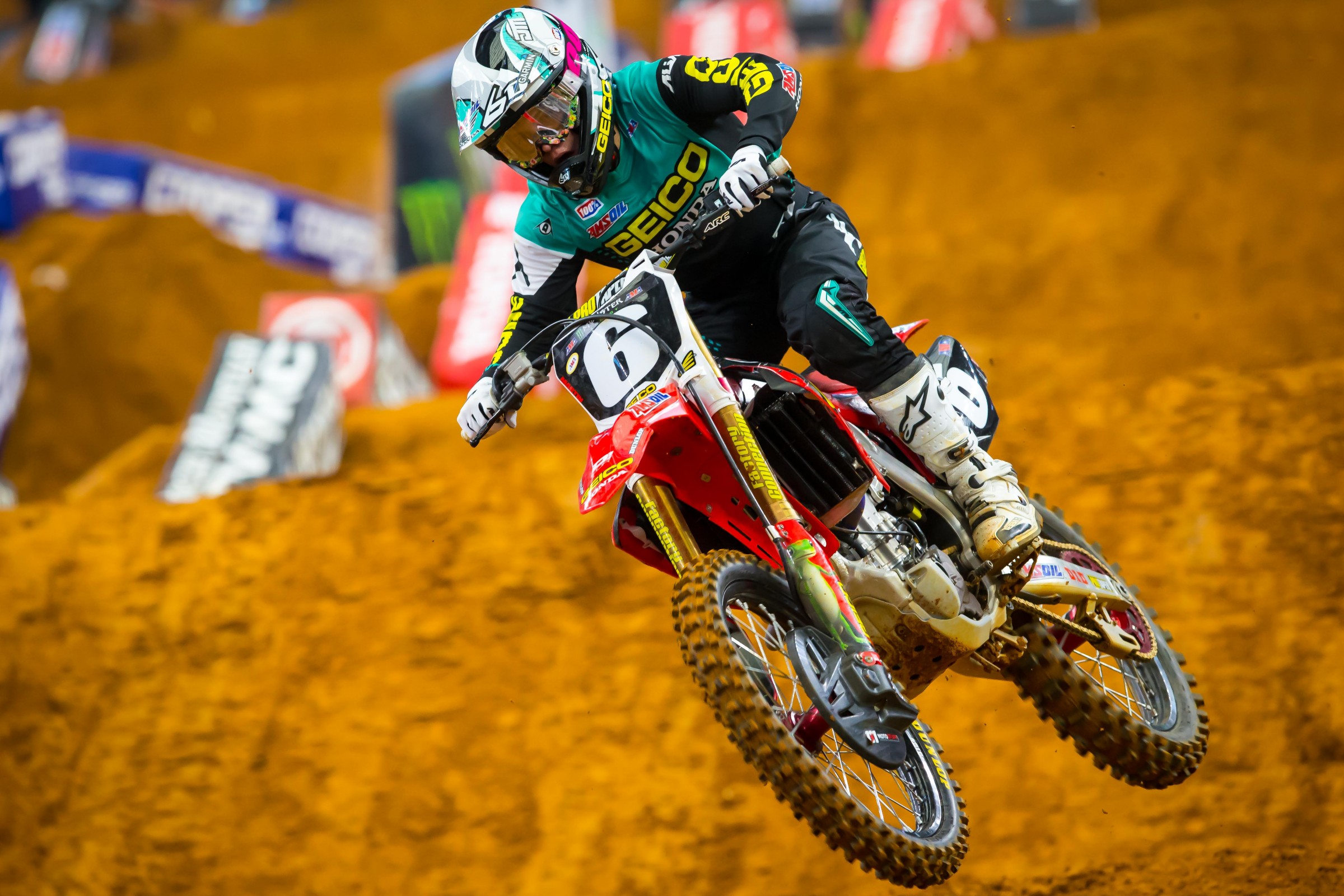 Yamalube/Star Racing Yamaha's Dan Reardon had his best finish since Las Vegas 2008 on Saturday. The former Australian Supercross Champion currently sits seventh in points heading into the West Region break following a fifth place finish in Arlington.
As mentioned, Martin Davalos was one of many riders to make a mistake on the tricky triple after the first rhythm section. On the first lap of the 250 main event Davalos cased the jump hard and was shuffled back to 18th after the first lap. He came back to finish seventh, his worst result of the season. "I would say the night went alright," he said in a team statement. "It's just that during the main event Hill got checked up before the triple, and I was committed to it, and decided last minute to not do it and just cased it pretty hard. I wanted to pull off. My back was out and my thumb was messed up so I was just trying my hardest to get some points. I did my best and got seventh. Luckily I'm going into a break so I can work on everything and recover a little bit. Hopefully I can do some 450 rounds, if not I'll be ready to battle until the end."
51FIFTY Energy Drink Yamaha's Hayden Mellross returned from a hand injury which sidelined him the last two rounds. Despite not being 100 percent, Mellross tied a season-high ninth—his second top-10 of the season.