Glendale, AZ
Phoenix
Monster Energy AMA Supercross Championship
Ryan Dungey. Ryan Dungey. Ryan Dungey. There's lots of news this week, headlined by Ken Roczen's huge crash and Jason Anderson getting DQ'd after (the latest) incident with Vince Friese, but it's all categorized under one basic theme: it's still Ryan Dungey's world. He's the champ, he's the points leader, and he's doing it the same way he's done it the last two years. When it comes time to deliver, he never fails.
That's amazing not when you compare Dungey to Roczen or Anderson of any other rider on the starting gate, but actually compared to himself at one time in his career.
Dungey's greatest asset these days is execution. Especially in the early rounds, riders struggle to transfer everything they did during the off-season into actual performances when it counts. There are jitters and nerves, there are bike changes needed for the tracks they actually race on. You hear so much about the differences between a live stadium filled with fans and expectations, and empty days at the test track. It's that small difference—what gets lost in translation between Tuesday and Saturday—that means everything right now.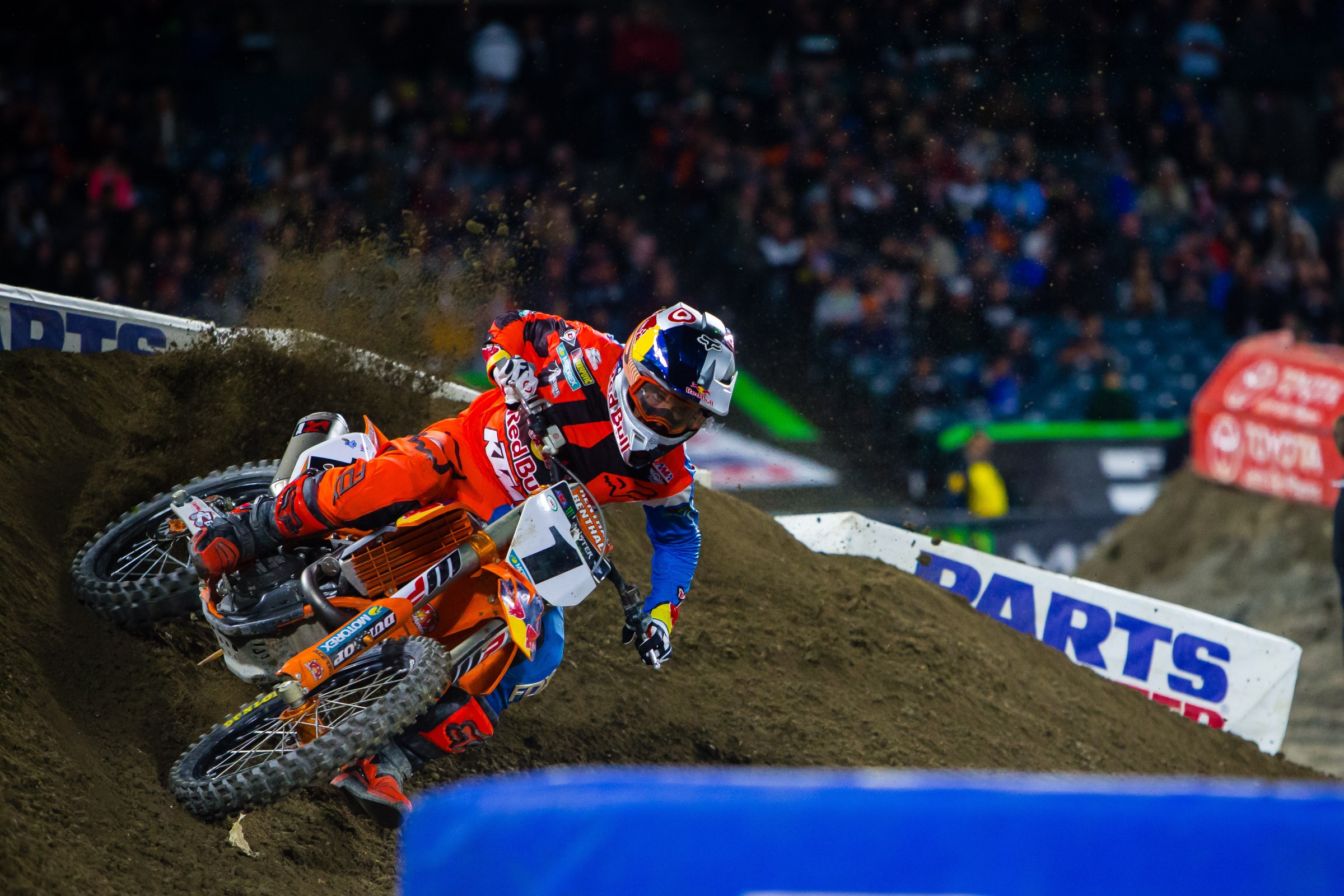 Dungey is fit and fast, but these days it would be hard to say if he's fitter or faster than his peers. In fact, literally, two of his competitors are on the exact same training program he uses, and both ride on similar, if not identical, equipment. There are other riders in the field that can surely turn a lap as fast, or faster, than him, and they can do it without getting tired. Dungey cannot overpower the competition through talent or hard work. He can edge them, though, through focus and experience, by channeling all of his thoughts in the right direction at the right time, and doing that better than everyone else.
That used to be one of his greatest weaknesses. Now it's his greatest asset.
Well, to be fair, Dungey's mental struggles were probably overstated back then, but the pits don't need a lot of data to decide that something is a trend. Dungey made a few mistakes under pressure in his early days, and then the die was cast. The rep continued as he tried to solve the Villopoto problem, always coming close. That's the worst position as a racer. Fans and peers want to see someone challenge the champion, so the next best guy usually bears much of the brunt. "If only he could believe it, he could do it!" we say, thinking the mind is like a light switch, and we're one good decision away from the most epic racing ever.
"You can't be afraid of failure." - Ryan Dungey
It is not that simple. A lot of pieces needed to fall into place for Dungey to become the racer he is now, but there's no doubt he's mastered the art. I saw it over the last few weeks, when he looked absolutely, positively not rattled or concerned with the pressure of being champion, the work required to win, or the competition set before him. One day, he summed up this attitude to me in one simple sentence: "You can't be afraid of failure."
Dungey has figured out how to only think about the good, and not worry about the bad. You can see the results. In the past, he could get spun out and frustrated when settings were off or things went wrong. He told me if he made a mistake in the race, he would get mad at himself, which could impact the rest of the week. Today, he's someone who can control those emotions, compartmentalize them, stuff them in a corner, and be at his best for (now) 20 minutes and one lap. On his worst days, he gives away nothing. And Anaheim 2 was shaping up to be one of his worst days.
Dungey was quiet in qualifying, logging only seventh fastest and never looking very good (he qualified first the week prior in San Diego). Then, based on his standards, his night fell apart. He went down in his heat race and broke his bike, sending him to the semi. He chased a new setting there and struggled, taking a mere third. He switched back to the old setting before the main event, hoping it would work. Everything was pointing to a bad night, perhaps a rare evening spent off of the podium. But when it was time to execute, he did it. A near holeshot from the 13th gate, and then fairly clean laps on a track that made it hard to stay clean.
"All day I searched a little bit, I will say that," he said. "Then I had the heat race deal and everything that happened there, but got off to a good start [in the main event]. But even the main event was tricky. I felt good but my second half of the race definitely wasn't as good as I like it, but with what happened and then seeing Ken's incident, I knew the track could reach out and bite you.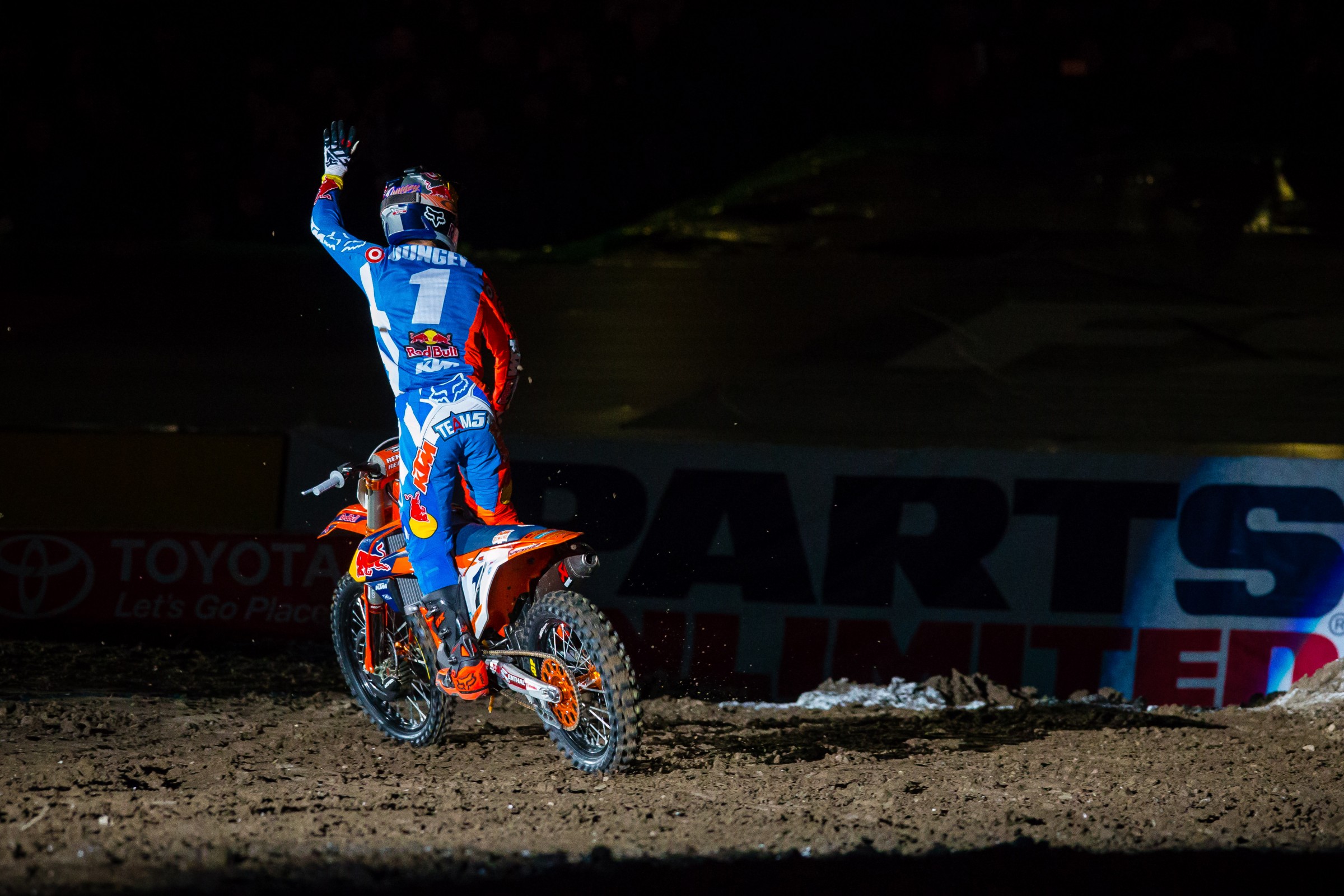 I had multiple close calls so I was like, man, do we keep going after it or do we be smart and tame it down a little bit? So I decided to just kind of, let's chill out. We've got plenty of room. I saw where Marvin was, I was gauging things. But overall with all the adversity and stuff that we had to face, I'm glad that we were able to come away with a win today—a hard-earned one."
He might not have been the best racer throughout the day at Anaheim, but he was during the brief window that actually pays championship points. That's all we really know. For some reason, Ken Roczen crashed. I've heard a million theories as to why Kenny crashed, and the answer is probably a combination of many. Regardless, it happened. For some reason, Eli Tomac can churn out lap after lap at the test track, but gets tight in the races. Anderson and Marvin Musquin can go faster than Dungey during training days. But Dungey has finished ahead of them each time they've lined up for money this year.
He's Ryan Dungey, and he gets it right when it counts. That's what everyone else is trying to figure out today, just like he was a few years ago.