Glendale, AZ
Phoenix
Monster Energy AMA Supercross Championship
It was a strange situation that didn't seem very strange at all. Austin Forkner hadn't even competed in a Monster Energy AMA Supercross race yet, but was already considered a favorite to win the 2017 250SX West Region Championship. Based on the standards of being a rookie, he's done fine, with 8-5-4 finishes. But his standards are unlike most rookies. At Anaheim 2, he holeshot the main event and finished fourth. It was by far the best night of his young supercross career so far. But he was not happy.
"What's frustrating is I came out of outdoors hot, so I know I can win," said Forkner. "I rode with two of the fastest guys in the world on 250s, [Jeffrey] Herlings and [Cooper] Webb, in Charlotte at the GP, and I beat Herlings in the second moto, and I led a lot of both motos. I know I have the speed, I know I can be up there, and I'm not. It's frustrating.
"The first weekend [Anaheim 1] I fell, not much you can do about that. Last week I was sick, so I just didn't have the drive that I normally have," he continued. "This weekend I'm pretty healthy and just [sighs, long pause] … I want to be getting wins by now. I wanted to start the season like that. I guess I just have to be patient, but I'm not."
It's hard to be patient when the expectations go well beyond learning and waiting. A lot of industry insiders were thinking Forkner would come into the season on fire. As did the fans. In a Racer X Poll before the start of the season, we asked who the favorite to win the West Region was. Forty-eight percent voted for Forkner. (Second was Jeremy Martin with 27.6 percent of votes.) He heard about those expectations and tried to ignore them. They don't matter—he expected big things from himself, too.
"I mean, it didn't really affect me, but I heard it [the talk about being a title favorite]," he said in the Anaheim 2 post-race press session. "Obviously I want to win the title and want to do what everyone expects of me. But I put so much pressure on myself, that doesn't even matter. Tonight, everyone is coming up to me saying I killed it, even other riders told me I rode good. But I don't really feel like I did."
With that in mind, Forkner now finds himself wedged between the realistic expectations of trying to learn supercross, while also expecting to win. We saw it on his face at Anaheim. He looked frustrated.
"Man, just the first couple of laps, just kind of getting … not banged, pushed around, but just getting tangled up with those guys," he said. "Like, if I could have gotten enough breathing room where I didn't have to worry about those guys running it in on me, I feel like that would have made a difference, even if they would have passed me later, I think I could have held on for five or 10 minutes.
"And if I lead that long, maybe they would be the one to make mistakes and maybe I could win the race. But right now I just need to not make mistakes when I'm in that situation, with the lead. But it's really hard to practice that. When you get the holeshot and the lead, you need to guard all the insides, because you know they're going to be gunning for you. It's almost better to start second. Then on the first lap you can just run it in on that guy and there's nothing to lose. The guy in the lead, he's got everyone gunning for him. That's what happened to me. I went a little bit wide and caught my peg on a Tuff Block, I tried to step onto the table, I cased it, couldn't do the rhythm, and they [Justin Hill and Aaron Plessinger] both got me right there. I wanted to latch onto them, but then I almost went down in the whoops. Then, heart rate was up, I was flustered, everything was coming at me quickly. I think I held off [Shane] McElrath for a lap maybe, I don't remember, but he got me pretty quickly, too. He pulled probably two seconds on me, then I settled down, and I actually started catching him a little bit. We settled into a groove."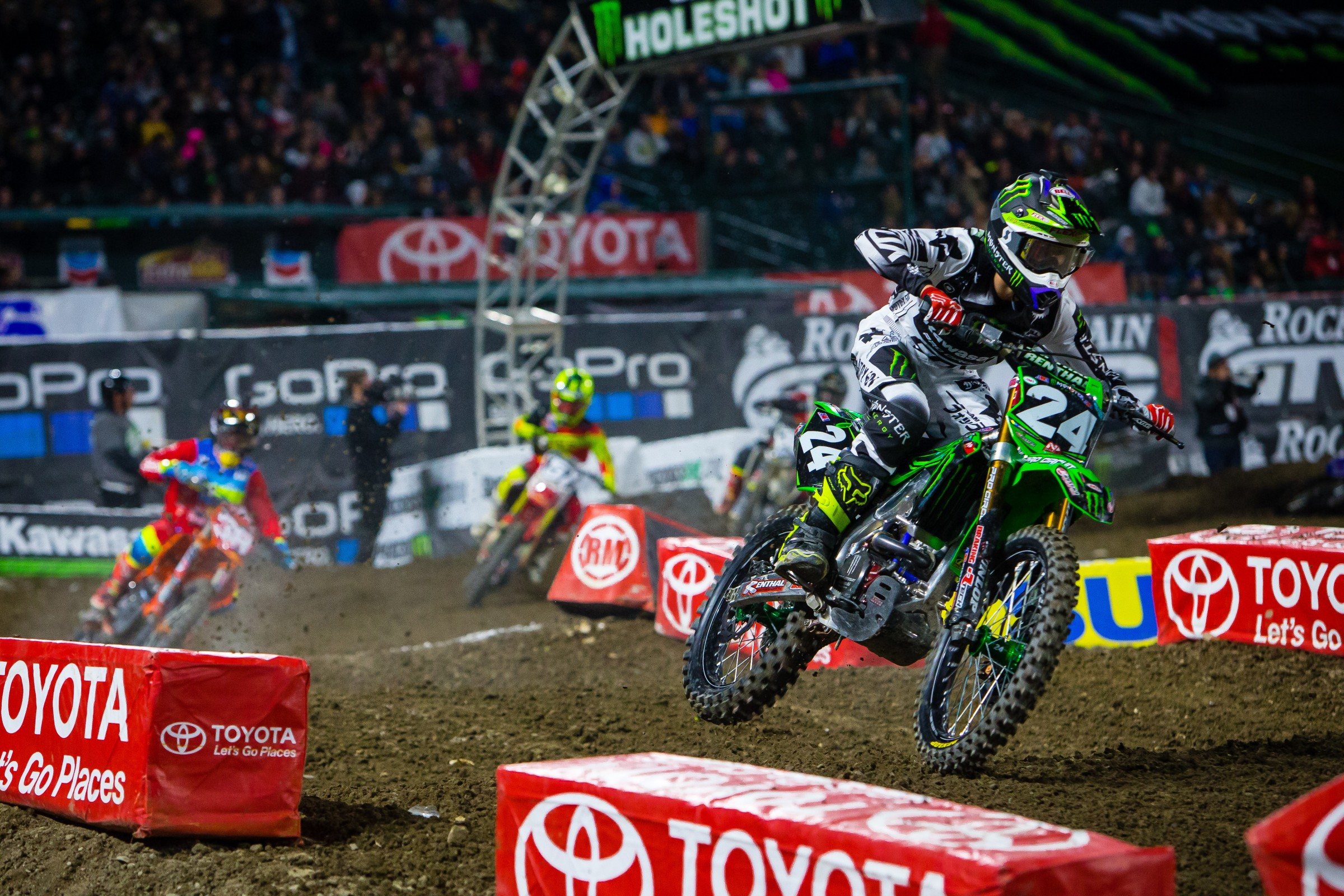 Part of the expectations for Forkner in supercross were powered not just by his great rookie Lucas Oil Pro Motocross season last year, but by his previous performances as an amateur at the Monster Energy Cup. He won the Supermini class there twice, and the Amateur All-Stars event in 2015. But Forkner is quick to caution not to read too far into that. Beating other amateurs is one thing, but veteran competition in 250SX West is another.
"I've done good at supercross, but I feel that's because I was racing guys that maybe haven't been prepared for supercross," he said. "We'd all come into Monster Cup pretty even because most of us hadn't ridden supercross, if anything I'd ridden it more than most because I could go ride the Kawi test track. So maybe I had a little advantage over those guys [other amateurs], but this year I have no advantages. Some of these guys have four, five, six-years plus in this class. I have no experience. I'm hoping I can be great at both. This year going into outdoors it will be my second year, so at least there I'll know what to expect. But here, these guys have experience and it's hard to go and beat them … but I'm not going to settle until I do."