Angel Stadium
Anaheim

,

CA
Anaheim 2 (A2)
Monster Energy AMA Supercross Championship
Round three of Monster Energy Supercross took place at Angel Stadium and it was a going to be a massive mudder—until it wasn't. The Dirt Wurx guys did a bang up job of covering the track to preserve it from the rains that hit Southern California all week, and although it was a bit sloppy at first, they actually had to water it at one point. It's been an unusual winter for the people of California with the amount of rain they've received, so it'll be nice this weekend in Glendale, to have primo dirt.
This column is going to be a bit different from the "yoush," because about a month ago on the Pulpmx Show I had privateer Alex Ray on and we talked about his program for the upcoming year. Last year he had a good deal with Spider Energy Drink and performed pretty well, on the cusp of making mains and sometimes in them. Well, tough times this year caused his sponsorship swamp to be drained of cash and there went his money to pay a mechanic.
One thing led to another and I declared that I would help A-Ray out at a race or two this season. I wrenched for 11 years for a variety of dudes and I thought it would be fun to get back into the trenches again. It's a different world down there, folks. Sort of like the difference between playing Grand Theft Auto and then ACTUALLY shooting people, running them over with your car, and robbing banks. Ray rides a Husqvarna which is basically a KTM and I worked for factory KTM in 2000 and 2001—piece of cake, right?
So, yeah, a LOT happened at Anaheim 2 that I'm not going to talk about. Ken Roczen's crash, Jason Anderson's DQ, Ryan Dungey's dominance, and Justin Hill's win won't be discussed here. Sorry, bro. Lucky for you, there's THIS and THIS to let you all know what I thought of everything that happened at the Big A.
Here's my night behind the board.
The Start
I showed up a bit later than I would've liked but once again we were on a rain schedule so one practice was canceled and the entire schedule was pushed back. The Starbucks line was long, so blame them. Now this wasn't the full mechanic job because I didn't build the bike, Alex's cousin Mike, who's been helping him on the West Coast (and even paying for hotel rooms for A-Ray), had done the build. My job was basic race day maintenance: clean the bike, motivate the rider, and sweet pit board signals. Alex made a joke about how great I'd be at packing the gate, but I ignored that.
Thinking it would be muddy, I got some foam, cut it out and zip-tied it to the shifter and brake pedal. Ray didn't want hand guards, which was good because those are a pain to install. Mike suggested that "we" needed to check spokes and tire pressure, which I did to the front but then got busy talking to someone and Mike did the rear. Dunlop had already mounted the tires on another set of wheels and because he made the main last week, they were free! Had he not, it would have been $135 a set.
These mechanics nowadays all have backpacks for the starting line that are full of stuff that they'll never need and if they did need them, the rider is six-laps down or more by the time they've changed it. It's kind of dumb. Rick Johnson and Jeremy McGrath won 600 races (approximately) with a mechanic who wore a fanny pack, so that's all Alex Ray was going to get. Luckily for A-Ray, I still had my fanny pack from the last time I wrenched for Tim Ferry at Yamaha. Looking at the pack itself, it looked like it did when Ferry went 6-35 (knee problem, NOT a bike problem) at the 2005 Budds Creek National, the last race I wrenched professionally at. I figured the red dirt was a nice touch and left it as is. But in the bottom of it was one tiny titanium 6mm bolt from … something. I figured it was an omen and our four-leaf clover for the weekend.
I saw Nick Wey earlier in the day and he told me that I needed to fix Ray's bike because last week it was smoking on the line. Ray confirmed it was a radiator overflow hose issue. Typical Wey, not much gets past him. Thanks to the Monster Kawasaki guys, I got a new overflow hose and a factory 1.8 radiator cap. Now we were in business, but unfortunately for me, this meant more work on the bike. Thankfully, Mike helped me out. Mike's the best.
Track walk time and this is a fun time for me, I usually refer to it as "track talk" time because I wander out there, kick at the dirt, start talking to people, and rarely make it past the first rhythm lane. I've walked enough tracks in my life, I don't need to do it again. Sometimes if I'm feeling frisky, I'll go check out the whoops as they're usually the key to the race. Well, no track talk time for me this week because I had a rider and I had to give him some tips!
My first tip was to try and get his entry money back because sweet Jesus are those jumps big! Not really, but everyone who loves SX should walk a track sometime. It's a lot different down there. A-Ray and I discussed a variety of ways to jump things and I fended off jokes at me the whole time including one from Davi Millsaps who said that he hoped I had to run at some point. To which I remarked that he wouldn't see that because I would only be running to go talk to the fast riders. Hmmm, I can't figure out why riders don't like me?
At some point we saw Wey again and he said I better not have any problem setting the start button to which I laughed and laughed and assured him I'm a pro at this mechanic thing.
Ray was in the B practice, which I didn't think was cool seeing as how he made the main last week. Being in the seeded practice is pretty good for a rider like Ray because he can watch the best in the world and learn from them. I told Ray no worries, I'll get him into the seeded practice because Toolie down at the AMA will hook me up. It was then that Ray told me not to bother, he liked the unseeded practice. I informed him that because he's a Pulpmx athlete (he runs a Pulpmx sticker like Jake Weimer) he's up for a $5 bonus for getting the fastest time in his practice. Lining up for practice I see that Christophe Pourcel was in our group because of him not making the first two mains of the year. Oops, there goes that five bucks for Ray.
I set the start hook, Ray rips off an amazing start. At that point, MoHead, Pourcel's mechanic, notices me and asks me what in the hell I'm doing. I reply that I don't know.
The practices are eight-minutes long and then 10-minutes long. And these mechanics are packed up like they're Sherpas headed to the top of Mount Everest! What in the heck happened in the years I've been gone? Teams have tire carts for an eight-minute practice!!! You better pull it in within one minute of hitting the track if you hope to be able to change that wheel out, bro.
I think every mechanic but me had a pit board down there to tell the riders their times. First of all, riders rarely look at the board, and second of all, there's a ginormous tower with the numbers of the riders that are in the top five in times. Here's a hint for you mechanics—if the rider doesn't see himself on that board, then GO FASTER until he's on there. There's ZERO use for a pit board in an eight and 10 minute practice. And don't get me started on the half-boots mechanics use to pack the gate.
And, oh by the way, I can't see shit from the mechanic's area. This dumb over/under bridge was blocking my view. Why do we have these things in supercross anyway?
Fourth fastest in first practice, not too shabby for the Matthes/Ray super team, right? Back at the luxurious Ray pits I cleaned the bike up, adjusted the chain and then the guy next to Ray on the two-stroke Husky (remember him? The guy I said probably shouldn't be out there?) told me that I gave him a pipe in 1999 when I was at Noleen Yamaha with Ferry and then he broke his leg later that night in Houston. I don't even know where to start with this information. By the way: Ray's suspension guy is Clark Jones, the old owner of Noleen back when they were a powerhouse privateer Yamaha team. Things were getting weird.
Next practice "we" were third in our group and ended up 24th overall. You'll notice that 22 riders go to the main so this meant "we" were on the outside looking in. Ray won the LCQ last week but with the addition of Malcolm Stewart, Jimmy Albertson, and Nick Schmidt this week, things were going to be tough.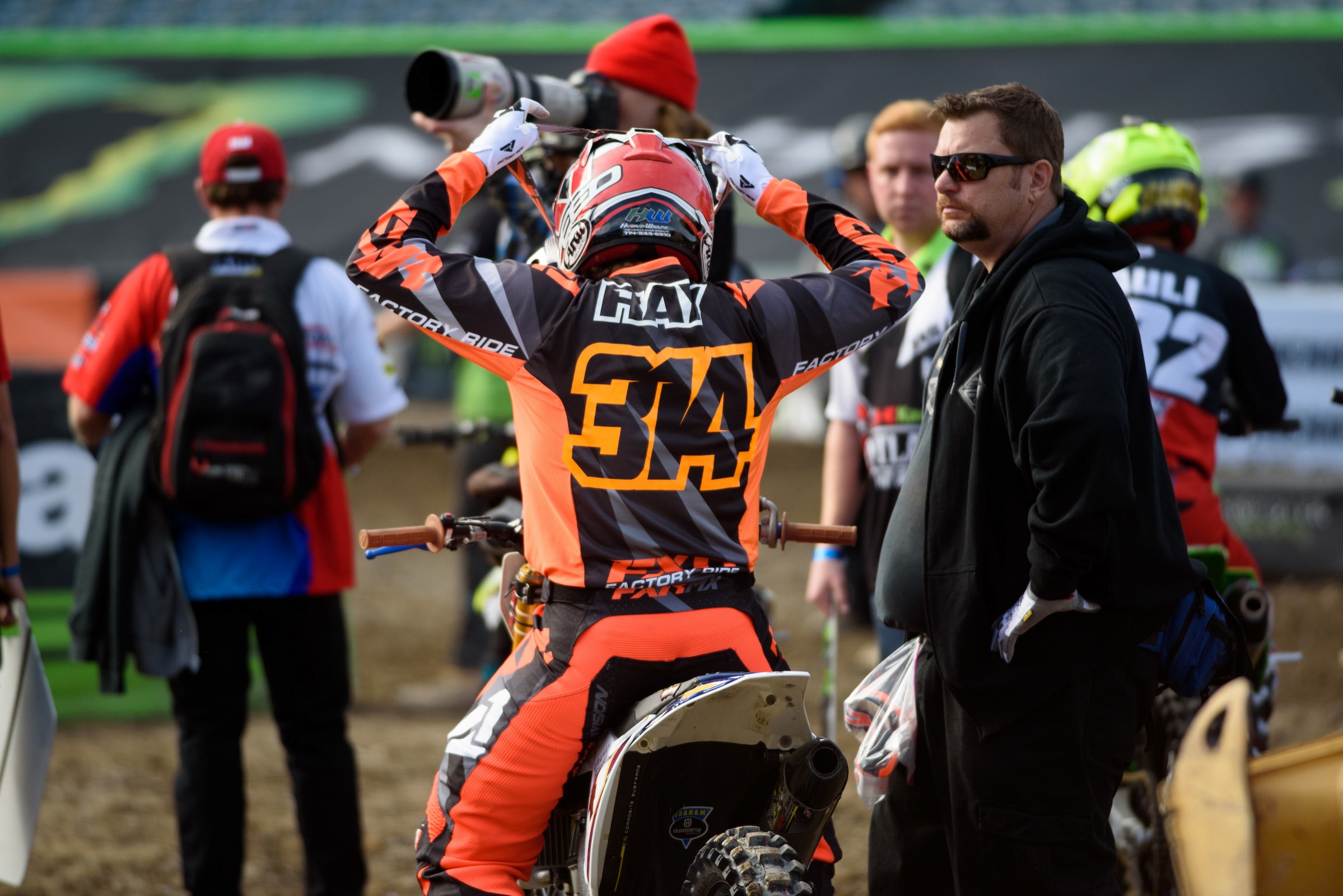 With some time to kill before the night show, I changed the wheels out. Well, actually I just changed the rear and got to talking to someone so Mike did the front. My radiator cap and overflow hose were holding on strong. I needed to wipe the bike down. (Cade Clason had covered it with mud—that bastard.) Now it was time to chill out so I went and ate some pasta at the GEICO Honda truck and grabbed a coffee at the Kawasaki truck. I texted Ray to let him know that I was alive and I'll be back at some point before we need to head down.
GO TIME
We were in first heat race so I grabbed the fanny pack, the spare goggles, A-Ray's water bottle, my Oakley's with the clear lenses, Ray's jacket, and my Mechanix Wear gloves (thanks to RCH and Kawi for each giving me a set!) and I was starting to resemble one of those Sherpa mechanics. I'm sitting in the tunnel on the bike in a stadium like I've done so many times over so many years and getting a bit nostalgic. Seriously, it was kind of neat and the nervous feelings came back over me. Except all that coolness was ruined when Yamaha's Jimmy Perry, my old boss, sees me on the bike with these ridiculous 1980s Oakley's and can't stop laughing.
I tell pretty much every rider or team guy I see that looks at me that I'll see them at the podium. I'm serious, I probably say this 40 times over the course of the night.
We get down to the gate and Alex asks me where I think he should go. We knew that around the box would be ideal, but so would a money tree for my backyard. Qualifying 24th ain't gonna get us a spot around the box. It's then that I have my epiphany that the gate next to Malcolm Stewart is open. Yeah, it's on the inside and yeah, it's a bit muddy behind the gate but we'll be sure to get on TV because I would bet the TV show will be showing Mookie on the line. And breaking news A-Ray, you are not making it through this heat into the main so why not get some TV time?
BINGO BANGO, BABY! The cameras are all over Mookie and his return to supercross and they can't help but get us as well. At some point I'm packing the gate for Ray and Mookie looks over at me and basically looks at me like he would if a T-Rex was working for Alex Ray. We shake hands, I welcome him back to racing and he's speechless. Or he's laughing. I can't tell. I don't know how Ray does in this race, I was too busy thinking about how much shit these mechanics and teams have in the mechanic's area. Onto the semi we go!
By the way, we were in the heat with the Vince Friese/Jason Anderson thing and I didn't see anything after the checkers flew nor in the tunnel. Hey man, I'm "focused" on my guy!
Things move very fast at the races so it's not long before we are back in the tunnel for the semi race. But first I had to check Twitter and Instagram and texts to see everyone telling me they saw me on TV. The bike could wait.
You know how Damon Bradshaw hated all his competitors? Yeah, Alex Ray is the opposite of that as he bros down with anyone and everyone he sees. We've gotta work on this pre-race focus stuff with Ray as our conversations down there didn't have ANYTHING to do with racing. If Pookie found out what we talked about, she'd be ashamed or calling a divorce lawyer.
One thing I noticed was there's a clear distinction between the privateers on Privateer Island and the factory guys. Privateers all hang out with each other at the back of the staging area while factory guys (who are almost always later to arrive) ride past us refugees to the front. Was I like that when I was factory? God I hope not, but I bet I was.
I was sitting there wondering if I was the oldest dude there when Dave Feeney, Zach Osborne's mechanic, walked by and nope, I'm younger than Dave! Yay for me?
I tell Ray to hold the bike and I go over to chat with Pulpmx's Jake Weimer and he can't stop laughing. I was really hoping to see Chad Reed at some point because I know he would've appreciated this moment but no luck there.
Down on the gate, this time by the doghouse and I can't set Ray's start hook. Damm you Nick Wey, damm you to hell. It gets so bad I ask Damon, Dakota Tedder's mechanic, for help. I'm not making this up. I had no problem at all until this point, I swear. Alex tries to soothe my hurt feelings by saying it's set pretty low. Not helping at all, bro.
Ray rips a great start to the semi and I follow the top of his head around the track. He's in the last qualifying spot when I see the #15 of Dean Wilson coming up. I quickly scanned Dean's accomplishments in my head and then Ray's and determine that we're going to need some help here. One time in Orlando my rider, Ty Birdwell, was all by himself about 10 seconds back of Greg Albertyn and one spot out of qualifying in the semi when on the last lap Albee just weeded himself with no one around him and we rode into the main event as heroes. I really needed a factory rider to pull an Albee here.
(Insert your own joke about a rider on a Yamaha running the #15 taking my glory away. Go ahead, I'll wait.)
MoHead asks me how I'm doing and if I need anything. I say yes, some Gatorade would be nice and he says if we make the main, he'll bring me some. Sweet!
Wilson gets by us and so does "top" Jimmy Albertson, who pulls an aggressive pass on us in the semi that sends Ray to the ground. Now, Ray put a block pass on Albertson rather aggressively before Jimmy decided to end it, but I'd rather not talk about that. I'm a mechanic and inside a rider's circle so therefore, everyone else is screwing us and nothing is our fault. I think I'm catching on here.
So it's off to the LCQ and dammit, we were a lap and a half away from the main! Ray rides right up to Albertson after the finish and I start thinking we're going to have another "Salt Lake SX 2003" incident (Google it, kids). Instead, A-Ray high fives Jimmy, gives him the thumbs up, and laughs with him. I pray to the MX Gods that Damon Bradshaw didn't see this because he'll fly to our houses the next day and kick both of our asses.
We don't have enough time to go back to the truck before the LCQ so we wait in the tunnel for them to call our name. Ray asks me for his water bottle and I don't have it. I dropped it somewhere. I suck at this.
Adam Enticknap starts staring me down in the tunnel. Just staring at me. I can't figure this out. It's some sort of bizarre Privateer Island fight ritual or something. He slowly walks away from me but doesn't stop staring. Hey man, I bought HEAT 1, back off.
I can't set the start button again. I have to ask Damon for help. Again. He hooks me up (literally) and I turn back and Nick Wey is standing there laughing. I hate my life.
Looking at the LCQ lineup, I'm confident that Ray can ride himself into the main. Vince Friese and Nick Schmidt were locks to me, but after that? Ray can do it. If there's one thing he can do, it's start. He's a great starter and in this short race, that's key.
Ray blows the start. Completely blows it and we're done. At some point he goes down and I write, "Do Whips" on the board and he does. I also draw a set of boobs on there (Ping would be proud) and at one point I don't have time to write anything so I wave him on. Great stuff.
Right after the race Ray and I ride back to the pits where he throws his helmet, kicks his bike over, yells out "F**K" over and over while kicking a puppy. Actually, wait. We ride over to Enticknap where he congratulates him on making the main and he laughs and jokes with Schmidt. Then, 10 minutes later when he's got no one else to be happy for, he gives his buddy Clason thumbs up on way back. I'm not making this up.
So that was it. The dream was over. Alex Ray didn't make the main; I failed this privateer hero. I had fun, but I barely did anything compared to what I used to do and it was a lot of work and stress. It's funny: I asked guys like Max Steffans, Dana Wiggins, and Kenny Watson if they were at all like me and did NOT miss wrenching. They all replied that they did not miss it. It's a lot of work and this reminded me of that. And again, I basically did nothing.
It was fun to help out Alex though and thanks to him for letting me do it. Thanks to Mike, his real (unpaid) mechanic for letting me come in there and bumrush his job, and thanks to you guys for reading this.
Email me at matthes@racerxonline.com if you want to chat about this or anything else.