Anaheim, CA
Anaheim 1 (A1)
Monster Energy AMA Supercross Championship
It was on. Ken Roczen jetted off to the early lead at Anaheim, but Monster Energy Kawasaki's Eli Tomac quickly filed in behind him in second, and the battle many had anticipated was set. Eli was ready this season! Eli had the start he needed! Here it comes!
There it went.
"My arms set off a friggin mushroom cloud bigger than anything that has ever happened," he explained. "I blew up. That's all there is to it. Anyone who has ridden a dirt bike has had arm pump, and at that point I was just along for the ride. It was a bummer because the rest of the day was really good. Qualifying was really good, I came out of that second. Heat race was good, starts were there, consistency, everything was there, so for that to happen in the main event was a bummer because I had some momentum."
From there, the press threw out an endless run of theories and guesses as to why Tomac's arms locked up. He wasn't sure of why himself, though.
Maybe it was the Anaheim 1 nerves?
"I hope it is!" he said. "That was weird for me, I'm usually a guy who warms up, but this was the exact opposite. I came out of the hole fast and then went ice cold. Hopefully it's just A1."
"[I] went to the main event, nailed another good start. I put myself in a good position and had a good little battle with Marvin [Musquin]. Then at like lap nine or 10 I got crazy tight. Pretty embarrassingly tight," he continued. "So I went backwards, just holding on for dear life. I don't know if it was Anaheim 1 nerves or if I need to just chill out a little bit and not try to hammer that pace early, but it was disappointing. I've never had that happen once at the practice track. So definitely scratching my head a little bit on why it happened. I've literally been doing three of those motos a day no problem. So I don't know if it's race conditions … I don't know."
One reporter asked if maybe the difficult, slippery track conditions played a role. Tomac wasn't sure, and said he actually liked the track.
"I thought it turned out to be really good," he said. "I think it was kind of typical Anaheim. Had a little bit of a base and had some good dirt in there. There were a few spots where there were ruts but for the amount of rain we got, it turned into a pretty sweet track."
Another asked if the rain-delay schedule, which eliminated the first free practice session, contributed. Tomac explained that at the test track, he can throw in a one-lap warmup and immediately do his motos without any problems. Another asked if it was a breathing problem.
"If I knew what it was I probably wouldn't have been in the situation," he said. "I just don't know what caused it. Bad case of arm pump. I don't want to change a whole lot because I feel pretty good. If it happens again or if it continues or anything then I'll look deeper into it, but I'm going to try to blow this one off."
Tomac would fall back from second to fifth, as Ryan Dungey, Marvin Musquin, and Jason Anderson got around him. He just held off Honda HRC's Cole Seely at the end to snag fifth.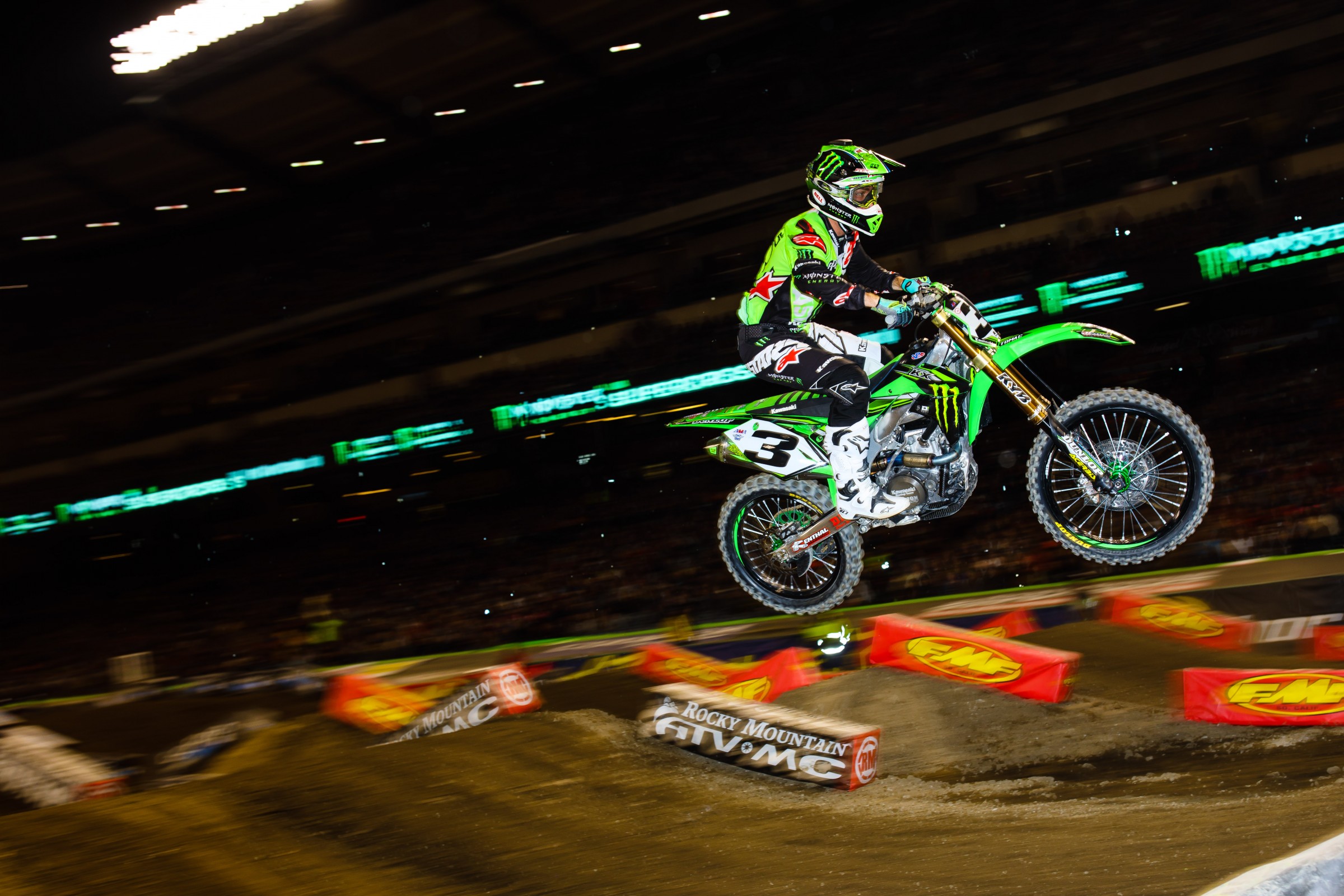 If there's one thing Tomac can be happy with, it's his starts. They've been a struggle for a while now but he and his team put a huge focus on fixing it during the off-season. He gated well in both his heat race and main event at Anaheim. Kawasaki has some electronics to collect data on his starts, but he says lately he's been consistent enough to where he hasn't had to use it.
"The [electronic] data is literally to gather data," he explained. "So if you do have a bad start or if you have a good start they can go back and look at it and see why. To be totally honest I haven't changed a whole lot, and I wasn't really digging my nose into data to improve them. So just got a more consistent technique right now and they were working out."
Further back, in 10th, came Cooper Webb. The rookie's 450 debut was filled with hype, with several industry veterans actually even picking him for the Anaheim 1 win. But Webb, despite being one of the most fearless and mentally strong riders in the game, wasn't immune to the hype and nerves of the opener.
"[It was] really just stuff with myself," he said. "I kind of struggled with arm pump a little bit tonight. Stuff with the bike can always be better, but I think just with myself and getting comfortable fast. I think having that regular schedule and stuff like that next week will be better. I think it was a little stage fright, I guess you could say. When I lined up I'm just looking at all the guys I'm racing and I think it kind of just sank in a little too much. Just get that confidence and go from there.
"It started off a little rough with practice and stuff, just kind of struggled," continued Webb. "Not rough, but just wasn't riding like myself, kind of out of whack. Unfortunately kind of carried that into the heat races. Went to the semi and got a good start and had a nice race. Main event I made some bike changes and just kind of calmed down and at that point just took it as a whatever happened, happened type deal. I was glad with how I rode. Obviously you want to do better but it was a solid start. I was consistent and had a good race. I know what I need to work on. Obviously I have a lot to improve on but it's a long season. I'm looking forward to getting better."
So what will Webb change?
"Yeah, I think we've got a lot to change," he said. "I think really just the preparation side of things for me. I haven't really been riding with too many of the 450 guys. Chad's [Reed] here this week so that will be nice to kind of ride and gauge myself off him. I think the biggest thing was just the nerves and the pressure that I kind of had around me. Not from the team or anybody like that but I think the fans. I think everybody kind of expected me to go out there and be fighting for a podium, which obviously I want to be, but just not quite ready for that yet. But I think the game plan is now is we work on some more starts and just work on all our flaws. I think we're not too far off, so that's the good news. We'll just keep doing it."
Webb had quite a bit to adjust to considering this was his first 450SX race, including not only the bigger bike, but longer races. He of course wasn't sure if the new 20-minutes plus one format felt different, because he'd never raced in a traditional 20-lap 450SX main before. Plus, Anaheim's long laps ended up resulting in a 20-lap main event anyway, even under the new format.
"The race seemed long because I had arm pump about halfway so after that it definitely seemed long," he said. "It's hard to say because that was my first 20-lap main as well. I've always just done 15. It definitely felt a little longer but it probably wasn't in reality.
One small silver lining? The rough day and night gives Webb some motivation to get after it.
"Overall it's good," he said. "It's a hard pill for me to swallow being a winner here last year and then not too close to the front this year, but that's the adjustment. We'll have to kind of get used to it. I think right now at least I have the motivation back and I have stuff to fix. So it'll keep the season fun and exciting to see the progress."