Anaheim, CA
Anaheim 1 (A1)
Monster Energy AMA Supercross Championship
Winning your first race is nerve-racking. Anaheim 1 is nerve-racking. Leading with someone trying to close in from behind is nerve-racking. Shane McElrath dealt with all of that on his Troy Lee Designs/Red Bull KTM and stayed cool en route to the Anaheim 1 250SX win. Then, moments after trying to pretend the main event was no different than another day at the test track, it was time to realize it was actually the biggest race of his life.
"It's kind of hard to put it into words," he said. "I know now what people say when they don't really have words to describe it, but at that point it's kind of hard to think about the race itself. You're pretty much focused on nothing but you and your riding. That's what we do during the week every week is practice with our teammates and do all the motos with people right behind us and in front of us. That's kind of what I had to picture it as [a practice day]. Just tried to keep going, keep pushing. The track was pretty tough just with how it was breaking down. The layout was kind of simple but it was tough to be consistent with how it was breaking down, but I'm pumped that I could do it here.
"We came in ready. We're healthy," continued McElrath, who raced the 250SX East Region last season, but struggled trying to return from a broken wrist. "We worked hard over the last few months. Probably the most calm I've been coming into a season, just because I've never really came in healthy. I think that was one of the biggest things. I struggled a little bit in practice—not really struggled, I just put a lot of pressure on myself. I ended up fifth but all the times were close and the track was pretty simple. It's A1 and that's kind of how the track always is. I knew that once it was time for the gate to drop I knew my starts were good and I just had to put it together. So the heat race was kind of a big relief. I was nervous but it was good to ride behind Jeremy [Martin] a little bit. I was able to get my breath and calm down and just kind of find a few different lines and relax. I ended up getting the holeshot in the main and then I just tried to do the laps the same every time and just stay calm. That was the biggest thing. Anaheim 1 is the biggest supercross race of the year and a lot of hype around it. The nerves were high all day for myself and I know for a lot of other people too. Just tried to control that the best I could while still trying to focus on the track."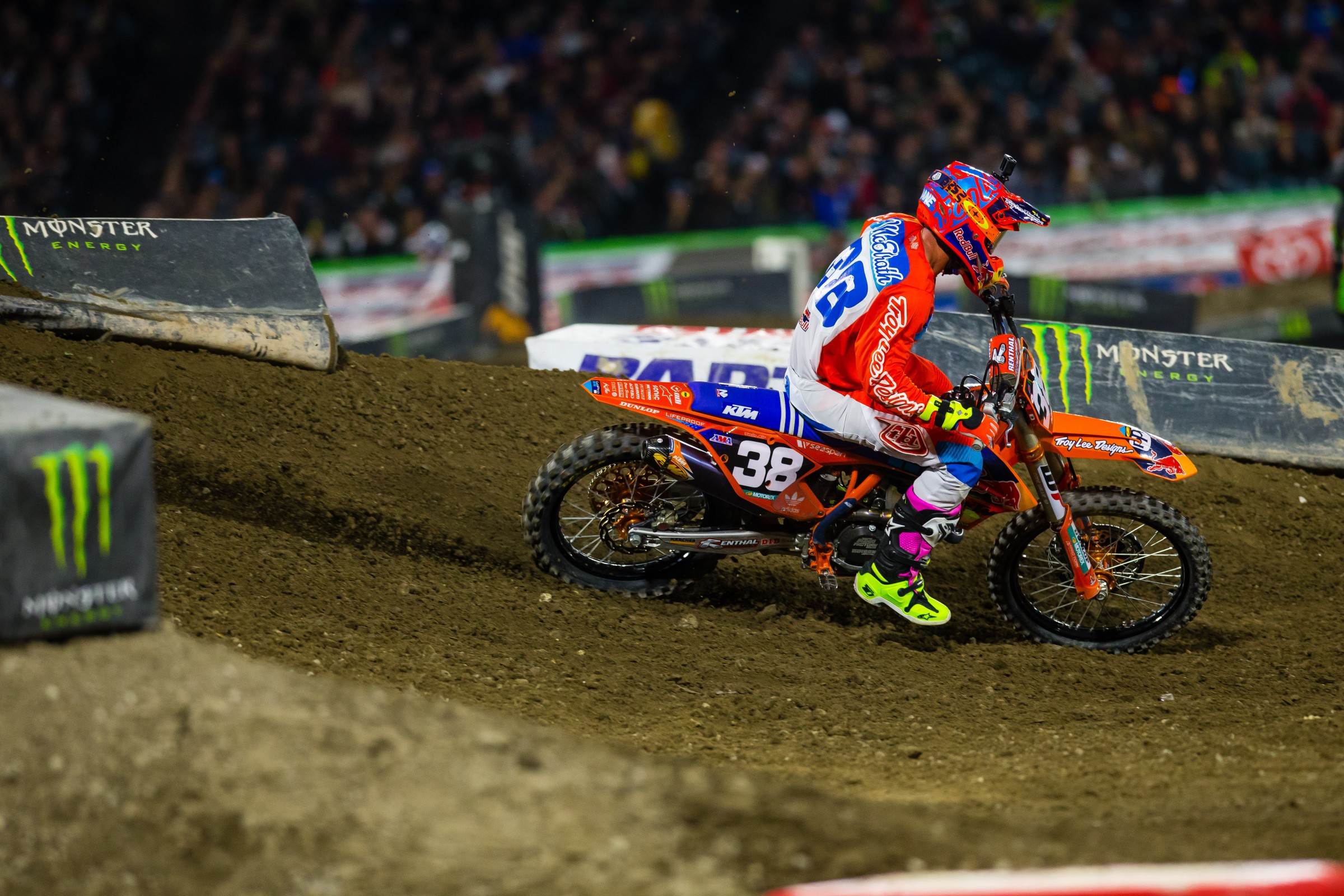 It helped that McElrath has been practicing with pressure all off-season. The TLD team trainer, Tyla Rattray, makes the riders do motos together, pushing each other each time. McElrath told us he tried to pretend the A1 main event was just another day at the test track trying to hold off teammates Alex Martin and Mitchell Oldenburg.
"We can benefit from doing motos by ourselves, and we do that once every few weeks if we want to, Tyla, our trainer, would let us, but for the most part it was just always Alex and Freckle [Oldenburg] and then myself," says McElrath. "We would just rotate the order pretty much, whether it was sprints or motos or whatever. Jordon Smith's been on the East Coast so he hasn't been running with us. But we're a team and we all work together and we all push each other. That's I think the biggest part of our team. It's like one big family. I think that plays into the whole mood of the races on the weekends. I think that's a big part of who we are."
The win changes so much for McElrath, especially considering a supercross win wasn't even on his radar growing up. He explained that simply getting to race in a professional supercross race seemed like a reasonable goal—this type of success seemed far out of reach.
"Growing up watching Jeremy McGrath, and [Travis] Pastrana, and [Ricky] Carmichael, the goal always dreamed of just racing a supercross. That was kind of what I grew up, calling it as 'making it' I guess," he said. "It wasn't long ago where I was thinking about that and I was like, I've kind of exceeded my expectations or my dreams I had when I was a little kid. I never really thought about it until then. I have a good opportunity to keep going with this and a good team to be with. That just gives me more motivation. It's not always fun but for the most part we enjoy everything that we do and we can push each other out on the track but then we come off and we're all good. I think that's the biggest thing.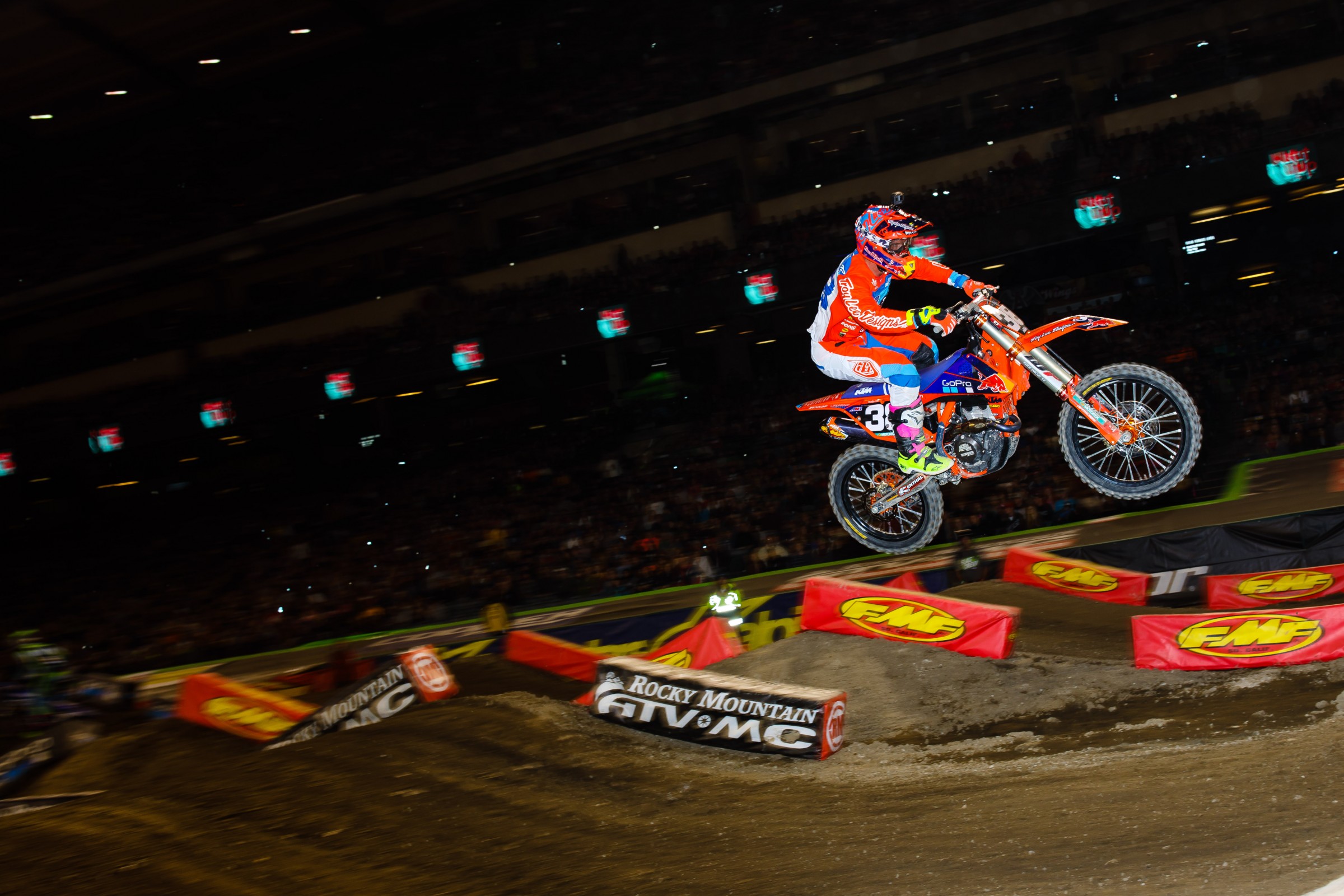 "We've definitely been putting a lot of time in laps and doing our work. That's what the biggest part was. For me, getting hurt at Southwick this year I had about a month off after that, and then when outdoors was over I was just starting back riding. Since then I haven't really had any time off other than the holidays. For me, it's just like I've been doing the same thing over and over. We've had time to get healthy and be prepared. I think that's the first time in a few years that we've actually had that opportunity. That was the biggest thing. Pretty much the last two weeks since Christmas is kind of almost in a little conservative mode because you don't want to do anything stupid to risk this. With my injuries last year it's hard not to think about that, but at the same time it's like we ride how we ride and that's kind of all we know. It's just a big step for us and for our confidence, the main thing. I feel like we've always kind of just been lacking in that area a little bit because of injuries too. So we've definitely put in our work and didn't have high expectations—we just knew what we had to do and we've been working on starts and sprints and long motos. I tried to just replicate a practice day."