Anaheim, CA
Anaheim 1 (A1)
Monster Energy AMA Supercross Championship
Aldon Baker's Baker's Factory might be the best program to replicate race-day situations, as riders under his tutelage always come into the opener ready to go. From Ken Roczen and Jason Anderson going 1-2 under his watch in 2015, to Anderson and Dungey going 1-2 at the 2016 opener, Baker's boys usually come out swinging from the first gate drop of the season. They did again this time, except for one problem: Roczen. The Honda man, no longer with the program, dominated the Anaheim proceedings. That left the current Baker's Factory crew with 2-3-4 finishes from Dungey, Marvin Musquin, and Anderson.
Dungey and Musquin were happy to podium, though. Dungey was never a threat, speed-wise, to Roczen, but he was also too far back to even give it a run by the time he got into second.
"My race was pretty decent," said Dungey. "I got off to I think about a fourth or fifth place start. Kind of needled my way through that first turn there. Kind of a lot going on there. A lot of good riders were trying to cut down and you didn't want nobody underneath you. But overall I found myself in fourth. Marvin and Eli [Tomac] were right ahead of me. Kenny was obviously up front. From there I just tried to click away some laps and pretty soon I think Marvin and Eli started going at it. So I kind of caught up a little bit to them and so forth and was able to make the pass at some point on each of them and get in second. I could see where Kenny was and just tried to gauge where he was at. He had a decent size lead but for me I was more focused on not really making a crazy mistake. The track was kind of pretty tough tonight. It would reach out and bite you a little bit if you tried too hard. So I just tried to play it cool and just put my laps in and no mistakes and gauge where I was at and see where Marvin was. I tried to play around with that a little bit. But overall I'm happy with the race. It's the first time back on the gate in a while so it's nice to get things rolling again. But no excuses at all either though. So I'm happy with tonight's performance."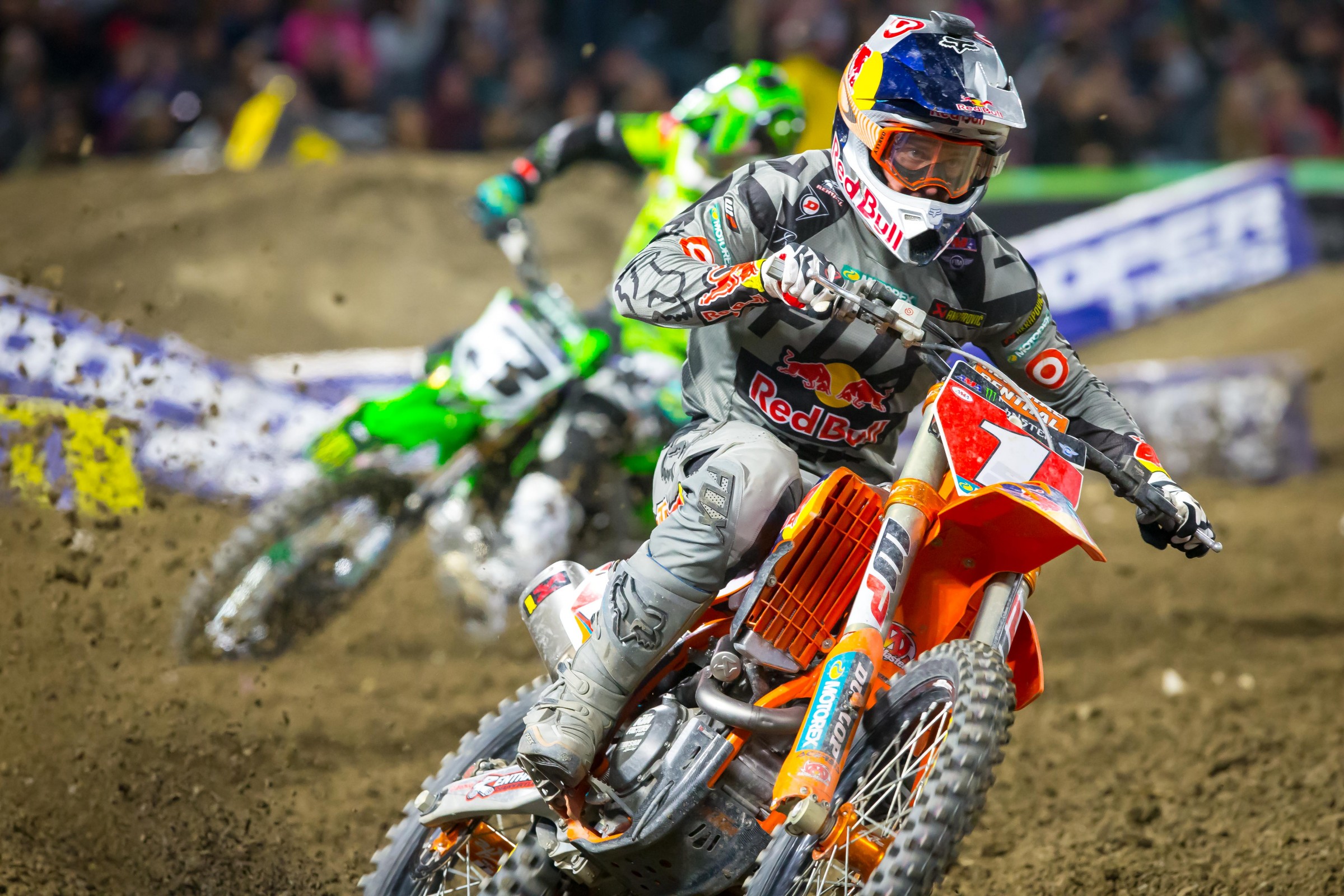 Musquin started second, then battled with Tomac and later Dungey, and was pushed back to fourth. He came back through and repassed Tomac, who was dealing with terrible arm pump, to snag third. Musquin was also the fastest rider in qualifying, so overall it was a decent day.
"The goal was to get a good start, obviously," said the Frenchman. "That's what I did. I was really happy about my start. I went a little too far outside on the first turn but I was able to be really close to Ken. Obviously I was on the outside of the second turn, so I was second. Man, I really wanted to keep my position. Those guys behind were pushing really hard and Eli was right there, and Ryan. But it was good battling. My goal is just to do exactly what I did. I was a little slow at the beginning of the race but I got better and better. As soon as Ryan got around me I was able to regroup a little bit and get better overall on the track. I was able to keep the distance with Ryan and as soon as I passed Eli too. So it was a good race."
Musquin was asked why he was able to up his pace after Dungey passed him, and he said the pass, and watching Dungey's pace, helped push him forward.
"I was in fourth place and I was like, that's going to be tough to get on the podium tonight but try to do your best," said Musquin. "I was in fourth position and I was like, we're catching Eli right now. We're like really, really fast. In one lap I got on his rear wheel and Ryan got around him. I was like, "Man, I got to do that right now." Like you said, it was my time and I got to get it done. I don't know what happened to him, but like I said it was a tough track. I think maybe he ran out of energy. But we've been working hard and it showed. We were able to do 20 minutes pretty solid. I was good towards the end too, so it was good."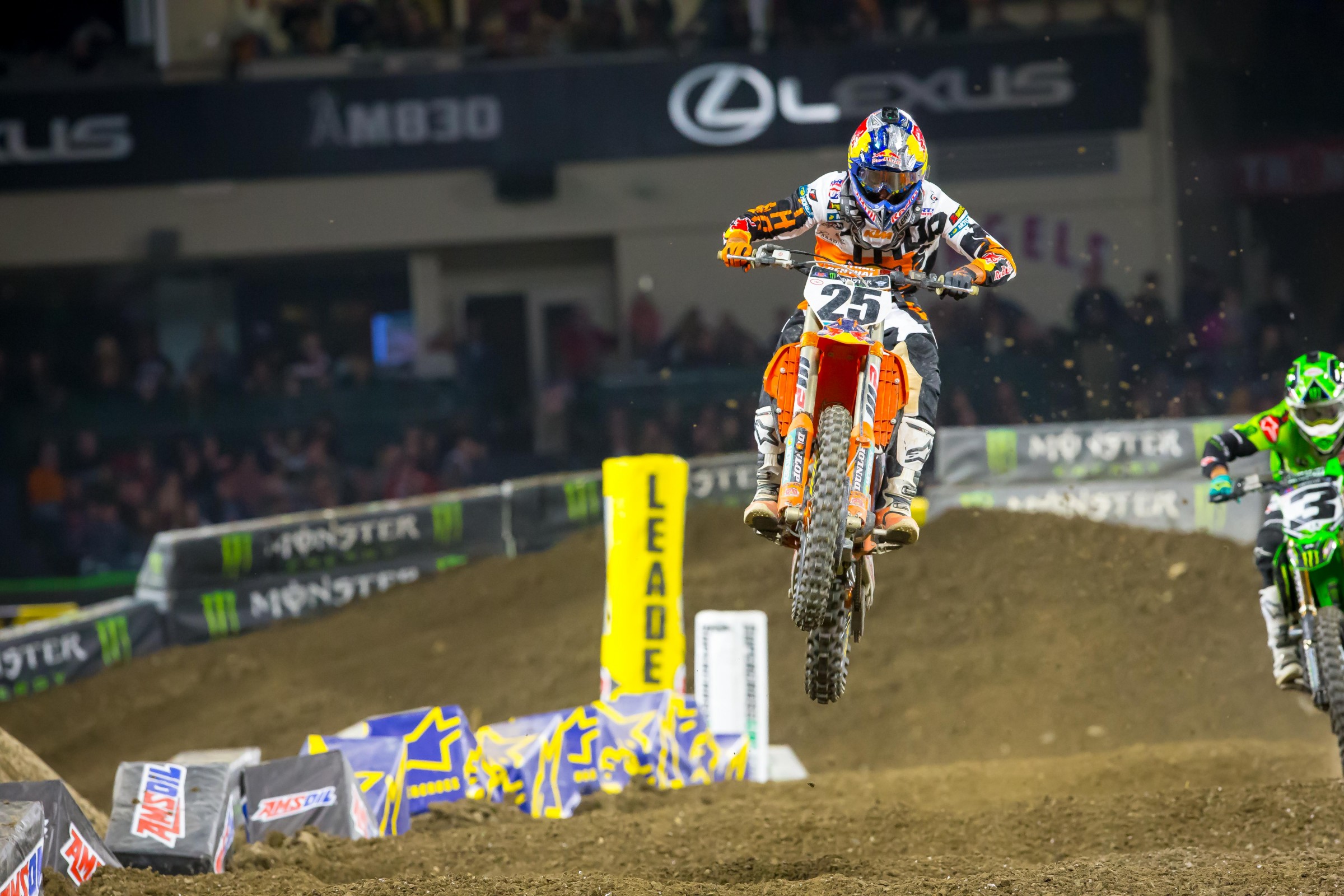 Both riders, like the race-winner Roczen, noted the track was difficult. The obstacles were basic, but the dirt condition made it treacherous, especially in the slippery whoops.
"I think they put a lot of lime in the whoops and I think they kind of had to because the dirt was so soft it would just break down building them," said Dungey. "But it was kind of interesting because in the second practice instead of the whoops kind of getting that goat [narrow] line where you jump in, and it did get that a little bit, but it got really faced and really steep and it kind of stayed like that. They stayed tall. They kept their height but they just got more cupped out and worse as the night went on. I think like Kenny was saying, it's so slippery and that lime just keeps drying it out. So you're driving out of a turn, obviously you're coming down the downside of it and you just start lighting up the tire because it's so hard. You had to really not over-ride the track. It was really loose, but obviously with all the rain and stuff it made sense. They did a good job considering."
"To be able to get a podium here in Anaheim for the first round is big for me," said Musquin, who didn't even make the top 10 at this race last year. "I was really looking forward to it and I knew I was capable but there's so many good guys right now. The track was tough, too. The obstacles were not really difficult but the dirt made it really tough. Really choppy and challenging. I think we can do better with the bike too for next weekend."