Ryan Sipes' ISDE Update: U.S. Extends Lead Over Italy on Day 3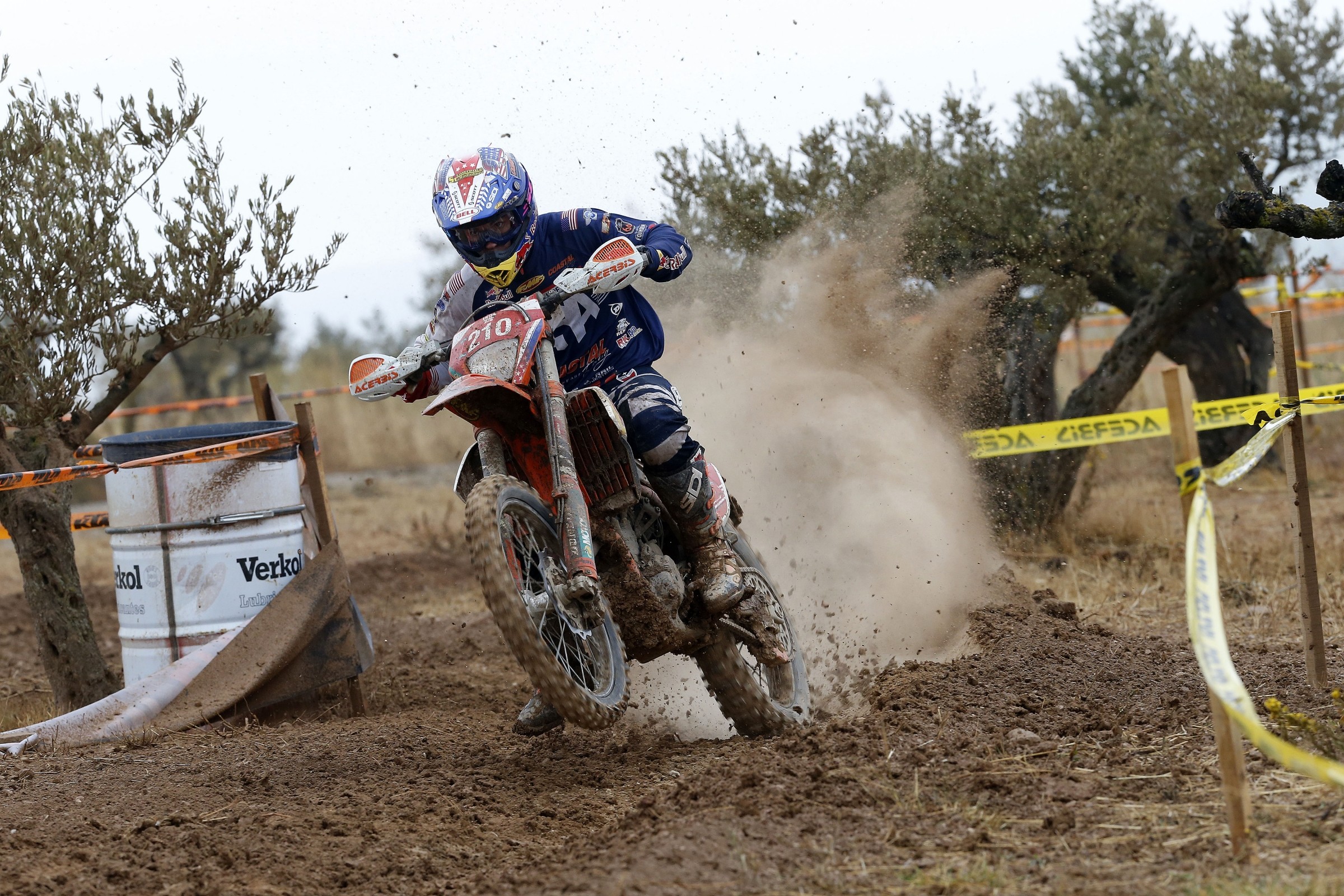 Last year's International Six-Days Enduro overall winner, Ryan Sipes, is out of the event this year with a broken arm. But he's checking in with us each day with reports from the race, which started on Tuesday in Spain.
By Ryan Sipes
Another day, another good one for Team USA! Taylor Robert scorched the competition with the fastest overall time of the day, extending his lead to 19 seconds after Day 3. Kailub Russell had another consistent day ending in fifth overall, with Thad Duvall coming out 19th and Layne Michael 29th.
With this race being less about individual results than team standings, what does all this mean for Team USA's hopes of winning the Trophy division for the first time ever? Our boys in red-white-and-blue extended their lead over Italy to almost two minutes! There are still three days of racing left, and anything can happen, but this is a nice lead to have halfway through the week.
Taylor was all business after an awesome day. "It was gnarly today! Lots of rain up in the mountains, which made for the slickest grass track and enduro test I've ever seen," he said. "Today was way more technical than the last two days, which really separated people in the times."
Taylor is one of the best technical riders I know, so this is a good thing for him. When most people are slowing down because its slick, he has already found a better line and is pinning it. His consistency is really helping him this week too. Slippery conditions lead to mistakes for a lot of guys.
I chatted with Layne about the conditions on Day 3. "I actually had better times than I thought I would, considering how I felt on the course," he said. "It rained and was so slick I felt like I was hardly moving!"
With how dry it has been through the first two days, rain might have actually made the traction worse, but there won't be as much dust. I would take slippery over dusty any day.
Last year in Slovakia, we never had full-on mud days, but we had some really slippery ones. It brings some strategy into play on the special tests. Most of the time, there will be three to six guys who arrive to the test around the same time. If you can be the fourth guy through the test rather than the first, you'll take that option every time, right? There was some stalling going on for sure. Guys would act like they were working on their bike or stretching just so they didn't have to go first.
I asked Thad if there was any of that going on this year. "[Laughs] Oh yeah, for sure! It was some of the slickest conditions I've ever ridden. Pretty gnarly to have to push the limits in that stuff. But, I felt like today was my best day so far."
I mentioned yesterday the physical toll racing the ISDE can take on you. But Thad said, "Today's course actually seemed a little easier than the first two days, and the transfers were more fun." The fun factor can be a huge difference when you are on the bike eight-hours a day. The transfers are long, and not a timed section like the special tests, so the pace is sort of a "fast trail ride." Last year, I would ride about 80 percent through the transfers and still arrive to the checks with time to spare. Anyone who has ridden a dirt bike knows that having fun makes riding seem a lot easier. Hopefully the rest of the week will be fun for the guys like today was.
The Junior team had another good day, with Stew Baylor finishing 21st, Grant Baylor 25th, and Trevor Bollinger 41st. They still hold third in the Junior division. Stew felt like he could have done better though.
"I felt like I couldn't do anything right all day," he explained. "In the last test, I caught my foot in a corner, it pulled my foot into my wheel, and got stuck in the spokes. My toe may be broken but it's numb so I can't tell. I'm just mad. I know with conditions like today, I should be riding a lot better."
That's the thing about ISDE ... you have to push past your limits sometimes to go as fast as you need to, and when you push the limits, crazy stuff happens. And then 30-minutes later, you have to be on top of your game again. One of the most important things I've ever learned came from my riding coach, Steve Hatch: when you make a mistake (and everyone makes them), hit the "reset button" and attack the next obstacle like it never happened. You can't drag mistakes from your past with you into the future. That helped me a lot last year. Stew is experienced enough to put today behind him and come out swinging tomorrow.
Our guys are doing great, and even though it hurts to not be there, I'm cheering as hard as anyone for them to kill it. There's no doubt in my mind that they can do it. Can't wait to wake up and see the results tomorrow.