Maggiora Park
Maggiora

,

Italy
Motocross of Nations
Motocross of Nations
It's been a year to remember for Noah McConahy. The Washington native upped the ante from his previous best season last year and continued to improve in 2016.
McConahy actually finished 23rd in the standings in both the 250SX West Region and 450MX this year. In all he earned 94 points and lowered his national number from #96 to #59 for 2017. McConahy actually admitted before the interview that his goal was to earn a number in the 70s, but he was pleasantly surprised when he found out it was lower.
His year went so well that Team Puerto Rico called him up to represent them at the Motocross of Nations (anyone with an American passport is eligible to race for Puerto Rico at this event. That even included Alex Martin at one time. We have no idea why the rules work that way). We caught up with the always-friendly McConahy before he left to get his thoughts on representing Puerto Rico and how it all came together for this weekend's race.
Racer X: When did you first get the word that you would be racing at the Motocross of Nations?
Noah McConahy: Literally the day after the Washougal National. The funny thing is that we were all talking about trying to get in touch with somebody from Team Puerto Rico to see if we could do that before the race. It just so happened to work out that I got a message the next day. I researched it to make sure it was real and then I told my dad that I was going to go for it. Obviously I think it's a great opportunity to do something that I want to do. I feel like I've earned it.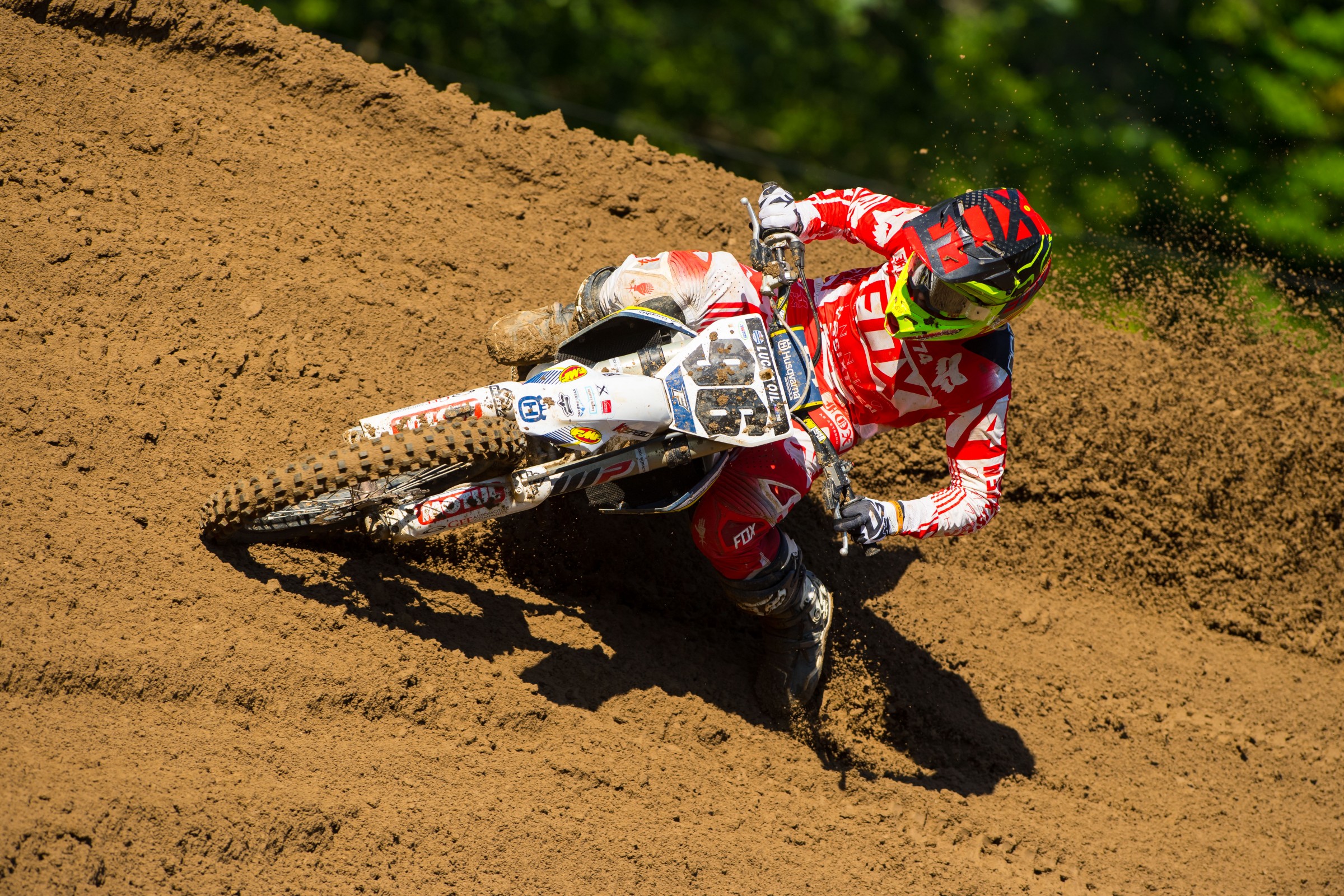 It would be crazy not to go for it.
Exactly. Like, when am I ever going to get this opportunity again? There are so many fast pros that have won nationals that have never been to 'Nations. It's pretty cool for me as a privateer that I get the opportunity to go. I didn't want to pass that up. I had to get some sponsorship money together to cover some flights. It was all worth it in the end.
Don't count yourself out like that. Alex Martin is doing the unthinkable racing for both Team USA and Puerto Rico in his career. He was in your position at one point!
Yeah, he's pretty much every privateer's hero right now. We all strive to go from privateer to factory team. Now he's winning races and that's what we're all looking up to now.
You mentioned putting sponsorship money together. You actually had to setup a GoFundMe page to even cover all of your costs.
Yeah, that was mainly to cover my flight as well as my trainer's and mechanic's. I also wanted both of my parents to go too. I didn't really want to set that up [the GoFundMe page]. I actually had a sponsor from back home set it up for me. It worked out perfectly. The amount of people that came together to help out was unreal.
The team wanted me to get $4,000 together to cover hotels and all of the flights we would need and rental cars. We were actually able to raise around $7,000 and I was able to use some of the leftovers for the last three rounds of the motocross season. It all worked out really well and I was stoked.
"It was just last year at this time that I just figured out that I earned a two-digit number and I was just stoked about that."
Do you know your teammates yet?
I know one of the guys is Jason Astudillo and the other is Gino Aponte. I've never met either of them before, though. We're flying into Miami, so I'll get to meet them on the flight. We're all going to go and try our best. I didn't even know who was on the team until last week. I'm just excited.
What class will you be racing?
I'll be in MX1 I believe, so I'll get to race 450s against different guys. I think the track is going to be hard packed, which is what I'm used to at home.
You're always one of the happiest riders in the pits. You must be jumping out of your skin right now!
I'm a happy guy, but I tried to play golf yesterday and that was probably the first time in my life that I got mad. I was excited to go until I played nine holes of golf. It was all I could handle [laughs]. I'm ecstatic. We went to Fox and they gave me six sets of gear and casual wear from head to toe. It's just fun. I want to enjoy it and try my best. I want to soak it all up, make a memory, and just smile.
It's probably crazy to look back one year ago at this time for you. Did you think this was even possible?
It was just last year at this time that I just figured out that I earned a two-digit number and I was just stoked about that. That was a big achievement for me. I honestly never would have thought that this year would even go remotely close to how it went. I started working with my trainer and gaining confidence. Once you get more confidence and you expect more out of yourself, you do better. It's all just a trickle effect.
Did you have to worry about shipping bikes?
We're going to ride the Dixon Kawasaki bikes from Europe. Husqvarna offered me a bike, but it was really hard to get all of the parts that I would need over there. All I will need to bring with me for the Kawasaki is suspension. WP is going to set up the suspension for me which is a pretty big deal. They are telling me what to expect when I go over there. I've never ridden a Kawasaki, but I'll still have fun on it!
Basically all you will need to do is fly there and bring your suspension. That sounds easy enough!
That's why I wanted to do the Kawasaki thing. The first time that I go overseas I just want to bring my gear, suspension, and be able to go ride. I don't want too many stresses with bike work. I'm just excited to go ride and try it out.
Team Puerto Rico is an interesting variable at the MXoN. You never really know what American they are going to choose.
There is a solid list of guys who have done it before and it's cool to be one of those guys now. They've had Alex Martin, and Kyle Regal ride for them…
Women too…Tarah Geiger.
[Laughs] Wait are you serious? She raced for them?
Yeah!
Oh, man! Guys and girls then! I didn't know that and I just learned something today. She's pretty gnarly on a dirt bike though!
No one has really made a move yet in the offseason and a lot of big name riders are without rides right now. I've got to know, what do you plan on doing next year?
I haven't gotten one phone call or anything about next year. I went home and raced the Top Gun Shootout for JMC Motorsports and they are just awesome people. They have really good bikes, I'm confident in them, and I trust them. I think next year I'm just going to stay on the same program. I was kind of bummed that I didn't get any phone calls but JMC has been behind me from the start and I want to stay loyal to them. I want to give them my all next year.
I was told that I was going to be one of the last in line for a ride and I don't want to wait until November to start training for supercross. I want to get started right away and that's why I want to ride for JMC. I already have my bike ready for supercross and I know what to expect. It's an unreal bike. I'll get better at supercross and the bike will get better too. The team works just as hard as I do on building the best bike.
What do you think it's going to be like racing this weekend?
I have no idea! I think I'm just going to go and have fun. This race I just did at Washougal was a four day event and it was so much fun. I'm going to relax, try my hardest on the track, and soak up the entire experience. The local race was relaxing and I want to have the same attitude in Italy. It's a once in a lifetime opportunity and I'm not expecting anything. Whether I can understand anyone [talking] or not, the helmet is going on and I'm going to race the track.
Are you going to eat a lot of Italian food?
Honestly, probably not. I'm excited to try the pizza to see what a real pizza should taste like.
What about snails?
I don't think I'm going to branch out that far.
Come on, it's once in a lifetime!
Oh yeah, once in a lifetime. Okay, yeah I'll try it [laughs]. My mom always likes to try new things. Knowing her, she will say just what you said and I'll have to try it. That sounds just like my luck though, I would end up getting food poisoning before the biggest race of my life! We're going to go and enjoy ourselves that's for sure!