Yamalube/Star Racing Yamaha just wrapped one of the most impressive seasons of any team in the history of Lucas Oil Pro Motocross, taking the top two spots in points with Cooper Webb and Alex Martin, and winning 15 motos with four different riders. The season even included a few podium sweeps!
Meanwhile there was a fifth rider on the team, rookie Mitchell Harrison, who was trying to learn while his teammates were trying to win. He took 13th in 250MX points in the nationals, and over the weekend at the Glen Helen USGP, Harrison scored a podium finish in the MX2 class. We wanted to talk to him about that, but also about playing the role of the fifth man on a team that was so strong. Will 2017 be his time? Let's find out.

Racer X: I heard you in the Glen Helen press conference say that you were going to take a two-week break. What are you going to do for the next two weeks now that your season's finally over? What is vacation time for you?
Mitchell Harrison: Vacation is… actually I went to Mississippi to visit my girlfriend. It's calm here. It's something different from California. I get to do whatever I want for at least a week and a half, or two.
Even though you only race half of the supercross races when you're in the 250 class, I'm sure you're always under the stopwatch all season. When did the prep for 2016 start?
I would say it started in October.
So eleven-straight months.
Yup! It's non-stop training until now.
What was that like to get on a podium there at Glen Helen? It had to feel good.
It was amazing. I was just looking for the top five; I knew there were going to be a lot of fast riders. You had Jeremy [Martin] there, [Jeffrey] Herlings was obviously incredible, and [Austin] Forkner's been killing it. So a top five felt good. A top three would have been incredible. The first moto I kept up with Forkner and Martin so I knew I had some more speed. Just had to give it a little extra to get that top three.
You feel you were riding better regardless of who was there?
Yeah. We've been working on my technique and form. We've been working on that since the last couple rounds of the nationals. I just felt better each week. At Charlotte I felt like I was actually coming into my own and rode great there. This past weekend was one of my best rides I think I put in all season. I just felt really good. I felt comfortable on the bike and everything came together.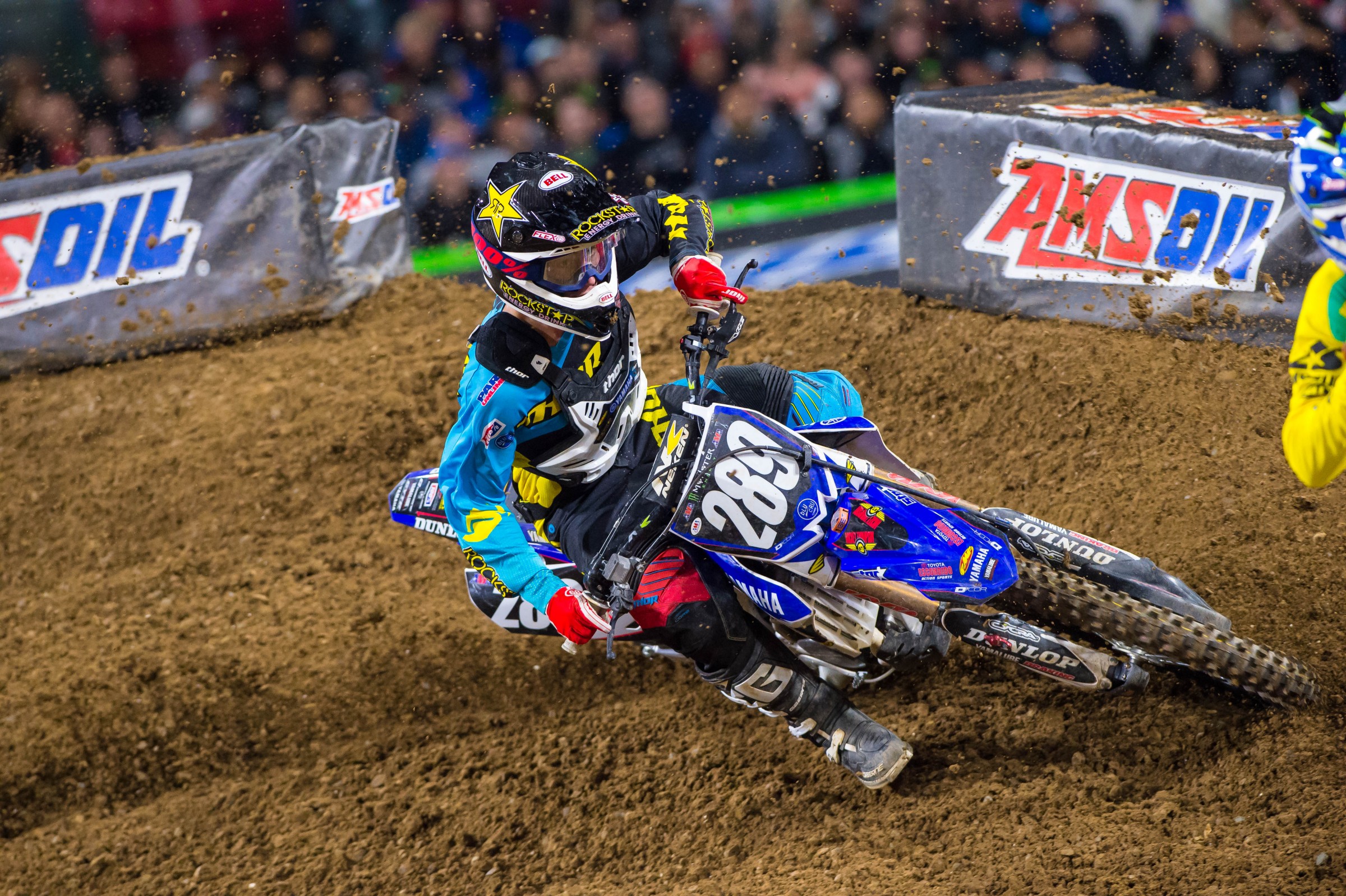 Is this Swanepoel? Is that where a lot of this work is going down?
Yeah. Gareth Swanepoel is my trainer. He does a great job. Great guy. I get to ride with Cooper Webb and a bunch of fast riders. Aaron Plessinger, Broc Tickle. It just really helps me because they're the top guys, so knowing I can run with them gives me a lot more confidence. Plus Gareth is such a great trainer.
Let's talk about being on Star Racing as a rookie. You're in a tough situation because this team has become super dominant. You were riding well. You were getting ninth and tenth, which is good for a rookie, but was it tough for you to see all of your other teammates winning overalls, motos and titles? Does it get frustrating?
It was definitely tough. At the beginning of the season I was riding all right. A tenth and eleventh was good, but I needed more progress. Then towards the end I started doing better. I got a sixth place the last moto of the season, but it was weird because I still was the worst on the team! But it was still great. So I had to really say, "I don't need to beat these guys, but I need to set my own goals."
If you take away comparing yourself to your teammates, were you actually happy the way the year went?
I'm really happy with the way the year went. I had some breakout rides. I had some bad rides, stuff that I was questioning what I had to do. I think the good and bad is what you need for a rookie season to figure out what really works for you. It's fortunate that I ended incredibly well in this last round and I can go into the break feeling good about myself and really confident going into supercross.
How did this deal with Star even come about? They had a four-rider team and then all of a sudden we heard they picked up you. We knew you were pretty good as an amateur. Had you been talking to them for a long time? Did it kind of come out of nowhere?
I actually approached [amateur riding coach] Matt Walker, which really helped me out with the deal. He knew Bobby [Regan, Star team owner]. He talked me up to Bobby. It gave me an opportunity to go out to California and show what I could do on their bike. So we went out to California and started riding supercross immediately because Monster Cup was coming up. It was originally a ride between me, Jon Jon Ames, and Bradley Taft for the A ride as an amateur. We started riding supercross. I got the hang of things in supercross pretty fast the first couple days. I'm from Michigan. I had to do a lot of arenacross, so supercross comes more natural to me than I think others. They were really impressed with that. They were like, you're good! Can you ride supercross for us? Of course I had to take the offer.
"It's definitely a dream come true. Last year before Loretta's I didn't even know if I was going to get a pro ride."
Whoa, so the original plan was to race amateurs this year?
Yeah, the original part was for me to be an amateur rider, but since Cooper Webb and Jeremy Martin were probably going to be moving to the 450s next year, I mean, Jeremy ended up on another team now but they were thinking he would go to the 450s, that was two title contenders that were going to be out. So really it was all on AP [Aaron Plessinger] and they saw potential in me that if I rode this year as a rookie and just figured out everything, learn a lot, that I could be a guy for them to claim another title once those guys moved up.
Still, that had to be tough, though. You could have maybe spent one more year as an amateur, but instead you're kind of thrown to the wolves. Was there some pressure there?
I'd rather be in the pros. The amateur thing—if you're just an amateur you still have to fight for a ride. This way I already have a ride and I already have another year. So this whole year was just learning and having fun. There was really no pressure on myself. I did put some pressure on myself—I wanted to show everybody what I could do. It took longer than I thought but these guys are way gnarlier than I think everybody realizes. It's really tough to get a top ten, and especially a top five or a top three.
How much better do you think it will go next year? What kind of goals do you have right now that you have some time?
Not sure. Right now I think a top three in supercross is my main goal for the first couple rounds. I'd love to be a title contender but last season in supercross was a tough one. I feel confident coming out of this last round. I know I can ride with these guys. I know I have the speed. I just have to really have my mind set in at least top three and then go from there.
There's a lot more work to do once you're a pro, and a lot more racing. Did you get tired by the end? Are you glad to get a break like this?
I never really got tired. I actually want to race more, to be honest. I feel incredibly fit. Towards the end of the season I felt better and better. Coming to the end of the race season I was actually a little upset, but also glad to get a break.
What made you decide to race the GPs? Was it just for that reason? Just want to keep getting more experience?
Yes, that was exactly the reason. The more experience the better. Ironman, the last round, went pretty good, but I definitely felt like I needed more experience and more bike time and racing. Really racing experience, that's what it was.
At Glen Helen was the rig all yours? Did anyone else pit out of there or did you have the entire thing to yourself?
No, I thought I was going to but we had a lot of the European Yamaha guys. We had Benoit Paturel and some other guys. It was pretty hectic in there, but it was really cool. I actually got Benoit's jersey, so I was pretty pumped on that. We traded out jerseys. I thought it was cool. He took third in the championship. That's awesome.
These days amateur graduation is all over the map. You could have raced amateur this year, then you have other rookies that started and raced the whole supercross season like you. We had guys like Taft that raced Loretta's. We had guys like Forkner who did half the year. Did you race those guys all the time? Did you race Forkner? Did you race Taft?
I raced Forkner all the way until my last supermini year. I was a little too big for the bike so I had to move up a little earlier and he stayed down another year in supermini. But we raced all through minibikes. Then we ran into each other at Daytona and whatnot on big bikes. I would say he was one of my competitors in amateurs, especially in the supermini years. He was insane. It was a lot of fun racing against him. Then Bradley Taft, he's always older so I was never in the same group. I think I only raced him at Loretta's and a couple other races my A year. That was really it.
Did you race Chase Sexton much?
No, never raced Sexton besides Monster Cup. Good friends with him, but he's always been fast on 80s so it was fun to ride with him.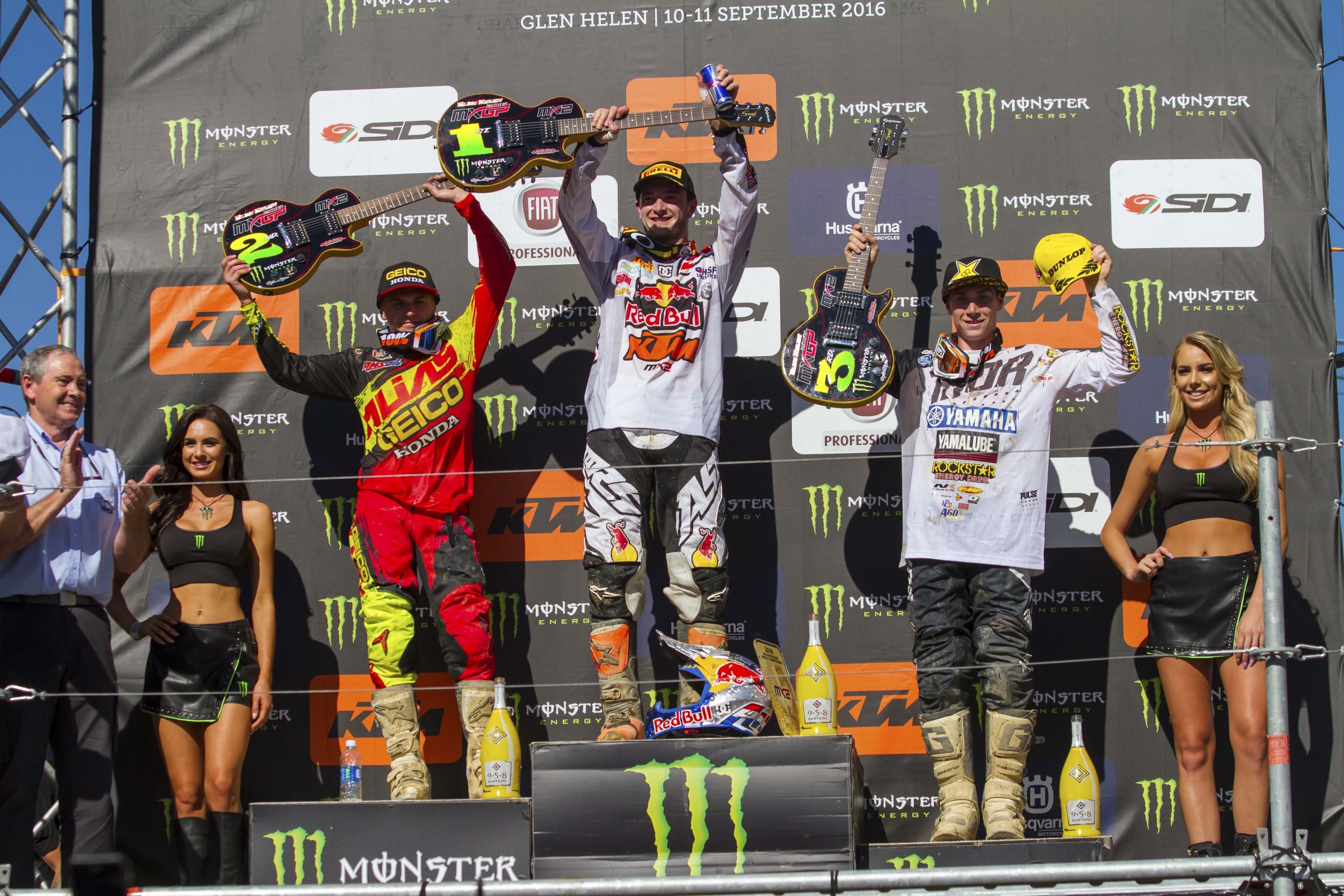 When you see Forkner end the year really well and even get a win, do you say, "Oh, man, I want that to be me?" Or does that actually help you? Can you say, "If he's figuring it out, I can figure it out?" Does it actually help in a way seeing that?
It definitely fires me up because I've raced with him all through amateurs. He's a very talented rider, a lot of confidence. I really respect him. It just fires me up and I know that I can hopefully do what he does and get a win at least next year. It took me a little longer. He had a lot more confidence coming into the season. I came out of supercross a little frustrated. It still ended well. I know that I have the speed to run up there with the front.
How was the summer living with your teammates at South of the Border?
Yes, after the third round we went down to South of the Border and that was our home base for the rest of the series. The track's amazing, really deep ruts. Definitely one of the more realistic training facilities to a pro national dirt-wise. They helped us a lot. They made a lot of braking bumps that were pretty realistic. There's a lot of riders there. So I think it definitely helped out for a lot of the East Coast rounds.
I just want to know some gossip. Who did laundry? Who did dishes? Did you guys fight? Did you argue? How did that all work?
Actually we all had different hotel rooms. We were there really just to hang out during the day after motos and then just got on the grind during the day riding all the time. Nobody really fought over the TV or dishes. You got your own room and you got to just watch movies if you were over everybody!
How much of a dream was this? You didn't even know back in the fall if you were going to be racing pro and then you end up with three teammates on a factory team, riding together every day. At some point did you step back and say, wow, this is crazy?
It's definitely a dream come true. Last year before Loretta's I didn't even know if I was going to get a pro ride. It was just an incredible feeling to get that. Then just riding these nationals against all these fast guys was incredible. But it's still not over. You have to work harder than ever in the pro ranks, way harder than amateurs. You've still got to take a step back and do what you got to do. You just have to work as hard as you can. You can take it in every once in a while, because you have to keep it fun. That's what we're doing—we're just having fun, but it's also my job so you really have to work hard at it.