The Wick 338
Southwick

,

MA
Southwick
Lucas Oil AMA Pro Motocross Championship
After being off the schedule for the last two years, 2016 marked the return of Lucas Oil Pro Motocross to New England. The event was held in early July at the historic Southwick Moto-X 338 facility, and with the exception of a few small first time glitches, was determined to be a success.
At the epicenter of race organization was Keith Johnson, the man that is now behind the rebirth of "The Wick", along with several of his closest New England based friends and family. After giving him a few weeks to get the rubbish picked up and a few full nights of sleep, we checked in to hear how things went from his perspective.
And for those that don't know, Johnson was once a top New England racer, who had a successful professional career, which lasted nearly 25 years. His best finish was a remarkable third overall at—you guessed it—Southwick in 2001.
Racer X: Keith, your first national as a promoter is over and the dust has settled. How did you feel it went?
Keith Johnson: It was, well, (long pause) honestly, that's a good question! For me, all I saw was things we could have done better. But then I have been talking with everyone afterwards, most everyone seemed happy with how things went—but more importantly, just happy that the race is back in New England. But for us, we know that it is really now about attention to detail and fixing some small things. So that's a good problem to have, because we can do it. I think one of our biggest issues was the first thing people saw—our scanners were screwed up at the front gate, and we had a long line to get in early on. That was not good and was a learning experience for sure. I can absolutely guarantee that it won't happen again. So for me it was a big learning experience. I was glad to get through it, and now with one under our belts, we are going to keep building on it. For the fans, the racing was great. Both the 450 and 250 classes were really great races. I honestly did not pay attention to the races myself when they were going on, I was focused on some facility stuff, but I saw them later.
You and Dowdy [John Dowd] made some big changes with the track. Or, more like you reintroduced some old changes to the track, and with respect to adding back in the obstacles from the 1980s and '90s and changing the direction of circulation. How was the feedback from the riders?
The ones I talked to, they really seemed to like what we have done with it it. I talked to [Justin] Barcia probably the most, as well as a few of the other guys. I didn't talk to all of them; I was just too busy running around. I will say that way we prepped it was different than what we do for a local race. But then Dowdy and I went out after the race and walked the track. We were both blown away by how much earth these pro riders moved, as opposed to a local race. So many lines and berms were pushed way out, it was amazing. Next year we will try to set it up different so the lines will stick a little better. Basically, the guys were blowing out the lines so bad that in certain parts, the track got one lined towards the end of the day. Sand, you know, it moves so easy as opposed to hard pack. It was only a few turns, but we wanted multiple lines in every corner. But for the most part, 90 percent of it was great, and we need to get 10 percent cleaned and fixed up.
Well, given that it was your first year, I think there was a lot for everyone to learn!
For sure. We have to look closely at what others do, and places like RedBud serve as a benchmark. But certain things will be hard for us. For example, it is tough for us to grow grass. Grass does not grow well in sand, and when it rains, all the grass washes out. If we bring in loam to plant the grass on, well then it ends up on the track when it rains and then it changes the surface of the track. It's a real balancing act keeping the place looking good for the fans but also keeping the track true to Southwick form. But our main focus was on the track this year, and next year will be the facility and the presentation. Some of the smaller things we learned were not having enough people to empty trash cans during the day—we got that totally wrong. We also needed more bathrooms—we did not have enough of those. I underestimated both of those things. But next year for sure, we can and will fix things like that.
So how does being a race promoter compare to being a racer?
Ha! You mean the endless nights of no sleep? The glamor or the no glamor job? Man, it couldn't be more opposite! I don't think people understand and realize what all goes into running even just a local race. Things like the ambulance, the trash collection, the transponders, buying insurance, collecting the money, none of it comes easy. And with technology now, even on a local level it is expensive. On the national level, it is insane! It is so much easier being a racer—you just fly in, put your gear on and race. You can't even compare the two.
What did you think of the local boys performance?
Well, I was hoping Jimmy [Decotis] would do better. I know he certainly has it in him, but things just didn't go his way. But he has impressed me with how far he has come, and I love to see the effort he is now putting in. A lot of the other local guys showed up, but I think [Robby] Marshall was the only other guy that really did well. And he was coming off the couch, and was able to put it inside the top twenty on a bike that was down on power. But I didn't even really get to watch much, so I don't know a ton about the other guys. Well, maybe Ryan Dowd, he had a good showing, I was pumped to see that and for his sake.
You scored a career best finish of third overall in 2001 at this very same race, and you stood on the podium. That is no small feat, but Southwick is funny like that, and good to the locals. You also came from an era where there was no shortage of somewhat unknown local racers that finish well inside the top twenty when the national came to town. Do you think that era is over now?
Hard to say. I think the depth of the guys racing inside the top twenty each week is getting much deeper. I also think the talent is getting thinner on a local level. I don't want to be the guy saying we were so much better in my era or whatever, but I don't see the grit and toughness in some of today's racers that guys like Jojo Keller and [John] Finkeldey had. Those guys were gnarly tough, and they honestly set the bar so high, that when Dowd and [Doug] Henry, as well as myself, that when we came up, we had to push even harder. We would race in Canada on Saturday and then drive all night to race a local NESC race the next day, and you just don't see that happen anymore. I remember for a couple of years racing the High Point National on Memorial Day weekend and then hauling ass home to race a Monday NESC double header. We all used to do that to make some extra cash. But you don't see that anymore, and with guys going to the training facilities now and moving away from the local scene.
Back to the track: What changes should fans expect for next year?
We have a lot more bleacher work to do, and we are working to add more and replace a bunch of them. It is the little things that add up, though. For example, we put up over 6000 feet of fence. There is still more fence to go, but aesthetically it looks better. The new tower was built from outside, but inside still needs some finish work. The starting line will change with a new gate. Facility wise, we will definitely have more bathrooms and a much better procedure and system on how people get in to the track—and even for buying beer, it is all about making the experience better. We know people have a choice stay home or not, and we want people to come out when the series comes our way and not stay home. But that is on us to make it happen.
Southwick has traditionally had some very close ties to the community charities. Did those traditions carry over from years past?
Yeah, quite a few did. The parking is probably the biggest. Our only big parking lot is the pro pits, and those are filled with the teams. So all the fans park at the two town parks that surround the track. They control the parking and are able to collect the proceeds. So all the parking fees go to the Southwick Rec Center—they run the soccer and ball fields. The money from the National goes towards helping to pay for irrigation and uniforms for the local kids sports. We also hire a huge staff of police and fire officers from the town. We are probably overstaffed in that sense, but it helps out everyone. There is also a program we help support called Team Justice, which includes the local police and some kids that race.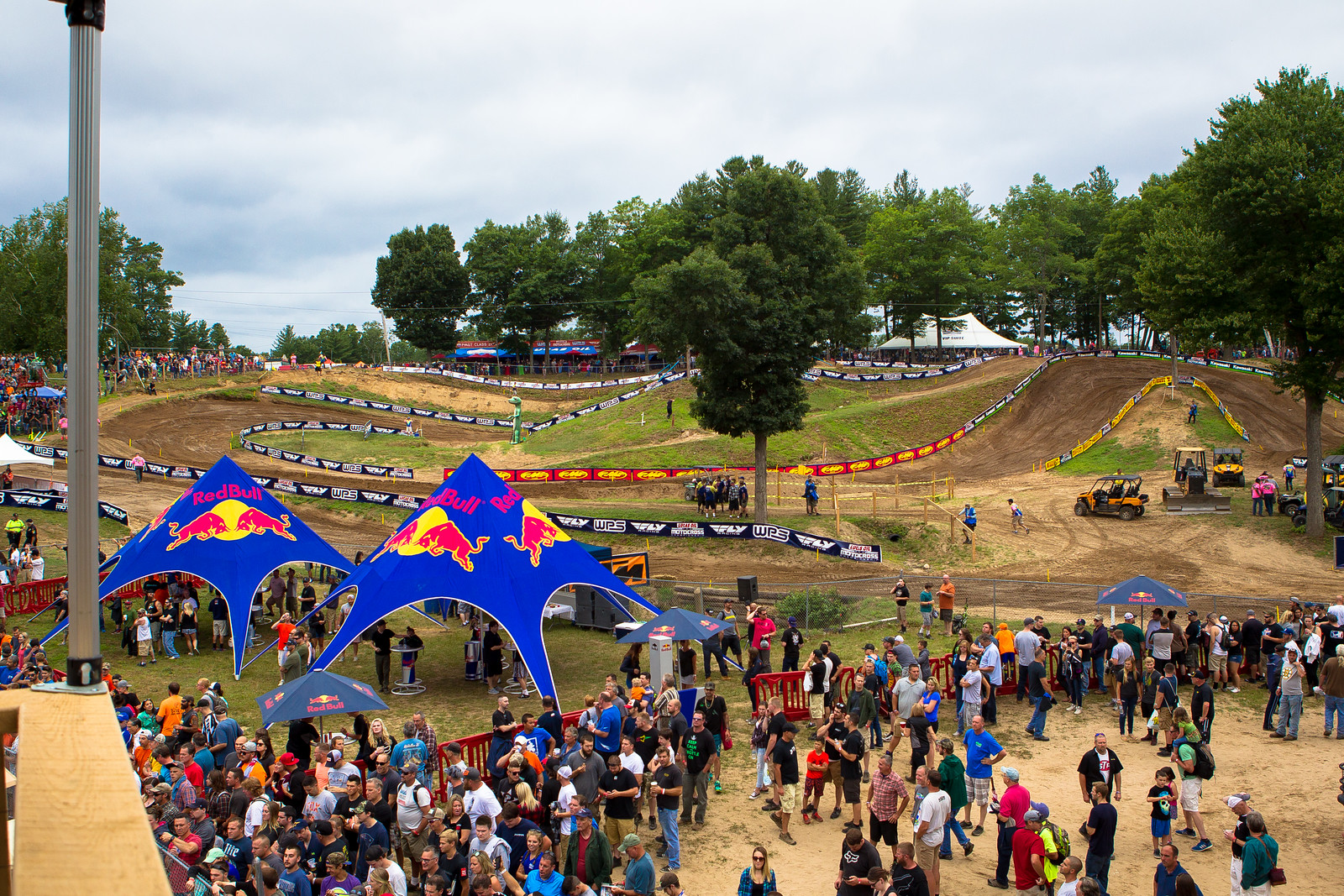 I heard something about that—the Southwick Police Department being involved. What exactly is it?
It is a really cool program. It is called Team Justice Racing and is run by Kevin Bishop, he is sergeant in the Southwick Police Department, along with another officer, Tom Kurtka. They are both local police officers. The program basically supports local kids who might not otherwise get the chance to ride and race. Some of the kids might have gotten into trouble or whatever. These guys recognized the positive effect of dirt bikes and started a program to get more kids riding and focused on a sport. They fund everything 100 percent and have a big emphasis on values and giving back to the community. For sure this year, I could not have done what we did without their support. They came in regularly with a team of kids and would weed whack, fix bleachers and take care of many other smaller things at the facility.
In return for working on various community projects, the kids get rewarded by having an almost factory rider like experience. They have a camper and they bring the kids to the races. It is just a great cause. They are trying to help the kids as much as possible. Currently they have 3-4 kids on the program, they are like factory riders, but they work hard to get that treatment. They teach the kids the values and hard work. I can't underestimate how much they help us out this year. For the National, they set up a booth that sold food and to raise a little money for their program.
Thanks for chatting, and the honest feedback. My last question: how is Mike Grondahl doing?
He is good, and doing well. Whatever we need, he is there to help us. Honestly, if it was not for him, none of this would have happened. He is really the guy who got the track back for racers and fans alike. As for the national, I think he was the smart one and stayed away for our first one, but he left it totally up to me to organize and run it. He put the pieces together to make it all happen but then stepped back and let the crew go to work. I do have to say there are so many involved in pulling it off and making it happen, it was something special!