By Alan Somerset
Who is Jorge Prado? The Spaniard was circulating test tracks and circuits in SoCal in the winter in Troy Lee Designs/Red Bull KTM colours and has a unique long-term singular contract with the Austrians that means he can morph into any of their teams without any sponsorship conflict—save for the Red Bull logo on his lid.
Prado, just 15 years old, has been keenly watched by MX fans from the most potent motorcycle racing nation on this earth—his native Spain—for a number of years; most of them anxious for the Galician to grow up quickly and to start bringing some overdue spoils to the Iberian peninsula to go with all the accolades in road racing, trial, enduro and rally. His talent is undoubted and he has been fast-tracked as rapidly as his physical growth would allow through 125 and 250s. This year was his first on the four-stroke and he already hit podium results in the EMX250 European Championship at his first attempt as part of the official supported KTM Junior set-up. He is due to enter the factory team for 2017 and the USA beckons thereafter.
Enthusiastic, good looking, multi-lingual, well versed in media commitments and backed by very supportive parents and a younger sister that moved from Spain to Belgium to assist their sibling's rise in the sport (as well as absorb another culture and learn more languages). Jorge is edging along a potent springboard to the big time. There is the matter of tackling Grand Prix in 2017 (his move to the senior works Red Bull team all but confirmed) and also completing his schooling; so plenty to consider before worrying about any potential green card.
Racer X: So, why the United States?
Jorge Prado: Since I was small it was always a dream and it seems like a good proportion of the really good riders in Europe want to go there and try. I always liked what I saw over there on videos—the tracks, the stadiums—and I think it would be a great experience.
There is also the lifestyle factor. If you are in Southern California then motocross just feels more like a way of life.
Yes, I think it is pretty different. In California it just feels like it is much easier to get out on the bike and due to the weather—compared to Belgium—to take the bicycle out or do your training. You can do a lot of activities that in Belgium would be tricky to do until summer arrives. In the winter many riders have to relocate to Spain or Italy to find that weather, or they go to the States like I did.
The family moved from Spain to Belgium with you. Now going to the U.S. could be another big change.
Yes and the move from Spain to Belgium was already pretty big, but with a two hour flight any of us could be home. If we go to the States then this is another level, and everything gets complicated for travelling or even communicating with home and my grandparents and family there. We know it will be a big thing for the family.
What about the path with KTM? Having that deal seems to be the easiest route to a good ride in the U.S. as you simply transfer from one factory team to another. Apart from Husqvarna it is a channel that hardly any other manufacturer has.
That's right and we knew it would be the best and our preferred choice to go there with KTM. I am with the factory for four years now already and I'm really happy. I just hope that one day they can take me there.
You went to the States last winter to try the tracks and train. Were KTM management always open to that move or did it take some convincing?
They were open to it because for me it was the first time to really ride the practice tracks and see some of the AMA Supercross events. So I took the opportunity and also the chance to watch the races in the stadiums and then train in supercross. It was an unforgettable experience and something that had to happen. Now we now know pretty much how it is and what we have to do, and even the atmosphere. It was strange not really seeing people out in the streets—just cars!
So you sampled how it would be to live in California—especially compared to Europe…
Totally. They call Lommel a "city" but really it's a town and there are a lot of people around and everything is close by. In the States it is that much bigger that it means you do need a car to do almost everything. It's pretty different. It took me most of the month but I got used to it and in the end I quite liked it.
According to reports you were going pretty well on the Troy Lee 250SX-F. Was it quite a switch to get in the supercross groove?
Yeah, in the beginning! I would say after one month I was getting better and faster. I needed that month of riding to adapt. In the first days—especially with the effects of jet lag—I was terrible. It was a big change.
Your head must be dealing with a lot of information: being fast in Europe in EMX250 and now touching MX2, thinking about supercross and the next month but then also your schooling. That's quite a lot to deal with.
Yes, it feels that way! Next year we have the plan to do the World Championship and I think it will be difficult to combine the studies when we are going to places like Qatar, Thailand, Indonesia. It will mean missing quite a bit of school and I think it will be tricky to be 100 percent for the schoolwork and also 100 percent for the bike [training]. We'll give it our best shot.
Is the plan just one year of Grand Prix? Even if you are champion or come close?
No, it is not fixed. If I win it next year [big smile] then I might like to stay and do another MX2 year or it might feel like the right time to move.
Is there an idea to sample the Monster Energy Cup or Red Bull Straight rhythm next year?
Honestly no because it will require time to get ready and prepared for those events. 2017 will be about Grand Prix and getting in the best possible shape for that series.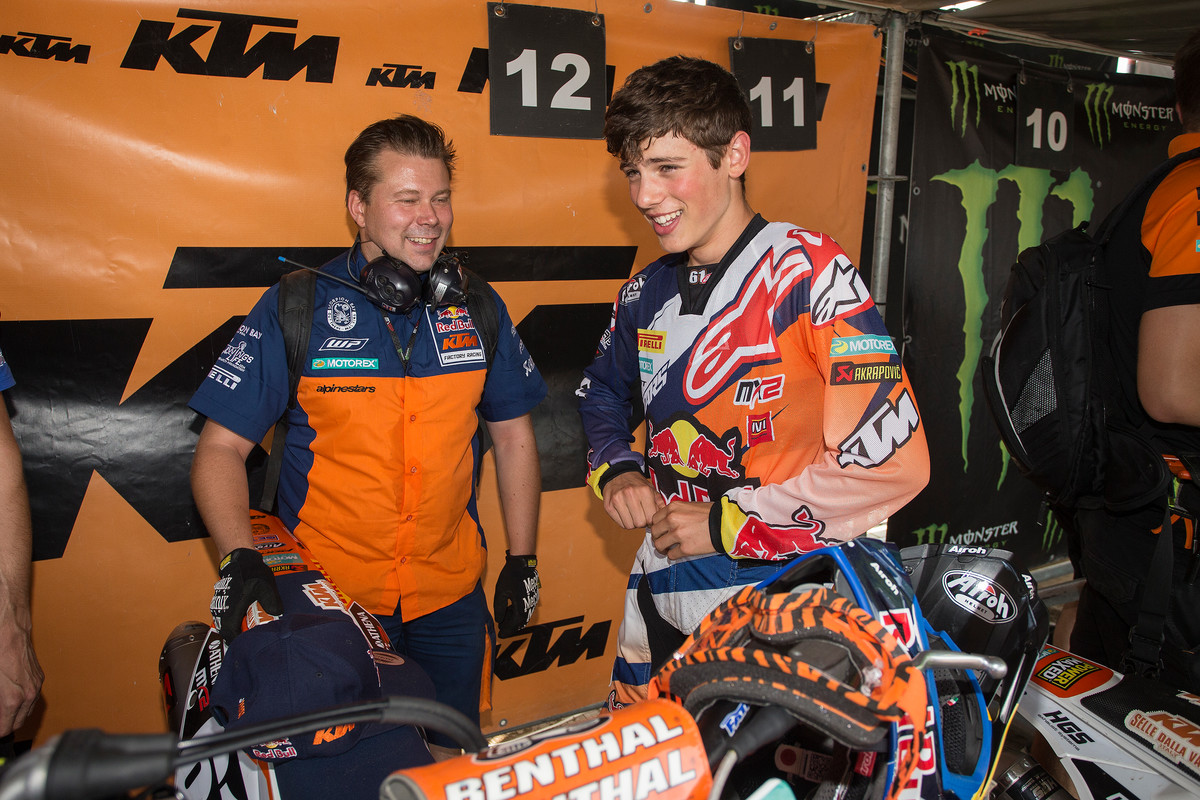 Do you see much difference in the culture when it comes to teams?
Yes. It is hard to explain, but it is different. It feels like the mechanics are younger and—with my experience with Troy Lee—it feels like everyone is a lot closer. Here you have the race and practice mechanics. I'm in Lommel and a big part of the team is in Austria. There you are all near a town and a central workshop and it feels closer.
We've talked about this before but can you imagine how any success will impact Spanish motocross and off-road? It will be a big thing to be the "first" to do anything.
[Laughs] No Spaniard has won there so I think it will be a big thing back home.
There also hasn't been a Spanish World Champion.
This is also true and will be another boom, but I think people of my age and younger are very aware of the U.S. and what is going on. I think the World Championship would be a massive thing but I think also winning over there—from what I see and feel on social media—would be massive and Spain needs to grow its motocross.