The Wick 338
Southwick

,

MA
Southwick
Lucas Oil AMA Pro Motocross Championship
Underrated is a word that consistently gets thrown around in motocross. Robby Marshall is one of those guys who squarely fit into the "underrated" category.
Marshall raced professionally from 2005 through 2013, and while he consistently qualified and finished inside the top 30 at any given national race, when the series rolled around to his home track of Southwick, Marshall always found another gear. He could often be found circulating inside the top ten, and sometimes even in the top five, at any given Southwick national.
Marshall stepped away from motocross in 2013 to focus on a job, but dusted his boots off and came out swinging when Southwick returned to the schedule for 2016. Despite being fresh off the couch and riding an underpowered two-stroke KTM 250 SX (in the 450 class), Marshall qualified fifth fastest and went onto score a top twenty finish. Not bad for a retired guy whose primary method of training is driving a Kenworth to and from the job site! We called Robbie this week to hear the story of his return to racing.
Racer X: Tell me about your weekend at Southwick? You did pretty darn well! Robby Marshall: We got lucky with the first practice; the track was so smooth. At most tracks, the first practice is the worst as there is always a lot of water and mud and usually no lines. But at Southwick, it's smooth and fast, and you can pretty much just pin it. Us local guys, we know the lines, so it wasn't exactly a fluke. I do know how to go fast at the place, and we backed it up with scoring the fastest time in the second session again, even though the track was slowing down by that point.
Its that local magic at Southwick. No other track seems to have as much as that place!
That's for sure. Some of the other locals qualified in the top fifteen, and they can't qualify at any other races. You know, us New England racers, we race on Sunday, but then we all go to work on Monday. I think it's awesome when a local does well, be it in a moto or just a heater lap time or whatever. Some of the top guys get pissed. A few years ago when [Mike] Sottile put in a burner and scored the top time in the 450 class, he was ahead of guys like [Ryan] Dungey and [Chad] Reed. I heard some of the top names in the sport complaining about it. It's like, who cares? Let him do it and have his moment. Do they really think he is going to be a problem in the motos? Let the local guy have some glory, even if it is short and sweet.
You say you are retired now, but talk me through your one race program and how it came to fruition.
I was coming straight off the couch. Like, I can't explain how off the couch I was! I only raced once this whole year, and to make matters worse, that race went terrible. So I came into the day just wanting to finish the motos. I have to get up and go to work on Mondays at 4 a.m. I didn't care if I was fourth or thirty-fifth place—I just wanted to finish both motos solid. I know I'm out of shape and I don't ride a pace half of what I am used to. I also knew a stock 450 would beat me up. And while I might have qualified fastest on that bike, there was no way I could have finished two 30 plus two motos on a four stroke. So I decided to ride the KTM two-stroke. I knew the two-stroke is fun, and the fans were going to love it, and I wouldn't be as tired. In other words, I felt like I had a better chance to finish the race on that thing than on a four stroke. So I ended up going 21-17 on the day. I guess that's the veteran in me. I knew where to use my energy and just clicked away until it was over, and man I was happy. I accomplished my goal, which was to finish and have fun.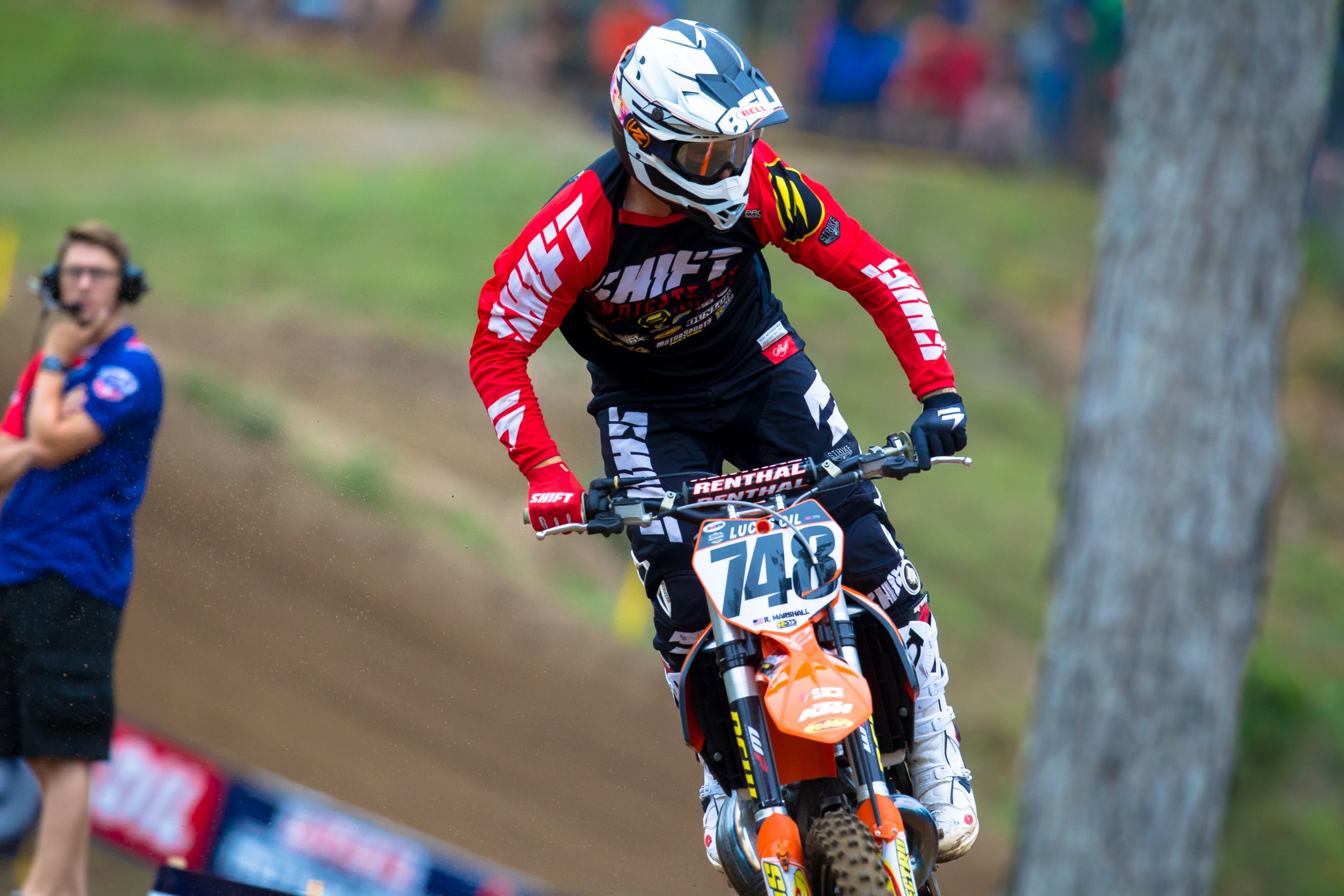 How were the starts? A 250 two-stroke is no match on that sandy, uphill start.
First moto, I couldn't have had a worst start unless I fell. I had Ken Roczen on one side and Justin Barcia on the other. I knew if I could get out well, that they would clear a path for me. But by the time I got across the gate, those two were already five or six bikes ahead of me. I was dead last coming into the turn! But then there were like ten guys down in the first turn, and I was no longer last. I just plugged away and tried to lay the hammer down. About fifteen or twenty minutes in, I was really starting to drag, so I backed it down. But then I got a second wind and ended up with a twenty-first finish in the moto. I was pumped on that. So for the second moto, I decided that I wanted to score a point. I started off much better and just tried to bring her home, and managed to card a seventeenth which put me with a 21-17 overall finish.
How did the track compare to some of the past Southwick nationals?
The track was sick! Keith [Johnson] and John [Dowd] have done an amazing job with the place. When you go to a local race, it's rough everywhere, but at a national, the place is completely different. At a national, there are no C riders, no minis, and basically no slow guys. So we don't have any bumps or whoops in the turns. You might have whoops the size of a Volkswagen coming in, but then it's a totally sweet berm. That doesn't happen in local races since everyone is accelerating and braking at different points. By the time the second moto rolled around, the choppy nasty stuff had changed over to sandy rollers and more spaced out whoops, which is the stuff I do well on. Don't get me wrong, the place was brutal, but it was just different than normal. But man, I'll tell you, I was hurt on Sunday; it felt like I broke my hip, leg, ribs and shoulders all at once! Every part of my body hurt after that race!
Tell me about your program at Southwick? It was a one shot deal, right?
Pretty much. I have pretty much had the same sponsors since I was 16 years old. So when this rolled around, I just called up a few friends and said, "Here is what I want to do." We were trying to race a 2017 KTM two-stroke, but we couldn't get one homologated in time. So I ended up riding a 2016, with help from the local dealership. We literally just added an FMF pipe and Acerbis plastics. That's it. The bike was otherwise stock.
"I actually wanted to try to prepare for Southwick and did one race earlier this year. I was so out of shape, I came off gate and slipped the clutch. I looped out, broke the rear fender off, and was just sitting there staring at the crowd."
Why do you think the New England fans are so passionate?
Well, New England people in general, we have so much passion for our sports. Look at the Red Sox, the Bruins, fans just bleed it, whatever it is they are into. Same thing for moto. The coolest thing about Southwick now is you have the two of the biggest names in New England running it. Then you've got all the people who are their friends and family, maybe they are vet riders, or maybe they rode Southwick back in the day. They are helping out, doing the fences, building the tower, whatever. It was literally saved and rebuilt by the locals, all of whom have a passion for the place. Blood, sweat and tears were put into the place! I actually think losing it, and then getting it back, was actually good. People realized how much it sucked when it was gone.
Switching gears, you no longer race pro motocross. What are you doing with yourself?
A few years back, and when I was still racing, I started my own company building tracks. I did that a lot on the side of racing. It is called RAM Tracks. I could make my own schedule and it was paying for my racing. I was living in North Carolina, but wanted to move back to New England. My body was worn out and shot and I was basically sick of chasing the privateer dream. So I moved home and started working for our family crane business. There is local racing series up here called the J Day series. So I raced that local series and won the championship my first year. The series was growing and sometimes we'd get over 1,000 riders and 4,000 spectators! At a J Day race, people feel like they are at something that is more than another money pit racing event. So last year, I started my own team. My dad warned me, working 80 hours plus trying to run a team and race myself was too much. But I thought I could do everything. He was right, my riding gave and I was getting beat on the weekend. But the team finished strong, and it was awesome. For me, it was about getting back to my roots, and anyone who throws a leg over a dirt bike does it because they want to have fun. My deal with taking a step back from pro racing was trying to make it fun again.
Tell me about the family business?
Well, I still do excavating on the side, and we have a family crane company—Astro Cranes. It's a big company. It's one of the biggest non-union crane companies in New England. We have everything from 26-ton cranes all the way up to the 600-ton monsters. I have my Class A CDL, and I build the cranes and work the job sites. Also, about ten years ago, my dad started a track here in New England. It's called Crow Hill, and we hold about ten events a year, including NESC races, two J Day events (per season), as well as open practice three days a week. So I work a shitload, maybe 80-90 hours. That's why I came into this race so under trained. I had no time to really prepare.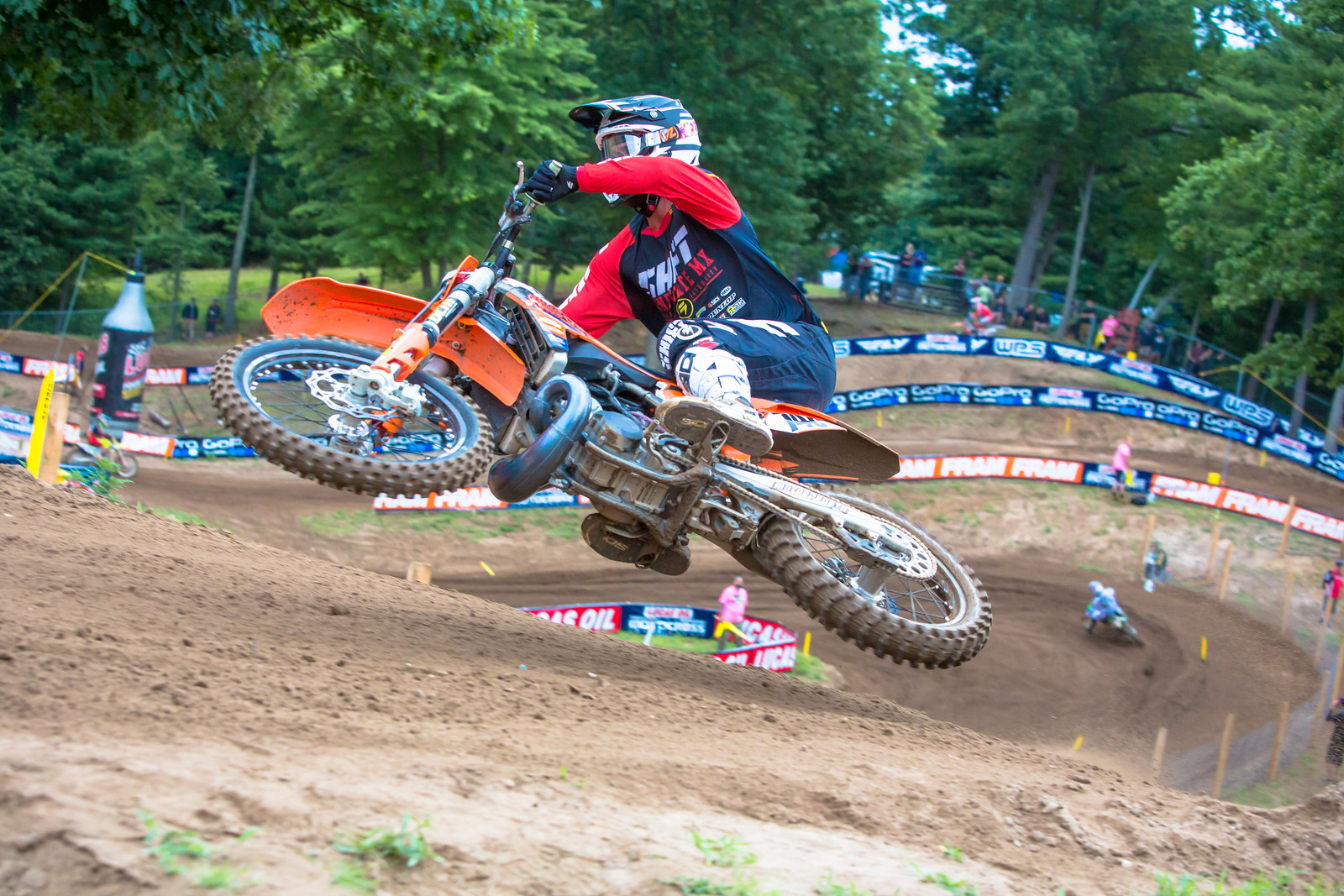 You were not kidding about coming off the couch!
Nope. And after my season of racing and running the team last year, I was taking some time off. Funny story, I actually wanted to try to prepare for Southwick and did one race earlier this year. I was so out of shape, I came off gate and slipped the clutch. I looped out, broke the rear fender off, and was just sitting there staring at the crowd. It was at my own track and was probably one of the most embarrassing things I have done. Making it worse was that my mom was standing right there! That was my last race, and my only race this year, before I entered Southwick! So at a certain point, I decided I was as good as I could be for Southwick. I got lucky, we all had fun, I was the only one out there who did not care how he did and only cared about having fun. I wasn't worried about the next race or anything else other than work on Monday morning.
Looking through the Vault, you have some amazing finishes at Southwick, including five top ten moto finishes in the 450 class. That's pretty remarkable!
Yeah, I love that place. In 2009 I was in third all moto, but then like an idiot I saw the two lap card, and instead of relaxing I thought I could make a pass on second. Well, instead of making the pass, I crashed. I ended up fifth overall on the day, which still was pretty good. But we have these unbelievable riders here in New England, and I did everything I could to learn from them growing up. I don't think New England is like other areas, say in Minnesota or Ohio or whatever. Being around Johnson, Tony Lorusso, John Dowd, Mike Treadwell, all those guys was just awesome.
Will we see you at any more events this year?
Maybe Unadilla, but I don't know. We will see how I feel.
Is there anyone you want to thank?
Well, it's been an amazing time. I love this sport. I was first a pro racer, then I was running excavation business, and now I am working in the family business. I feel like I am already on my third career at age 27! I could not have done it without my family, and some of my long time sponsors, who really are a family more than sponsors. Brooks [Hamilton] and KTM have been great to me, as well as Loud Fuel, Motorsports Nation, Spectro, Von Zipper, FMF, Sidi, Shift, Acerbis, Renthal, Bell, STS Graphics and Dunlop Tires.