Southwick, MA
Southwick
Lucas Oil AMA Pro Motocross Championship
John Dowd is a legend. He's one of the toughest, most well-respected riders to ever grab a factory ride, and he took that to a 125SX title, a 250SX win and a pile of AMA National Motocross wins on both 125s and 250s. But Dowd's real place is Southwick, his local track, where he's logged thousands of laps as part of a legendary group of New England sand specialists like Henry, Barton, Lorusso, Carter, Johnson, Treadwell and many, many more.
Southwick is now owned by Mike Grondahl, and Dowd and fellow long-time Southwick racer Keith Johnson do the day-to-day work. We called John today to check on the progress, and of course he was at the track, on a dozer, working the place over!
Racer X: John Dowd! This couldn't be better! You're literally on a dozer at Southwick right now.
John Dowd: That's right, I'm sitting on a dozer on the landing of the finish line. I'm working the finish line and I'm working my way down the track from here.
How crazy has it been? I know you're not afraid of working but this was probably a lot.
Yeah, I've always been a hard working guy, but there has been a lot to do here. A lot! The track was down for a few years here so half the stuff was torn down and stuff, so we've had our hands full, man. Me, Keith Johnson, just a whole lot of people have come in here to help, some of them even donating time. It's been really crazy but it's been awesome and I'm looking forward to this weekend!
Let's start with the basics on the track. I hear it's back to going in the old direction, are there any other changes to the layout?
There are actually a few small changes. We did add a couple of tunnels for medics and accessibility and stuff, but yeah, it's the old-school layout. You make a right off of the start now. That seems like it's the majority favorite direction, plus it's the old-school Southwick, and that's what everyone likes to remember. We bought back some of the old sections and obstacles that people really seemed to like. We have a couple of new sections, too, that people really seem to like, they really seem to flow good, and they're fun to ride. Hopefully it all works out and everyone likes it.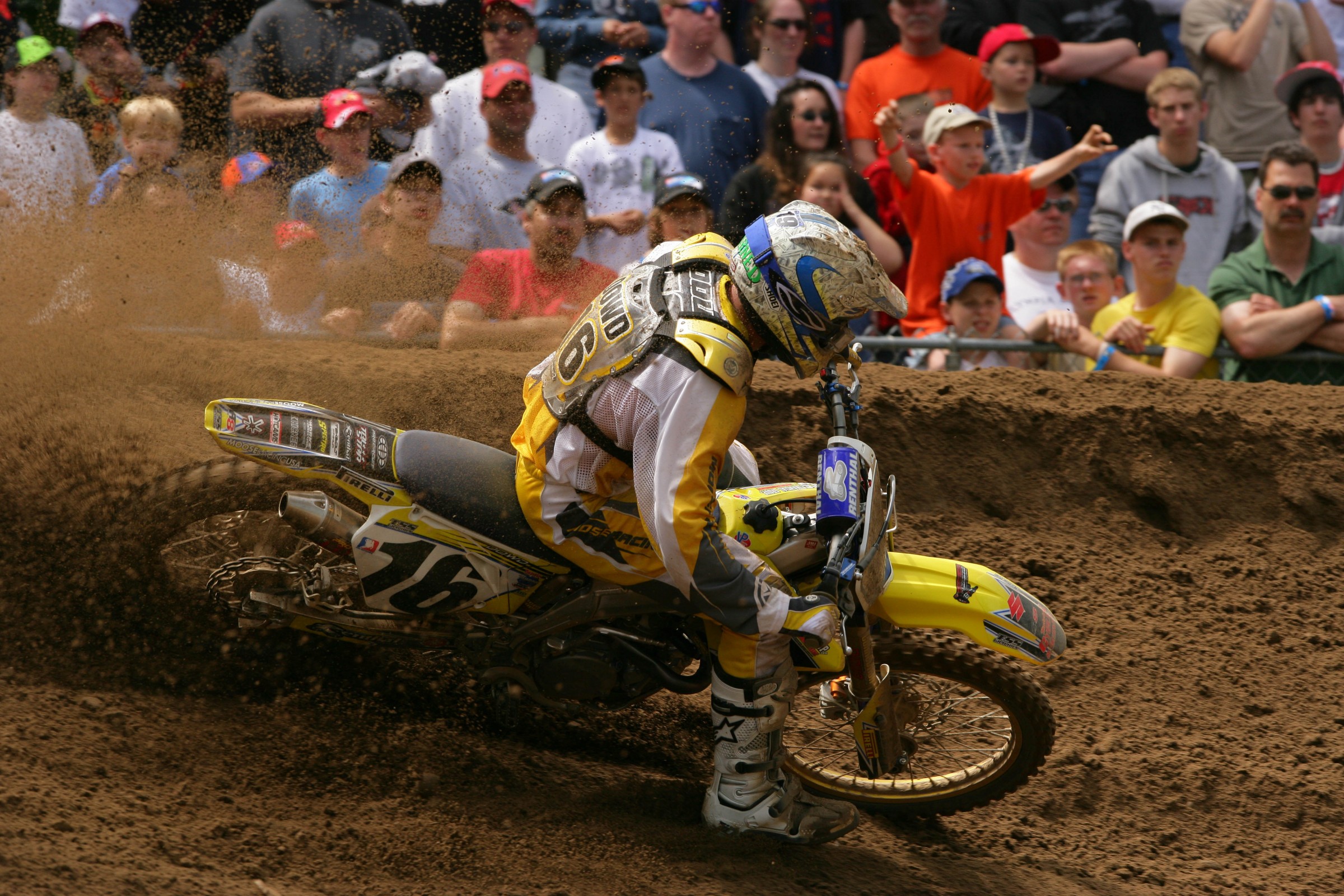 You've had some dress rehearsals for this race. Luckily racing still seems to be alive and well in New England right now, so the track has been going for a bit.
Yeah, the racing is going so we've been real busy. But it was good because it was kind of testing, and we've been tweaking and making small changes to make sections work better. It's a good thing and I think we have the track flowing really good right now. At least I think so—I'm watching the races and I'm even in some of the races and it all seems really good.
This is known as a sand track, but like a lot of tracks, the surface changes through the years, and I've heard people say the base is actually deceptively hard. But I've also heard you've added some sand back in? What's the surface like now?
Well, you're right, over the years it seems like stuff has gone away, that's how it goes, you know, people come off the track and wash off their bikes and away it goes. But we actually did bring quite a few yards of sand—if I were to guesstimate [we brought in] over 1000 yards of sand this year and kind of mixed it in. We're also trying to pull some of the sand out of the banks on the sides and mix that back in. It's true, I feel like I remember when I was younger the sand seemed different here, but then again we were all riding different bikes, so the tracks all seem to feel different these days anyway, just with four-strokes and the better suspension and everything. So it's hard to say if it's really that much different.
Back in 2013, we all knew it was going to be the last national, but there was also a time when the track was going to be just done, completely, even for local races?
Yeah, it was, actually. After that season it was done, we didn't have any local races or anything. I was really kind of bummed. Keith Johnson, Mike Grondahl, myself, we were able to get it back together, get it back going. It seemed like getting the National again might be a possibility, so we worked with Davey Coombs and John Ayers [of MX Sports, sister company to this website and producer of the Nationals] and they definitely worked hard alongside of us to get this National back. I was so psyched that it happened, but it definitely added some stress trying to get this place ready!
Is this a business move for you or are you on board just because it's Southwick and it's important to you?
It's a little bit of everything, because it's so much work. I'm here all the time because Keith Johnson, he lives two hours away. And I'm a dirt guy! I have my own excavation business, I have my own machines, almost all of the equipment you see here is mine. So I don't know if you want to call it a match made in heaven or whatever—maybe that's too corny—but it really did work out perfectly for me to have the equipment, to live close enough, and to really want to take the time to do all this. And it's perfect because Keith can handle a lot of other things. I don't want anything to deal with a lot of that PR stuff or the business end or whatever. I consider myself the hands on guy, so this has worked out well.
Well, the best part is, no one can say the new management doesn't understand what Southwick is all about. No one knows this place better than you and Keith!
[Laughs] Well, all I can say is we're trying our best! The people that ran this place before, Ralph and Dianne, they did a fantastic job for as long as I can remember. It was great, and we're just trying to bring it back to what it was when they were running it. So we have a lot of nostalgia going on, and maybe some flair with a few new things. But more or less, I'm so happy to have it back, I'm pumped to be involved, and I'm really excited for all the young racers in New England because when I was younger, guys like myself and Doug Henry, it was always great because we had Southwick! And we were always excited because we knew we might be able to do something there that we weren't able to do at any other race.
So give us a scouting report on some local dudes we should be looking out for. You and some others have told me that Jason Brooks has really been hauling lately at the local races. You have some guys ready?
You know, over the years I think that's been the beauty of Southwick. We've seen so many local guys do so well here and I hope it happens again. I know there's a whole slew of local guys signed up that are going to give it a shot, including my son, Ryan. But yeah, Jason Brooks is definitely one of the fast guys right now, Jimmy Decotis has been flying at the local races and he's signed up to give it a go. There are a handful of other guys. Hopefully we can give our local fans someone to cheer for.
Well, there was a time when you were actually kicking around the idea of racing it again yourself, right?
Yes, that's actually true! But at this point in time I'm glad I actually didn't, because I didn't realize I'd be this busy leading up to the race! But, yeah, I was actually going to do it, I thought it would be cool with my son racing it again and to race with him, I had another chance at this father-son thing that would have been really cool. But I broke my hand at a local race here. First local race of the season and I got hit in the hand with a rock. I didn't even crash. By the time it started healing I was getting really busy here, I hadn't been riding, and I thought maybe that was a sign from above that I needed to just be in a dozer instead!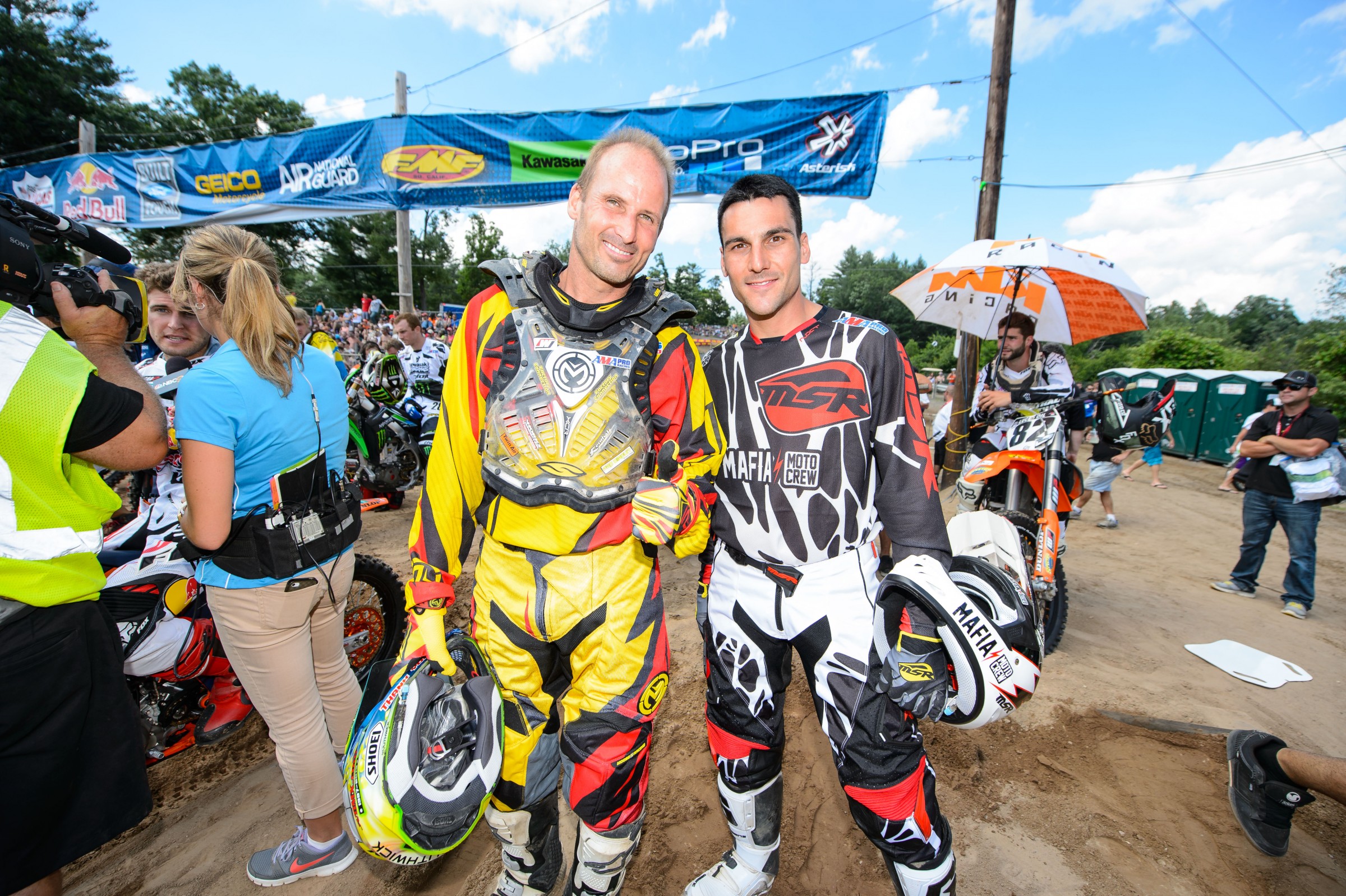 Give people an idea of what you do on a dozer. What happens on the dozer today, three days before a National?
[Laughs] Well, I think I just heard on the radio that today is going to be the hottest day of the year so far, so I think I need to work on getting a cab and some air conditioning on this thing! You know, I've been here every day for the last two weeks, just working some of the sides, making sure the tunnels are right; we want to make sure we do everything 100 percent on every inch of the property. I don't know, I didn't even realize how much work we had to do though! I was here until 11 o'clock last night and I was back here this morning!
When the 2013 race was done, no one was thinking this race would be back. So these fans are going to be going nuts! How pumped are these fans going to be when the gate drops on Saturday?
Let's put it this way: the fans here are already nuts anyway! You know what? I honestly believe they're the most fierce, loyal and crazy fans that I know from anywhere in the country. These fans are just so crazy, and I remember them cheering for local guys in the Carmichael days, the Stanton days, even the Rick Johnson days! So I'm just so pumped these fans will have something to cheer for again, because I remember what it was like when I was out there, and it was the greatest feeling in the world having those people pulling for you. I hope the fans show up because there's nothing like hearing the roar of the crowd out here. I remember what it was like to hear that—it made the hair stand up on the back of your neck even while you were racing!