Washougal, WA
Washougal
Lucas Oil AMA Pro Motocross Championship
As we reported over the weekend, Christophe Pourcel sustained a stinger in his back after a bad crash while battling with Eli Tomac in the first moto at Washougal. Pourcel was able to return and finished sixth in the second moto, but the injury was quite scary as you can see from his comments in a team statement after the race. (Emphasis ours.)
"Everyone was going fast and everything was flowing pretty well. I don't know, it happened so quickly. I think I caught my foot peg or my leg on the edge of that jump and just caused a bad crash. It surprised me. I got scared for a moment because I couldn't really move. I was pretty beat up for the second moto and wasn't really sure if I was going to be able to race. Navarro fixed my neck up as much as he could. I got a bad start from all the way outside in the second moto and had to fight my way through to sixth so it's not too bad. I'm very disappointed about my crash for sure. I was super focused and I just made that small mistake. It would have been nice to not crash."

The Lucas Oil Pro Motocross will take the next two weeks off before returning for Round 10 at Unadilla on August 13. The break is well needed for riders like Ken Roczen and Eli Tomac, who have raced 26 races in the last 29 weeks. We asked a few of the 250 and 450 riders after Washougal what they had planned for the break:
Eli Tomac: Take a little bit of time off, a few days off. Not a whole lot. I'll go back to Colorado, and I'll also see my brother.
Ken Roczen: My family is actually coming in. My mom, sister, and little niece, they're coming in and we're going to go to Utah on Thursday to hang out a little bit. We'll do some hiking, some mountain biking, and all that kind of fun stuff. We'll do that, go back to Florida, and get back to work. It'll be good to take a little bit of a breather. I think it's really just the travelling. It'll nice to just be home.
Marvin Musquin: Same thing. Same routine during the week. It's just on the weekend no racing. More relaxed and no riding on the weekend, but during the week it'll be the same routine.
Alex Martin: I'm going to do a little R&R. I've been going, really since Santa Clara, going really hard as far as training goes without much time off. So this next week will be a down week for sure. I won't be riding quite as much. We have three weeks, so next week will be a little easier. Maybe head up to Duluth, Minnesota, and do a little fishing. Maybe play with my brother's [personal water craft] he got from Yamaha a few weeks ago. That'll be a great time, I'll try not to crash too much on it. Just have some fun this next week then use the next two weeks to look forward to Unadilla and get back in the swing of things.
Austin Forkner: Next week we'll probably have the same schedule with riding. Actually I get to go drive some Ferraris on Monday, which I'm pretty pumped about. This kid I know, his parents have three Ferraris and a Porsche, so me and some of the guys at Robbie's [Reyanrd], we're going to go down there and drive some of his cars and have a fun day on Monday. I'll ride Tuesday and get a good amount of riding in that week. The next week after that I have to go to Loretta's midweek, so that'll mess up the program a little bit. I'll probably take that week as my recovery week, going to Loretta's. I probably won't get to ride much, but the week after that it's back on the normal schedule.
Despite a hand injury suffered in a violent crash with Broc Tickle last weekend at Spring Creek, Weston Peick finished fourth overall. He told Racer X's Steve Matthes after the race he wasn't able to ride at all prior to the race. "I didn't ride all week. I had trained two days on my road bike and stuff but it was more one of those things where you just got to run it and see how you feel. I've been training for a while so I didn't lose my endurance. It was a good day. First moto was decent. I got a little slow off from the start and ended up picking up and got seventh. Second moto, tenth place start, worked my way up."
Another solid weekend for the BTOSports.com-WPS-KTM due of Andrew Short and Benny Bloss. Short has always had success here, and if you remember, even beat Ryan Villopoto in 2006. "I beat RV [Ryan Villopoto] that day and it was like his hometown race. So that was a big day for me. I don't know if he crashed or if he had issues or whatever, but I don't care," Short told us after the race. "I've had some good memories here. Been on the podium a lot on the 450. Today that was my best ride of the year, so I'm pretty stoked."
Meanwhile, Bloss continues to impress, putting in a season-high fifth in the first moto. He finished ninth in moto two for seventh overall. This was the first time Bloss has ridden the Washgoual track and said the shadows were a bit of a problem. "It definitely got pretty bad with shadows and stuff. I honestly thought it would be rougher and ruttier but I'd say it was more mentally beating than physically, but I really, really liked it," he told us after the race. "I felt like it was my style track and I liked it."
The third member of the team, Justin Brayton, had a huge crash near the finish line in the second moto, but wrote on Instagram he escaped with no major injuries: "Big crash second moto that has me pretty banged up. Nothing major just feels like I got hit by a train."
Prior to Washougal, Yoshimura Suzuki's James Stewart told Transworld Motocross that his reasoning for pulling out of the second moto last week at the Spring Creek National was due to being tired, and not blisters, as was previously reported (his mechanic suspected it was blisters after Stewart pulled off last week). Stewart finished ninth in the first moto at Washougal, but only completed six laps in the second moto before retiring. Stewart was seen looking at his hands during the television broadcast after pulling off. According to the team press release, "the tough Washougal race track quickly proved the physical demands of professional motocross racing, forcing Stewart to pull off the track half way through the race."
Yoshimura Suzuki team manager Mike Webb added: "James is slowly getting himself back into race shape, but he's been out a long time and we still have a lot of work in front of us. We saw a good bit of progress today with his qualifying speed and with him being able to battle in the top ten in the first moto. James now has two weekends off to improve his fitness and we're looking forward to him trying to earn even better results at Unadilla."
In his second race back since tearing his ACL in January, Dean Wilson was much better, finishing ninth overall, but admitted on Instagram after the race that running the pace for thirty-five minutes isn't there yet after missing so much time. "A better weekend for a 9th OA just can't run the pace for 35 minutes yet," he wrote. "I know I have way more in me but it takes time... I'll keep building to the next race and keep improving! Thanks to every one supporting me! I'm happy to be back."
Since beginning his fill-in role with Monster Energy Kawasaki at RedBud, which also marked his first race in Lucas Oil Pro Motocross since 2009, Tyler Bowers had found the top-fifteen just once (Spring Creek moto one). Washougal was a vast improvement, as Bowers went 12-12 for eleventh overall. "Today went really well," said Bowers in a statement. "The Kawasaki boys and I got some great work done during the week and came into this weekend feeling good. From the first practice to the last lap of the second moto I felt way better on the bike and I believed it showed as I went 12-12 for 11th overall. I'm really looking forward to breaking into the top-10."
Honda HRC was without both members of the team, as Trey Canard suffered a concussion while practicing at Robbie Reynard's training complex in Oklahoma prior to the race and Cole Seely missed his fourth straight race while he continues to recover from a broken pinkie that recently had a plate and four screws inserted. Seely did attend the race to sign autographs and also stopped into the TV booth to help announce during practice on promotocross.com. Justin Bogle, who rides for GEICO Honda but pits under the HRC rig, missed his second-consecutive race after a crash at Southwick. Team manager Dan Betley said he couldn't remember a time when the entire team was absent.
"I'm really bummed. In all my years with Honda, I can't remember one time where we didn't have any riders at all racing at an event. It's been a tough season for us. Trey and Justin are both out with concussions, and Cole is still recovering from surgery on his hand. Hopefully this doesn't happen again and we can have the Oklahoma boys back for Unadilla. In the meantime, we appreciate our loyal fans' continued support and well wishes."
Carrying the Honda flag was Fredrik Noren and Kyle Chisholm of the Rocky Mountain ATV/MC team. Noren has had past success here and finished 15-8 for tenth overall. Chisholm went 18-16 for seventeenth overall.
Lap Times
450 Class Moto 1
| | | | | | |
| --- | --- | --- | --- | --- | --- |
| Lap Rank | Finish | Best Lap | In Lap | Avg Lap Time | Rider |
| 1 | 1 | 2:11.973 | 5 | 2:13.958 | Ken Roczen |
| 2 | 3 | 2:12.438 | 13 | 2:14.807 | Marvin Musquin |
| 3 | 2 | 2:12.613 | 12 | 2:13.976 | Eli Tomac |
| 4 | 37 | 2:13.165 | 3 | 2:14.146 | Christophe Pourcel |
| 5 | 4 | 2:15.258 | 10 | 2:16.846 | Phil Nicoletti |
| 6 | 5 | 2:15.571 | 8 | 2:16.830 | Benny Bloss |
| 7 | 9 | 2:15.925 | 4 | 2:19.148 | James Stewart |
| 8 | 6 | 2:15.966 | 5 | 2:17.427 | Andrew Short |
| 9 | 8 | 2:16.205 | 4 | 2:18.974 | Dean Wilson |
| 10 | 7 | 2:16.457 | 12 | 2:18.330 | Weston Peick |
Watching this moto, you'd think this was setting up as another perfect day for Ken Roczen. But note how late Tomac logged his best lap—he was just getting warmed up in moto 1.
450 Class Moto 2
| | | | | | |
| --- | --- | --- | --- | --- | --- |
| Lap Rank | Finish | Best Lap | In Lap | Avg Lap Time | Rider |
| 1 | 1 | 2:11.626 | 6 | 2:14.170 | Eli Tomac |
| 2 | 2 | 2:12.987 | 7 | 2:15.415 | Ken Roczen |
| 3 | 3 | 2:15.403 | 8 | 2:18.178 | Marvin Musquin |
| 4 | 9 | 2:16.981 | 8 | 2:19.491 | Benny Bloss |
| 5 | 5 | 2:17.019 | 8 | 2:18.541 | Weston Peick |
| 6 | 4 | 2:17.102 | 11 | 2:18.345 | Justin Barcia |
| 7 | 6 | 2:17.563 | 11 | 2:19.238 | Christophe Pourcel |
| 8 | 11 | 2:17.951 | 7 | 2:19.693 | Phil Nicoletti |
| 9 | 8 | 2:17.959 | 12 | 2:19.834 | Fredrik Noren |
| 10 | 10 | 2:18.256 | 5 | 2:20.617 | Dean Wilson |
There it is. Tomac put in an amazing ride in this one. Note the nearly four second gap between he and Musquin, who lamented that Roczen and Tomac were simply much faster than him. And Marvin was still better than everyone else! Also, check out Benny Bloss' time. He's legit.
250 Class Moto 1
| | | | | | |
| --- | --- | --- | --- | --- | --- |
| Lap Rank | Finish | Best Lap | In Lap | Avg Lap Time | Rider |
| 1 | 2 | 2:12.934 | 5 | 2:13.887 | Joey Savatgy |
| 2 | 3 | 2:13.079 | 8 | 2:14.985 | Cooper Webb |
| 3 | 1 | 2:13.182 | 4 | 2:13.837 | Alex Martin |
| 4 | 4 | 2:14.056 | 11 | 2:15.452 | Jeremy Martin |
| 5 | 5 | 2:14.059 | 6 | 2:15.762 | Zach Osborne |
| 6 | 6 | 2:14.122 | 5 | 2:15.755 | Adam Cianciarulo |
| 7 | 8 | 2:14.490 | 10 | 2:15.931 | Justin Hill |
| 8 | 10 | 2:14.454 | 5 | 2:16.566 | Austin Forkner |
| 9 | 9 | 2:14.713 | 8 | 2:16.473 | Aaron Plessinger |
| 10 | 7 | 2:15.220 | 10 | 2:16.005 | Arnaud Tonus |
We've seen a ton of motos this year where the rider who wins the moto doesn't have the fastest lap time—and Savatgy has been on both sides of that equation. Times are always close in this class.
250 Class Moto 2
| | | | | | |
| --- | --- | --- | --- | --- | --- |
| Lap Rank | Finish | Best Lap | In Lap | Avg Lap Time | Rider |
| 1 | 1 | 2:14.453 | 10 | 2:16.142 | Austin Forkner |
| 2 | 33 | 2:14.535 | 8 | 2:15.603 | Zach Osborne |
| 3 | 32 | 2:14.550 | 7 | 2:15.323 | Martin Davalos |
| 4 | 3 | 2:14.839 | 3 | 2:16.469 | Jessy Nelson |
| 5 | 4 | 2:14.895 | 7 | 2:16.317 | Justin Hill |
| 6 | 2 | 2:14.939 | 7 | 2:16.010 | Alex Martin |
| 7 | 7 | 2:15.983 | 3 | 2:18.464 | Adam Cianciarulo |
| 8 | 8 | 2:16.087 | 5 | 2:18.377 | Arnaud Tonus |
| 9 | 6 | 2:16.444 | 11 | 2:17.423 | Cooper Webb |
| 10 | 10 | 2:16.931 | 8 | 2:19.477 | Kyle Cunningham |
What can you say about Forkner? That kid just took the first of many moto wins. As for the Rockstar Husky guys, team manager/owner Bobby Hewitt told us Washougal was a race where his guys rode the best they ever have, and also had the worst results. Check the times and results for Davalos and Osborne for proof.
250 News and Notes
What was said between Joey Savatgy and Cooper Webb after their second moto incident at Washougal? We don't know. We didn't have anyone in the area and can't confirm what was or was not said between the two. Here is what do know: Webb and Savatgy exchanged words after the race and both were taken into the AMA truck for further discussion. At this time, we're not aware of any penalties. Here is what Webb said in the post-race press conference about the matter:
Can you go into a little more detail on the incident out there, from your perspective?
From my perspective I got a holeshot, which was sick, I don't ever do that. We came down that hill and I felt like I had a pretty tight inside line and Joey came in pretty aggressive. I basically went off the track and he went way outside. Austin [Forkner] got around us and I was kind of… Whatever you want to call it. Whatever. It's racing. Next corner he went to the middle in that left and I went inside and our lines met in that chicane and we hit. I got sketchy, and I don't know what happened to him. I was just holding on trying not to fall and I felt a bump and I crashed. All I saw was bikes and people, and I was trying to get up. It was a mad dash. There were a couple guys down, I didn't know who. All I knew was to get my bike and get going and do what we could do.
What were you guys saying to each other after the race?
He came up all mad, I don't know why. I tried to keep my cool, I've had some run-ins before. I feel like I've matured a little bit and didn't say what I really wanted to say, but you know, it is what it is. Just going to keep doing what I'm doing. I like that stuff, it fires me up.
You guys both ended up in the AMA truck after that. What was said?
They were just trying to calm us down. I feel like I was pretty calm about it, and he was definitely fired up. What for I don't really know. Like I said, I see where he's coming from, but at the same time I felt like his move was a bit unnecessary and it cost him and I the lead. I thought as crazy as it all was, it was pretty fun. To see all three of us down, it's like, 'Holy cow, let's get going!' I knew it was going to be a battle, and this track is hard to pass on so I knew we were going to be making some moves. Definitely a strange turn of events, but I think it definitely spiced up the race.
We were not able to talk with Savatgy after the race, as he had already left when we visited the Pro Circuit truck. He told Transworld Motocross: "Second moto, I'll let you guys figure that out. Not a lot to say at this point."
Here is what Savatgy said in the team press release: "The first moto was good, even though I should have made the pass for the lead a few times but didn't want to take the risk in falling down. I got off to another great start in the second moto until I tangled with another rider. Unfortunately, the incident bent a lot of parts on the bike in which hurt my overall performance. I'm stoked to leave in one piece and looking forward in having a nice long break."
It was a tough day all around for the Rockstar Energy Husqvarna team. In addition to Pourcel's crash, Zach Osborne suffered a mechanical in the second moto while in line for an overall podium. "I had two good starts, but it was still a big disappointment," he said in a statement. "I got fifth in the first moto and was right there for a podium position in the second moto but wasn't able to finish the race. It's unfortunate that I've had two DNFs in the past two weeks. It's tough. Hopefully I can regroup during this break and I'll try to come back swinging for the next round."
Then there is Martin Davalos, who was looking good for a second place finish in moto two before high siding with three laps to go. Davalos landed on the fence near the podium. Luckily he escaped with apparently no major injuries, just a sore shoulder.
"Everything started out great," said Davalos in a statement. "I really like Washougal and wanted to go into the break on a good note. I changed my settings a little bit for the first moto and couldn't find a really good flow. I went back to what I knew for the second moto, got a good start, and just pushed hard. I really wanted to win and was pushing as hard as I could to try and overtake the lead, but I got caught off guard. I made a mistake, went over the bars and hurt myself a little bit. I'm really disappointed about that, but I'm super pumped with my riding. It's been awhile since I've been up front outdoors. I'll definitely take the positives from this weekend and hopefully I'll be able to heal up for Unadilla."
If that wasn't enough, the team also had their truck catch on fire. Literally! Apparently batteries inside the truck burst into flames. A few other teams ran over to extinguish it, and luckily no one was injured and nothing was seriously damaged.
Troy Lee Designs/Red Bull KTM was nearly back to full strength at Washougal. Justin Hill (back) and Jessy Nelson (knee) both returned to join Mitchell Oldenburg on the team. (Alex Frye and Shane McElrath are both out for the remainder of the season.) Hill was superb in his first race since Glen Helen, as the Oregon native took full advantage of home track knowledge to log 8-4 finishes for fourth overall. Nelson bounced back from a disappointing sixteenth in moto one to finish third in moto two for ninth overall. Oldenburg was one spot behind in tenth overall.
Although his moto scores were similar to Spring Creek (7-8 and 6-7) Adam Cianciarulo said that Saturday was his "best ride of the year" in a team statement. "Today was good. I was really gelling with the track all day and the team had the bike working awesome. Overall, today was by far my best ride of the year so far, which feels great going into the two week break."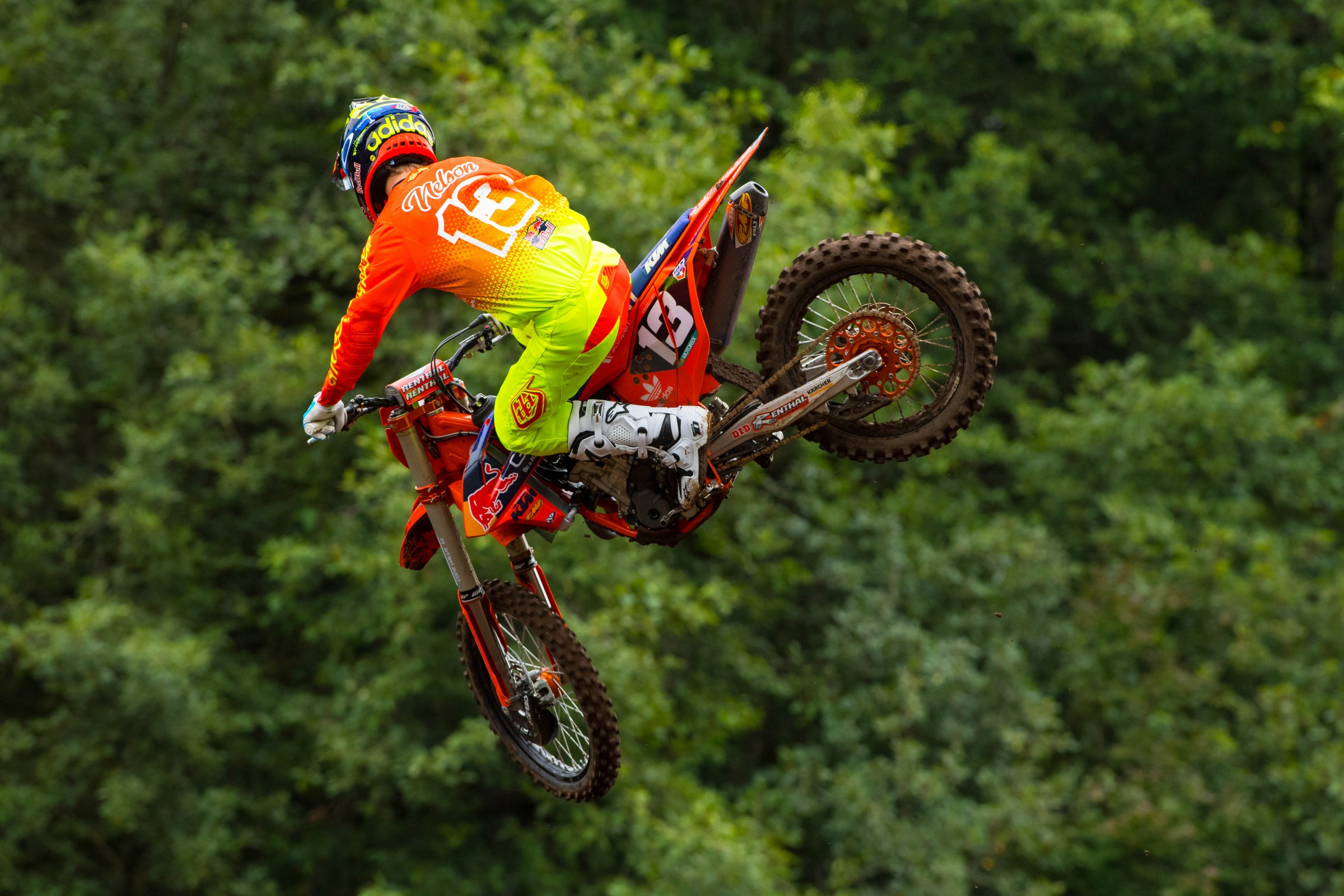 Tough outing for the GEICO Honda squad. RJ Hampshire, who finished fifteenth and was the top finisher of the group, called his weekend "awful" after 18-14 moto scores. "Awful weekend," he said in a statement. "Thankful to be healthy and ready to figure things out during this break and come out swinging for the last three races. The team is all in and we are ready to turn it around, finish the year strong and get ready for next year."
Rookie Tristan Charboneau, who grew up in Washington, struggled at his home race. "Got to the track and had the confidence, but practice I was a bit off, just struggling with suspension and tire setups," he said. "Came off the gate for my first moto, got a good jump but got pinched in the first corner. I tucked in behind Austin Forkner for a few laps and we were picking off people then I managed to go down, twice. In the same corner! Made my way back to nineteenth. Second moto, had an awesome start! Came into the S turns after the downhill and Cooper Webb decided he wanted to make a road block, so everybody was piled up going everywhere. I actually made my way through about seventh but then I fell in the next corner and went back to thirtieth. Managed to come back to sixteenth. I learned this much: I need to work on not crashing!"
Jimmy Decotis, who finished twenty-third overall, added: "Washougal was better, good progress with the bike. Mike [LaRocco, Team Manager] helped me make changes throughout the day and by the second moto I was really happy with my setup. Just two bad starts put me way back in the beginning of each moto. Charged hard and made progress but this class is stacked and starting thirtieth makes it hard to make up ground. I'm happy to be racing no matter the results, tough day but we'll keep digging for more progress."