Washougal, WA
Washougal
Lucas Oil AMA Pro Motocross Championship
Privateers can beat factory riders at one thing: they have the best stories. Tales get taller during the Millville/Washougal/Unadilla part of the bracket, as logistics and transport become real issues when asked to essentially do an out and back across the entire country with a motorcycle, tools, parts and gear.
Over the weekend I talked to Heath Harrison, who went "full road dog" by driving across the country with his mechanic Tony Pliassance. I talked to Marshal Weltin, who found room for a bike in the Team Tedder truck, but didn't have much leftover space for parts and gear. Neither situation was perfect, but the bottom line is these dudes had to get to the races.
Meanwhile, Noah McConahy didn't even have a way to get his bike to New York the morning of Washougal. Noah has been strong this year, but Washougal was set to be his best race since it's his home track. He's a native of Spokane, Washington, and joined an elite club when he became the first, and only, rider I spoke to all weekend who actually was happy that the track was slippery.
"That's what I'm used to!" said Noah, who was visibly and audibly pumped that the track was drying out and losing grip. Or maybe he was just pumped about life in general.
McConahy, 22, could have quit his motocross dream to take an open position at a real job—cutting lawns for his brother's landscaping business. Instead, he's sticking to the motocross dream, and his results this year are enough to make ends meet, with special thanks to Husky contingency.
"I don't like it when I hear privateers acting all sad," Noah told me. He's spending the summer traveling the country and racing his dirt bike. He loves it.
But getting the dirt bike from race to race is the hardest part. To get from Millville, Minnesota, to Washougal, he and fellow privateer Chris Howell drove all night to get back to Washington. To get from Washington to New York, he planned on combing the pits when the race was over and figuring it out. Yes, he literally raced his motos without a clue of where his bike would go next. Yet, he didn't seem worried about it.
"I try not to stress about it Friday or Saturday before the race, but as soon as moto two is over I usually start asking around and it always works out," he says. "One thing I've learned is most teams are really open to privateers. It's just building up the nerves to ask!"
I enjoyed this story so I texted Noah on Monday to see what he decided to do. But the phone number I got, from Spokane-based superfan Moser, was actually the phone number of Noah's brother—the dreaded whip cracker at the landscaping company. Noah's dirt bike was supposed to be the way out from this life, but despite 11-13 finishes for twelfth overall on Saturday, the lawn man had him under his green thumb.
"Hey, this is Nick his older brother. Noah is out mowing lawns for me today."
Oh no! Noah had been caught.
"LOL I gotta' get some work out of him sometimes," Nick, the brother, continued via text. "I drove over to the track after work on Friday and didn't get there until 4 a.m. Saturday so I told him I might need him to pick up my slack!"
An hour later, I received a text from Noah himself. Here's the logistics report.
"Well, right now I'm still not sure how the bike is getting to Unadilla but right now it's on the road to Tennessee! Some of the local kids that ride for JMC Motorsports made it to Loretta's so they are hauling the bike to Loretta's for me and hopefully I can have [fellow privateer] Alex Ray meet them there and take the bike back to his house. Then I'm going to do a one-way flight to Nashville, have A-Ray pick me up, and then we're going to drive to Unadilla! If Alex can't do it, plan B is to fly to Nashville and rent a truck on Priceline or Orbitz and drive there myself! Once I get to Unadilla I'll figure out the next two races."
At that point, he might be sitting in the Unadilla pits with a bike and a rental truck. Hey, whatever.
"It's all fun and games," he says, still pumped. "One way or another I'm going to be racing my dirt bike at Unadilla! Just not quite sure yet how it's going to work out, haha!"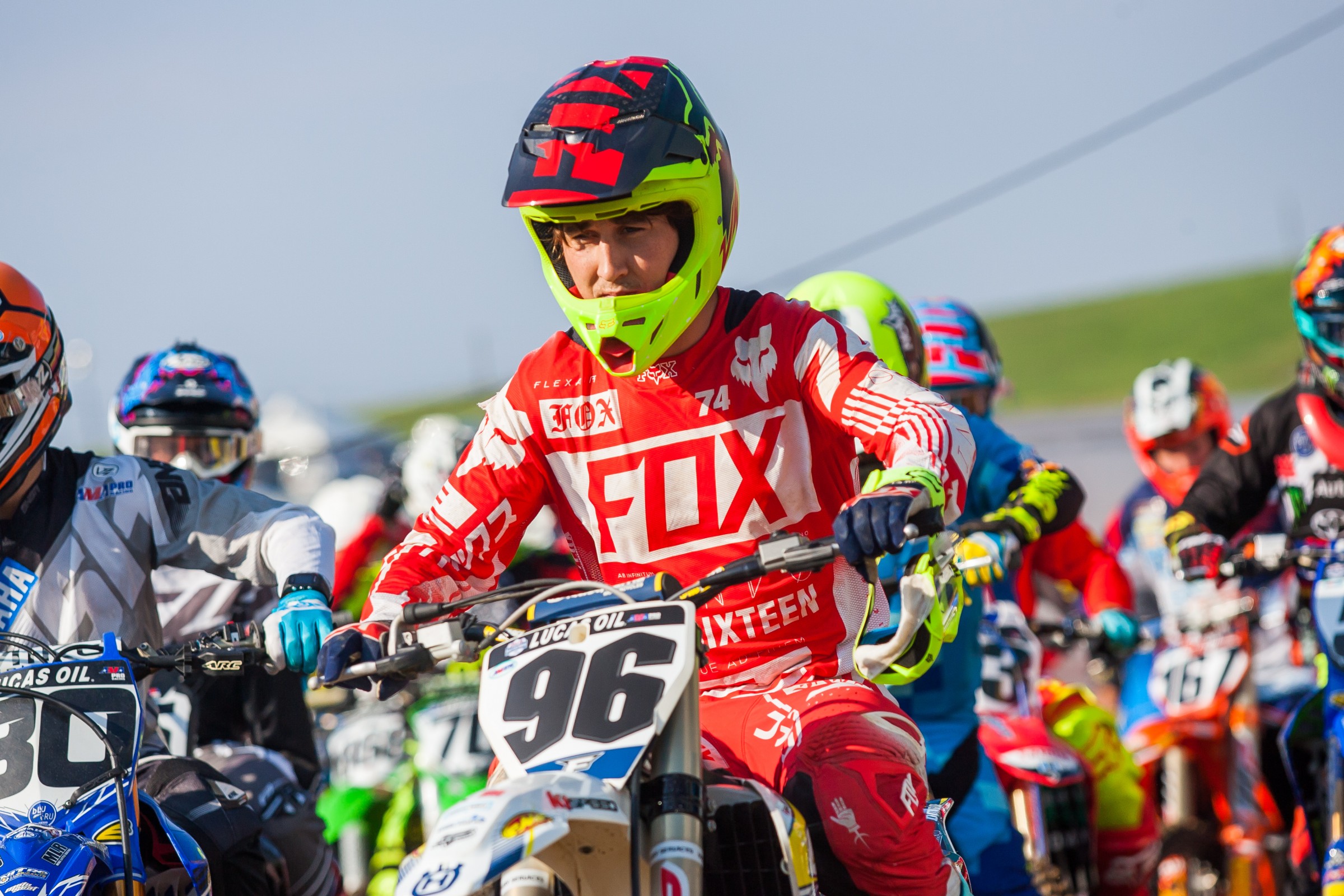 For now he's stuck working for his bro.
"You sure you don't want me to share stories of me taking him out when he was younger?" his brother asked.
Of course I did.
"He used to be way too nice on the track when he was on 80s and in the 250 C class. One day I told him I was going to push him around and he said bring it. One thing led to another and one day my dad came home to our bikes tangled up in a 180-degree turn at our house, and we're screaming at each other! Dad had to break us up and I knew from then on he wasn't going to be pushed around on the track by anyone."
Indeed. This year McConahy has scored 45 points in the 450 Nationals and is fighting to get into the top twenty. Last year he scored twelve points and finished 37th in points. He's made huge strides this season—however, that's not getting him anywhere come Monday morning.
"Yeah, pushing the mower is about all I can tell him to push these days," said his brother. "He wants me to get back into riding but I know it's for revenge after I took him out that day. I quit while I was ahead!"