Millville, MN
Spring Creek (Millville)
Lucas Oil AMA Pro Motocross Championship
Last week Ken Roczen had an uncharacteristically bad first moto at Southwick, and quickly referenced trouble with his air forks in his post-moto interview. To some, it was refreshing to hear Kenny say what he really thought in the heat of the moment. He didn't hide behind a corporate veil of secrecy, he didn't resort to PR speak and just rattle off sponsors. Instead, he answered a question and explained what he thought.
To some, that was cool. To others, hearing problems about suspension just rang out as an excuse. Some would have rather heard, "Eli was on it and I got beat."
That's the noble thing to say…but what if Ken really felt the forks really were to blame? Is that an excuse, or is it a reason?
Reasons versus excuses are the oldest rivalry in this sport. Considering there are more variables of both injury and equipment setup here than possibly any other sport in the world, this might be the hardest subject to get sorted. Few motorsports offer up injury excuses (or reasons) like this one. Few non-motorsports have an equipment factor that can so greatly impact the results. And make no mistake, sometimes there are reasons. Bike situations can make a difference. In this case just look at Tomac last year and this year, and Roczen last year and this year. Beyond that, injuries, of course, can become an even bigger factor in the results. Regardless, there's a thin line between it all. There can be reasons that still sound like excuses. And some excuses aren't really reasons at all, and some reasons can't be used as an excuse.
In Roczen's case, he's now doubled down on the reason after returning to dominance at Spring Creek. He walked right back into the fork hornet nest. "I have a complete different fork, pretty much," he cited as a big difference between last weekend's 2-2 and this weekend's 1-1. "I don't know what the internal changes were or whatever. I was kind of messing around with it a little bit and I think it was working pretty good now.
"I think if I would have had these forks that I have right now last week, I think it would have been a lot better for me," he continued. "But I'm happy we're working on fixing things but at the same time try to not go too crazy."
Kenny is not ever one to care what people think, so even if he got grief last weekend for referencing the forks instead of just saying he "got beat" it won't stop him from saying what he thinks again and again and again. Since these fork changes made him more competitive in Southwick's second moto, and then put him out front completely at Spring Creek, his thoughts appear to be vindicated. In this case: change the forks, change the performance.
Of course this only works if the reason is actually true. Ah, and because the mental game is so important in this sport, sometimes there's actually a reason for an excuse! We've all heard riders hide behind things that probably made no difference just to avoid admitting what they don't want to admit—which is that they just got beat. Hey, that's not good for the confidence, right?
If you like your post-race explanations served up cold, Tomac has something for you. He could have twisted, spun or turned Spring Creek's results in some small way, but he chose not to. Eli not only didn't make excuses for getting beat, he literally used the words, "no excuses."
"I even saw Roczen at one point on the first straightaway in the rollers go by me," said Tomac in the post-race press conference. "No excuses there for that because he was able to get through the pack. He put it down right away. I actually wasn't as good in the second moto, kind of just hanging out. It was weird because normally Millville's a really good track for kind of hanging it out, and I just wasn't able to do it today."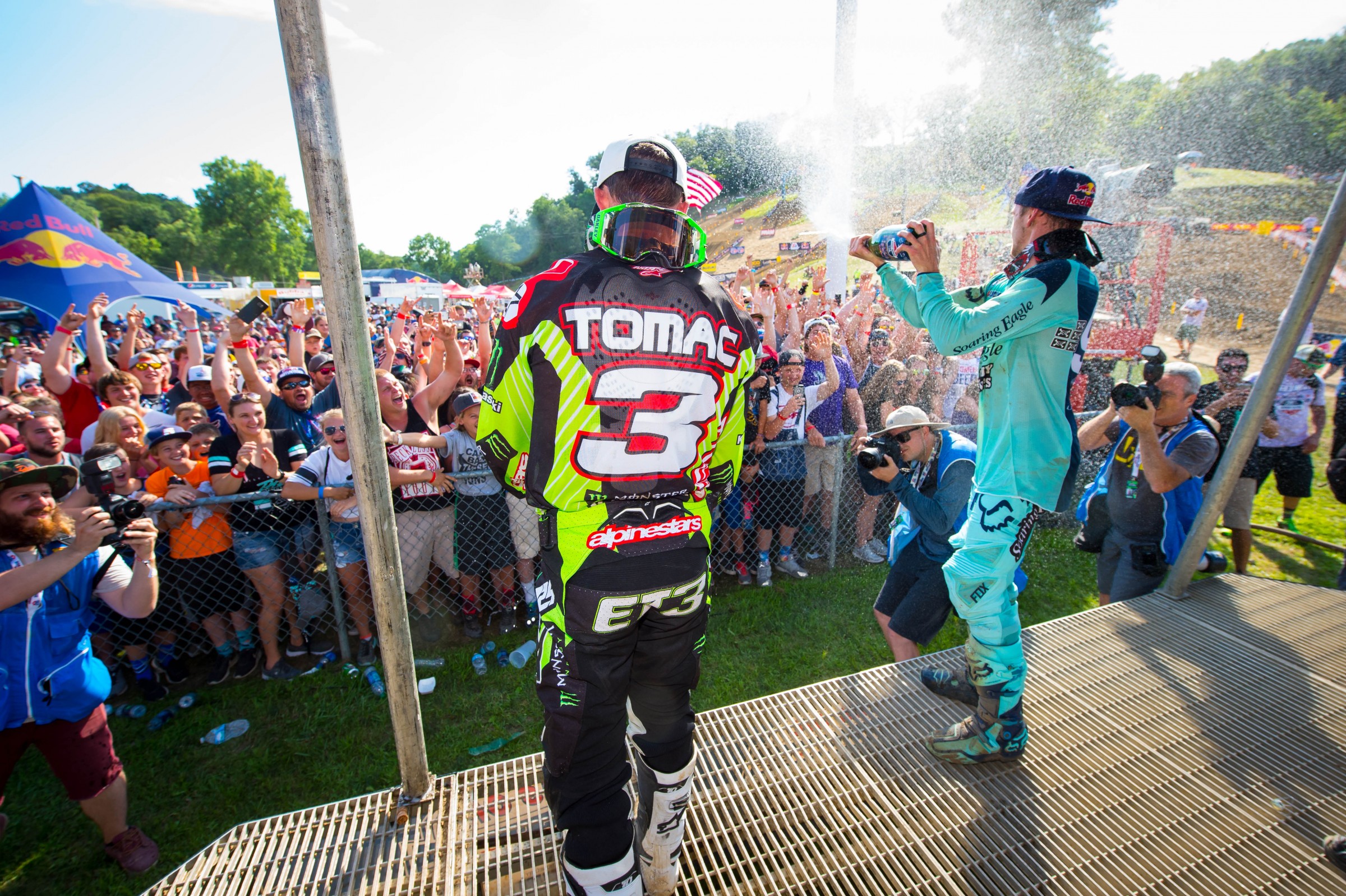 Although Tomac's first season with Monster Energy Kawasaki hasn't been the smash hit he and the team would have hoped, he's kept any issues close to the vest. We haven't heard reasons or excuses. On Saturday, he let on that he and the team are indeed searching.
"There are motos where we do try different stuff, and I'm still getting second place and kind of getting the same result, so just no one knows about it!" says Tomac. "There is searching going on. I had a little bit different front end this week and this is kind of the same result other than Marvin [Musquin] beat me in the second moto, and other than it's not being at Southwick in the sand. We definitely have more work to do. Kenny's on it."
So there it is. Roczen gave what sounded like an excuse but now looks like a reason—he didn't like his forks, they changed them, he likes them better, he improved. Tomac is trying to avoid either scenario—no excuses, no reasons, just some work to do.
The battle between these two riders will go on for a while. The battle between reasons, excuses and neither will go on forever.