The Wick 338
Southwick

,

MA
Southwick
Lucas Oil AMA Pro Motocross Championship
The same baseball fields on the way in, the same elementary school on the side, the same paved parking lot that served as the vendor area in front of the same nondescript building that is actually the coolest spot in American motocross: a VFW hall with pool tables, a record player and a bar. At the track. At The Wick 338, aka Southwick.
Saw the same people, too, and that's what really counts. On the way out of the track on Friday night I saw Robby Marshall (note: pronounced Rahhhby Mahhhshal in Southwick territory) and his KTM 250SX—yeah, a two-stroke, complete with #WorkingMan graphics on the side panel. Mahhhhshal spent a few years living in North Carolina building some tracks and stuff, but he told me he was back home in Massachusetts, doing what he felt like was the responsible, grown-up thing by working for his dad's business. That means waking up at 4 a.m. and logging 80-hour work weeks, and trying to cram in some riding or training. Hence #WorkingMan. Considering that prep, he could have skipped Southwick. Plus, staying out of the national fray always opens the door to racing a vet class at Loretta's.
But Southwick was back and there was no way he could skip it. The two-stroke thing? He didn't care about results, he just knew the fans would love it. Soon we were talking about the fanatical race fans up here, the full gates every weekend in NESC pro classes, the die hards. Robby added: "It's all because we have the gnarliest people up here! Look at the sports teams! These people are die-hard Red Sox and Bruins…" he said while motioning as if a syringe were going into his arm. "It's just in the blood up here!"
Stories flowed all over on Saturday. Southwick is probably the most unique track on the schedule, at least it is now that EFI has made the Colorado altitude a little less of a nightmare for the engine guys. Teams still fear blown engines here, and suspension and tire guys can't use the standard setup for every other track. Over at the Monster Energy/Pro Circuit Kawasaki rig, I asked about reliability issues. For this weekend, the short answer was no changes yet, but the team would watch the temperature levels and other read outs much more closely after practice in search of red flags. Talk wandered to past nightmare days in the sand for Mitch's team, which famously lost a head gasket in Ricky Carmichael's KX125 back in 1997. There was also a year when some new engine components led to nearly every bike blowing up in practice. Or when Grant Langston's bike let go, costing him the overall. In 2009, a bike issue pretty much ruined Christophe Pourcel's 250MX title hopes. A lot of scars from this place.
Yamalube/Star Racing Yamaha has scars, too. I checked in with team manager Brad Hoffman, who I had already talked to a few weeks earlier when the Martin brothers suffered double DNFs at High Point. Because of that race, the team has already been operating in a state of extra precaution on bike issues at all the tracks, so at this point there weren't any changes needed for Southwick.
For the teams, Southwick is very scary. For the fans, it's full speed ahead. I found one fan in the pits Saturday morning and the bench racing started rolling. He recounted the story of the legendary ride by local favorite Pat Barton (Pahhhht Bahhhton) who had the moto win in hand as a privateer one year, holding the likes of title contenders George Holland and Erik Kehoe back there. The legend is that Barton had it until he tangled with a lapper, but this fan is a New Englander, so he knew even more: the name and tendencies of the lapper he ran into, who was of course also a local NESC product everyone knew. That Barton moto took place in 1988. The fans still want to talk about it today.
People still race up here. Gates are full at local events, and I found it telling how many former pros and industry heavies have sons racing with pro licenses these days. John Dowd's son Ryan made the 450 field and finished just outside the top twenty, a great performance. Aaron Zielfelder is the son of Factory Connection founder Rick "Ziggy" Zielfelder, one of the most respected men in the pits (we know his team today as GEICO Honda, but deep down that squad is really Factory Connection Racing). Aaron made the show and went 35-26 in the 250 class. Mike Grohndal is a founder of the Planet Fitness line of gyms, but he's a motocrosser so he put up the money to bring Southwick back. His son, Eric, has his pro license but didn't get his good lap in during the first moments of the first practice when the track was smooth—he ended up missing the motos. But he's there giving it a shot. Motocrossers in New England—they actually still race motocross!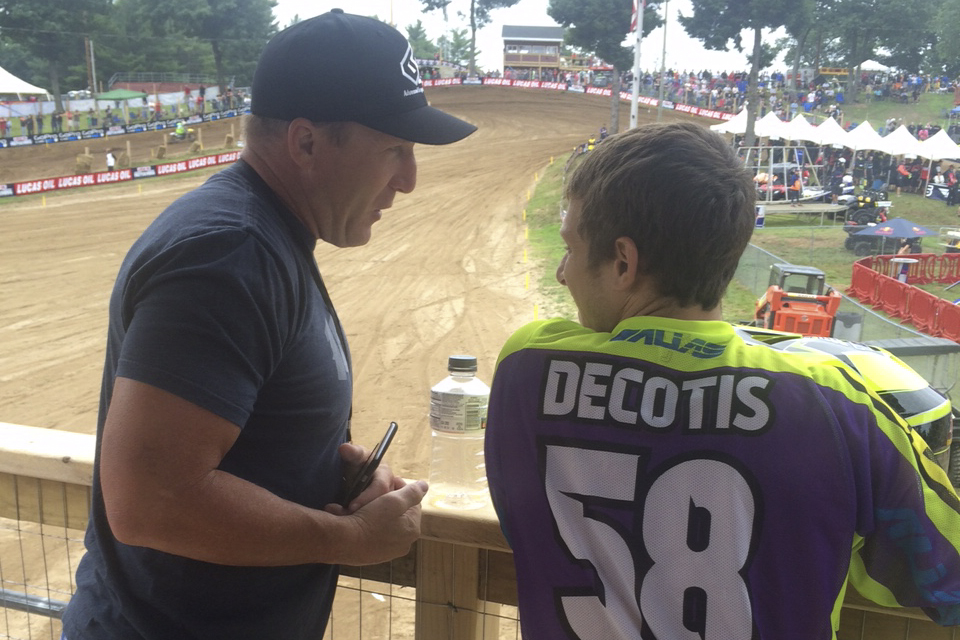 On the national level, superstars Doug Henry and Dowd went onto factory rides and great success well beyond just Southwick (and both of those legends were there on Saturday). Today the hopes would be pinned on Jimmy Decotis, who was at least armed with a factory bike via GEICO Honda. Jimmy D hasn't been a standout outdoor guy for most of his career, but he'd been motoing down at Southwick and other local spots to prep for this one. In the morning, I asked Jimmy if the added pressure was a hindrance, but he said no, he feeds off it, and even felt he rode better at last year's New Jersey Supercross because of it—and that's not even that close to Peabody, Massachusetts! And Jimmy gave it a run, staying in the top ten for a lot of moto one. It wasn't a Barton, Henry or Dowd, but it gave the fans something to cheer.
"On the parade lap it was insane," Decotis told me after the race. "Every single turn, I couldn't even believe it, listening to it. This was on the parade lap! It was awesome. I'm bummed I couldn't light it up for them guys but it is what it is. They had a good race today."
Earlier in the weekend, we planned to shoot a TV standup shot in the corner of the pits. At some point, a huge gray motorhome rolled into the pits to ruin the shot. All weekend I wondered who the big gray rig belonged to. Late in the day, as the pits started to empty and some rain started to come down (of course!), I heard a few voices yelling from inside. "Hey, you're the TV announcer!" they yelled. Inside, I saw a group of about a half dozen teenagers. I asked which one was racing today, and they said none of them were. They were just hanging out.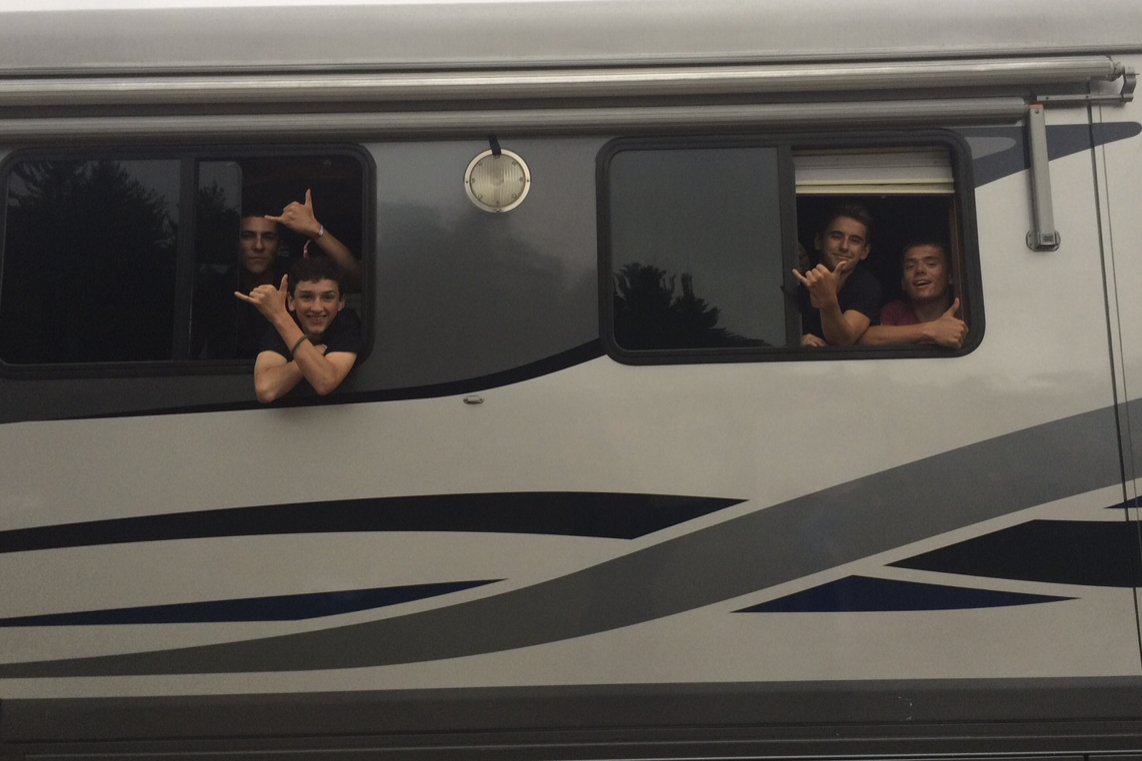 How did they get prime pit parking? How did they get 'hold of a motorhome? I have a feeling they were much more connected than they let on, but they said they were there to watch racing at Southwick, period, and were having the most awesome time ever. See, kids will put the phones down for the right things.
I myself had to get a glimpse once practice began. Practice is special at Southwick because of the locals in the B group who can legitimately spoil it all for the factory guys. Plus, the track looked, felt, smelled and sounded so much like it always did. On a sand track, there's a different sound—more gas, less brake—plus all that roost and all of those locals who know how to shred it. I kept walking closer and closer to the track, until eventually I was in the mechanic's area, pressed up to the fence. I just started smiling. For real.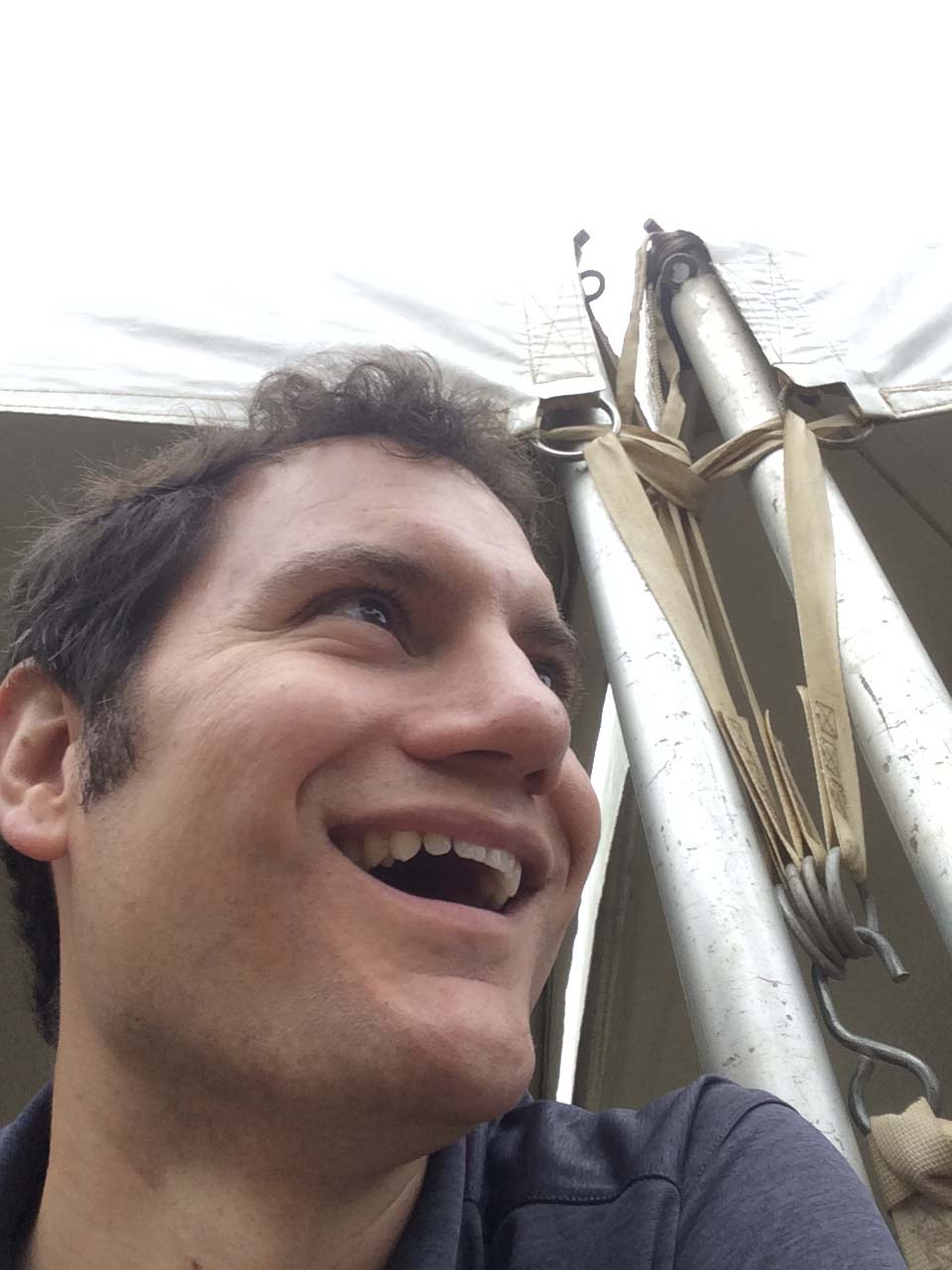 Later, while walking around the fences, I found another superfan from the area who wanted to do some bench racing. He and his wife were beyond pumped to have the National back, and he summed it up better than I ever could:
"We had the Foxborough Supercross but that's like a pair of designer jeans," he said. "Southwick, this is like your old, worn out pair that are just so comfortable. You never want to let them go."