Southwick MX Park
Southwick

,

MA
Southwick
Lucas Oil AMA Pro Motocross Championship
If you want Exhibit A in "bike setup makes a huge difference" just look at Ken Roczen this year. In 2015, he struggled with his Soaring Eagle/Jimmy John's/RCH Suzuki and had to hand his Lucas Oil Pro Motocross Championship over to Ryan Dungey. This year the same team/bike/rider combo, through parts, setup and equipment changes, has become a dominant force. Ken finally lost a race straight-up over the weekend at The Wick 338, but he still holds a 47-point lead with five races to go. Can RCH become the first privately funded team to win the 450 National Motocross Championship? And how did the squad rebuild after last year? We talked to team manager Kyle Bentley to find out.
Racer X: Last year, not so good. This year, really good. Same riders. How do you not just put your head in the sand and say, "this isn't working?" You must have had to keep your chins up to improve to this level.
Kyle Bentley: There's always adversity to overcome in anything in life and if you give into it you quit. I've never been a quitter. I don't think any of the guys on the team have ever been a quitter. So we ride the storm, we put our heads down and we do what we have to do. If it's for the good, that's good too, but if it's for the bad, it's for the bad. We'll take on anything and try to overcome and move forward.
Were there ever moments where people were getting mad at each other or pointing fingers?
I'm sure there were some long nights and sleepless nights. Not going to lie, it was rough but we stayed in it. Everybody stayed true and we rode it out. I think everybody got to know each other a little bit better too, and that comes with anything. You see that now this year with other people moving to other teams. You've got to learn all new personnel and the way people do things. We have to learn the riders and their quirkiness and they tweaks that they like. So everything's coming together and we're killing it right now.
What's interesting is the team itself is still relatively knew to racing at this level, but if you just look at the individual people, you all have experience at top level teams. Everybody has experience over here. But it's not the same if you haven't worked together I guess.
There's a saying that we kind of live by over here: Every single one of these people on this team has won championships, we just haven't won together. That was a quote from Mark Johnson and we kind of just stuck to it. We just needed to learn how to win together, and everything's going well right now. So we're still going to live by that.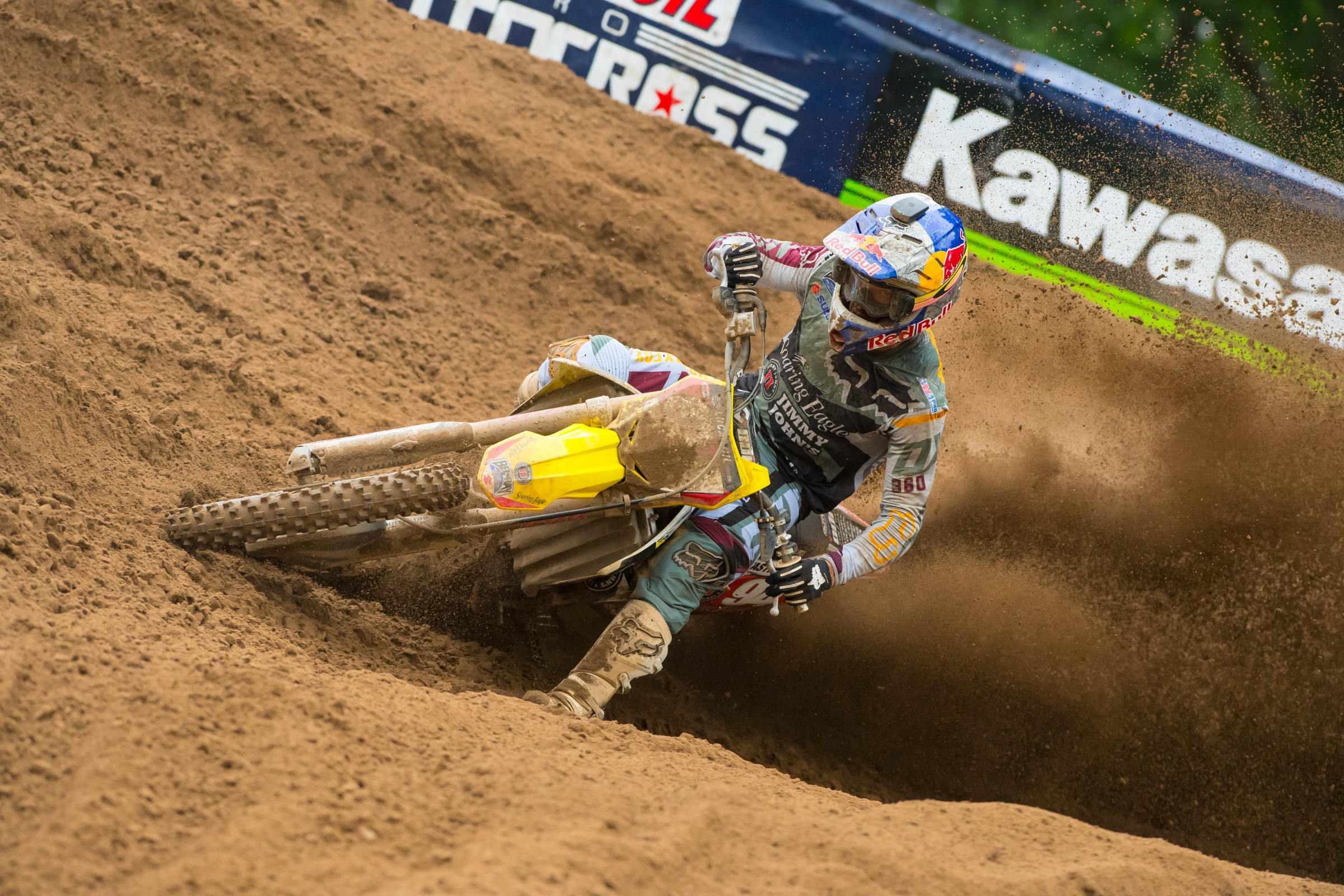 How big a change was it going from when you had solid riders and then all of a sudden you were like, now we have the 450 National Motocross Champion riding for us? How big a transition is that? Does that change the program a lot? I would think it puts some pressure on. Does it change anything really?
No, because with having Ken Roczen we're expected to win. So, like I said earlier, we've all won at this level. [Note: Bentley, for example, was Christophe Pourcel's mechanic for two 250SX titles at Monster Energy/Pro Circuit Kawasaki.] We just haven't won together. So we were ready for the task but just putting all the pieces into place and getting the vibe right and moving as a unit instead of everybody having their own ideas, that's kind of what we struggled with and now everybody's on board and we're moving along.
It seemed like it actually turned in supercross, really, that second half of the year. That flurry at the end, he could have won three or four in a row to end it. He's mentioned triple clamps and stuff. Did you sense something changed?
Yeah, there are multiple things actually. We stumbled upon some changes with the motorcycle when we started motocross testing. Those changes transitioned into the last few races for supercross. The media is quick to point out the visible changes but there are also internal changes and some stuff that the media wasn't able to point out. So it wasn't just one change. That was one of the most visible changes, but there were improvements to the engine package, the overall chassis components and obviously the visible component that everybody's pointed out, the triple clamps.
Well, the media caught on because Ken actually talked about the clamps. When that happens we're like dogs on a piece of meat. Just try to compare where your motorcycle was twelve months ago to where it is now, it's got to be pretty drastic.
Yeah. We've made big improvements. We've brought on some personnel to help us. The relationship with Yoshimura has improved. We've worked together and developed some stuff with them and with the help of SMC and SMAI [Suzuki parent companies]. We've made some massive strides forward with the motorcycle. You guys all call it a dinosaur. We think it's a very competitive motorcycle.
I do agree that sometimes people get too caught up in comparing the stock bike to what they assume the teams are racing on. In twelve months the production model didn't go through drastic changes, but with the tools you have you can totally reinvent the wheel and make your bike perform totally different over that same time span. Sometimes we're over-analyzing what the stock bike is like, because you can change a ton.
Yeah, and don't forget the Japanese put a lot of effort into producing the production motorcycle. That's not just something that's a shot in the dark. They spent a lot of time on it. A lot of the changes that the team makes is just upgrades to stability and dependability. Sometimes we get a little bit carried away and we need to peel a few layers back to uncover some plusses that come stock with the motorcycle that you can buy off the showroom floor.
The Suzuki has changed at least more than people think. People don't think it's changed in eight years. It has changed that little.
No, there are a lot of internal components that have changed inside the engine.
Recommended Reading
Frame's changed a little bit here and there.
Frame's changed from 2012 to our current model. There's all these things that the public doesn't see. It just sees the basic outline of the motorcycle, the plastic hasn't changed and things like that. But there are a lot of improvements with the motorcycle, and we're excited for the new one to come out too.
Kenny, you have to give him some credit, because a lot of riders as soon as it goes sideways they immediately give up and figure there's no way. He stayed in the fight and kept working on a solution for over a year. Clearly he wouldn't have turned it around this year if he gave up.
He's a very competitive guy. I've worked with a lot of champions and anybody that's a champion takes a lot of weight on their own shoulders and doesn't just blame everything that's going wrong. So he's a champion and that's one of the things that we respect about him.
It's so hard; you guys have great people, but the rider has to setup his own bike. So a lot of it comes to them. They can only point so many fingers.
Well, yeah, but I always say, if they weren't as good at what they do, riding a motorcycle, I don't think many of them would get jobs as mechanics. Everybody has different ways of communicating what they're feeling and what they want. So I think in a relationship over time you learn those traits and comforts and are able to adapt and give them what they want. That comes with time. We have to learn what they're trying to ask for and how to give them what they want.
Talk about Tickle, too. Today had some issues, I guess bad starts and stuff?
Yeah, Tickle had a couple bad starts.
But before that, all of a sudden, I got to say those motos at RedBud, that might have been the best we've ever seen him ride outdoors. He tracked down Tomac and Barcia for a while there.
Yeah, we've seen glimpses. Earlier in the season at Mount Morris he was the caboose with the pack of seven that was up front. He made some passes and was catching Tomac there, too. But RedBud was a different Broc Tickle than everybody's used to seeing. It all snowballed from Tennessee. He got pretty upset after the first moto and he felt that he should be further up because he rode with some of the guys that were beating him during the week and he was right with them and faster than them. So something clicked and that's all it takes with these guys. It's such a mental game and these guys are just the quirkiest guys. Something clicks and all of a sudden they're the fastest guy on the planet.
Which is hilarious because we just spent so much time talking about bikes here. You've got like 19,000 parts in this truck and 20 people working to tweak all these things, and then something changes mentally for these guys. Did the bike even change drastically for him before Muddy Creek?
No. We've been in a pretty steady state with Tickle. No big changes. It's just something mentally clicks and opportunities present themselves. There was a quote on the board inside the semi that week that said, "When opportunities present themselves, one needs to take advantage because if they don't, somebody else will take them." So he grasped that and carried it over to RedBud. He's never really rode well here at Southwick but we're looking to get back on track with Millville and then hopefully get through Washougal.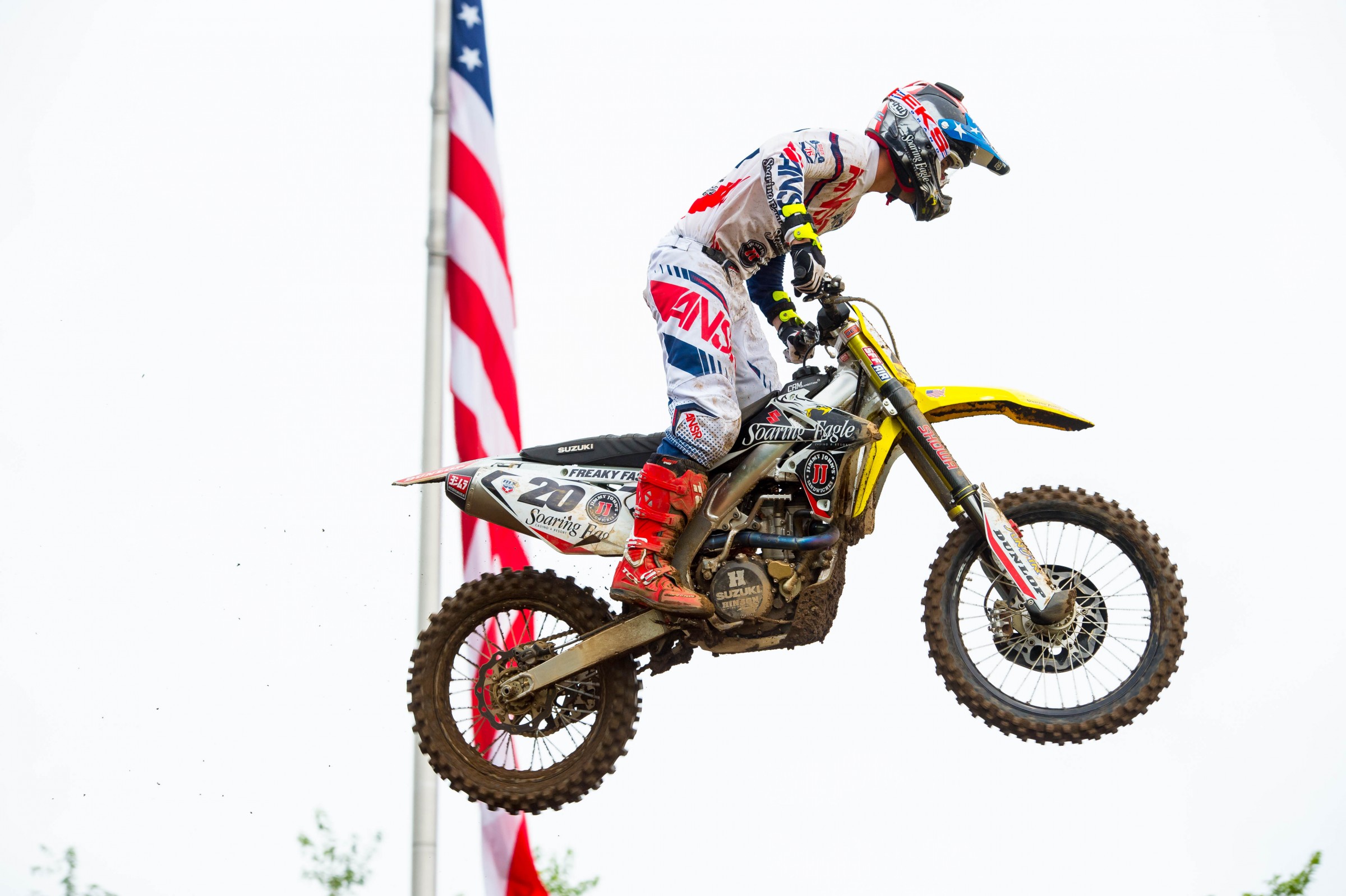 I don't want to talk too much about title because people don't like doing that early, but one of the validating things, everybody's tried this private team thing and a lot of them have come and a lot of them have gone. I don't think any of them have won the title at this level, a 450 motocross championship. Some Yamaha teams did but they had a lot of factory support; in McGrath's years they were literally wheeling a bike under the Chaparral tent from under the factory semi. This would be a pretty big accomplishment, but does that even cross your mind? We were once the Carey Hart team that was just trying to make mains. Does anyone even think about that?
No, we don't think about that. We have to take it one race at a time. But at the same level we get full factory equipment. There's no difference between us and Yoshimura. We're both Suzuki supported teams. There's a perception obviously the industry has or the average consumer that they're different than we are but we're all the same. We work together and they don't have anything different than we do and we don't have anything different than they do. But as a privately self-funded team, without a big paycheck coming from the manufacturer, I don't believe anybody's done it outdoors. I think L&M Yamaha maybe did it with Stewart at supercross but at a motocross level, which is to the purest a greater achievement than the supercross title is, I think this would be the first time.
Yeah, and if you're talking about being self-funded, the motocross title is probably more expensive.
Yeah, way more expensive with parts. It would be a great accomplishment for us to win it.
By the way, Ken talked about air forks being a problem in the first moto. You told me between motos you would make some changes. Did you?
Yeah we did. It's still an air fork but we made changes.
Did it work better? That second moto Ken was a lot closer—that wasn't just him manning up?
No. We made some changes and they definitely helped. It's okay, we knew Tomac would be really good here. There's certain tracks where he's really, really good—he won Daytona. It's okay. Like I said, we'll take it one race at a time. We'll put our heads down and still try to get points, the most points we can get every moto.