Where Are They Now: Pat Barton
With its unique, sandy surface, no track on the Toyota AMA National tour favors the local riders like MX338 in Southwick, Massachusetts. Every few years, a local rider comes out and gives the factory pros fits. And maybe the most impressive ride of all was turned in by Pat Barton in 1988. We found Pat at Broome-Tioga over the weekend, fresh off of a few 40+ A motos on Friday.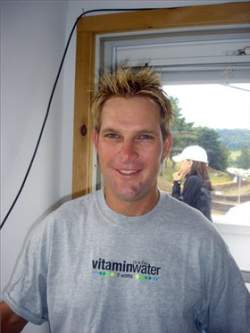 Pat Barton

photo: Jason Weigandt

Racer X: Okay, Pat, let's do this. Tell us about that day when you nearly won a national.
Pat Barton: It was 1988. I holeshotted the first moto in the 125 class, and I led it until three laps to go. I was trying to pass a lapped rider and I went over the bars. I crashed pretty hard and broke my visor. I got up and I was still leading, then Erik Kehoe and Guy Cooper passed me, and I ended up getting third in the moto and third overall. But I was leading. Man, what a bummer.
Hey, sorry to bring it up!
Ah, it's okay.
You were racing here yesterday. What kind of racing do you do nowadays?
I just race local races, NESC in New England, and amateur days at the nationals like Unadilla and Broome-Tioga. I own a landscaping business, and I just do that all week and race on Sunday. That keeps me in shape.
So you use landscaping as training?
Yeah. For the most part it works. I haven't ridden during the week in five years. I get up at 5 a.m. and don't get back until six or seven in the evening. That's all I do, and it's in the heat of the day. I don't even take a lunch break—I eat when I'm driving to the next job. I enjoy racing and landscaping, and those are the two things I did when I was younger, and it's what I always loved to do, and I'm pretty happy.

So you worked even while you were going for it as a pro.
I was never a full-on national rider. I always had this business that held me back. I guess I kind of regret never going for it. But I had this business that I wanted to fall back on.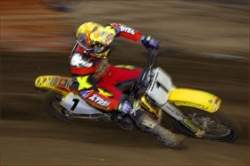 Barton at Southwick in '97

photo: Paul Buckley

When did you retire from the Nationals?
I was doing most of the nationals on the East Coast until three years ago. I was always more of a local guy. I would only do the races on the East Coast because I had to be up at 5 a.m. on Monday.
You're still racing here. You must still love it.
I love it. I love motocross. I'm hoping to be done soon with my business and maybe get a job in the industry. Maybe be a team manager or a mechanic. I know guys like Carmichael, and it's so strange. John Dowd and I used to be racing the Florida Winter Series, and guys like that were just kids on 80s. I know those guys because I was down there racing with them, and I'm learning all about the new guys too. I'd love to get a job in the industry a few years down the road and go to the races.