Southwick, MA
Southwick
Lucas Oil AMA Pro Motocross Championship
In its first year as KTM's sole factory 250 effort, the Troy Lee Designs/Red Bull KTM team came into the season with a five-rider effort. Following Shane McElrath's huge crash on the final lap at The Wick 338, the team is now down to just one healthy rider: Mitchell Oldenburg. Luckily, "Freckle" has made massive strides and is finding another level just when his team needs it. In the super deep, super competitive 250 class, he's gone 7-7-8-12-8-9-6 over the last seven motos and looked to have another top ten until a crash in Southwick's second moto led to a 29th. What's been the secret behind his huge improvements? He told us all about it at Southwick.

Racer X: What happened in that second moto? I just saw you off the track.
Mitchell Oldenburg: Yeah, it was unfortunate. I had a decent start the second moto. I don't know where I was. I think I was like eighth or ninth and just got cross-jumped by another rider. It's racing. Just happy to be in one piece and healthy. I finished the moto. Obviously it wasn't a result worth anything but I think it's good to finish motos and keep plugging away like that. I think it's just good for your head. I think once you start pulling off and start making a habit of it, that's never a good thing. So just did what I could with it and finished the day.
For a year or two we saw you as a guy that was fast, but finishing was hard. Lately though, until this one, you've strung together a lot of consistent motos.
Yeah, we've been putting in a lot of work. I've been putting in motos every day with Shane [McElrath] and we're working with Tyla Rattray so that's been a huge help. I honestly think my fitness is just so much better now that I can kind of back it down a little bit and ride within my means. I think before I was on that edge and I didn't have the strength or the fitness to pull out of the sketchy situations. So things are starting to click. Honestly, we're just building for next year. Getting our feet wet, doing the best we can with what we got. Hopefully come out next year and be a title guy.
The whole time you've been on this team it was always like, how long is Oldenburg going to be here? Will they keep him on the team next week? Has that been tough?
Yeah, it's been pretty stressful at times. A couple of the races I didn't even know I was racing until the week of. So now that I've gotten the official okay, we're on for the rest of the year, it's taken a lot of pressure off me. I honestly think that has something to do with my results lately too. There's always next weekend now, where before it was like, I got to do good, this might be my last race. So I think just that's been a huge help for me.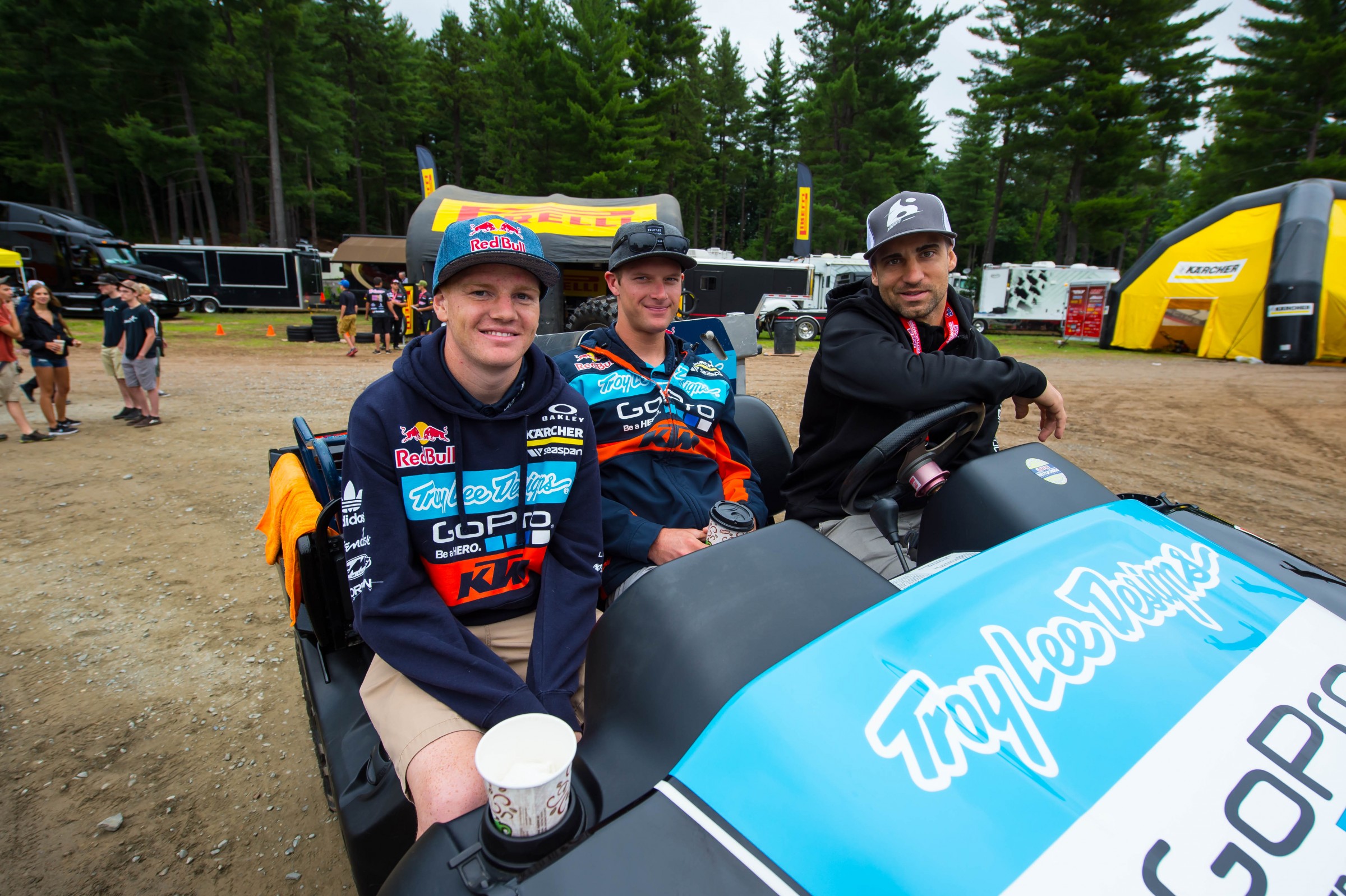 This is the opportunity I'm sure you always wanted. You got a shot at a factory team. You were always good as an amateur but you didn't get that shot immediately. I know you want more, but it's got to be a relief, like I got to that tier now?
Yeah, for sure. Me and my dad have always looked at it like we're never going to say that we've made it. We look at it like that so we never settle and we keep plugging away and trying to get better. I think just being on the team I've already broken so many bad habits I didn't even know I had. Just with so many people around pointing stuff out, it's helped so much and honestly I don't think I could have got to this point without them. Going to the track with your dad every day is one thing, but he only knows so much. We've been going to the track together for fifteen, sixteen years. Just having the good group of guys around me has been awesome just to point out the bad habits and we've been breaking bad habits on a regular basis it seems like. So we'll just keep plugging away and we'll get there. I've always been a firm believer that it's not if, it's when. As long as I give it everything I've got and leave it all out on the table then I don't see why I can't make it.
Now I want you to do something that no rider would ever do: Can you actually tell me one of the bad habits that you fixed?
[Laughs] Growing up I always had a hard time keeping my elbows up. I always rode with just lazy arms. So one thing I did to fix that was put my levers down to kind of rotate my arms up. I rode like that for three or four years. I did it for like two or three races over here and they were like, "No, you're done with that. These levers are going back up." Now I have to make more of an effort at keeping my elbows up, but it seems to be working. I feel a lot more in control and comfortable, especially with supercross going through whoops. I don't have to reach for my levers. They're right there. I got a lot of crap for it back in the day, the low levers. They were pretty bad. Everyone would come up to me and ask me if I crashed, but no, that's just how I ran them!
"I can't speak for everyone, but for the most part all our parents were hard workers and farmers and stuff like that. They don't stop until the work is done and I think that's what I've learned just from people in Minnesota in general."
Just explain your background. You're a Minnesota guy who moved to Texas?
Yeah, I grew up in Minnesota. I lived there until about 2007. End of 2007 we moved to Texas. For my career, my parents have just been there the whole time, but they never made me do anything. This was all on me. They gave me everything that I needed to succeed, but they never pushed me. It's been unreal having parents like that. My dad's never made me go to the gym, never made me do a lap. Never made me do anything. He gave me everything I needed to do that, but he was like, "If you want to do this, this is up to you. You've got to put the work in. You've got to show me you want it." And I think that's been huge in just life.
I've seen riders with the opposite, dads were pounding on them at like 8 years old, and it doesn't always work out at this level. Sometimes the rider ends up burned out by the time he's a pro. Is it almost a little fresher to you because you didn't have someone cracking the whip on you for fifteen years already?
Actually, looking back, I kind of wish he would have! I feel like I could have been here a couple years ago. It's not a bad thing. I'm growing as a person. It's funny because everyone thinks my dad is hard on me and all up on me just making me do everything. He just hangs out. He doesn't rely on me to support him. I think that's been huge. He's kind of taught me to make it in life.
Take care of yourself.
Exactly.
Your parents own a track, Oak Hill?
Yeah.
Did you ride there all the time or is that almost nothing to do with what you've got going on?
Yes and no. We're open three days a week, so I rode there three days a week and two or three other days we'd go somewhere else. I didn't really take it serious until my last year amateur. Then I realized this is exactly what I want to do. I'm looking around and all the guys that I'm racing are getting rides and I'm sitting there wondering what's going on. At the time I was like, "I deserve that." But looking back I wasn't ready. I didn't deserve it until…honestly I don't even feel like I deserved it last year. Just being around these guys and seeing the effort that these teams actually put in. it's like they don't deserve anything less than wins. I understand it now and we're working on getting there. But to go back to your question, Oak Hill, it helped me out a lot in the early years and actually today [Southwick] reminded me a lot of it. So it was nice. I haven't been home in almost a year. So I haven't got to ride my track in quite a while. But I think it helped me out a lot today.
Can we still say you're a Minnesota guy? There are a lot of guys going fast from Minnesota now, and we're going there next weekend. Did you ride Millville and stuff?
I've actually raced Millville more as a pro than I did as an amateur. My parents actually owned a track in Minnesota at the time. We were four or five hours north of them, so we'd always have races kind of at the same time. South riders would go to Millville and the north riders would go to our track. So I haven't ridden there too much. I raced a couple regionals there. But yeah, you could say I'm a Minnesota guy.
There are so many dudes right now. There's Dungey and the Martins but then you start adding in Williams and Wentland and you. What's up with that?
I think we all just grew up together.
So you remember those guys?
Yeah, I raced them almost every weekend. I think we all just wanted to beat each other so bad that it just carried into when we came to race other guys. Now that we're at the pros we all have the same mentality. We want to be the best. I think that's just how we were raised. I can't speak for everyone, but for the most part all our parents were hard workers and farmers and stuff like that. They don't stop until the work is done and I think that's what I've learned just from people in Minnesota in general. Everyone there works hard and earns what they get.