High Point Raceway
Mt. Morris

,

PA
High Point
Lucas Oil AMA Pro Motocross Championship
The surprising thing about the Martin brothers during this Lucas Oil Pro Motocross Championship is that they've been so closely matched. That trend continued this weekend at the Red Bull High Point National, where they even managed to have identical bike problems!
The repercussions feel a little different, though. For Jeremy Martin, it's hard to just roll with the bad luck because he's clearly struggling through other issues. Last year Jeremy had bike troubles at a Glen Helen moto and couldn't get it started when the gate dropped, but he didn't panic. At that time he had faith in his abilities to overcome all. He knew he was fit and strong, and probably thought he could ride through a brick wall if needed. But that Jeremy Martin isn't out there right now. He started the summer saying he was sick at Hangtown, and he still hasn't quite recovered. He told me he only rode about four times during the two weeks between Thunder Valley and High Point. He's still not the super-strong rider that won the last two titles.
Yet, when Alex's bike broke in moto one, and Joey Savatgy finished fourth, Jeremy finished second behind Zach Osborne and ended that moto with the points lead. Consistency was carrying him early. It was a good plan, but now the second-moto DNF due to engine problems puts him twenty-four points behind Savatgy. Last year that was bridgeable gap, but JMart is vulnerable right now.
"I got the holeshot in moto one and went inside over the single and I knew immediately that was a mistake," he told our Steve Matthes. "And there's Big Al [Alex] going around the outside, he sweeps me! He was going so fast that he gave me arm pump for 25 minutes trying to keep up with him! I went the wrong direction on suspension. It [the track] was rough, but I thought personally, even though the bumps were bigger, it was safer [being that rough]."
In moto two, Jeremy was in the thick of the pack again. "I made a mistake, Savatgy got me, and then Alex got me, and I was like, 'That's the line right there.' Then right after I got to [Adam] Cianciarulo, I felt my bike starting to go. I had to slow it down, I knew something was wrong."
Jeremy was angry at the time—we saw him slap the seat of his bike when it first slowed to a stop in the moto. Post race, he tried to put a better spin on it. "I've been really lucky the last two years and haven't had many issues," he said. " Things are still positive. I'm starting to feel better, too."
As for Alex, this was just as heartbreaking for the opposite reason. Jeremy needs the points because he's not quite at 100 percent. Alex is seeing sure-fire opportunities to get more wins slip away.
This could be a dream season for Alex, but strange stuff has happened. He had the points lead going into Thunder Valley but lost it due to a first-moto crash that wasn't his fault [Aaron Plessinger crashed right in front of him and that knocked him down]. At High Point he lost another pile of points when his bike broke. Alex did get the overall win at Glen Helen, but despite being fast has yet to win a moto.
Oh, and they also both have to deal with a rock solid Joey Savatgy. Three times this year Alex has gotten to Savatgy's rear fender in a second moto but hasn't been able to get him yet. The 250 class is stacked, but as a whole, Alex and Joey have been the riders up front most often.
"I think it's pretty clear that we're kind of the top two contenders right now," Alex told me after the race. "Obviously the first moto I lost out on a lot of points. I was sitting behind Joey halfway through [the second moto] and I was like, 'This is really getting old.' It's not like I'm trying to sit behind him or being complacent. He's just going good! He's going fast. His lines, for the most part, they were good. I had a couple lines that were better than him and that's where I was able to get up on him, but he's riding good. I actually came from like seventh that moto. I didn't have the best start because I was like thirty-eighth gate pick. But it's been kind of a fun battle."
On the very last lap, just like he did at Thunder Valley, Alex launched a last-ditch, last-lap effort to try to dig out the moto win.
"I did. I'm not going to lie, I was feeling it three laps from the end. But then I was able to regroup and I just got in the zone I guess and stepped up the level to get back up to him. If I'd have been a little bit closer that last corner there... I had a good line that I didn't try the whole time. I think that was the problem—I got some tunnel vision going when I was behind him.
"There were a lot of lines out there, but only a few that were good," he continued. "I wasn't actually following him everywhere, same lines. That was a last ditch effort on that last lap, but I kind of bobbled over there where I had a hot line earlier in the moto. Allowed him to get away and then I just didn't quite get close enough to finish it off in that last turn."
The first moto could have been his, but he bobbled and went off the track, allowing Zach Osborne to get by. Osborne was riding well and gunning for the first moto win of his career. "When Zach passed me, maybe a lap later it felt like the brakes were on a little bit. I'm like, 'Something's weird here,'" he said. "That's when he grew his gap really fast. There was one lap where he just yanked me. That's when it happened. I've been a privateer for a long time and that stuff happens. With [Eleven10] I got good with the bike detonating and having to nurse it home. That was a strong point for me. [Laughs] But this stuff happens. Who even knows why? There are so many factors with rocks. I almost died, had a big moment when I was leading that moto. I might have maybe hit the radiator there, I don't know. That stuff happens. It's a bummer but it's a long series and hopefully I got my bad moto out of the way."
After the race, we stopped by the Yamalube/Star tent to try to figure out what happened to the bikes. There wasn't any external damage on JMart's bike, which was now back on the bike stand. No signs of radiator damage, or a smashed water pump. We asked team engine man Jeremy Coker if he had any info, but he didn't. Teams don't have time to diagnose problems at the track, they just swap in new motors and move on.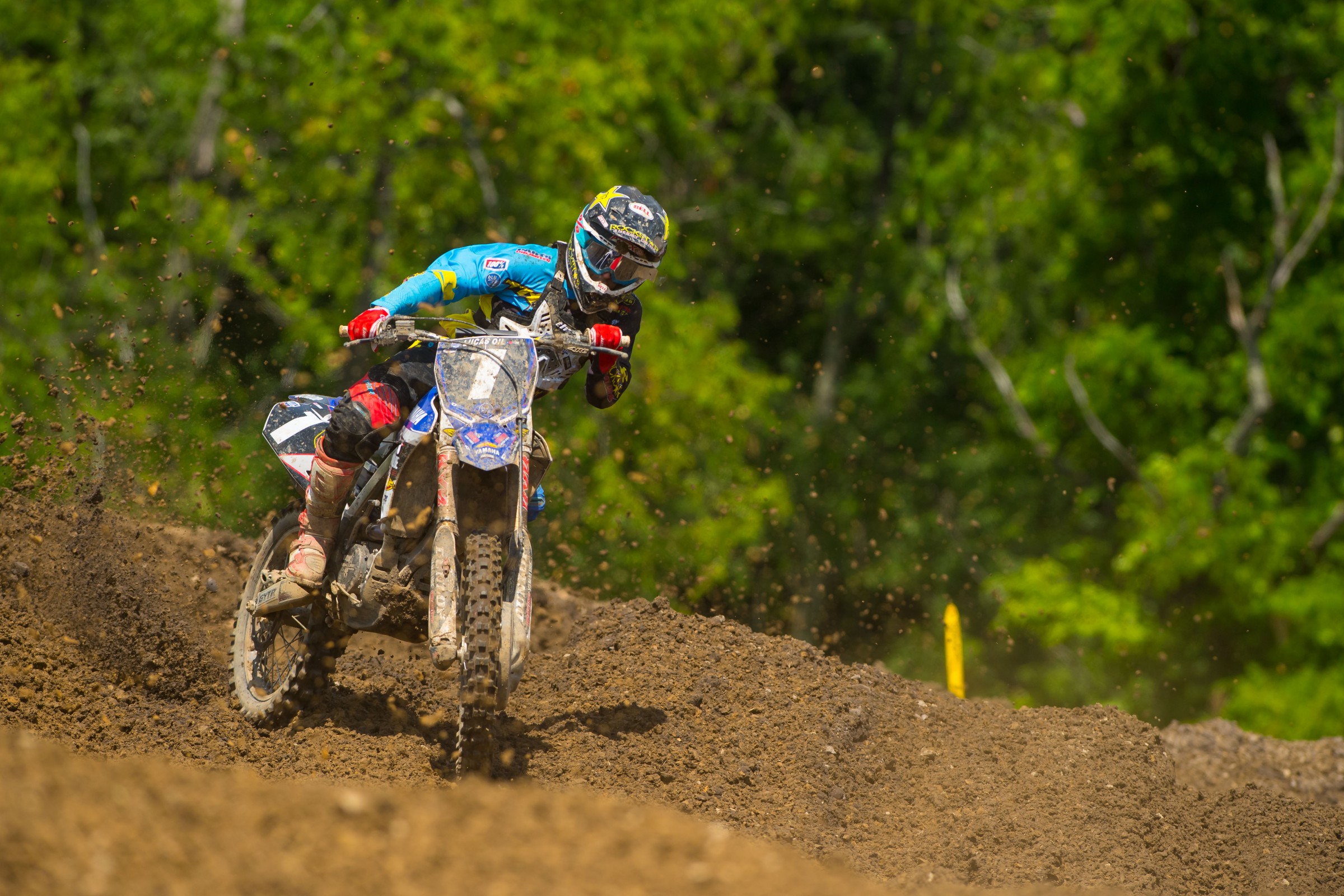 As for theories, remember, after Thunder Valley we spoke with Star Racing team manager Brad Hoffman about fuel-injection mapping, and how every part is under more stress as you try to fine-tune the bikes. You can map the bike and make more power, but it could always result in a reliability issue. In other words, at this level, teams are pushing and scrambling and sometimes things go wrong.
"I was pretty bummed, though," said Alex at the end of the day. "But mentally I was like, 'I led that thing for fifteen minutes!' Especially the first three laps, I put the hammer down. Then I kind of got arm pump. I was talking to some people and literally everyone I talked to had arm pump today. I don't know if it was just the track or what. So I tightened up a little bit and that allowed Zach to close up. But I was able to take some positives, I felt good early in that moto."
For Alex, yes, he still has this miracle speed like he's never had before. The loss of points hurts, but at least he's still fast enough to lead more races and get more wins. For Jeremy, race wins are old hat; he's only in this for titles. Suddenly, both Martins find themselves closely matched again—in a bigger hole than expected.