Thunder Valley Motocross Park
Lakewood

,

CO
Thunder Valley
Lucas Oil AMA Pro Motocross Championship
Yamalube/Star Racing Yamaha is kicking ass. A few years ago we were practically (or, literally) making fun of this team but things have turned quickly, not just with Jeremy Martin and Cooper Webb winning titles, but now Alex Martin and Aaron Plessinger in the mix, and rookie Mitchell Harrison showing speed. They just keep cranking out the hits, and it's not impossible that you'll see this team finishing 1-4 at a race soon.
What's changed? What are they doing right? Brad Hoffman has been with the team for thirteen years, starting as a mechanic, moving into a crew chief role, and now taking the reigns as team manager. At Thunder Valley, we tried to shake him down for some of the secrets!
Racer X: What is the secret sauce? I know you guys didn't win today, but that first moto was one, two, three four at one point, and you swept last week. What is it? It's been good the last few years but this is even next level beyond that.
Brad Hoffman: It's hard to say any just one thing, but I think we kind of got to the point last year with the bike that all the obvious is developed and we can really start fine tuning it. That probably doesn't hurt that we have time to fine tune now; we're not making big changes. Just fine tune suspension settings, fine tune engine settings, and EFI and everything like that. In the past we've been making big gains but there was no time for the real small stuff. So I think that's good. Then obviously Alex Martin just really took to Gareth Swanepoel's training program. It's been a just total turnaround for him. It's pretty surprising.
Not to insult anybody but were you guys thinking coming into this that Alex, you could argue, would be the fastest guy on the team? He's right in there. Were you expecting that speed? Did you see that a few weeks before Hangtown or anything?
Not for sure. We knew he was fast. Obviously with Cooper [Webb] not riding much he would beat up on Cooper a little bit during the week, but we knew that Cooper is a whole other animal at the races. There are lots of people that beat him during the week. He doesn't worry about that too much. Cooper doesn't really want to put it on the line at the practice track all the time. He kind of just knows what he's got in the tank and when he shows up at the race it's a whole other ballgame. So we knew Alex was fast. He was a little faster than Cooper some days, but we thought maybe he'd start off top five for sure but we didn't see him coming out swinging quite like this.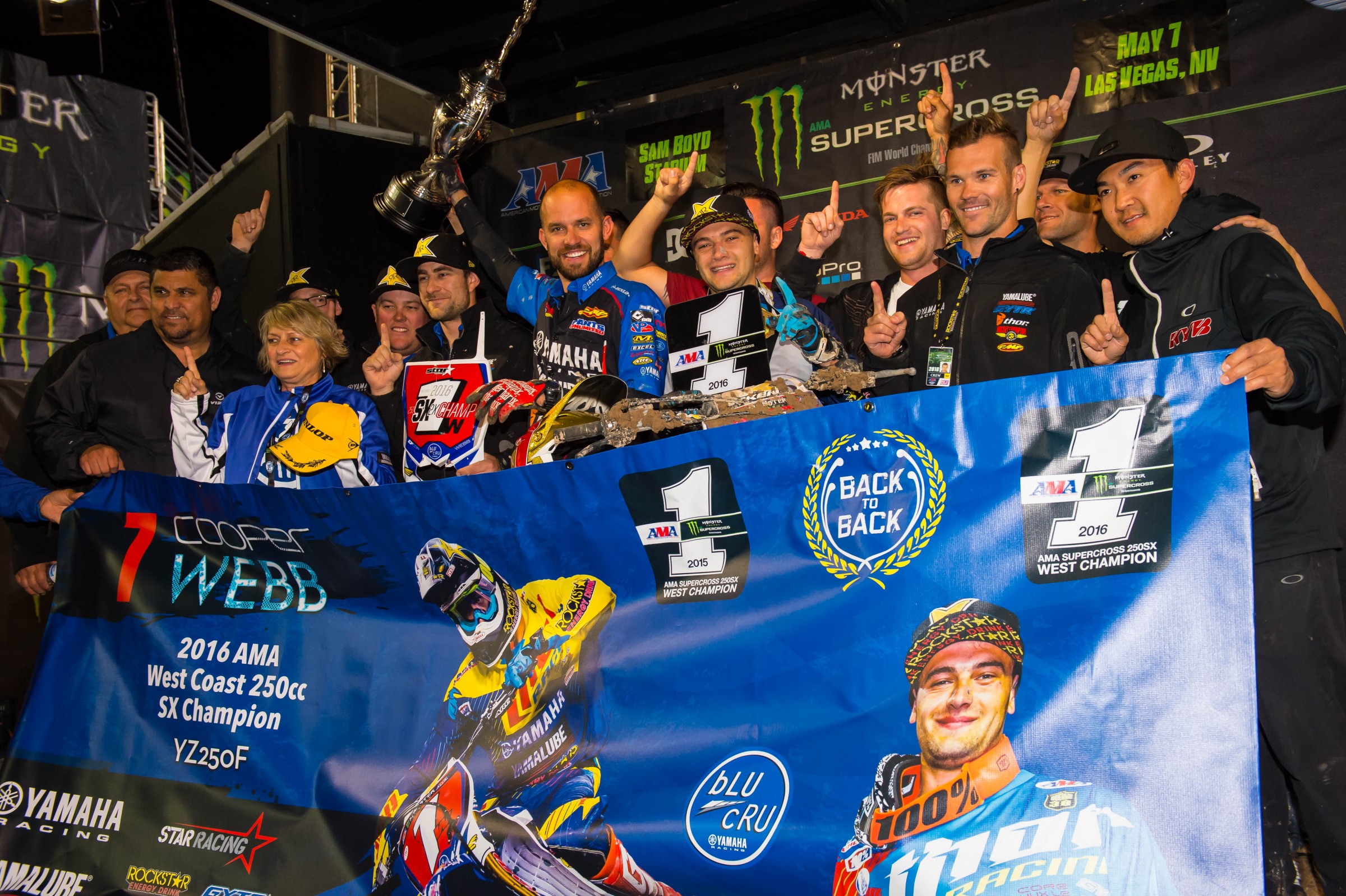 Mitchell Harrison has also been good; you've had five guys in the top ten at times. You would think it must be the bikes, but it seems like there's a much bigger program of riding together, training together, and all that.
Yeah, I don't think it's ever just one thing. I just feel like we're firing on all cylinders right now. We've got talented riders obviously and everyone's working hard. The training thing is going good. It doesn't hurt to have four of these five guys riding together all the time. They push each other all the time on the same equipment. Nobody's got an unfair advantage or anything like that. It's just really good for them.
How hard is that for you to make sure that everybody does know that everybody's treated equally? I've heard the craziest stuff where team managers didn't even realize they were doing something that some rider takes as a slight. Do you have to be conscious of that, to let everybody know it's super fair for everybody?
I think everybody knows we definitely do that. But I think when you've got five guys that are at this level, somebody's going to be unhappy. Not all these guys are smiling all weekend for sure, even though they're all doing good. Aaron [Plessinger] for example, he's been doing good but he sees those other three guys are doing better so he's kind of a little angry at the races a little bit here and there. So you're always going to have that when there are this many guys doing good.
As far as this training thing with Swanny, it seems like the greatest plan ever, but that kind of fell into place. You didn't plan it to be like this, I don't think, right?
Not really. Honestly we tried to get Alex to go that route because obviously Swanny's kind of part of the team. It's really good for us to have Swanepoel. He's an ex-rider of the team so we've known him for a long time and he knows us. He knows us really well. He does a little testing for us and he knows the bikes.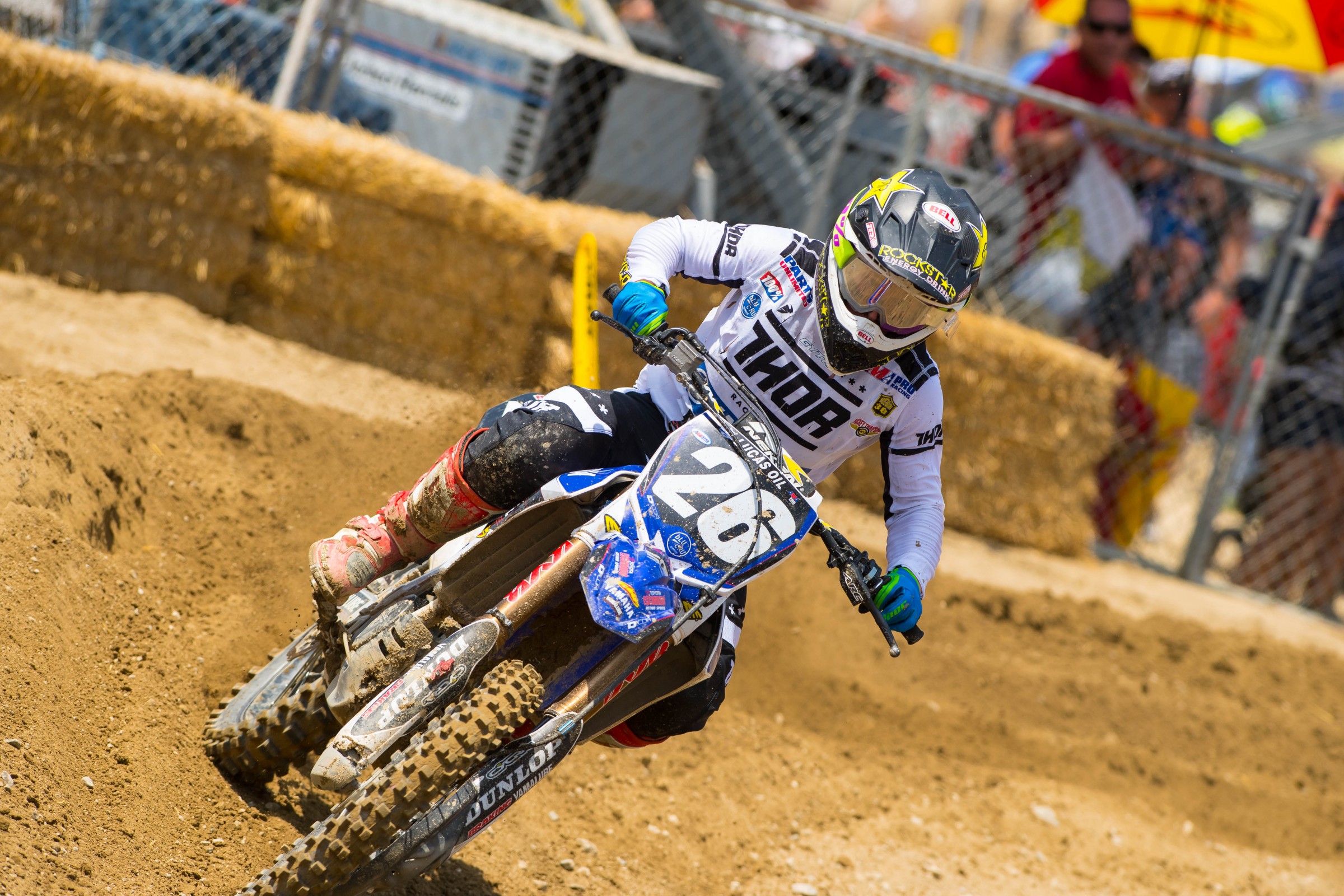 Swanny does some riding still too?
Yeah, once in a while. If we need somebody to just give us an honest opinion. A lot of our riders are not the best test riders. They're young; they just know how to go fast. They know a little bit but sometimes they can get themselves into trouble, so Swanny gets us out of that.
But as far as him even being a trainer, he told me he was still maybe going to ride and looking for a ride. It just all kind of worked out and next thing he knew he was doing this!
As far as him starting to train, yeah. I think he's always been around guys like [Tyla] Rattray that were on the Aldon Baker program. He was always just real interested in stuff like that when he was racing. I remember him telling me he rode some privateer team after the year that he was not on our team anymore. I remember him telling me, "Man, I've been really training. I'm in better shape than I've ever been in." He just started getting more and more into that at the end of his career. At that point I think the plan was, [Star Racing team owner] Bobby Reagan was like, "Hey, I've got Cooper Webb. He's good." Cooper hadn't done anything like he's doing now yet, but in 2013 Bobby told Swanepoel he'd be a real good fit to work with him. Cooper was working with a guy, Darren Stockton, that was a really good trainer, but Cooper was not living by him and Cooper's got to be around a guy that's with him every day to push him. He's not the guy that's just going to go out and push it to the limit by himself just because a guy wrote it down on a piece of paper. So that was part of it for us, how Swanny started training Cooper. At first it was just Cooper, it just kind of grew into this.
"Obviously the years where we were struggling you're always going, "What's different?" I always did look at one thing that's different is for sure is that Pro Circuit's been doing this ten years longer than us, or maybe more."
Now the East Coast has begun and people start going in all different directions, so how do you integrate that? To some teams it wouldn't matter but you had them riding together already. That's tough.
Probably about three months ago we started planning that these guys are going to go back to South of the Border. It's kind of where Cooper grew up riding a little bit and stuff. And Swanepoel is going to go back there with them, with all four of those guys. Alex, Mitchell, Aaron and Cooper will all be back there training. I think it's going to be about a four or five week thing back there. It's been something that's always made Cooper a little jealous I think. We try to keep our guys in California because we're just set up really good to deal with everybody. Jeremy has always went home or to Florida, but I think Cooper thinks Jeremy's got a little edge because he's riding the rutted tracks and everything. So Cooper really just wanted to have a year where he's back east a little bit more and practicing and see if that can kind of help close the gap.
So Cooper never really left California?
No.
Talk about your role. I just feel like you've always been around this team. Did you do something before this? Where did you come from? Did Bobby pluck you out of the pits or something?
Basically straight out of high school I went to a trade school. It was actually in Canada, for motorcycle mechanics. It wasn't any kind of big school. It was just a public school in Canada. From there I met some people. I actually went back to Phoenix where I was living at the time. I worked at a dealership for about a year. One of the guys I worked with was going to be on a Canadian team. They actually hired Greg Schnell to come up there, they had some pretty good riders. So I went up there and wrenched for a year. When I came back from there I just kind of got in touch with Keith Johnson who was kind of who Bobby started the team with. I worked for him for a couple years. I kind of just always helped the other mechanics a lot on the team and stuff. It was actually Ross Maeda's idea, of Enzo Suspension. He was like, "Man, you should be kind of like a crew chief guy because you're helping all of these guys a lot." Some mechanics back then didn't feel confident doing their engine, so I'd do it for them. So he just kind of mentioned that to Bobby and we kind of went with it. I kind of did a crew chief kind of role for quite a while on the team. I've kind of just done whatever we thought would be best for the team at times. There were times when I did suspension, there were times when I did engines. I'm still a little bit involved with just the direction of the engine development and the EFI stuff.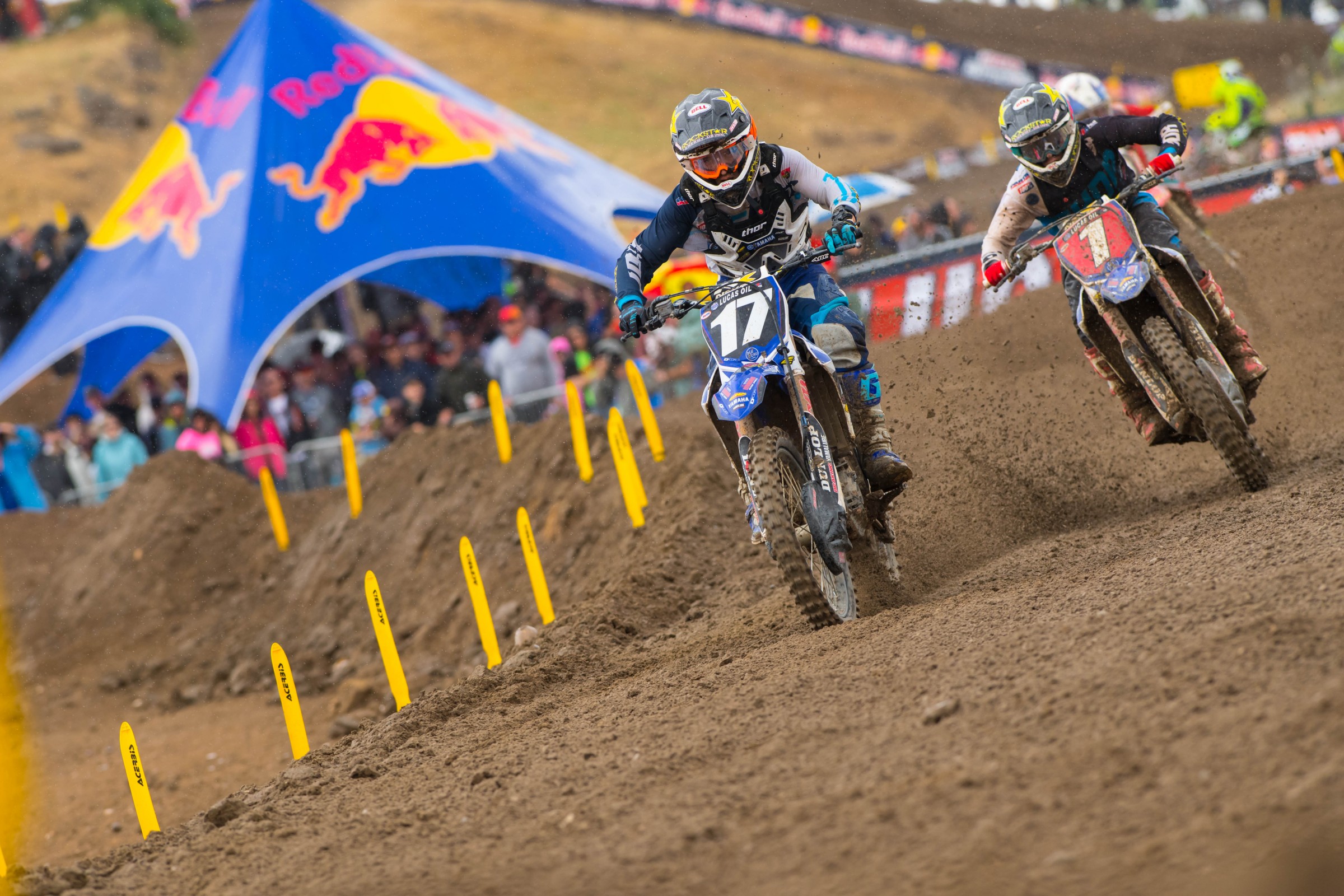 But not as much as you were?
No, we have Jeremy Coker stepping in and he did engines all last year assembling them. I'm slowly kind of teaching him into the role of kind of like a crew chief where he's getting a little more familiar with the EFI software and stuff like that.
You're said to be the team manager now, but that varies. Every team is different. Are you working with the riders more now?
I think it's probably been different than some others. Swanepoel's pretty actively involved with the riders. I definitely communicate with them a lot. Between me and Swanepoel and the riders we kind of communicate that way. I'd say I'm probably more involved with the technical side of things than some team managers, just kind of guiding everybody on the whole development process of the bike.
What year was the first year that you were here with Keith Johnson?
I started at the end of 2003.
So thirteen years. You and this team has some humble roots, it was like a privateer team. And you know it yourself, for a long time we were all wondering "Star Racing. What's up with this team?" Did you think these kind of results would be possible with enough time?
Obviously the years where we were struggling you're always going, "What's different?" I always did look at one thing that's different is for sure is that Pro Circuit's been doing this ten years longer than us, or maybe more. FC [GEICO Honda] same thing. A lot of our years, were weren't even really a 250 satellite team. That didn't start until 2006. Before that we just did what we could do, some two-strokes, different classes, everything. So really this is our tenth year as a factory team and I'm sure Mitch [Payton] has been doing this for like 25.
Yes, Pro Circuit started with factory help as a team in 1991. So that's a 15-year head start.
I think you can look at teams like MDK KTM and stuff like that, they came in here with big money and you can't buy these results. It doesn't matter if you come in with big money. If you only have a couple of years of experience under your belt it just doesn't equate to the same thing even if you spend a lot.
Things really turned around when this new YZ250F came out for 2014. It has the reverse-cylinder layout, but everyone at Yamaha refuses to say this engine design is faster. They just say it's all about weight centralization. But come on dude, the 450s rip starts. Your 250 guys are fast. These motors have power!
I don't know why they would ever deny that. Honestly, when we were breaking in the race bikes for outdoors I'm just thinking to myself, "Seriously how is this possible?" The things just continue to make more power! I don't think we've hit the ceiling yet on it. It's just to the point where if you had asked me even five years ago if I thought this kind of power out of a 250F were possible I'd say no possible way.
And you can get faster?
Yeah. We haven't really stalled out yet. With the five-valve bike (previous generation) we had literally been working on that for ten years and we were pretty much stalled out. For quite a few years we were just trying to figure out what we could do. But I can tell you right now, this new bike probably makes eight horsepower more than our old bike or something like that. It's big. The five-valve bike had its area where it was good. I think the five-valve head design really worked good at low RPM power. It had a lot of bottom. Still today it would have a lot of bottom end. But the top end numbers are just nowhere near where this thing is.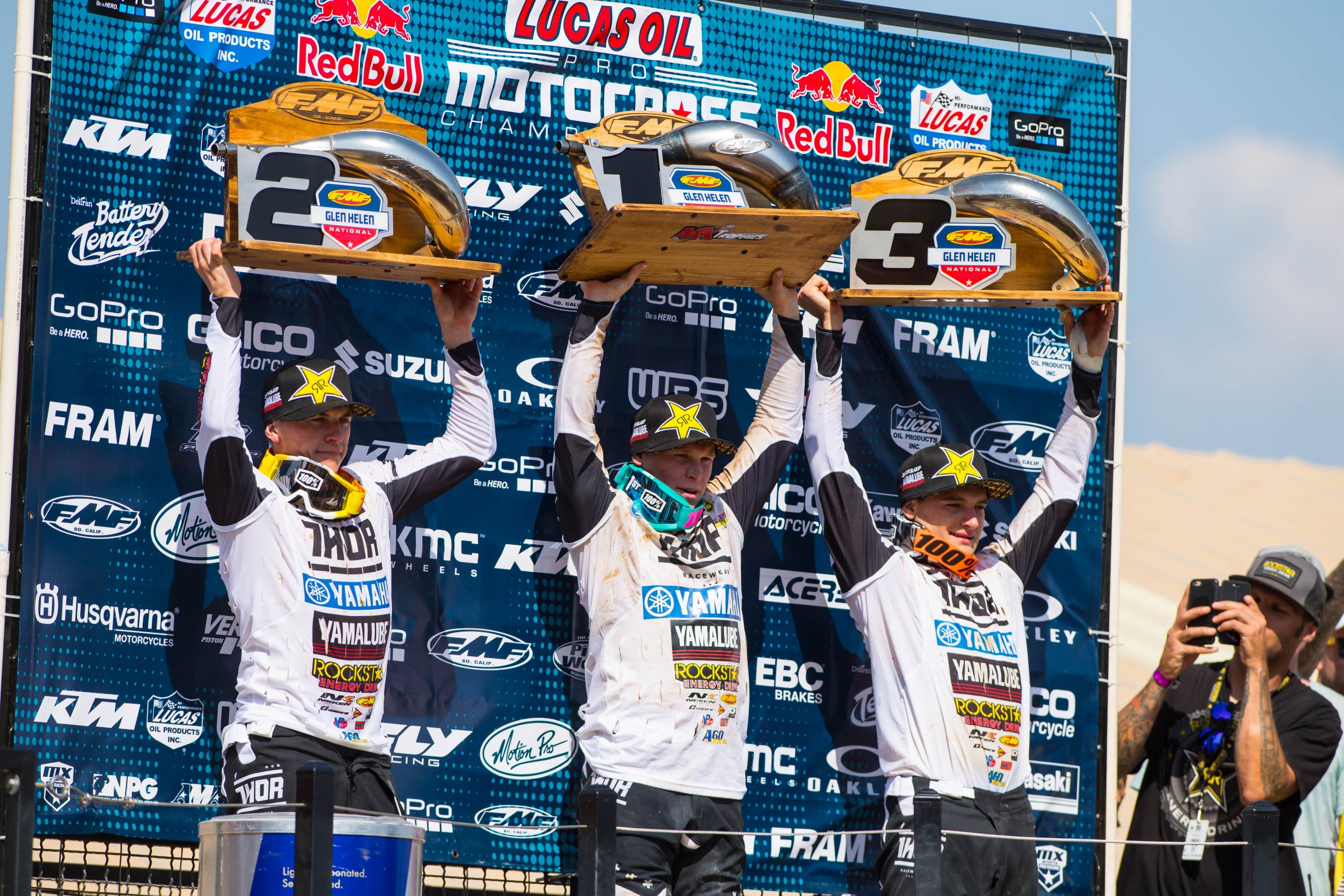 Are the guys even using bottom end out here?
No, not really. When they're racing they're revved up pretty good.
So do you think you have an advantage over the brands?
Yeah, I feel like we do, for sure. I think there's some other bikes that make maybe some good peak horsepower numbers but I think as far as peak torque and peak horsepower there's no way. Any engine builder would tell you the intake port of our bike is just like cheating. You take the valves out with the head on the thing and you're staring at the piston. There's no arch in the port, there's no nothing to get in the way.
Compared to last year's bike, is it way faster? Is that why these guys are doing so good or is it just small gains?
I think the fine-tuning stuff actually equaled more than we thought. I think we are definitely up two or three horsepower over last year just from having time to sit down and make sure the maps are perfect. Mapping work is really tedious. It takes a long time. If you're worried about durability issues or new pistons, new parts, you might not do all that as good as you could do it. There's only so much time in a day and we don't have a huge team over here. So I think the fine-tuning aspect has been good this year.