Wheels Up: February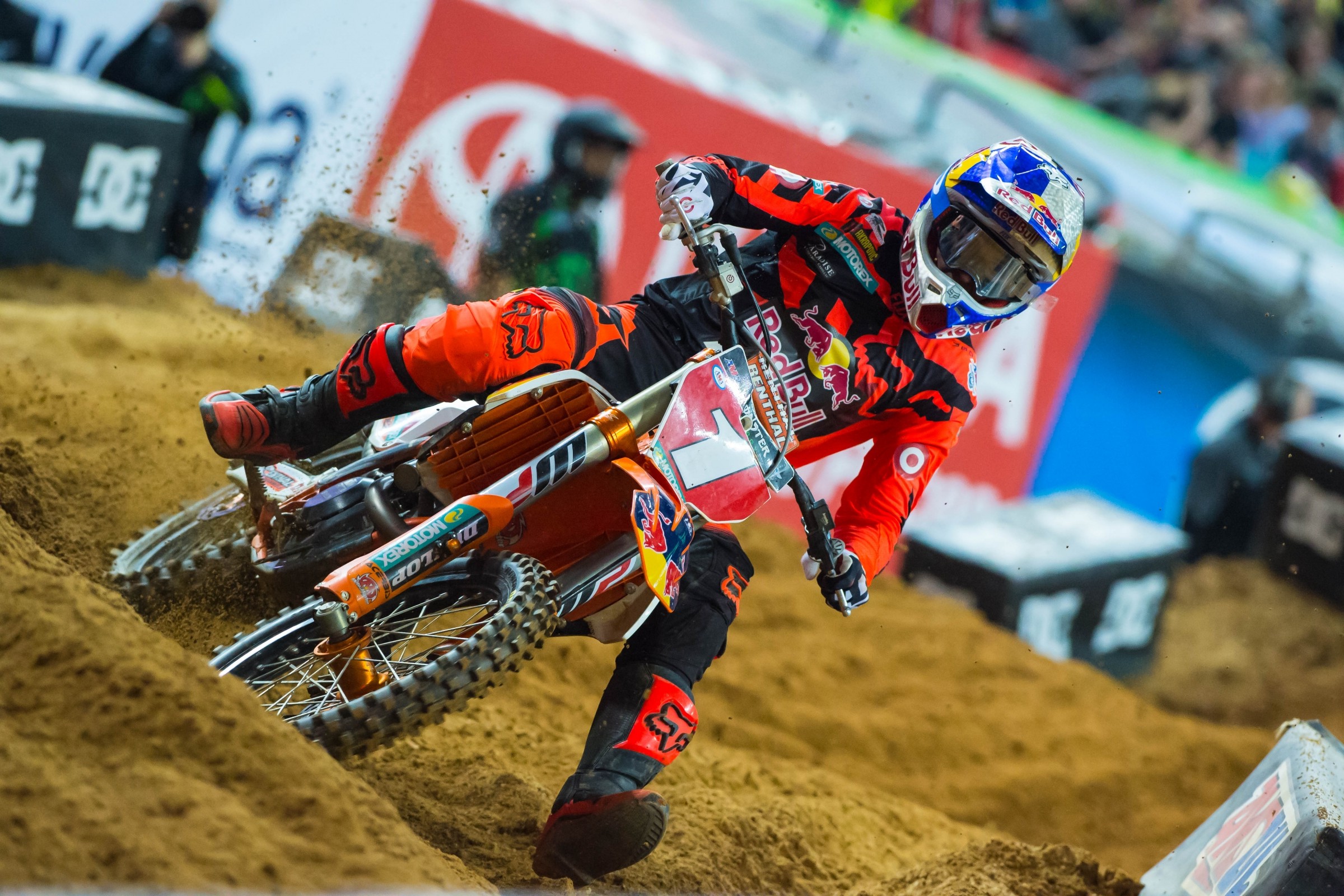 By Jason "Wheels" Todd
Introducing a new monthly feature where our man in the middle of America, Jason "Wheels" Todd, gives you his take on all of the happenings in Monster Energy AMA Supercross.

Hello again, everyone! Wheels here and it's time for another edition of "Wheels Up," where I share my take on some the happenings of the previous month of Monster Energy AMA Supercross. How crazy is it that the championship is already eight rounds old? Even more so, how surprising is it that pre-season title hopefuls Eli Tomac, Chad Reed, Trey Canard and James Stewart have all been shut out of the winner's circle so far?
Since the last time you read my ramblings, there have been some pretty cool things occur in our sport, and in my professional life. I'd like to quickly announce that I've officially been put on staff here at Filter Publications and MX Sports, helping to handle a number of social media tasks throughout the season. To say that I am excited is an absolute understatement—I feel like I made my first main event and even grabbed a holeshot! Special thanks to Jeremy McGrath, who helped nudge me along with the Racer X gang while he was at Kevin Windham's Party in the Pasture, and just everyone else who has helped me along this journey.
Before we get back to discussing the series itself, or how incredibly awesome it was to see the last-lap drama between Ryan Dungey and Marvin Musquin in Atlanta, or even Reed land on the podium, I want to delve a bit into the family aspect of racing. Supercross really is a family-centric sport. There are the thousands of families who pack the stadiums every Saturday, for a fun-filled outing at the races. Meandering the pit area and surveying the concourse of the Georgia Dome, I was observant of a number of happy kids, dads and moms all enjoying their time with one another. Yes, their attention was primarily fixated on the dirt bikes, but whether they were cognitive of it or not, each one of them were creating memories and drawing themselves closer to each other. I am compelled to include this topic, admittedly for a selfish reason: while I've been active in the sport of motocross for as long as I can remember, Atlanta was the very first time that my dad was able to accompany me to a big event like this. Between the 16 hours spend round-trip in the van, and the time spent at the track, it was absolutely a special experience for my and I.
Now let's get to the good stuff, the racers and their seasons so far.
Remember Ken Roczen? He's the guy who struggled a bit in January, but whom I predicted last time that he would be the next 450 main event winner whose last name isn't Dungey. Well, the Soaring Eagle/Jimmy John's/RCH Racing Suzuki rider promptly won two main events in the month of February, popping champagne in Glendale as well as in Arlington (better known as Phoenix and Dallas, respectively). The young sleeping giant that is #94 is awake and hungry, but he's got his work cut out for him if he's going to catch his former Red Bull KTM teammate, especially after a poor main event in Atlanta.
If you follow @racerxonline on Instagram you may have notice a photo of Chad Reed that was put up, with a unique caption from a Jim Croce song: "You don't tug on Superman's cape, you don't spit into the wind. You don't pull the mask off that old Lone Ranger, and you don't mess around with @crtwotwo." This is fitting because every time people begin to doubt Reed, he delivers. His third-place finish in Atlanta was rather quiet, but it showed once again that he isn't done yet. David Izer from DMXS Radio is the president of Chad Reed's fan club, and somewhere this season, he and Reed's many fans will be treated to a victory lap.
Transitioning to the 450 SX class from the 250s is obviously quite the challenge. This season we have three notable new guys in the 450 class in Rockstar Husqvarna's Christophe Pourcel, Red Bull KTM's Marvin Musquin, and GEICO Honda's Justin Bogle. I mentioned before that Pourcel was a bit of a disappointment, so I want to address this respectfully: I absolutely enjoy watching Christophe ride, but only when he actually gives 100 percent effort. At any given time, the man can lay down an incredibly fast lap, which he did Saturday afternoon in Atlanta, but he needs to do it 19 more times to get a win. He has been consistently inconsistent, much to his fans' frustration. I did not have him pegged for eleventh in the standings at this point, but I do expect him to make a move at some point.
Which is what Marvin Musquin finally did last week. He nearly won the 450 main in Atlanta, leading for more than 19 laps, only to a critical last-lap error when trying to get around James Stewart, who as JT$ and Matthes pointed out already has very little experience getting a blue flag. I have always believed that his time will come, and Marvin will win races. I would also get he will never make a last-lap mistake like that again.
As for Justin Bogle, the kid has plenty of style and speed, but unfortunately he has an ample amount of injuries to spare as well. He is fun to watch, and I really hope that he remains healthy, though the same could be said for the hard-lucked Blake Baggett and Will Hahn.
There's little to say about the points leader other than the fact that Dungey has become the complete package. His bike is working perfectly for him, his race craft is consistently superb, and his patience enviable. Musquin rode an excellent race on Saturday and I am sure a lot of people in the Georgia Dome wanted to see him get that first win. But the moment Marvin left an opening, #1 was out front and on his way to the checkers. Dungey may not be the most exciting champion we've ever had, but like Jeff Stanton or Jeff Ward or even his old nemesis Ryan Villopoto, he's not out there for style points, he's out there for championship points, 25 at a time.
Tomac will get up there sooner or later, switching to the green bike has yet to pay him or the Monster Energy Kawasaki team any real dividends, but he's a worker, and the team has a whole bunch of championship experience to draw from.
And James Stewart? I hope he wins one before the season is over. And then I hope he rides off into the sunset happy, because it's obvious that the effects linger, and they linger even more if another big crash happens. He's one of the best we've ever seen, but he's not the same rider he was since his A1 crash.
The other guys have covered the Jason Anderson/Cole Seely situation a whole bunch, and I have to say every sport needs a rivalry or two like that. Keep an eye on both, especially if they end up battling for a win!
Atlanta witnessed the dawning of the 250 East Region Championship. While there has only been one round, I have a feeling that this title fight will be exciting. The veteran Martin Davalos drew first blood—he wasn't on many folks' lists of pre-race favorites—and left Atlanta with the win, but Malcolm Stewart, Aaron Plessinger and Jeremy Martin weren't far off. I'm so pumped for Daytona! As the great Ricky Bobby once said, "Hang on Baby Jesus, this is gonna get bumpy!"
The 250 West Region has now seen three different winners. Remember when this series was supposed to be dominated, and possibly swept, by Cooper Webb? Apparently Joey Savatgy and Christian Craig were never given that memo. Yes, Monster Energy/Pro Circuit Kawasaki's Savatgy won a race back in January when Coop's bike gave up the ghost, and yes he caught some flack for it (more on that topic later), but in San Diego he backed it up with another win. Ergo silencing a majority of his critics. In addition, Glendale, Arizona would see Christian Craig earn his very first professional win. But despite Christian and Joey's victories, the champ still managed to earn a W himself in the month of February, and entered the West Coast break with the red plate on that blue Yamalube/Star Racing YZ250F.
Names like Webb, Savatgy, Craig and Zach Osborne have been tossed around routinely when speaking about the riders who inhabit the 250 West Division, but I'd like to throw two more into the mix: Colt Nichols and Mitchell Oldenburg. Both are two super consistent riders in this class, Nichols with 5-4-4 scores in the month of February, and Oldenburg with 4-6-5 results. The future looks to be bright for these two young men, and I'm interested in seeing how their careers unfold.
I want to wrap this up by asking you to refer back to my above comments, in regards to Christophe Pourcel. Notice how I voiced my opinion and criticism in respectful manor? I bring this up because it is my personal belief that all of the hate and negativity on the Internet, from "fans" of our sport, has gotten out of hand. I understand that a lot of us react on emotions. However, this is no excuse to be vile, malicious, and degrading. The standard way of dealing with this stuff is to "just ignore it," but these individuals whom are being called names and attacked, are human beings with real feelings. Suppose you were struggling at your job, or you're having just an awful day/week/month, and someone says to you "you're (expletive) terrible, you should quit" or calls you some inappropriate names—you aren't going to feel too good about it, are you? If someone is an athlete though, it becomes okay? No. I won't rant, because unfortunately it won't help, but I wish we all treated one another a little bit better on these "social" platforms.
Well, this concludes yet another edition of my thoughts and opinions on racing thus far. This ended up being another long one, but that's what happens when you speak with passion about a sport that is built on passion. Thank you for reading my words. Until next time!