James Stewart Issues Statement, Says He'll Return When 100 Percent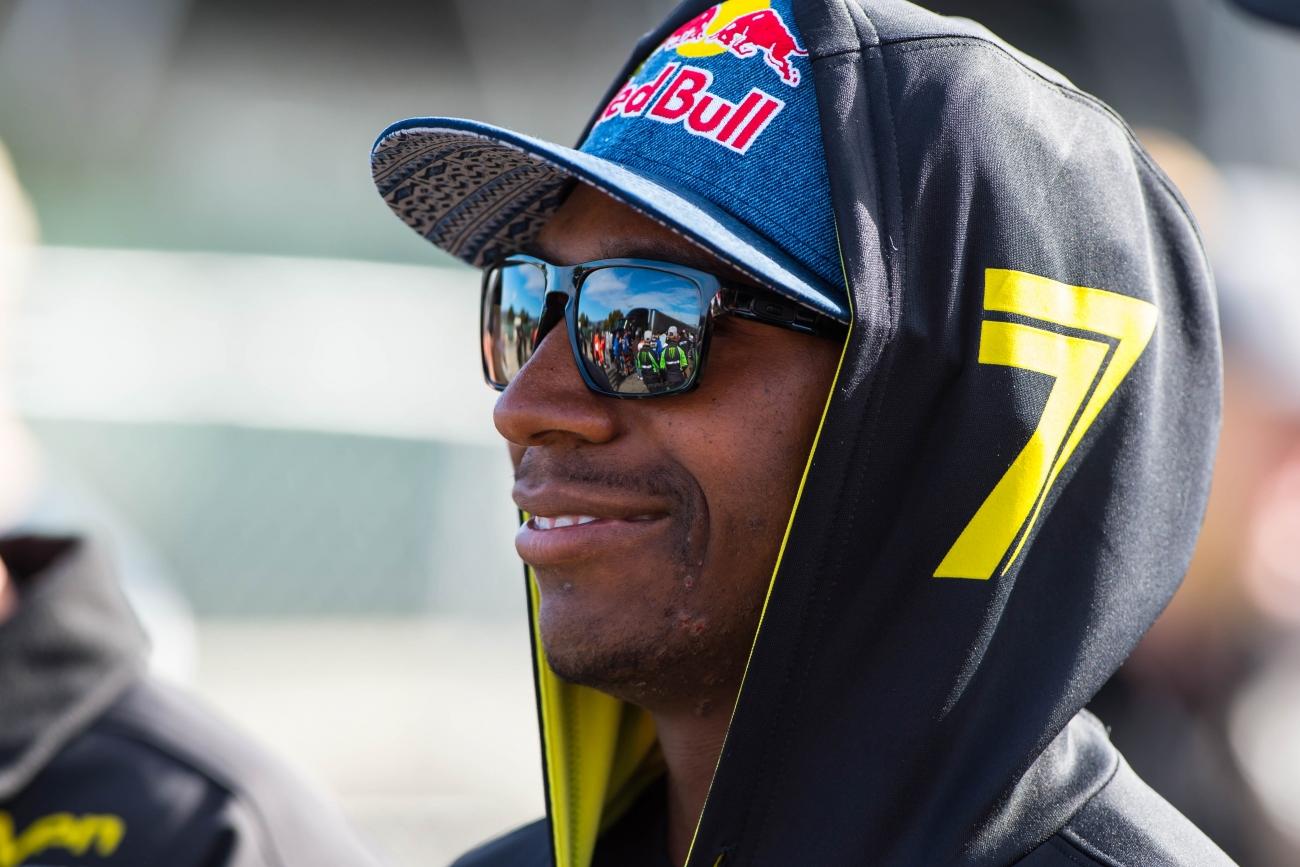 University of Phoenix Stadium
Glendale

,

AZ
Glendale
Monster Energy AMA Supercross Championship
In a post on his Instagram account last night (@therealJS7) Yoshimura Suzuki's James Stewart, who pulled out of last Saturday's Monster Energy Supercross main event in Oakland, citing blurry vision, issued a statement regarding his decision.
In the note, Stewart said that he could tell from the first practice that things "weren't right," but that he figured they would improve as the night went along. He also took blame for the decision and said that after Saturday, he's not ready to race.
"Well as the night went on things got worse and that's what led me to pull off in the main. The worst part is, you never know how you're gonna feel until you try. So that's why I decided to try to race this weekend. You can practice during the week all you want but racing is completely different. It's my fault tho because instead of letting things heal 100%, I keep rushing to race for my fans and because I love to race. Clearly I'm not ready to race and after Saturday I felt like an idiot for trying to when I know I shouldn't. I can tell you that I rather never race again if I have to pull off like last Saturday. To me a person that pulls off is a quitter and as much as I hate quitters, I felt like one afterwards until I thought about everything. I shouldn't of have been there in the first place. I was there bc I'm not a quitter and I keep trying to be superman for no reason. But it doesn't matter anymore bc the people around me know who I am and my "real" fans know also."
Stewart went on to say that he will return once he feels 100 percent, which could be this weekend or in a month. One of the most vexing parts of today's discussions of head injuries—be it in football, dirt bike racing or any other sport—is that no one really knows how much time an athlete should take off, as every brain and every head injury is different. Also, a high heart rate usually ramps up any post-concussion symptoms. Supercross and motocross racing brings the heart rate up to very high levels. We've heard from plenty of riders who get their heart rate to spike at the test track or on a treadmill or rowing machine, and felt fine, but then found their heart rate climbing even higher once they were actually in a race and the symptoms flared back up.
Stewart will just have to keep reevaluating things.
"So at this point, I'm gonna listen to my body and come back when IM ready to race. It could be this weekend or a month from now but I'm gonna do what's best for me and not what's best for the rest. I love you guys and I truly appreciate your support always. I came back to race and have fun this year and racing when I can't function 100% isn't racing or fun. So I'll be back when I can do both of those things like the real js7 does. I want to personally thank all my sponsors for sticking behind me through all of this. I know you guys say I don't need too thank u but it's nice to have all of you in my corner always. And my fans, you know where my heart is and I can't wait to be healthy so we all can enjoy the results together like always. Thx again peeps."
Earlier this week, team manager Mike Webb said that Stewart will undergo tests early this week and the team will proceed from there. We will update you on Stewart's status for this weekend later this week.
You can read Stewart's full statement below.