They say anything can happen in Amsoil Arenacross, but last weekend was unique even for that crazy series. Winter storm Jonas blanketed the Northeast with snow, including Allentown, Pennsylvania, which was hosting the third round of the series. Team Babbitt's/Monster Energy/AMSOIL Kawasaki's Chris Blose won on Friday night, and then Saturday night's race was cancelled due to weather. So, everyone just went to the hotel bar and watched Monster Energy Supercross on TV!
Even Billy Joel didn't come up with lyrics about Allentown's weather, so we called Blose to find out how everything looked.
Racer X: Before we get into leading the points and all that, give us the story of the weekend. Arenacross pretty much races no matter what. It must have been gnarly up there? What did you do when you didn't have a race on Saturday? How did that all go down?
Chris Blose: We ended up doing our two practices that we get during the day. Jacob [Hayes] and I were upstairs eating and it was obviously snowing like crazy outside. And then Junior Jackson, the Rockstar Husky team manager, came up and told us that the race was canceled. We just thought he was joking around. But Jacob had called Denny [Bartz, of his Babbitt's Kawasaki team] and was like, "Hey, is this true?" He's like, "Yeah, the race just got canceled." And so later that night we were just at the hotel lobby bar watching supercross!
They showed the picture of that from Instagram on the supercross show from A2. So that's what everybody did? You just hung out and watched the race?
Yeah, we all just hung out. I think everybody was there—the whole arenacross track crew, along with riders. It was a packed house.
What was it like there? I guess the hotel and the hotel bar stayed open, but fans couldn't get to the arena. Was that the problem?
Yeah. The snow was so bad and it was coming down so hard that there was a previous guy that had got hurt in the second round of practice. They took him out on the stretcher and the ambulance… they had such a hard time getting him to the hospital that it pretty much was rider safety. It was only getting worse and worse as the day was going on. So transportation might have even been at a halt, if something like that were to happen again.
So how did you get back home?
Sunday we helped load up the rig because the rigs were parked probably over a mile away from the arena, and they were stuck. Luckily Jacob drove down there from Greensboro and had his van. So we just transported back and forth from the arena to the rig with the bikes, toolboxes and all that stuff. After that we loaded up and headed out to Jacob's house.
You didn't have flights? That's what saved you.
Yeah. We didn't have flights. My flight got canceled Sunday and I wasn't going to be able to fly out until like Tuesday or Wednesday. And then I had to leave Thursday morning from [my home] in Phoenix for Greensboro this weekend. There was no reason to go home for a day and then leave again.
So you're basing yourself out of Greensboro anyway? Is that the plan for the year?
No. I always fly back and forth from Phoenix but with my flight getting delayed, I just decided to go back with Jacob to his house. The arena [for this weekend's race] is like six miles from Jacob's house so it just made sense to come back here and not risk traveling and all that.
How is the season going? Obviously looking at the results and the standings it's good. What's your take on it?
The season's been going good. Every weekend is getting better and better for myself. It's just about staying out of the chaos. Last year was a really big learning curve. Even though I raced supercross for a long, long time, arenacross was a whole other ballgame. It took a while to learn that. This year I'm a lot more prepared and each weekend gets better and better. The bike is getting better and better. So it's turning out really good and hopefully we can keep the ball rolling in that direction.
There's so much chaos, like you said. I always wonder this with arenacross: how often does it come down to just who is faster or who rode better? In supercross the fastest guy, for the most part, is going to be in pretty good shape. Does that matter that much in arenacross or do you find that it's the luckiest guy or the savviest guy wins? Is speed the ultimate factor or no?
Yeah, I think speed is still the ultimate factor. But there are times where you'll get a guy that you're lapping that gets in your way or clips a Tuff Block. The racing and the tracks are so tight that you could have someone come flying into your lane. That's not out of the ordinary. There is a little bit of luck involved but speed and whoever is the fastest and gets a good start too is going to most likely win.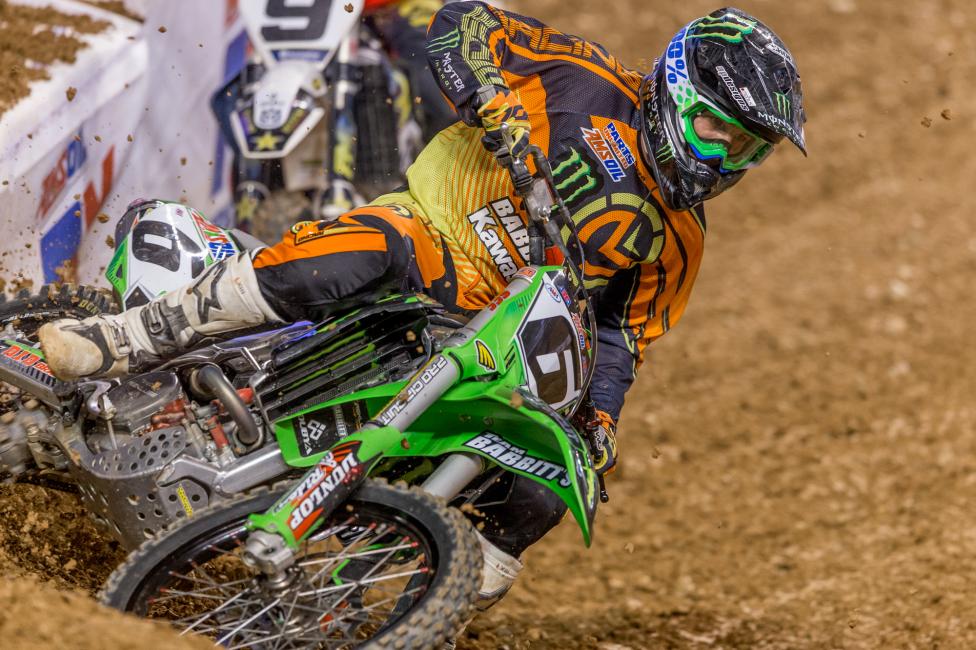 So last year was pretty good and you were even close as far as the points go, even down to that last race. But do you feel like this year you made a big step forward?
Yeah, last year was pretty solid and I was close at the end. I had two DNFs during the season before the points reset, so I wouldn't have been close for the championship. But this year the season is starting off a lot better. Last year I was pretty much hurt and I was battling a big back bruise all year and a broken thumb and stuff like that. All year I was pretty much hurt; I was just riding through it. This year I'm 100 percent healthy and ready for the season to keep going and hopefully getting wins and podium finishes.
I've got to ask about the reset. Right now this season is good—you have the points lead—but the reset, if you're still the points leader, is going to work against you. Is that something you think about? What's your take on the fact that you could have the points lead taken away if you continue to hold the points lead?
Ultimately it will be taken away once the points reset. But that's the way it is and that's the way the rules are. Last year it benefited me and this year it may not benefit me. So I just take the punches when they come and try to keep the ball rolling.
Can it actually change your strategy? For example, last year you said you were battling some injuries. So can it change your mindset, and let you say "Listen, these four or five rounds right now, I just need to stay in the top ten. I need to just make sure I don't aggravate the injury, and then I'll go for the wins after the reset." Do you think that crosses people's minds?
Yeah. Last year, like I said, I had a broken thumb, I had a really bad bruised back. There were lots of injuries that I had that it was like, "Okay, kind of just get through the weekend. If you can get a podium then cool, if you can win then cool. But it's not a big deal; the points reset and you're back to square one." Like I said, it can help you and it can hurt you.
I've talked to a lot of riders who have made this switch, from supercross to arenacross. Some of them get good results, some of them don't. But everyone seems to have fun, just the camaraderie and how tight everybody is on the road. How has that part of it been?
I didn't know what to expect coming into arenacross. Everyone from the people in the office and registration and the track crew and everything, everyone gets along so well and it's such a tight community. It makes it a lot of fun. So I'm really looking forward to the rest of the season and hopefully more seasons after this.
How often have you ever been in a situation like you guys were on Saturday where everybody literally had nothing to do but just hang out? Usually you can hang out a little, but you do have to race and stuff.
That was a first, I will say. I've never had a race canceled on me like that. We were all kind of excited and then bummed at the same time because we obviously all want to race and go for wins. But when the weather makes it dangerous like that, we've kind of just got to make due with what we have and make it fun.
Your last season in supercross, I remember it was crazy. You were pitting out of a rental car and all kinds of crazy stuff like that. As far as making money and stress and all those things, you're on obviously one of the best teams in arenacross, so has that been good? Has that been easier than the privateer life the other way around? Yeah, it has been easier with that aspect of it. But at the same time it's not the same as supercross. If you're talking about me being a privateer, pitting out of a rental car and stuff like that, that was 2014, which was my last year, and to me that was probably the funniest year I've ever had racing supercross. I was pitting out of a rental car, I was a mechanic. Towards the end of the year, I flew my mechanic in and stuff. We just had a great time. It almost brought back the reason why I race dirt bikes and the reason why I went to the races. Even though we didn't have a big fancy rig or lots of parts and stuff like that, we had a great time and we got great finishes. Luckily Hart and Huntington would transport my bikes around. I would just fly in and find the biggest rental car and make due with the weekend.
So on the outside it's like, this poor guy, what a struggle. But it was actually kind of cool?
It was cool. I would still fly back and forth. Luckily Hart and Huntington and the Factory Metal Works would transport my bikes for me. Usually I would just find a mechanic at a local shop and just have him be my mechanic for the weekend. That would save me a ton of money on flights. So it made it fun.
So is this actually more pressure, a little more serious?
Obviously Team Babbitt's is the premier team of Arenacross. There's obviously a little bit more pressure to win the championship, but at the same time I know I'm capable of winning the championship so it's pressure coming from myself. The team, they've been busting their butts, giving us the best equipment that we can get. So it's pressure on myself that I put on myself. It's a little bit different but at the same time it's a lot of fun.
Can you make a living at this? Is that part good if you're winning races and stuff like you are right now? Is that better than the privateer life?
Yeah, I think it's better than the privateer life. You've got to do good in order to make money here. If you make the main event in supercross you know you're getting roughly $2,000. So that's good. If you don't finish on the podium here, you're not making jack squat. It's a little bit of pressure that way, but if you're doing well, you are able to make money at it and make a living at it… and it's really fun. Everyone is so laid back and they just like to have a good time.
What happens after this? Do you think, maybe someday you'll go back to supercross? Or even when this arenacross season is over?
I don't know. I would like to go to supercross if it was right, on a good team, making money. But I've found a home here in arenacross. If an opportunity presents itself to where I get an opportunity to do supercross again, I'll probably go back to supercross. But for the time being this is what I call home.