A few weeks before Anaheim 1, we were hit up with a link to download a new book called Scout's Guide to Supercross 2016, which promised NFL-style scouting reports on the top riders in Monster Energy Supercross. Author Chris Martin interviewed a variety of supercross insiders to get a realistic take on the riders, with deeper analysis of strengths, weakness, techniques and tendencies than we usually see. Why? How? We talked to Martin to learn more, and he also sent us one of the full scouting reports, on Ken Roczen, as a sample. Consider this some of the best bench racing ammo you'll ever find.
You can download the book on iTunes, Amazon and most other sites where eBooks are sold for just $2.99. Here's Martin with more, as well as the Roczen report down below.
Racer X: Okay, Chris, what made you want to start a project like this?
Chris Martin: Honestly, I've wanted to do this for a decade, if not longer. I've been a full-on motorcycle racing and football geek my entire life, and NFL draft and scouting guides have always been of particular interest to me. The content is consistently enlightening and really does well to sharpen your knowledge of the athletes as well as the sport in general.
It just seemed natural to me to take the same approach to analyzing riders in-depth. I've been threatening to do this seemingly forever, but it was always destined to be a demanding and time consuming project. It's only been in the past couple of years that I've moved away from the 24/7/365 grind of race reporting and had the freedom to tackle larger projects like this.
You're well-known in the road racing field, but why did you focus on supercross with this project?
My plan was to come out swinging and release guides for Monster Energy Supercross, MotoGP, and MotoAmerica this year. And it just so happens the supercross season hits first, so Scout's Guide to Supercross 2016 leads the way.
For sure, road racing has been my primary beat going back to the late '90s, but I'm a big supercross fan too. During the seven years I served as SPEED's motorcycle racing editor, I was always heavily engaged with supercross, whether it be writing, editing, or posting stories.
That said, I've never attempted to present myself as the world's leading authority on supercross. But the beauty of this project is, by its very nature, I don't need to be. Actually, that would get in the way to some degree. Instead, I relied on the genuine SX experts to perform that role.
It's your name on the book but we should be clear this isn't just your opinion on these riders. Explain the panel of scouts used for this book.
Right. It's not my opinion at all, in fact. I didn't perform any of the scouting myself. I didn't personally rank the riders nor attempt to assess their tendencies or technical skills. Rather, I reached out to those most qualified to do so while I sought to establish a "paddock consensus."
In order to do this, I tried to assemble an all-star panel of subject matter experts. This panel included current and former 450SX riders, team managers, crew, and a sampling of well-established journalists, and it was their job to rank and break down the current crop of supercross riders.
I then utilized each of their rankings to establish a combined-class Top 25 and sorted through the many exhaustive interviews to generate the individual scouting reports.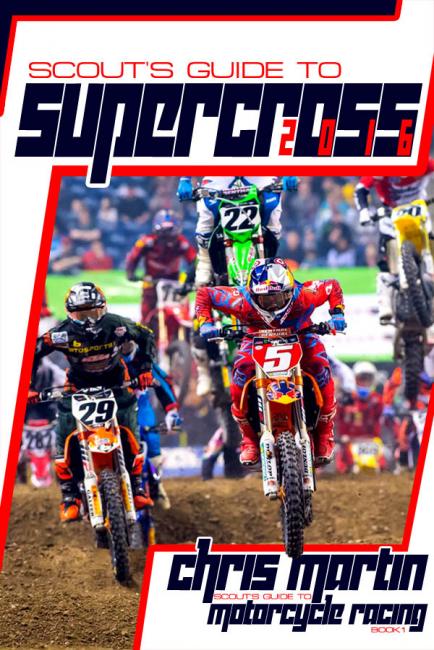 How hard was the process? I can tell you from my experience, people aren't always willing to speak candidly in this business, not on the record, at least.
It wasn't exactly a piece of cake, but it's all relative. I had a lot of help from the inside, which smoothed out the process considerably. Plus, for my previous non-fiction book, I had to track down and interview a couple dozen Delta Force and SEAL Team Six snipers, CIA paramilitary operatives, etc. I figured if that was possible, this certainly should be as well.
I decided up front that all of the interviews would be anonymous, whether the experts requested that courtesy or not. Getting 100 percent honest critiques of the racers—warts and all—was absolutely critical, and the anonymous approach actually made that feasible. I wasn't really worried that anyone would take advantage of this shield of anonymity to take unwarranted potshots at their rivals because any opinions out of alignment with the larger consensus were going to get weeded out anyway.
Looking through this, there's some interesting info, not just about the riders themselves, but also ranking them in skills, mental toughness, and talking about bikes a bit. Where did you come up with these categories and questions?
Again, I leaned heavily on my inside contacts while building an initial plan. Before any interviews took place, I reached out and tried to pinpoint the key traits and characteristics most likely to determine success or failure in any given supercross race. After they were identified, the experts were asked to provide their opinion on each rider on those subjects. I'm glad we did because it makes for some interesting reading and adds some additional nuance.
What were some things you learned about the riders or even the sport? Any surprises?
Man, I learned so much, and honestly, that has made the races even more entertaining to watch! And I think fans who dig into this material will find the same themselves—whether they're newcomers to the sport or established hardcore fans.
As for surprises, there were quite a few. One thing that really struck me was how high the panel was on Justin Barcia coming into this season. Unfortunately, we won't get a chance to find out if that confidence was warranted or not.
On the flipside, I was caught off guard by what I saw as a general lack of respect for Cole Seely. One thing I pointed out in the book was that not one panelist had him ranked even as high as the worst result he scored over the second half of last season. Personally, I'm thinking he will ultimately prove his relatively low ranking inaccurate, especially once attrition starts to settle in and he keeps racking up the points. And from the looks of it so far this season, he didn't really even need the extra help to get up near the front. He started the year with back-to-back podiums!
I was also interested to see where Cooper Webb and Chad Reed would rank on the combined Top 25. It's looking like one of those rankings was more prescient than the other.
This is a first-time effort. So is this the end result, or do you think it could be just the beginning of something bigger? Do you have plans for the future?
I really want this to be an annual effort. For this first year, I decided to release Scout's Guide to Supercross 2016 as a self-published eBook because that was something I could manage without breaking the bank or having to cut through too much red tape. I looked at this first edition as kind of proof-of-concept. Without someone seeing it first, it's difficult to explain to non NFL-heads. But once people actually see it, it suddenly makes sense. That hurdle is now out of the way. Maybe I'll continue going forward in this same fashion, or maybe I'll look to partner up with a larger entity and add a glossy, print version as well. It's all wide open at this point.
Honestly, it really depends on how it performs in terms of sales. Creatively, I consider it to be a huge success. I'm as proud of this as anything I've ever done in racing. I was willing to stick my neck out and take that chance on what was a pretty mammoth undertaking because it was something I've wanted to do for so long. That said, bills have to be paid and the dog has to eat. It has to prove worth my time to continue in the future. I really hope it does because it's been a lot of fun and it's a cool project.
So the more people that buy it, support it, and help spread the word, the more likely it is I'll not only be able to continue to create and release this on an annual basis, but make it even bigger and better in the future.
Any feedback or reaction so far?
Yeah, it's all been very encouraging. I really feel that I've accomplished what I set out to do with this, and it seems to be resonating with those who have checked it out. I'm convinced there's a sizable audience of supercross fans out there who would eat this sort of thing up if they get a taste of what it has to offer.
Anything you want to add, people you want to thank?
There are a ton of people who deserve to be thanked. I keep saying "I" when in reality it would be more accurate to say "we," but unfortunately the anonymous nature of the project makes it impossible to properly dole out credit. I had a lot of help putting this together, and I really appreciate everyone who so generously provided their time and expertise in the creation of the book.
I also want to thank everyone who buys and supports the book. If you're interested in checking it out, it's available now at Amazon, iTunes, and just about everywhere else eBooks are sold. $2.99 will get you right around 130 pages of really deep content. The layout is simple and clean so that it's easy to read on any smartphone or tablet, and you can also read it on your PC or Mac if you so choose. If you want to stay updated on this and the related scouting guides, follow me at twitter at @ChrisMartinSBK.
Like I said before, the book makes a whole lot more sense once you get a feel for what it actually is. With that in mind, I want to give Racer X readers an exclusive look at our scouting profile of Ken Roczen, who ranked second on the SGSX16 Top 25. So check it out:
1. Ken Roczen
#94 RCH/Soaring Eagle/Jimmy John's/Suzuki Factory Racing (450SX)
Top 25 voting analysis: Highest: First | Lowest: Fourth |Median: Second
Birthdate: 4/29/94 (21) | Hometown: Apolda, Germany | Measurables: 5'7", 145lbs
Supercross titles: 2013 250SX West Champion
Career Monster Energy Supercross victories: Nine (four in the premier class)
2015 results: 12th (450SX), two wins, five podiums, six top fives, seven top 10s (+Monster Energy Cup victory)
Following his two-win, third-ranked rookie showing in 2014, Ken Roczen was something of a trendy title pick entering the 2015 supercross season. This was true even despite his leaving the powerhouse works KTM squad for RCH Suzuki.
And indeed, the young German seemed well positioned to make a run at the crown following a stunning opening three rounds. At A1, Roczen handed RCH its first-ever Monster Energy Supercross victory and backed that up with a runner-up result in Phoenix. He then powered to his second win of 2015 at A2 and showed no signs of looking back… That is, until he quite literally looked back at Chad Reed the following weekend in Oakland and subsequently botched a triple in spectacularly costly fashion.
That untimely error was the beginning of the end for Roczen's championship hopes. Despite some strong rides in the weeks immediately following, his injuries continued to stack. He ultimately missed the second half of the season entirely with a damaged ankle.
Roczen returned to action in time to defend his '14 outdoor crown. There he did well enough to finish the year ranked third overall with a few moto wins to his name. He then signaled his intentions for the 2016 supercross season with a dominating performance at the Monster Energy Cup, logging a 1-4-1 to claim the overall honors.
Scouting Report:
Strengths: Dynamic blend of speed, style, and aggression. Gifted with immense natural tools. Widely considered the most technically proficient rider in the series. Capable of routinely executing maneuvers others wouldn't dare attempt.
Looks almost effortless on the machine and instinctively makes finite, precise adjustments. Superior balance. Rides with a low center of gravity, focusing his efforts through the pegs rather than the bars.
The best scrubber in the field; while others may manage lower flight trajectories, Roczen storms through jumps without losing speed on take-off. Exceptionally skilled at riding "above the track" without losing momentum. Exploits the 450's torque effectively and is particularly strong in transitions between obstacles and on take-offs – areas few others are able to gain speed.
Efficient overtaker. Has the skills and mindset to execute passes immediately and in a wide variety of sections.
Ultimately, all of this talent and technique translates in the form of raw speed. Arguably the best sprinter in all of supercross. Able to drop the pack early and manage the gap to the checkered flag in a Villopoto-esque manner.
Confident right up to the (healthy) border of cocky. Respects Dungey but has no fear of him. When his head is in the right place, Roczen can prove nearly unbeatable.
Weaknesses: Mental strength, fitness, focus, and commitment are all in question, at least in terms of what's required to win it all at this level.
History of fading as the season progresses. Susceptible to falling into slumps, and earlier in his career showed a tendency to collapse under pressure.
Despite his remarkable natural ability and intuitive racecraft, will make the occasional bewildering blunder.
Far too much off-the-track drama in 2015, especially concerning the relationship between his support system and his team. Most notably, Roczen's father lambasted RCH publicly in an episode that proved embarrassing for both team and rider.
Scout's Notebook:
"He's just as fast as Dungey and Tomac, and he has no changes in terms of teams this year. Although I think the mindset isn't necessarily the same as the first two. I don't know if there's the same desperation to win as there is with Dungey and Tomac. Technically, he probably does everything the best, but I think there's a lot going on off the track that might be distractions." – 450SX competitor
"He's very good at scrubbing. He's really smooth in the turns. He's very good at the things Ricky Carmichael was good at. He's just kind of got it all... He's on his way to being that complete package, but he's still only 21." – Former 450SX pro
"(Roczen) has the natural style and technique that allows him to do next-level things… His talent should allow him to be better than Dungey, but the pieces aren't arranged as well." – Journalist (A)
"There are a few things that could be hurting him with his circle of people. With his talent, he gets away with a lot of that. And if he can surround himself with good people that's going to be scary for the rest of the field. While Dungey is 98%, Roczen is 105% with his technique. It's undeniable how good he is. It's effortless. It's easy for him. He can afford being not as fit as some of the other guys, but just his riding ability gets him there." – 250SX team manager
"He seems to have brain fade every once in a while. Inexplicably, he'll case it on a triple or something. It's like, 'Why did you do that?' Every once in a while he just loses concentration." – Journalist (B)
"Super, super talented. He's one of the most talented guys out there. He can do things on the bike not a lot of other guys can do to get through the technical sections. He always knew he was as talented as he is and wanted to win right away, but you've got to work into it. Now that he's got that experience, he's going to be a real threat. But can he do it throughout the whole year?" – Multi-time national champion
Author's Notes:
Roczen earned the most votes in the "Best All-Around Rider" category. I wonder if that would have still been true if we had asked for the "Best All-Around Racer" instead. I got the sense that a lot of the insiders interviewed were tempted to make Roczen their #1 pick but were a bit gun shy. Can he avoid the slump or even the big mistake? Even with his many accomplishments to date, he still has yet to truly live up to his potential. That said, he's still just 21 and comes brandishing the sort of speed and skill that can press Dungey outside his comfort zone.
Honors:
Named:
Best All-Around Rider (5 votes)
Also received votes for:
Best Sprinter (4)
Most Confident (2)
Best at Holding a Lead (1)
Best Overtaker (1)
Best at Coming from Behind (1)
Most Mentally Tough (1)
Highest Corner Speed (1)
Best at Seizing Opportunities (1)